Homemade and deliciously gooey Turtle Cookies recipe is a delicious combination of nuts, chocolate, and caramel. Turtle Thumbprint cookies, often called blossom cookies, are a joy to eat and the perfect addition to your cookie list.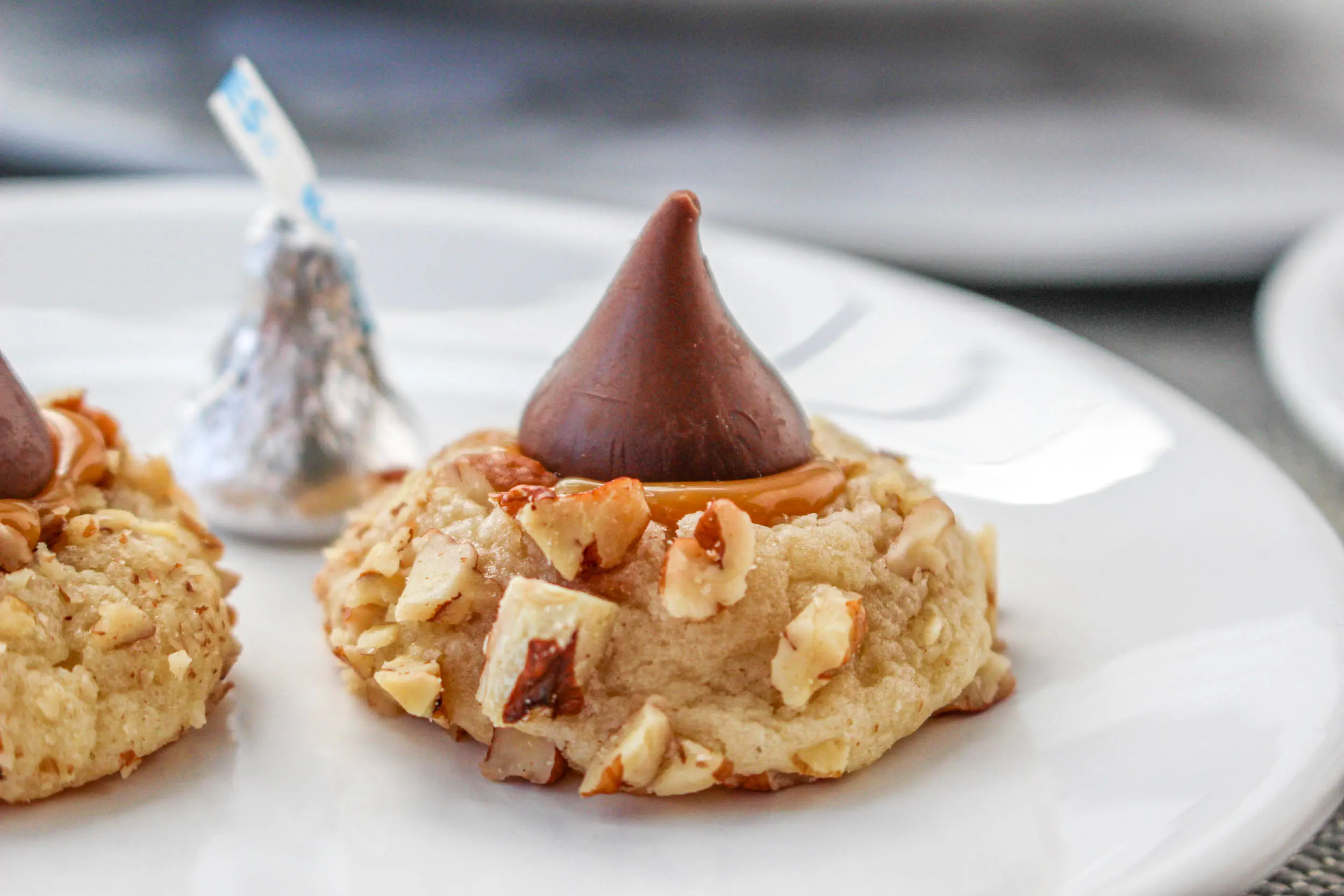 Every bite is a combination of these classic turtle candy flavors but with the addition of a chewy cookie as the base.
Why You'll Love These Blossom Cookies
Kid Friendly. Making my Turtle Thumbprint Cookies recipe with your kids is a great way to enjoy time in the kitchen. It's a recipe that they can easily help with because even the youngest can unwrap the caramels and unwrap the chocolate kisses and enjoy putting them on the cookies at the end.
Customizable. Pick your favorite Hershey's Kisses and your favorite nuts. Add coconut and almonds instead of chopped pecans. You can change this turtle cookie up a thousand ways and still have a classically good cookie.
Packable. Once your blossom cookies are fully cooled, you can fill a cookie tray, pack them in a plastic container, or add them to a college surprise package and they will hold up to being stacked.
Equipment Needed to Make Your Turtle Cookie Recipe
Hostess At Heart participates in affiliate programs. As an Amazon Associate, I earn a commission from qualifying purchases. Please refer to my disclosure page for more information about these affiliate programs.
Ingredients you'll need for this Turtle Cookies Recipe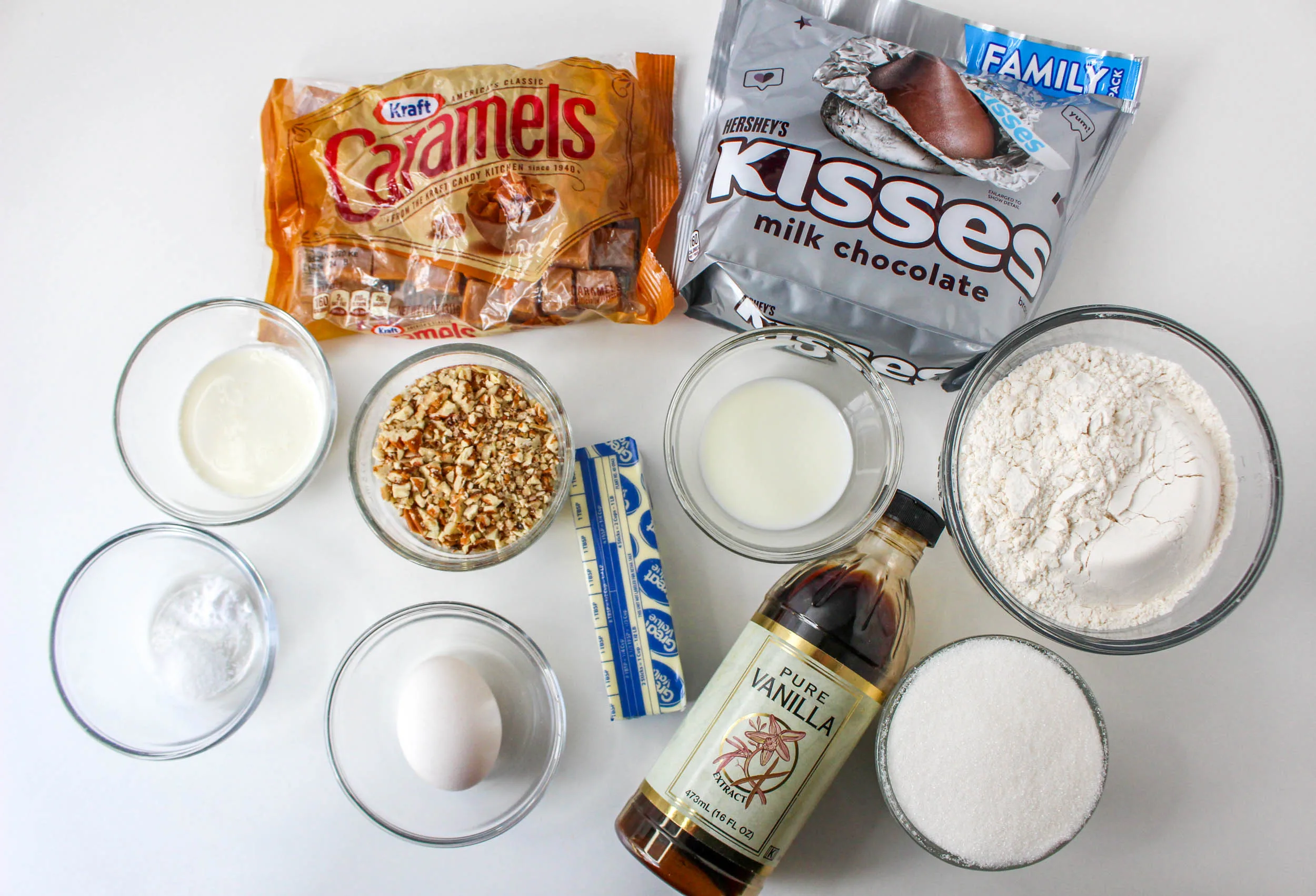 Flour
Baking Soda
Salt
Unsalted Butter. If you need to use salted butter, reduce the salt in the recipe.
Sugar
Egg
Vanilla Extract
Milk
Finely Chopped Pecans. You can also use crushed walnuts, chopped almonds, or even peanuts.
Caramel Candies. These are small, individually wrapped squares or ovals.
Heavy Cream
Hershey's Kisses Candies. Pick any variety that will play well with caramel!
How To Make Turtle Cookies
Please note, that the printable recipe card has ingredient quantities, complete instructions, and nutritional information. The following is a quick overview of the recipe.
Step One: Get everything ready for the Turtle Cookie Recipe.
Preheat your oven and prepare your baking sheet with parchment paper.
Step Two: Mix the Turtle Cookie Dough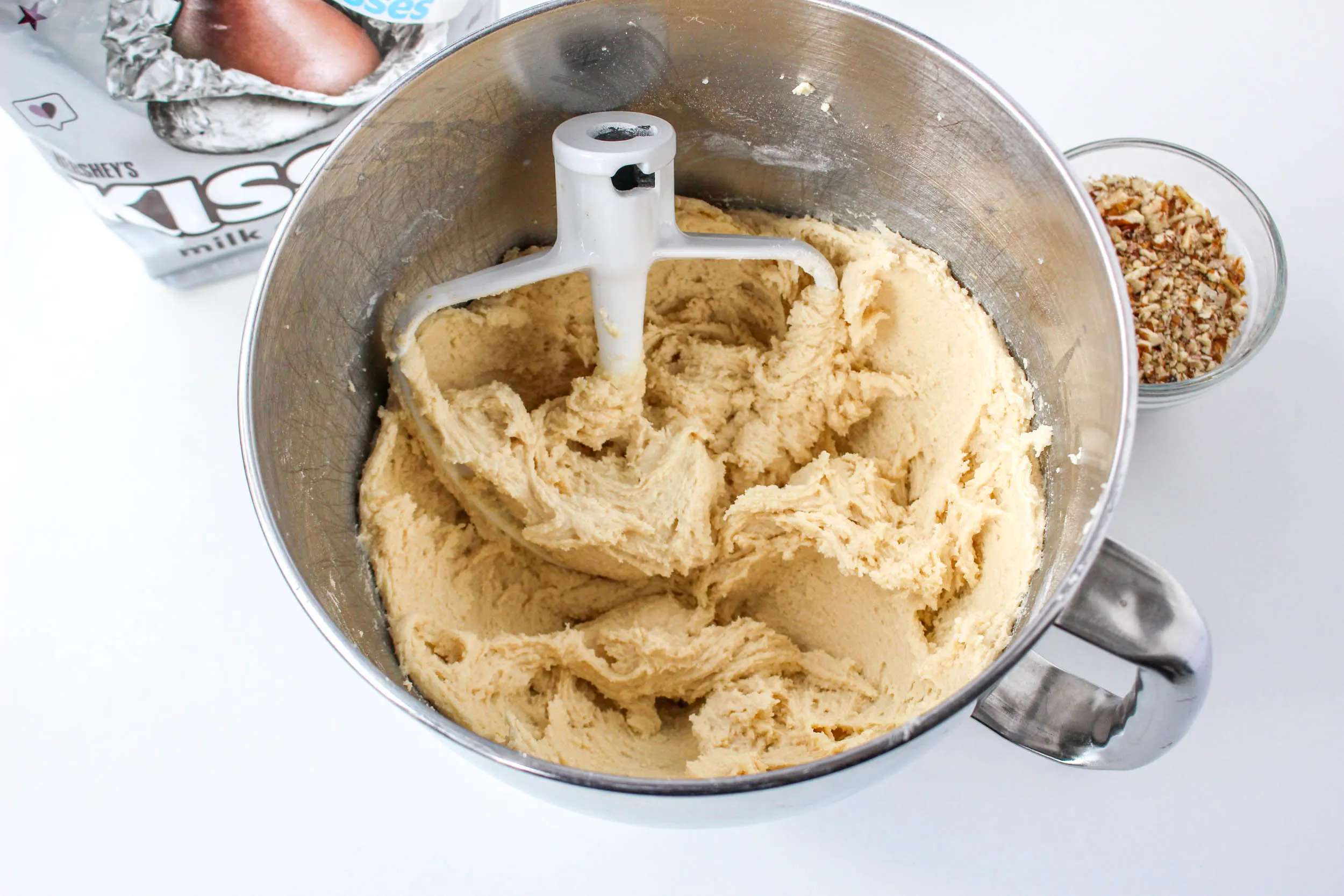 Mix the dry ingredients then cream the butter and sugar. Add the eggs and vanilla to the creamed mixture before adding the dry ingredients. Finish off the dough by adding the milk.
Step Three: Make cookie balls.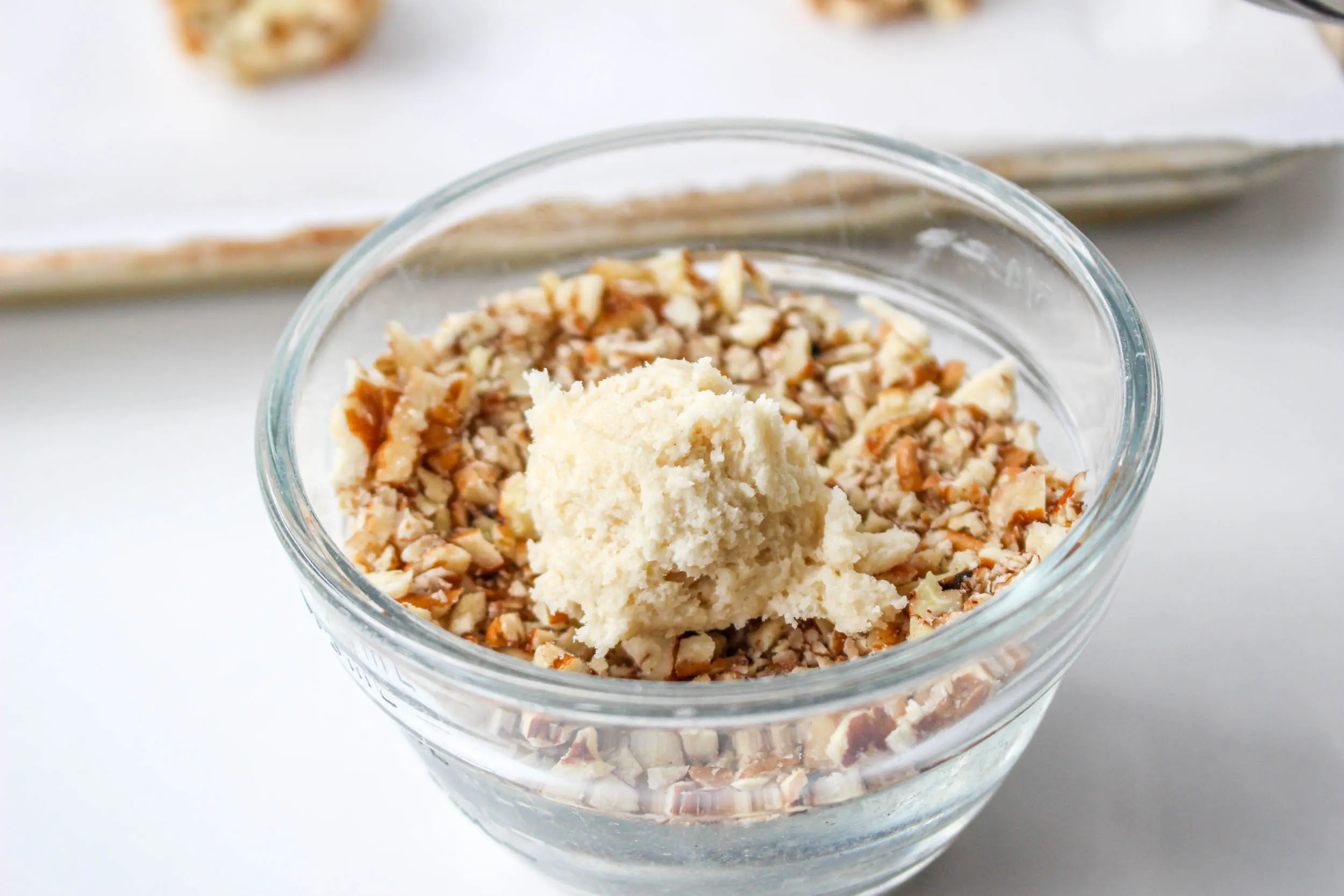 Portion the cookie dough and shape it into balls. Roll each ball in the colored sugar, crushed nuts, or sprinkles, if desired. Make an indentation in the middle of each cookie. Place on the baking sheet about 1 inch apart.
Step Four: Bake the Turtle Thumbprint Cookies.
Bake the cookies until they are puffed up and the edges are set.
Remove the baking sheets and place them on a wire rack. Lightly re-indent if necessary.
Step Five: Add the turtle topping.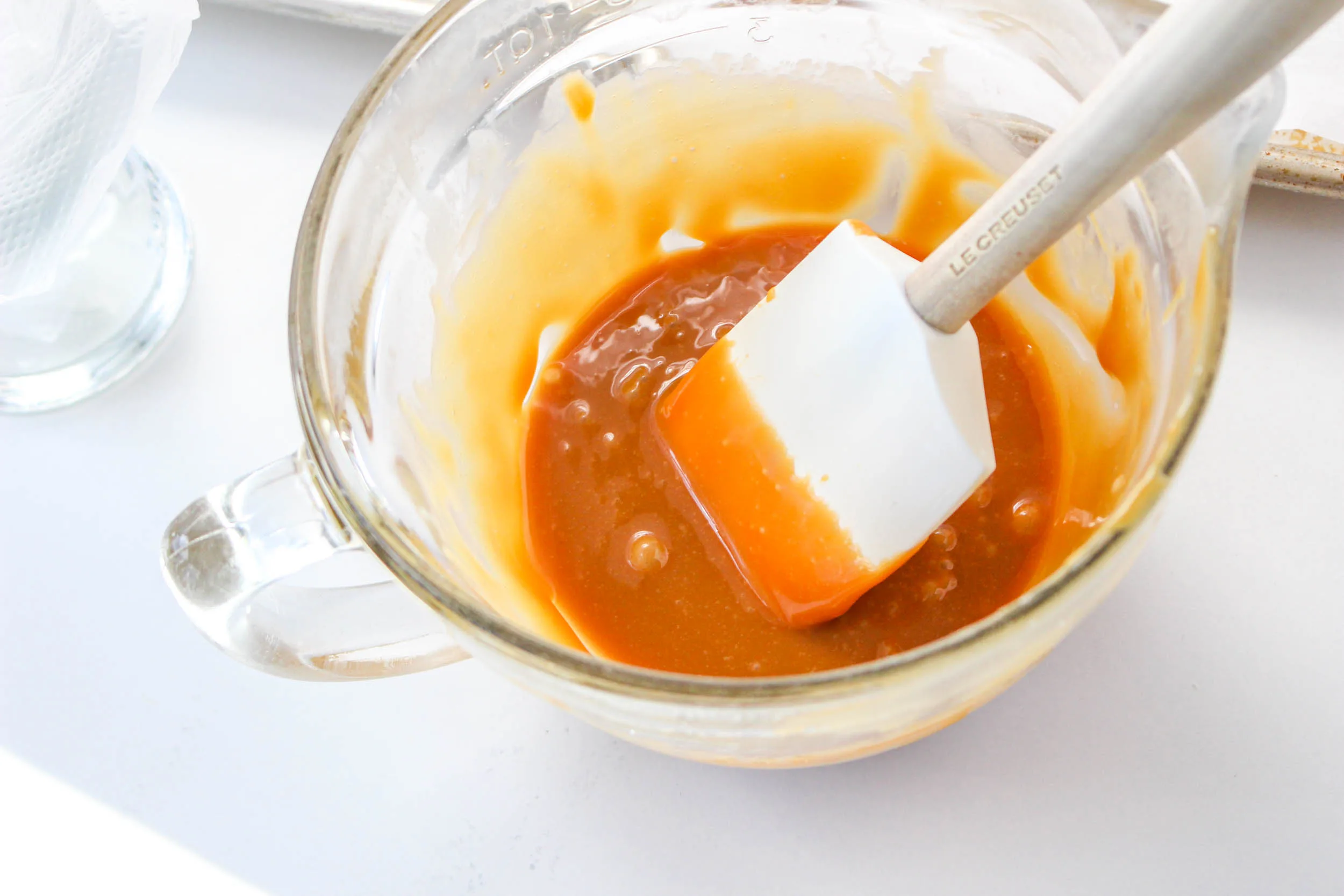 First, melt the caramels with the heavy cream in a microwave. Then place the mixture in a piping bag and fill the indentation on each cookie. Finally, add a chocolate candy as the finishing touch.
Step Six: Let them cool.
Allow the cookies to cool completely so that they will hold their shape.
Frequently asked questions.
Why are they called thumbprint cookies?
It's because of their shape. A ball of dough is indented with the thumb to create an indent that will hold a filling. A measuring spoon or any circular shape will work as well.
How do I keep my thumbprint cookies from spreading?
Do not overbeat the butter when you cream the butter and sugar together. This can create air pockets which will later deflate and cause your cookies to spread as they bake.
Can thumbprint cookie dough be refrigerated overnight?
I didn't chill this dough. However, If your kitchen is warm and your cookies are spreading out, you should chill the dough covered for 1 to 4 hours or overnight.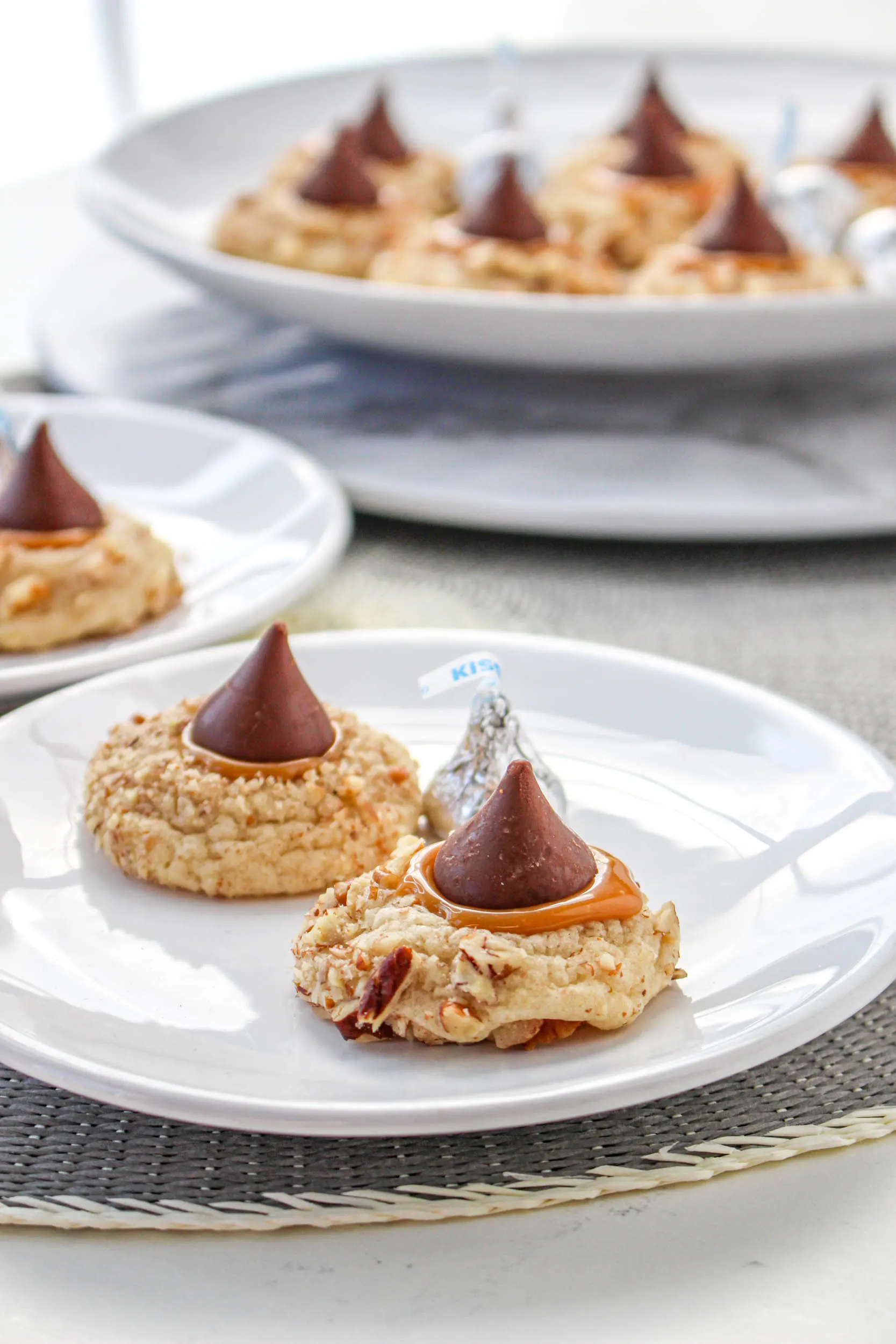 How To Store Turtle Thumbprint Cookies
Best way to store Blossom Cookies
Store the cookies in an airtight container for up to 1 week or refrigerate them for up to 3 weeks.
Can I freeze Turtle Cookies?
Cooled cookies can be frozen, but sudden temperature changes may cause the candy to "bloom," which is harmless but not pretty.
How to Reheat Turtle Thumbprint Cookies
If you want to soften up your cookie after a few days in storage, ten seconds in the microwave will do the trick.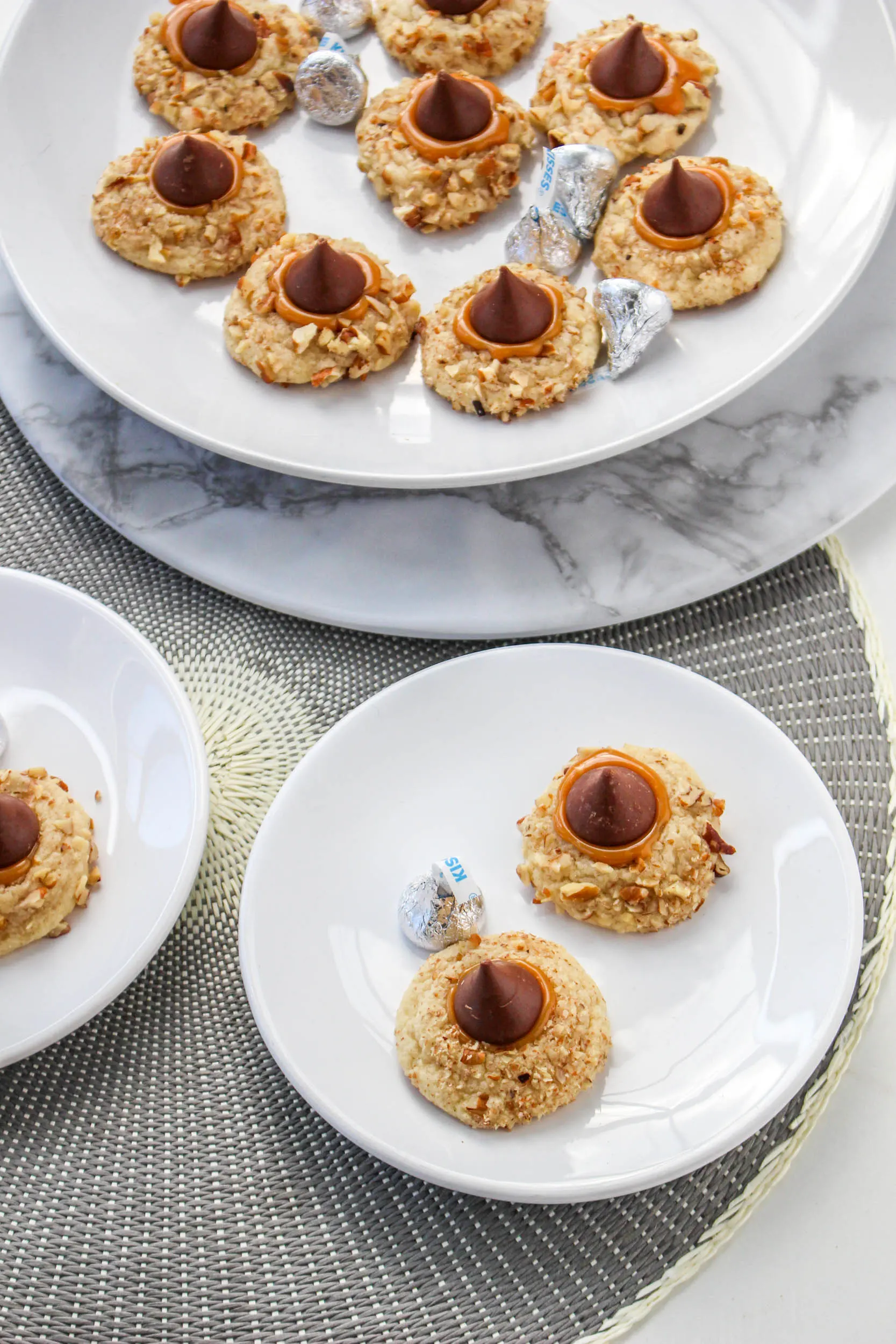 Tips for the Perfect Turtle Cookies
Do not overbake your cookies. Cookies are ready *before* they look done on the top. As soon as they start to brown ever-so-slightly around the edges, they are ready to be pulled from the oven. They will finish cooking and setting up as they cool on the sheet pan or cooling rack.
Do not overmix the cookies. Overbeating can toughen the dough or cause spreading.
Use a cookie scoop to get perfectly-sized cookies.
If you tried this delicious recipe, don't forget to rate it and leave me a comment telling me what you think. I love hearing from you!
This Turtle Thumbprint cookie recipe is sweet and delicious but what's even sweeter is that this recipe was made for the Sweetest Season Cookie cookie exchange event called the Cookies for Kids' Cancer fundraiser.
If you enjoyed this turtle cookie recipe, check these out!
Want more delicious recipes? Follow Hostess At Heart on Pinterest!