A golden, creamy sweet caramelized onion bacon dip that is perfect as an appetizer or delicious on baked potatoes.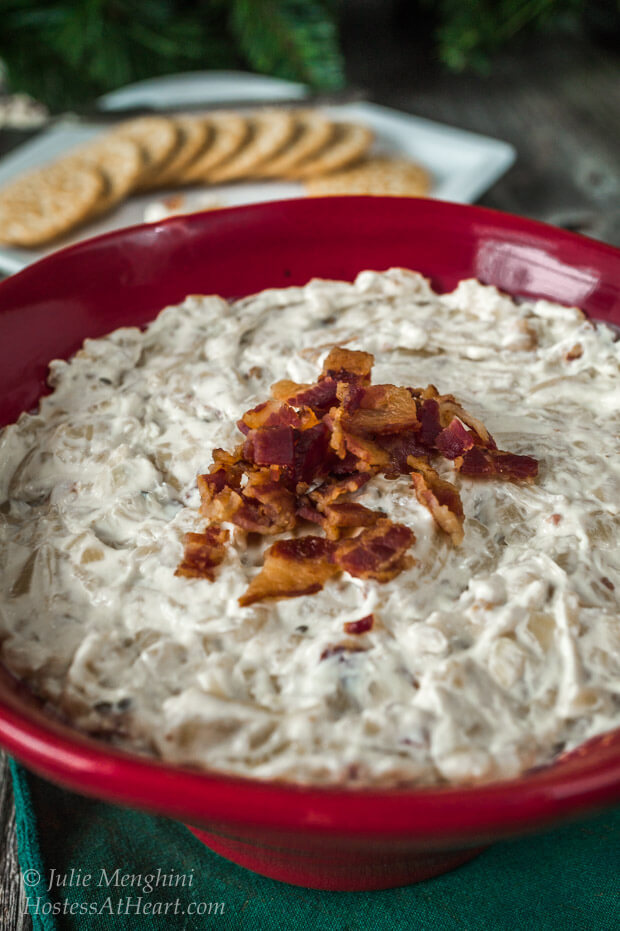 I get tons of emails, like all of us, showing recipes and promotions, and things that you just have to try. Some I keep, but most I delete. One glorious day, I was received this recipe for Caramelized Onion Bacon Dip. The originator was Martha Stewart. I really wanted to make it for the next get-together we attended!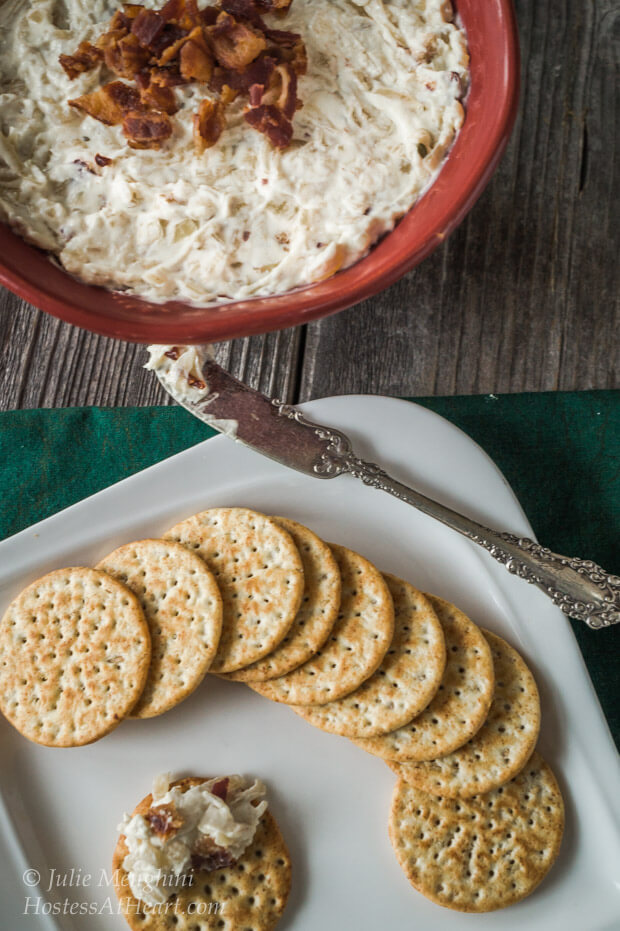 Well for us, that generally doesn't take long. We love socializing, and I always take something to share. I had a friend ask me to do a blind taste test on his dip. I didn't do too bad of a job, and then asked him to do the same for my dip. When I told him what it was, he said no way, I don't eat onions. Yea right, he does now!
This recipe is even better the next day. It's a dip recipe, but we ended up putting the leftover dip on baked potatoes. Caramelized onion and bacon? Hello flavor! I served this dip on buttery crackers. You could easily have served it with veggies for another option. Either way, just try it!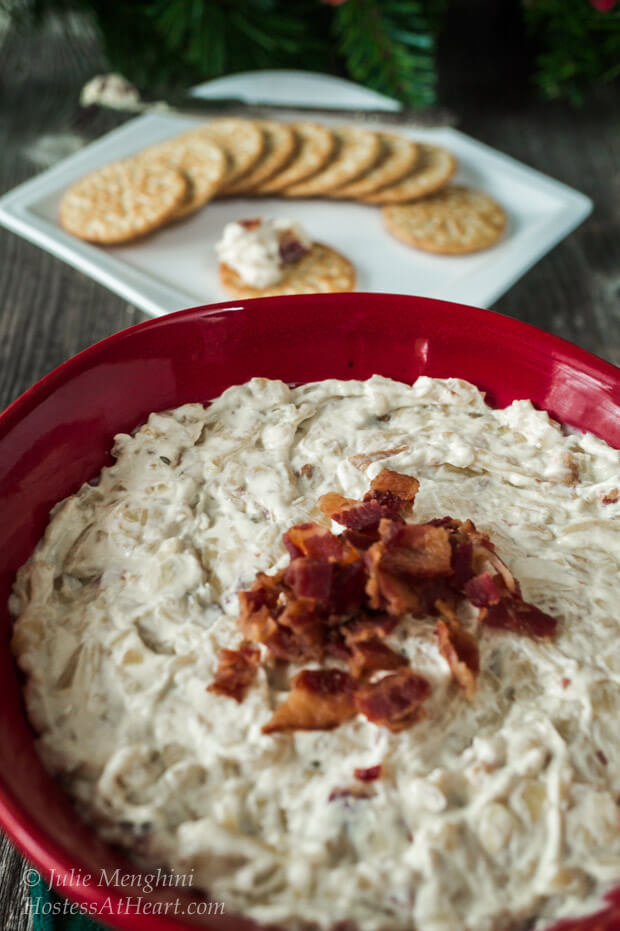 This recipe used 4 strips of bacon. I doubled that amount, and the recipe had you fry shallots for the top, but I just used, you got it, bacon. This recipe can easily be cut in half and it will still be a generous sized appetizer. For another great appetizer choice, try my Creamy Gorgonzola Cheese and Fig dip!
Caramelized Onion Bacon Dip
A golden, creamy sweet caramelized onion bacon dip that is perfect as an appetizer or a condiment for baked potatoes.
Ingredients
2

tablespoons

olive oil

3

lbs

of yellow onions

sliced thinly (1/8 inch)

1/4

cup

red wine vinegar

1

tablespoon

fresh thyme

chopped

8

slices

of bacon

cooked

8

ounces

cream cheese

1

cup

sour cream

Salt and Pepper
Instructions
Heat oil in a heavy bottom pan. Add onion and cook at medium high for 15 minutes. Cover and reduce heat to low. cook stirring occasionally until light golden brown, approximately 45 minutes.

Cook bacon. Drain on a paper towel and chop. Set aside.

Raise heat to medium on onion mixture. Season with salt. Stir in vinegar; simmer until mixture is dry. Stir in thyme; remove from heat. Turn onion mixture out on a cutting board and allow to cool slightly. Chop coarsely.

Beat cream cheese in a bowl until smooth. Fold in sour cream, caramelized onions and all but 2 tablespoons of chopped bacon. Top mixture with remaining bacon. Cover with plastic wrap and allow to chill for at least 1 hour.
Notes
Recipe adapted from Martha Stewart Living
Nutrition
Serving:
10
g
|
Sodium:
239
mg
|
Calcium:
82
mg
|
Vitamin C:
11
mg
|
Vitamin A:
494
IU
|
Sugar:
7
g
|
Fiber:
2
g
|
Potassium:
302
mg
|
Cholesterol:
49
mg
|
Calories:
254
kcal
|
Saturated Fat:
9
g
|
Fat:
20
g
|
Protein:
6
g
|
Carbohydrates:
15
g
|
Iron:
1
mg
This recipe was calculated using the exact brands and measurements I used to make this recipe. If you are following a strict diet please note changing anything will cause the nutritional info to change. My calculations are intended as a guide only.
This recipe is so good that I can't wait to share it with my friends at Throwback Thursday, Fiesta Friday and Saucy Saturdays!