Homemade Pho is a flavorful soup with an Asian influence. The Pho Broth recipe is infused with spices and poured over fresh vegetables and thinly sliced lamb.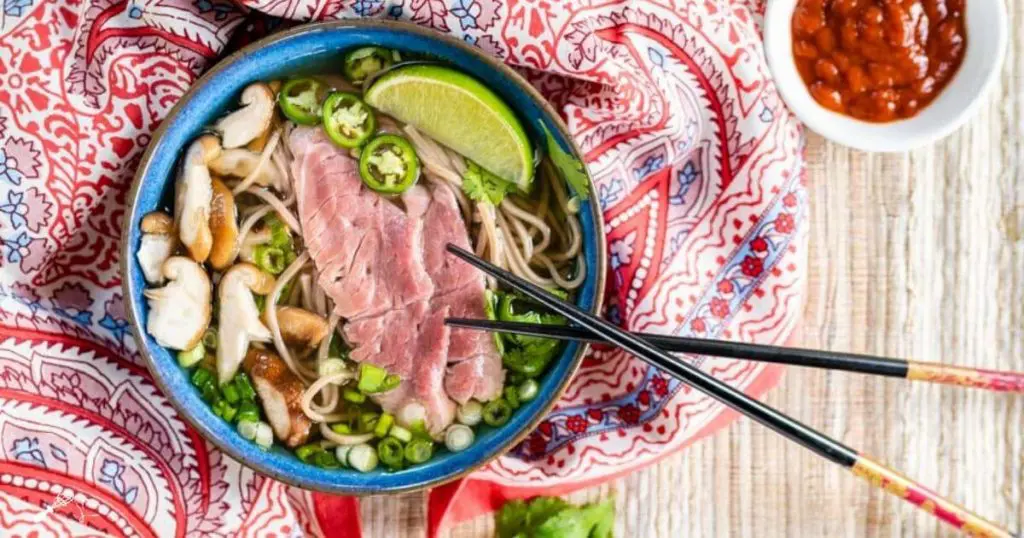 Homemade Pho with Lamb is a clean flavorful soup made with a flavorfully spiced pho broth, crisp vegetables, and thinly sliced rich lamb. Fresh Serrano peppers provide a delicious kick to every bite.
What in the heck is Pho? That's exactly what I wondered the first time I'd seen it on a menu!
We were out in Colorado on a skiing trip. Several of the restaurants had a very eclectic vibe. My son was all excited when we came across "Pho" on one of the menus.
It was pretty funny trying to remember how it's even pronounced let alone what it is.
Pho is pronounced "fuh" and is a Vietnamese soup typically made from beef broth and spices and then poured over noodles, vegetables, and thinly sliced beef or chicken.
I'm putting a disclaimer out there right now. I'm not claiming that this is an authentic Vietnamese Pho! This is our version of Pho, and boy is it delicious. You can read a little more about the traditional recipe and history if you'd like.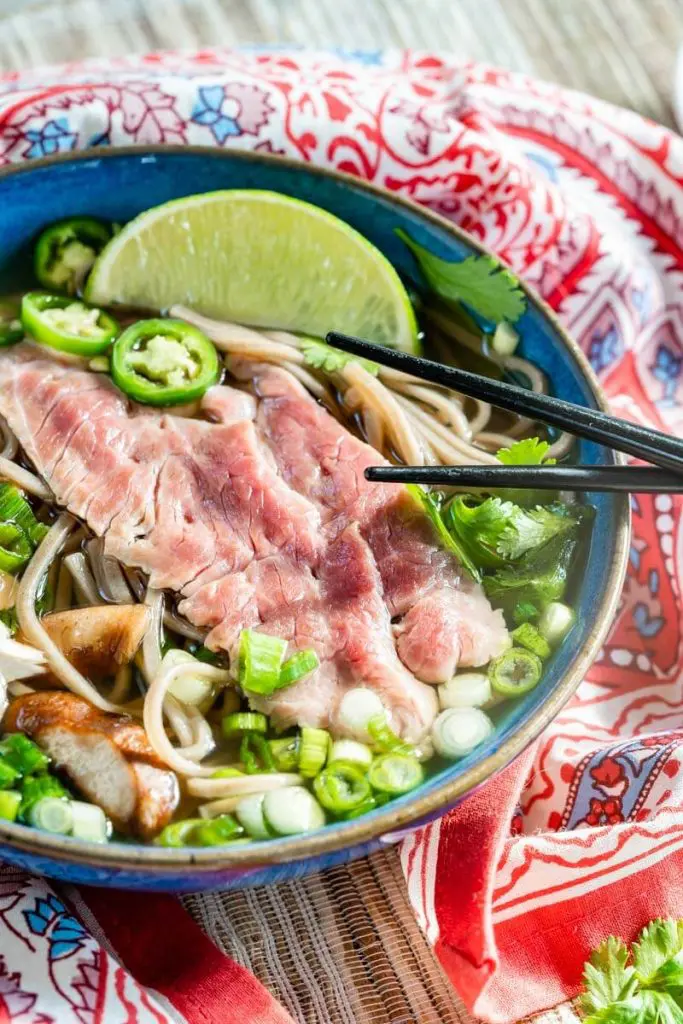 This post is sponsored by True Aussie Beef & Lamb but the opinions here, and love I have for their products and their story are all my own.
It wasn't long ago that I had a beautiful French Cut Rack of Lamb that I used to make Pistachio Crusted Lamb Chops and Bacon-wrapped Lamb Medallions. I loved the fact that I got two delicious meals from that cut of meat.
For this Homemade Pho recipe, I used a boneless leg of lamb. Since the bone is removed, the meat is netted together making it so easy to create a lot of recipes from.
Traditional Pho is made from boiling beef bones for several days. It's served in a large bowl and served with add-ins which can include herbs, bean sprouts, radishes, and noodles.
Hostess At Heart participates in affiliate programs. As an Amazon Associate, I earn a commission from qualifying purchases. Please refer to my disclosure page for more information about these affiliate programs.
Pho Soup Ingredients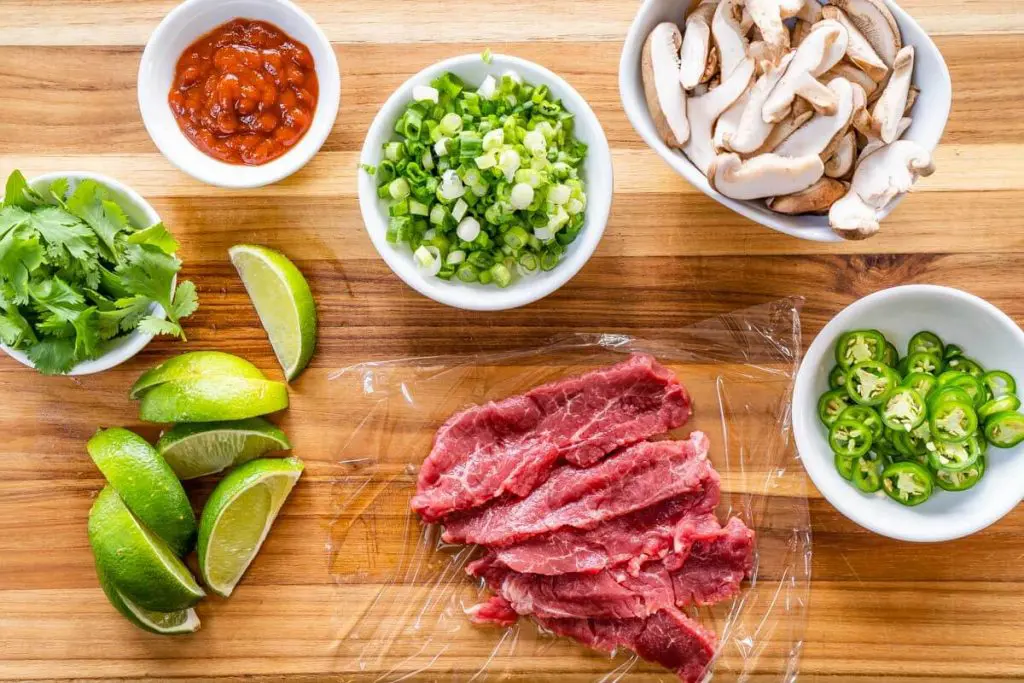 This Quick Pho recipe includes beef broth cooked with flavorful spices and then poured over fresh herbs, vegetables, noodles, and raw thinly sliced lamb. Here are our simple list and variations you can use to make it your own.
Beef Broth – you can make your own, buy it canned, or what we did was use an organic and low sodium beef base.
Spices – star anise, coriander seed, stick cinnamon, and whole cloves
Fresh Ginger – I didn't bother peeling the ginger and just sliced it.
Onion – White or yellow variety. Use what you prefer.
Green Onion – Green onion (scallions) spice up this broth beautifully and aren't overly powerful.
Brown Sugar – Use what you like. I use dark brown sugar in most of my cooking and baking.
Fish Sauce – Fish sauce adds a deep and beautiful flavor to soups and Asian recipes
*Australian Lamb – Lamb works beautifully since it can be sliced thinly and cooked quickly in this flavorful broth.

Putting the whole piece of lamb in the freezer for 10 minutes will make it easier to slice thinly.

Serrano peppers – The broth takes on the heat of the peppers you use. We used Serrano and used them for flavor but I didn't eat them. They're spicy! If you like a little less heat use seeded jalapeno peppers. Bird's Eye Chili is a Vietnamese chili that is often used in this dish as well.
Cilantro – we love cilantro and it's delicious in this Pho broth. You can also use Thai basil.
Mushrooms – We used shiitake because they're less dense than a cremini or white button mushrooms. Enoki, Beech or Maitake would be amazing in this homemade Pho too!
Lime – Pho is often served with a lime wedge for spritzing the dish after it's assembled.
Noodles – I love Buckwheat Soba noodles. These noodles have a nutty flavor and cook up in under 5 minutes. Other choices would be rice noodles which are more traditional or ramen.

Take the little band off of the noodles before cooking them. I didn't think I needed to explain this until John boiled up a batch with it on. Eyerolls inserted here!

Condiments – traditional condiments would be Sriracha, Hoisin, or Soy sauce. This Pho soup recipe didn't need any!
The garnishes you choose should be sliced thinly and do well in the hot Pho broth. Use whatever you like.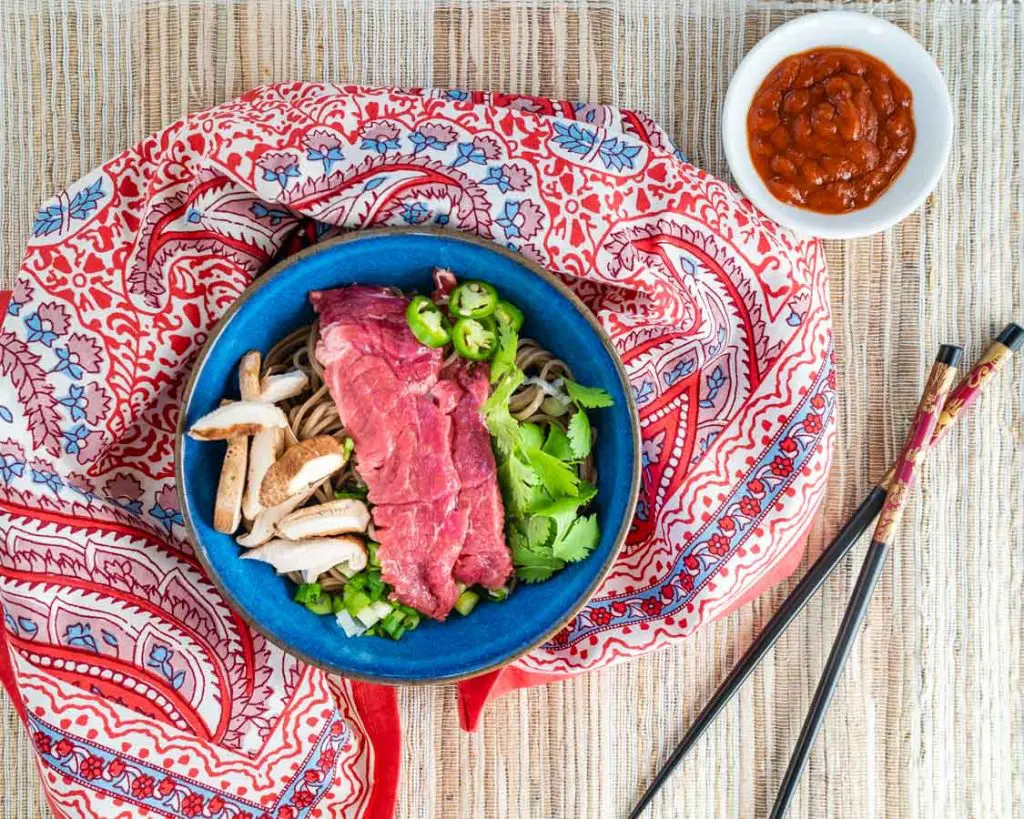 *The True Aussie Beef & Lamb Company produces lamb that is free-range and naturally fed on Australian pasturelands, so it's mild tasting and naturally lean and tender. Aussie Lamb is free of artificial additives and hormone growth promotants.
This locator can help you find True Aussie Lamb in your area.
How to make a spice satchel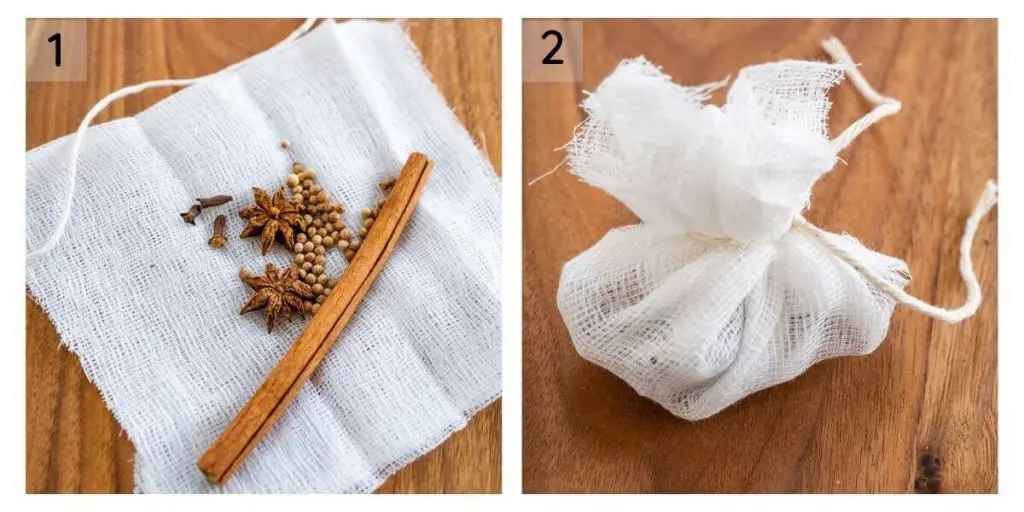 Cut a 6″ square piece of cheesecloth and a piece of kitchen twine to tie it off.
Assemble the clove, coriander, star anise, and cinnamon sticks in the center. Gather the edges together and tie the top securely.

My cinnamon stick was 5 to 6-inches long so I just snapped it in half.
Besides tasting absolutely amazing, this dish comes together quickly and the ingredients can be adjusted according to what you like. Our Pho broth recipe cooks in 30 minutes and tastes like it took days!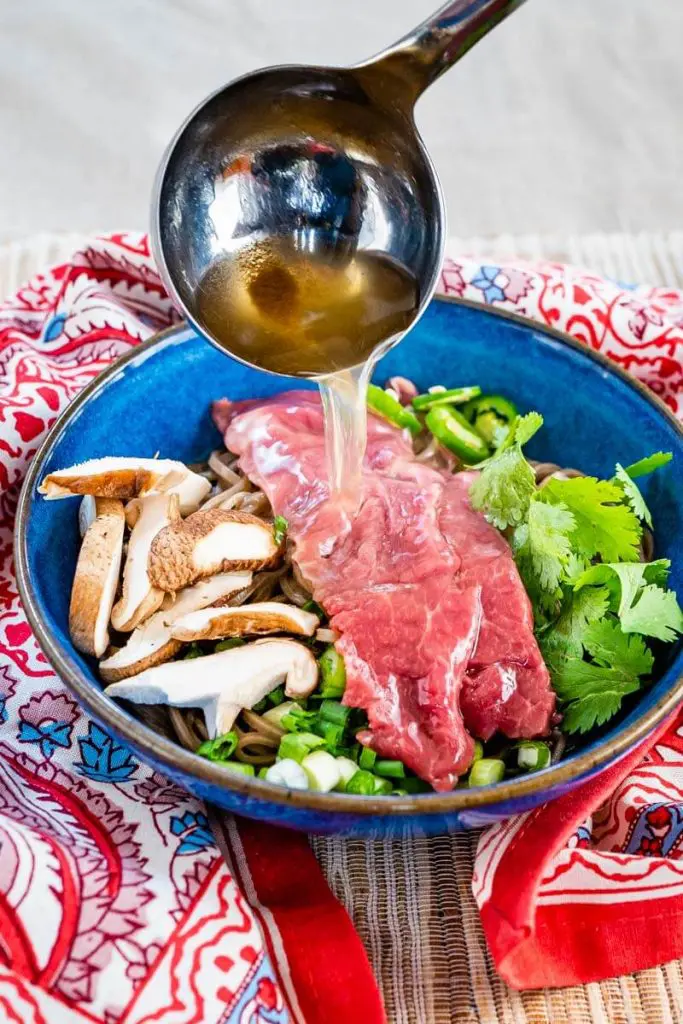 HERE ARE A FEW MORE EASY LAMB RECIPES YOU MAY ENJOY
We love lamb and you can find all of our lamb recipes here!
Suggested Side Dishes
Don't forget to pin this delicious Pho recipe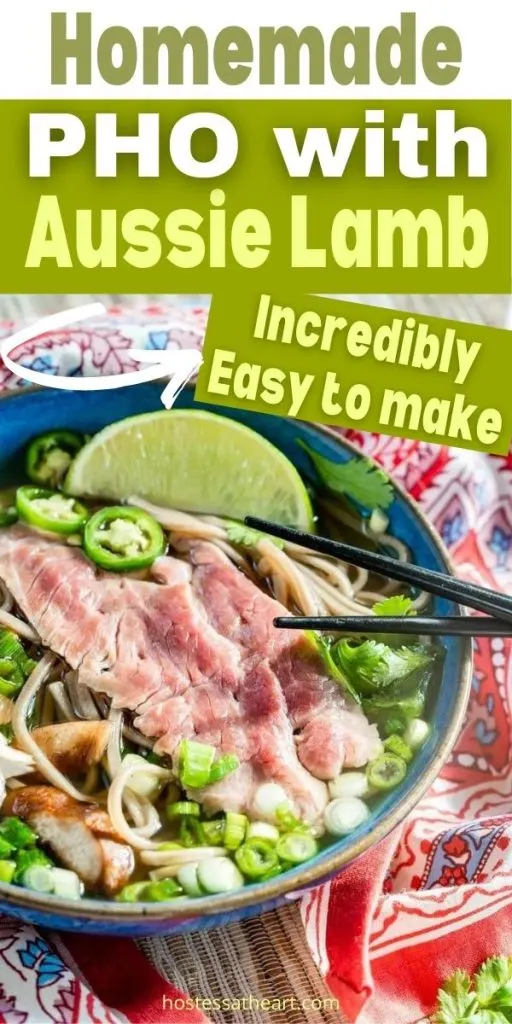 Products we use to make Homemade Pho with Lamb
Cheesecloth – We wrapped up our spices and made a sachet and tied it with kitchen twine. After they'd done their job they were easy to remove.
Spyder Strainer – This is one of our favorite gadgets! We were able to remove the onion and ginger after our broth was done.
What's popular now!
Are you new to Homemade Pho or a seasoned Pho expert? I'd love to hear about your version of Pho Broth recipe! Leave it in the comments below.