Tender grilled Lamb Medallions are rich and flavorful. The smokey bacon and smooth Red Wine Sauce elevates this dish to a gourmet status but is quick and easy enough to be made at home.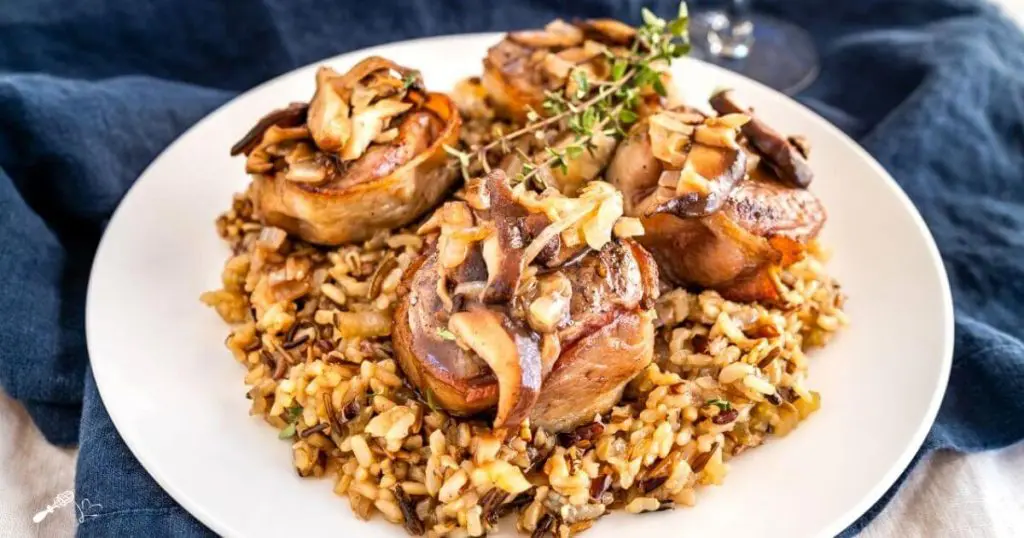 There are so many ways you can use a rack of lamb. Lamb Medallions are so tender and delicious. They're also quick and easy!
Not long ago I shared our Pistachio Crusted Lamb Chops recipe.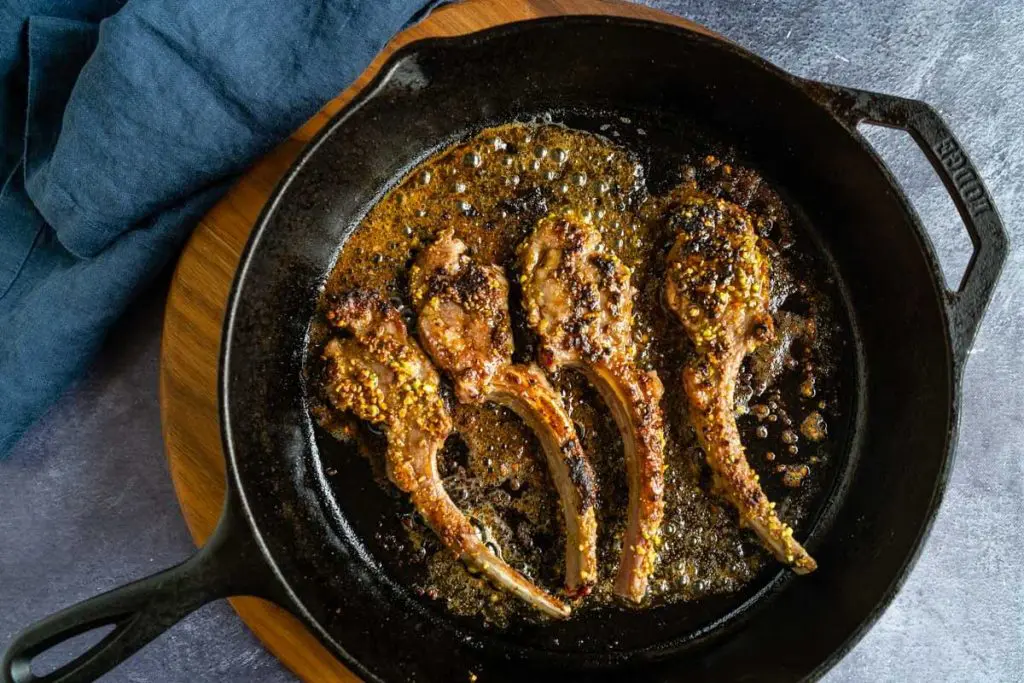 We had 8 ribs to our French cut rack of lamb and I used four of them in that recipe.
Don't you just love it when you can get two meals made from one single piece of meat? That made this beautiful rack of lamb the perfect choice for just the two of us!
I hope to show you how quick and easy this boneless lamb chop recipe is using the remaining four ribs.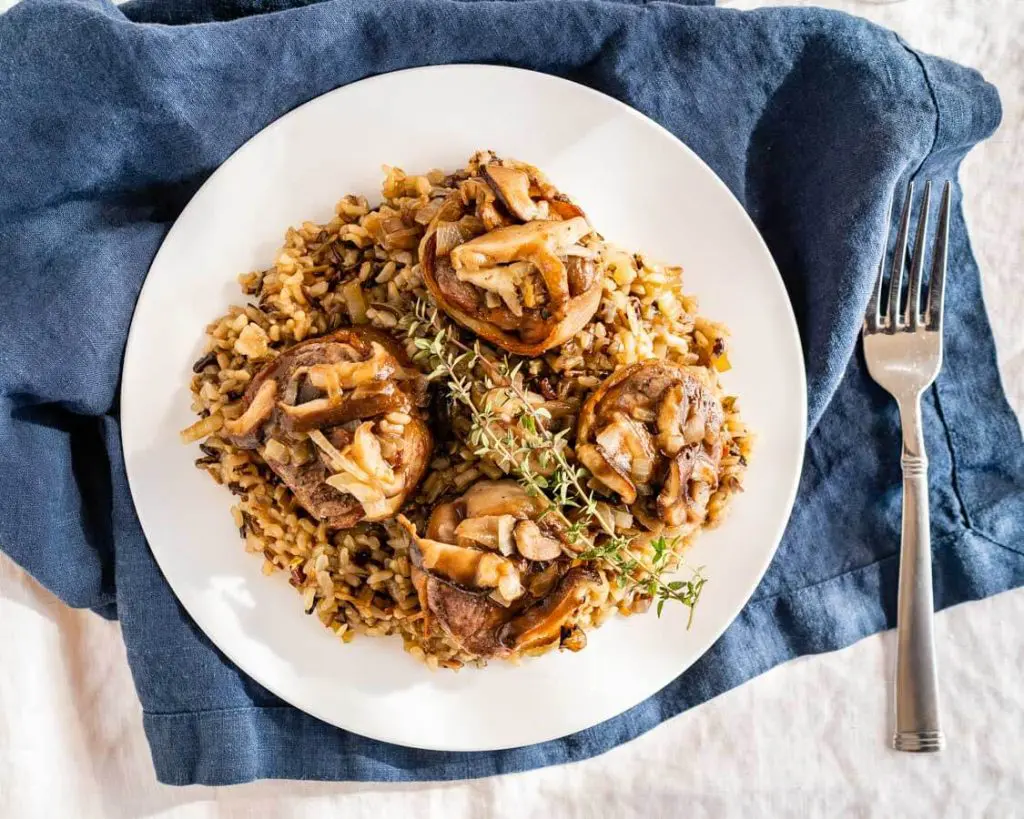 This post is sponsored by True Aussie Beef & Lamb but the opinions here, and love I have for their products and their story are all my own.
Simply put, exposing the bones on the rib rack of lamb is referred to as a "French Cut". Cutting the bones apart created our lamb chops.

Cutting the meat off of each lamb chop provides us with our lamb medallions used in this Grilled Lamb Medallion recipe.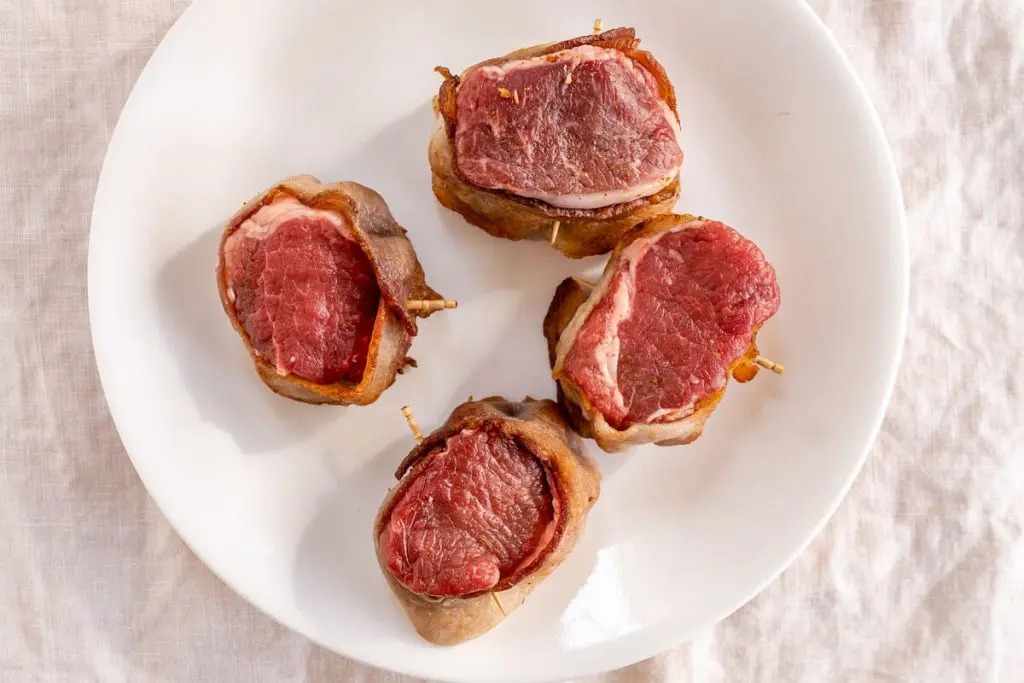 Bacon-Wrapped Lamb Medallions in Red Wine Ingredients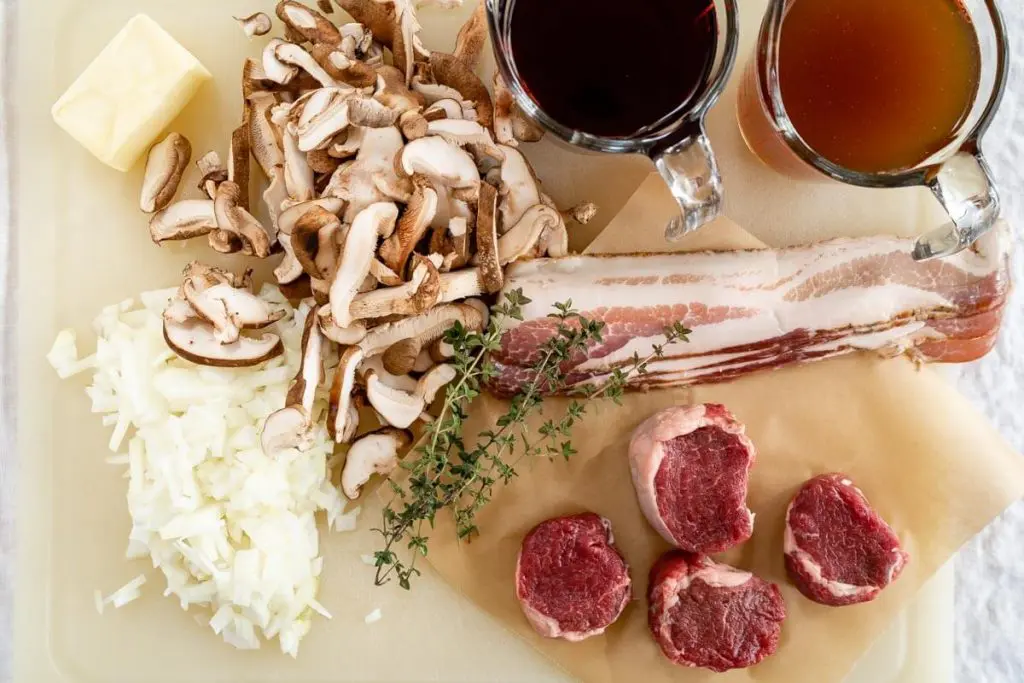 Lamb Medallions – Australian Lamb is what we prefer.
Bacon – It's easier to wrap lamb medallions with a thinner slice of bacon. For that reason, we don't recommend using thick-sliced bacon.
Red Wine – Choose a smooth wine that isn't strong in tannins. A Cabernet or Pinot works well. A wine that is tart or bitter will make a tart or bitter wine sauce.
Butter – salted or unsalted is fine. Butter makes our red wine sauce smooth and rich.
Beef Broth – Low sodium, fat-free is what we use.
Flour – all-purpose flour is used to thicken the wine sauce.
Thyme – Fresh is preferred.
The True Aussie Beef & Lamb Company produces lamb that is free-range and naturally fed on Australian pasturelands, so it's mild tasting and naturally lean and tender. Aussie Lamb is free of artificial additives and hormone growth promotants.
This locator can help you find True Aussie Lamb in your area.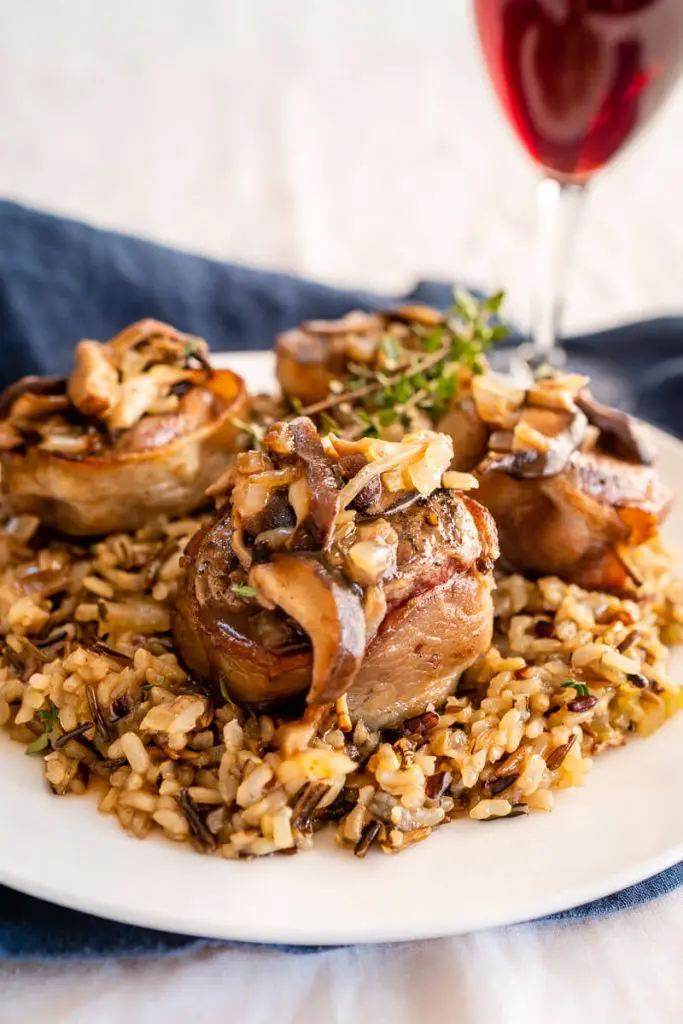 Tips for making the perfect Grilled Lamb Medallions
Use one whole slice of bacon. Even though the lamb medallions are small, the bacon will shrink once it's cooked. We found that a whole slice of bacon is a perfect size for this easy lamb recipe.
Pre-cook the bacon until just pliable. It makes wrapping the lamb medallions easier. It also assures that your bacon is cooked when the lamb is finished.
We added diced onions and mushrooms to the bacon grease to add additional flavor to the rice we made to go with this recipe. This is optional but delicious! I really recommend doing it!
Raise the rack on your grill. These lamb pieces cook quickly, and raising the rack assures that your lamb will not be tough or overcooked.
Cook by temperature, not time. Use an instant-read thermometer and remove the lamb when it reaches an internal temperature of 125°F.
Tips for the best sauce for lamb
Red wine makes an easy sauce for lamb. I usually am the inside cook and John does the grilling. If you're making this recipe by yourself, here are some tips.
Red wine sauce can be made ahead of time and then heated when you're ready for it. This is helpful if you're making this recipe for entertaining too.
In a saucepan, melt the butter and then whisk in the flour. Cook it over medium heat whisking it continually until it's smooth. Add the red wine and thyme and whisk and cook until it starts to thicken.
Add the beef stock and allow this sauce to simmer until thickened.
Salt and pepper to taste.
Suggested Side Dishes
I served simple brown rice mixed with mushrooms and diced onions that had been sauteed in the bacon grease used in this recipe.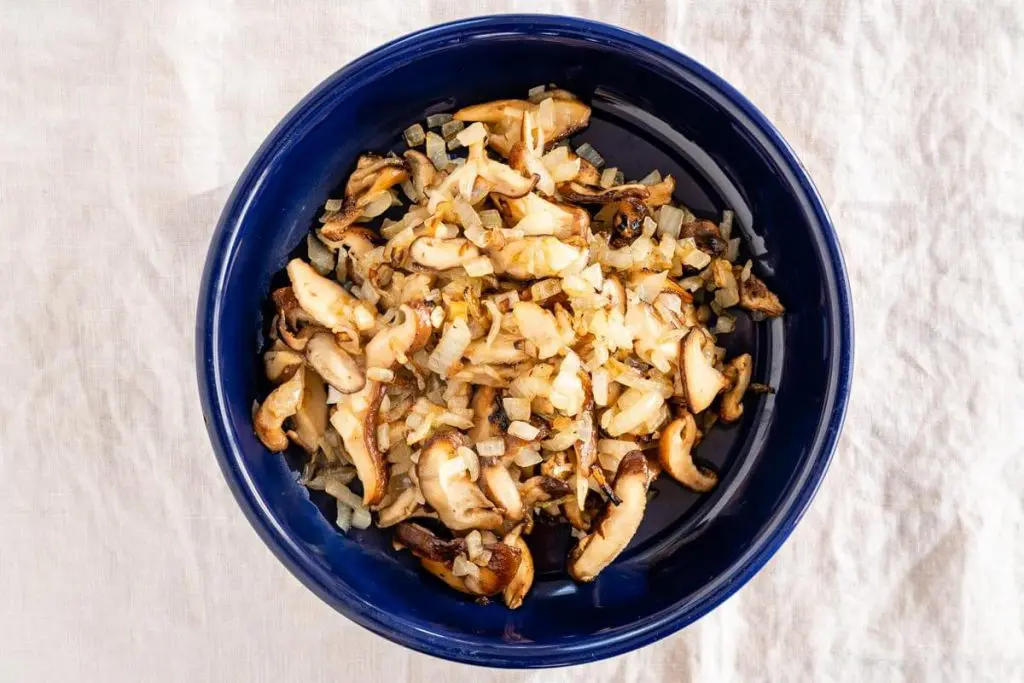 I wouldn't go with a rich side dish. Perhaps a vegetable or fruit salad such as the following.
Products we use to make Lamb Medallions
Skillet – I prefer to use a skillet when making sauces that need to be whisked. It allows me to see how my food is cooking and browning. It cleans up beautifully and is durable.
Whisks – I love my whisks and have them in several sizes, shapes, and colors. I have a gadget obsession I guess and love these!
Instant-read thermometer – I use an instant-read thermometer for this recipe, for grilling, and even baking bread! I couldn't function without one.
Here are a few more easy lamb recipes you may enjoy
Pin these amazing Grilled Lamb Medallions!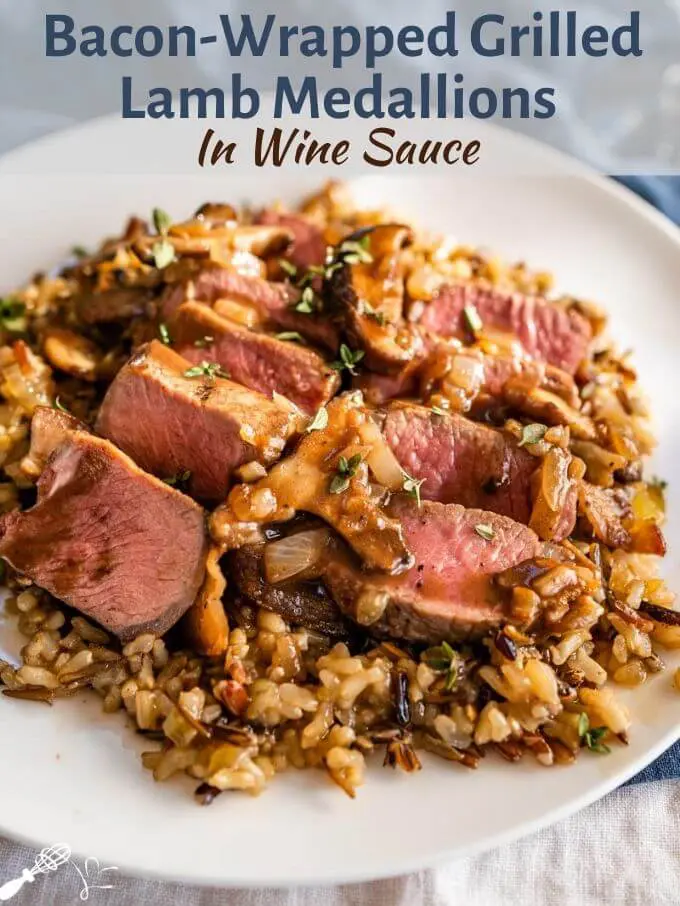 Are you a lamb lover? What's your favorite lamb recipe?
I hope you enjoyed our Bacon-wrapped Grilled Lamb Medallions with Red Wine Sauce. It's a great recipe in our humble opinion perfect for a special occasion or an easy dinner.
Most Popular Recipes