Nothing says "Good morning!" like these moist and tender sourdough blueberry muffins. Use your sourdough discard to make the perfect breakfast.
Serve these tasty sourdough blueberry lemon muffins as a stand-alone fast breakfast on your way out the door or make a batch to have as part of a delicious brunch for guests or family.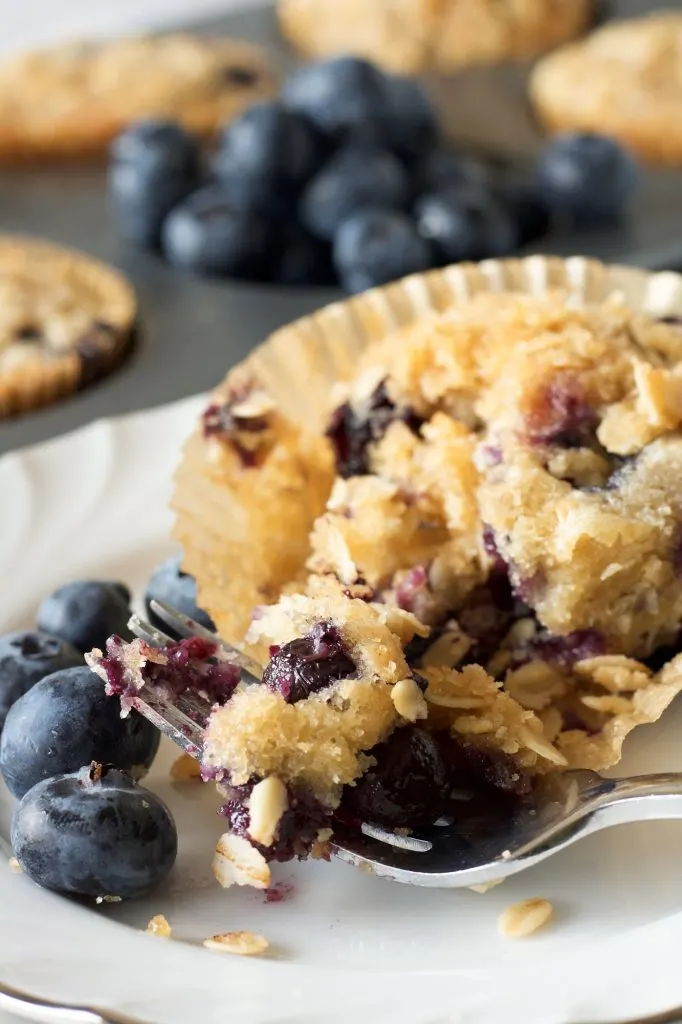 What is Sourdough Discard
Sourdough discard is an unfed sourdough bread starter. Sourdough starter has to be fed (active) in order to use it to bake sourdough bread recipes. When the starter runs out of the food that makes bread rise, it's referred to discard.
Why Bake With Sourdough Discard
When baking muffins with sourdough discard you end up with a moist and tender result with a texture resembling coffee cake. Our sourdough blueberry muffins are perfect for breakfast!
The best part is you are using something that would otherwise just get thrown away. If you're like me you really dislike throwing something away that has another use.
Here are some more recipes that are great using sourdough discard.
Equipment Needed To Make Sourdough Discard Blueberry Muffins
Muffin Tin – This is the muffin pan that I use. It bakes evenly and is of great
quality.
Mixing Bowls – I love these bowls. They come with lids so I store leftovers in them too.
Paper liners – These paper liners are greaseproof and non-stick. I use this brand
all the time.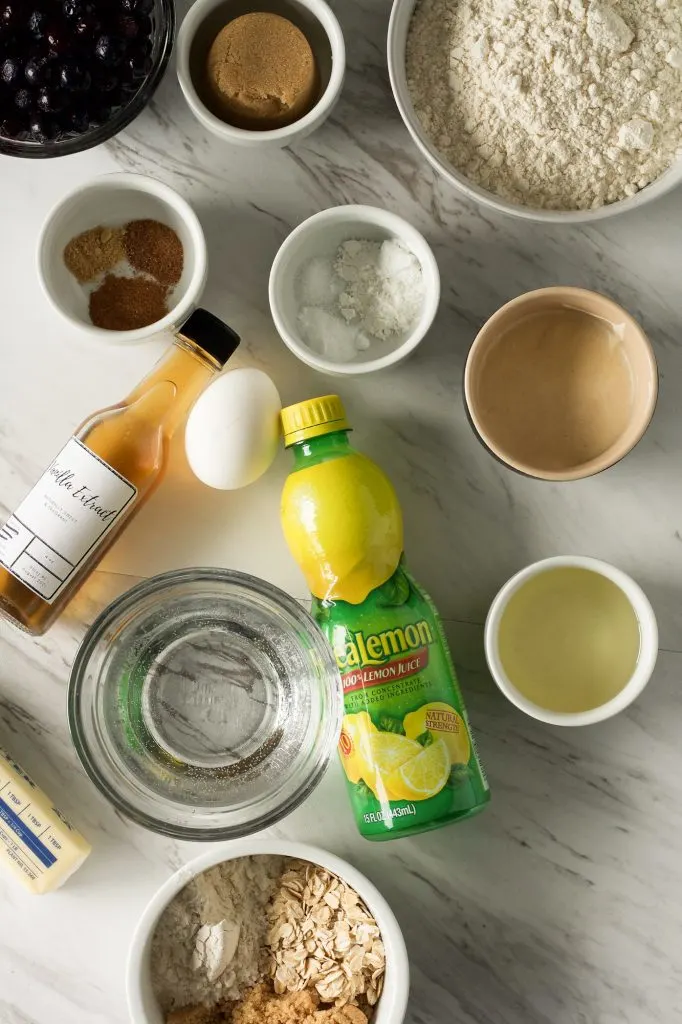 Ingredients For Sourdough Blueberry Muffins
Sourdough Starter Discard
All-Purpose Flour
Salt. I use finely ground sea salt.
Baking Powder
Baking Soda
Ground Cinnamon
Nutmeg
Ground Ginger
Vegetable Oil. Canola will work.
Water
Brown Sugar. I use dark but light is fine
Vanilla Extract
Large Egg
Blueberries
Lemon Juice
Streusel Ingredients
Old Fashioned Oats
All-Purpose Flour
Brown Sugar
Butter – cold and diced.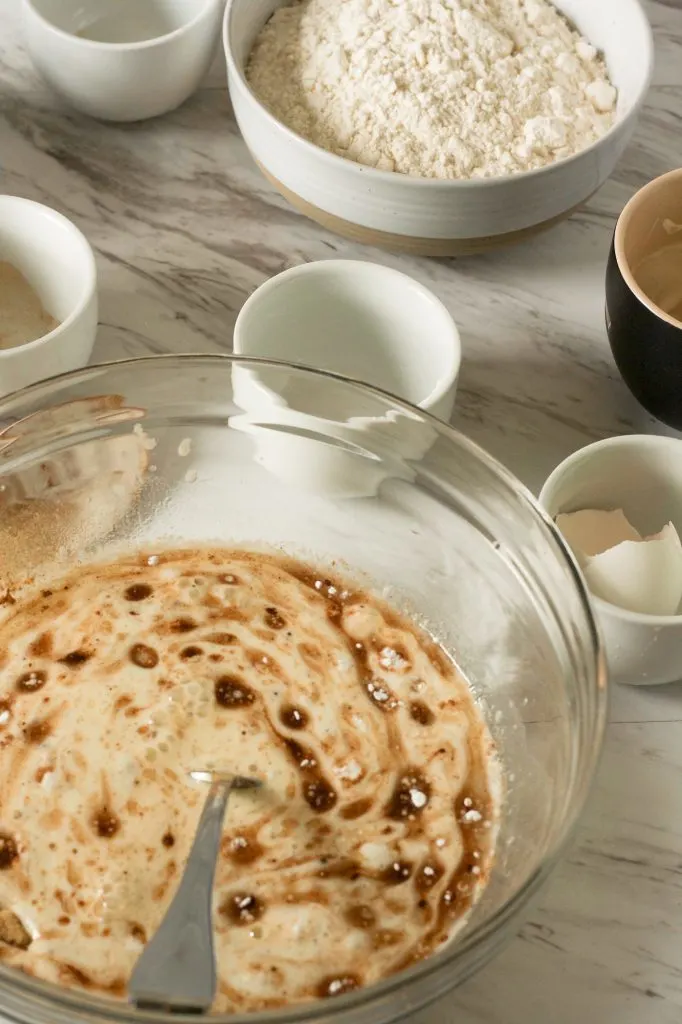 How To Make Sourdough Blueberry Muffins
Step One. Preheat the oven to 375 F, and line muffin tins with cupcake liners.
Step Two. In a large mixing bowl, on low speed with a hand or stand mixer, mix together sourdough starter, oil, water, vanilla extract, egg, and lemon juice. Muffins may be mixed by hand too.
Step Three. Once mixed, slowly mix in the brown sugar, sea salt, baking powder, baking soda, cinnamon, nutmeg, and ginger. Mix until combined, do not over mix.
Step Four. Add in your blueberries, fold in until combined, being careful not to squish them. If squished, your batter will turn purple!
Step Five. In a separate bowl, combine the Oat topping ingredients, for the butter, roughly dice this into small pieces before adding to the rest and then cut it into the other ingredients using two forks or a pastry cutter.
Step Six. Fill prepared cupcake liners 3/4 full with batter, and put 1 Tbsp of the oat topping mixture on each filled muffin.
Step Seven. Bake in the oven for 20-25 minutes, or until the toothpick comes out mostly clean. (just a few crumbs)
Step Eight. Remove the muffins from the pan when slightly cooled. Finish cooling on a wire rack.
How to Make Streusel
Mix all of the ingredients of the streusel together with a hand mixer or mash together with a fork, pastry cutter, or potato masher.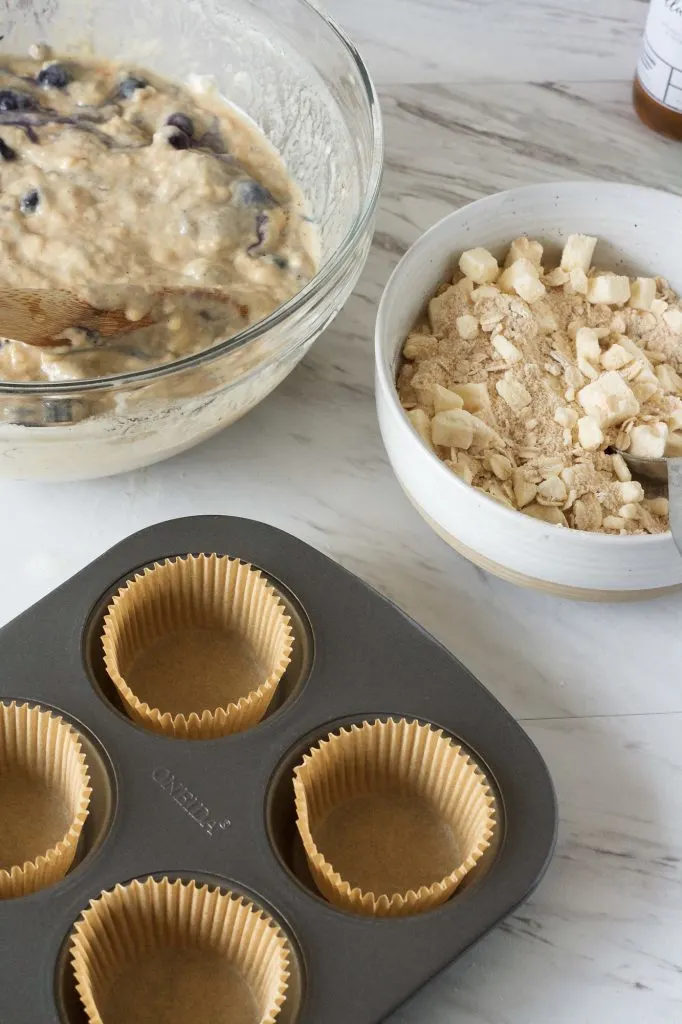 What to Pair with Your Sourdough Discard Blueberry Muffins for a Lovely Brunch
Cheesy Hashbrown Casserole – Crockpot Recipe
Orange Salad – Easy Fruit Salad Recipe
Southwestern Chorizo Hash with Poached Eggs
Sausage Stuffed Acorn Squash with Fennel
Creamy Tropical Fruit Cocktail Salad Recipe
Subsitutions & Additions
Add chopped nuts such as walnuts or pecans.
Instead of the streusel topping, Leave it off or sprinkle the top with turbinado sugar for a delicious crunch.
Add lemon zest with in the muffin batter or to the streusel topping.
Add a basic powdered sugar glaze with a dash of lemon extract drizzled on each muffin.
Use strawberries or dried cranberries instead of blueberries.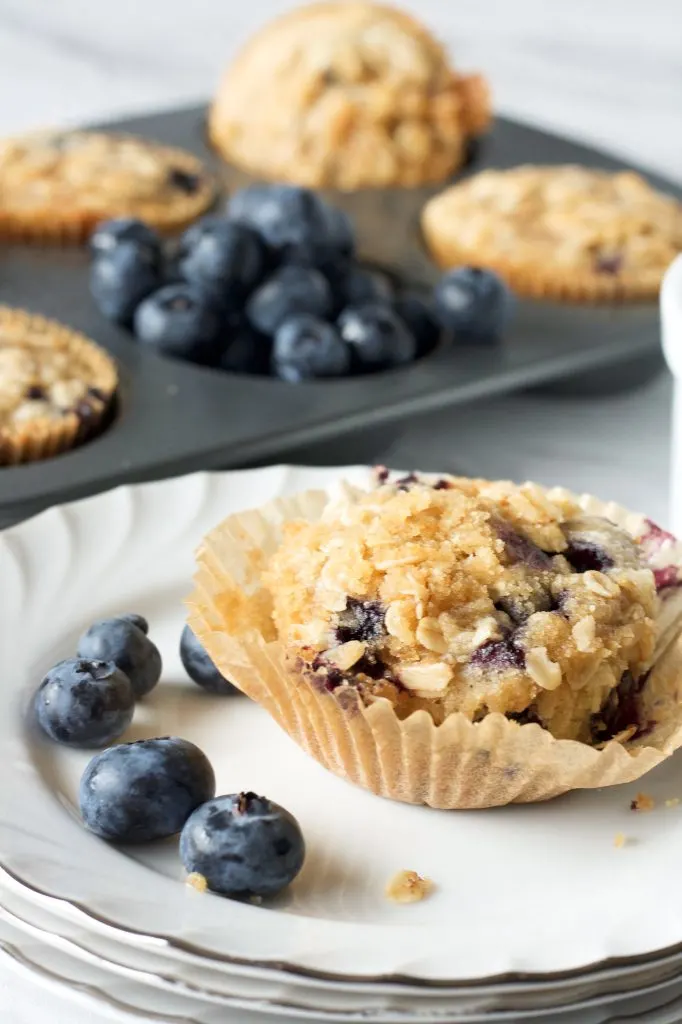 How To Reheat & Store Sourdough Blueberry Muffins
Best Way To Store Sourdough Discard Blueberry Muffins?
Keep your leftover muffins at room temperature for 2 to 3 days in a resealable plastic bag or airtight container.
How Long Will Sourdough Blueberry Muffins Last In the Fridge?
If you would like to refrigerate the muffins, they will keep in an airtight plastic bag or airtight container for two to three days refrigerated.
Can I Freeze Sourdough Discard Blueberry Muffins?
Yes. Place them in a freezer-quality plastic bag or an airtight container and freeze them for up to three months.
How To Reheat Sourdough Blueberry Lemon Muffins?
Place a frozen muffin in the microwave for 20-30 seconds depending on the wattage of your microwave.
Sourdough Blueberry Muffin Recipe FAQs
Can I use frozen blueberries to make sourdough blueberry muffins?
Yes! I've successfully used fresh and frozen. I love the organic wild blueberries. They
are smaller but pack a lot of flavor.

Make sure they're not covered in ice crystals. Too much liquid can cause muffins to be dense. You can add them directly from the freezer to the recipe or if you thaw them make sure any extra liquid is drained from them.
How can I make my muffins lighter and fluffy?
Make sure your ingredients are room temperature before mixing. That will assure that the muffins properly expand when bakes which is what makes them light and fluffy.

Also, make sure that your baking soda and baking powder are fresh and active. Our Baking Basics post will show you how. Don't overmix the batter. Overmixing causes muffins to be dense and flat.
What is the secret to making moist muffins?
Acidic ingredients help keep muffins moist. In this recipe, the sourdough discard provides the acidity to make these muffins moist.

I also used dark brown sugar. It is less drying than white sugar. You can use light brown sugar if that's what you have.
Can I substitute melted butter for oil in muffins?
Yes, you can substitute butter for vegetable oil. For this recipe melt 5 1/3 tablespoons of
butter and then let it cool a bit.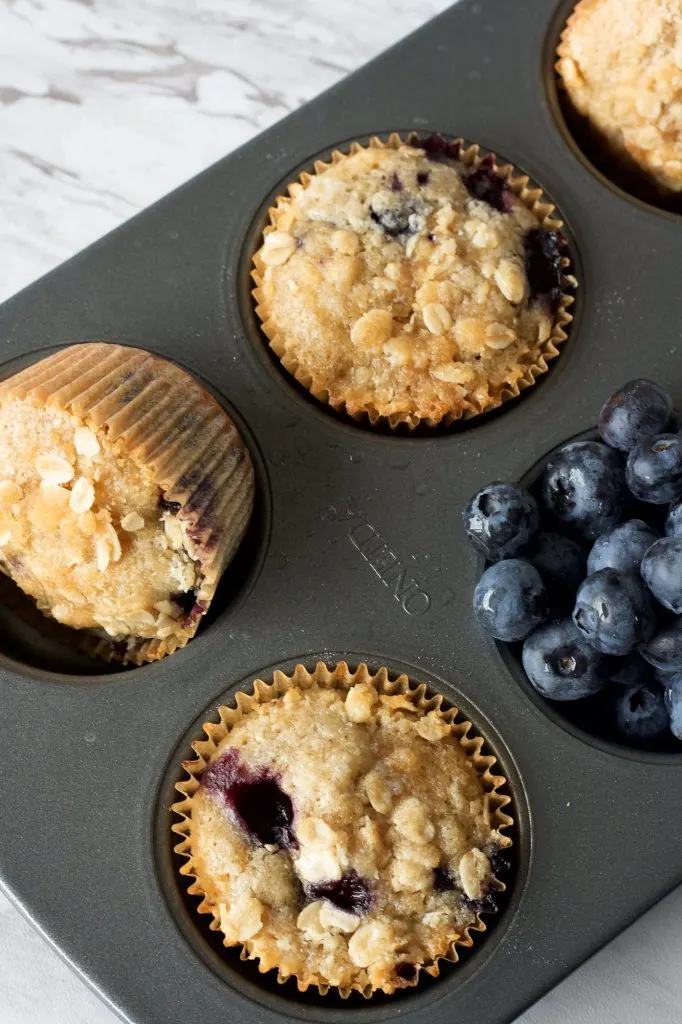 Tips to Make the Best Sourdough Blueberry Muffins
The muffin papers that I recommend are greaseproof and don't stick. If you're unsure of your liners, spritz them with a little non-stick cooking spray.
Don't overmix the batter. That will make these muffins dense and tough.
Fold in the blueberries, especially if they're frozen. Using the mixer can break the berries up.
For more lemon flavor, use 1 teaspoon of lemon zest. You can also replace some of the vanilla extract and half lemon extract. Lemon extract can be very powerful so be careful.
Preheat your oven to make sure it's up to temperature before baking and don't open the door unnecessarily.
Don't overbake the muffins. They're done when tested only a few crumbs are stuck to the toothpick. The toothpick doesn't have to be totally clean.
Remove them from the muffin tin as soon as you can handle them to stop them from baking.
Let the muffins cool completely before removing the paper liners. They will pull back from the sides and not stick to the muffin papers.
Streusel Tips
Apply the streusel topping right before baking. You don't want the topping to absorb the
moisture from the muffin batter which will prevent your topping from being crumbly.
Don't mix your streusel topping with using your hands. The heat of your hands will soften the butter.
Don't cut the butter too finely into the streusel. That will keep the topping from being
crumbly. You want the butter cold and crumbly, not fine.
Other Sourdough Discard Recipes You'll Love
Start your own Sourdough journey!
If you're interested in starting your own sourdough bread journey, you can start your own sourdough starter. This Overnight Sourdough Bread recipe is my #1 post! Homemade Sourdough Bread with All-Purpose Flour is a keeper too!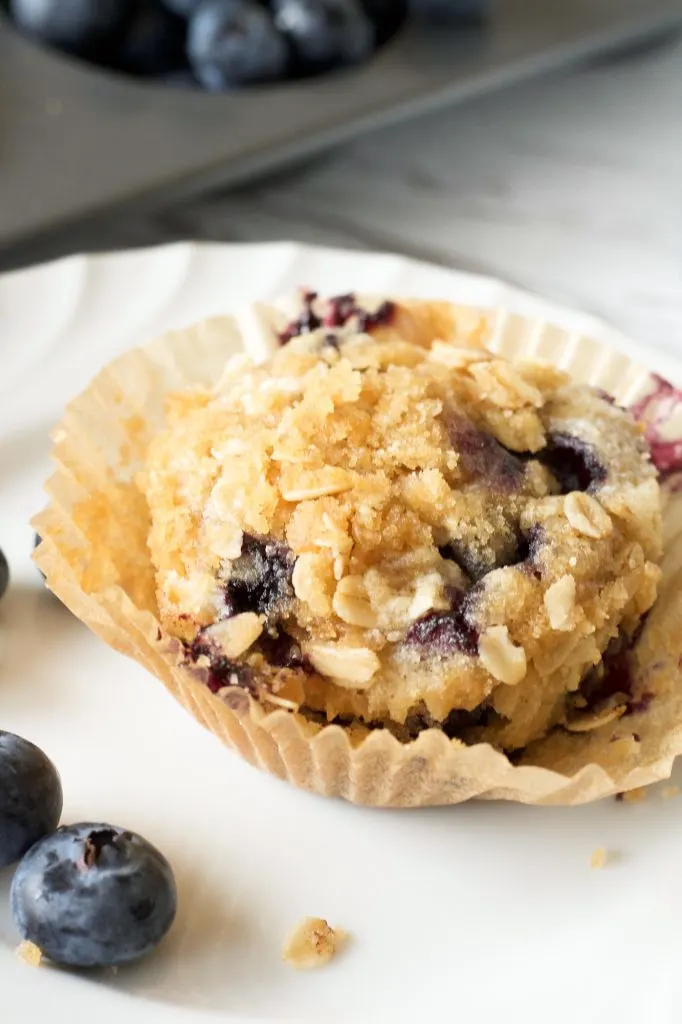 Don't Forget To Come Back And Let Me Know How Your Sourdough Discard Blueberry muffins Turned Out!