A hot loaf of this delicious homemade cinnamon raisin bread is the perfect weekend wake-up call for your family. It's even better shared over hot coffee with a decadent pat of butter on each slice.
You will be surprised to find out how simple and therapeutic it is to make a homemade loaf of bread. Set aside the time just once and you will come back to this recipe time and time again. This is what home tastes like.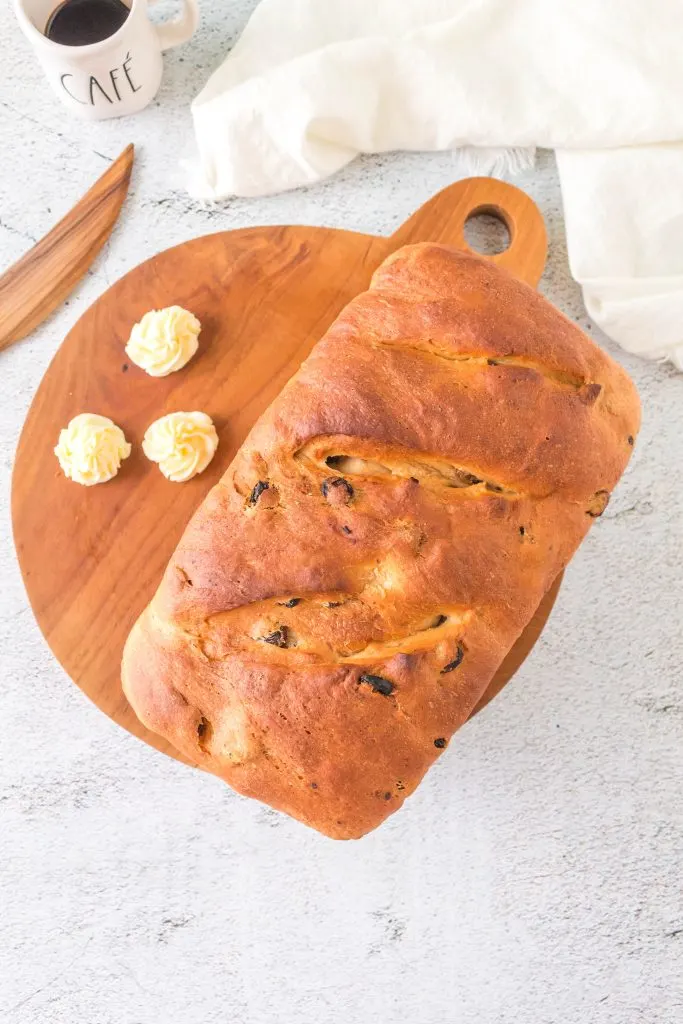 Why You'll Love This Cinnamon Raisin Bread Recipe
That smell. If we are being honest here, soft Homemade Raisin Bread from scratch is worth it just for that smell. If you've ever walked into a kitchen after freshly baked bread comes out of the oven, you know what I'm talking about. And If you haven't, well then you are in for a treat.
Clean Eating. You won't find any preservatives in this bread, it's just straight up delicious. Did you ever wonder why that bread from the store lasts 3 weeks?
Because of the preservatives, which aren't really great for our bodies, it's nice to have a homemade alternative. Not to mention the taste does not compare.
Leftovers! Did you know the recipes that you can make with leftover raisin bread are amazing? We love this bread simply toasted or in this French Toast Bake!
Equipment Needed To Make Homemade Raisin Bread
Clear mixing bowls. Because clear bowls will help you keep track of what your dough is doing.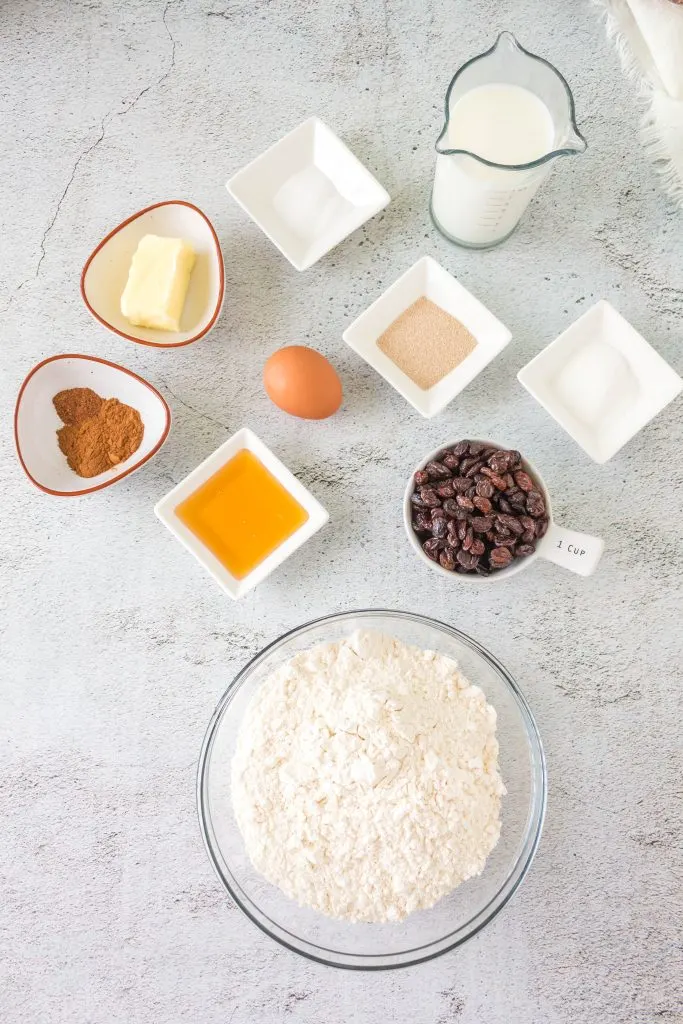 Ingredients For Your Homemade Cinnamon Raisin Bread
Milk. I used whole milk. You can substitute with water alone but I add 1-1⁄2 of additional butter. I've found that the additional fat helps keep the bread moist.
Active Dry Yeast. Not instant yeast, not rapid rise yeast and not quick yeast, because none of those choices will work for this recipe. I explain the differenes in my baking techniques post.
White Granulated Sugar.
All-purpose Flour. I use unbleached but bleached is fine.
Raisins. Any variety of raisins will work, but regular raisins are my choice.
Ground Cinnamon. Make sure to replace your spices often because old spices lose flavor.
Ground Nutmeg.
Honey.
Salt. I use finely ground sea salt but you can certainly use regular table salt.
Large Egg.
Unsalted Butter. Because the dough already has salt I definitely recommend unsalted. If you use salted butter, reduce the salt by one-half to 1/4.
How To Make Homemade Cinnamon Raisin Bread
Step One. Put the raisins in a bowl and cover them with hot water for 15 minutes and then drain off the water.
Step Two. In the bowl of a stand-up mixer fitted with a dough hook, add the warm milk, yeast, and white sugar. Let it sit for 4 to 5 minutes so the warmth of the milk can activate the yeast.
Step Three. In a separate mixing bowl, combine the flour, raisins, ground cinnamon, and ground nutmeg. Mix until all combined and the raisins are coated with the flour mixture.
Putting the raisins in with the flour helps suspend them in the bread so they don't all end up on the bottom of the loaf.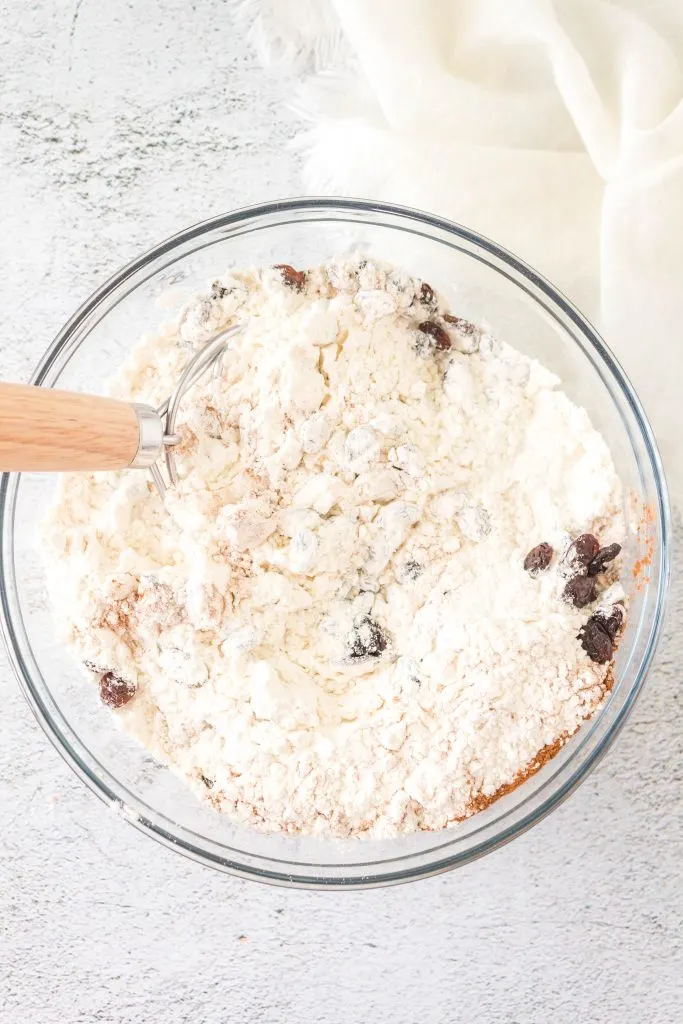 Step Four. Add the honey, salt, egg, and butter to the yeast mixture. At slow, speed mix quickly, 30 seconds.
Step Five. Add the flour mixture and mix at slow speed until all the ingredients are incorporated, no more dry flour is loose in the bowl.
Step Six. Increase your mixer speed to medium and mix for 4 to 5 minutes. The dough will be wet but as you mix the gluten develops, and it will become less sticky.
If you don't have a stand-up mixer, you can knead the dough on a lightly floured surface or pastry mat for 8 to 10 minutes.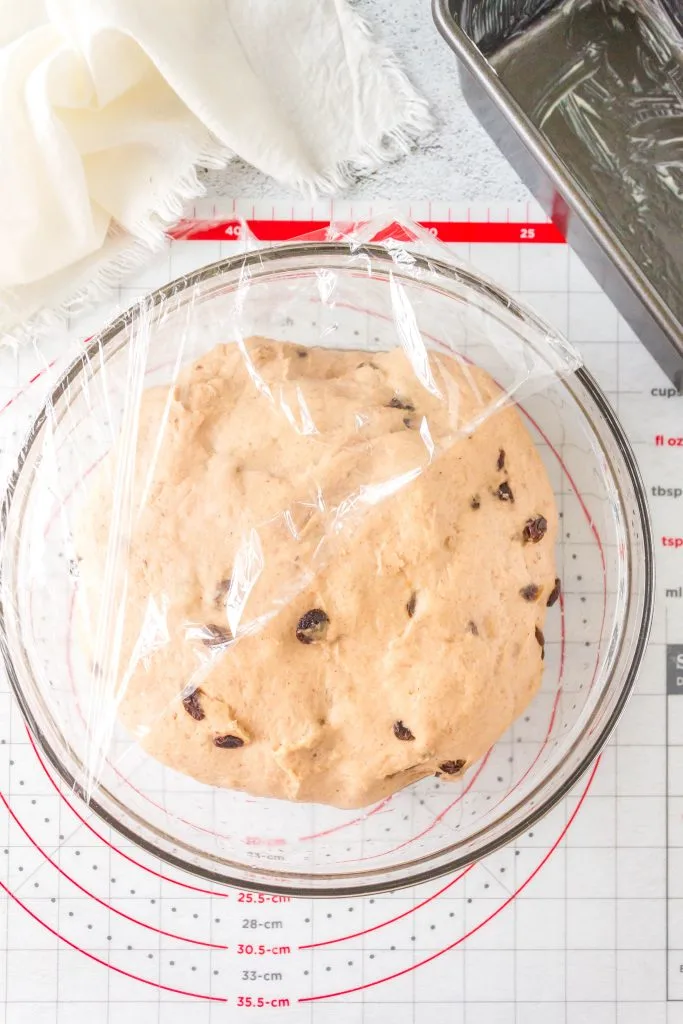 Step Seven. Oil a large mixing bowl to prevent the dough from sticking. Transfer the ball of dough to the oiled bowl and cover it with plastic wrap to keep the dough from drying out or developing a hard crust as it rises.
Let it rise for 90 minutes in a warm, draft-free place. Cool air can halt or hinder rising.
Step Eight. Grease a loaf pan (9.25 x 5.25 inches) with shortening or butter. Set that aside.
Step Nine. Punch the dough down and then transfer it to a lightly floured surface or pastry mat.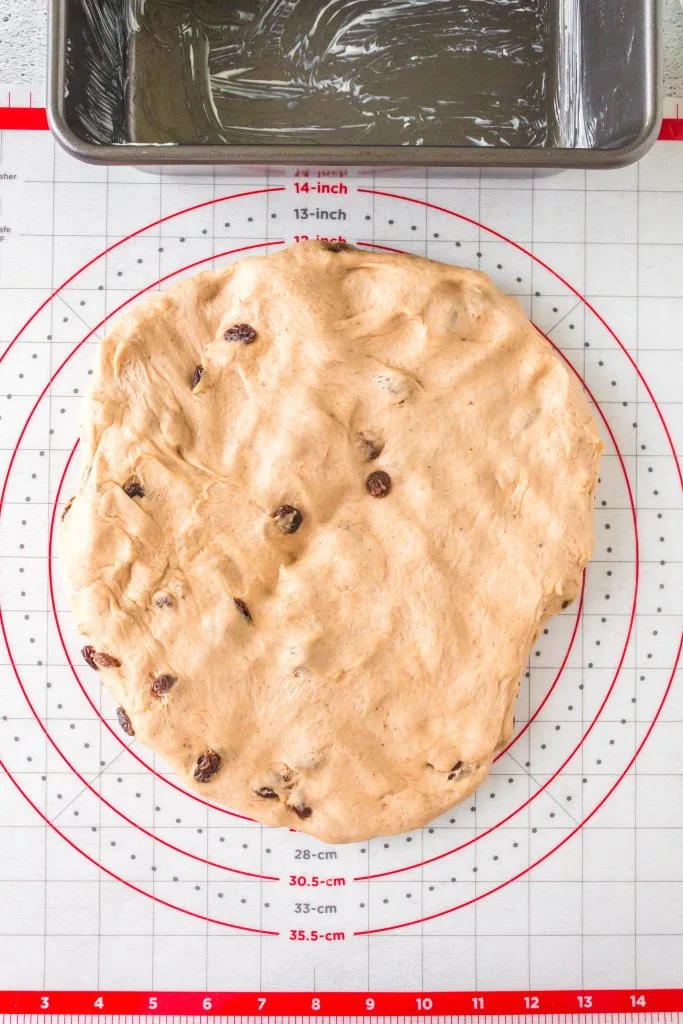 Step Ten. Flatten out the dough into a rectangle measuring about 8 x 10 inches, and roll it into a log. Then place it into the prepared pan.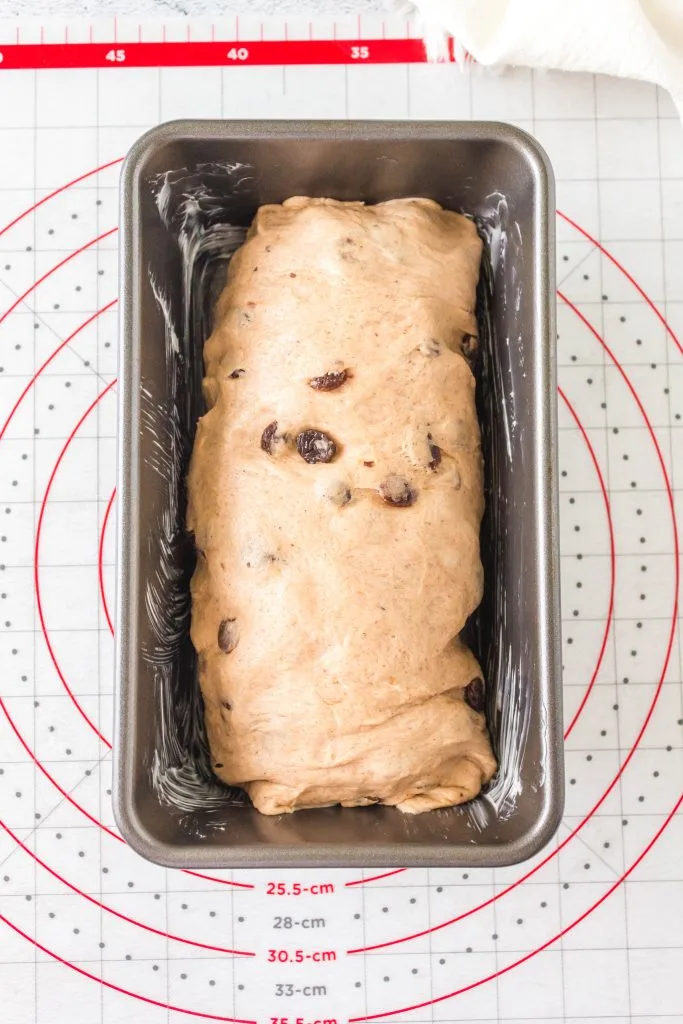 Step Eleven. Loosely cover with plastic wrap and let it rise for 15 minutes. Then score the top of the bread with a sharp knife or bread lame and cover it. Let it rise for an additional 30 minutes.
Step Twelve. Preheat the oven to 350°F so it's good and hot when you're ready to bake.
Step Thirteen. Bake the bread in the preheated oven for 30 to 35 minutes or until the internal temperature reaches 195°F (If you use 1 cup of water instead of 1 cup of milk your internal temperature will be 190°F).
Step Fourteen. Remove the bread from the pan and let it cool on a cooling rack. Slicing the bread too soon will cause it to cave in as you slice.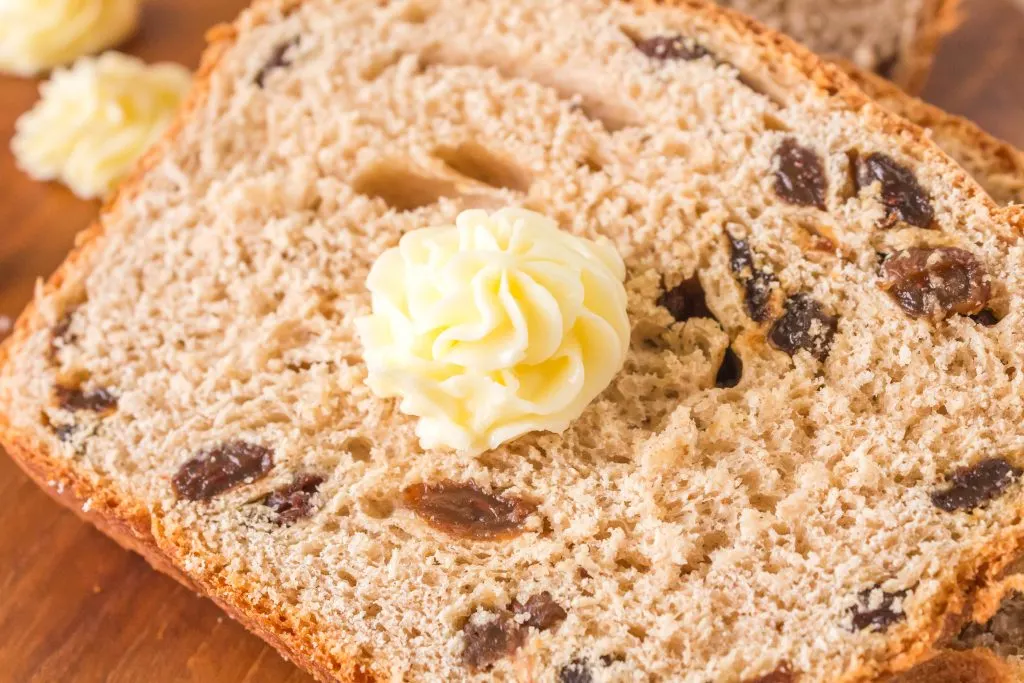 Subsitutions & Additions
Use golden raisins, craisins, or dried blueberries instead of traditional raisins.
Add nuts such as pecans or walnuts.
You can also drizzle for the top with a sweet glaze.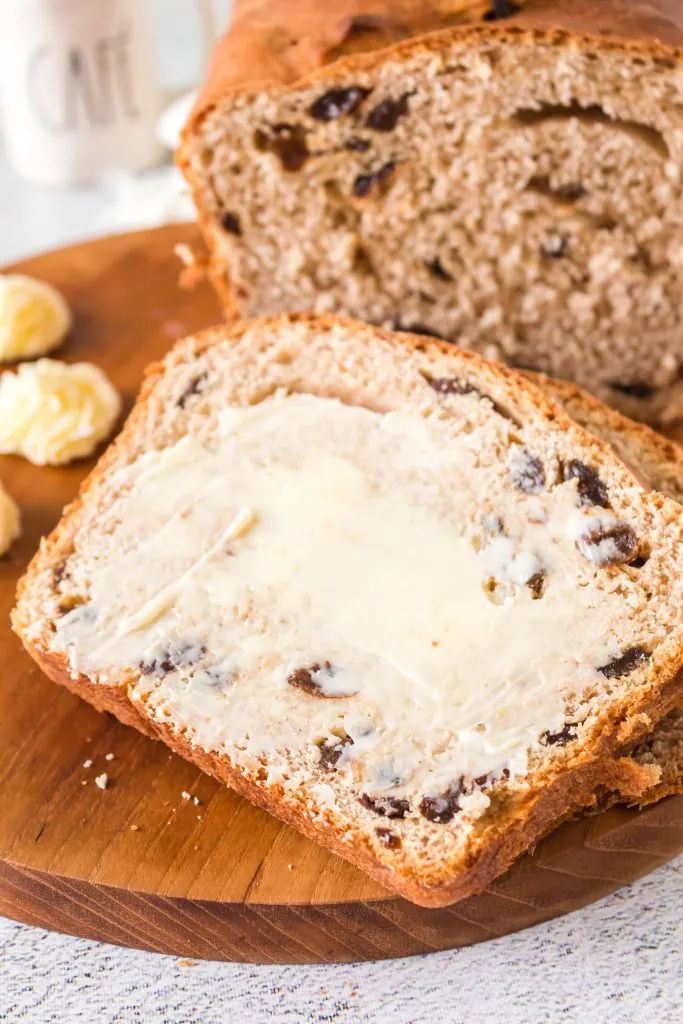 How To Reheat & Store Homemade Cinnamon Raisin Bread
Best Way To Store Homemade Raisin Bread
Because the bread is made with milk, I would suggest keeping it in an airtight container in the fridge for 4 to 5 days
Can I Freeze Cinnamon Raisin Bread?
Yes, I wrap the bread in plastic wrap and then foil or a resealable freezer bag for 2 months. Thaw the bread at room temperature or in the refrigerator.
Pin this delicious Cinnamon Raisin Bread recipe!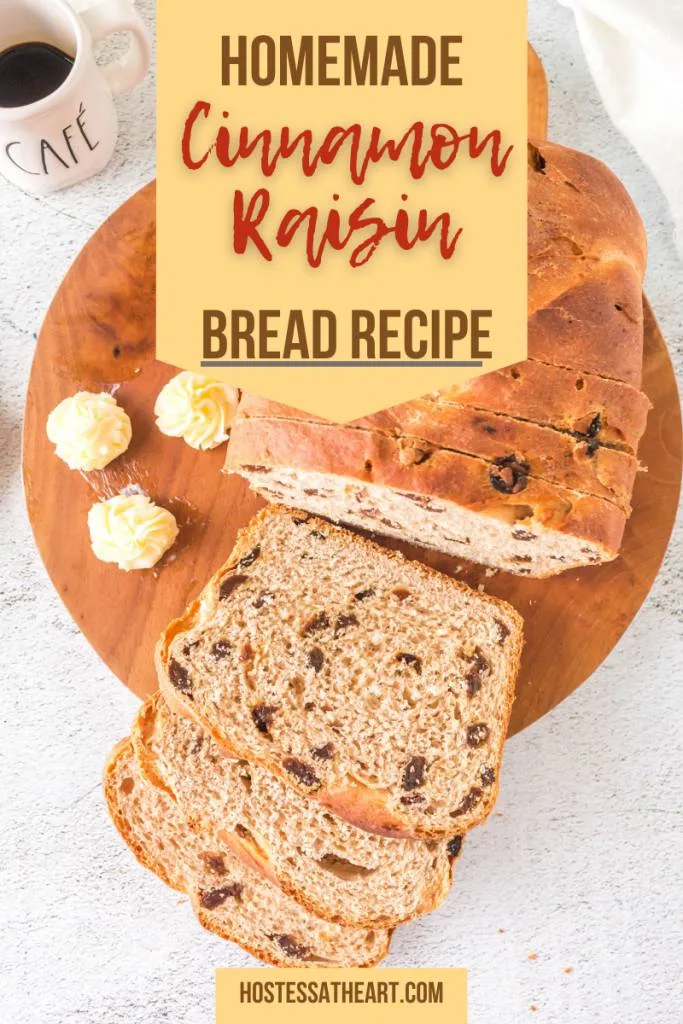 Cinnamon Raisin Bread FAQs
Should you soak the raisins before baking bread?
It isn't required. However, I prefer to soak or rinse the raisins in warm water before
using them for baking. They are dried and soaking them plumps them up and revives their flavor.
What ingredients make this bread moist?
Liquids, sugars, and fats are the ingredients in bread that make them moist.

Liquids – Bread usually lists water as an ingredient. We replaced water with milk and recommend using whole milk. Milk also adds flavor to the bread and gives it a soft crumb.

Sugars – White sugar can dry baked goods. We used a very small amount of white sugar and added honey.

Fats – This recipe uses unsalted butter instead of oil making this recipe an enriched
bread recipe.
What does adding an egg to bread dough do?
The egg helps the bread dough rise because it is considered a leavening ingredient. The fat in the yolk also helps make the crumb soft and the texture a little lighter.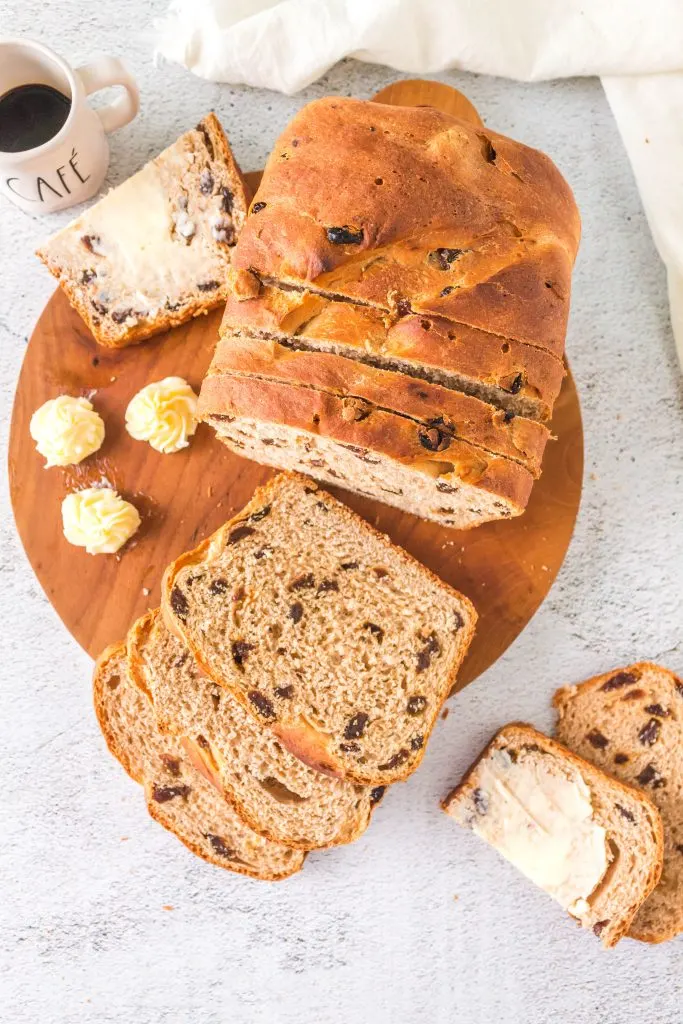 Tips to Make the Perfect Homemade Cinnamon Raisin Bread
Warm milk because helps activate the yeast. If it is too cold, the yeast will not activate properly, and if it is too hot, the heat can kill the yeast. I have sometimes compared the right temperature to bath water if that helps.
Mixing the raisins in with the flour helps keep them suspended throughout the dough instead of just sinking to the bottom of the loaf while baking.
Try not to incorporate too much flour into the dough if you're kneading it by hand, because too much flour will make the bread dry and dense.
Other Fantastic Bread Recipes