This Chocolate Hazelnut Smoothie is the perfect way to start your day. It's like eating ice cream for breakfast! Add your favorite toppings and dig into this delicious morning drink in a bowl.
Make a chocolate smoothie bowl for each member of your family and allow each person to customize the bowl to their taste with the different add-ons I've suggested. Everyone gets a special treat for breakfast, no guilt!
Kids think Moms are amazing when you "allow" them to have dessert for breakfast, and they don't need to know our little secret that this isn't actually ice cream. It's also a perfect afternoon snack.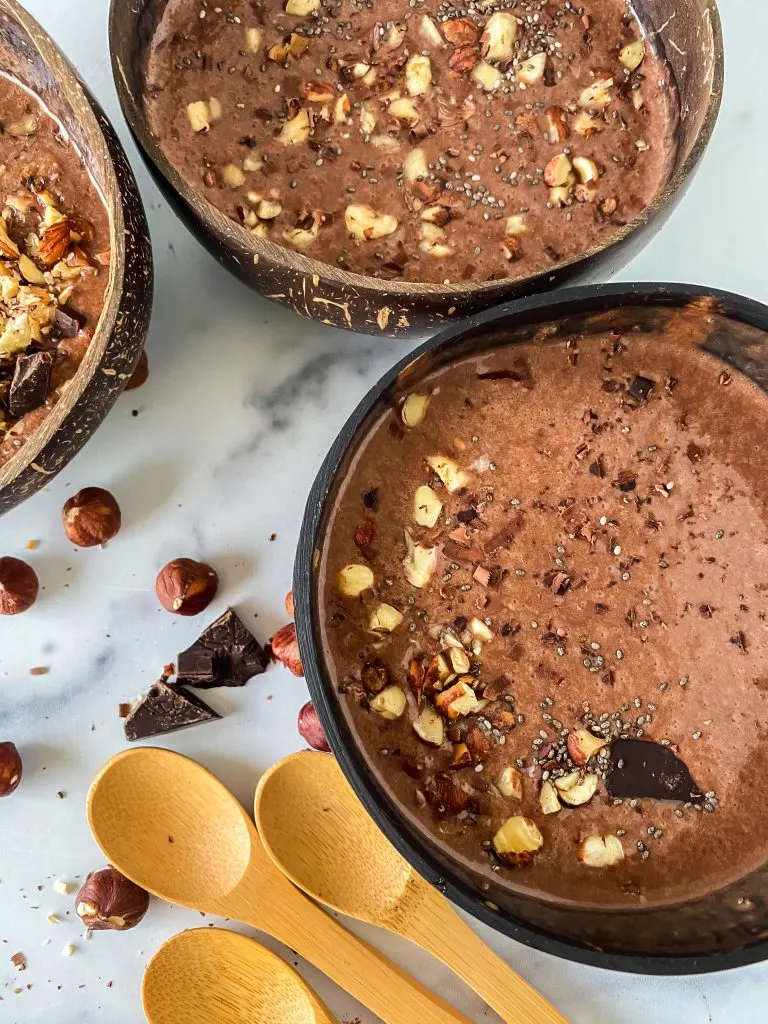 Why You'll Love This Chocolate Smoothie Bowl
Gluten-free. No worries about gluten creeping into your breakfast to slow you down or mess up your gut at the start of the day. Whether you are avoiding gluten or not, you are going to love our chocolate hazelnut smoothie bowl.
Minimal ingredients. Just five basic no-fuss ingredients make this smoothie really easy to pull together. You probably have what you need in the pantry already.
Quick and Easy to Make. It's as easy to make as grabbing five ingredients to throw into a blender. You can add additional fun toppings to your bowl to increase the protein content or fun factor, but that step is optional.
Equipment Needed To Make the Nutella Banana Smoothie
Blender. That's it!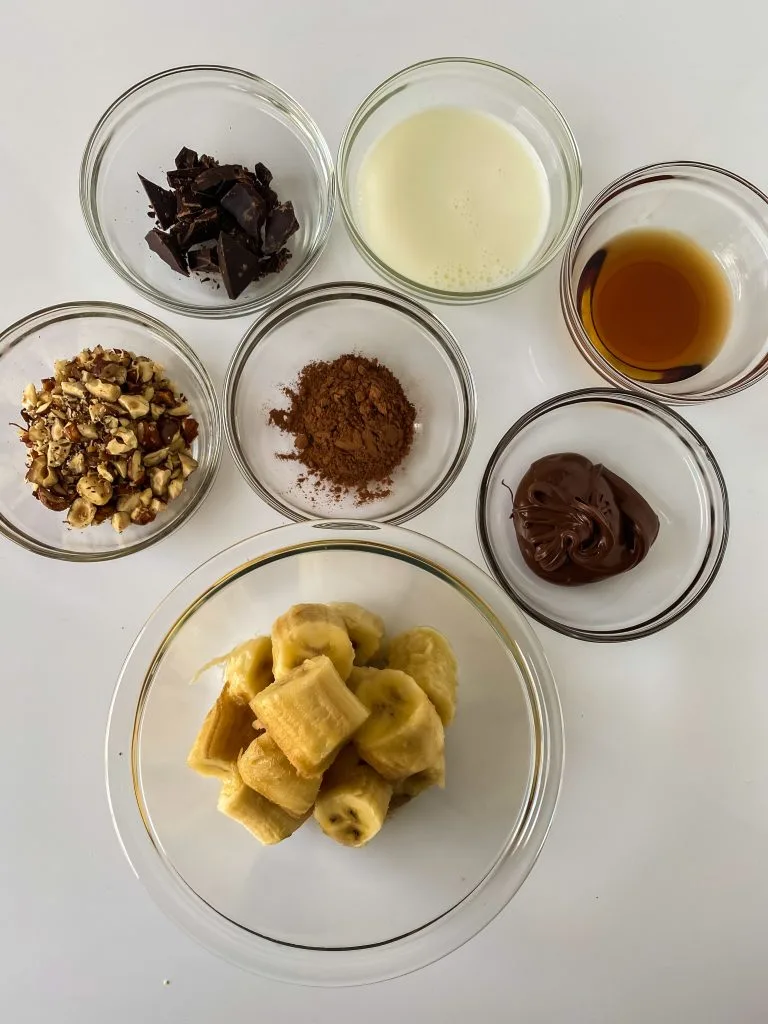 Ingredients For The Chocolate Hazelnut Smoothie
Bananas. Frozen bananas will give your bowl an ice cream texture. Room temperature bananas will be more like a milkshake.
Milk. Any variety. Use nut milk for a vegan and dairy-free option.
Nutella. Adds delicious hazelnut flavor and a little protein to get your day going. Read our ideas for adding more protein down below.
Unsweetened Cocoa Powder.
Maple Syrup. Tread lightly. I usually find the smoothie bowl is already sweet enough without adding this ingredient. Sweeten to your taste.
How to Make a Chocolate Hazelnut Smoothie
Step One. Pour milk into a blender and add the frozen bananas, Nutella, and cocoa powder. Taste and add maple syrup as desired.
Step Two. Blend for one minute (high-speed blender), 2 mins (regular blender), or until completely smooth. Taste and adjust the flavor profile as needed.
Step Three. Pour into a bowl and add your toppings of choice. Serve immediately.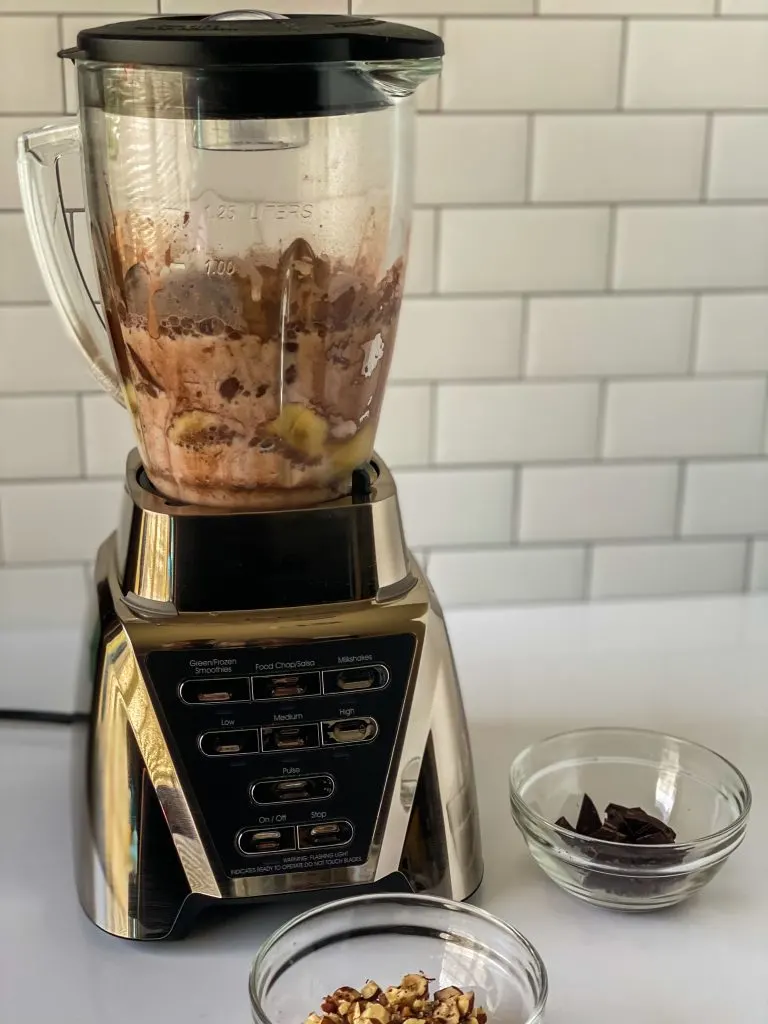 Substitutions & Additions
I love adding protein powder, chia seeds, ground flax, and hemp seeds for additional protein.
Add fresh spinach. The color is ghastly but it's delicious and adds nutritional value.
Top with shredded coconut, chopped roasted nuts, or a few mini chocolate chips.
Try cocoa nibs scattered on top.
Stir in or top your chocolate smoothie bowl with some Vanilla Granola or your favorite granola of choice.
You can easily make this smoothie gluten-free, dairy-free and vegan. Just substitute your favorite nut milk! Make sure you read the labels of any add-ons you include in your chocolate hazelnut smoothie bowl.
Add a little cold coffee for a yummy mocha flavor and a caffeine hit.
How To Store Leftover Chocolate Hazelnut Smoothie Bowls
How long do smoothies last?
Chocolate Hazelnut Smoothies are best eaten right away or frozen.
Can Chocolate Smoothie Bowls be refrigerated?
No. I don't recommend storing them in the refrigerator. It will separate and be unappetizing once it is no longer frozen.
Can I Freeze Nutella Banana Smoothies?
Yes. This chocolate hazelnut smoothie is fantastic frozen. Pour it into popsicle molds or freezer-safe containers for a delicious snack that tastes like ice cream! You can also freeze it & then re-blend it when you are ready to eat it.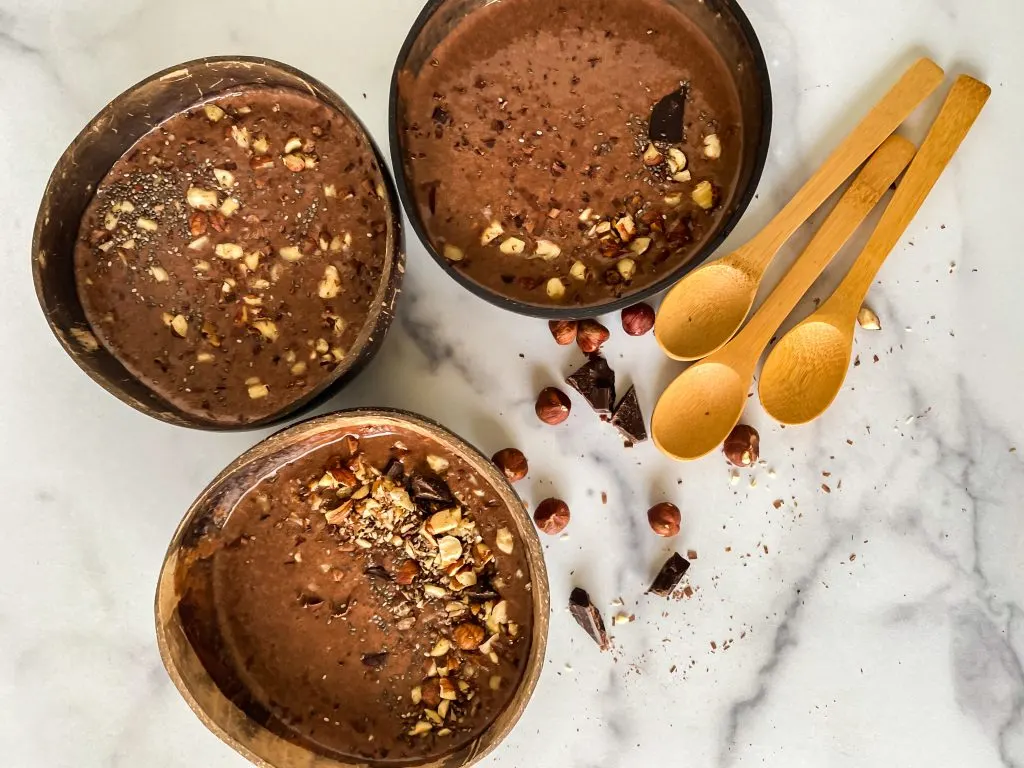 Chocolate Smoothie Bowl FAQ
Is this chocolate smoothie bowl safe for celiacs?
Yes, this recipe is safe for celiacs. The ingredients are gluten-free.

If you suffer from celiac disease you know that it's important to read labels. Even though an ingredient is gluten-free, it must also be safe from cross-contamination.
What's the benefit of a chocolate Hazelnut smoothie bowl versus a
smoothie?
When you make a smoothie bowl you can add additions that you normally wouldn't drink through a straw such as chopped nuts or shredded coconut.
Is Chocolate Hazelnut Smoothie Bowl recipe vegan?
No, but it can be made vegan. Nutella contains skim milk powder, which is cow's milk. Eliminate the Nutella and use nut milk for a vegan option.
Is this Chocolate Smoothie Bowl a diet food
NO! This smoothie is not intended for people on diets intended for weight loss.

This smoothie is fairly sweet so you can reduce the amount of Nutella if desired. One Tablespoon of Nutella is 100 calories. Half of the calories in this recipe are from the bananas (216) however so you can also cut this recipe in half if you want a delicious smoothie at half of the calories.
Don't forget to pin this delicious Chocolate Hazelnut Smoothie Bowl!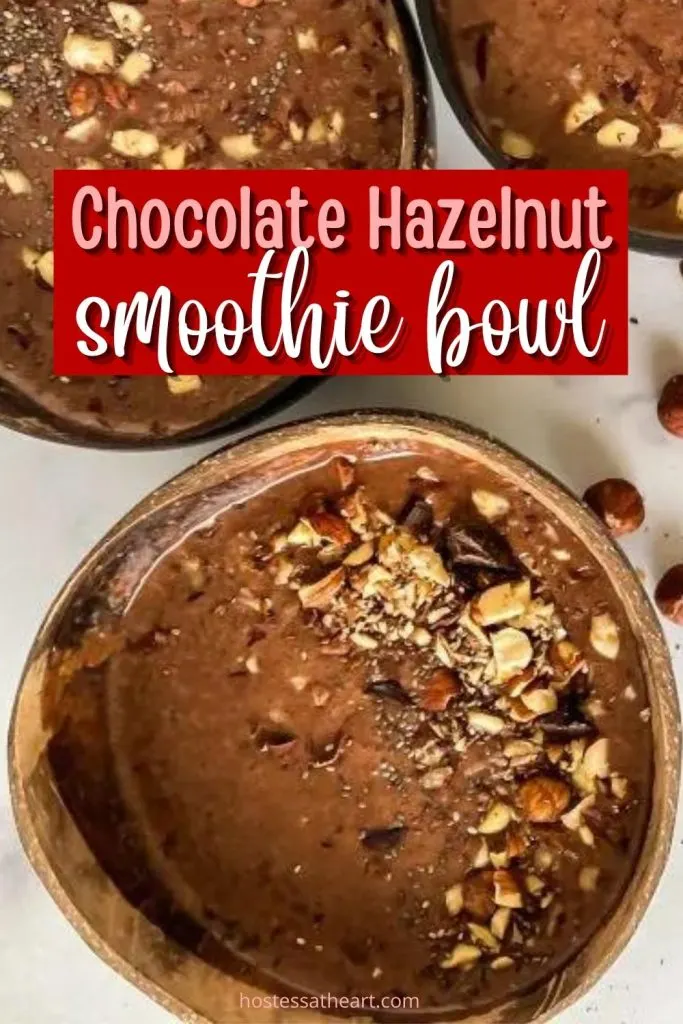 Tips to make the perfect Chocolate Hazelnut Smoothie Bowl
Peel and cut up bananas and freeze them in smoothie-sized portions.
Use frozen bananas to thicken this smoothie. Fresh bananas will give the smoothie
more of a milkshake consistency.
To make a healthier smoothie, use raw hazelnuts and skip the Nutella (gasp). The
bananas and the cocoa powder made a delicious chocolate smoothie too.
I generally taste the smoothie before adding the maple syrup because it's usually plenty sweet for me without it.
More delicious recipes I think you'll enjoy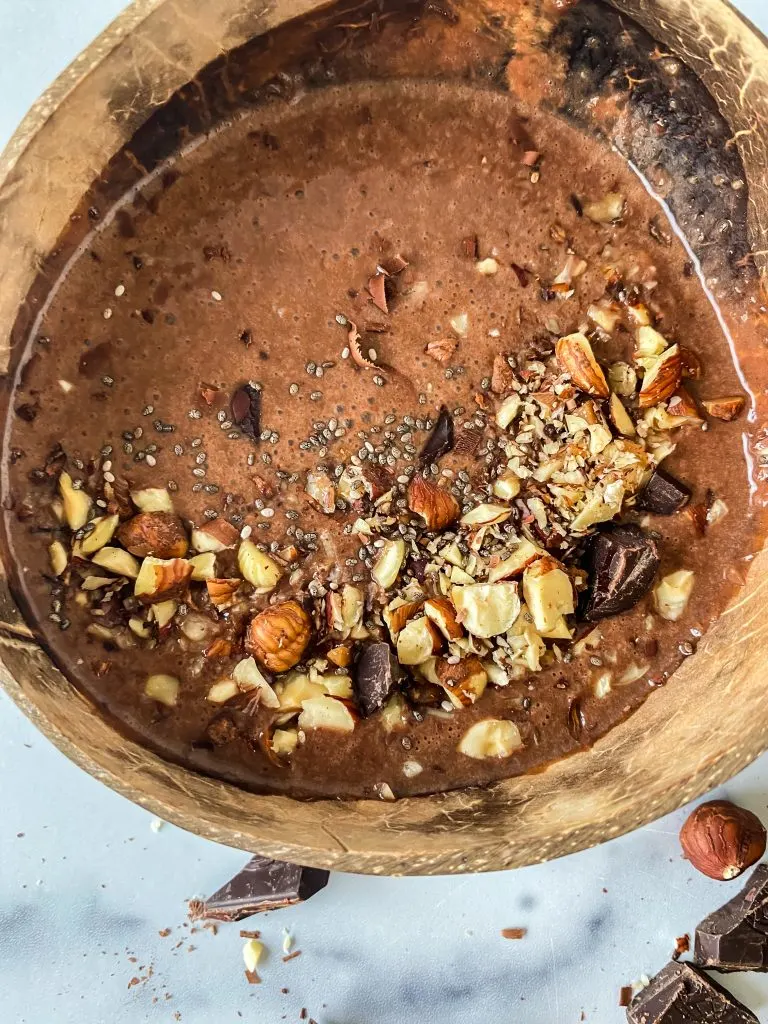 Don't Forget To Come Back And Let Me Know How Your Chocolate Hazelnut Smoothie Turned Out!
Other Smoothie Recipes You'll Love
Benefits of Combining Yogurt and Honey