Nutella Filled Hazelnut Thumbprint Cookies are crunchy on the outside, soft on the inside, and topped with creamy Nutella. They're delicious and easy to make.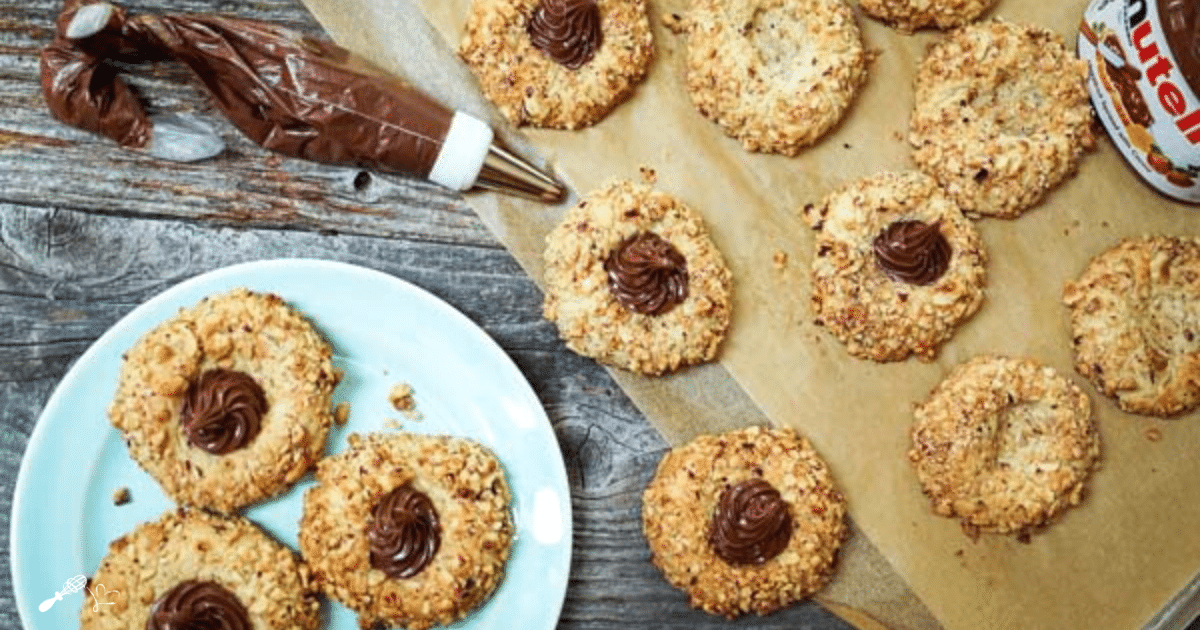 Hazelnut Thumbprint Cookies transform the classic Thumbprint cookie to gourmet status.
These Nutella Thumbprint cookies are soft and tender in the middle with a delightful crunch on the outside.
The creamy Nutella filling has you anticipating that creamy chocolate hazelnut bite in the center.
This Nutella Filled Hazelnut Thumbprint Cookies with nuts is so versatile, can be made ahead. Make plenty because they disappear quickly.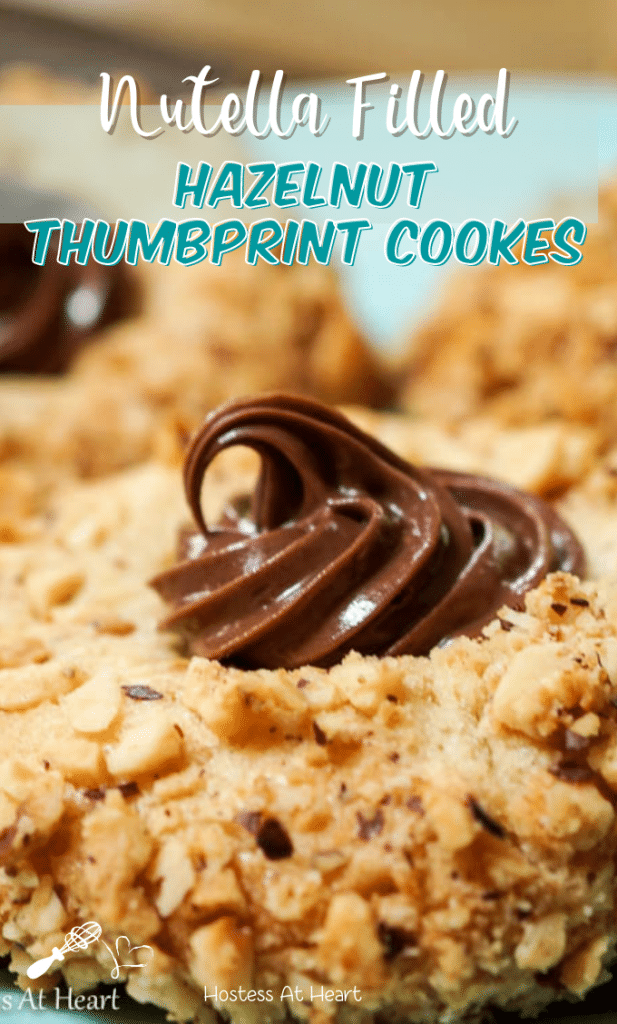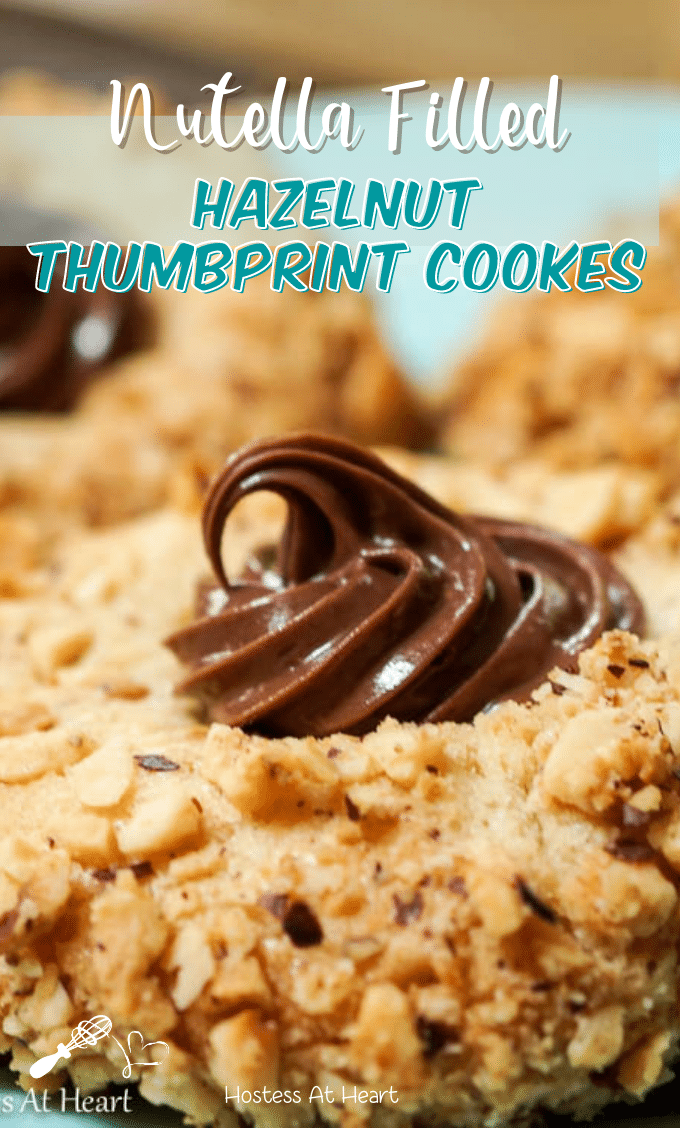 My daughter first discovered Nutella while studying in France. When she came home, she would buy her own jar and it was off limits!
I don't think the rest of us really cared. What you don't know won't hurt you and all of that gibberish. Well, her mamma raised no fool!
I had some hazelnuts leftover and in the freezer from the Esterhazy Torte that I made. They would stare me in the face every time I opened the door (yes, I channel food. It talks to me).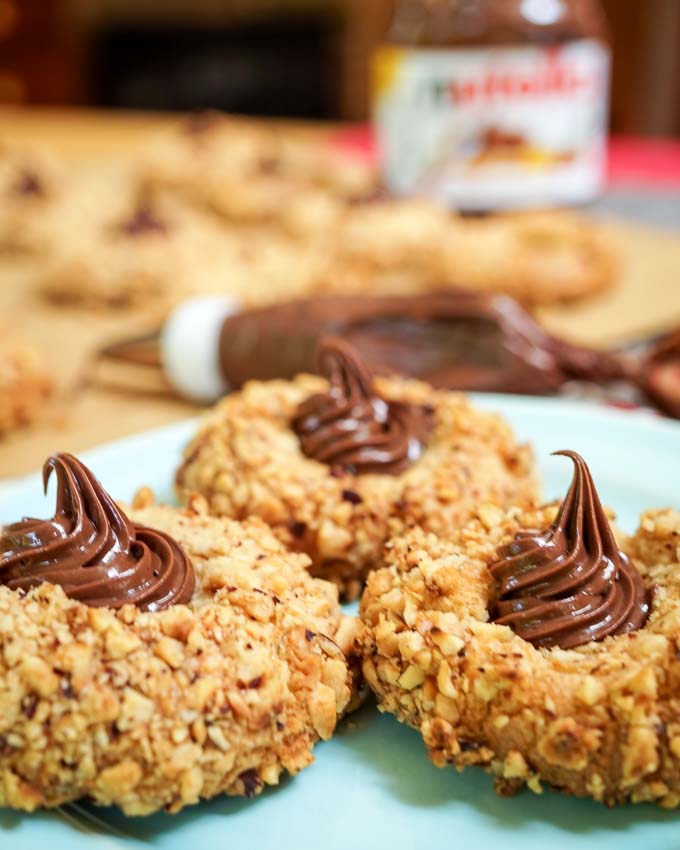 I knew it would be the perfect opportunity to use some of those nuts.
A thumbprint cookie is quite simply a cookie dough that has an indentation in the center that's filled after baking. It's like a cookie with benefits!
How to make Thumbprint Cookies
We used an electric stand mixer for this recipe but you can just as easily mix it by hand.
Also, we preheated our oven before we even got started. Ovens vary but you want it well heated before the cookies are ready to bake.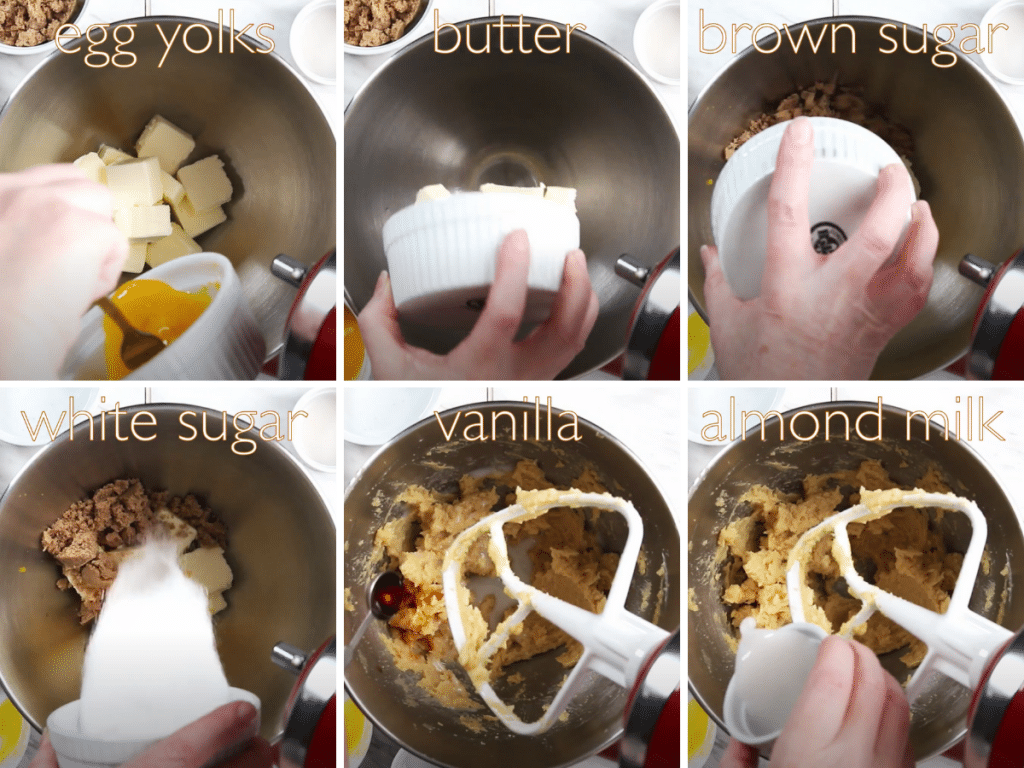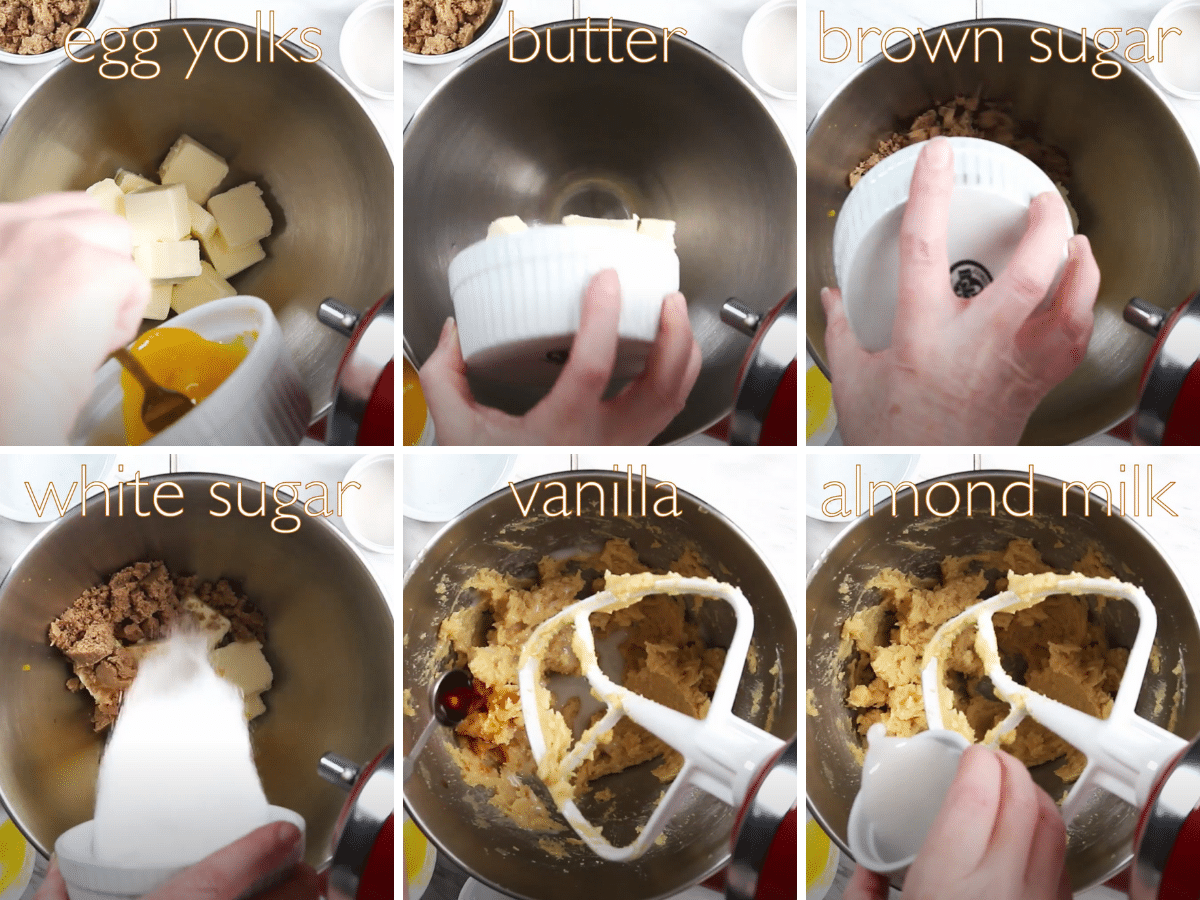 Add the wet ingredients including butter, egg yolks, brown sugar, white sugar, vanilla, and almond milk.
Beat on a medium speed until ingredients are well combined and fluffy.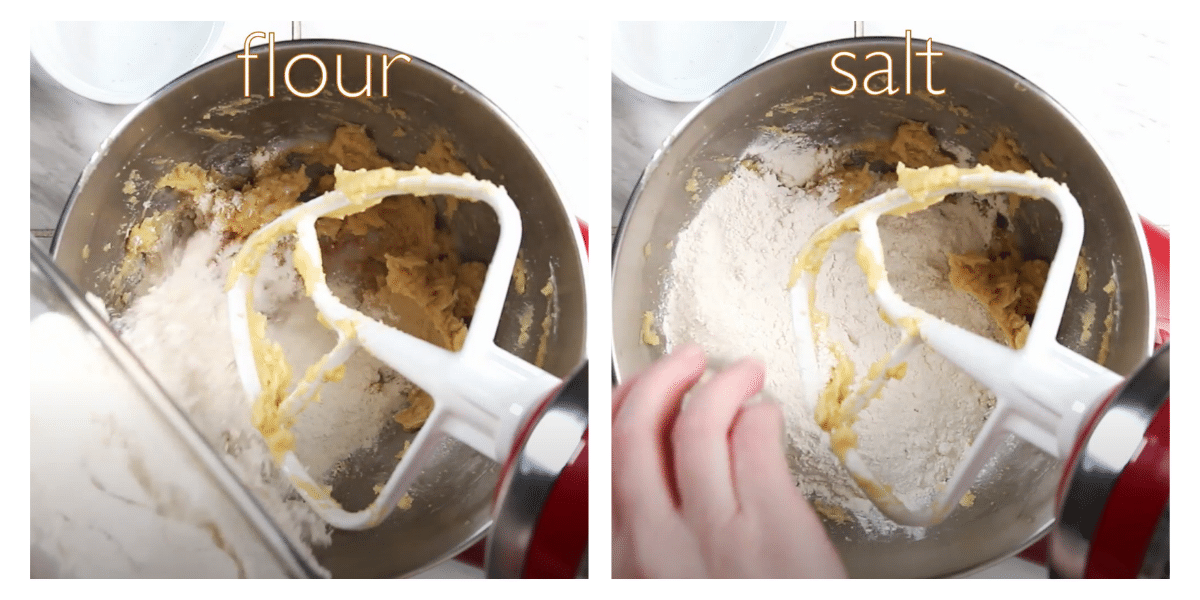 Add flour and salt to the wet ingredients.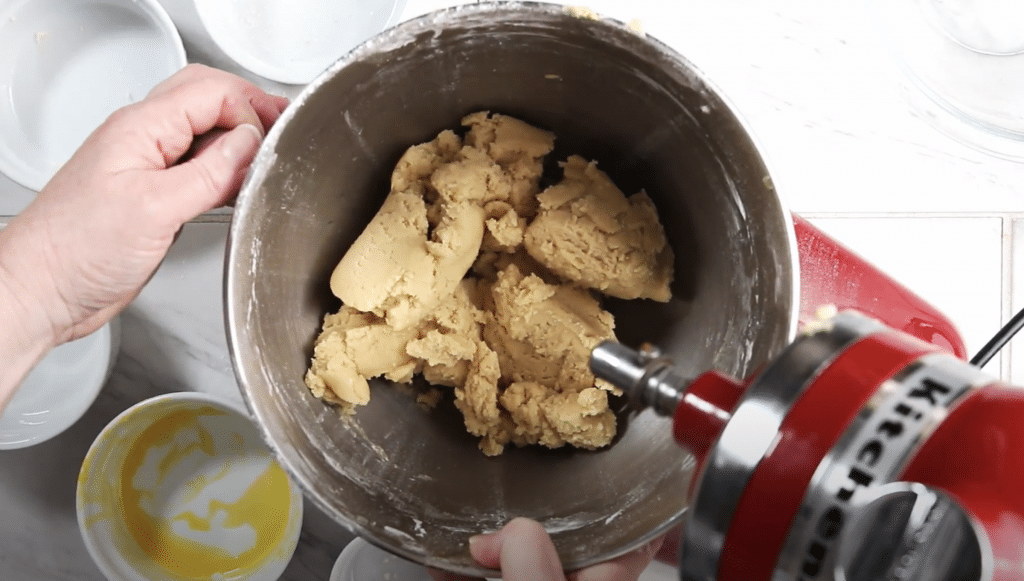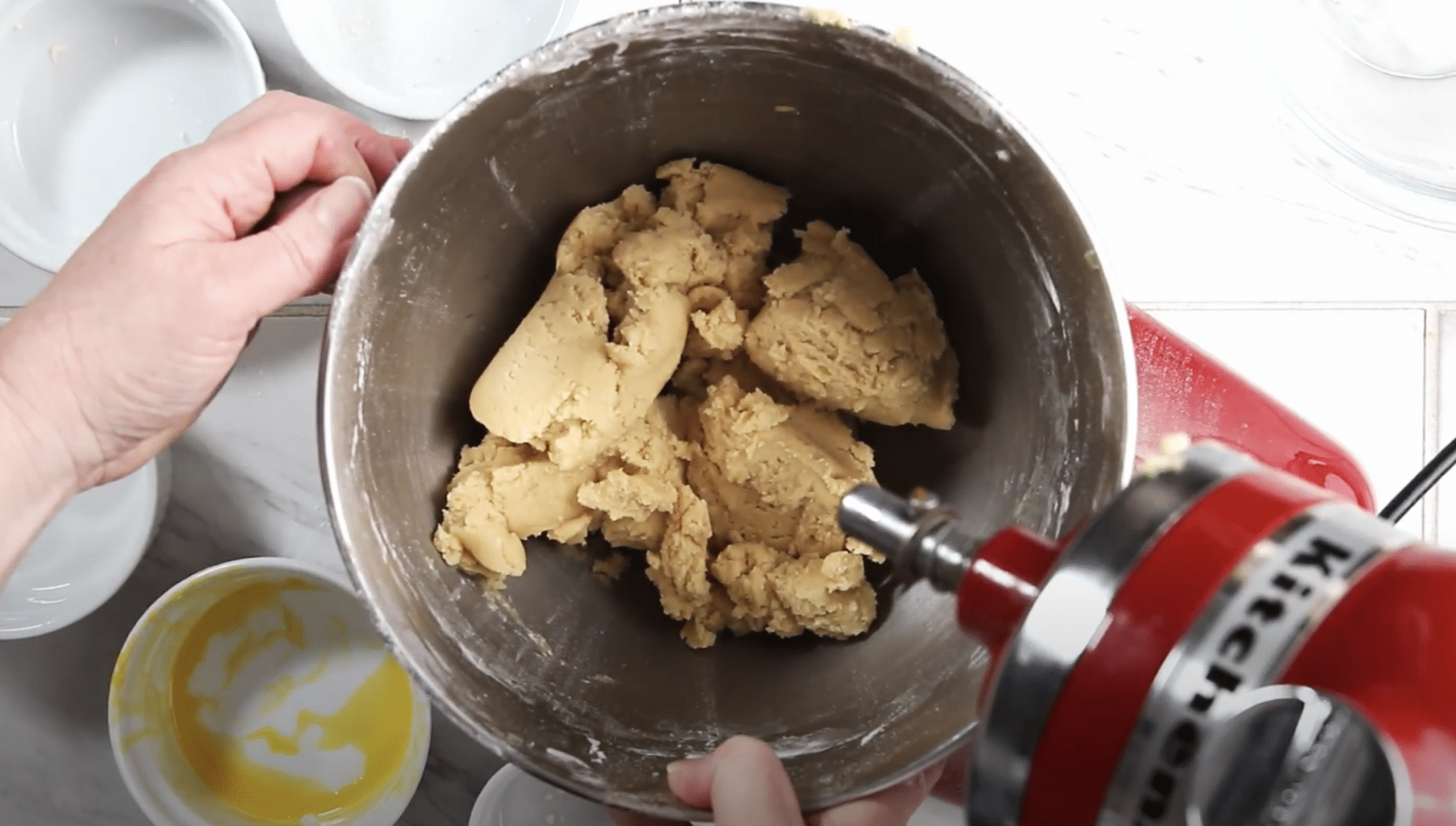 As you can see, the batter will be thick.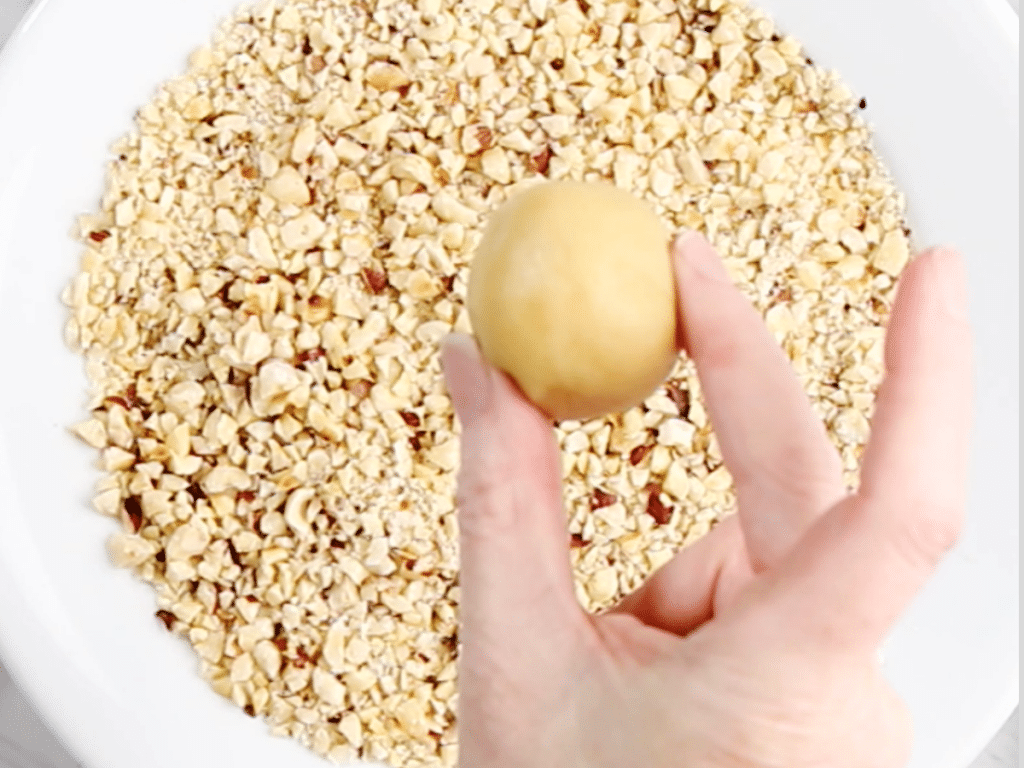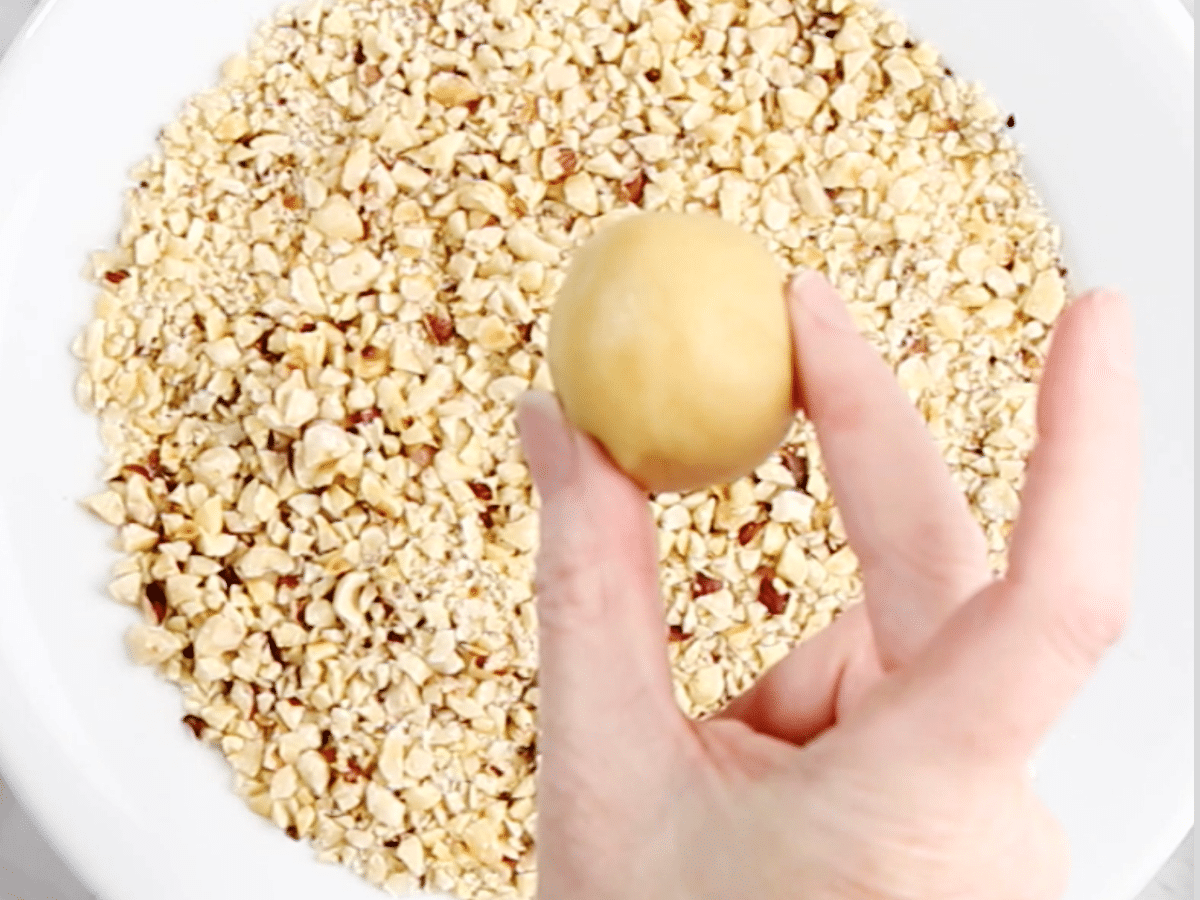 Shape dough into 2-tablespoon balls.

Roll the balls of dough in egg whites.
Roll balls of dough in the chopped hazelnuts.
Press the top of the dough ball to make an indent. You can also use the back of a wooden spoon or any utensil with a round handle.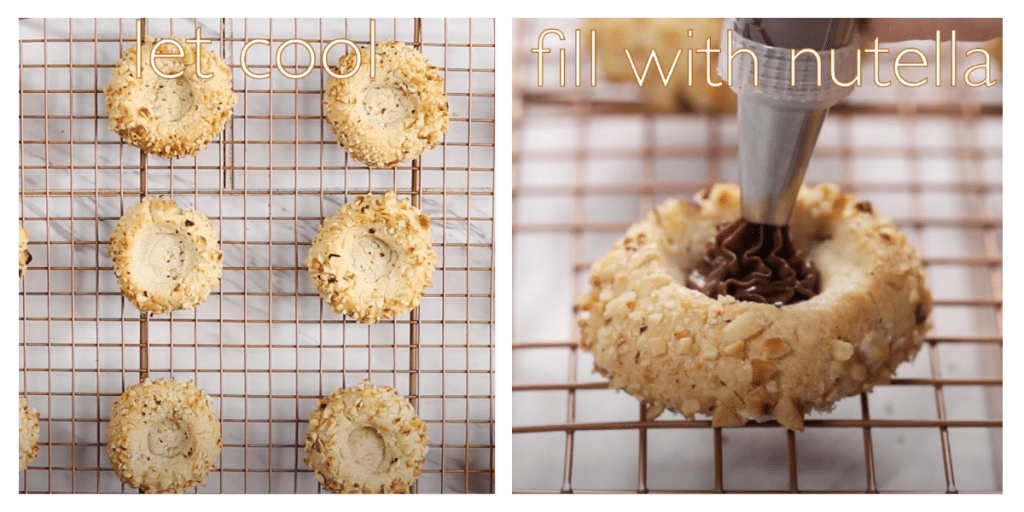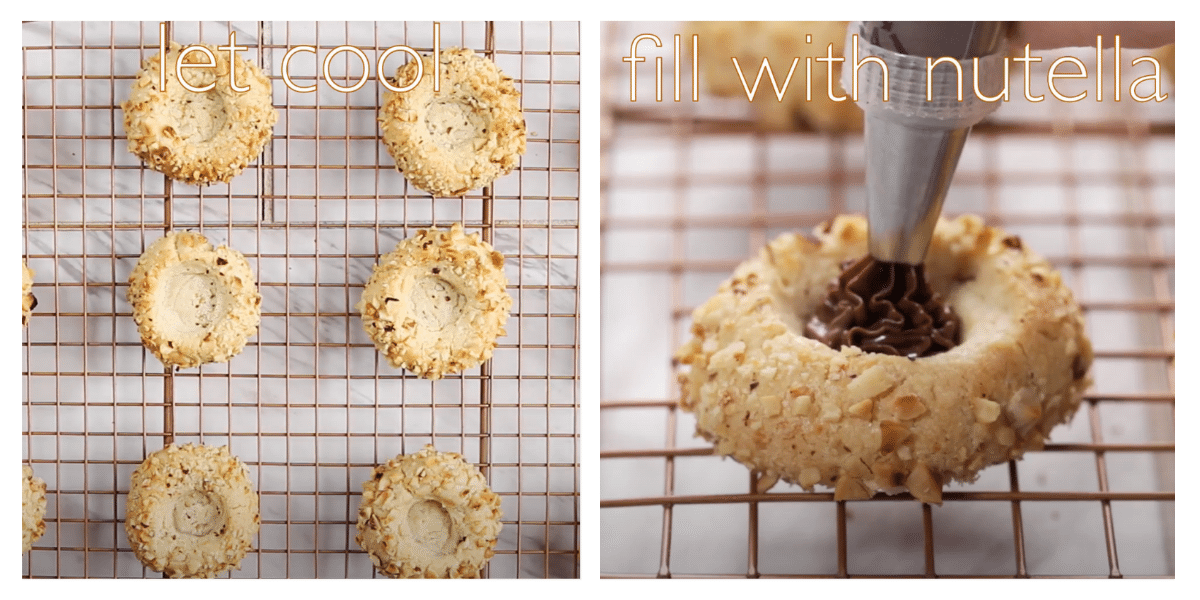 Bake and allow the cookies to completely before cooling. If cookies are warm the Nutella filling will not keep its piped shape.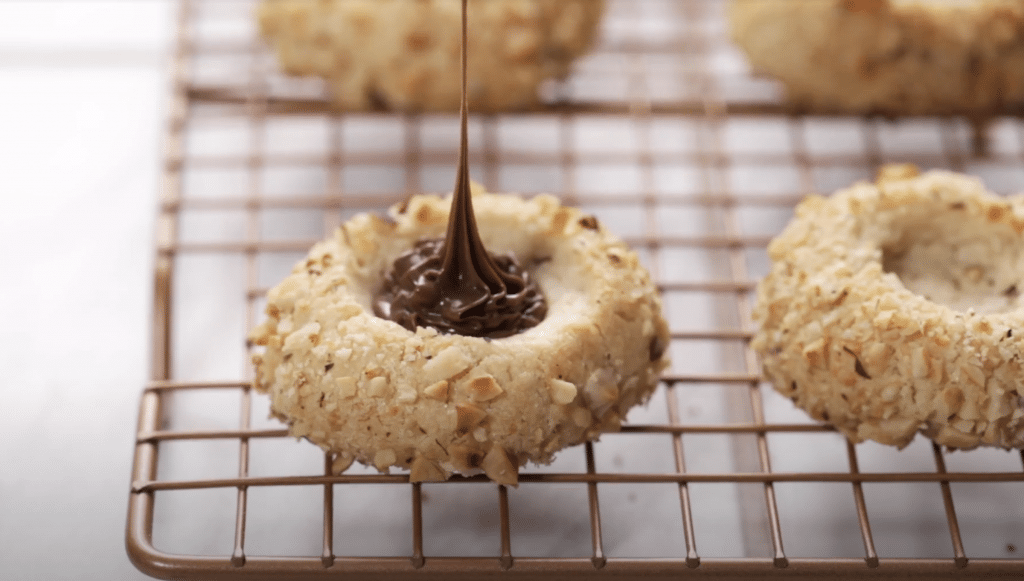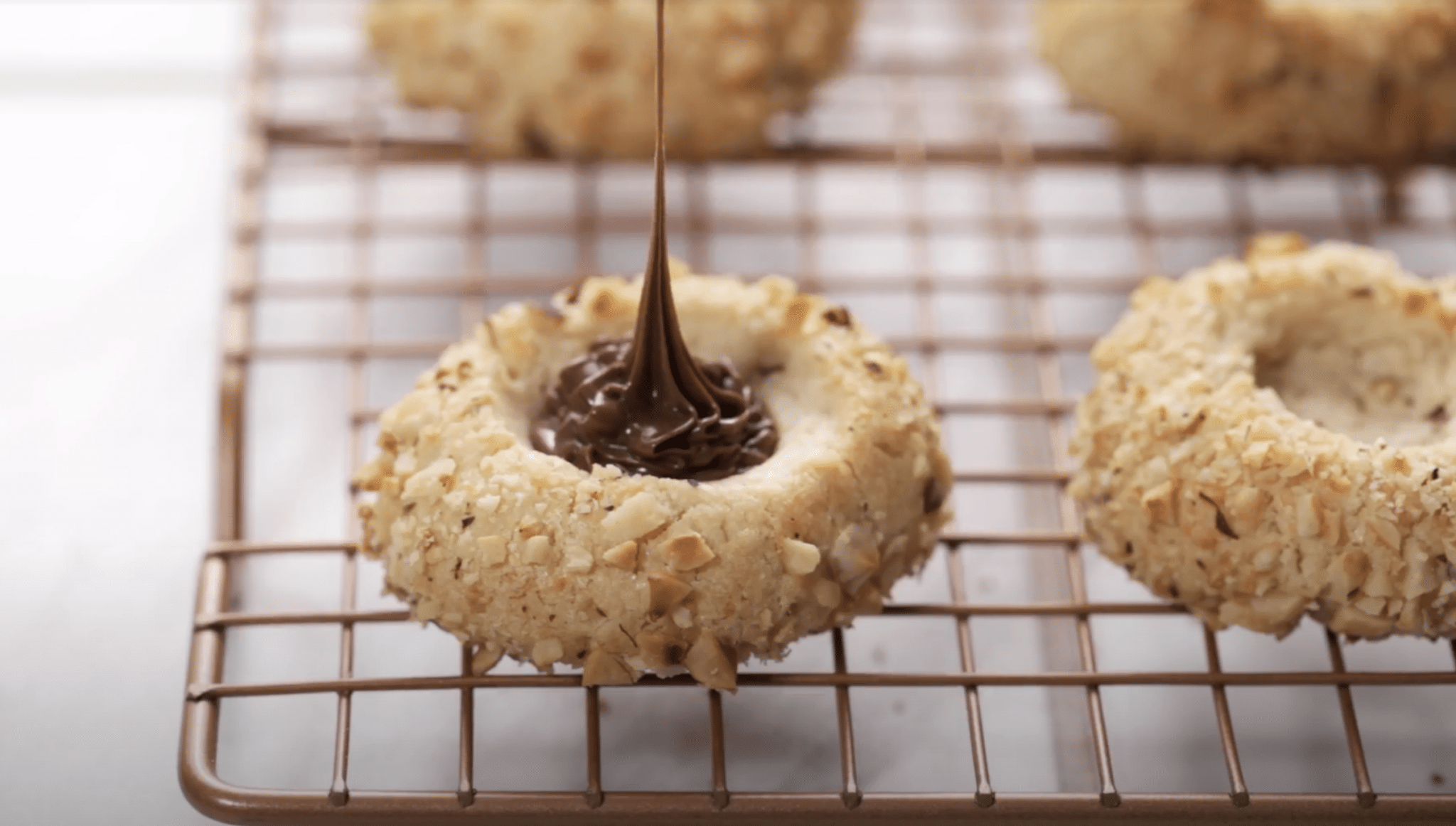 Thumbprint tips and variations
Hazelnuts can be hard to find, can be expensive, or not your favorite nut.

Exchange them for walnuts, almonds, macadamias, pecans, or peanuts.
We used dry-roasted unsalted hazelnuts.

We love the combination of the Nutella and hazelnuts. But you can use other fillings such as these.
We bake our cookies on parchment paper or on a silicone matt. Putting the cookies on a greased baking sheet can cause the cookies to spread.
We used a piping bag with a star tip.

If you don't have a piping bag, you can snip the corner of a plastic bag or just spoon it in.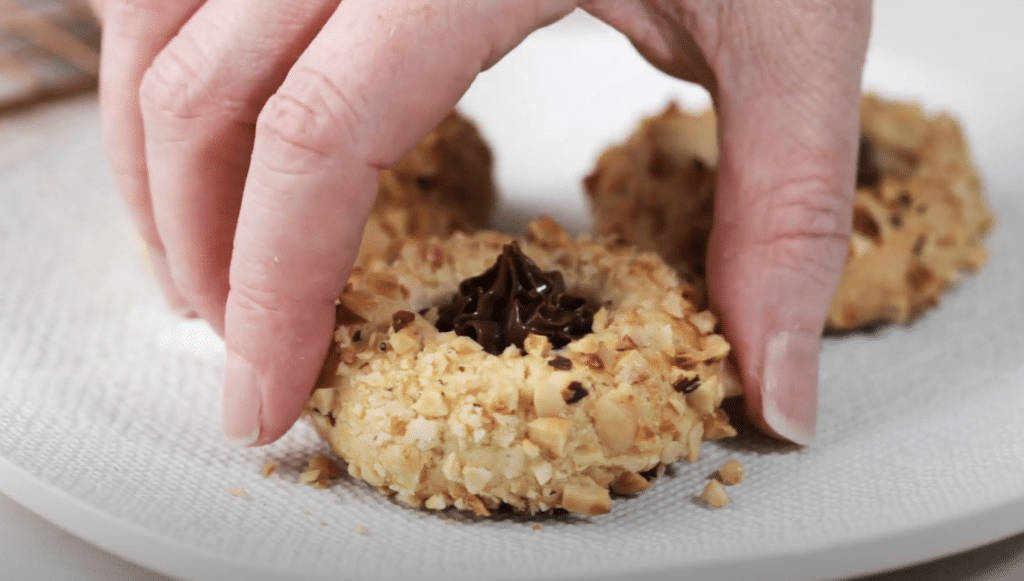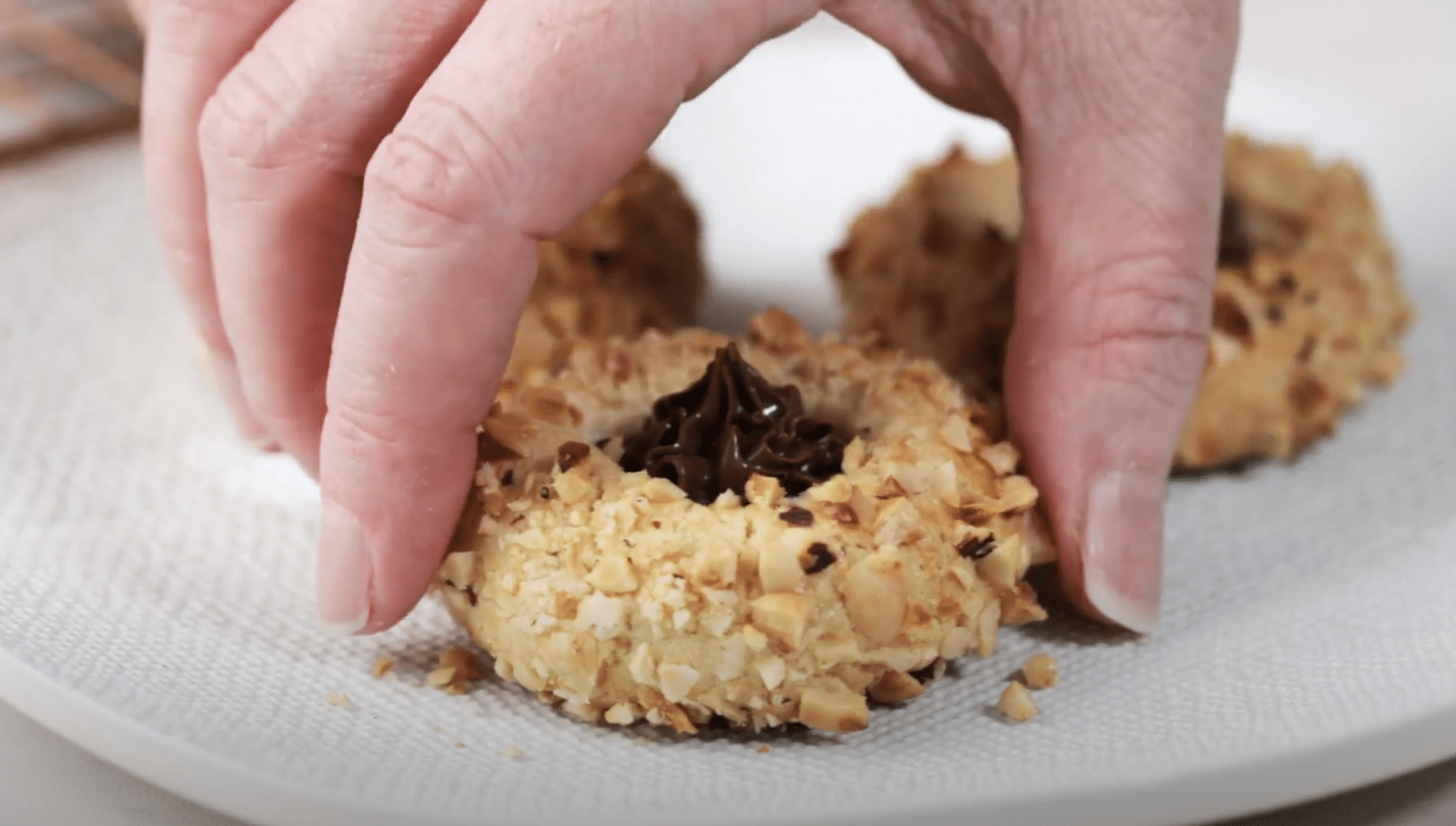 Storage and Make Ahead tips
This recipe makes approximately 22 cookies which is great for sharing. These cookies can also be frozen after they've been baked but before they're filled in an airtight container for up to 3 months.

Nutella has a good shelf life but it isn't recommended that it be frozen because the texture can change. So, fill them after you've removed them from the freezer and allowed them to thaw.

Note Nutella can go rancid so pay attention to the use-by date.

Baked and filled Hazelnut Baked Cookies should be stored at room temperature, preferably in a cooler area. Refrigerating Nutella can also change its consistency.
Love it? Pin it!
We love Nutella, and our Peanut Butter Coffee Cake and Hazelnut Cookie Bars are amazing!
If you like this recipe you may like these recipes too
Nutella Filled Hazelnut Thumbprint Cookies
Nutella Filled Hazelnut Thumbprint cookies are quick and easy to make. These cookies have a crunchy roasted hazelnut exterior, a soft cookie interior, and then topped with creamy Nutella.
Ingredients
2

cups

all-purpose flour

1/4

cup

dark brown sugar

1/2

cup

white granulated sugar

2

tablespoons

almond milk

(any milk, or cream will work)

1

teaspoon

vanilla extract

2

eggs

Separate the yolks from the whites.

12

teaspoons

unsalted butter

(1-1/2 sticks, softened)

1/4

teaspoon

salt

1

cup

hazelnuts

chopped, (I used dry-roasted, unsalted hazelnuts)
Instructions
Preheat oven to 375 degrees F.

In the bowl of a standing, electric mixer, combine the butter, combine egg yolks, brown sugar, and white sugar. Beat until light and fluffy, approximately 2 minutes.

Add milk, vanilla extract, flour, and salt. Beat until combined.

Chop nuts and put them on a plate large enough to roll your cookies.

Beat egg whites with a fork in a small bowl until airy (2 minutes).

Scoop two tablespoons of dough and roll it into a ball. Coat the ball in egg whites and then roll in chopped hazelnuts. Gently press your thumb into the center of the cookie until indented. Place on a parchment paper lined baking sheet.

Bake for 14-16 minutes, or until lightly browned on the edges. If indentation has disappeared, press gently with the end or a wooden spoon while hot. Cool completely.

Pipe or spoon Nutella topping into the indented center. Store in a covered container in a cool place.
Video
Nutrition
Calories:
128
kcal
Carbohydrates:
16
g
Protein:
2
g
Fat:
6
g
Saturated Fat:
1
g
Cholesterol:
20
mg
Sodium:
35
mg
Potassium:
58
mg
Sugar:
7
g
Vitamin A:
90
IU
Vitamin C:
0.3
mg
Calcium:
15
mg
Iron:
0.9
mg
Nutritional Disclaimer
This recipe was calculated using the exact brands and measurements I used to make this recipe. If you are following a strict diet please note changing anything will cause the nutritional info to change. My calculations are intended as a guide only.
Popular Posts
Now I'm all for a good cookie and for sharing! Tell me what your favorite cookie is in the comments below because we never have enough cookies.