Triple Chocolate Lamingtons is a delicacy that is as tasty as it is elegant. Using chocolate three different ways satisfies even the toughest chocoholic.

It is that time of month when I participate in a baking challenge on a website called The Daring Kitchen, that issues monthly challenges to it's members. Members are from all over the world so the challenges are for things I've never made and sometimes have never heard of.
For the May challenge Marcellina from Marcellina in Cucina dared us to make Lamingtons. An Australian delicacy that is as tasty as it is elegant.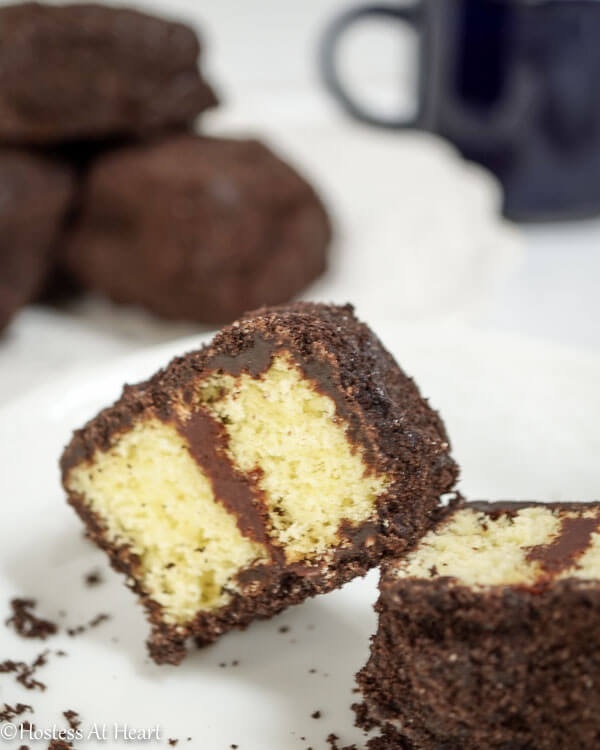 Marcellina stated that history says the cakes were named after Lord Lamington who was the Governor of Queensland, Australia from 1896 to 1901. Lamingtons were made as an attempt to utilize a cake that had been dropped. Sounds reasonable to me, I have often created something in an attempt to avoid disaster. Now there are different stories stating they actually originated in other countries, but the concept is the same.
The cake within the Lamington is a vanilla genoise sponge made by whipping eggs and sugar until very thick and pale. The cake is then dipped into a chocolate icing and rolled in desiccated coconut. This allowed the eater to keep their fingers clean. Now Lamingtons can come in any flavor. Some are split and filled, and they are always dipped into a flavored icing and then rolled in a coating.
For my Lamington, I wanted to make Marcellina's "Traditional Lamington". I thought it had to be a mistake that she uses all cornstarch and no flour but I was game. I then chose to make Martha Stewarts' Chocolate Fudge Filling recipe and Marcellina's chocolate icing. John thinks he doesn't like coconut so I elected to use ground chocolate sandwich cookies for my coating. Thus the name, "Triple Chocolate Lamingtons".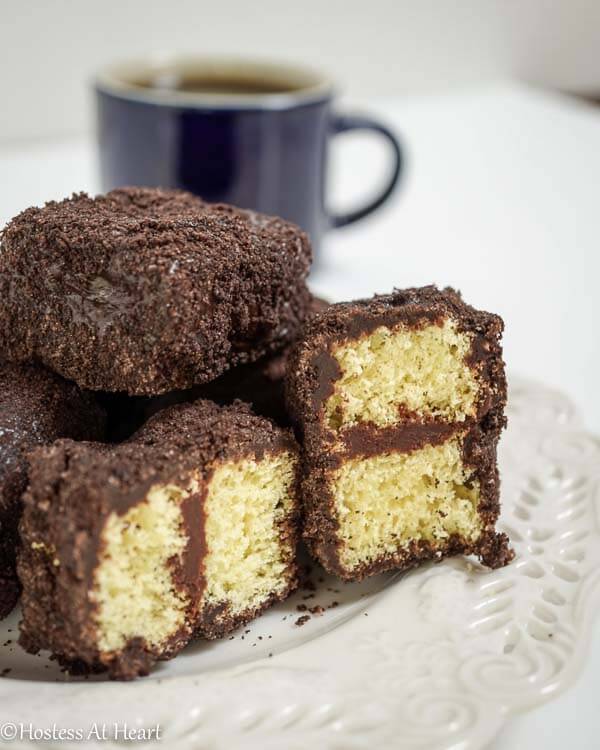 Marcellina stated that the key to success is to use fresh ingredients and to measure. I did that, and as instructed, let the cake set for a day before continuing. However, I can't lie. I had a heck of a time icing and coating the cakes. They just wanted to break up which even made rolling them in my cookie crumbs difficult. I persevered, and while not as pretty as Marcellina's, they are tasty! I even thought mine could be used as coal for those people at Christmas that weren't as nice as they should be? Tasty coal.
Triple Chocolate Lamingtons
A sponge genoise cake that is filled with chocolate fudge, iced in chocolate and then rolled in chocolate sandwich cookie crumbs.
Ingredients
Cake
5

large eggs

at room temperature

1

cup

240 ml (225 gm) (8 oz) castor (superfine) sugar

Pinch

salt

1

teaspoon

5 ml vanilla extract

11/4

cups

300 ml (200 gm) (7 oz) cornstarch

11/2

teaspoons

8 gm baking powder

1

tablespoon

15 ml (15 gm) (1/2 oz) butter, melted (optional)
Chocolate Filling
1

12-ounce bag semisweet chocolate chips

1/4

cup

confectioners' sugar

1/2

teaspoon

coarse salt

3/4

cup

evaporated milk

1/2

teaspoon

pure vanilla extract
Chocolate Icing
31/4

cups

780 ml (400 gm) (14 oz) icing (powdered) sugar

1/3

cup

80 ml (40 gm) (1-1/3 oz) cocoa powder

1

tablespoon

15 gm (15 gm) (1/2 oz) butter, melted

1/2 to 3/4

cup

120 ml to 180 ml milk (I used leftover evaporated milk used in the filling)
Instructions
Preheat the oven to 350 degrees F.

Prepare a 9x13 inch pan by spraying with non-stick cooking spray and then lining with parchment paper.

In a stand mixer, combine eggs, sugar and salt. Beat on high for 15 minutes.

While eggs are beating, sift the cornstarch and baking powder together at least 3 times.

After 15 minutes add vanilla to the egg mixture, and beat on high for another 5 minutes. The mixture should have at least tripled in size, be light in color and foamy.

Sift flour mixture over the egg mixture, and gently fold into the egg mixture using a whisk. If you are using butter, thoroughly fold it in now but lightly.

Spread mixture into your prepared pan and smooth out evenly.

Bake for 22-25 minutes. The sponge will rise quite a lot but then settle back down. Don't open the oven door while baking.

When baked the sponge will have shrunk very slightly from the sides and should spring back

when pressed gently.

Remove the cake from the pan immediately, and keeping on the parchment paper, place on a cooling rack and allow to cool completely. It is best to let the cake stand in an airtight container overnight before continuing. It will make them easier to handle.

Prepare the chocolate filling by placing chocolate chips, sugar and salt in a medium bowl. Stir to mix.

Heat evaporated milk in a small pan until just simmering. Pour over chocolate chip mixture and allow to sit for 5 minutes or until melted. Whisk until smooth. Refrigerate until thickened but spreadable, 1 to 2 hours.

Prepare icing by sifting powdered sugar and cocoa together. Stir in butter and milk. Set the bowl over a pan of hot water. Stir until icing is smooth, adding more milk to thin the icing if needed.

To assemble, cut the sponge cake into 24 rectangular pieces – 6 across and 4 down. You can remove the crust edges if you want.

If filling, cut in half and apply filling. Put halves together again and dip in icing, allowing excess to drip off. Roll in coating immediately. Allow to dry on a cooling rack for two hours.

Store in an airtight covered container in the refrigerator or freezer.
Notes
Recipe provided by https://marcellinaincucina.blogspot.com/
Nutrition
Serving:
24
g
|
Calories:
294
kcal
|
Carbohydrates:
65
g
|
Protein:
2
g
|
Fat:
3
g
|
Saturated Fat:
2
g
|
Cholesterol:
41
mg
|
Sodium:
87
mg
|
Potassium:
170
mg
|
Fiber:
1
g
|
Sugar:
49
g
|
Vitamin A:
111
IU
|
Vitamin C:
1
mg
|
Calcium:
82
mg
|
Iron:
1
mg
This recipe was calculated using the exact brands and measurements I used to make this recipe. If you are following a strict diet please note changing anything will cause the nutritional info to change. My calculations are intended as a guide only.
I recommend that you visit Marcellina to see her pictures and how beautiful Lamingtons can be if made by a pro!
Now it's time to take these treats over to Fiesta Friday where we can begin our weekend food party.