Triple Chocolate Lamingtons is a delicacy that is as tasty as it is elegant. Using chocolate three different ways satisfies even the toughest chocoholic.

It is that time of month when I participate in a baking challenge on a website called The Daring Kitchen, that issues monthly challenges to it's members. Members are from all over the world so the challenges are for things I've never made and sometimes have never heard of.
For the May challenge Marcellina from Marcellina in Cucina dared us to make Lamingtons. An Australian delicacy that is as tasty as it is elegant.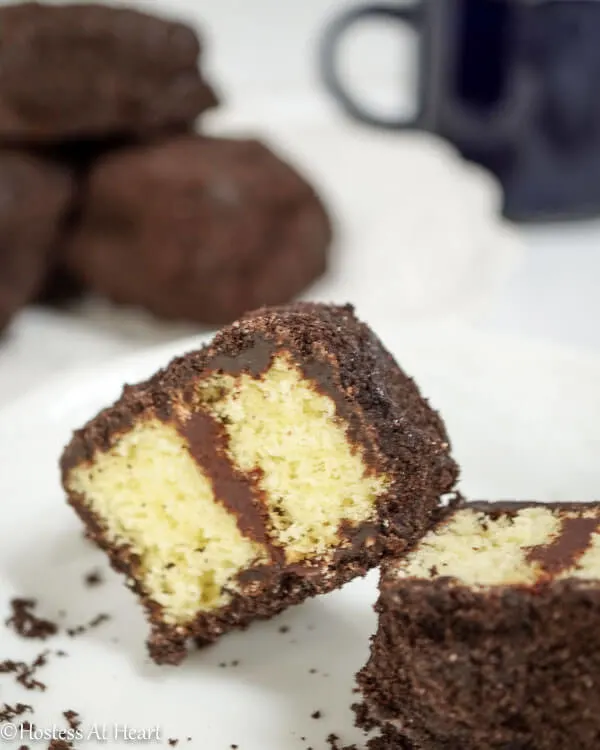 Marcellina stated that history says the cakes were named after Lord Lamington who was the Governor of Queensland, Australia from 1896 to 1901. Lamingtons were made as an attempt to utilize a cake that had been dropped. Sounds reasonable to me, I have often created something in an attempt to avoid disaster. Now there are different stories stating they actually originated in other countries, but the concept is the same.
The cake within the Lamington is a vanilla genoise sponge made by whipping eggs and sugar until very thick and pale. The cake is then dipped into a chocolate icing and rolled in desiccated coconut. This allowed the eater to keep their fingers clean. Now Lamingtons can come in any flavor. Some are split and filled, and they are always dipped into a flavored icing and then rolled in a coating.
For my Lamington, I wanted to make Marcellina's "Traditional Lamington". I thought it had to be a mistake that she uses all cornstarch and no flour but I was game. I then chose to make Martha Stewarts' Chocolate Fudge Filling recipe and Marcellina's chocolate icing. John thinks he doesn't like coconut so I elected to use ground chocolate sandwich cookies for my coating. Thus the name, "Triple Chocolate Lamingtons".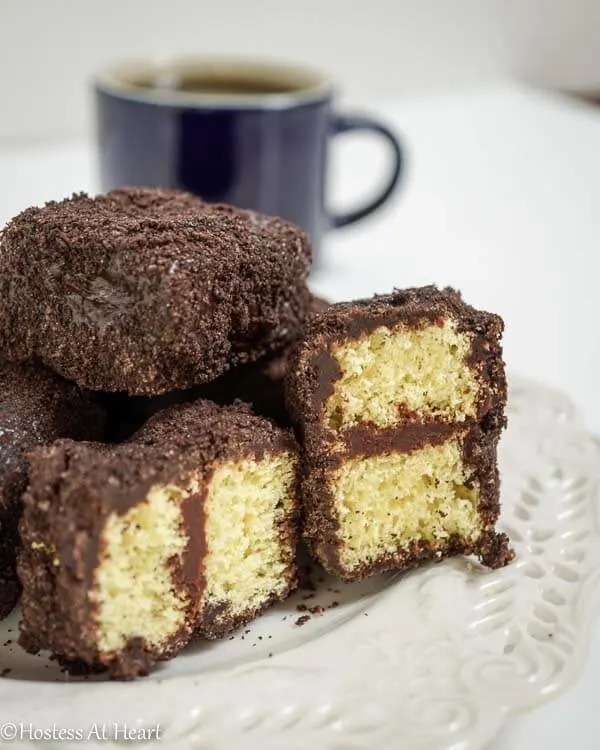 Marcellina stated that the key to success is to use fresh ingredients and to measure. I did that, and as instructed, let the cake set for a day before continuing. However, I can't lie. I had a heck of a time icing and coating the cakes. They just wanted to break up which even made rolling them in my cookie crumbs difficult. I persevered, and while not as pretty as Marcellina's, they are tasty! I even thought mine could be used as coal for those people at Christmas that weren't as nice as they should be? Tasty coal.
I recommend that you visit Marcellina to see her pictures and how beautiful Lamingtons can be if made by a pro!
Now it's time to take these treats over to Fiesta Friday where we can begin our weekend food party.