Peanut Butter Coffee Cake is a heavenly mixture of chocolate, peanut butter, and Nutella all under a crunchy layer of peanut streusel and a dark chocolate drizzle.
We love cast iron skillet recipes. Our Skillet Apple Pie and Apple Rhubarb Skillet pies have been very popular.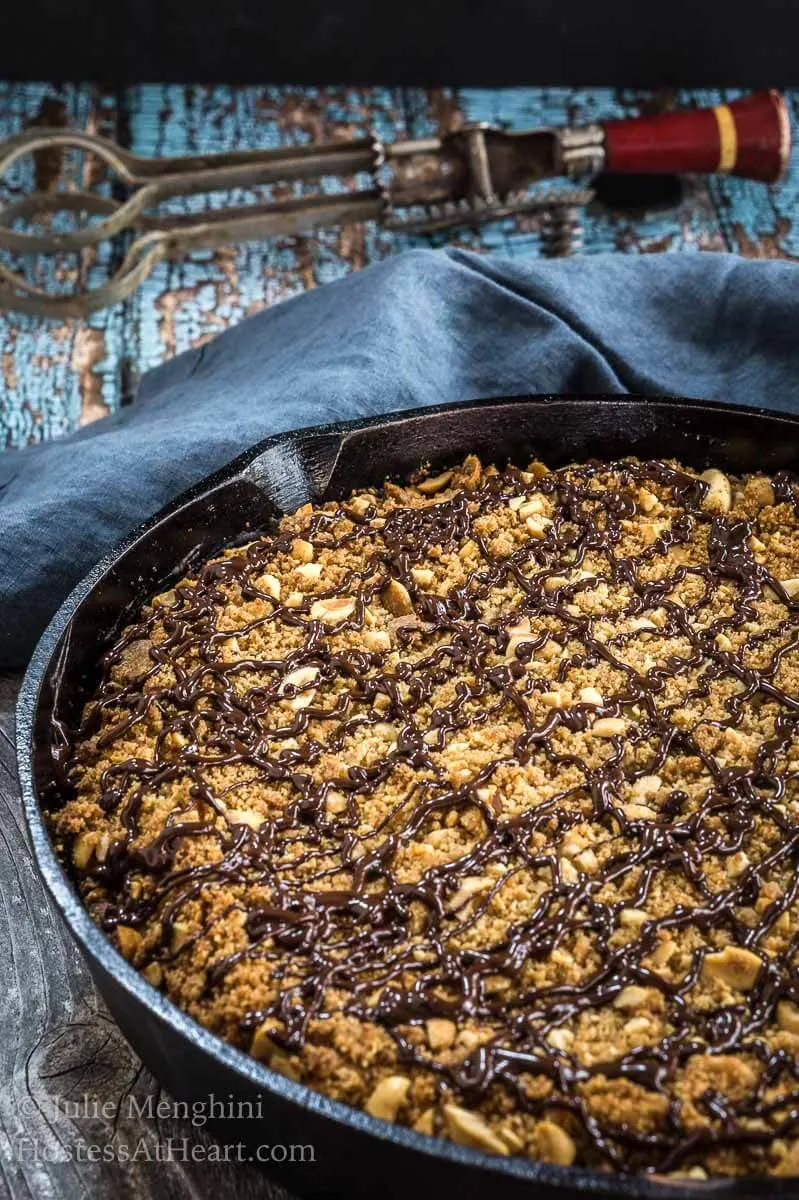 Do you ever see a recipe that you just can't get out of your mind? Well, this Peanut Butter Coffee Cake Recipe was that recipe for me.
I picked up a copy of a magazine called "Southern Cast Iron" Winter 2017 edition. I've never seen this magazine before but the recipes looked amazing including the one for Peanut Butter Coffee Cake. I just couldn't wait to try my hand at it.
From the title and the photograph, I knew I was going to be using chocolate and peanut butter. What I didn't realize is that it also has a layer of Nutella. The streusel on this baby makes it one delicious peanut butter crumb cake.
The only problem I have with this whole darned thing is that I didn't come up with it first!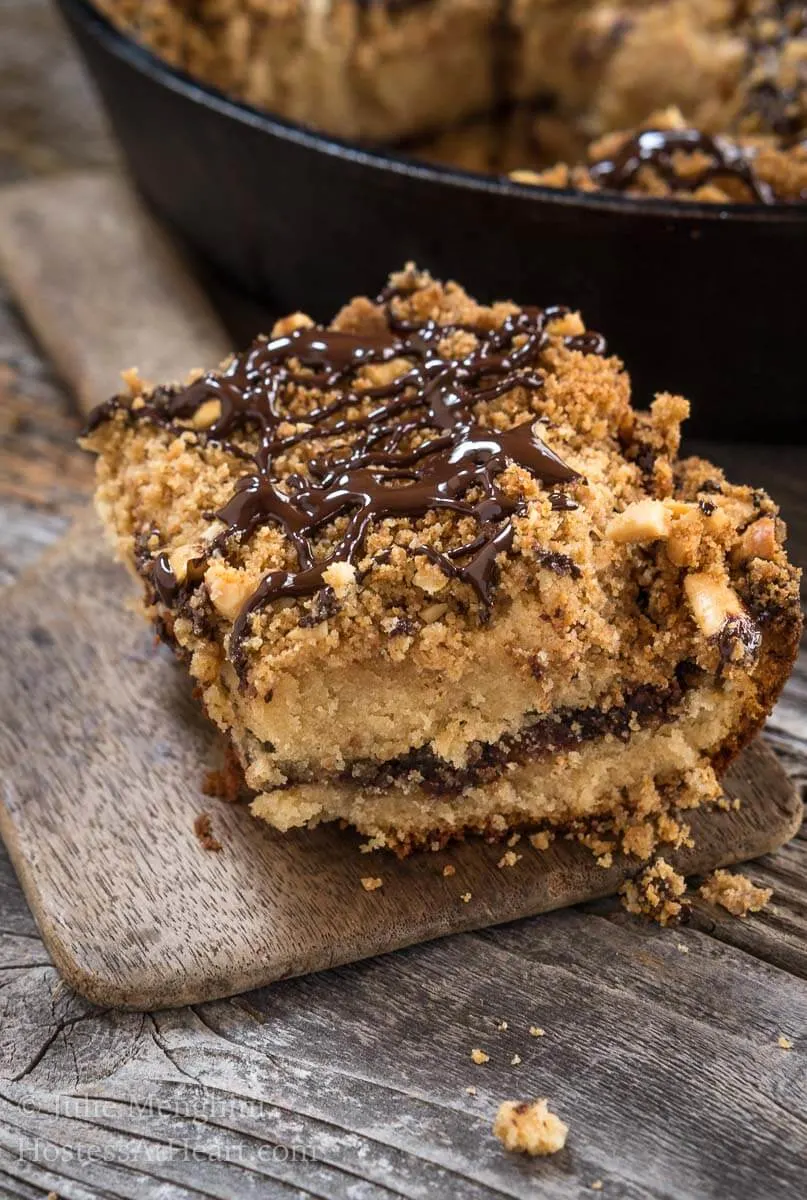 When I was young(er) my mother made a delicious coffee cake and we ate it for breakfast!
I don't know that I would feed this Peanut Butter Coffee Cake to my children for breakfast because they'd be bouncing off the walls once they got to school. I would surely eat it any time of day, however.
What is a coffee cake?
Coffee cake is cake flavored with or intended to be eaten with coffee.
It's delicious any time but I tend to think of it as a legal way to eat cake for breakfast! The American version is a variety of a crumb cake like this Peanut Butter Coffee Cake recipe.
What you may need to make this Peanut Butter Coffee Cake Recipe:
Hostess At Heart participates in affiliate programs. As an Amazon Associate, I earn a commission from qualifying purchases. Please refer to my disclosure page for more information about these affiliate programs.
Cast Iron Skillet – I use cast-iron skillets whenever I can. There isn't anything like them when it comes to browning food. They last forever, and they're our favorite pan for camping too.
Ingredients for Peanut Butter Coffee Cake recipe:
Flour – All-purpose flour or unbleached all-purpose flour
Sugar – both white and brown sugar. My favorite brown sugar is dark but either is fine.
Peanut Butter – I used creamy but crunchy would be delicious too.
Dry Roasted Peanuts – Salted is what I chose. You could use lightly salted or nonsalted. You can also substitute peanuts for your favorite nut such as pecans, walnuts, or cashews.
Butter – I used unsalted. Since the peanuts and peanut butter contain salt I didn't feel additional salt was needed in this recipe.
Sour Cream – This gives this recipe a creamy consistency. You could use lite but I wouldn't use non-fat.
Milk – The recipe calls for whole milk and that's what I used. I believe 2% would work as well.
Nutella – This creamy hazelnut spread is amazing in this recipe but you could substitute it for another chocolate or peanut butter spread.
Vanilla – I only use a pure vanilla extract.
Baking Powder – Leavening agent for the cake is necessary.
Eggs – I use large for all my recipes.
Salt – leave it out if you use salted butter.
Dark Chocolate – I use at least a 60% Cocoa
Storing and reheating Peanut Butter Crumb Cake Cake
The best way to store coffee cake
Coffee cake is best stored at room temperature. You can keep it in the cast iron skillet and cover it with foil for up to 3 days.
I don't recommend refrigeration it. The coffee cake can absorb extra moisture making it soggy or gummy.
Coffee cake can be frozen as a whole or in individual serving sizes. To thaw chocolate coffee cake, let it sit at room temperature.
Reheating Peanut Butter Coffee Cake
Reheat the coffee cake in the microwave. Start at a 30-second interval.
Coffee cake can also be thawed using the microwave. Again, I'd start with 30-second intervals until warm.
FAQs
Do you have to bake this peanut butter coffee cake recipe in a cast iron pan?
No, you don't. You can bake this recipe in a 9-inch round or square cake pan or a baking dish. Cast iron holds the heat so if you use a different pan make sure to check it before the cooking time has expired.
Can this cast iron coffee cake be made ahead of time?
Yes! You can make this coffee cake a day in advance. I recommend that you apply the drizzle on the day of serving, however.
Tips for the Perfect Chocolate Peanut Butter Coffee Cake
If you don't care for Nutella (someone actually said this!) you could substitute it for any creamy spread. I would definitely use chocolate or chocolate peanut butter spread.
I used a 10-inch cast-iron skillet instead of the 3 6-inch cast-iron skillets which is what the recipe called for. As a result, I had to bake mine 20 minutes longer until it tested done.
If you are going to freeze or make this recipe for peanut coffee cake, I'd leave off the chocolate drizzle until it's thawed or you're ready to serve it.
Chocolate, peanut butter, Nutella, streusel…what's not to love? I need to get me some little skillets so I don't have to share the next time I make it.
If you liked this recipe, I think you'll enjoy these too.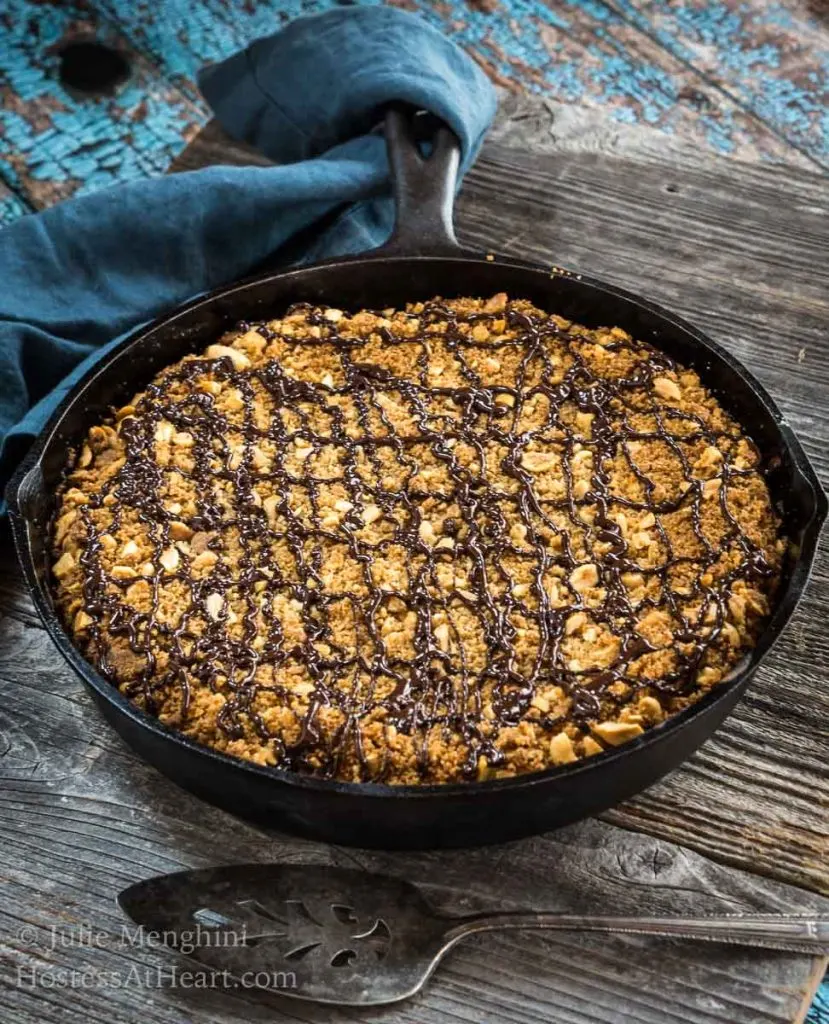 I hope you enjoyed this delicious recipe as much as we do. Drop me a comment below, and don't forget to give it a star rating. ⭐⭐⭐⭐⭐. Your comments and ratings help others decide if this recipe is for them too.
This recipe has been updated to improve readers' experience. No changes were made to the recipe.
Our most POPULAR recipes!
Before you leave, here are some more peanut butter and Nutella recipes!