Chocolate Coffee Cake with Sour Cream is an easy moist cinnamon streusel-topped cake recipe that's layered and drizzled with rich dark chocolate.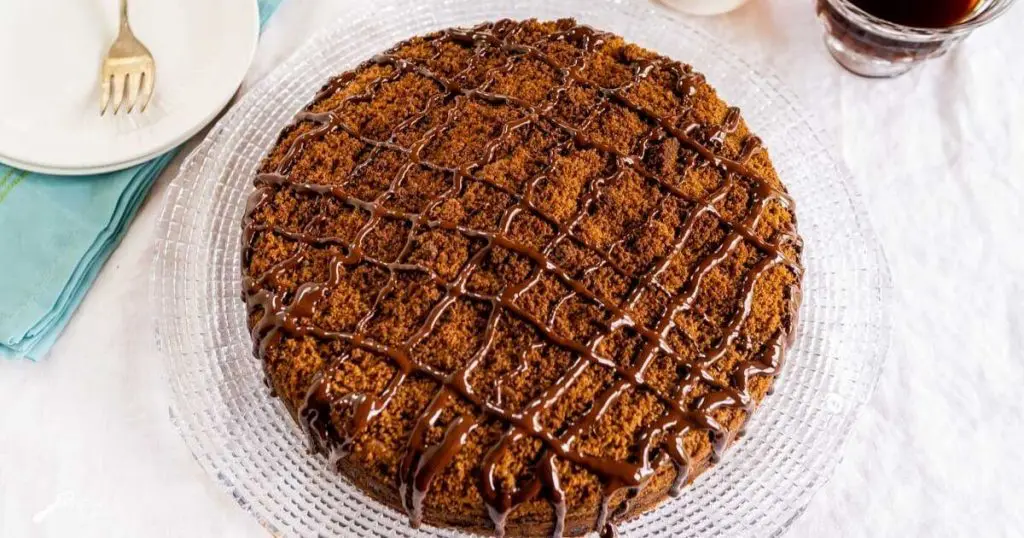 Chocolate Coffee Cake with Sour Cream has to be one of the best things that's come from my kitchen in a while. It looks elegant but is easy to make.
Did you know that coffee cake doesn't always have coffee in it? It's meant to be served with coffee. I wanted to put that out there for you non-coffee people.
The thing I love about Chocolate Coffee Cake is that it's legal to eat it for breakfast.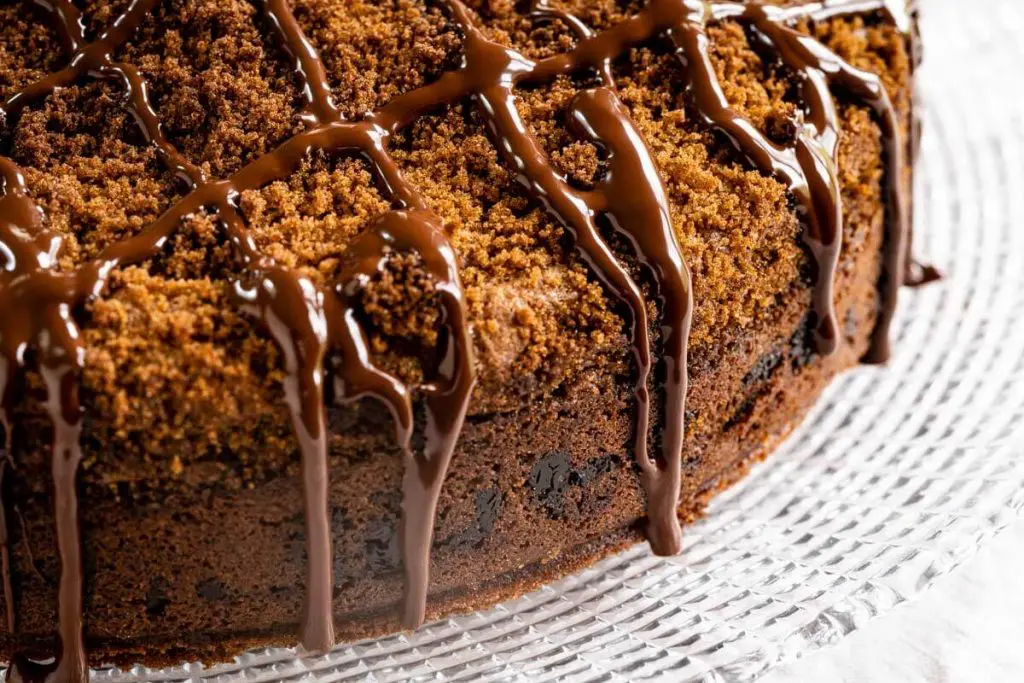 Who wouldn't want a moist Sour Cream Coffee Cake loaded with a layer of chocolate and then topped with a cinnamon streusel and then drizzled with more rich dark chocolate? Turn on the oven is all I can say.
Well, let me tell you a little bit about how this Chocolate Coffee Cake came about.
Today I'm celebrating our annual Freaky Friday Spring Edition!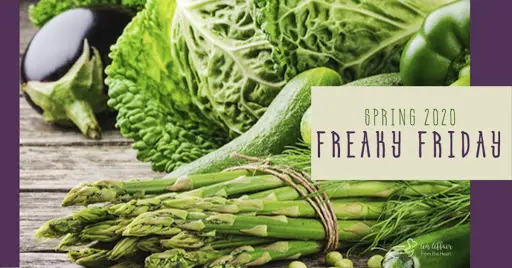 The Freaky Friday blog hop, organized by Michaela who runs An Affair From the Heart, is a group of bloggers that are secretly assigned each others' blogs from which we choose a recipe appropriate for the theme. It's so much fun and there are so many quality recipes.
The theme for this event is "something that fits the SPRING Season".
I'd love to share this chocolate coffee cake recipe over a cup of coffee with a friend on a sunny spring morning, but honestly, it's great all year long.
The secret blog that I was assigned was Nicole's blog "Or Whatever You Do".
Nicole is one of those people that comes off super chill while handling 100 things at once.
I met Nicole last summer at a conference we attended. She's so smart, juggles a large family, and we have our love of wine and chocolate in common.
If you google "Traeger recipes", Nicole's blog is the first one that comes up after Traeger! She's definitely the queen of Traeger recipes.
Even though I don't have a Traeger grill I knew that I wouldn't have a problem finding a recipe to make. The girl does it all.
Some of the contenders were her: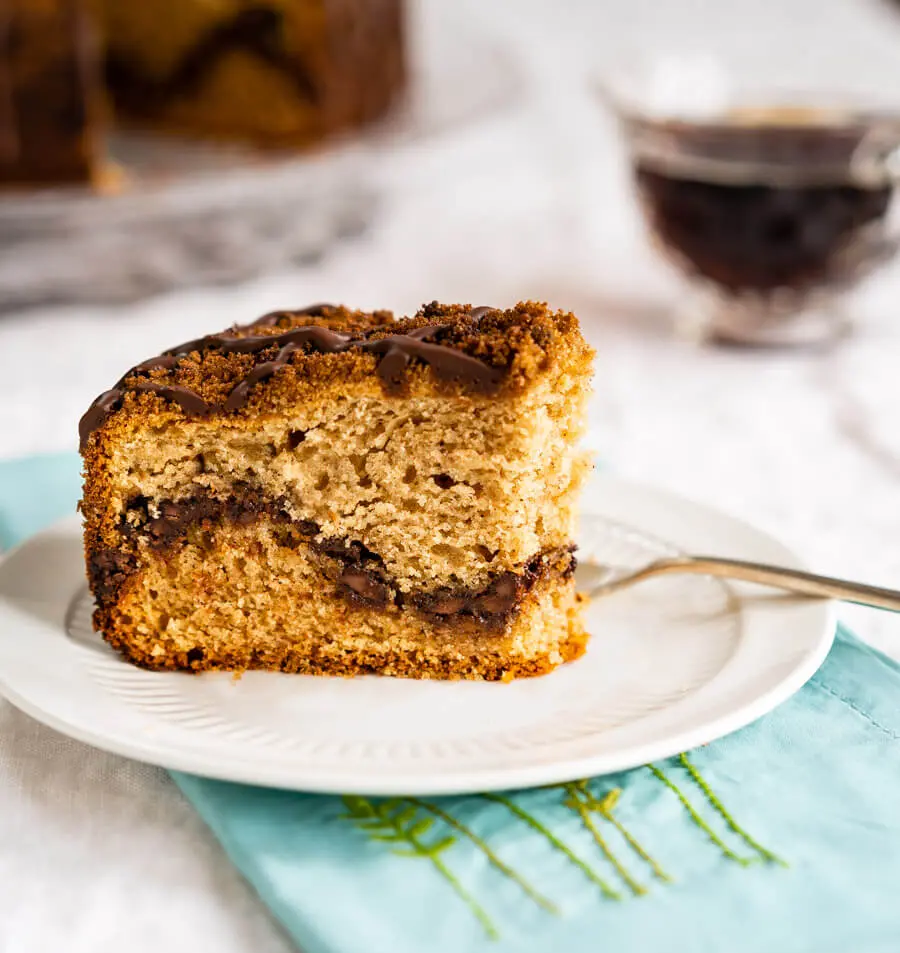 How long does Sour Cream Coffee Cake last?
John and I actually ate this entire Chocolate Coffee Cake. I know it lasts at least 4 days but can't vouch for any longer because if your Sour Cream Coffee Cake lasts that long, there's something wrong!
How to Store Coffee Cake
We kept our coffee cake stored at room temperature under a cake cover. We didn't refrigerate it even though you could.
This Sour Cream Coffee Cake recipe would freeze well too. Regardless of how you store it, keep it as air-tight as you can so it doesn't dry out.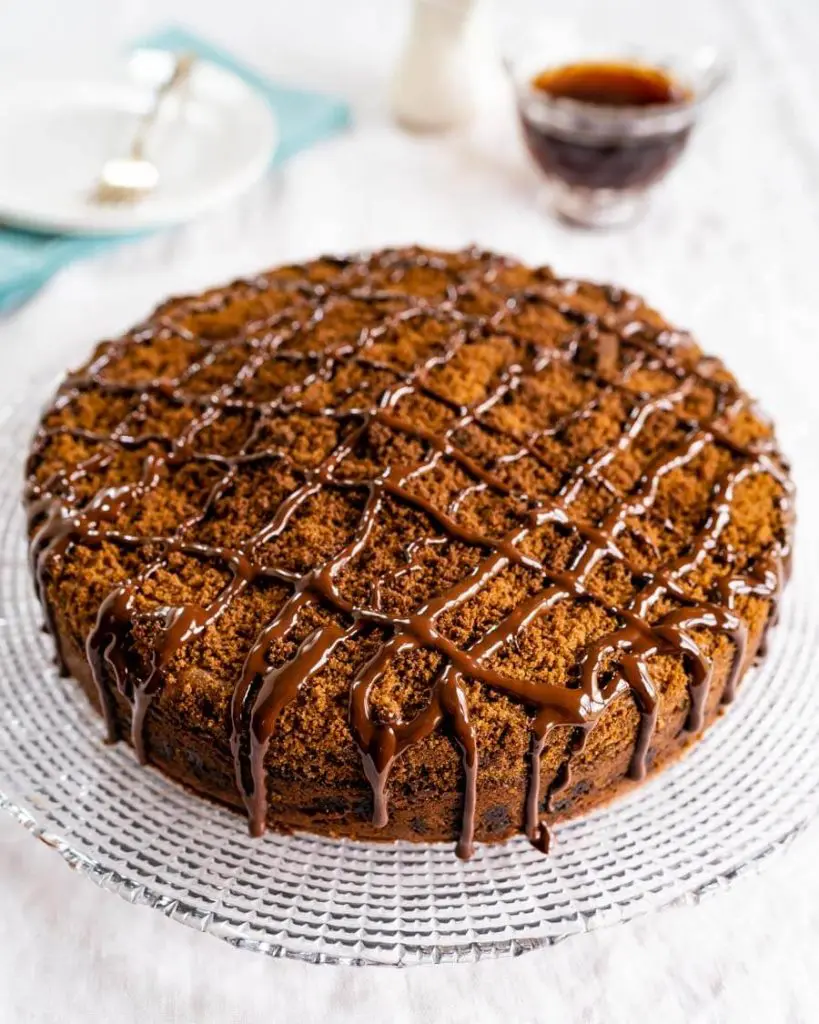 Chocolate Coffee Cake Variations
I used a 9-inch springform pan which turned out a beautiful coffee cake. It also made a showstopper deep sided cake when I drizzled on that dark chocolate.
Nicole used a higher sided cake pan but you could also use a bundt pan or even a 9×13″ pan.
The recipe calls for milk chocolate chips. I used up what I had and didn't have any for the top so substituted dark chocolate chips for the drizzle.
The streusel is a simple mix of cinnamon and brown sugar. No butter cutting or blending which makes this Sour Cream Coffee Cake recipe quick and easy. You could add grated nuts such as almonds or pecans to the topping.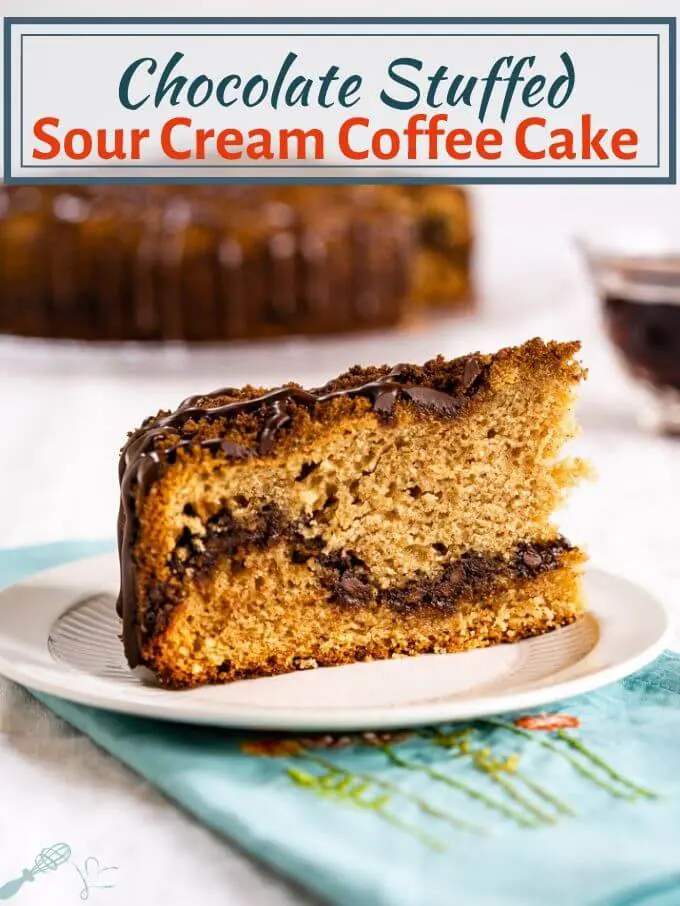 How to make chocolate coffee cake
For the best outcome, you want your ingredients to be room temperature. This assures that your ingredients will not clump together and makes for smoother blending.
Preheat your oven and apply grease or a non-stick cooking spray to your pan.
Using an electric mixer, combine softened butter and sugars. Mix until the batter is light and fluffy. Add the eggs one at a time, blending between each addition. Mix in the vanilla.
In a separate bowl, add the flour, baking powder, baking soda, and cinnamon. Whisk to combine.
Alternately, add the flour mix and the sour cream to the butter mixture blending between each addition.
Add half of the batter to the prepared pan and then sprinkle 1-1/2 cups of chocolate chips over the top. Spread the rest of the batter over the top of the chocolate chips.
In a small bowl, add the cinnamon and brown sugar together and whisk to combine. Sprinkle it over the top of the cake.
Bake until done, and let the cake cool on a wire cooling rack.
Melt remaining chocolate chips and drizzle over the cake with a fork or piping bag.

If you use a piping bag, allow the chocolate to cool to touch first to prevent melting the bag or burning your hands.
The only thing that I did differently than Nicole is to add a teaspoon of cinnamon to the batter and to use the dark chocolate chips in my drizzle as explained above.
If you like bakery for breakfast like we do, check out these recipes
In my humble opinion, this Chocolate Coffee Cake is perfect as is. I want to thank Nicole for such an amazing recipe! You've just got to check out her blog, Or Whatever You Do!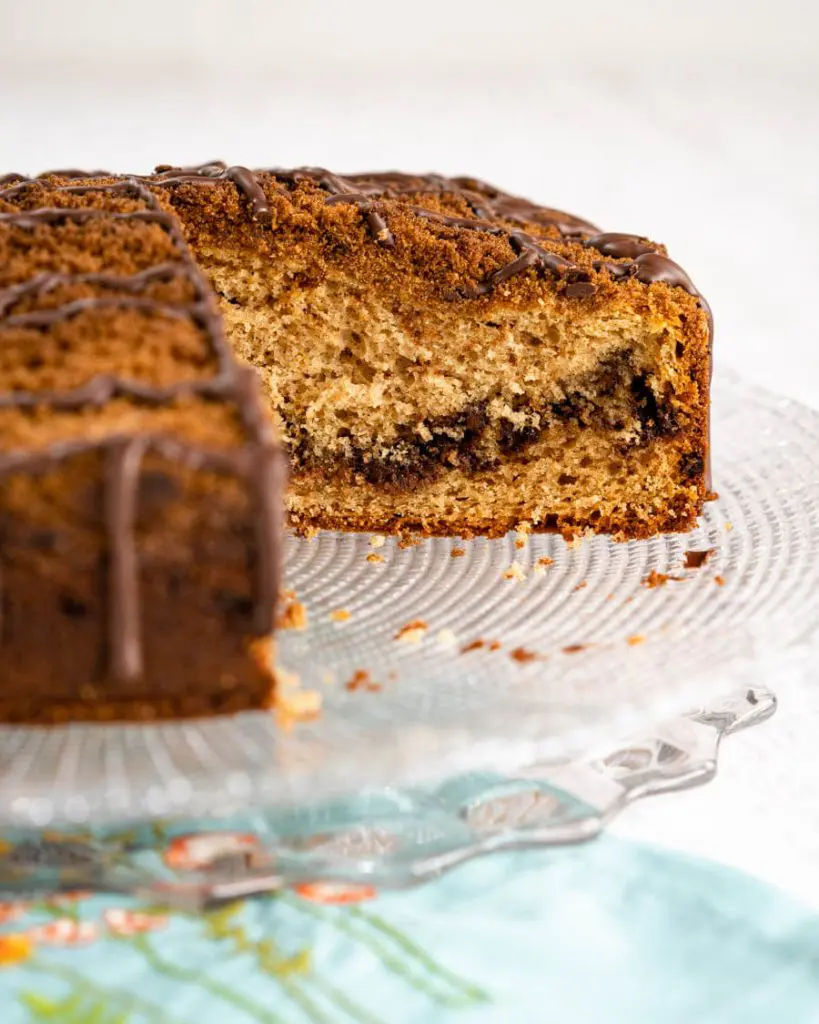 If you like this recipe, we would appreciate your comment and a 5-star ⭐️⭐️⭐️⭐️⭐️ review!
Take a look at all of our 2020 Freaky Friday Spring Edition Recipes: