Quick and Easy Irish Soda Bread with raisins recipe is a tasty quick bread that can be baked in any kitchen. It is the perfect bread with a bowl of stew or when you want homemade bread in a jiffy! It isn't only for the Irish!
This delicious recipe was first published on 9/30/15 and has been updated to improve the reader experience.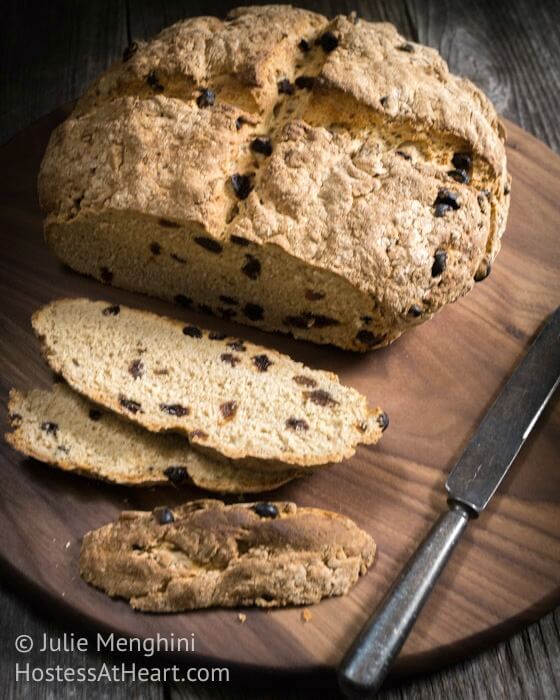 John's mother is Irish (him half), and he said he doesn't like Irish soda bread with raisins.
When I decided to give this bread a try, I thought I was going to have to give the whole loaf to John's parents. Why would I do something like that?
I was so sure that John wouldn't eat it so I filled this baby full of raisins. His parents, (and I) love raisins in baking. Are you feeling sorry for me yet?
What is Quick Bread?
Quick bread, means that no yeast is used. Soda Bread relies on chemical reactions between baking soda and the acid in buttermilk (sour milk) to make it rise instead.
The History of Soda Bread
Soda bread wasn't invented by Irish bakers. In fact, food historians give credit of first using soda to leaven bread to the Native Americans, who used pearl ash to help their bread rise. Regardless, it's a very popular bread in Ireland today.
Irish Soda Bread Variations
Traditional recipes use all-purpose flour.
Irish Brown uses a mix of wheat flour and sometimes wheat germ giving it that brown color.
Sweet Irish that is sweetened with dried fruit and sometimes molasses.
I guess this recipe should be called Irish Sweet Brown Soda Bread? No, I haven't been drinking any green beer!
I pressed my fingers into the top of the bread leaving shallow "divots" similar to what you do to focaccia bread and scored a "cross" in the top of my loaf which is traditional for this bread as well. You can use a sharp or serrated knife or a "lame".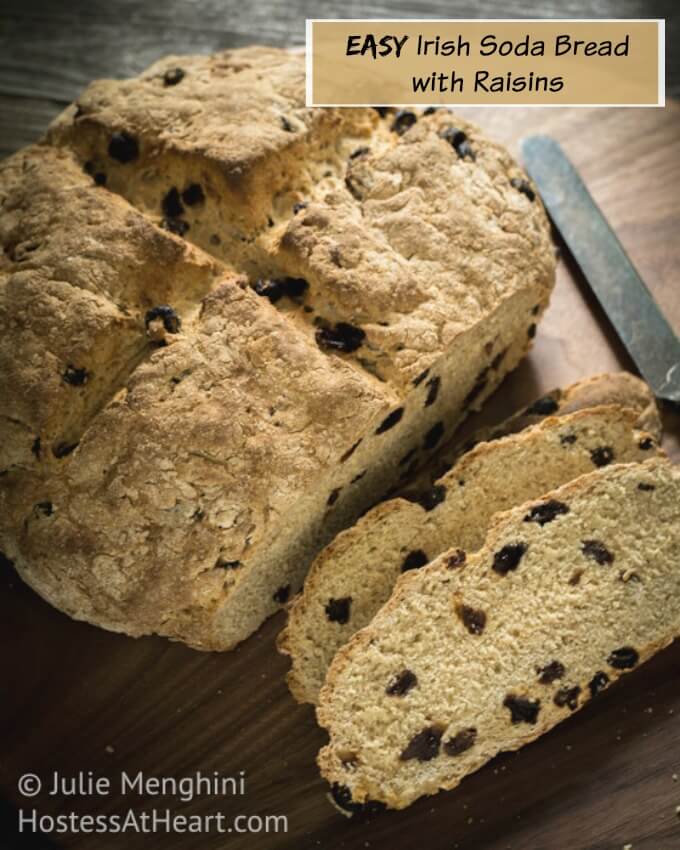 Why does Irish Soda Bread have a cross scored on the top?
It's due to superstitious reasons. Families believed if they cut a cross on the top of the bread that it would ward off evil and protect the household.
If you like this recipe, you may like these recipes too
We LOVE baking bread! You can find all of our bread recipes here!
What we used
Parchment paper – I use this parchment paper all the time. It withstands a 450°F. Parchment paper can start on fire in your oven if it's not rated for the temperature you're baking at!
Baking Sheet – These sheet pans are durable and I have four of them so I can get all of my cookies baked in a jiffy!
Easy Irish Soda Bread Recipe
This Super Easy Irish Soda Bread recipe is a tasty quick bread that can be baked in any kitchen. It's soft and tender and the perfect homemade bread to serve with soup or stew.
Ingredients
2-1/2

cups

buttermilk

2

cups

whole wheat flour

4

cups

all-purpose (plain) flour

2

teaspoons

baking soda

1

teaspoon

salt

2

cups

raisins
Instructions
Preheat the oven to 450 degrees F. Line a baking sheet with parchment paper.

Combine all of the dry ingredients into a medium mixing bowl. Whisk to combine.

Make a well in the center of the dry ingredients and add the buttermilk and raisins. Mix with a wooden spoon until flour is incorporated. Knead a few times by hand if necessary.

Turn the dough out onto the baking sheet and form a 2″ thick round loaf. Cut a 1-inch cross through the top of the bread with a sharp or serrated knife.

Bake for 30 minutes and then reduce the oven temperature to 400 degrees F for an additional 10 minutes. The bread is done when browned and sounds hollow when tapped or reaches an internal temperature of 210°F with an instant-read thermometer. Cover with foil if bread browns too quickly.

Allow the loaf of bread to cool on a wire rack approximately 30 minutes.

Store in air-tight container or bag. This bread is best eaten the day it's made. Freeze any portion that can't be eaten in 2 days.

Notes
My oven bakes hot so I baked it at 425°F and then lowered the temperature to 400°F as indicated in the recipe. Recipe adapted from The Poco Loco Olsons
This bread makes amazing French Toast too!
Nutrition
Calories:
182
kcal
|
Carbohydrates:
39
g
|
Protein:
4
g
|
Fat:
1
g
|
Cholesterol:
1
mg
|
Sodium:
243
mg
|
Potassium:
206
mg
|
Fiber:
2
g
|
Vitamin A:
20
IU
|
Vitamin C:
0.7
mg
|
Calcium:
26
mg
|
Iron:
2
mg
This recipe was calculated using the exact brands and measurements I used to make this recipe. If you are following a strict diet please note changing anything will cause the nutritional info to change. My calculations are intended as a guide only.
If you think that soda bread is dry and boring, just like what John used to think, this recipe will change your mind. I kept half of the loaf, and even with the raisins, John found himself liking it. It also makes the most amazing toast to go with my morning coffee too.