Irish Soda Bread with Raisins is a quick no-yeast bread recipe with only 6 ingredients. This easy soda bread recipe is perfect for the beginner baker and can be on your table in less than one hour!
This delicious recipe has been updated from 2015 to improve the reader experience. No changes were made to the recipe.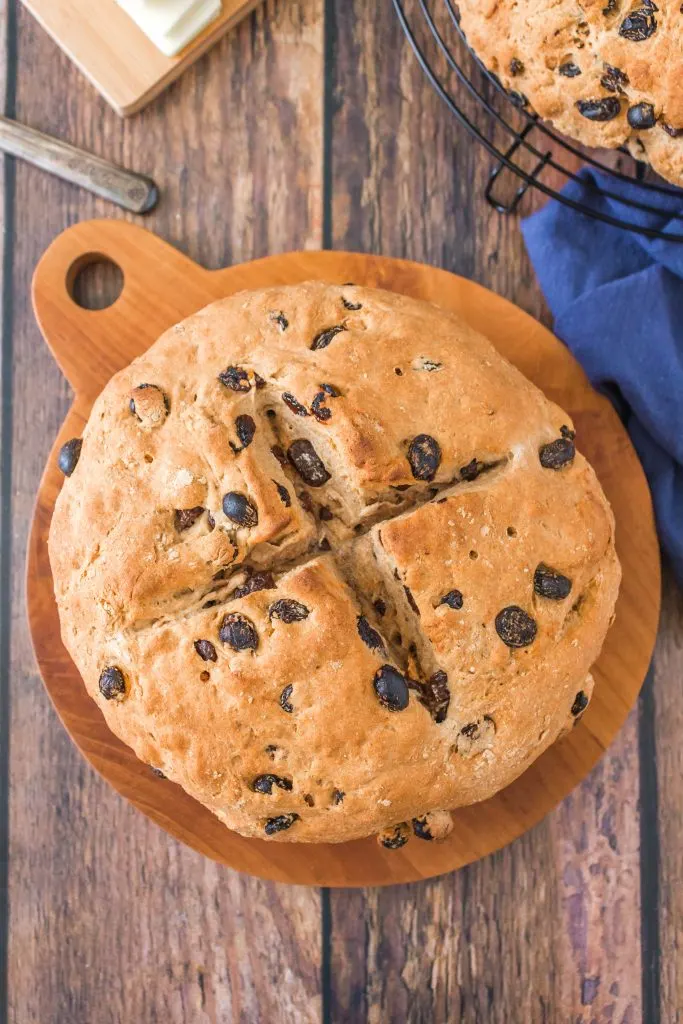 Afraid of baking bread? I get it! Irish soda bread is possibly the easiest bread that you can make. This bread uses simple ingredients and doesn't need to be proofed (rising time). It's literally the best Irish Soda Bread recipe and perfect for the non-bread baker or beginner.
What makes this the BEST Irish Soda Bread?
This recipe only uses 6 common ingredients.
No proofing time (waiting for the bread to rise).
It's tender and moist.
No yeast to activate.
No kneading.
It only takes 40 minutes to bake.
What is Irish Soda Bread with Raisins?
Soda Bread is a quick bread which means that it doesn't use yeast to rise. Instead, Soda Bread relies on chemical reactions between baking soda and the acid in buttermilk (sour milk) to make it rise.
This bread has a dense crumb but it is tender and moist.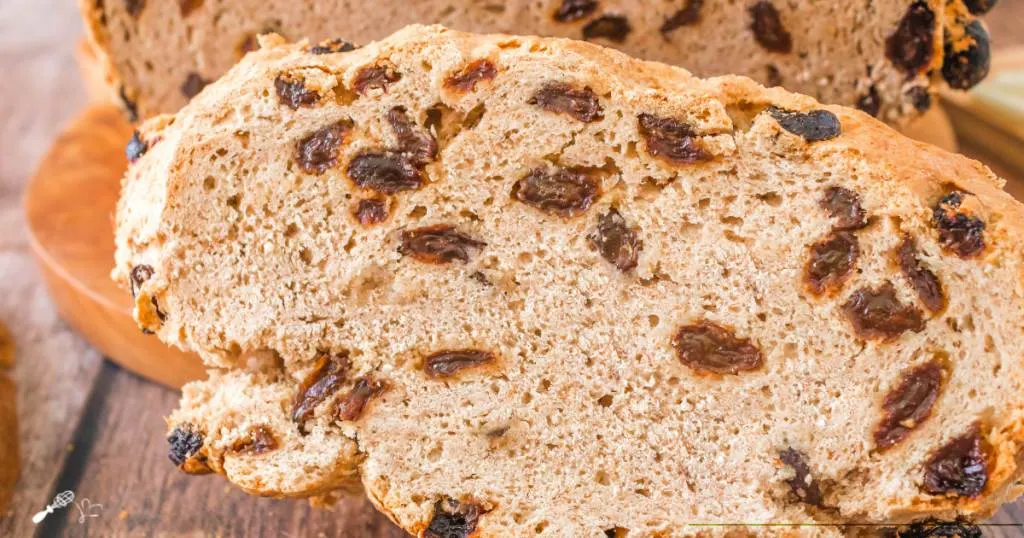 What does this bread taste like?
This soda bread recipe tastes somewhat like a scone or biscuit. The plump raisins give it a slight sweetness.
A Quick History of Soda Bread
Soda bread wasn't invented by Irish bakers. In fact, according to Real World, food historians give credit for first using soda to leaven bread to the Native Americans, who used pearl ash to help their bread rise. Regardless, it is a very popular bread in Ireland today.
Irish Soda Bread Types
Traditional Irish Soda Bread recipes use all-purpose flour.
Irish Brown Soda Bread uses a mix of wheat flour and sometimes wheat germ giving it that brown color.
Sweet Irish Soda Bread is sweetened with dried fruit and sometimes molasses.
Easy Soda Bread Ingredients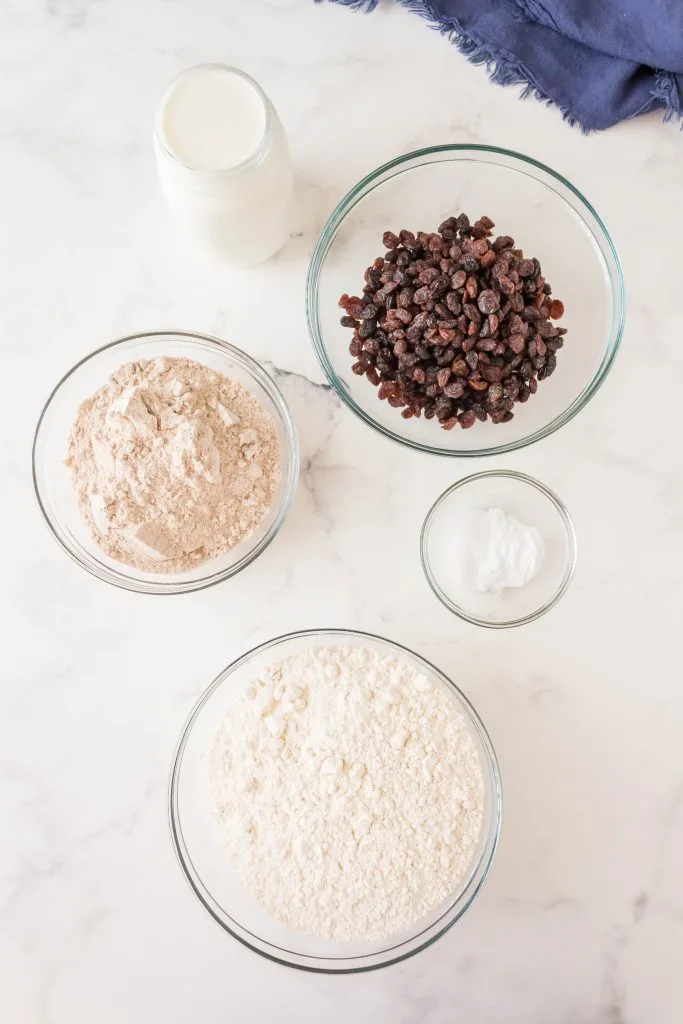 Flour – I used a mixture of all-purpose flour and whole wheat flour that gave the bread a wholesome flavor. You could substitute with all all-purpose flour. Bleached or unbleached is fine.
Buttermilk – The full-fat version gives this bread a moist spring.
Baking Soda – Make sure your baking soda is fresh. You want to get the most out of the chemical reaction when mixed with the buttermilk that will make this bread rise. I show you how to test it in my Basic Techniques post.
Salt – I prefer fine sea salt because it mixes so well with the other ingredients.
Raisins – You can use more or less than I did. They're the only sweetness that this bread gets.
Don't have buttermilk? Make your own by combining 1 tablespoon of white vinegar or fresh lemon juice with 1 cup of milk. Let it sit for 5 minutes or until it starts to thicken.
How I make Irish Soda Bread with Raisins
Step 1: Preheat the oven to 450°F so it's good and hot when your bread is ready to bake. I give my oven at least 30 minutes to preheat. You'll also want to line a baking sheet with parchment paper.
Step 2: Combine the dry ingredients, flour, baking soda, and salt, together in a large bowl. Whisk to combine.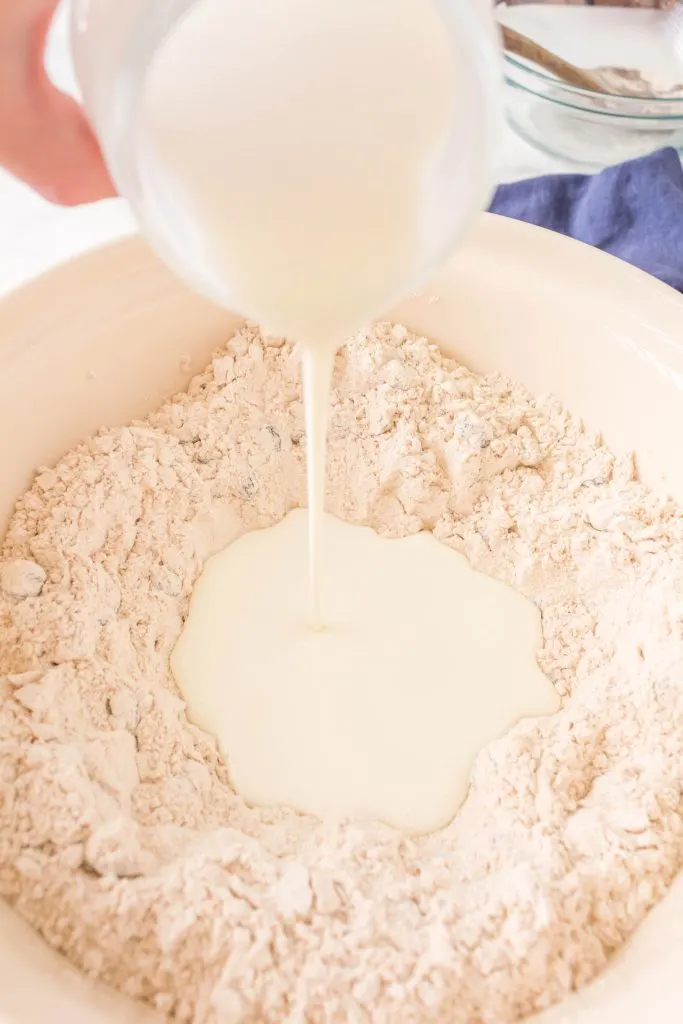 Step 3: Make a well in the center of the flour mixture and add the buttermilk and the raisins. Using a wooden spoon, mix until all of the flour is combined.
Step 4: Remove the dough from the bowl and place it on a lightly floured work surface or a silicone mat. Form it into a round loaf approximately 2 inches thick and place it on the prepared baking sheet. Don't knead the dough.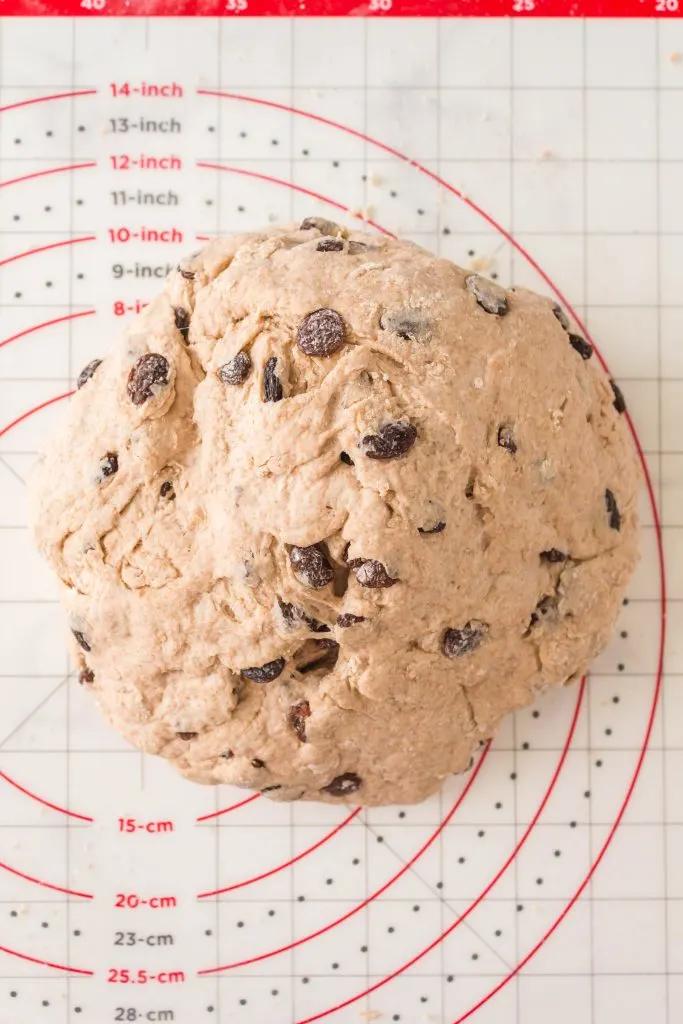 I lightly pressed my fingers into the top of the bread leaving shallow "divots" similar to what you do to focaccia bread and scored a "cross" one inch deep on the top of my loaf which is traditional for this bread as well. You can use a serrated or sharp knife.
Step 5: Bake for 30 minutes and then reduce the oven temperature to 400°F. Bake for an additional 10 minutes.
Remove the loaf from the baking sheet and cool on a wire rack for 30 minutes prior to slicing.
What I used
Parchment paper – I use this parchment paper all the time. It withstands a 450°F. Parchment paper can start on fire in your oven if it's not rated for the temperature you're baking at!
Baking Sheet – These sheet pans are durable and I have four of them so I can get all of my cookies baked in a jiffy!
Instant-Read Thermometer – I use this thermometer for bread and meat. It is quick and accurate.
Tips for the Best Irish Soda Bread Recipe
Don't over mix or knead the bread dough. The bread will become more dense and less soft.
Get the bread into the oven as soon as you can after you add the buttermilk. It begins activating as soon as it's combined with the baking soda and you don't want to lose that rising power.
I'll often soak the raisins in warm water for 15 minutes so they are plumper and juicier before adding them to the dough.
Don't be tempted to add more flour to the dough if it's sticky. Sticky is fine. More flour will cause it to become dry.
A sharp or serrated knife works well to cut the cross. You don't have to cut a cross into the bread if you don't want to. The bread will come out just fine.
Remove the loaf from the baking sheet as soon as you can to stop it from baking further.
A cool loaf slices nicer than a hot loaf. Cutting the bread when it's hot can crush or tear it.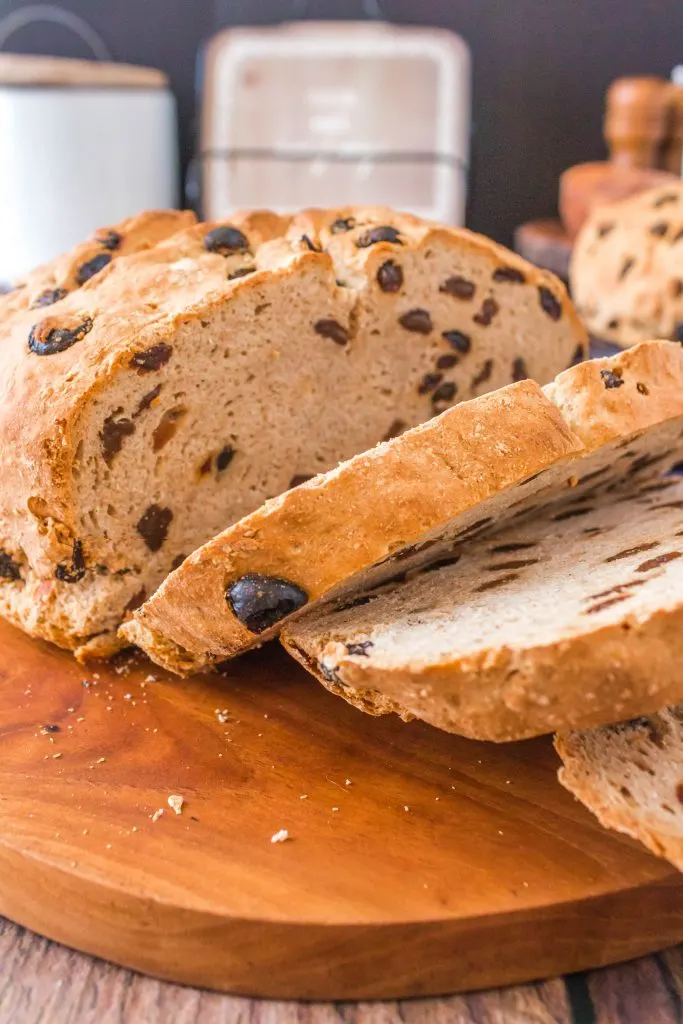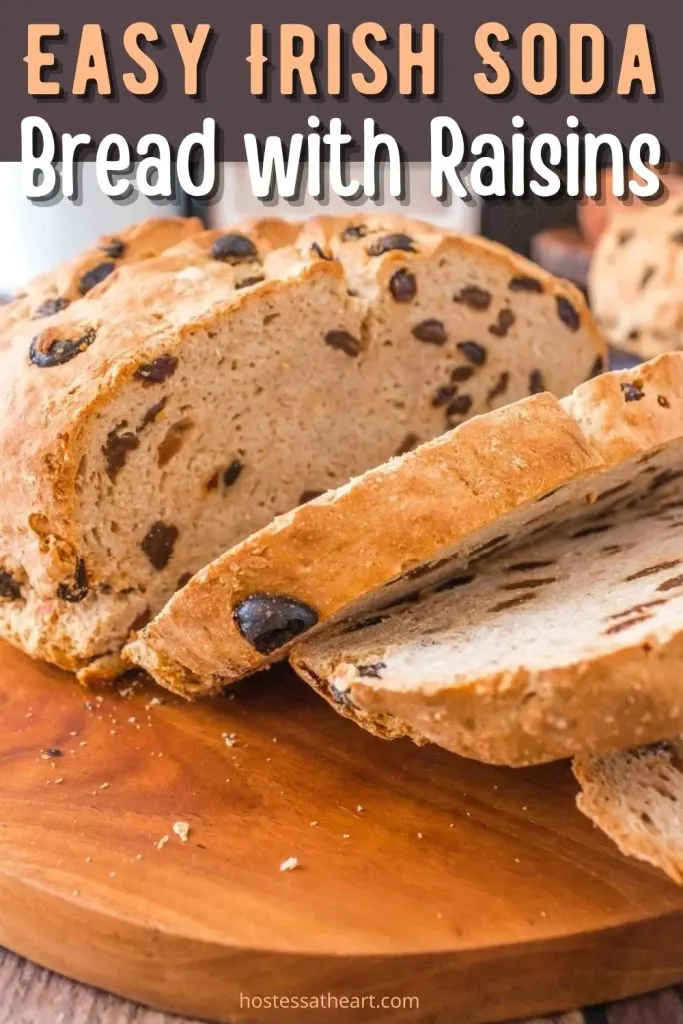 Frequently asked questions
Why does Irish Soda Bread have a cross scored on the top?
It's due to superstitious reasons. Families believed if they cut a cross on the top of the bread that it would ward off evil and protect the household.
Do I have to add raisins to my soda bread?
No. You can use currants, craisins (dried cranberries), or other dried fruit. Since this isn't a sweet bread I do think they add a delicious flavor.

Caraway seeds are often added to traditional Irish soda bread recipes and you'll often see oatmeal sprinkled over the top too.
How do you store Irish Soda Bread with Raisins?
This bread is best eaten the day it's made and should be eaten within 2 days. Store in an air-tight container or bag at room temperature.
Can this bread be frozen?
Yes! This bread freezes beautifully. Wrap it in an airtight freezer bag or plastic wrap and then I add a layer of protection by wrapping it a second time in foil.

The bread will last up to 6 months but the flavor is best if eaten within 2 months.
How do I know when my bread is done baking?
I bake this bread for a total of 40 minutes but due to the differences in ovens, recommend that you test it will an instant-read thermometer. You want the internal temperature to read approximately 210°F.

The bread should be browned and sound hollow when tapped on the bottom.
My favorite way to eat Irish Soda Bread is with a bowl of soup or stew such as my Lamb Chili. This bread also makes an amazing bread pudding and French toast!
My ultimate favorite is with a slather of butter and a cup of coffee or tea. It's incredibly delicious!
If you like this Irish Soda Bread you may like these recipes too
We LOVE baking bread! You can find all of our bread recipes here!
Pin this amazing Soda Bread Recipe to your favorite bread board!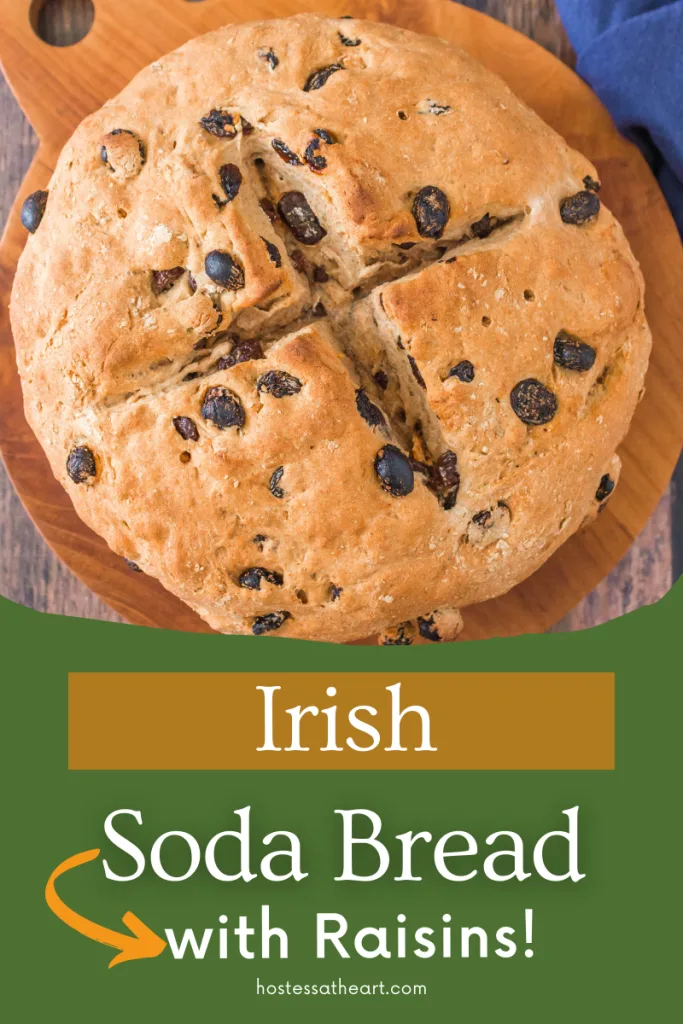 Recipes perfect for St. Patricks Day
Don't Forget To Come Back And Let Me Know How Your Irish Soda Bread Recipe with Raisins Turned Out!