It's time! Enjoy this gorgeous pumpkin bundt cake recipe as you cozy up by the fire and celebrate the changing of seasons. Everything you love about Fall can be summed up by this cake.
As Fall approaches, I get so excited thinking about all the flavors of Autumn gracing our table. I love baking with pumpkin spice; it's such a warm and inviting flavor. We already have so many great pumpkin recipes on the site, like this Pumpkin Bread Pudding, our Chocolate Pumpkin Bread Recipe, or this Pumpkin Apple Bread with Streusel Topping.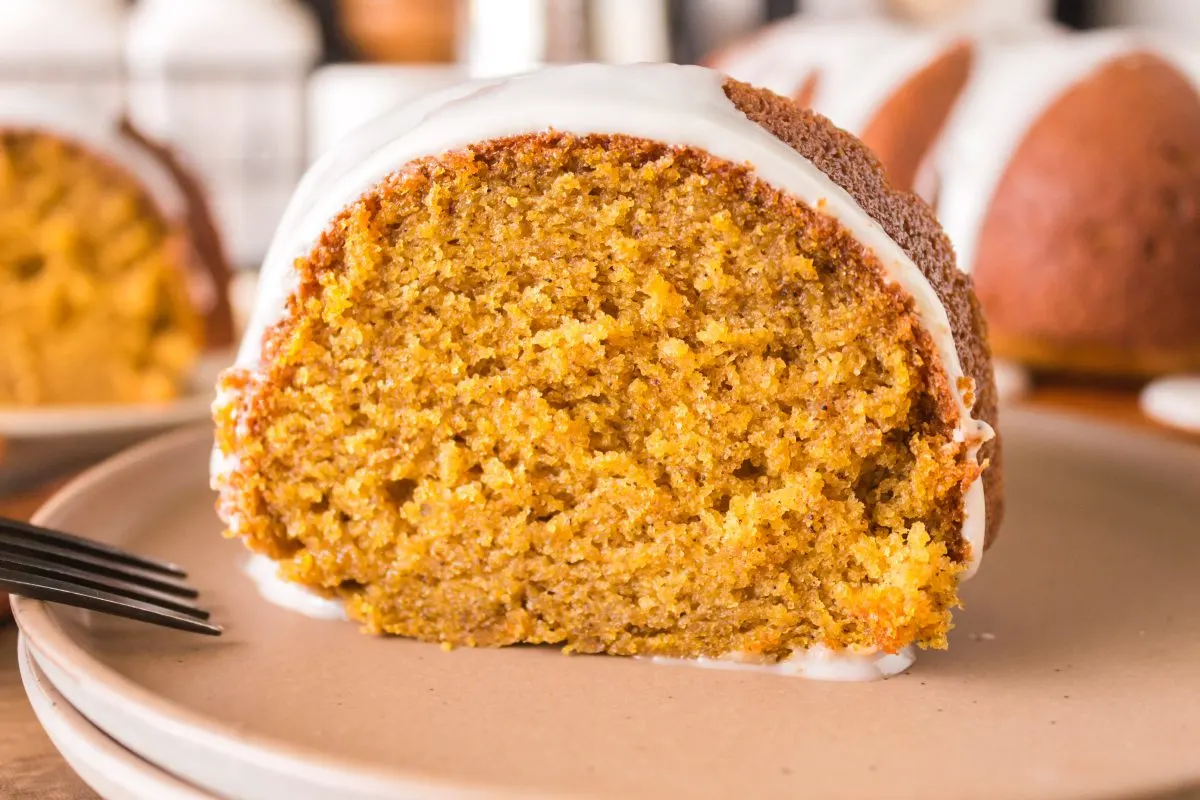 The texture of this cake is moist, light and fluffy. It's not so much pumpkin to be overwhelming, and the spices meld so beautifully that it tastes like Fall on a plate. Keep reading to get all the instructions, tips, and tricks to make the cake perfectly every time.
Why You'll Love Our Recipe for Pumpkin Bundt Cake
Pure Comfort. The blend of warm spices and rich pumpkin will be the delight of everyone in your family. From the smell of our pumpkin spice bundt cake recipe as it bakes, to the first bite, it brings "home" to the table.
So easy. You don't have to get fancy or complicated to make an amazing homemade cake everyone loves.
To-die-for texture. You won't believe how light, fluffy, and moist this cake is. You can eat it without frosting it's so good!
Ingredients you'll need for this recipe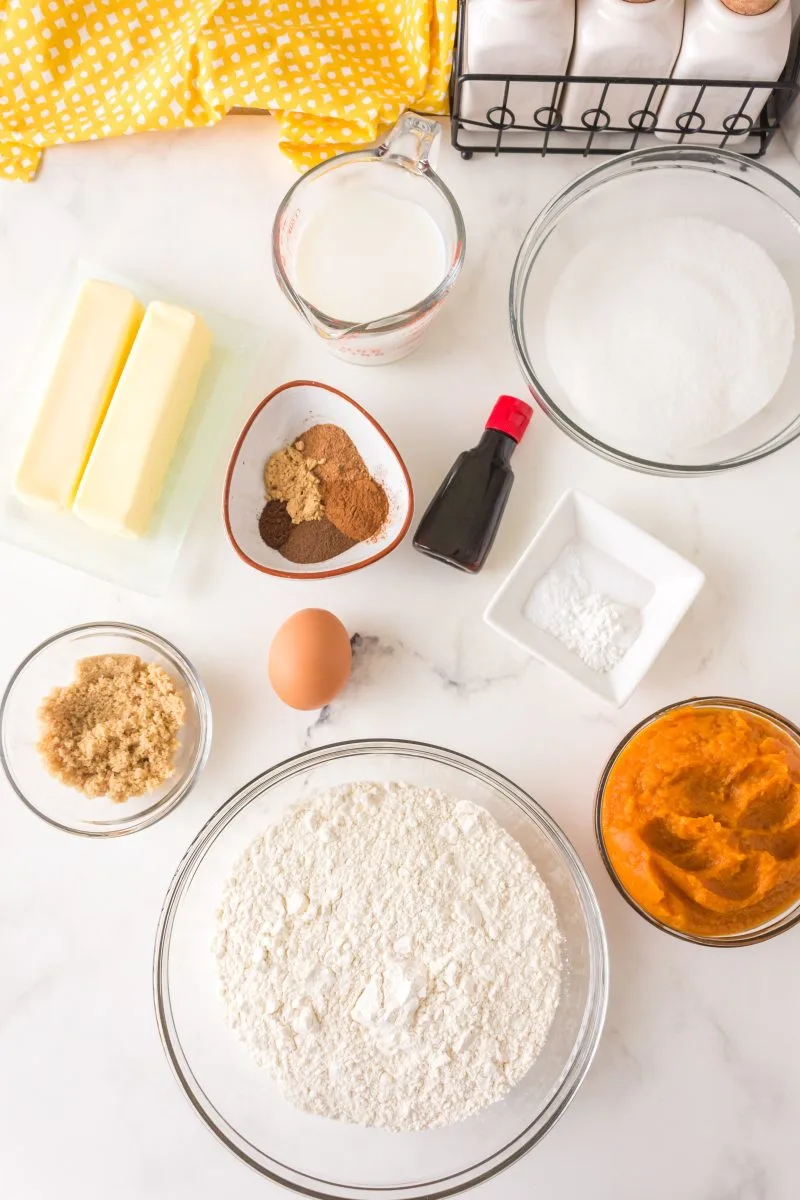 All-Purpose Flour. Bleached or unbleached all-purpose flour.
Baking Powder and Baking Soda. Combining these two leavening agents helps create the perfect height and texture.
Spices. Ground Cinnamon, Allspice, Nutmeg, Ground Ginger, Salt, Ground Cloves
Salted Butter.
Sugar. White granulated sugar.
Light Brown Sugar. You can use dark brown sugar if you want.
Eggs. I always use large eggs in my recipes.
Canned Pumpkin Puree. Do not confuse this with pumpkin pie filling.
Vanilla Extract. Pure extract if you've got it.
Milk. Whole milk or even buttermilk is recommended for the fat content which will produce a fluffy super moist cake.
Ingredients for the Glaze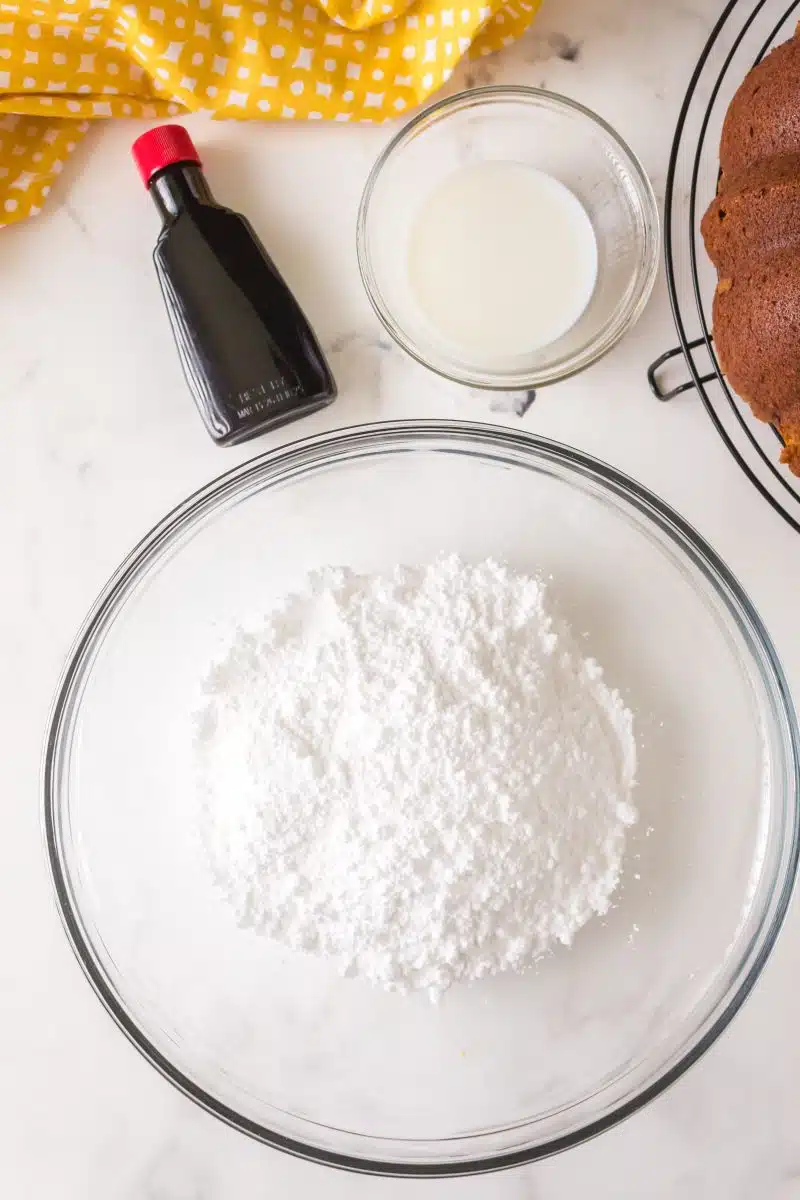 Powdered Sugar.
Milk or Heavy Cream. Just enough liquid to make the glaze smooth.
Vanilla Extract. Pure extract if you've got it.
How To Make Pumpkin Bundt Cake
Please note, that the printable recipe card has ingredient quantities, complete instructions, and nutritional information. The following is a quick overview of the recipe.
Step One. Get everything ready for the perfect pumpkin bundt cake recipe.
Preheat your oven so that the cake cooks evenly and doesn't get too done on the outside before the inside is ready. Butter your pan with a pastry brush or paper towel.
Step Two. Mix dry ingredients.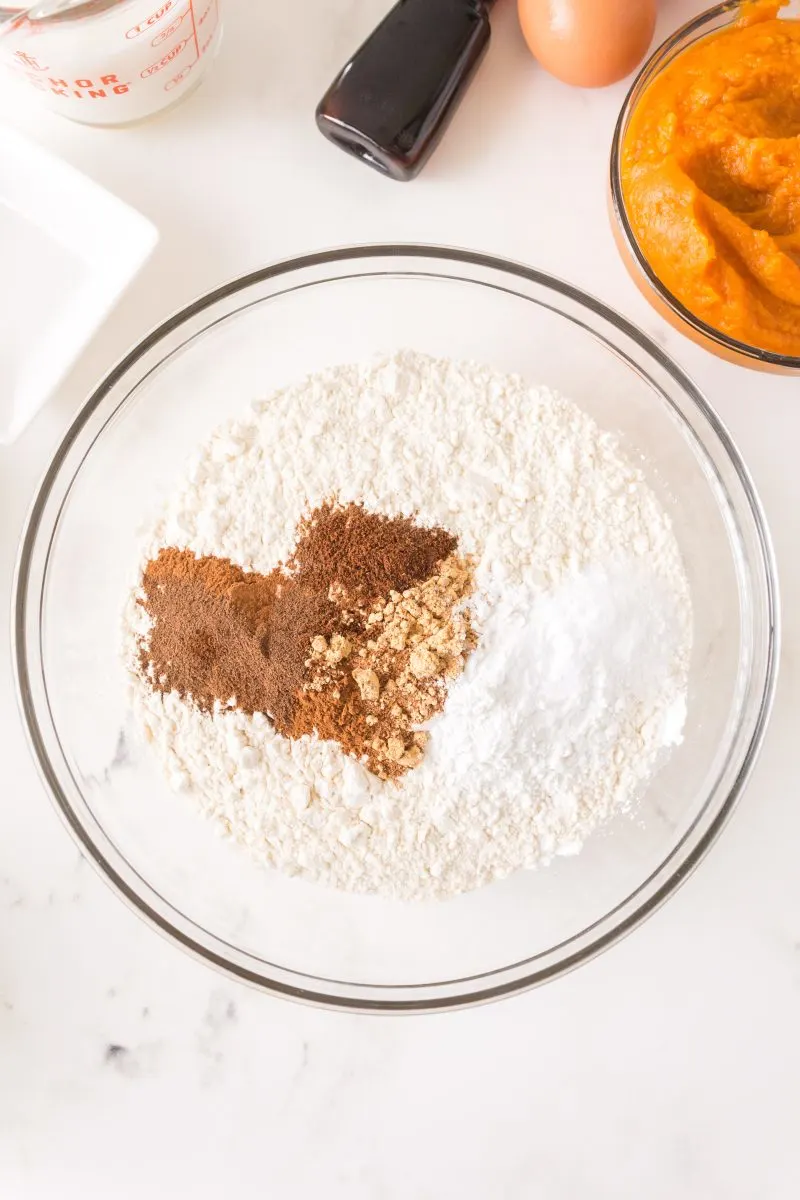 Use a large mixing bowl to blend the flour, spices, and leavening agents using a wire whisk. Set that aside.
Step Three. Mix the liquid ingredients.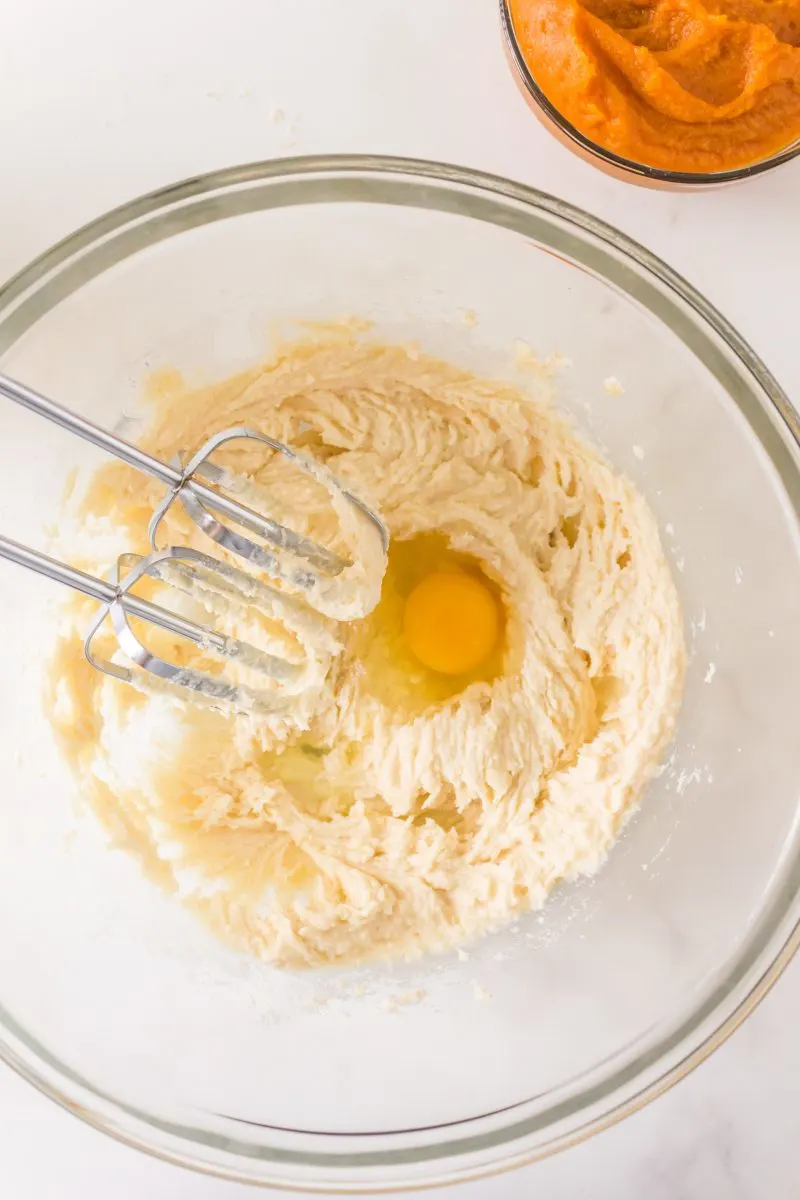 Start by creaming the fat and sugar for the recipe. Then add eggs, pumpkin, and vanilla. Do not add the milk yet.
Step Four. Combine the wet and dry ingredients using milk as a buffer.
Add the flour, about ⅓ of the mixture alternating with some of the milk. Mix well before adding more flour and milk. Do not overmix.
Step Five. Fill the Pan and Bake your Pumpkin Bundt Cake. Cool.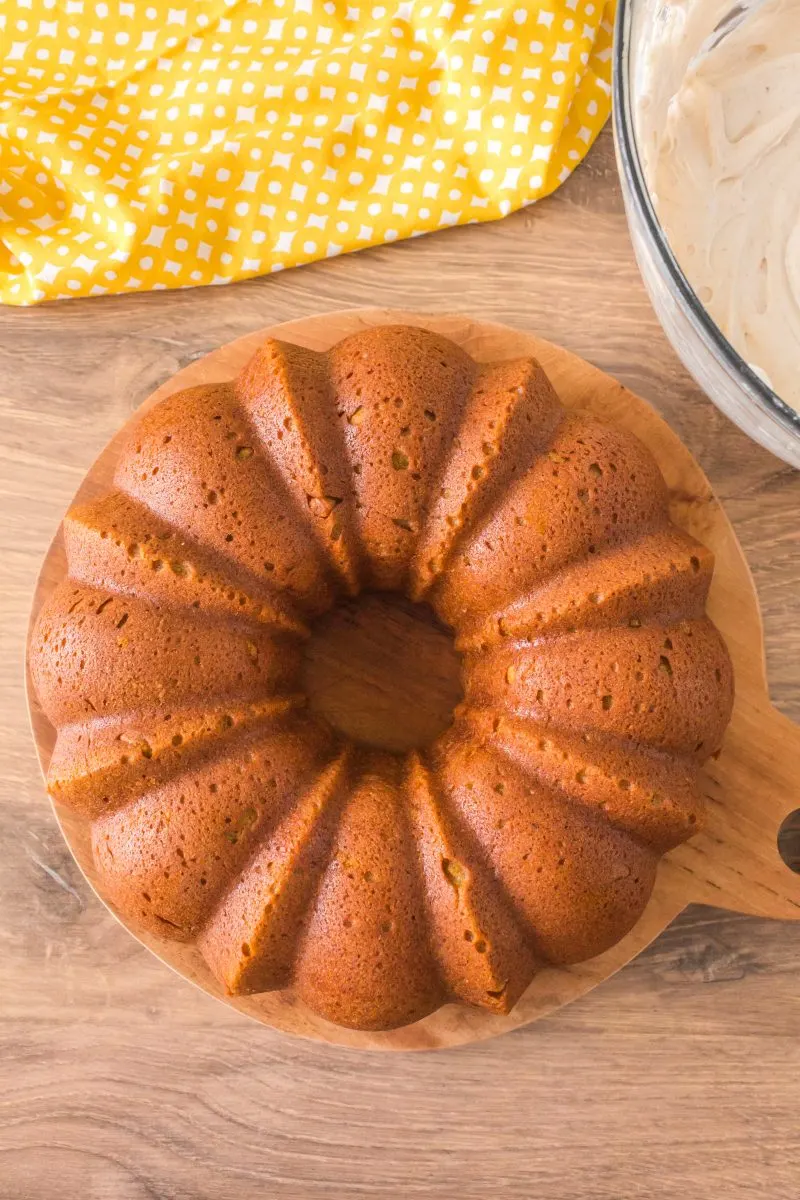 When the cake is almost cool, make the glaze.
Step Six. Mix the Glaze Ingredients.
Just put it all in a bowl and combine. Once the cake is cool, drizzle it with the glaze. Let it set for a few minutes before serving the cake.
Frequently Asked Questions
Do I have to use a bundt pan?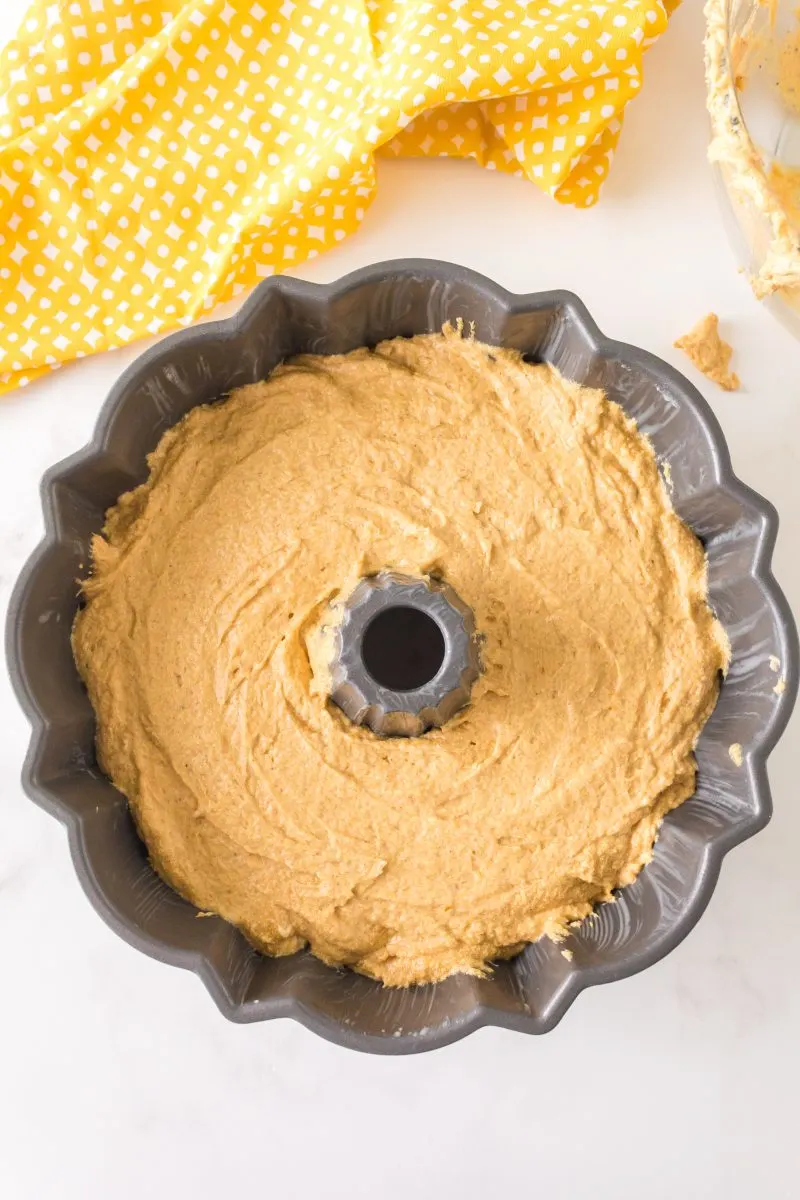 No, you don't, but make sure you don't over-fill the pan more than 2⁄3 to 3⁄4 cup full. See my free printable pan conversion chart.
When can I tell that my entire cake is ready and done baking in the oven?
Bake in the preheated oven for 40 to 43 minutes. The cooking time is 40 minutes, but whenever I bake a bundt cake, I always check sooner. I checked at 30 minutes. The cake is cooked when the toothpick you insert in the middle comes back clean.
How To Store Pumpkin Bundt Cake Recipe
Best way to store Pumpkin Bundt Cake
Once the cake has cooled, place it in the fridge in an airtight container for up to 3 days.
Can I freeze Pumpkin Spice Bundt Cake?
Yes. Freeze a whole cake or individual slices. Wrap the cake completely or store it in an airtight container to prevent freezer burn. Freeze for up to three months. Thaw at room temperature or thaw a single slice in the microwave for 20 to 30 seconds at a time until ready.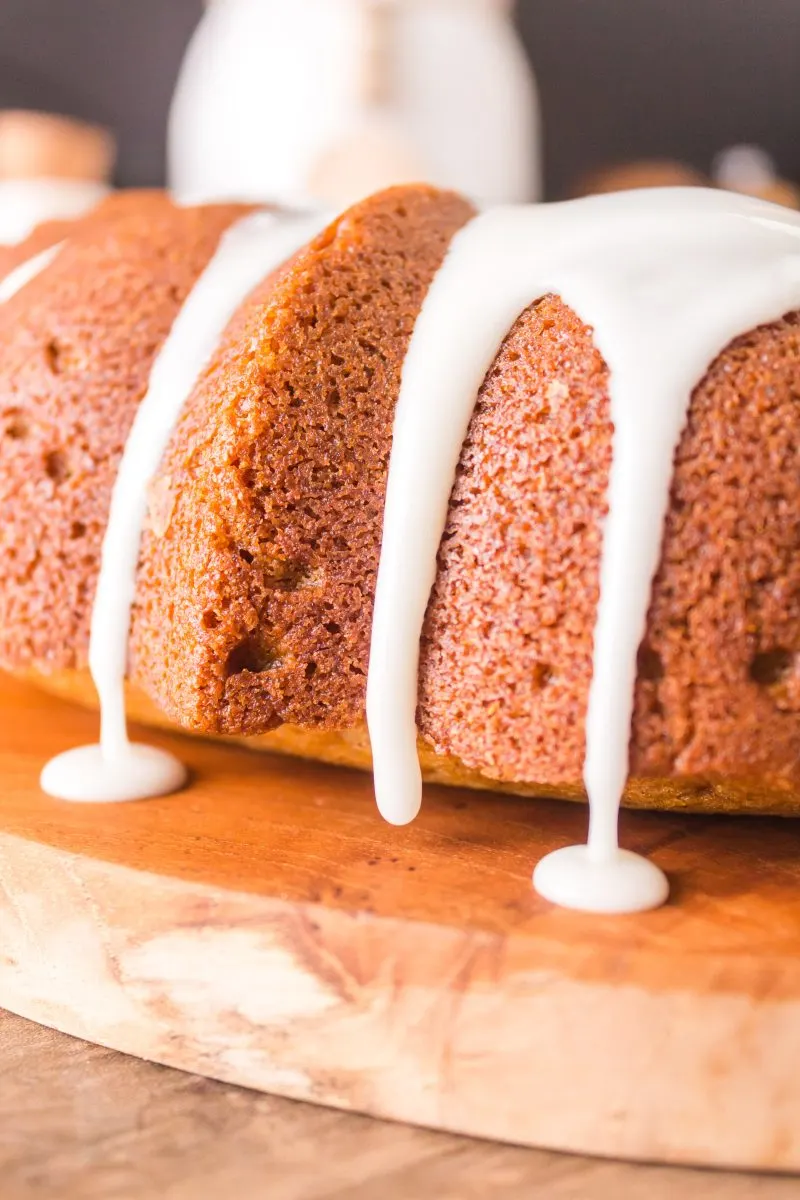 Tips for the perfect Pumpkin Bundt Cake
Do not over-mix the cake batter when you blend wet and dry ingredients. You want to stop mixing as soon as the dry ingredients have disappeared.
Place a sheet pan under the bundt cake pan in your oven to make removing the pan super easy.
Turning the cake halfway through the baking time will ensure an even bake all the way around.
Don't over bake. Doing so will cause your cake to become dry and dense.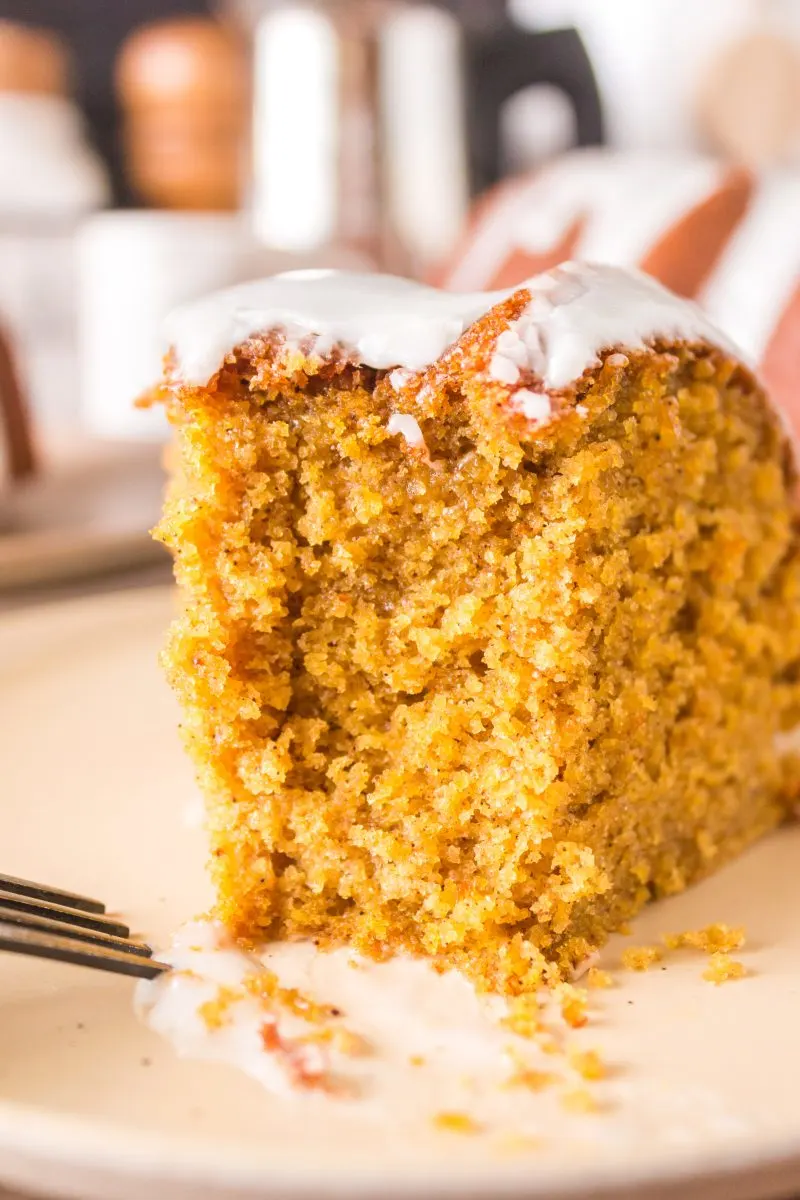 Variations
You can choose to frost or make a glaze. For variety, I recommend cream cheese frosting as I did with our Carrot Cake Cupcakes recipe, a cream cheese glaze that we used with our Pumpkin Donuts, or this amazing Caramel Icing recipe. You can't go wrong with any of them.
If you want to simplify, you could dust it with a little powdered sugar as I did with our Kentucky Butter Cake.
Make it spicy: If you like Fall flavors but don't want them to hint at pepper, omit the ground cloves.
Make it kid-friendly: omit the ground cloves and ginger. The cinnamon will shine through, and the allspice will bring up the flavors to make it a comfort food cake for many occasions. Speaking of the kiddos, add chocolate chips!
Add chopped pecans or walnuts.
Turn the cake out onto a beautiful cake platter for serving and presenting this special Pumpkin Bundt Cake Recipe to guests as a beautiful Fall dessert, a special event, or a holiday gathering.
If you enjoyed this recipe, check these out!
I hope you enjoyed this delicious recipe as much as we do. Drop me a comment below, and don't forget to give it a star rating. ⭐⭐⭐⭐⭐. Your comments and ratings help others decide if this recipe is for them too.