Do you love the taste of apple cider donuts but are intimidated by making them from scratch? Fear not; we have a solution that will fool even your most discerning friends: apple cider donut muffins. This recipe is the perfect combination of sweet, fluffy, and satisfying, and can be whipped up with just a few simple ingredients.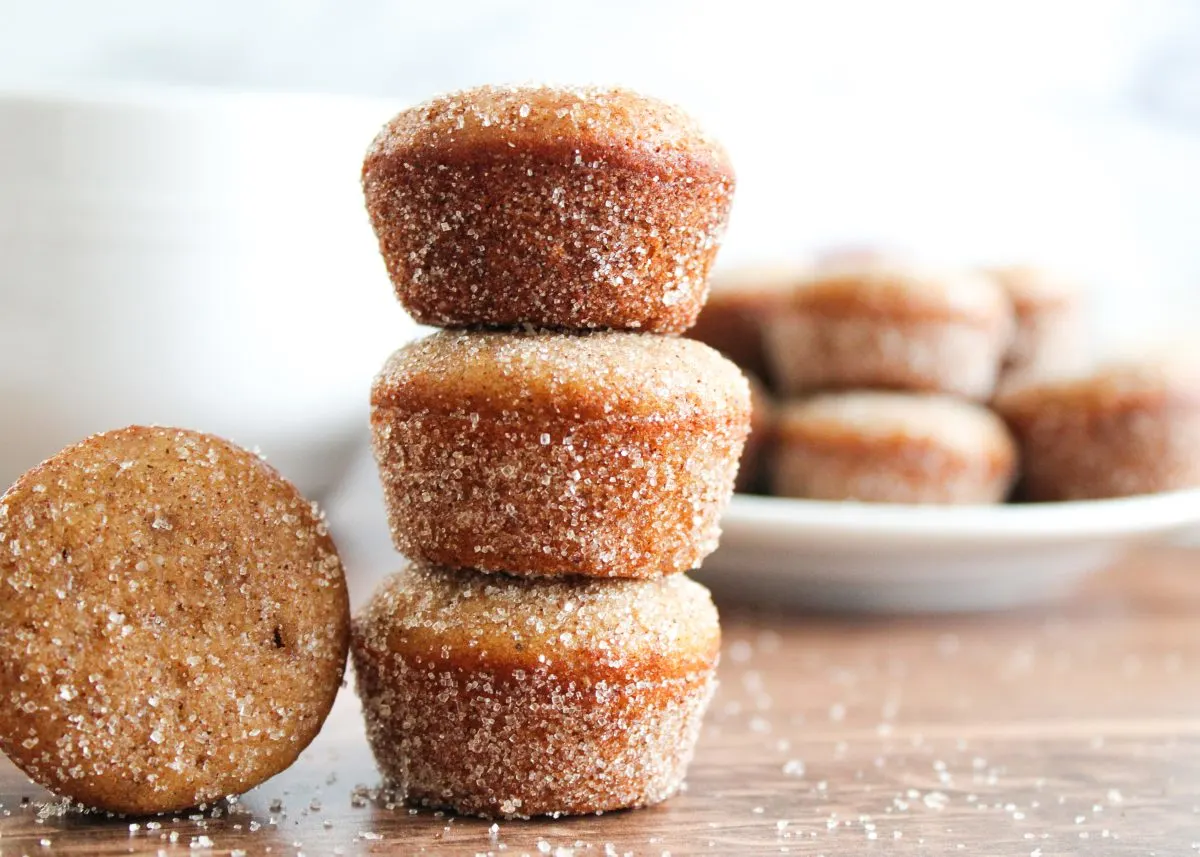 If there's something that I crave is a good donut or muffin for breakfast. If you're like me, you're going to want to check out our most popular Basic Muffin recipe which has 7 varieties, and our Blueberry Donuts recipe. It can be fried or baked. Of course, you can just combine them for an amazing donut muffin recipe as we've done here. If sourdough is your thing then these Sourdough Donuts are for YOU!
In this article, we'll walk you through the steps of creating the perfect treat filled with flavors right from the apple orchard and infused with warm fall spices. So, gather your ingredients, and let's make some Apple Cider Donut Muffins.
Why You'll Love Our Apple Cider Donut Muffin Recipe
Baked, not fried. No grease, splatter, burns, or long process at the stovetop.
Convenience. Perfect grab-and-go breakfast or snack. When you're craving a sweet apple taste, this Apple Recipe will be exactly what you're looking for without all the peeling and dicing. There's no reason to wait for apple season. You can make these donut muffins all year long.
Lots of muffins. This recipe makes forty-eight mini muffins or 24 standard-size muffins. Our recipe makes a large batch, and you can freeze the extras.
Equipment Needed
Hostess At Heart participates in affiliate programs. As an Amazon Associate, I earn a commission from qualifying purchases. Please refer to my disclosure page for more information about these affiliate programs.
Ingredients you'll need for this recipe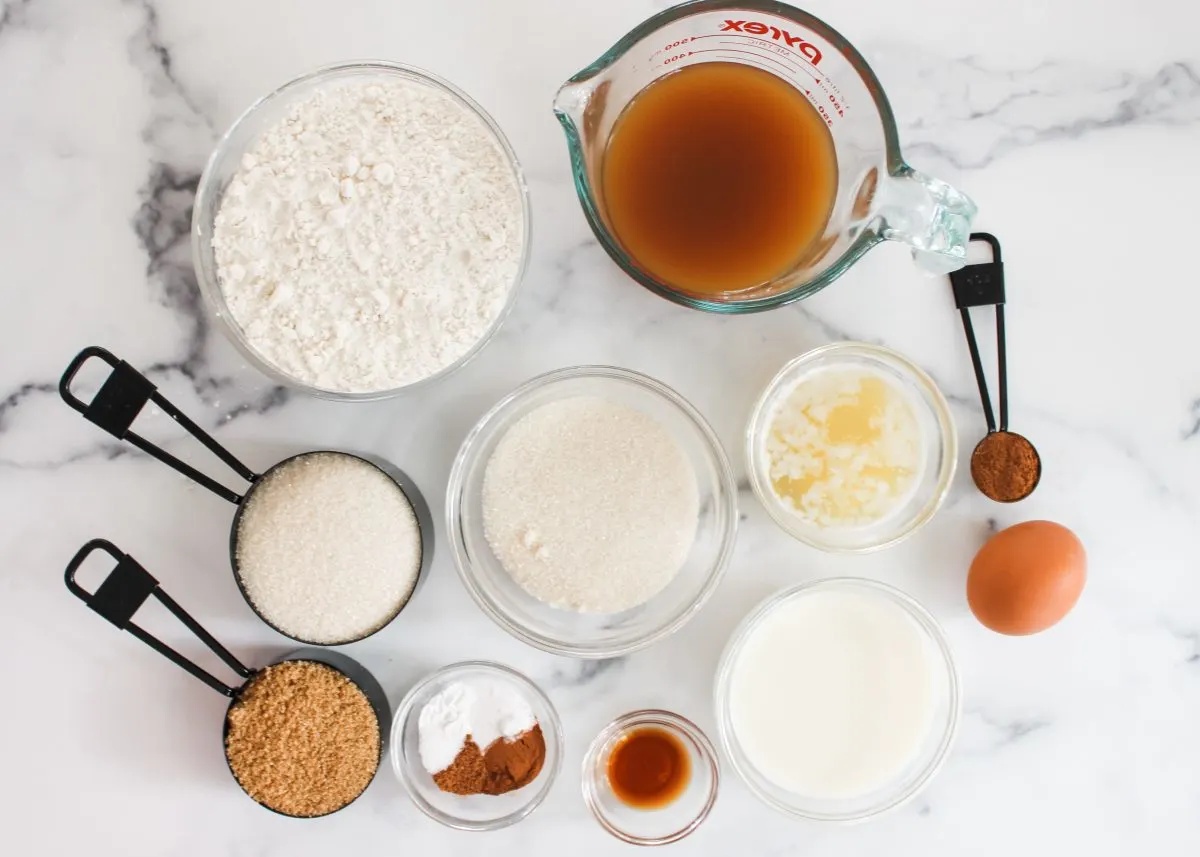 Apple Cider. Shake the jug of cider to mix it well before using. This will improve the flavor. If you don't have cider, you can use apple juice.
All-Purpose Flour. Either bleached or unbleached is fine
Baking Soda.
Baking Powder.
Ground Cinnamon.
Ground Nutmeg.
Salt.
Butter.
Egg. Large eggs are what I use for consistency in my recipes.
Brown Sugar. Light brown sugar was used in this recipe, but dark is o.k.
Granulated Sugar. White granulated sugar.
Milk. I bake with whole milk, but any milk is fine including nut varieties.
Vanilla Extract. Pure is what I recommend but use what you have.
Optional Coating Ingredients
Sugar. A coarse sugar, such as turbinado, gives the cinnamon sugar mixture a delightful crunch.
Apple Pie Spice. You can just use cinnamon if you prefer.
How To Make Apple Cider Donut Muffins
Please note, that the printable recipe card has ingredient quantities, complete instructions, and nutritional information. The following is a quick overview of the recipe.
Step One. Get everything ready to make your apple cider donut muffins.
Preheat your oven. Spray your pan with nonstick cooking spray or fill it with mini cupcake liners. Pull out all of your ingredients.
Step Two. Mix everything up.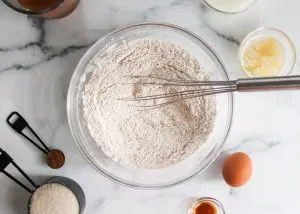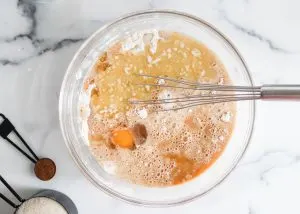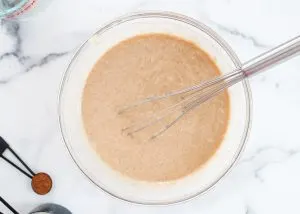 In a large mixing bowl, combine dry ingredients. Mix in apple cider, milk, melted butter, egg, and vanilla extract. Mix just until combined.
Step Three. Bake the apple cider donut muffins.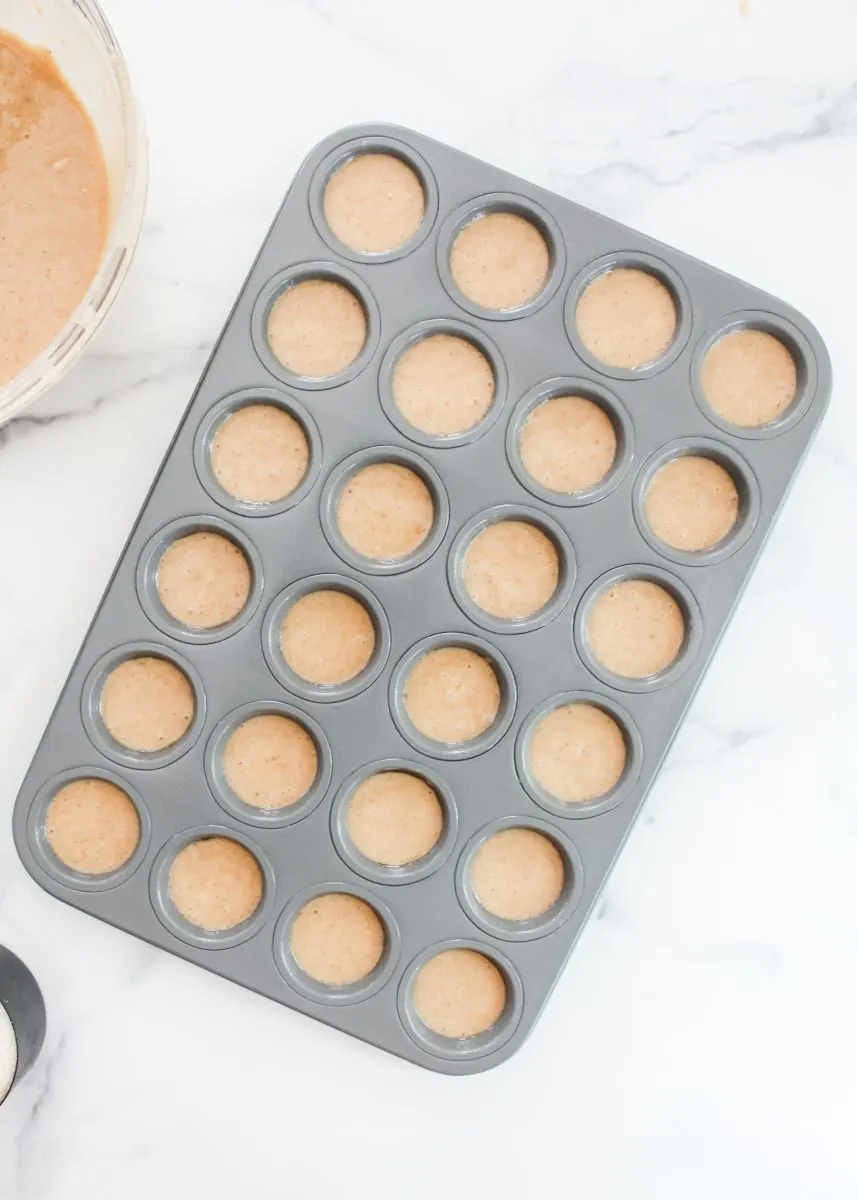 Use a spoon or cookie scoop to fill each muffin cup with batter, fill each cup ¾ of the way. Bake.
Step Four. Coat the muffins and serve.
Combine the sugar and apple pie spice in a baggie. When the muffins come out of the oven, place them in the bag and shake well while they are still warm. Allow them to cool and serve.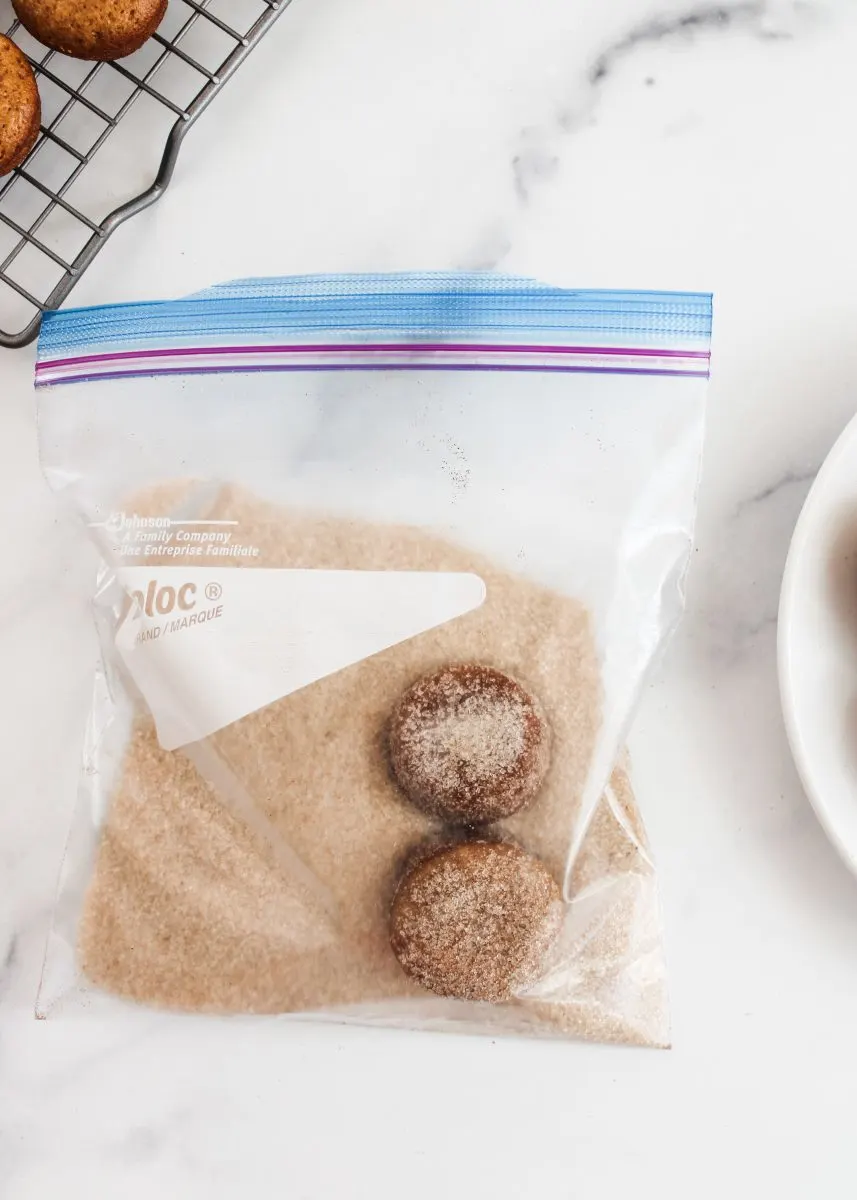 Frequently Asked Questions.
What does apple cider vinegar do in baking?
Apple Cider Vinegar acts like an acid. When it reacts with our baking powder and baking soda, it will create little bubbles which help our muffins rise and become fluffy. The result is a perfectly moist, soft, and tender muffin with the perfect crumb.
Can you use white vinegar in place of apple cider vinegar?
Yes, you can at a ratio of 1:1. It's not my choice because white vinegar is stronger in flavor. If you have apple cider juice use it instead.
Can I bake Apple Cider Doughnut Muffins in a regular-sized muffin pan instead of mini-sized ones?
Yes, you'll need to increase the baking time in some cases doubling it.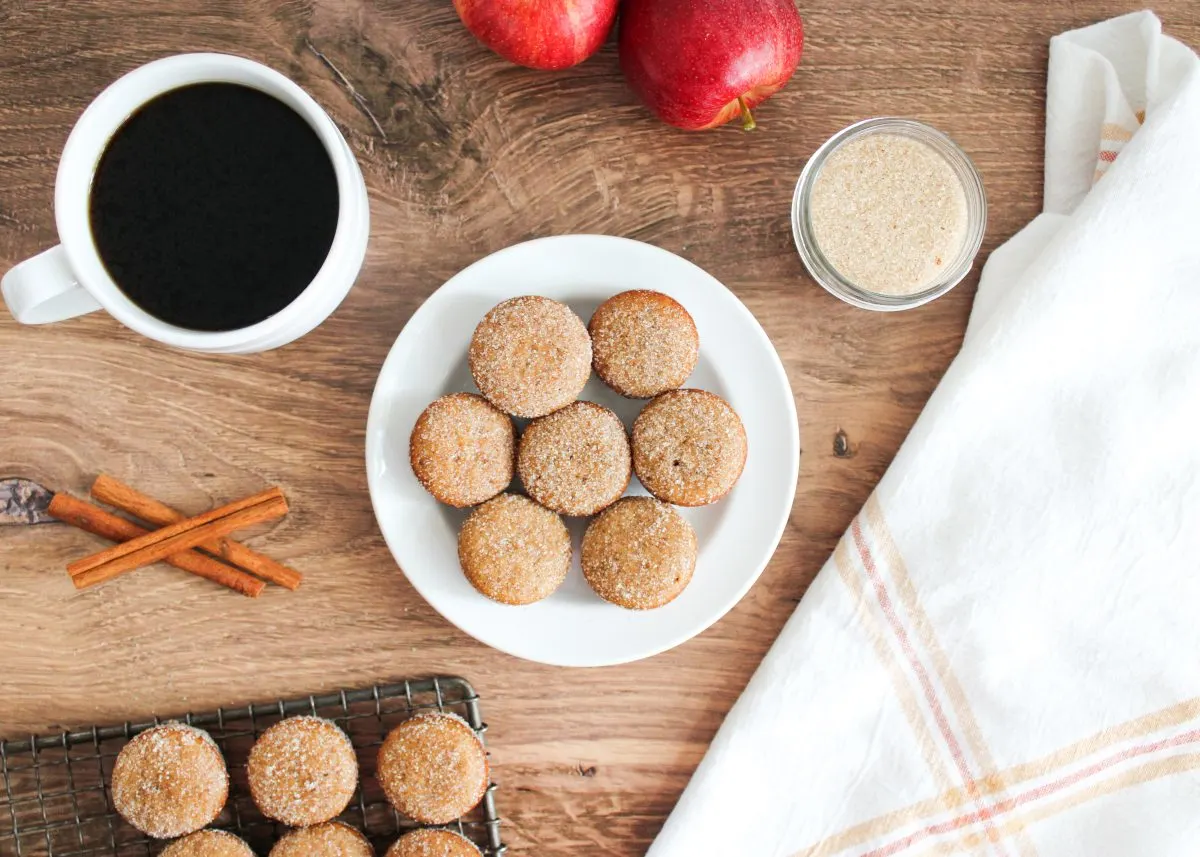 How To Reheat & Store Apple Cider Donut Muffins
Best Way to Store Apple Cider Donut Muffins
Keep your extras in a plastic zipper baggy or airtight container for up to three days at room temperature. If you will have too many leftovers for that short amount of time, freeze them instead.
Can I Freeze Apple Cider Donut Muffins
Yes. Freeze baked muffins in airtight containers or freezer-quality plastic zipper baggies for up to three months. Observe for frostbite. Thaw in the microwave for ten to thirty seconds or let them thaw at room temperature. Open the container while thawing so the condensation doesn't make the donut muffins soggy.
Serving Apple Cider Donut Muffins Suggestions
I'd serve these donut muffins with something savory such as these Spinach Frittatas for breakfast or, a delicious cup of soup for lunch or dinner such as this amazing Vegetable Lamb soup.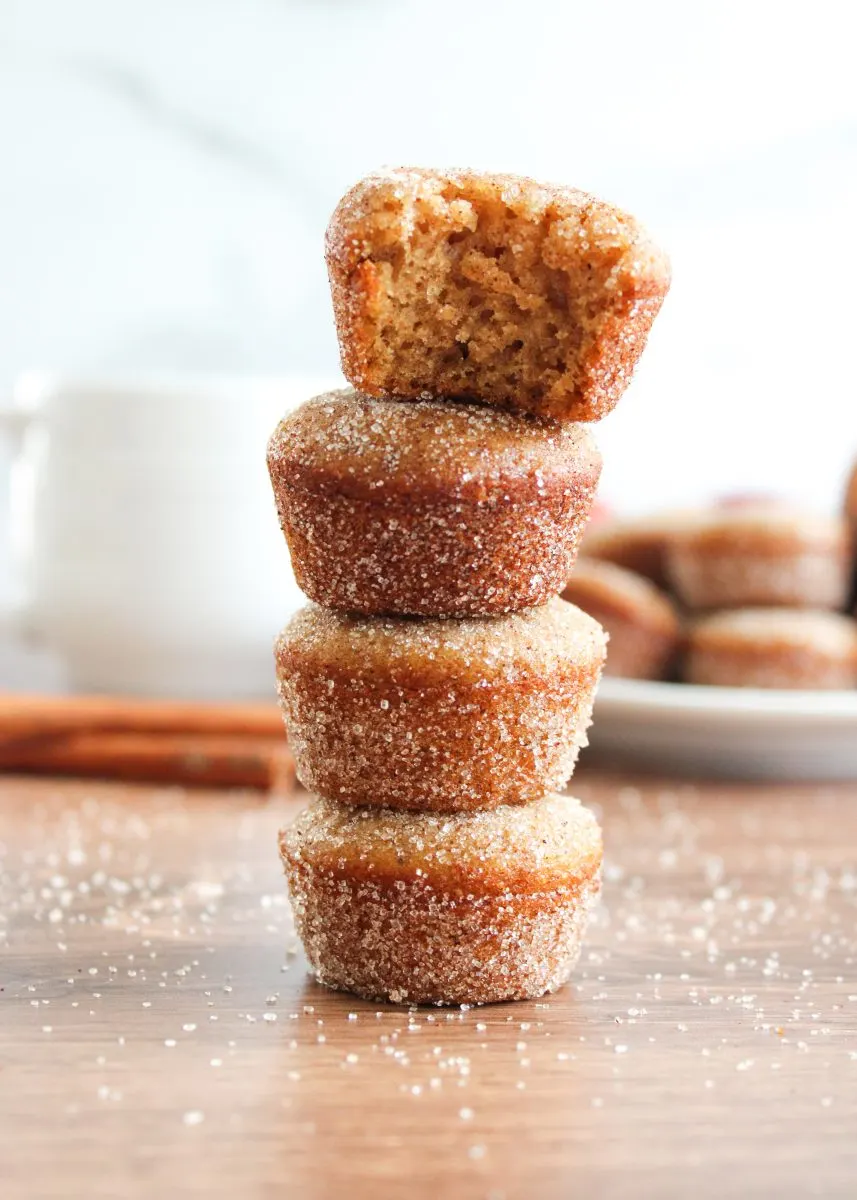 Tips and tricks for getting perfectly cooked, golden brown Apple Cider Donut Muffins every time:
Don't overmix. Mixing muffin batter too much can cause them to rise less or have a dense texture.
Don't overbake. The edges will dry out fast if baked too long. The muffins are done when a toothpick comes out clean.
Make sure your baking soda is fresh. It doesn't keep as long as you might think in the cabinet. It also will absorb odors and moisture over time and stop working or make your baked goods taste weird. You should replace an open box every six months at a minimum. To check to make sure it's good, refer to our Basic Baking article.
Toss while warm. To make sure the coating sticks, the muffins need to be warm. The sugar will fall off the cold muffins.
Make-ahead batter. Busy mornings? Make the batter the night before, refrigerate it overnight, and then simply bake your muffins in the morning to save yourself time.
Stock up. Want a school year's worth of grab-and-go breakfasts? Make up several batches of muffins in varying recipes and freeze them. 10-30 seconds in the microwave, and you have yourself a handheld breakfast to take out the door. Check some of our other muffin and donut recipes below for more freeze-worthy ideas.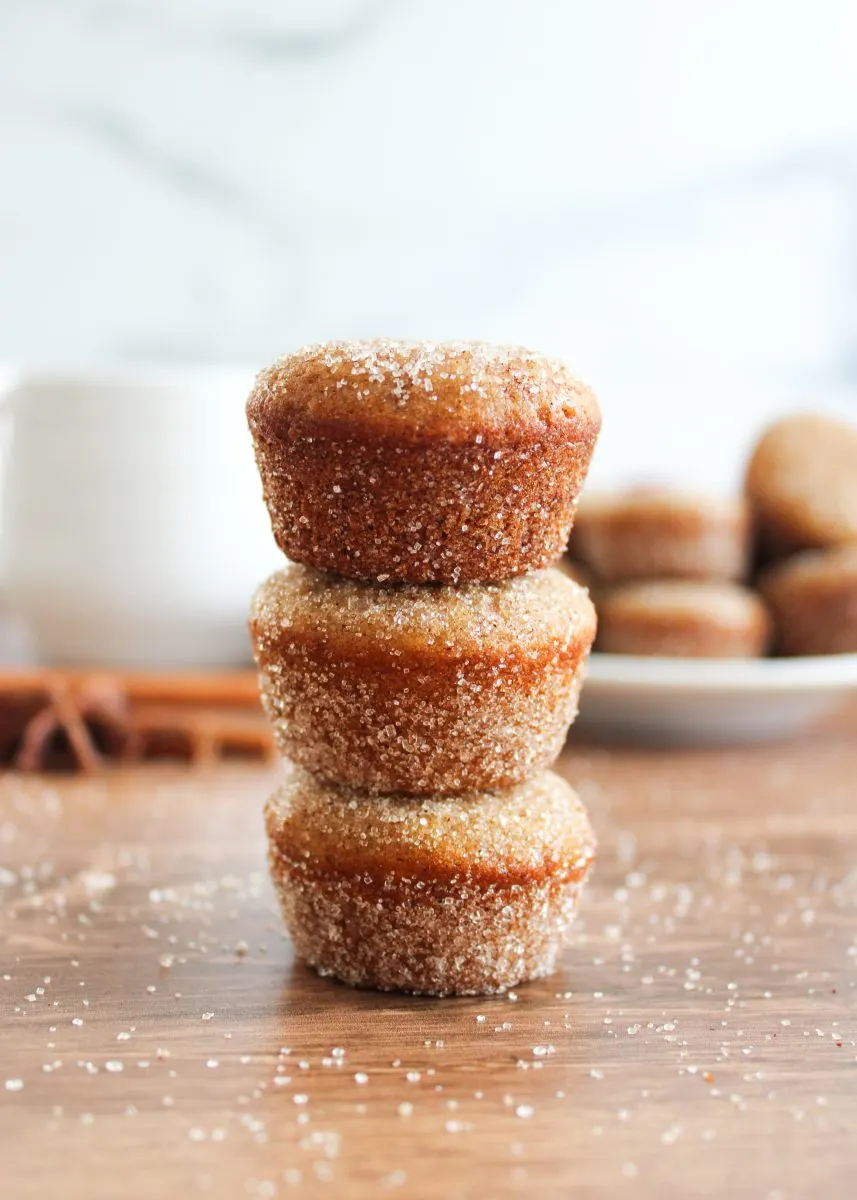 If you enjoyed this recipe, check these out!
If you tried this delicious recipe, don't forget to rate it and leave me a comment telling me what you think. I love hearing from you!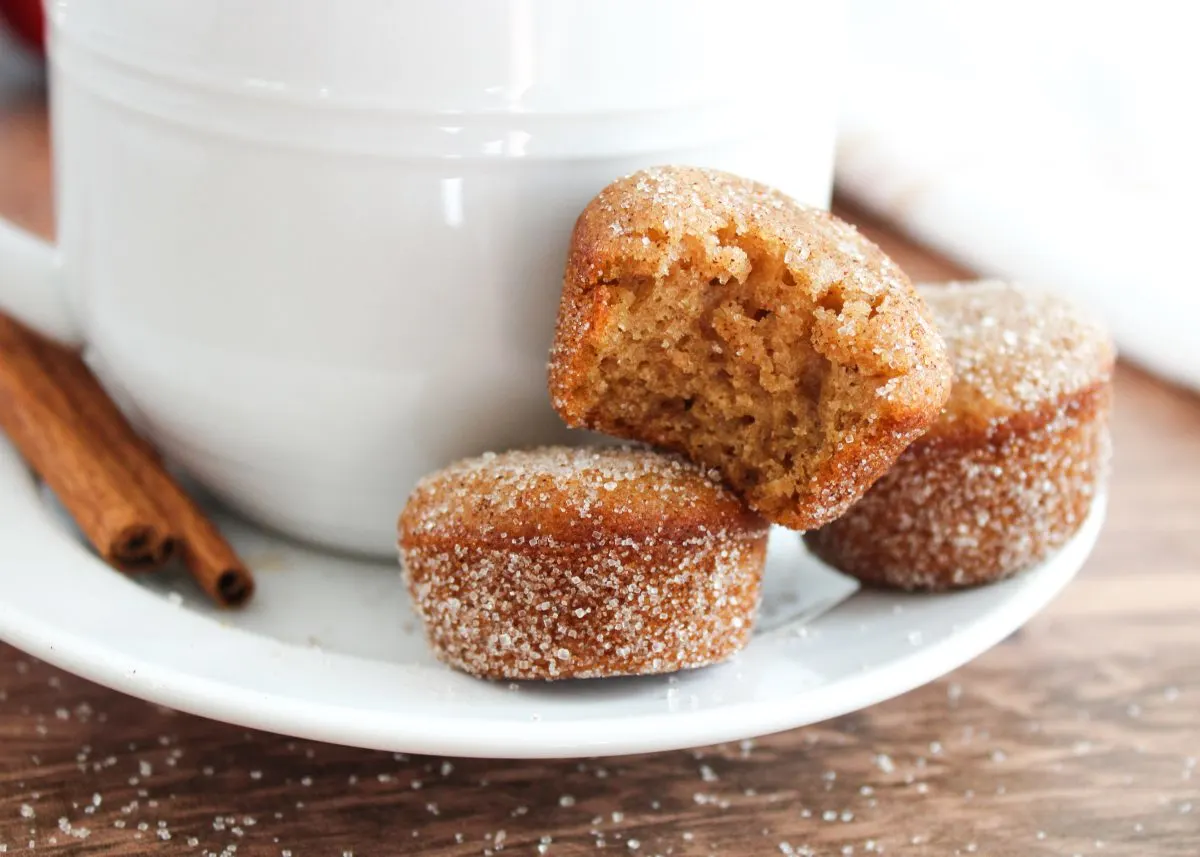 Pin this amazing recipe!