Enjoy these scrumptious baked sourdough donuts with cinnamon and sugar topping with a big glass of milk any time you want to give your family a special treat. You can have them for breakfast, brunch, a fun snack or a special dessert. You could even invite the neighbors over just for donuts! I'd show up!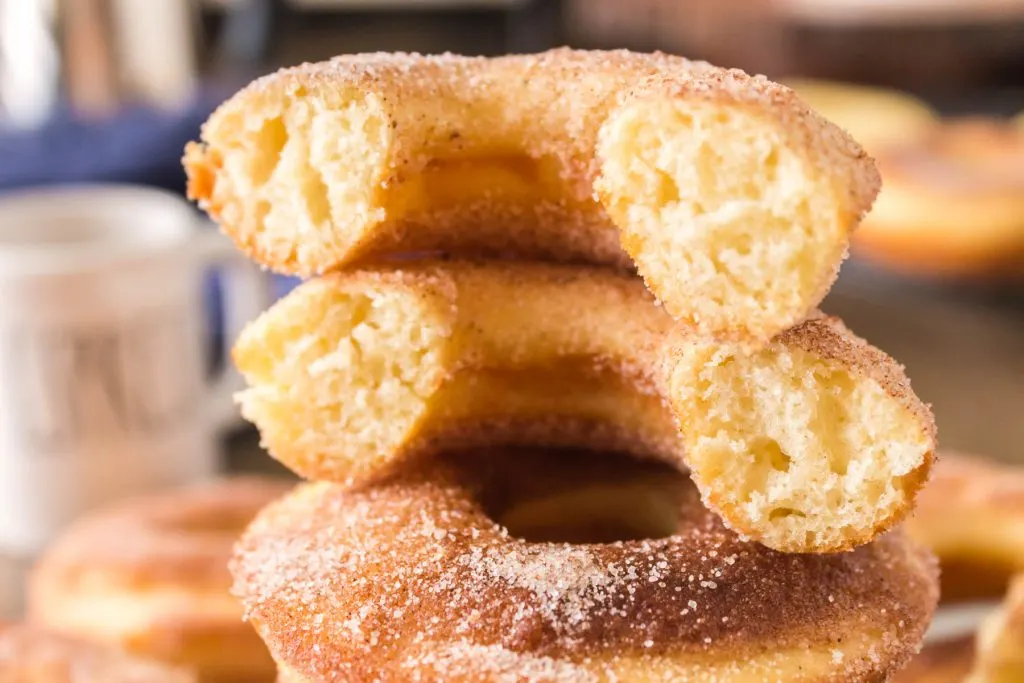 Why You'll Love These Sourdough Doughnuts
Uses sourdough discard. If you, like me, hate to throw the discard out — this recipe is perfect for you! It takes advantage of that wholesome goodness of sourdough discard while also lessening waste.
Easy. You don't have to let the donuts rise, worry about yeast, wait for hours, or risk burns from deep frying to enjoy these donuts.
Customizable. Change up the flavors easily to give your family variety and fun. Check out our variations for more ideas!
What is Sourdough Discard?
Sourdough discard is an unfed sourdough bread starter. Sourdough starter has to be fed (active) in order to use it to bake sourdough bread recipes. When the starter runs out of the food that makes bread rise, it's referred to as discard.
Equipment Needed To Make Sourdough Discard Donuts
Whisk: I recommend this Danish Dough Hook.
Donut Pan. The pans from Wilton are fabulous.
Clear Mixing Bowls: These allow you to see how much the dough has risen.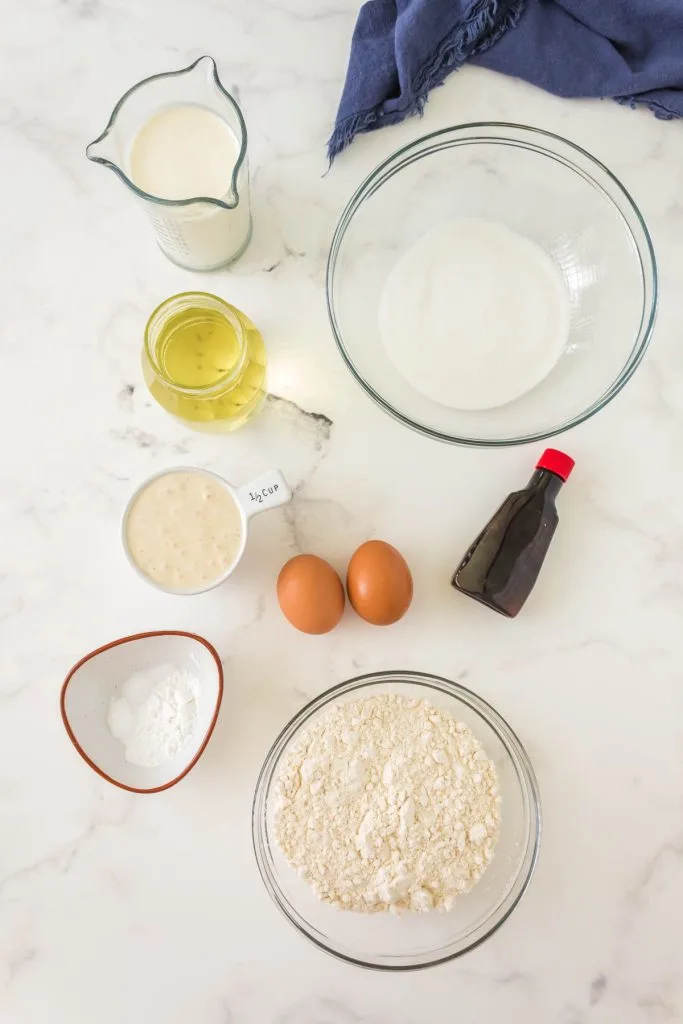 Ingredients For The Sourdough Donuts Recipe
Sourdough Donut Batter
All-Purpose Flour. The perfect light flour for donuts.
Baking Powder. For leavening.
Baking Soda. For leavening.
Salt. Just a little bit of salt is needed for the dough to work.
Vegetable Oil. Corn oil or canola oil will also work. Do not use olive oil.
Sugar. White sugar.
Eggs. You want grade A large eggs for this recipe.
Sourdough Discard. Save what you would normally throw away and make donuts. It's a win-win!
Vanilla Extract. I recommend pure vanilla extract.
Half and Half. You can also use milk. You can also use a dairy-free substitute if desired.
Donut Topping Mixture
Butter. You will melt the butter and mix these ingredients together before tossing the mixture with your cooled donuts.
Sugar.
Ground Cinnamon. Saigon cinnamon is very nice for this recipe.
Please note, that the printable recipe card has ingredient quantities, complete instructions, and nutritional information. The following is a quick overview of the recipe.
How To Make Sourdough Donuts
Step One. Preheat your oven and spray your pan so everything is ready to go.
Step Two. Mix the dry ingredients.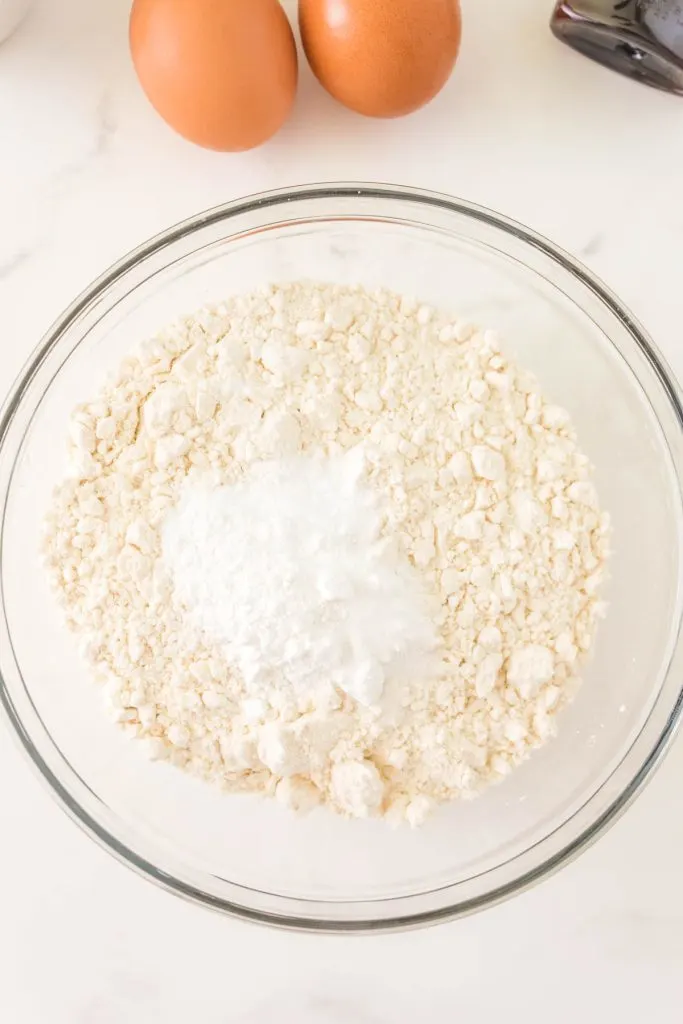 Step Three. Mix the oil and sugar.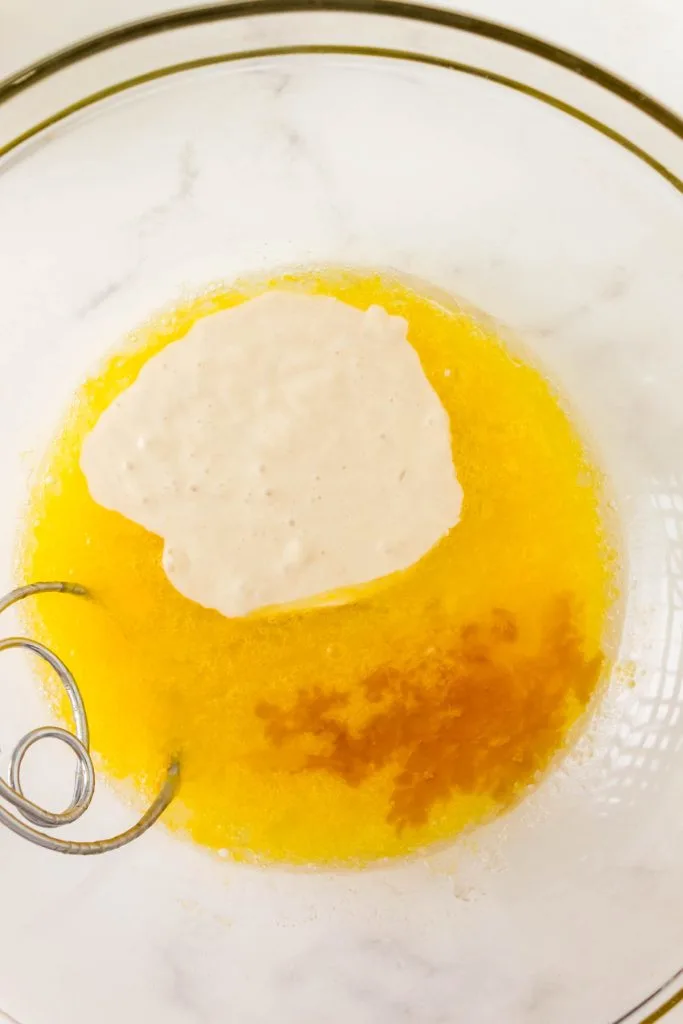 Step Four. Add the eggs, sourdough discard, and vanilla extract.
Step Five. Slowly add the flour mixture alternating with the half and a half to the egg mixture.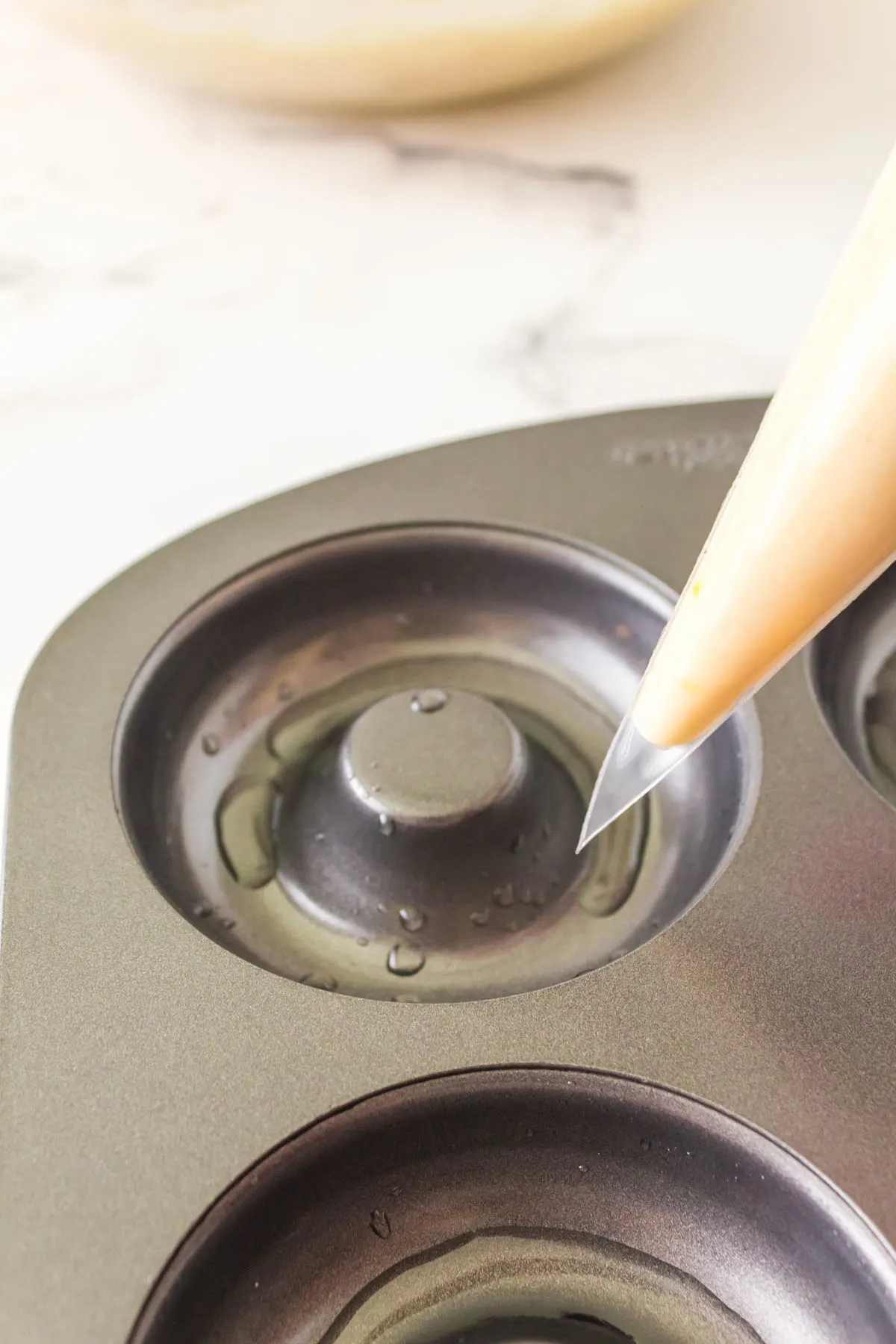 Step Six. Fill the cavities to 2/3 full.
Step Seven. Bake in a preheated oven.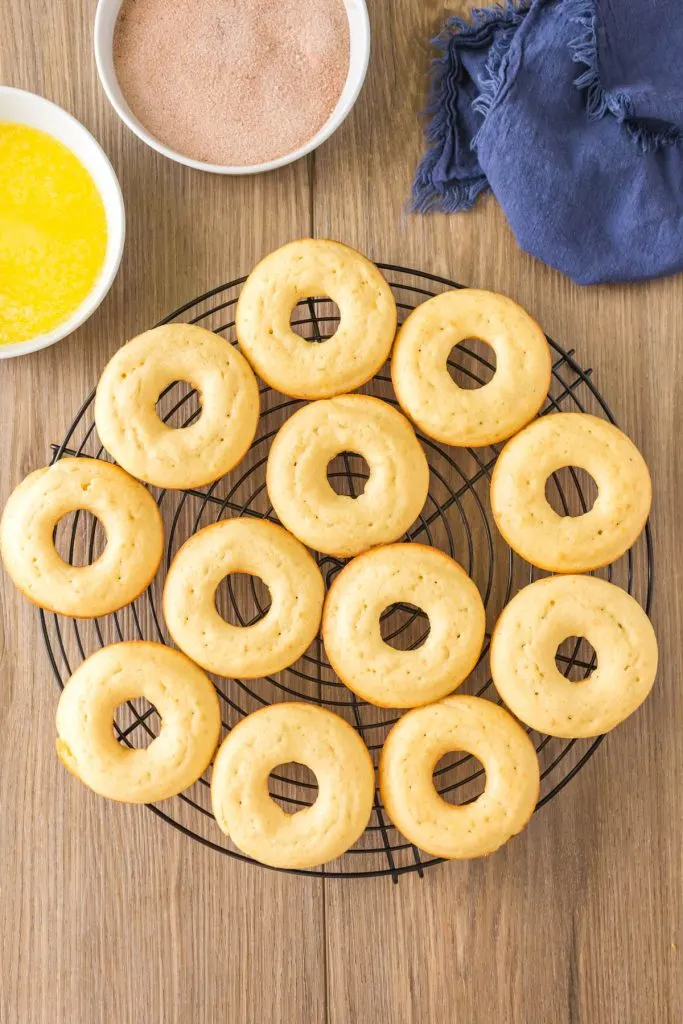 Step Eight. Let them cool.
Step Nine. Mix the topping ingredients.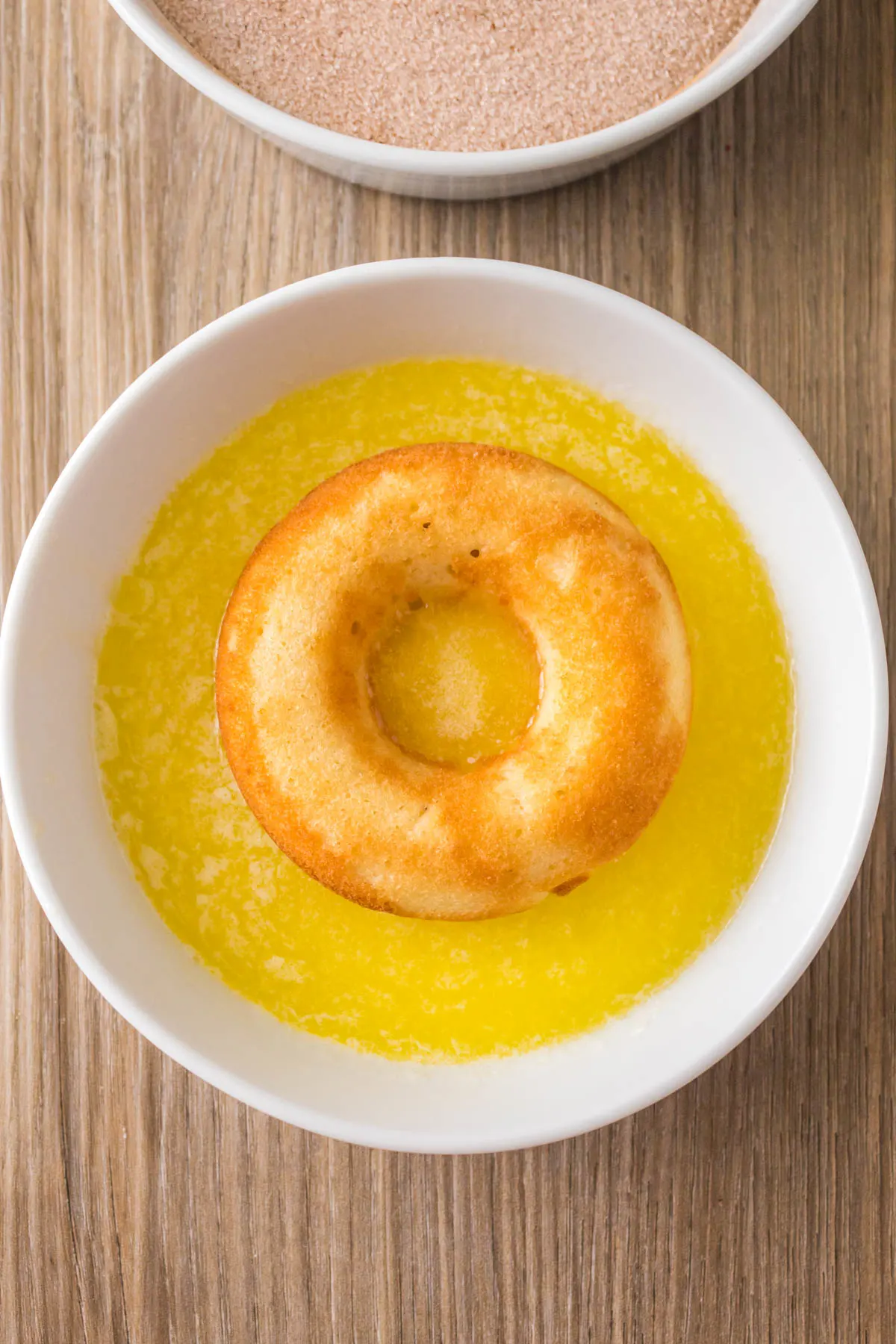 Step Ten. Roll the donuts in melted butter and then in the topping mixture once cooled. Enjoy!
Want more delicious recipes? Follow Hostess At Heart on Pinterest!
What to Serve with Your Sourdough Doughnuts
You can make these Cinnamon and Sugar Donuts any time you want to make your family a special treat. If you want to serve them for breakfast, you can pair them with yummy breakfast meats, any egg dish, or fruit salad. Sourdough Doughnuts are the perfect addition to any brunch for a sweet touch. Serve your donuts as a snack with a glass of milk or afternoon tea.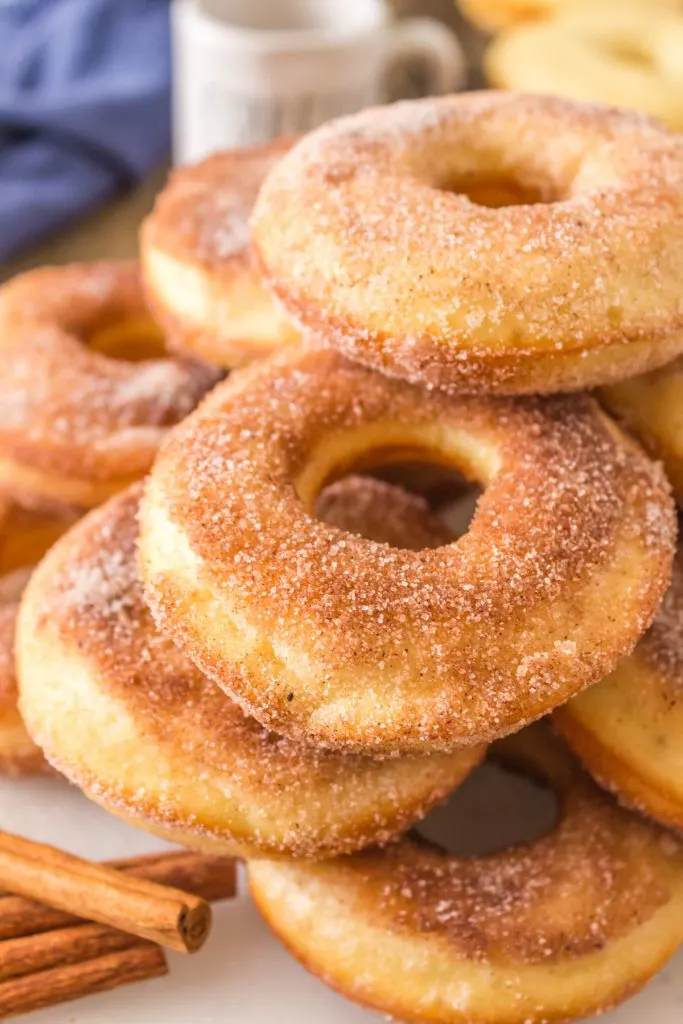 Substitutions & Additions
These donuts can be served with or without toppings. They are light and airy with the sourdough structure so the donut is not doughy at all!
You could serve the donuts with or without toppings and a little bit of jam.
You could add your favorite toppings to the dough, perhaps some cinnamon or chocolate chips.
Use a simple glaze powdered sugar glaze or a flavored glaze for the donuts instead of cinnamon and sugar.
Make a frosting of chocolate, vanilla, or strawberry and use this in place of the cinnamon and sugar. If frosted or glazed you can add toppings.
Some of my favorite toppings include:
Powdered sugar
Mini chocolate chips
Crushed nuts such as pecans or peanuts
SPRINKLES!! Everyone loves sprinkles, right?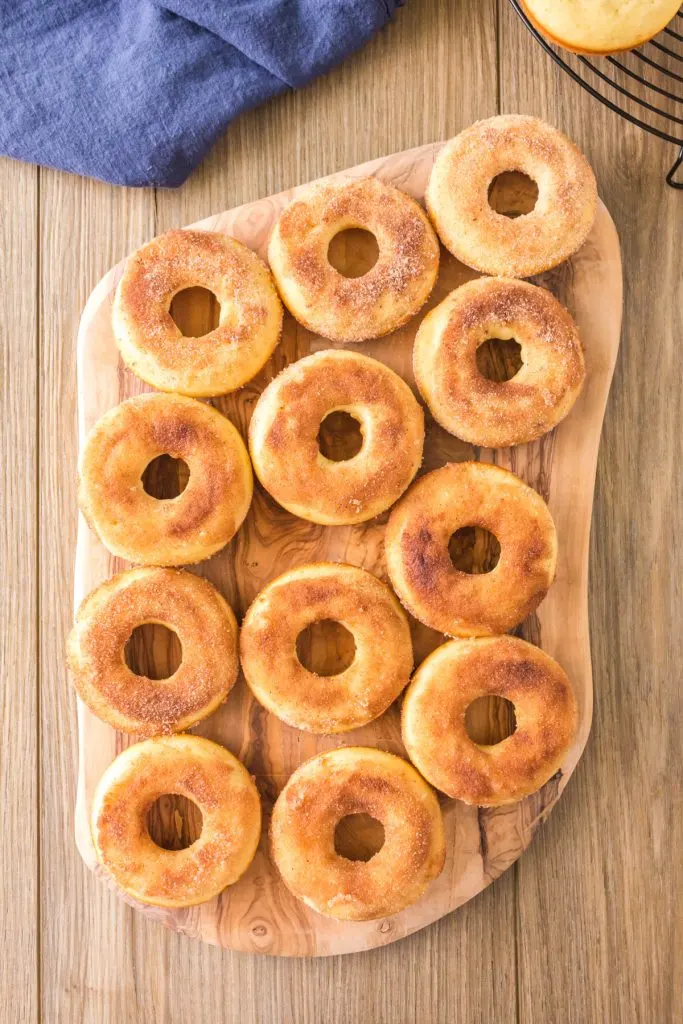 How To Reheat & Store Sourdough Donuts
Best Way To Store Sourdough Discard Donuts
The donuts will keep in an airtight container at room temperature for 2 to 3 days
or in the fridge for up to a week. If placed in an airtight container or a freezer-safe
bag, you can freeze the donuts, baked but with no topping for up to 60 days
How Long Will Sourdough Donuts Last In the Fridge?
You can keep them in a sealed, airtight container for up to a week in the refrigerator.
Can I Freeze/Thaw Cinnamon and Sugar Donuts
Yes! Freeze donuts for up to two months as long as you keep them in an airtight container or freezer-quality zipper baggy. Freeze them without toppings. Then, thaw the donuts at room temperature and add toppings as desired. You can also thaw one donut at a time in the microwave for twenty to thirty seconds.
How To Reheat Sourdough Doughnuts
Place refrigerated donuts in the microwave for ten seconds each if you wish to eat them warm. Frozen donuts will take twenty to thirty seconds to thaw in a microwave. Start with smaller increments of time to avoid turning the bread into rubber.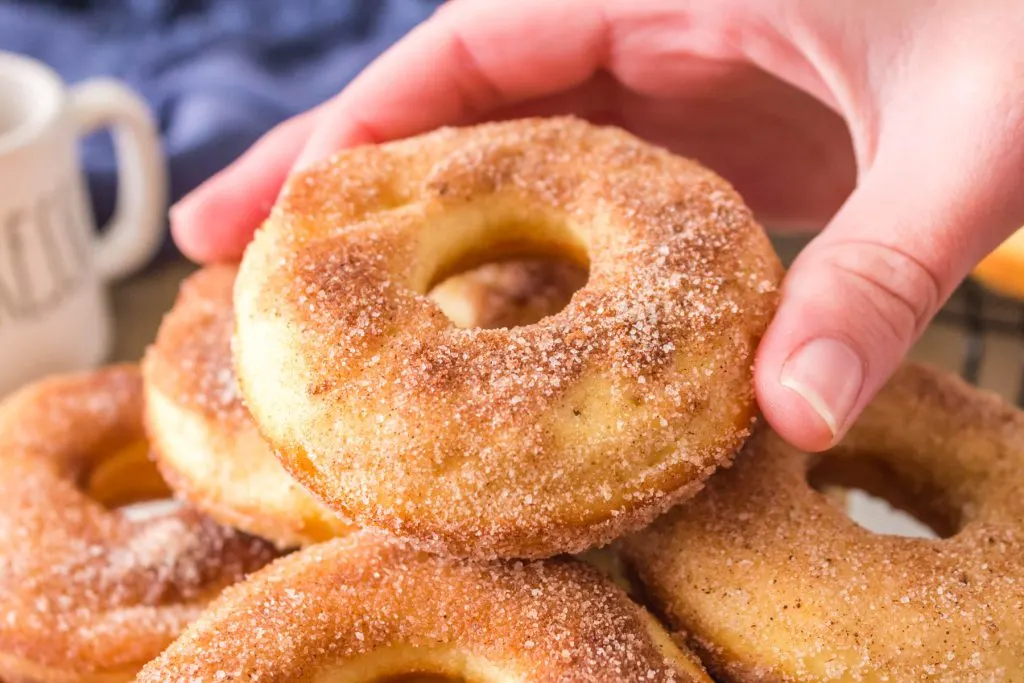 Sourdough Discard Donuts FAQs
Do sourdough donuts taste sour?
Paired with a sweet glaze or topping such as my cinnamon sugar mixture, the sourdough is a subtle but complementary flavor.
Can sourdough donuts be made ahead?
Yes, they can. However, I think they taste the best when fresh.
Tips to Make the Perfect Sourdough Donuts
If you don't have a piping bag, use a disposable plastic zipper baggy instead.
Don't overmix. It will ruin the texture of the donuts.
If you overfill the donut pan you will get a ridge around the perimeter. It doesn't affect the taste but if you will not have a perfectly round donut.
You can store sourdough discard in its own container in the refrigerator so you can bake up Sourdough Baked Donuts any time you want.
Other Donut Recipes You'll Love
Glazed Blueberry Donuts – Homemade Fried Recipe
Baked Pumpkin Donuts with Cream Cheese Glaze and toasted Pecans
Cranberry Vanilla Baked Donuts Recipe
Dark Chocolate Baked Donuts Recipe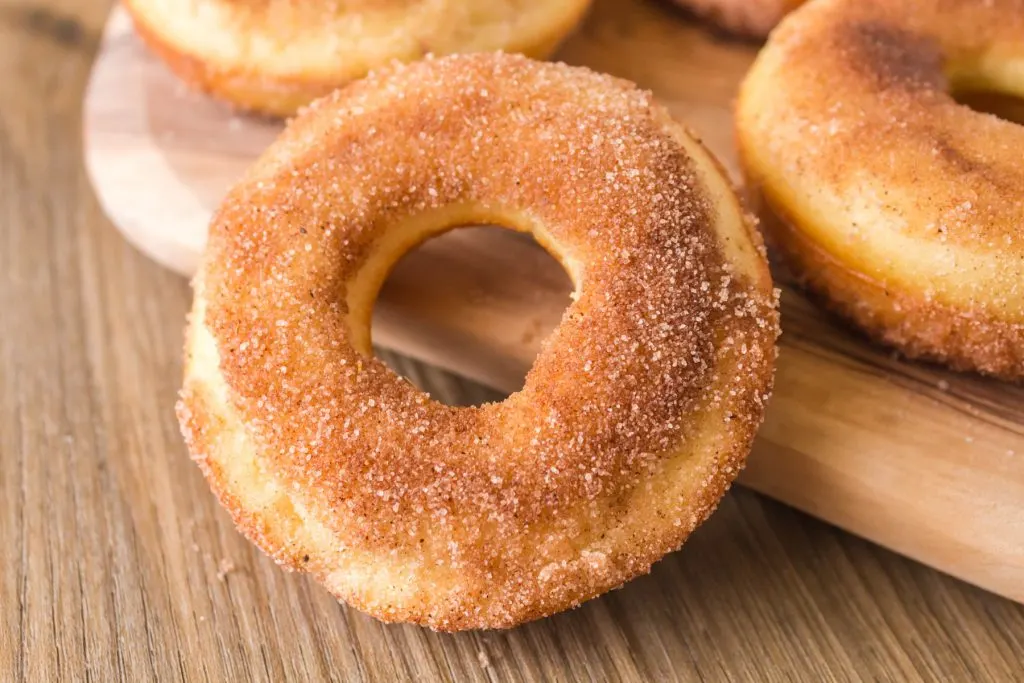 Don't Forget To Come Back And Let Me Know How Your Baked Sourdough Donuts Turned Out!
Pin this delicious Baked Donut Recipe!