Lemon Herb Chicken with Roasted potatoes is a complete, delicious meal. Even though it cooks in just 30 minutes, this sauce will have people thinking it took all day.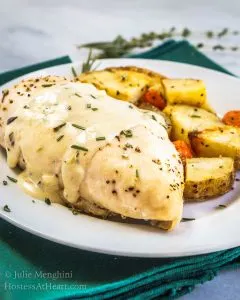 Why do people start blogs? It's not because we desire a lot of hard work and it's definitely, in my case, not for the money. It's for the relationships that we establish. Friends that you make and may never meet but look forward spending virtual time with. Friends that create amazing dishes like Lemon Herb Chicken with Roasted potatoes!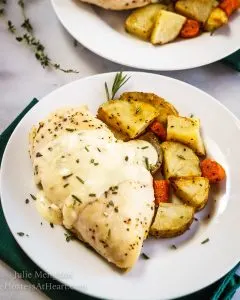 One of the friendships that I've made is with Michelle, creator of A Dish of Daily Life. If you've never seen Michelle's blog, you really should check it out. Michelle is a bit under the weather right now and just like any friend, you want to do what you can to help them out.[Tweet "Lemon Herb Chicken with Roasted Potatoes #GetWellMichelle #recipe"]
A group of fellow bloggers has gotten together to try some of our favorite recipes from Michelle's blog to share with our readers and on social media. It's my hope that you will send some of your love her way while she recoups.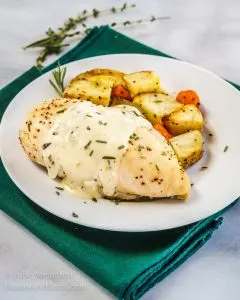 The hardest part of all of this was deciding on a recipe. There were so many that I wanted to make! Needing dinner inspiration, I selected her Lemon Herb Chicken with Roasted Potatoes. The only change that I made was to throw a couple of carrots in with the potatoes. I had my whole meal finished and on the table in 30 minutes.
Don't have time to make it now?

Pin it

for later!
This dish was beyond delicious! That sauce is smooth and creamy and the lemon and herbs elevate this dish beyond ordinary. I will definitely be putting this dish to my list of favorites. It wasn't a hardship having the rest of the wine with dinner either.
It's always fun to share so let's head over to Fiesta Friday and Saucy Saturdays!
Here are the recipes that some of Michelle's other friends are sharing!
December Recipes
January Recipes