Cranberry Vanilla Donuts are soft, tender, and delicious. They can be made in a jiffy and topped with anything you desire. When you need a quick, homemade breakfast, brunch, or after-school treat, this is a great recipe to have in your hip pocket.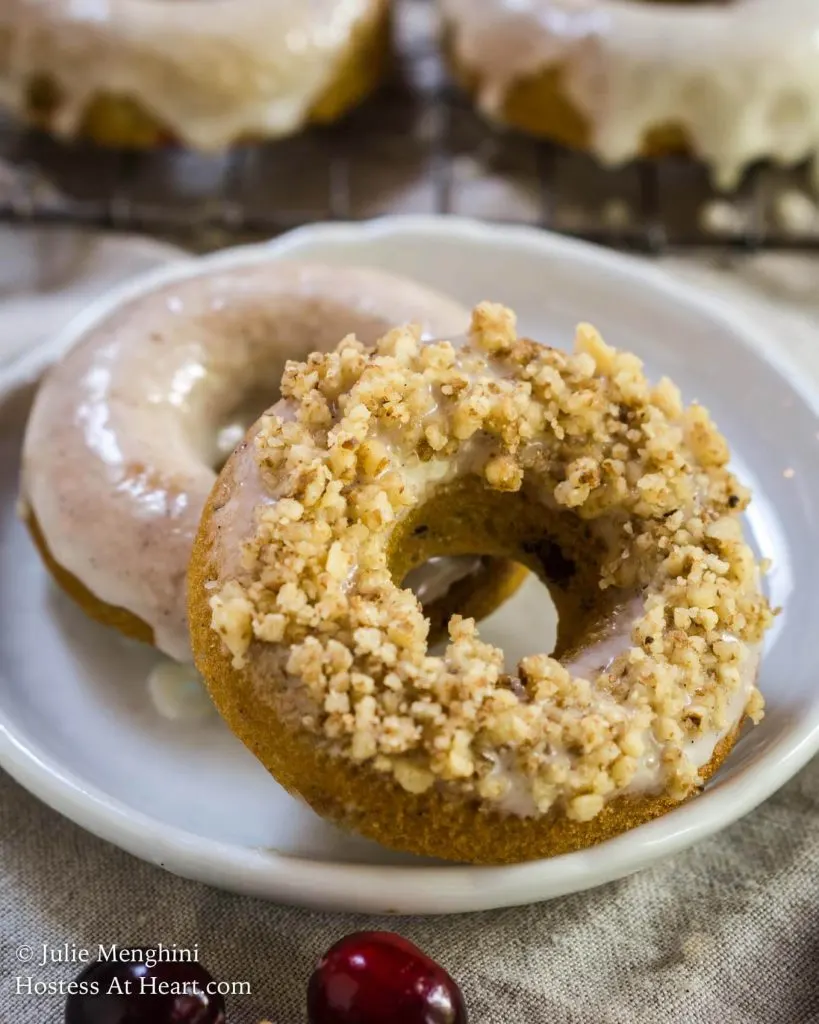 The donut demon has been released. Since making the Dark Chocolate Baked Donuts recipe, I've been dreaming up other ways to show my once-neglected donut pan some love. This Cranberry Vanilla Donuts recipe deserves a whole lot of love. Who says you can't make traditional donuts at home?
Why You'll Love This Recipe
Cranberries. Cranberries are delicious and can be used in many ways. It used to be that I bought a bag at Thanksgiving and made a delicious sauce. The small amount that was left went to waste. I don't like wasting food, so I always think of other ways to use ingredients. Unfortunately, unlike other fruits, they are just too sour to eat as is.
Delicious. Last year, I made Cranberry Orange muffins. They were so delicious that I knew Cranberry Donuts would be delicious too, and I wasn't wrong. The delicious vanilla flavor comes through and blends so well with the citrus of the cranberry. The crumb is delicate and melts in your mouth. They make a great food gift during the holiday season too.
Versatile Baked Donut. I glazed these babies and dipped a few in-ground walnuts. You could top them any way you please, dust them with powdered sugar, or skip the topping altogether.
Skip the donut shop. Instead of a traditional fried donut, this easy recipe makes perfect vanilla donuts with a soft tender cake-like texture in less than 30 minutes.
Items you may need to make the best Cranberry Vanilla Donut recipe!
Hostess At Heart participates in affiliate programs. As an Amazon Associate, I earn a commission from qualifying purchases. Please refer to my disclosure page for more information about these affiliate programs.
Donut pans – These non-stick donut pans are so easy to use and the baked donuts pop right out.
Cooling racks – I love these large racks. I can get an entire batch od cookies on one and they're tough enough to hold large loaves of bread. It fits into my half-sheet pan for baking bacon too!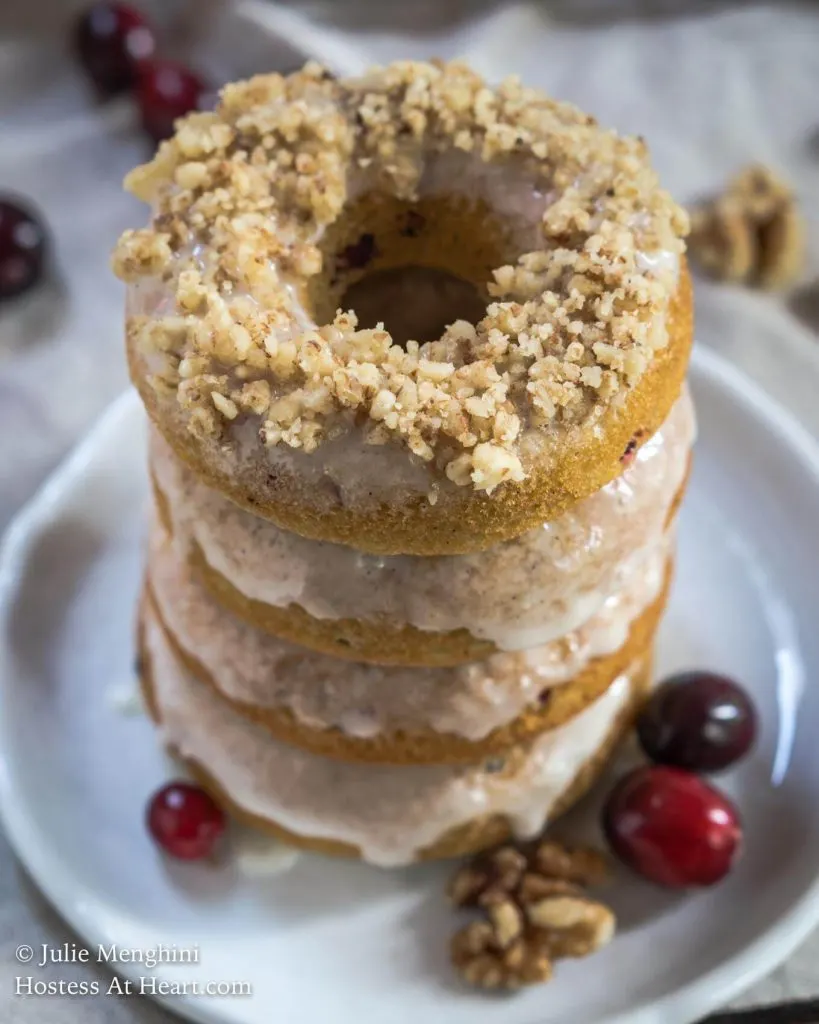 Ingredients for Vanilla Donuts
All-Purpose Flour.
Sugar.
Baking Soda.
Salt.
Buttermilk. If you don't have buttermilk, make your own. You can also substitute it with sour cream or plain yogurt. The acidity works with the baking soda making a light and tender donut with a moist cake-like texture.
Canola Oil. Or another neutral oil such as Vegetable oil would be a great substitution. Use coconut oil for a subtle coconut flavor.
Eggs. We use large eggs.
Vanilla Extract or Vanilla Bean Seeds or Paste. I love using pure vanilla extract and fresh vanilla beans or vanilla bean paste. The flecks just mean flavor to me.
Cranberries. Fresh or frozen, thawed.
Vanilla Donut Glaze Ingredients
Powdered Sugar.
Cream. Or milk.
Vanilla Extract or Vanilla Bean Seeds or Paste.
Please note, that the printable recipe card has ingredient quantities, complete instructions, and nutritional information. The following is a quick overview of the recipe.
How to Make Vanilla Donuts
Step One. Get it all ready.
Preheat your oven and prepare the pan by brushing it with oil or cooking spray. Set out all your ingredients ahead of time for the best results.
Step Two. Mix the dry ingredients.
Combine flour, sugar, baking soda, and salt. Whisk together.
Step Three. Mix the wet ingredients.
In a medium bowl, or the bowl of a stand mixer, combine egg, egg yolk, and buttermilk. Whisk to combine. Add oil, vanilla, and vanilla bean seeds or paste.
Step Four. Combine the wet and dry ingredients.
Mix the two bowls together first, then fold in the cranberries.
Step Five. Fill the donut pan.
Carefully spoon the donut batter into the donut cavities or use a reclosable plastic bag or disposable piping bag. Fill the prepared donut pan.
Step Six. Bake your cranberry vanilla donuts.
Bake until golden brown. Do not overbake. Cool before glazing.
Step Seven. Glaze the vanilla donuts.
Mix the glaze in a shallow small bowl and dip each donut. Add nuts, coconut, or sprinkles to the tops of the donuts immediately if desired.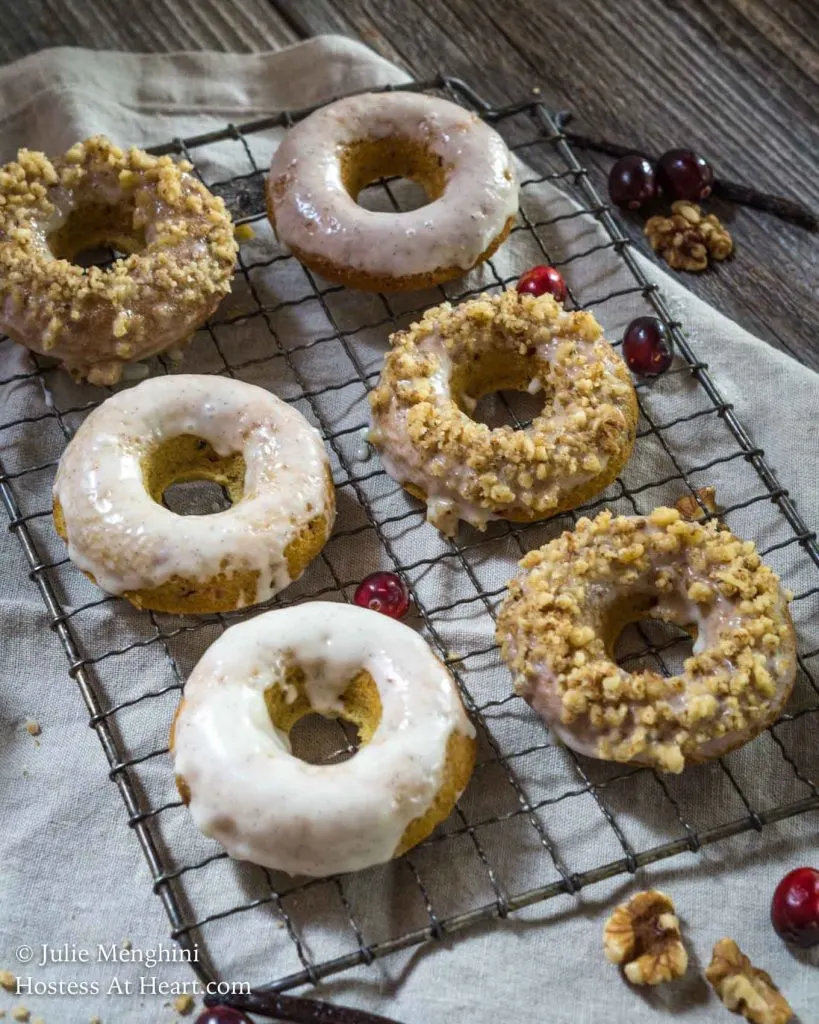 Vanilla Donut Recipe FAQ's
How should I store leftover Vanilla Cake Donuts?
Leftover baked Vanilla donuts without vanilla icing can be stored at room temperature and lightly covered with plastic wrap. After glazing, store in the refrigerator. Glaze can be kept refrigerated and applied right before serving for the freshest flavor.
Can I freeze Homemade Donuts?
Yes, you can freeze homemade donuts with or without the glaze. Freeze donuts on a sheet pan lined with parchment paper in a single layer and then move them to an airtight container after they are frozen. Thaw in the microwave for thirty seconds each or at room temperature.
The vanilla glaze can be frozen separately and applied to thawed donuts.
Hostess Tips and Tricks
When glazing donuts, set the donuts on a cooling wire rack to dry, with a cookie sheet, lined with parchment paper or a paper towel, underneath it to catch the drips. This makes cleaning up a breeze!
If you want to add topping to your donuts, dip the donuts in the topping immediately after dipping the donuts in the glaze. I've shared some topping ideas in the "Variations" section.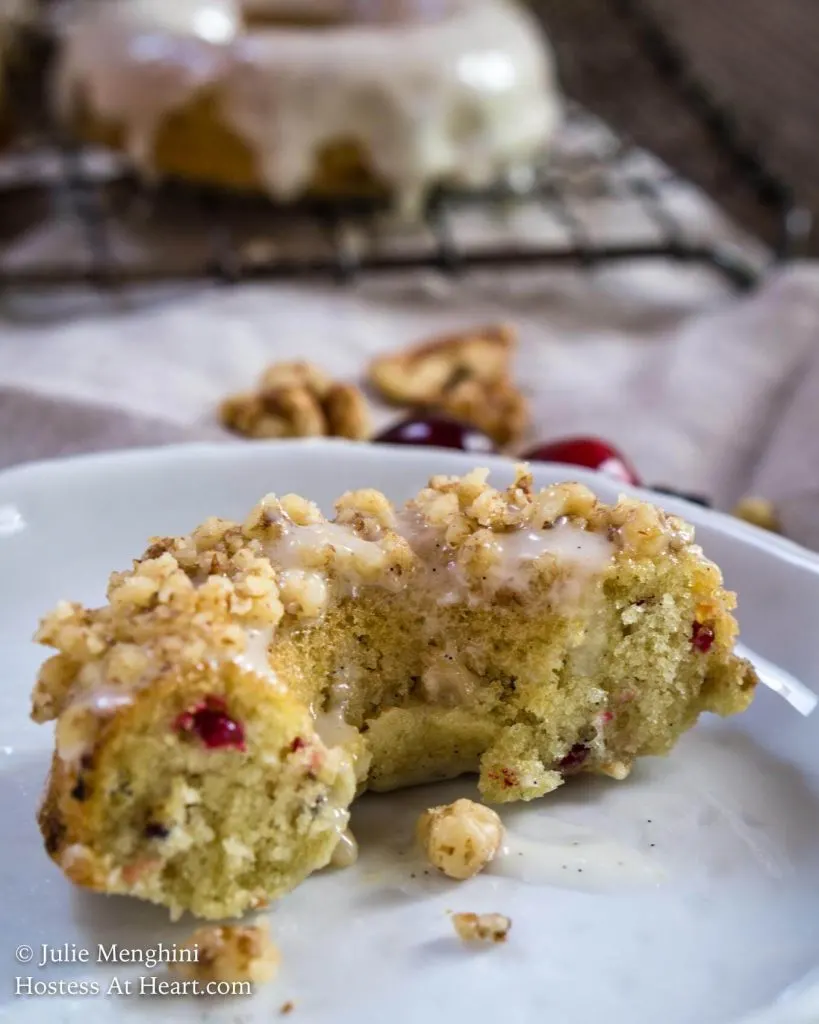 Variations
Possible donut toppings are infinite! If you don't love glaze, you can toss the donuts in powdered sugar, cinnamon sugar, or just plain white sugar by putting the sugar and donuts into a bag and giving it a good shake.
To vary the sweet vanilla glaze flavor, you can add 1/2 teaspoon of another extract such as lemon, orange, vanilla, almond, maple, or your personal favorite. You could also add cinnamon or nutmeg to the donut batter.
You can make a thick glaze or frosting by adding less liquid.
Make mini donuts instead of full-sized donuts using a mini donut pan. You can even use a mini muffin pan.
Instead of fresh cranberries, you can use dried cranberries (Craisins) or another dried fruit.
A fun activity for a birthday party. Instead of cake, pre-bake and cool the donuts. Separate the glaze into two or three bowls and color each with food coloring. Set out separate toppings and gather the kids. Let them make and eat their own sprinkled donut.
Other topping ideas to add to glazed donuts include:
Crushed walnuts, pecans, or slivered almonds
coconut flakes
sprinkles
crushed cereal such as Fruity Pebbles
old-fashioned oats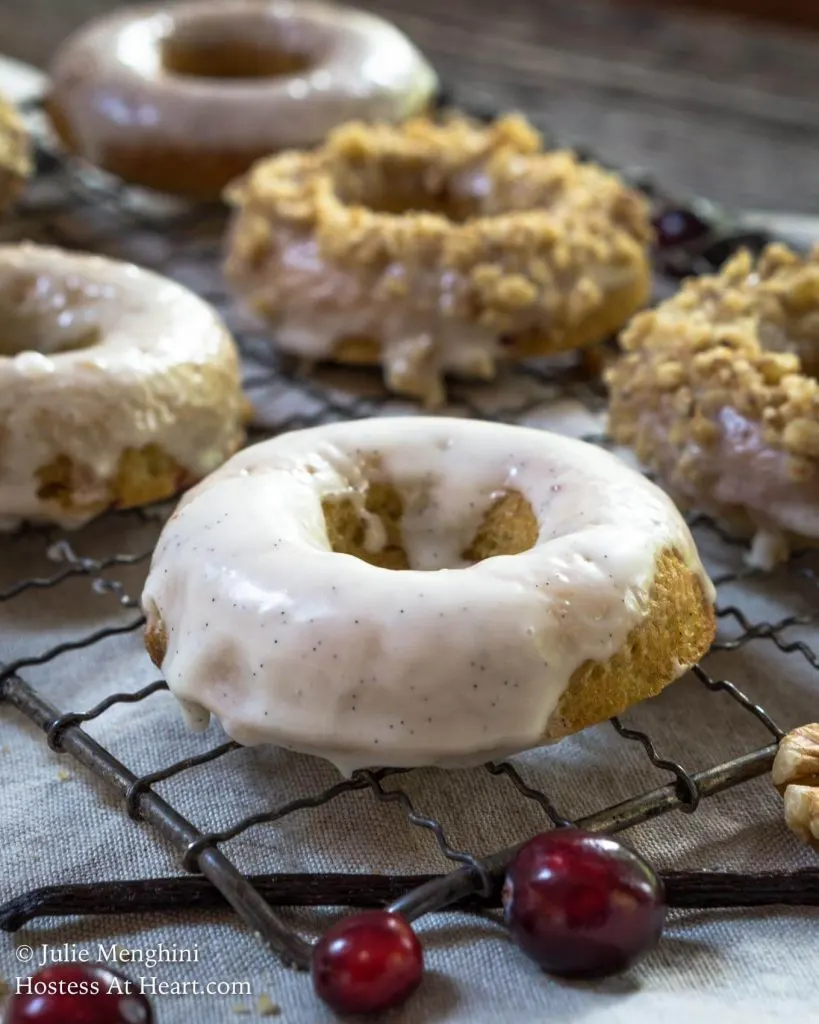 Want more delicious recipes? Follow Hostess At Heart on Pinterest!
If you liked this recipe, here are a few recipes you may enjoy
If you tried this delicious recipe, don't forget to rate it and leave me a comment telling me what you think. I love hearing from you!
What is your favorite way to use cranberries? I'd love it if you would share your ideas!
This recipe was originally shared on 11/23/2016 and has been updated to share tips and variations. No changes were made to the recipe.
Welcome to #CranberryWeek, hosted by Caroline's Cooking. We'll be sharing cranberry-inspired creations all week long in celebration of National Cranberry Day. Search #CranberryWeek to keep up to date and follow the #CranberryWeek Pinterest board for more cranberry inspiration. But first, see all the other cranberry recipes being shared today: