Apple season will have you craving the tastes of Fall and sweet apple desserts. Our Caramel Apple Slab Pie Recipe starts with a tender flaky crust topped with a caramel and cinnamon-spiced apple filling.
You'll love the flavors of a traditional pie that's big enough to feed a crowd. It's perfect for the holiday season but easy enough for any time.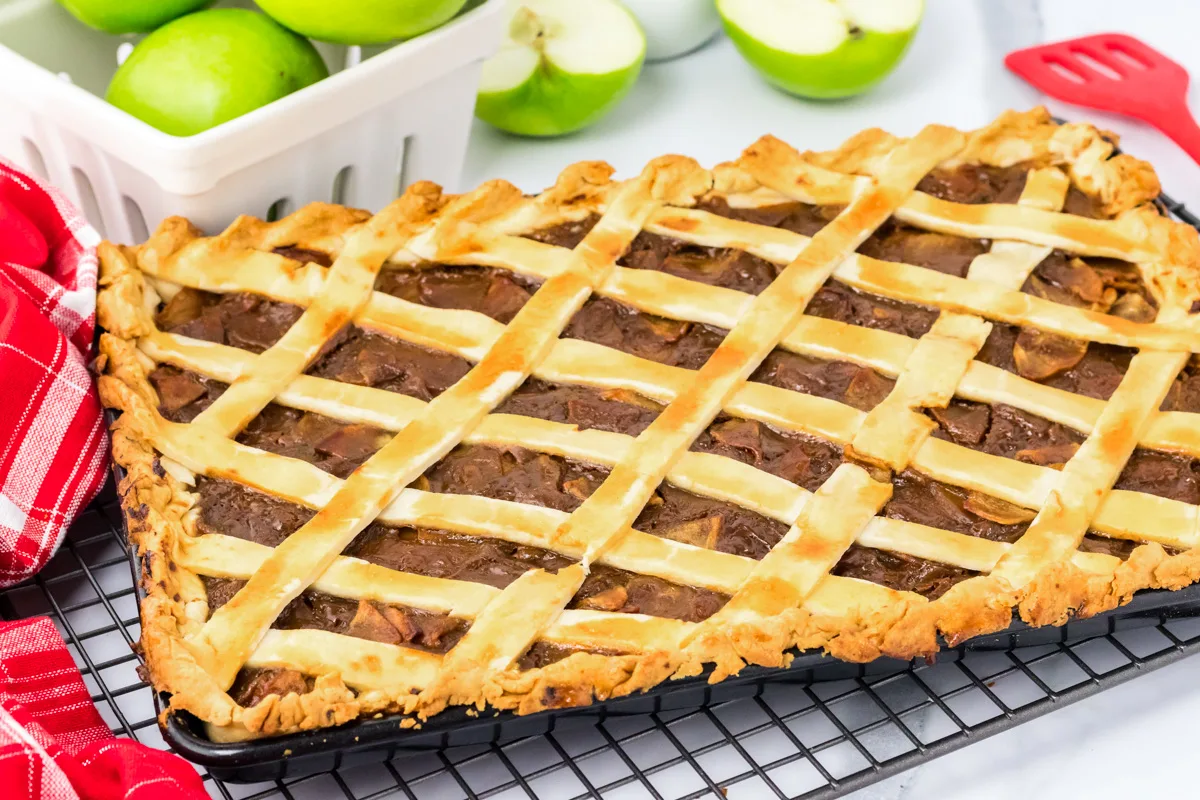 In this blog post, we will explain exactly what a slab pie is, give you step-by-step instructions to make our homemade slab pie recipe, and make sure you have all the tips and tricks up your sleeve for the best pie possible.
Why You'll Love Our Caramel Apple Slab Pie Recipe
Simplicity. This pie uses simple ingredients that you can easily find in any grocery store and easy step-by-step instructions so your easy apple slab pie will be delicious.
Versatility. You have the freedom to experiment and let your creativity run wild. Picture a canvas of golden brown crust, patiently waiting to be adorned with your favorite fruity fillings. Whether you prefer a medley of fresh berries, a parade of peaches, or a combination of apples and pears, the choice is yours.
Size. Its large size means it's ideal for feeding a crowd at picnics, potlucks, or family gatherings. Why bake a traditional round pie? This easy recipe makes a large rectangle shape, so you can easily cut it into perfectly portioned squares, ensuring everyone gets their fair share.
What is a Slab Pie?
This marvelous pie baked on a sheet pan has been called the pie version of sheet cake. It is thin, bakes fast, and serves a crowd. When you need to go big, make a slab pie.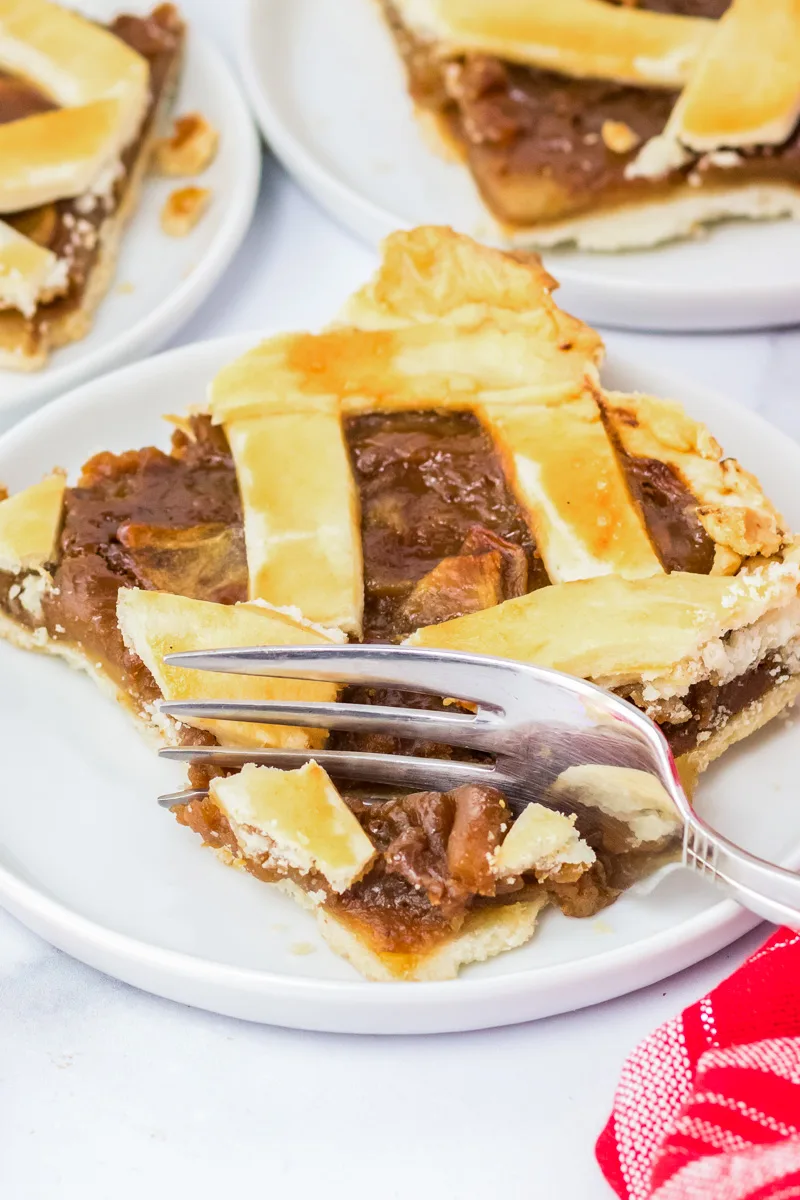 What are the best apples for baking?
You want a firmer apple for baking. Softer apples will break down too much making the sweet apple pie filling mushy. It's also more difficult to slice into apple pie bars.
You can use all of one variety or a mix of your favorite apples for baking. Good baking apples according to Bon Appetit include: are as follows:
Granny Smith – These are tart apples. They contrast well with sweet desserts.
Jonagold
Honey Crisp – My favorite for everyday eating.
Braeburn
Pink Lady
Mutsu
Ingredients you'll need for this recipe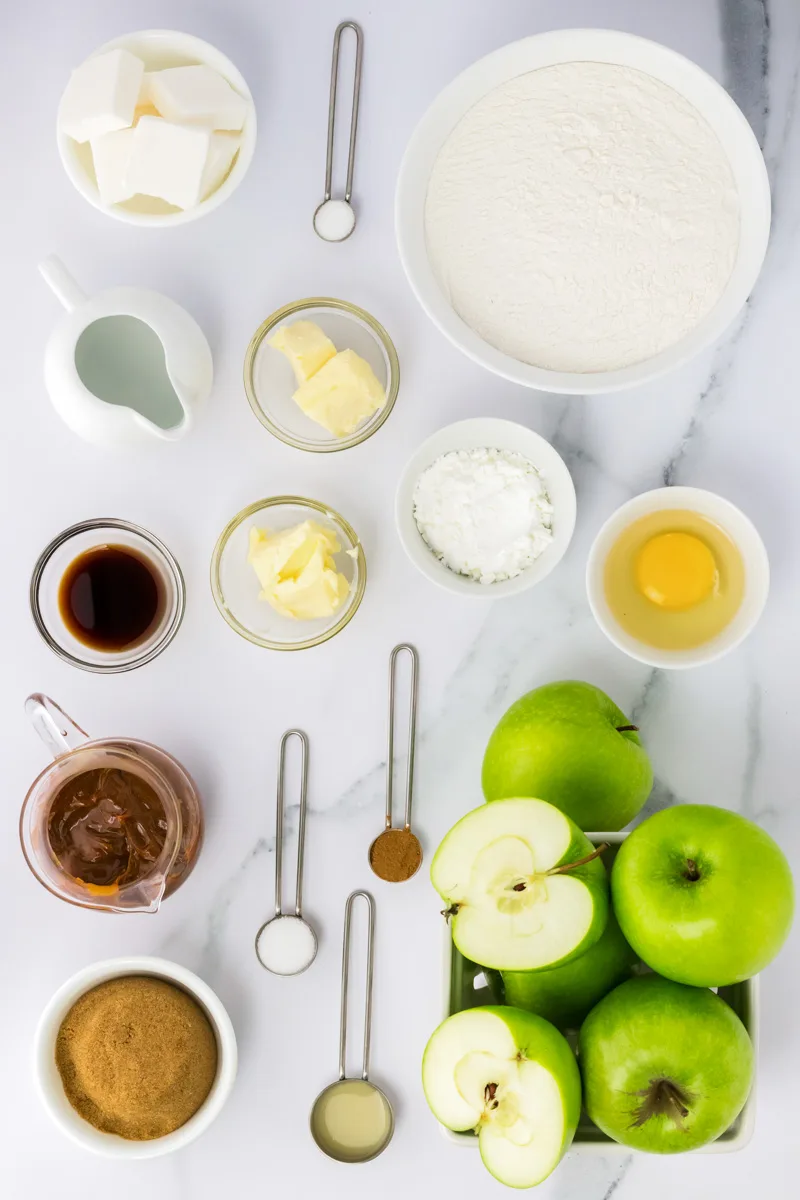 Homemade Pie Crust Ingredients
All-Purpose Flour.
Salt.
Vegetable Shortening, chilled. I prefer this shortening.
Cold Butter.
Cold Water.
Large Egg.
Filling Ingredients for Caramel Apple Slab Pie
Unsalted Butter.
Granny Smith Apples. You will need approximately 1 and 1/2 pounds of large apples, peeled and sliced to a 1/4-inch thickness. Other types of apples, such as honey crisp or pears, such as Bartletts, will work perfectly for this recipe.
Caramel Sauce. This sets our pie apart. We purchased a store-bought caramel sauce for convenience.
Brown Sugar. Light or dark variety.
Salt.
Lemon Juice. Don't skip out on the lemon juice. Not only does it help with the coloration of the apples, but it also adds brightness and balance to the flavor of the pie.
Ground Cinnamon. Since this spice will be used frequently for your Fall and holiday baking, don't skimp on quality. A good cinnamon is worth the investment.
Cornstarch. This helps prevent a runny pie by thickening the filling as it cooks.
How To Make Caramel Apple Slab Pie Recipe
Please note, that the printable recipe card has ingredient quantities, complete instructions, and nutritional information. The following is a quick overview of the recipe.
Step One. Make the crust for your apple slab pie with caramel sauce.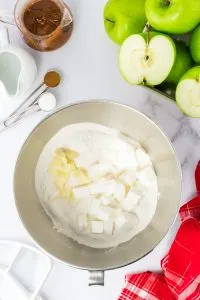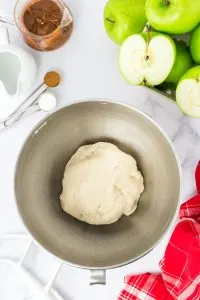 Whisk the flour and salt together. Add the shortening and butter and mix until well blended. Then slowly add the cold water a little at a time until a dough forms.
The dough can be mixed by hand using a large bowl.
Step Two. Roll out the pie crust.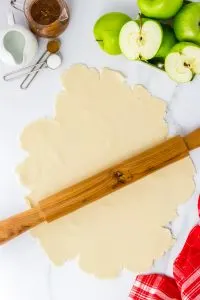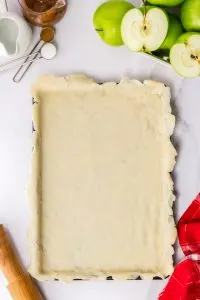 Use 2/3 of the crust. Wrap the remaining dough with plastic wrap and chill. You want it to be a quarter-inch thick and large enough to cover a 9×13 cookie sheet. Cover and chill the crust on the pan.
Step Three. Make the caramel apple pie filling.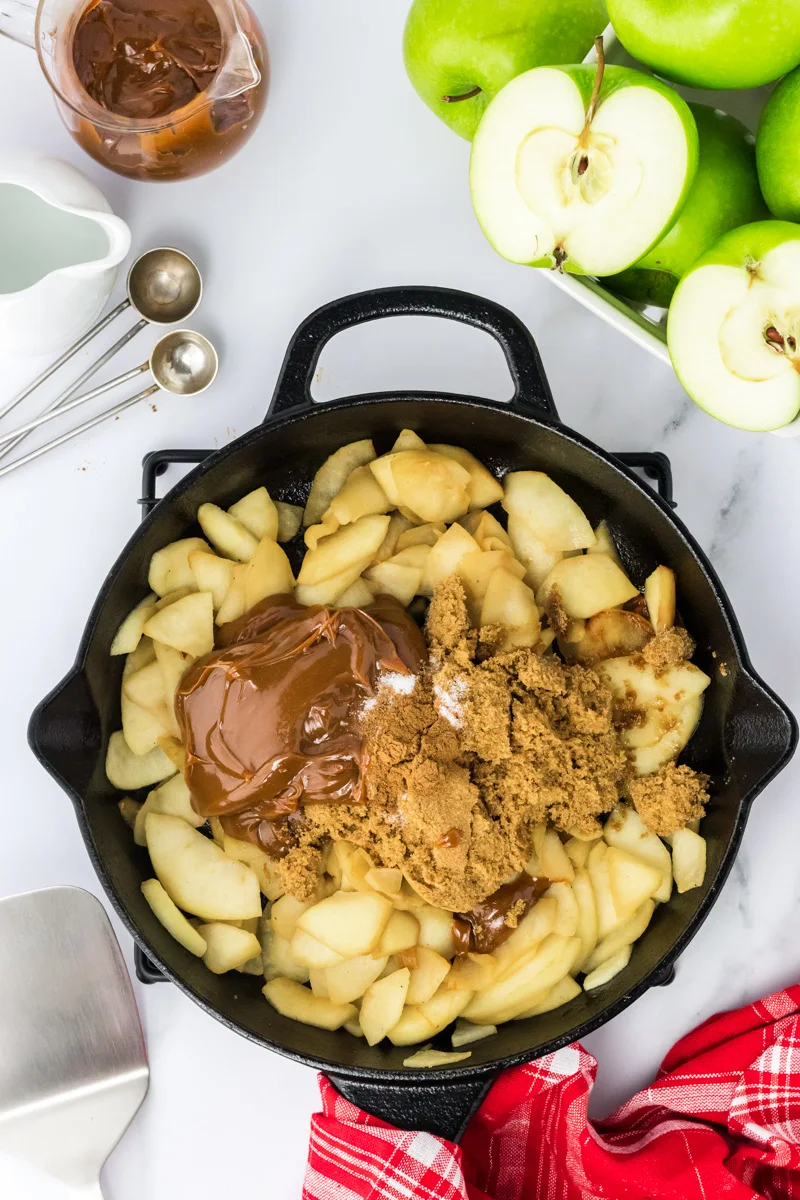 Melt the butter and saute the apples until soft and brown. Add the caramel sauce, brown sugar, salt, lemon juice, cinnamon, cornstarch, and vanilla, and continue to cook it all for four or five minutes more.
Step Four. Prepare the pie for baking.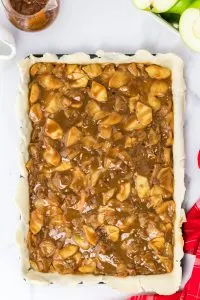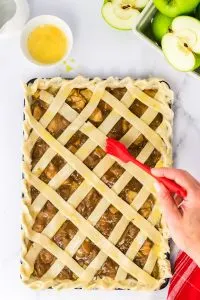 Spoon the filling onto the chilled crust. Top it with strips cut from the remaining crust, which you have rolled to a quarter-inch thickness. Add the egg wash.
Step Five. Bake your Caramel Apple Slab Pie.
It will need to be baked for 37-40 minutes and then cooled for about 30 minutes, so you can plan accordingly. And look how this comes out. Is it not just gorgeous?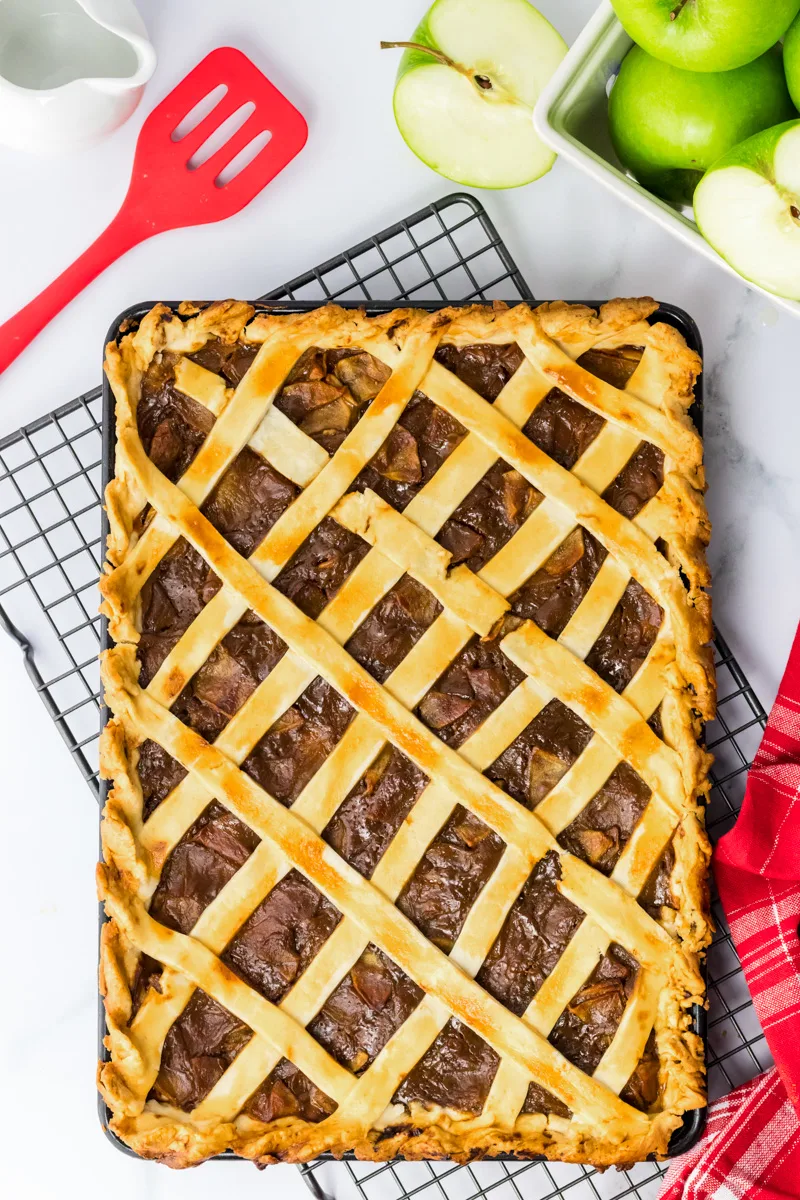 How to Serve Caramel Apple Slab Pie
Warm pie with vanilla ice cream is the way to go. If you don't want ice cream, homemade whipped cream is yummy, but honestly, this pie is perfect on its own.
Frequently Asked Questions
Can I use homemade caramel sauce for the filling?
You can most definitely use your own caramel sauce for the filling. Homemade caramel sauce from scratch adds an extra touch of homemade goodness. However, we use store-bought for convenience. I suggest that you use a thick caramel sauce either way.
How do you keep apple pie from getting soggy?
Soggy apple pie is a common issue and stems from a runny filling and soft crust. To avoid this, chill your pie crust while you make the filling. Also, we make the filling before baking it in the pie. This allows the juice from the apples to cook off. And, our addition of cornstarch thickens the filling which prevents excess juices from making our pie watery.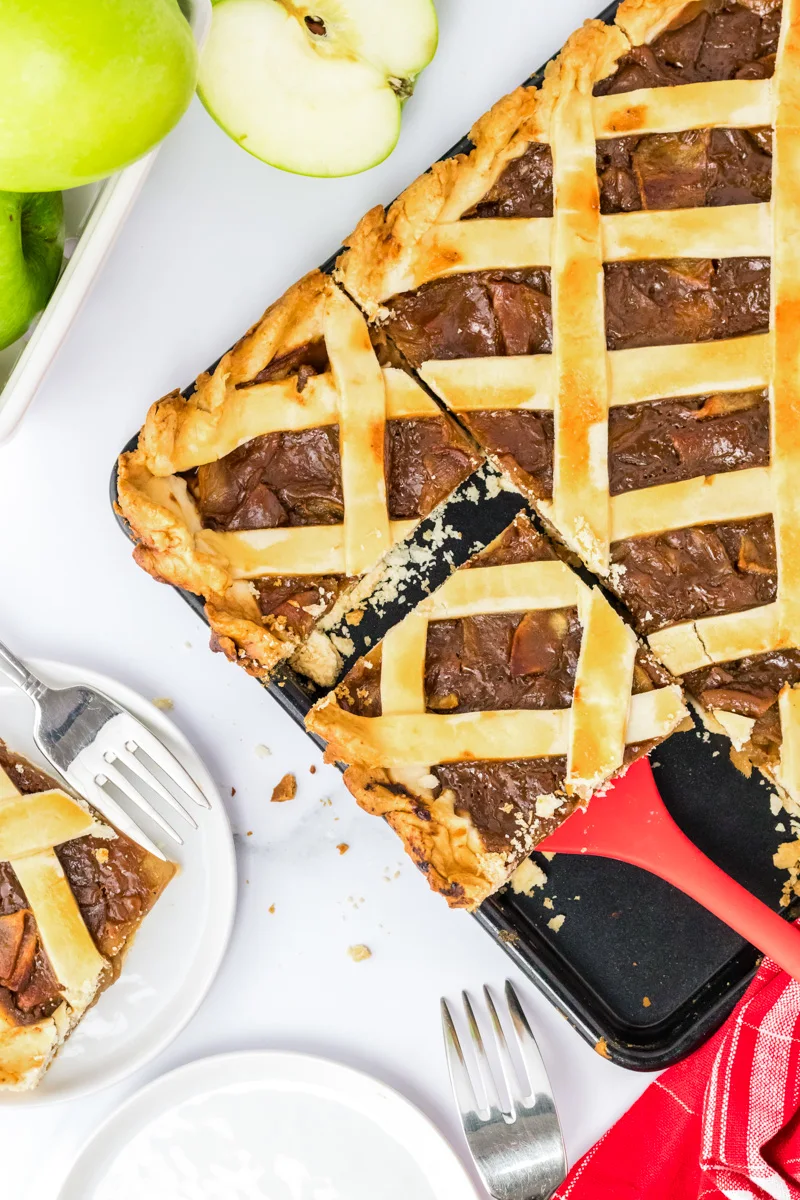 Can I use Ready-Made Crusts?
You can use ready-made crusts for convenience. Please note that you will want to buy enough dough to make a double crust.
Can I make this Caramel Apple Pie Recipe ahead of time?
Yes, you can make an apple slab pie ahead of time. Here are a couple of options that work out beautifully:
You can either make the whole pie and bake it ahead of time, with the plan to reheat it in the oven before serving it.
Or you can make the crust and the filling up to 2 to 3 days in advance. Cover and refrigerate. The day you need it put it all together and bake.
You can also freeze a whole pie and thaw it at room temperature when you are ready for it. I explain how down below.
How To Reheat & Store Caramel Apple Slab Pie
Best way to store this pie.
Keep leftovers, covered, in the fridge for up to 6 days. I don't recommend that the pie be kept at room temperature. The juices will break down making the crust soggy.
Can I Freeze Slab Pie?
You can freeze this pie both before and after baking. If freezing before, do not add the egg wash and cover with plastic wrap, then with tin foil. Freeze for up to 3 months.
When you are ready to bake, thaw in the fridge. Brush with the egg wash, then bake. If freezing after baking, cover with plastic wrap and tin foil. Freeze for up to 4 months. Thaw on the counter and enjoy.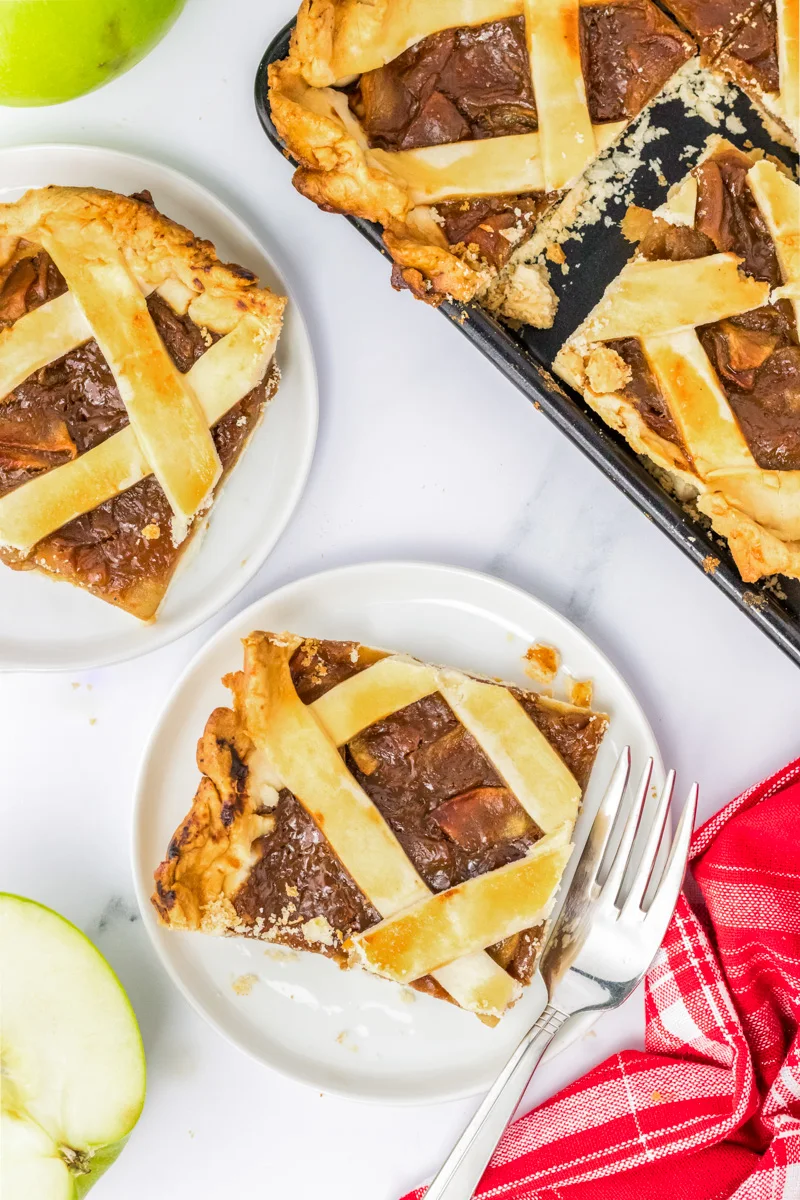 How to Reheat Apple Slab Pie with Caramel
If you want hot pie on day two, simply microwave a slice for thirty seconds to one minute, depending on your microwave, until it is warm enough to melt the edges of your ice cream. If it is frozen, the same method will work, but you may need to extend the time. Place the frozen slice in a bowl because once frozen, it will tend to become mushy and run more.
Variations and Substitutions
You can use the pie crust included with this recipe, but if you want just a little extra decadence, you can use our All Butter Pie Crust Recipe instead.
We used a lattice crust to make our apple dessert look like a traditional apple pie. You could cover the filling with a top crust without slicing it. You could cover the top of the pie with a crumb topping instead of a regular pie crust.
One of the beauties of this pie is its versatility. While the classic combination of caramel and apples is hard to resist, you can absolutely get creative with the fruits you use. Feel free to experiment with other seasonal fruits like pears or peaches.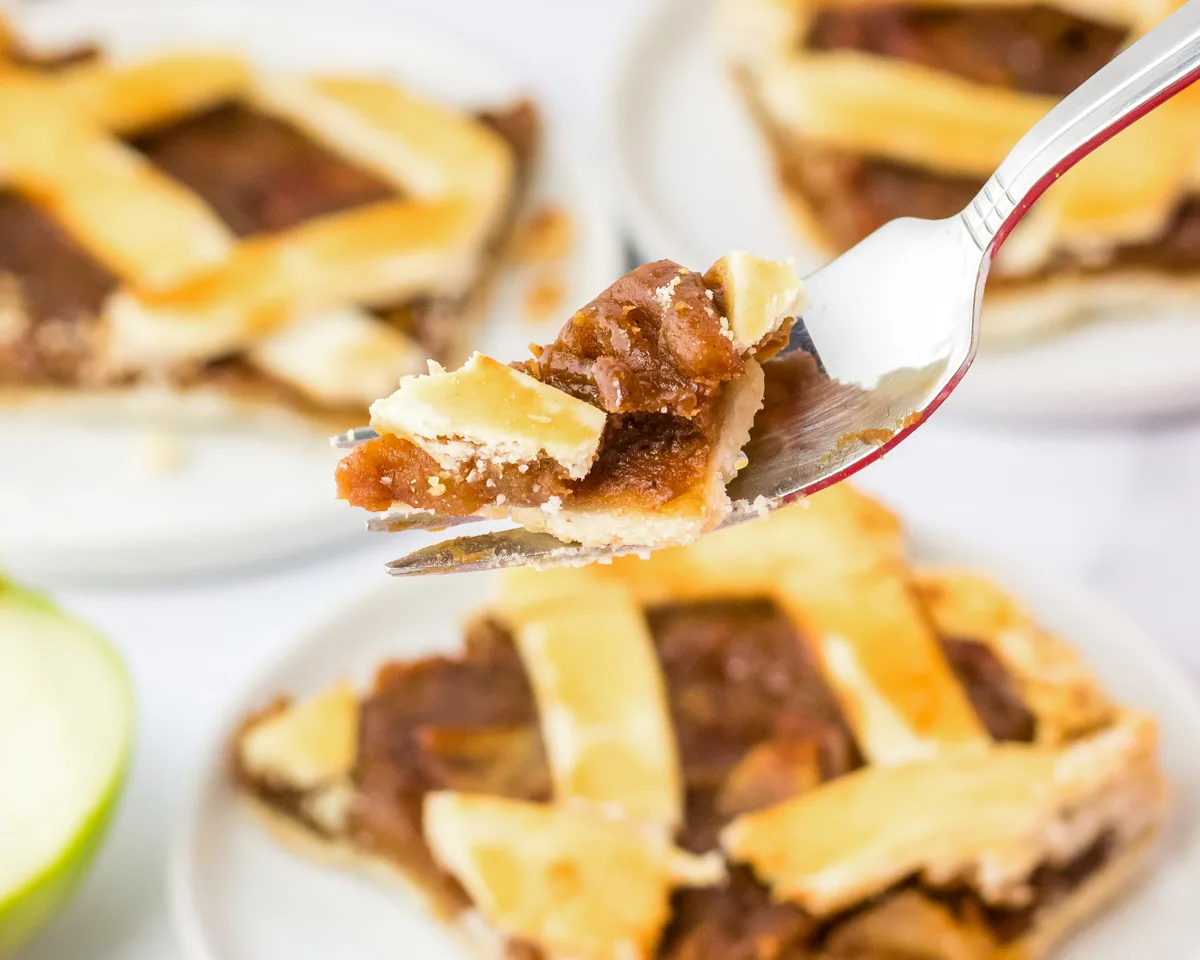 Hostess Tips and Tricks
Double the crust recipe if you would like a full slab crust top. You must cut large slits into the top to allow steam to escape.
If you don't want to use shortening in the crust, you can substitute it with equal amounts of
chilled butter. Like we do in our buttery crust recipe.
Make sure you bake your apple pie long enough. Underbaking will cause your filling to be
runny, resulting in a soggy Pie. You know that your pie is done when the crust is a deep golden brown and the filling is bubbly.
Chilling or completely cooling the pie on a wire rack will make it easier to slice.
If you enjoyed this Caramel Apple Slab Pie recipe, check these out!
I could not be more excited for pie season; as soon as I don't mind warming up my kitchen, it's time to use all the amazing seasonal apples, pears, and last remnants of summer fruit coming our way to treat my family and friends. Here are some of my favorites!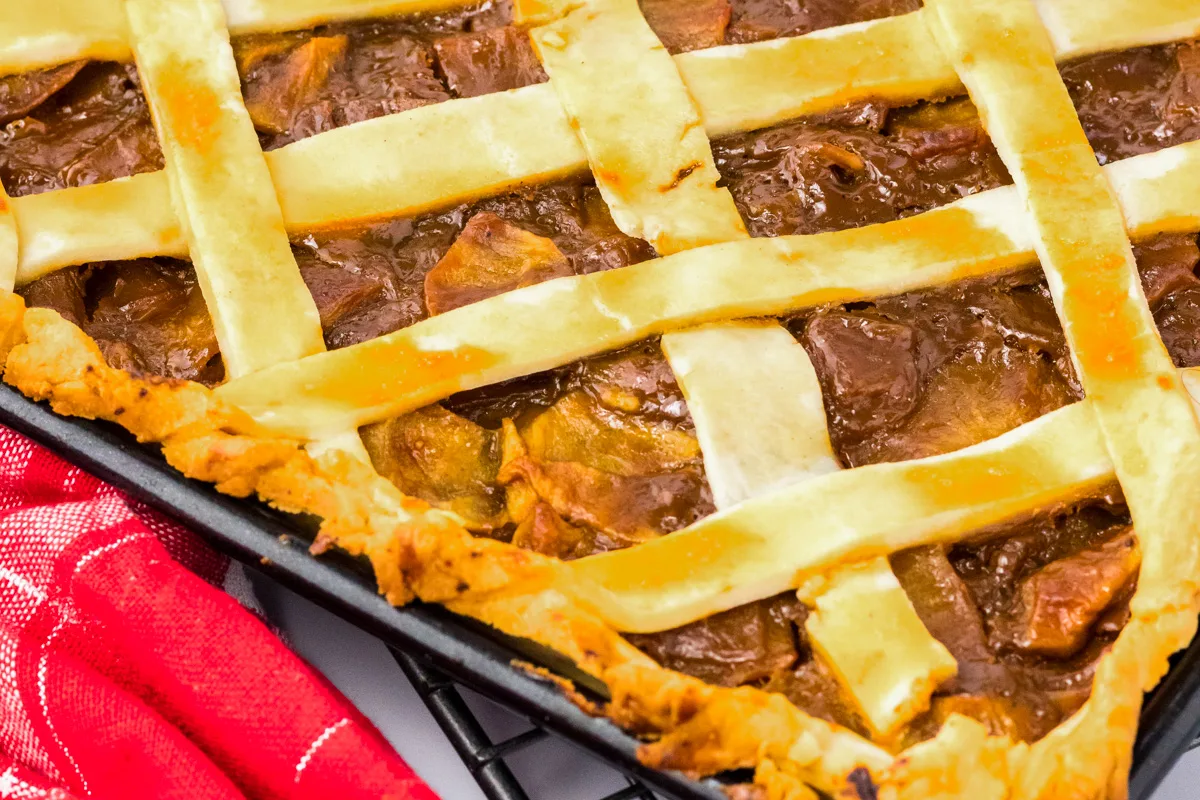 I hope you enjoyed this delicious recipe as much as we do. Drop me a comment below, and don't forget to give it a star rating. ⭐⭐⭐⭐⭐. Your comments and ratings help others decide if this recipe is for them too.
Pin this amazing recipe!