Cranberry Apple Bread is an easy quick bread recipe that is tender and moist. This apple cranberry bread is topped with a crunchy brown sugar streusel and a sweet lemon glaze.
THIS POST HAS BEEN UPGRADED FROM 11/25/16 TO IMPROVE THE READER EXPERIENCE.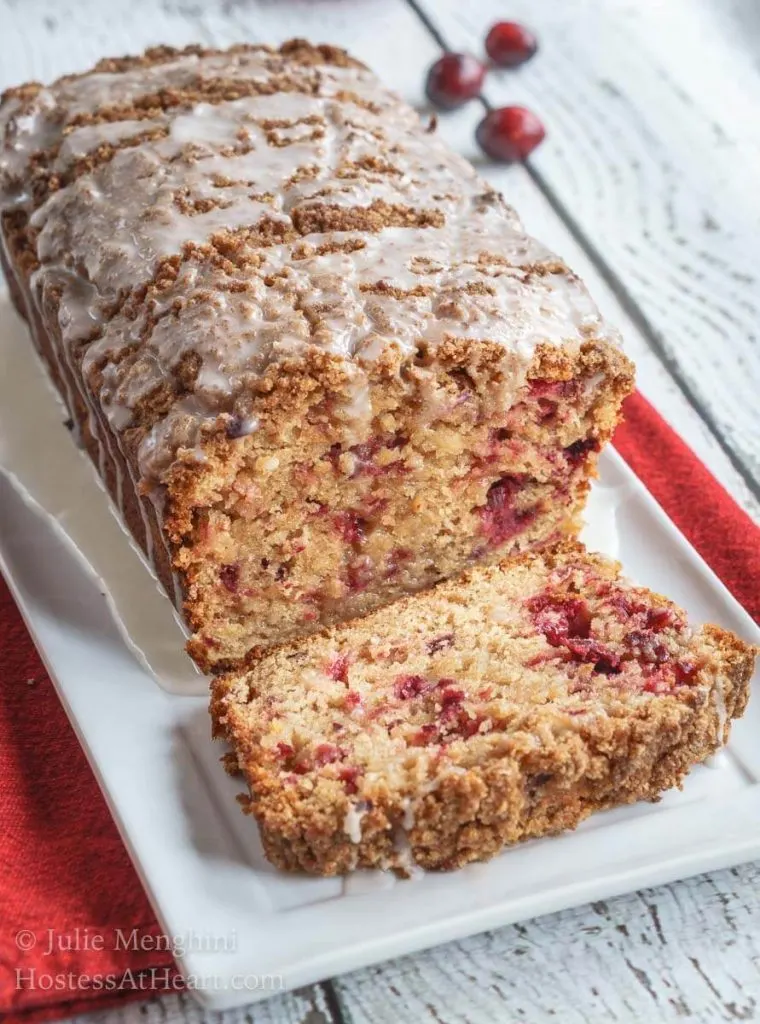 I love sweet bread, especially the ones with the streusel toppings. I think it's because I can eat them for breakfast since they're called bread and not cake. Cranberry Apple Streusel Bread is amazing any time.
Can you imagine biting into a thick slice of tender and moist apple cranberry bread topped with a crunchy brown sugar streusel and sweet lemon glaze? I'm drooling just thinking about it.
It's the perfect Holiday bread to hold you over until the main meal or to grace your table. Best of all, you can make it the day before freeing up your oven on the big day!
Cranberries and apple isn't a new combination. But it is one that I really need to use more often. Cranberries are tart. The apple adds a sweetness to this apple cranberry bread and assures that it will be moist.
Did you know that there isn't anything in the history of Thanksgiving that correlates cranberries with the holiday? According to the USDA, cranberries in American cuisine go back to 1672 though.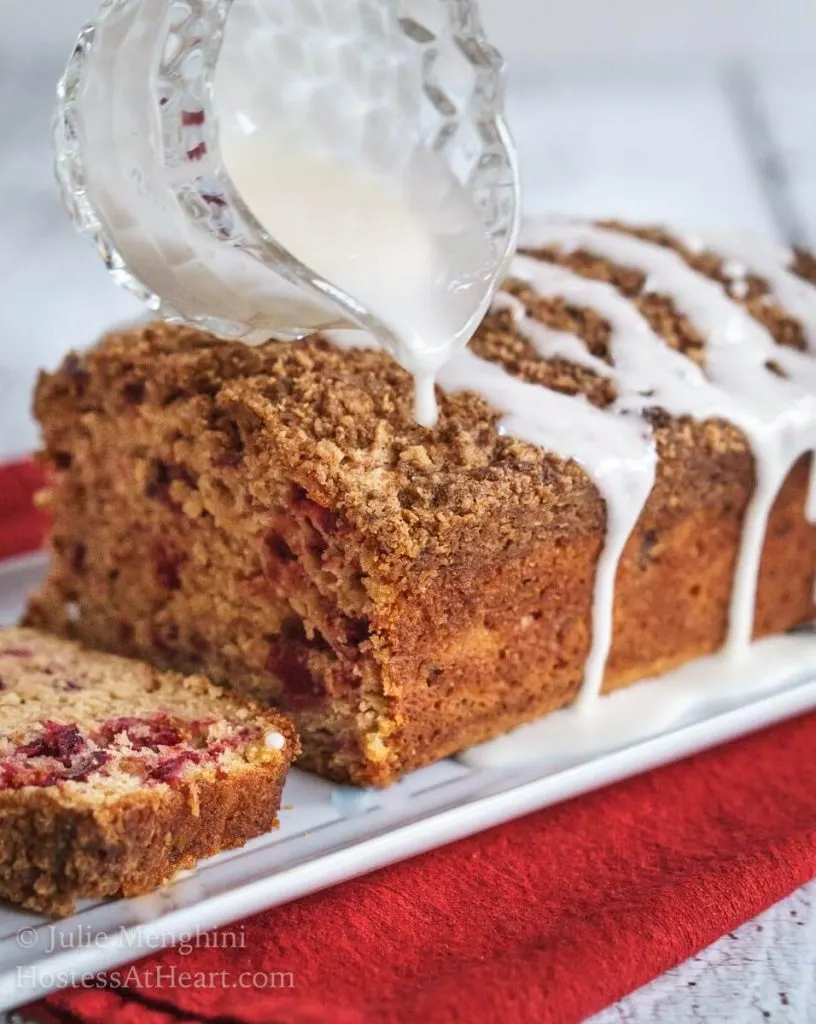 Can you use dried cranberries in cranberry bread?
You can substitute dried cranberries (craisins) for fresh or freshly frozen cranberries. However, dried cranberries already contain sugar so reduce the sugar in this recipe to 1/2 cup total white sugar.
Soaking the cranberries in warm water for 15 minutes will plump them up and add moisture to the bread that you use when you aren't using fresh.
Fresh cranberries retain their tartness when baked. You will not have this contrast if you use craisins.
I generally don't use them to bake but love them in recipes that aren't baked such as our Chicken Salad with Yogurt recipe or in a salad like this Apple Pear Salad with Lemon Poppyseed Dressing.
Items you may need to make the perfect Cranberry Apple Bread Recipe:
Hostess At Heart participates in affiliate programs. As an Amazon Associate, I earn a commission from qualifying purchases. Please refer to my disclosure page for more information about these affiliate programs.
Mini Food Processor – I love my mini food processor. Cranberries can be difficult to chop since they tend to roll and are small enough that it's difficult to keep your fingers out of the way. Plus it's a time saver when chopping nuts or veggies too.
Loaf Pans – These are great nonstick pans. Loaf pans aren't just for bread. They're great for meatloaf and I use them to bake my acorn squash too.
Microplane – I use this tool so much! Of course, it will zest citrus like no body's business but I love it for garnishing dishes with cheese or chocolate too!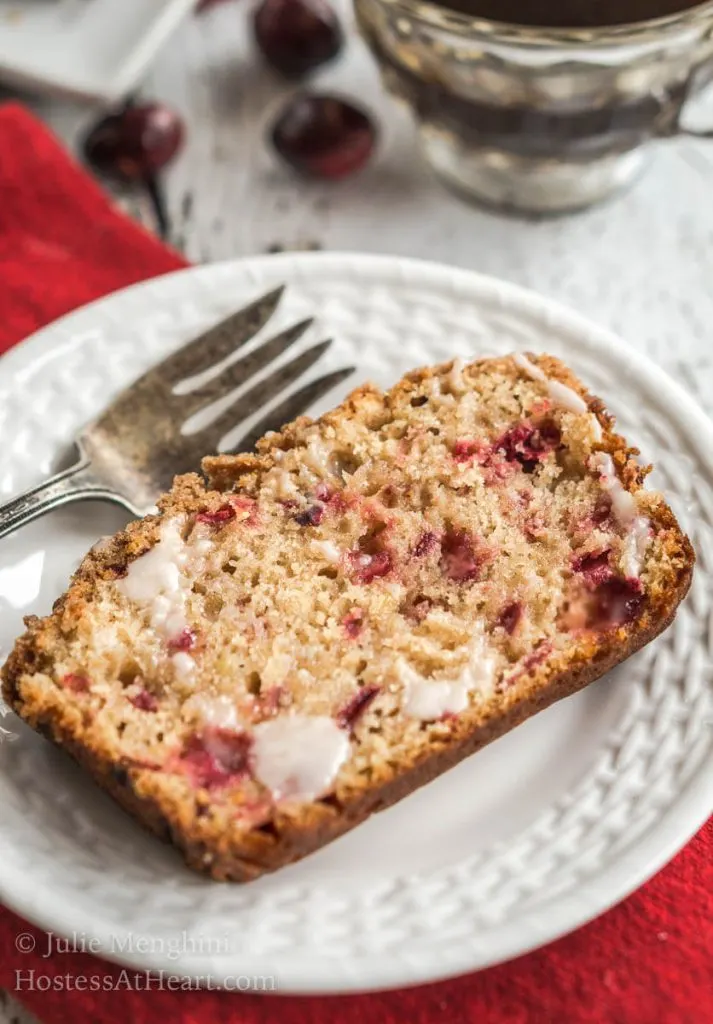 How do you make Apple Cranberry Bread?
Please note, that the printable recipe card has ingredient quantities, complete instructions, and nutritional information. The following is a quick overview of the recipe.
Step 1: Preheat the oven and prepare the loaf pan.
Step 2: Combine the dry ingredients in a large bowl.
Step 3: In a medium-sized bowl whisk the eggs together. Add the lemon juice and zest, buttermilk, and melted butter.
Step 4: Add the wet ingredients to the dry ingredients and mix only until combined. Fold in the apple and cranberries.
Step 5: Pour the apple cranberry bread batter into the loaf pan.
Step 6: Make the streusel topping and sprinkle it over the top of the cranberry bread.
Step 7: Bake and cool.
Step 8: Prepare the glaze and drizzle it over the top of the baked and cooled lemon cranberry bread.
Other Tips and Notes for making this Cranberry Apple bread your own:
Many quick bread recipes use a vanilla or cream cheese drizzle. The lemon is a great contrast to this bread or you can leave it off altogether.
Add 1/2 cup of chopped nuts to the bread and more to the streusel topping.
Wheat flour gives apple cranberry bread a nutty flavor and because of the additional protein some structure. You can definitely use all white flour in this recipe.
Use a pastry cutter to mix up your streusel topping. Using your hands will warm the butter. A good crunchy streusel uses cold butter in this case.
Cranberries freeze really well. Buy an extra bag and throw it in the freezer for another loaf of cranberry apple bread.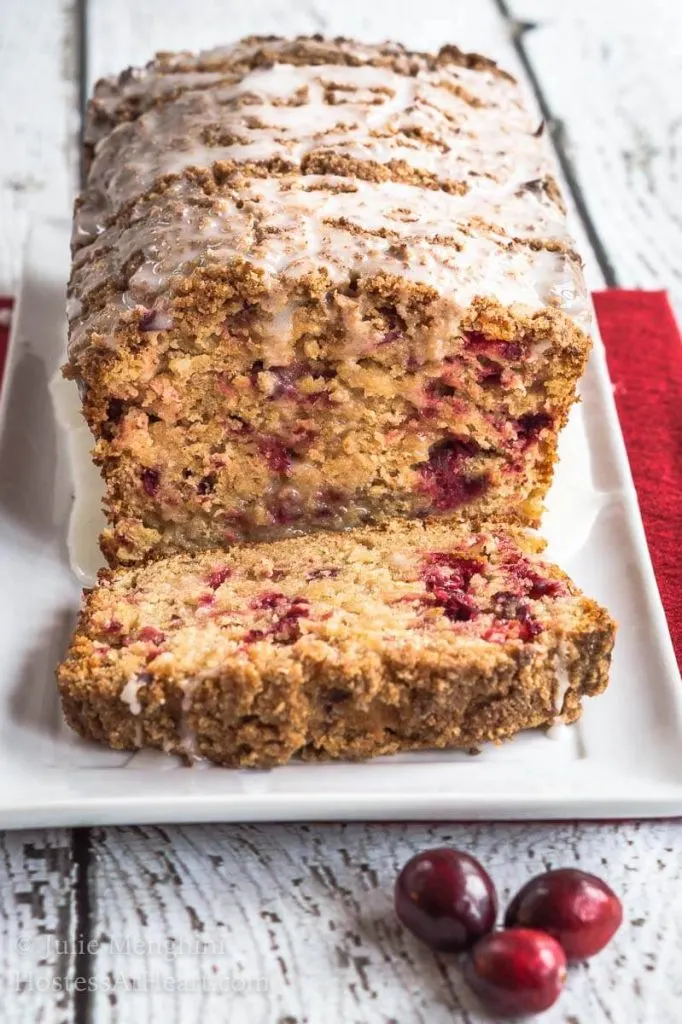 We love recipes with cranberries. Here are a few more that we love!
Don't forget to stop back and let me know how your Apple Cranberry bread turned out.
Welcome to #CranberryWeek, hosted by Caroline's Cooking and A Kitchen Hoor's Adventures. We'll be sharing cranberry-inspired creations all week long in celebration of national cranberry day. Search #CranberryWeek to keep up to date and follow the #CranberryWeek Pinterest board for more cranberry inspiration. But first, see all the other cranberry recipes being shared today:
Don't have time to make it now?

Pin it

for Later!