When you want something positively gorgeous and loaded with cozy fall flavors at the same time, serve this creamy and delicious no bake pumpkin mousse recipe in chocolate cups.
This pumpkin spice dessert is a great addition to your traditional pumpkin pie during the holiday season. It's an easy fall dessert to make and melt in your mouth delicious!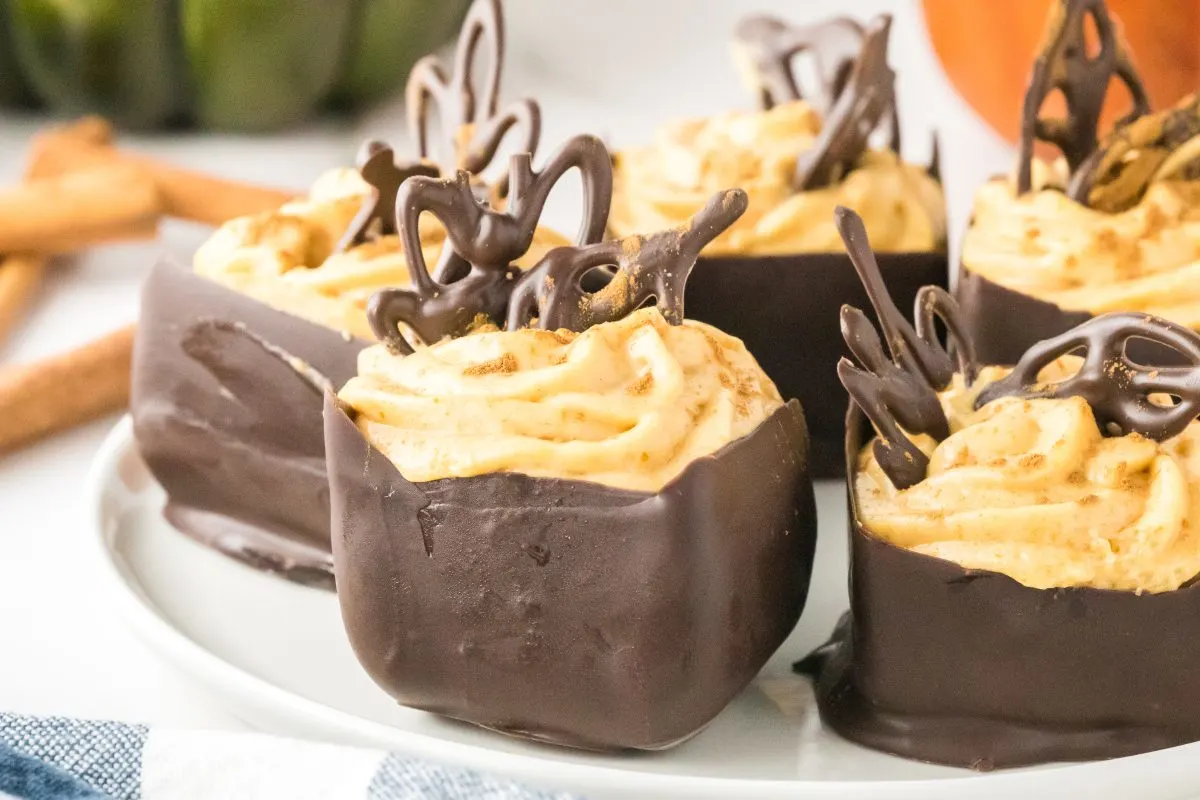 I wanted to make a pumpkin mousse without cream cheese, a true mousse that is light, fluffy, and airy in texture with rich, decadent flavor. You'll find most of what you need to make this seasonal dessert already in your cabinet! If you haven't picked up a few cans of pumpkin puree at your local grocery store yet, now is the time.
Why You'll Love Pumpkin Mousse Cups
Unique and Beautiful. Traditional pumpkin desserts do not look like this. When you set out a tray of these beautiful chocolate pumpkin mousse cups you can be sure they will be the topic of conversation.
Perfect Texture. Achieving that beautiful mousse texture can be tricky with some recipes, but our no bake pumpkin mousse cups turn out perfect every time with our step-by-step instructions.
Perfect size. After a big meal, the last thing that I want is a large dessert. These fluffy mousse cups are the perfect size but still take care of my pumpkin fix.
Ingredients You'll Need for this Recipe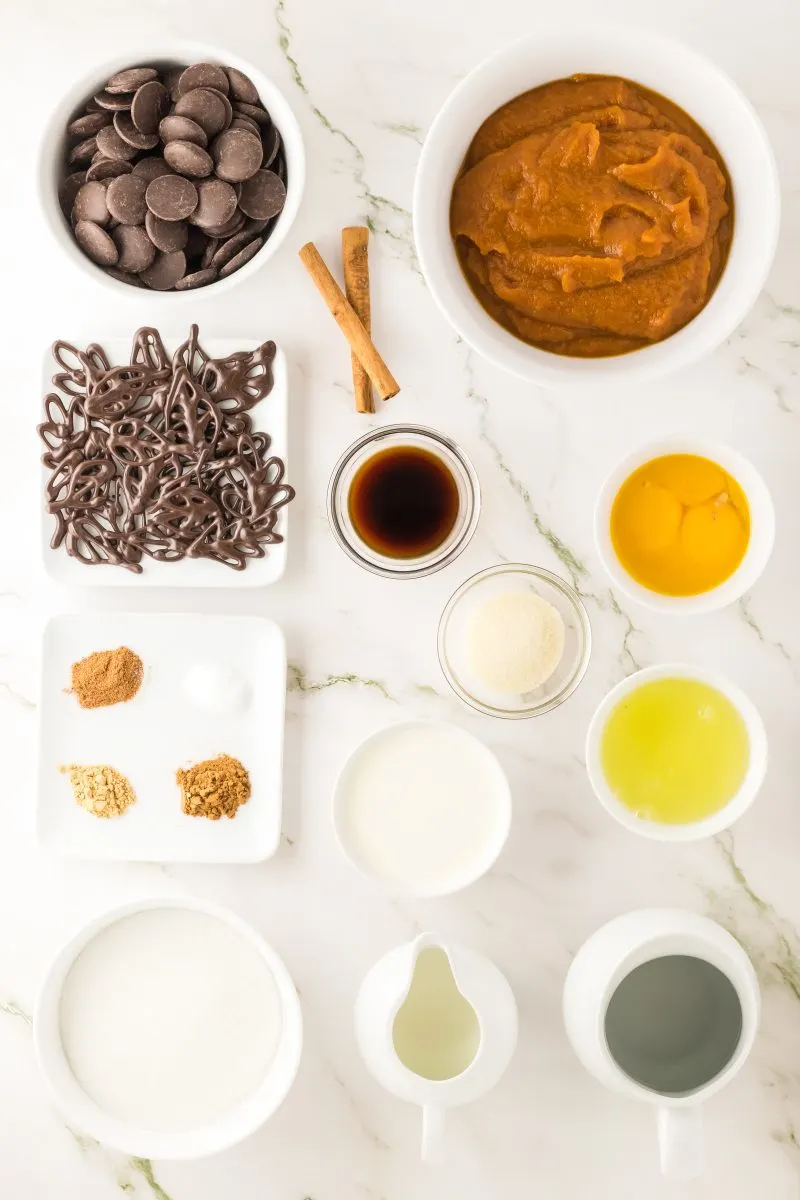 Pumpkin Puree. Make sure you do not buy the can of "pumpkin pie filling". You can also make your own homemade pumpkin puree with a pie pumpkin. Twenty minutes in an instant pot on high pressure, or forty minutes in the oven at 350º will soften the pumpkin so that it can be scooped out.
Vanilla. Pure vanilla extract is so good in this recipe but you can use imitation if it's what you use.
Eggs. Whites and Yolks. We use Large eggs.
Sugar. White granulated sugar and be replaced with brown sugar.
Milk. We prefer whole milk in this pumpkin recipe.
Heavy Whipping Cream.
Powdered Gelatin. Acts as a stabilizer for the pumpkin mousse filling while maintaining an airy texture.
Water.
Salt.
Spices. Ground Cinnamon, Ground Nutmeg, Ground Ginger. You can substitute with an equal amount of pumpkin pie spice.
Chocolate wafers. Also called melting chocolate or chocolate melts.
Chocolate Decorations. Homemade or store-bought.
Please note, that the printable recipe card has ingredient quantities, complete instructions, and nutritional information. The following is a quick overview of the recipe.
How To Make Our Pumpkin Mousse Recipe
Step One. Make the chocolate cups.
You will use ice cubes and straws to form simple chocolate cups for your pumpkin mousse.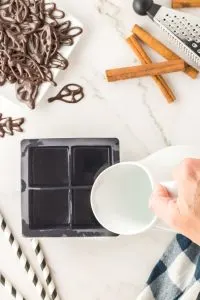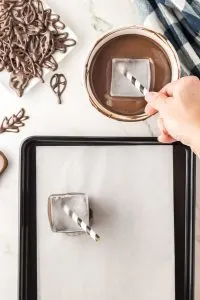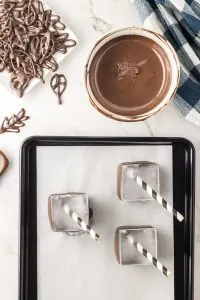 Fill the ice cube tray/mold with water and insert a straw or popsicle stick. Once frozen, remove the ice cube from the tray.
Melt the chocolate and quickly dip the ice cube into the melted chocolate. Remove it immediately and put it on a baking sheet to harden.
Once the ice starts to melt, remove the ice and set aside.
Step Two. Prepare the gelatin.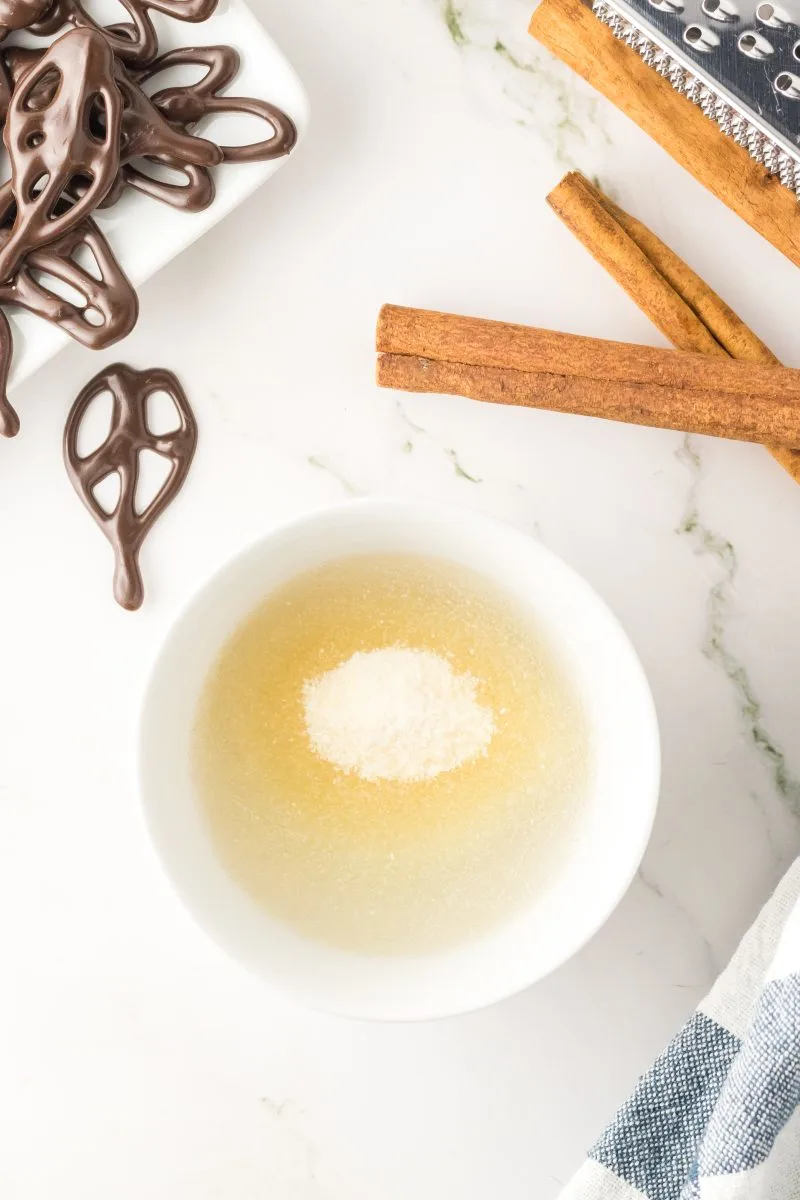 Mix the gelatin in water and set it aside.
Step Three. Cook the mousse ingredients in a double boiler.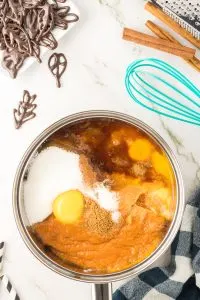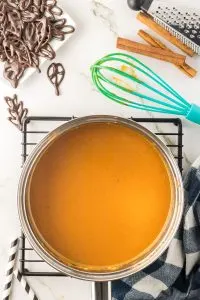 Whisk together the egg yolks, part of the sugar, pumpkin puree, vanilla, cinnamon, nutmeg, ginger, salt and milk. Continue whisking and cooking for fifteen minutes. Remove the mixture from the heat and cool completely.
Step Four. Beat the egg whites.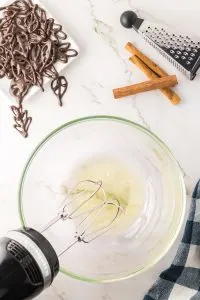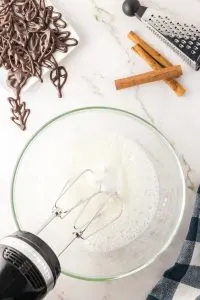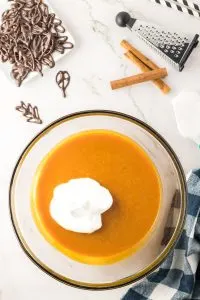 Beat the egg whites into a meringue consistency and fold them into the pumpkin mousse mixture.
Step Five. Beat the whipping cream.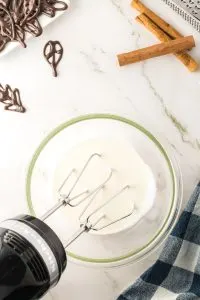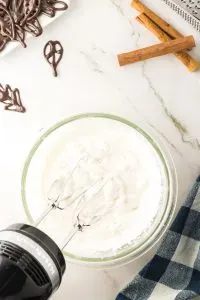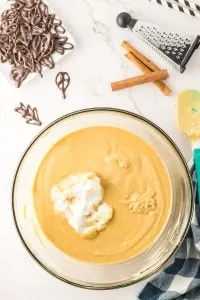 Beat the whipping cream until soft peaks form and then fold the whipping cream into the pumpkin mousse mixture.
Step Six. Heat the gelatin.
Warm the gelatin mixture in the microwave briefly and fold it into the pumpkin mousse mixture.
Step Seven. Chill the mousse.
Refrigerate the mousse until it sets.
Step Eight. Prepare the pumpkin mousse cups.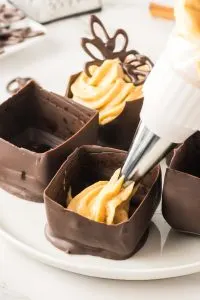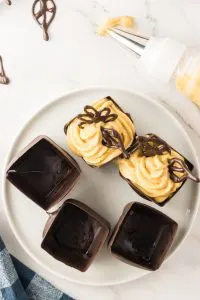 Pipe the mousse into the chocolate cups. Add decorations. Refrigerate until serving.
Frequently Asked Questions
Why does the Pumpkin Mousse Recipe need gelatin?
Gelatin provides structure and keeps the mousse from falling. It allows you to have a no-bake pumpkin mousse without cream cheese.
Can I use Cool Whip instead of homemade whipping cream?
Yes, you can substitute homemade whipping cream with Cool Whip. However, you may need twice as much.
How long can pumpkin mousse sit out at a party?
No more than two hours. It will start to melt, or lose air and deflate after a couple of hours. Keep it refrigerated until guests are ready for dessert. What we do is to put a smaller amount on a serving platter and replace them as they get eaten.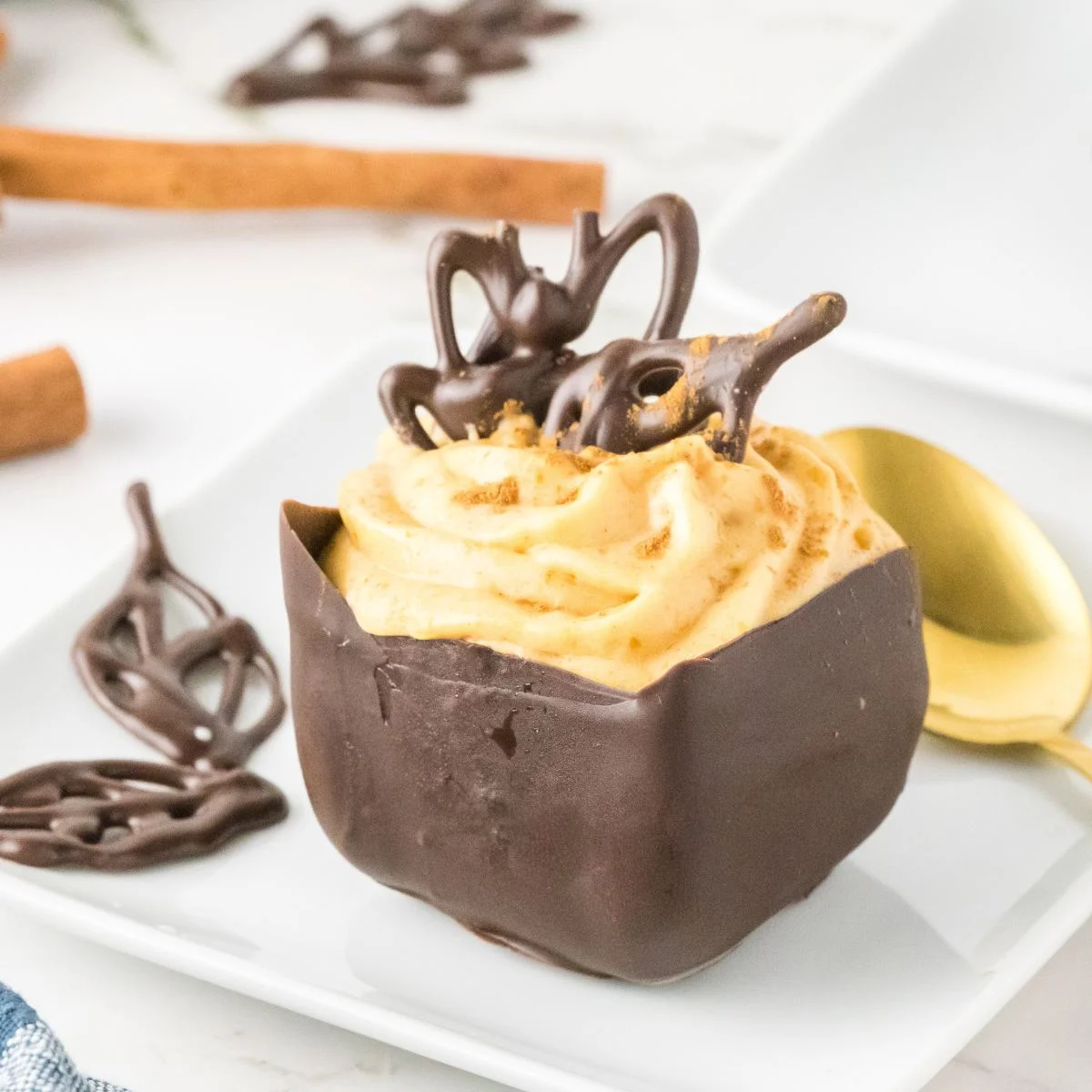 Store No-Bake Pumpkin Mousse
Best Way to Store Pumpkin Mousse Cups
This recipe should be stored lightly covered with plastic wrap in the fridge for up to 5 days. After that, the mousse starts to break down.
Can I Freeze Pumpkin Mousse Cups
No. If you like, you can make the chocolate cups ahead of time and freeze them. You can make those up to 6 months in advance and freeze in an airtight container. They're delicate so place them where they won't get crushed. The mousse itself cannot be frozen.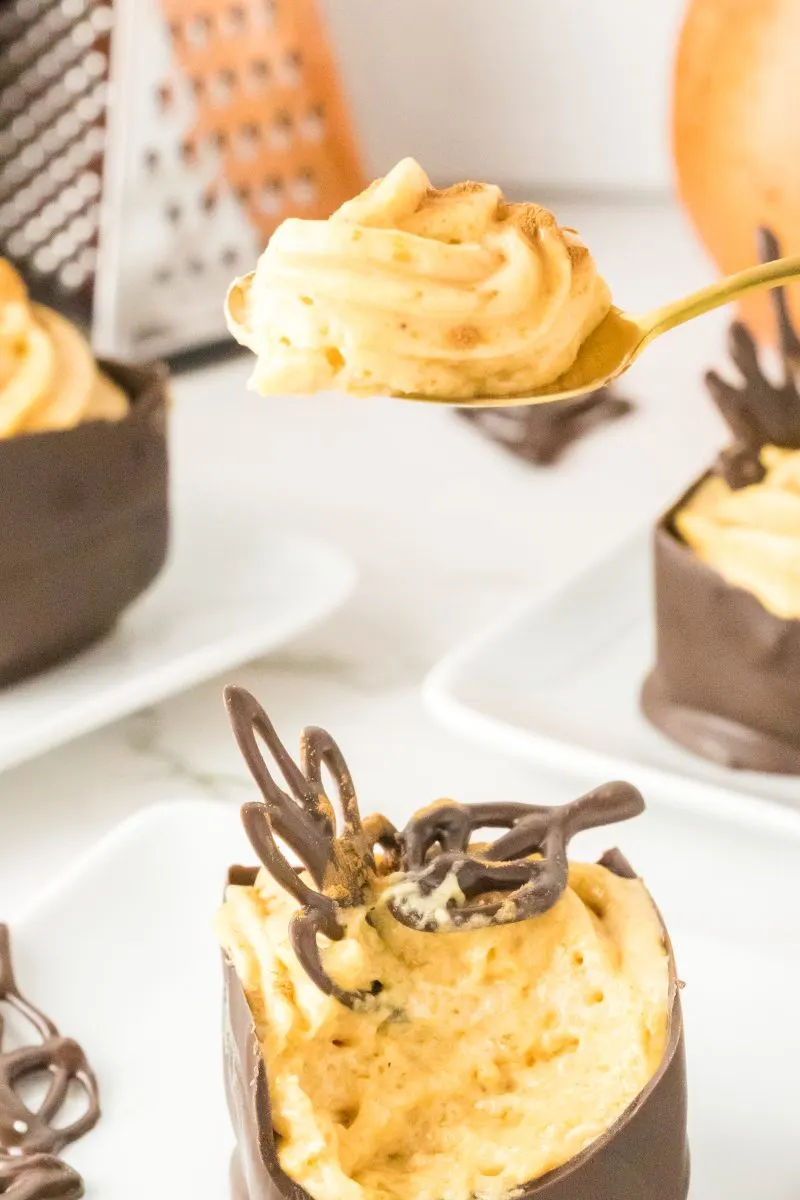 Tips for Perfect No Bake Pumpkin Mousse
Keeping the heavy cream cold and mixing it at high speed will help it develop soft peaks. Stop whipping as soon as you get the peaks. Overwhipping will cause it to deflate.
Fold ingredients into the mousse gently when directed. To do this, use a plastic spatula. Place the new ingredient on top of the mixture but do not stir. Insert your spatula into the mixture and gently "fold" or flip the spatula over, thus mixing the new ingredient in a little at a time while trying not to disturb the air you've beat into the eggs or whipping cream. This gives the heavier pumpkin mixture more loft.
Make the cups and the mousse filling in advance and then just fill them before you need them for a quick dessert. The pumpkin mousse needs a couple of hours in the fridge so that the flavors can meld. When you refrigerate it, don't cover it until it's cool. Condensation will break down the filling.
Use disposable piping bags to easily move the pumpkin mousse from your mixing bowl to the chocolate cups. Work quickly so that the warmth of your hands does not melt the mousse and cause it to separate. Keep the remaining mousse in the refrigerator between refills of the decorator bag.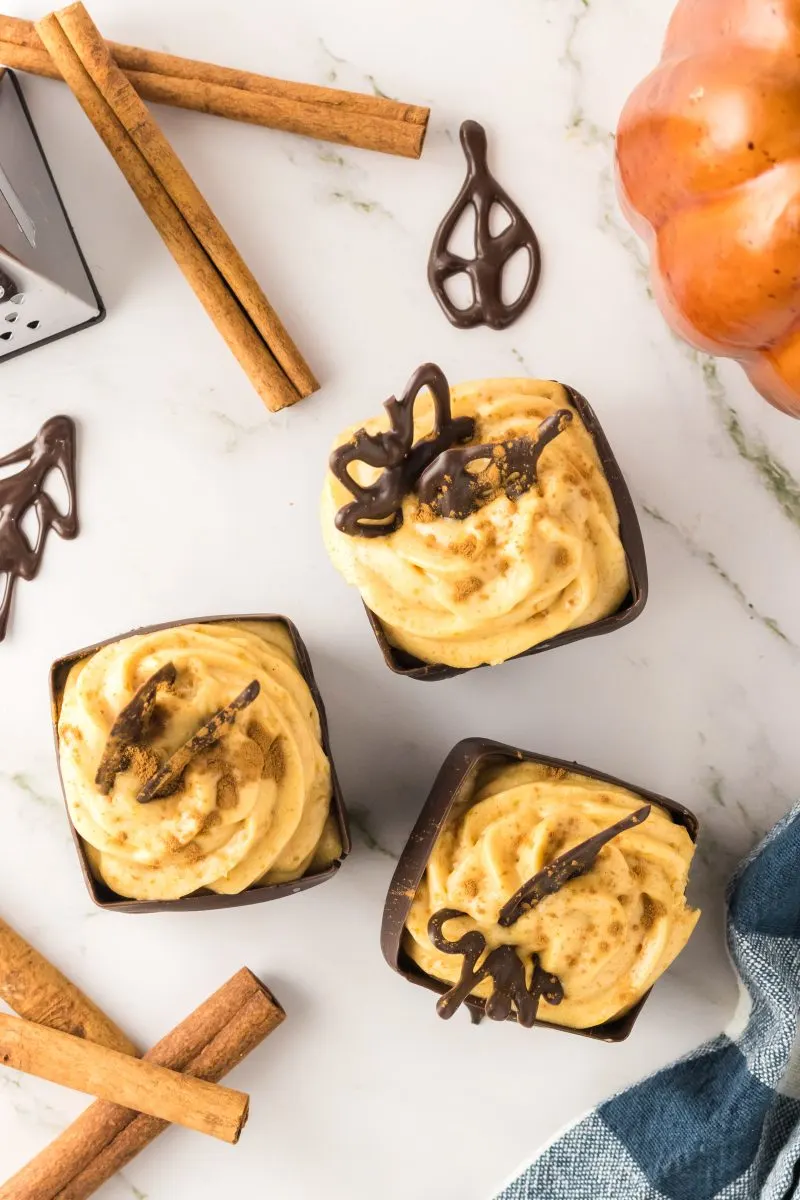 Variations and Substitutions
White chocolate cups – You can make white chocolate cups by replacing the chocolate wafers with white chocolate wafers.
Pumpkin Mousse Parfait – Top the pumpkin mousse with crushed chocolate cookies, gingersnaps, or buttery graham crackers and a layer of whipped topping.
Pumpkin Mousse Trifle – Layer the pumpkin mousse with pieces of spice cake.
Make it a no bake pumpkin mousse pie. Use a crust made from crushed gingersnap cookies or chocolate cookies mixed with brown sugar and butter, and bake for about ten minutes. Cool the crust and then fill it with the pumpkin mousse. Drizzle with melted chocolate.
Try your favorite toppings. The chocolate decorations we used were made from melted chocolate and piped onto parchment paper. There are so many creative ways to finish homemade pumpkin cups without any extra work. Top with miniature chocolate chips or toasted nuts. Crush wafer cookies or candy bars are also a great idea.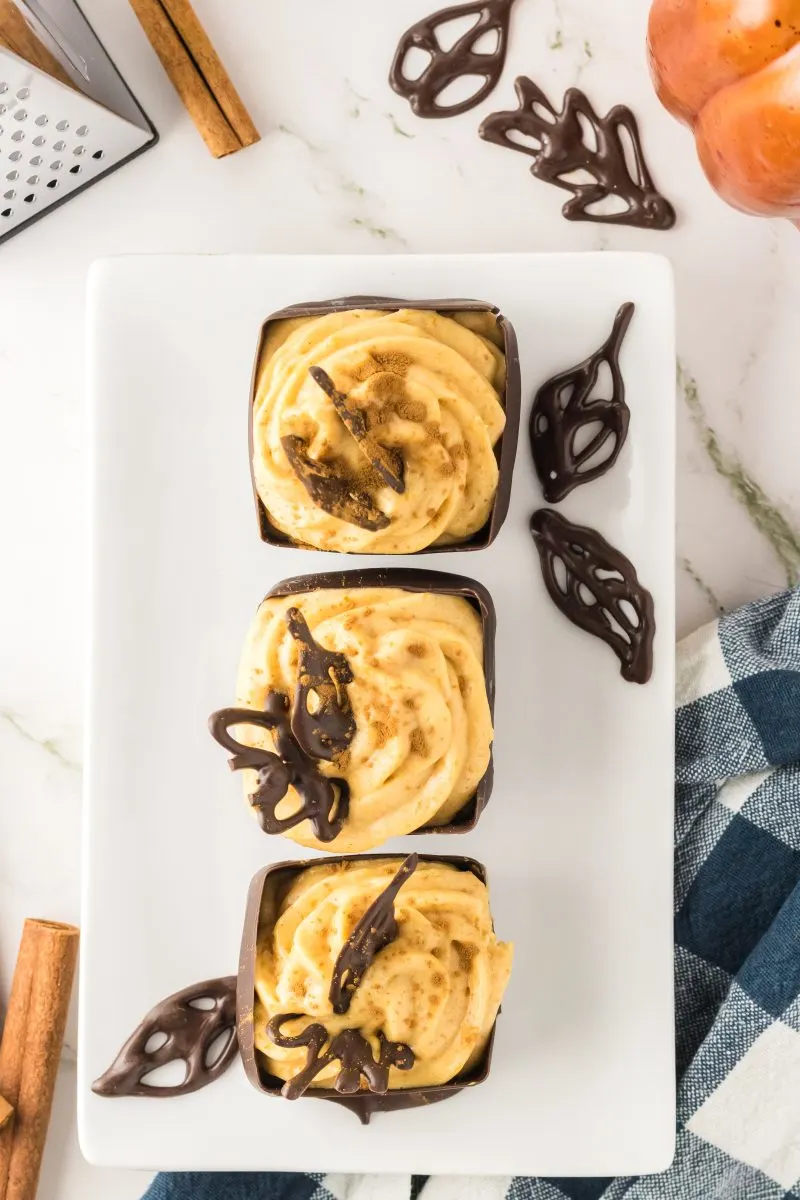 If you enjoyed this recipe check these out!
I hope you enjoyed this delicious recipe as much as we do. Drop me a comment below, and don't forget to give it a star rating. ⭐⭐⭐⭐⭐. Your comments and ratings help others decide if this recipe is for them too.