The holidays of Thanksgiving and Christmas come with some pretty special traditions, and in our house, one of those traditions is making homemade pumpkin pie. Smooth, creamy pumpkin pie filling in a perfectly flakey all-butter crust makes this the Best Pumpkin Pie Recipe ever.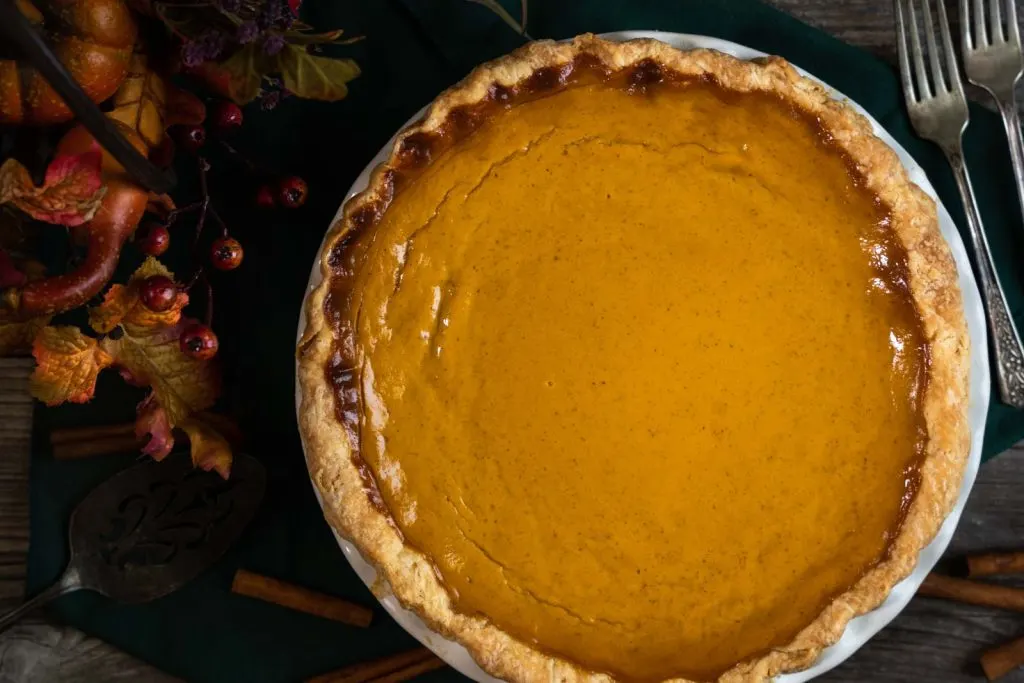 I'm the host of Thanksgiving dinner. Dessert is always pumpkin pie and maybe another option or two. For years I made Libby's® Pumpkin Pie recipe. This year I wanted to make Pumpkin Pie from scratch. I'm so glad that I did. It's a few more steps, but nothing crazy.
I should have called this "The pumpkin pie that refused to fail" Why? In all transparency, I mixed my cream mixture with my pumpkin mixture in the wrong order. No worries there, it worked.
Then, I got this beautiful Homemade Pumpkin Pie in the oven, and my oven quit…died…dead as a doornail. John carefully carried this pie on the hot baking sheet to my neighbors, who lent me their oven. There was pie in their future.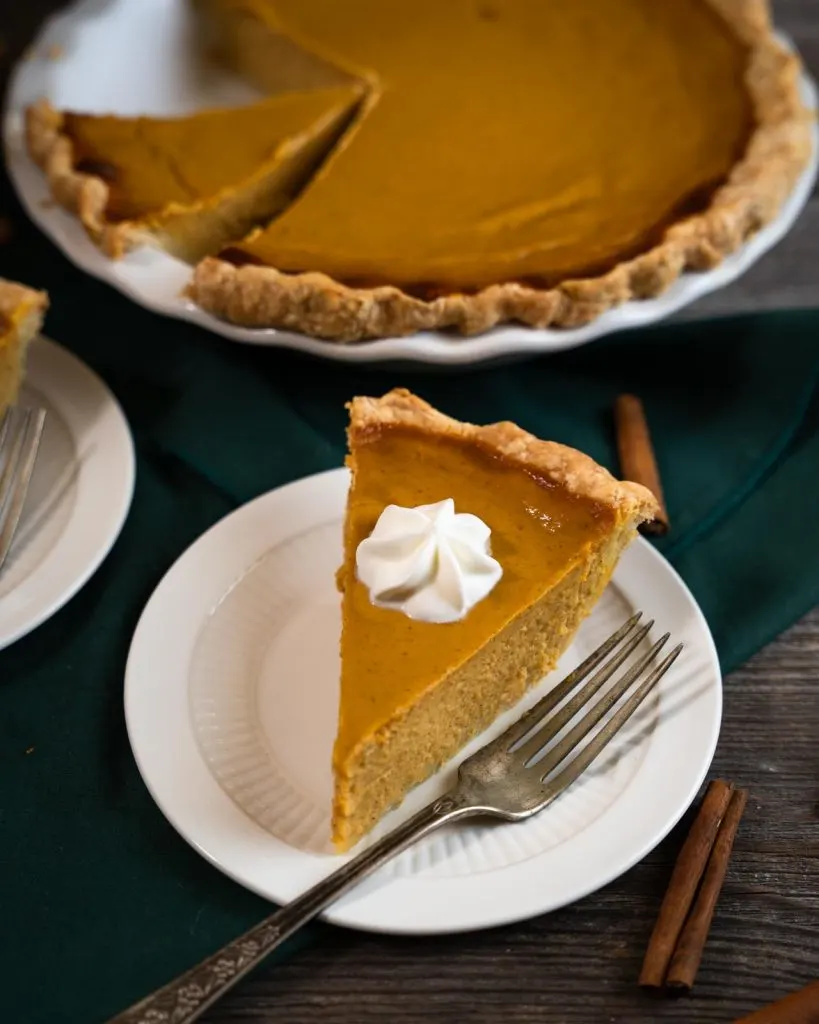 Why You'll Love Our Best Pumpkin Pie Recipe
This is a no-fail recipe!
Convenient. Make this pumpkin pie from scratch two days before you need it and keep it in the refrigerator or up to a month ahead and freeze it.
Texture Perfection. This pumpkin pie comes out with a thick, creamy filling without cornstarch.
Tradition Matters. Make this classic pumpkin dessert recipe everyone expects, but give them the best they've ever had.
What's so special about this Homemade Pumpkin Pie Recipe?
As much as I would love to take credit for creating this pumpkin pie recipe, this recipe is actually inspired by our Freaky Friday Blog Hop.
What is the Freaky Friday Blog Hop? Freaky Friday is a blog hop with some of my favorite food blogger buddies!
We secretly get assigned one another's blogs to make a recipe from, and then we all reveal who we had and what we made on the same Friday! The Freaky Friday blog hop is organized by our mastermind, Michaela, who runs An Affair From the Heart.

I was excited to get Debi's blog, Life Currents, for this round of Freaky Friday.
Let me tell you a little bit about Debi
Debi and I have been blogging buddies for a long time. She's one of those people that you feel you know and can just walk into a conversation with.
Debi and I have a lot in common. We both value sitting down for a meal with our families.
After stepping down from our corporate gigs, we both started cooking healthier food with whole, non-processed ingredients that are seasonally available. Debi primarily practices vegetarianism (with an exception) which I don't, but we do cook several vegetarian meals because they taste amazing.
Another thing we have in common is that we both like to learn and try new things.
You can find just about anything you're craving on Debi's blog. With this being the Fall edition of Freaky Friday, I dove into "comfort food." I'll be making her Tuna Cakes, and I have my ingredients ready to make her Braised Beef recipe. She doesn't lack desserts either! Just look at this Lemon Brûlée Tart! I'll guarantee you I'll be making that one.
Ultimately, I wanted to try a Pumpkin Pie from scratch. I love this one because it's not a pumpkin pie recipe with fresh pumpkins. I didn't have to bake and scrape my pumpkin for the filling. I've done that and don't believe the effort makes that big of a difference. (gasp)
Ingredients For Your Homemade Pumpkin Pie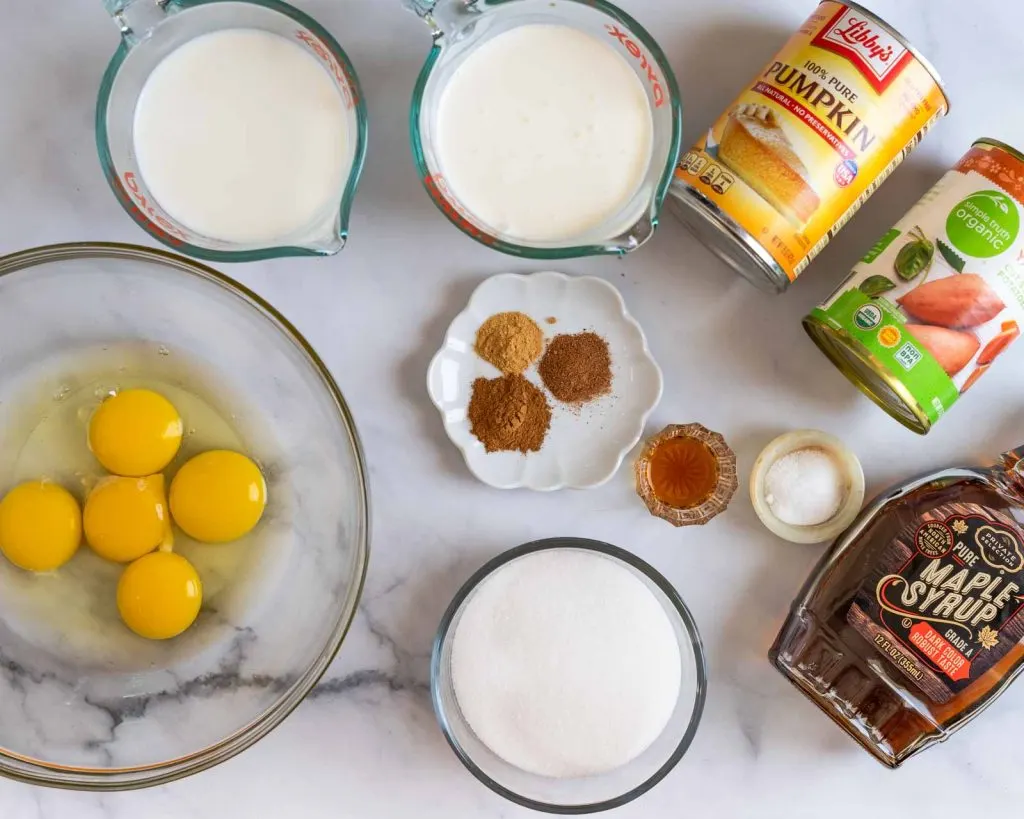 Heavy Cream. This is also called heavy whipping cream and is found near the milk.
Whole Milk. The richness and fat of whole milk are important for this recipe. It's a dessert, so don't worry about using low-fat ingredients.
Eggs. Large eggs are preferred for most recipes.
Vanilla Extract. Buy pure vanilla extract and avoid that labeled imitation vanilla which can sometimes have questionable sources.
Pumpkin Puree. Don't mistake this for pumpkin pie filling. Pumpkin pie filling already has sugar and spices in it. It's not the same as pumpkin puree and will not taste as good in this recipe.
Drained Candied Yams. This is the secret ingredient and improves the flavor of the pumpkin pie! Drain the yams from one fifteen-ounce can.
Sugar. White granulated sugar.
Maple Syrup. Using maple syrup adds such a nice flavor profile.
Ground Ginger. The original recipe calls for freshly grated ginger. Debi used ground ginger, and that's exactly what I would have done and did.
Ground Cinnamon. Saigon cinnamon is very fragrant and delicious!
Ground Nutmeg. Using ground spices ensures that every bite has a consistent flavor and spice level, and it's just right.
Finely Ground Sea Salt. You can substitute this for regular iodized table salt if that is all you have. I love using fine sea salt in recipes, though; you should give it a try.
One Pie Crust. I recommend our All-Butter Pie Crust Recipe!
As you can see, this recipe for Pumpkin Pie doesn't use evaporated milk or sweetened condensed milk. I promise you it doesn't need it.
Tools You'll Need For The Best Pumpkin Pie Recipe
Hostess At Heart participates in affiliate programs. As an Amazon Associate, I earn a commission from qualifying purchases. Please refer to my disclosure page for more information about these affiliate programs.
Please note, that the printable recipe card has ingredient quantities, complete instructions, and nutritional information. The following is a quick overview of the recipe.
How To Make A Homemade Pumpkin Pie
Step 1: Prepare.
Preheat the oven. Center the oven rack to the middle position and remove extra racks. Place an empty sheet pan on the oven rack.
TIP: Cover the sheet pan with foil for easy clean-up.
Step 2: Mix.
Whisk the cream, milk, eggs, yolks, and vanilla together in a large mixing bowl. Set aside.
Step 3: Cook.
Combine pumpkin puree, yams, sugar, maple syrup, ginger, cinnamon, nutmeg, and salt in a large heavy-bottomed saucepan (3 qt.) and simmer. Mash the yams against the sides of the saucepan as you stir.
Remove pan from heat and whisk in cream mixture until fully incorporated. Strain the mixture through a fine-mesh strainer and whisk again until smooth.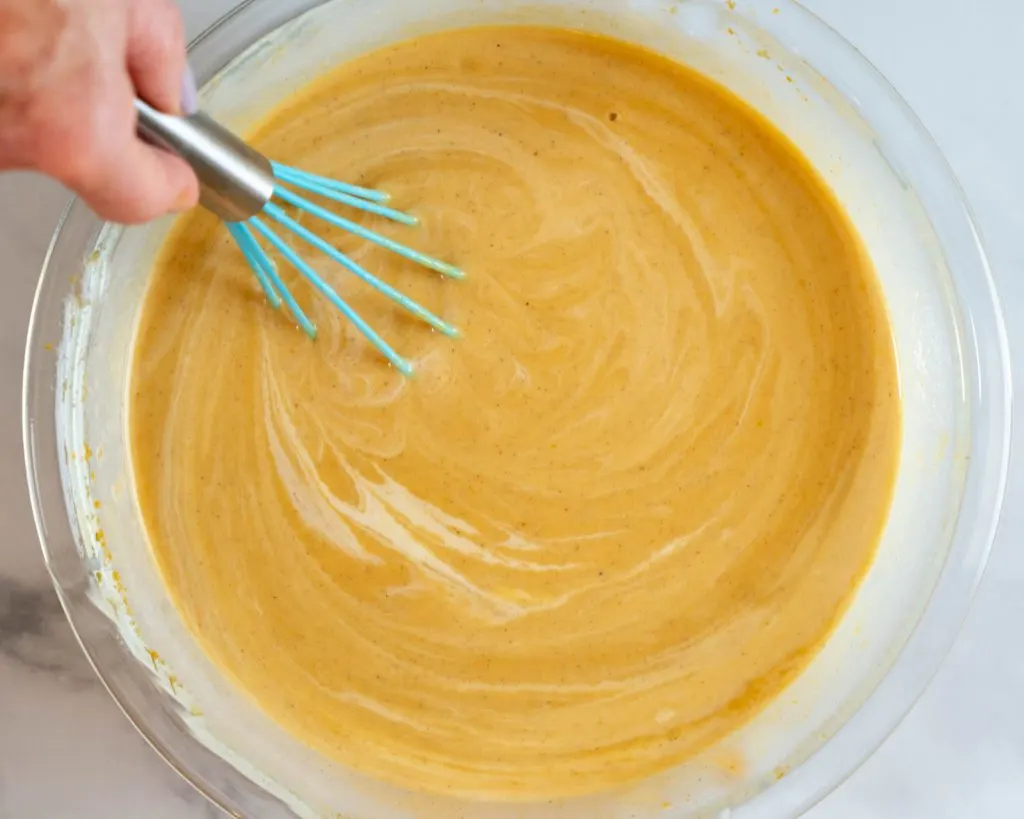 Step 4: Fill.
Place pie crust into the pie plate and carefully place the pie plate on the preheated baking sheet. Pour the pumpkin pie filling into the pie crust.
Step 5: Bake.
You will need to gradually reduce the temperature as you bake the pie, so follow the instructions carefully.
Step 6: Cool.
Set the pie on a cooling rack and let it cool completely before serving or refrigerator.
How do you know when pumpkin pie is done?
This pie sets from the outside in. So, it's done when the pie is set with just about a 2-inch center that is still jiggly. I also checked it with an instant-read thermometer inserted into the center. It's done when it registers 175° F.
Do You Need to Blind Bake the Crust?
No, you don't have to pre-bake the pie crust.
The original recipe has you "blind bake" the crust. However, Debi said she didn't. They preferred a pie-soaked crust, so I didn't pre-bake this crust.
I didn't for this pie, but will the next time (personal preference). I've given you the instructions for doing either method in the recipe card.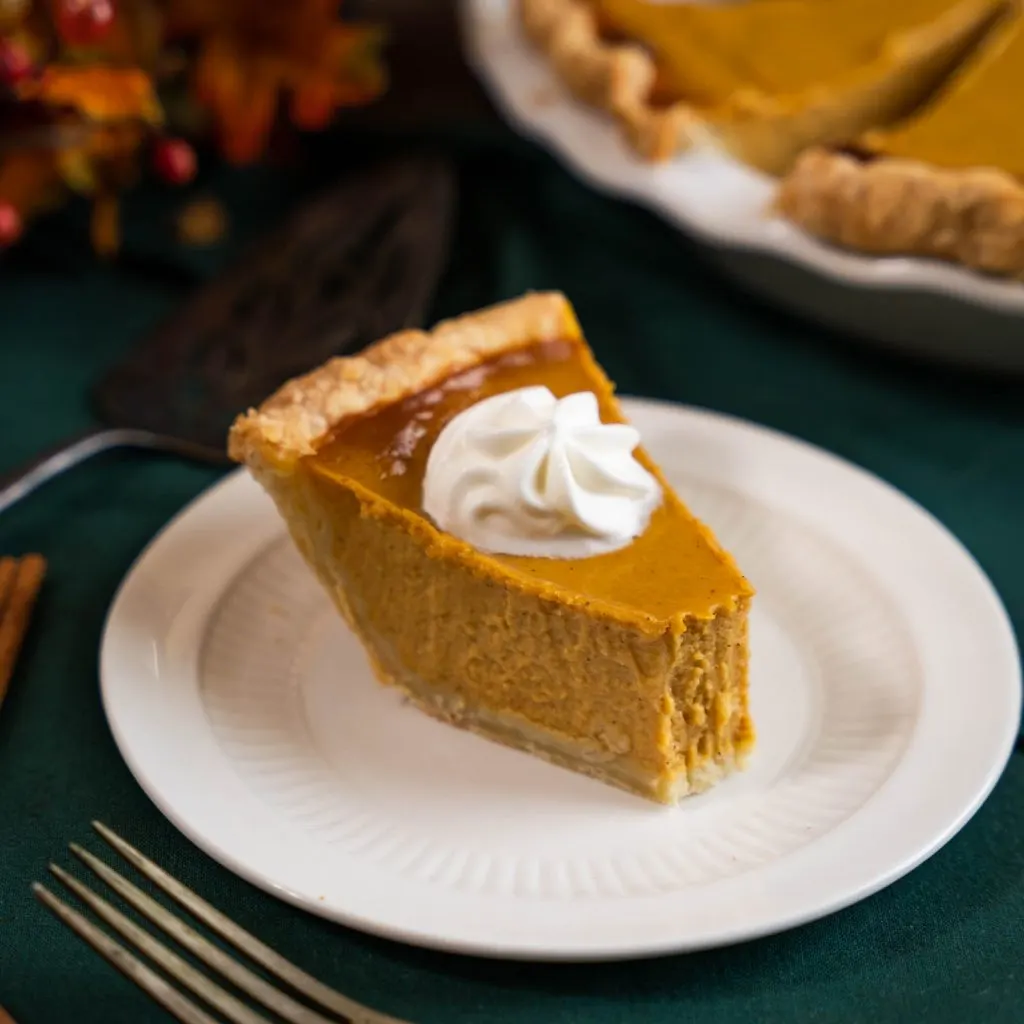 How To Reheat & Store Homemade Pumpkin Pie
Best Way To Store The Best Pumpkin Pie
Make sure the pie is completely cooled at room temperature. Cover it loosely with foil or plastic wrap and refrigerate for up to four days.
Can I Freeze Homemade Pumpkin Pie?
This pumpkin pie from scratch freezes amazingly well. You can freeze it whole in a pie keeper or other air-tight container. You can also freeze individual portions for a quick and handy serving of dessert.
How To Serve This Homemade Pumpkin Pie Recipe
You can serve this pie at room temperature the day it's made or chilled with a big dollop of whipped cream.
According to the USDA, you can leave the pie on the counter safely for a couple of hours, but make sure you refrigerate the leftovers.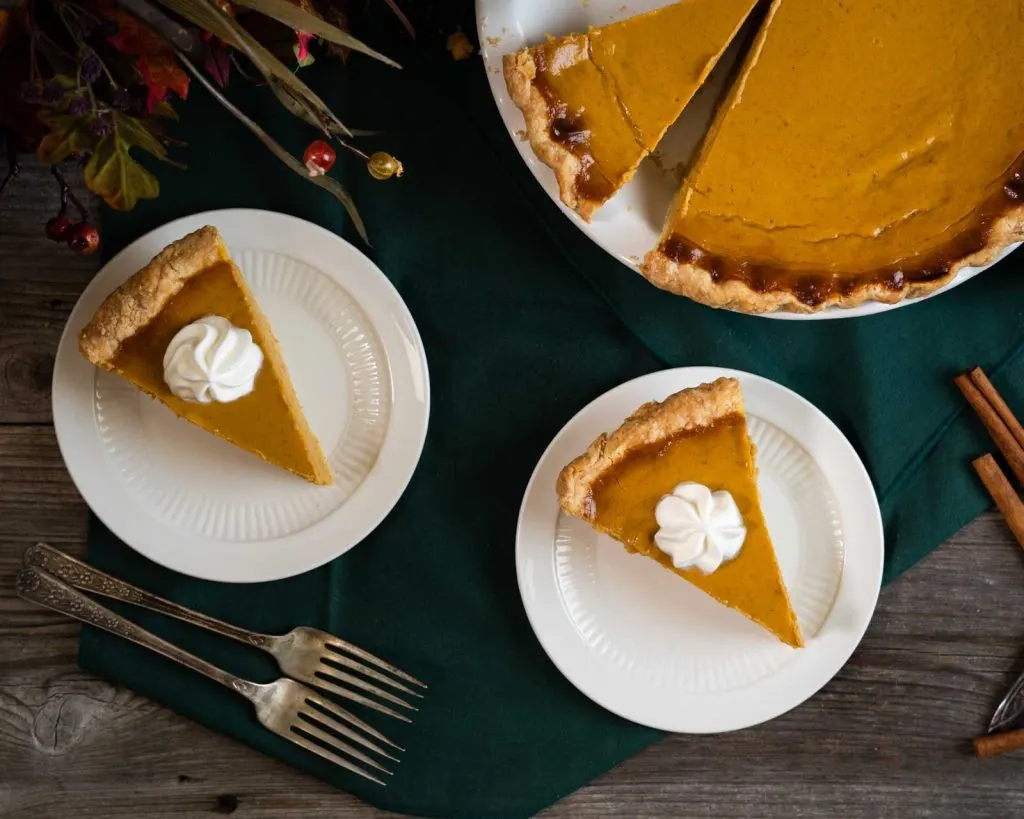 Best Pumpkin Pie Recipe FAQs
How do you avoid cracks in a pumpkin pie?
This pie goes into a hot oven for a burst of heat, but then the temperature is lowered for the remainder of the baking time. That and not overbaking your pie will help prevent cracks.
How do you keep pumpkin pie from sweating in the refrigerator?
Make sure the pie is completely cooled at room temperature before refrigerating.
Tips for the Perfect Pumpkin Pie
This recipe has you place your oven rack in the lowest position. In my oven, that rack tilts down making it difficult to push it back in without spilling the filling. I would move my rack up a notch or to the center.
Use a large pie plate. I had more filling than what my pie plate would hold. I used a deep dish 9-inch pie plate.

If you are buying your pumpkin pie crust, purchase one that will work with your pie plate, especially if you have a pretty one to use for the holidays.

You could definitely use this filling to make individual pies or pumpkin tarts.
What to Pair with Your Homemade Pumpkin Pie
This dessert does not need to be served with any other food, but you could pair it with a Black Gold Cocktail, a Salted Caramel Bourbon, or a Pumpkin Spice Latte boozy version or sugar-free version.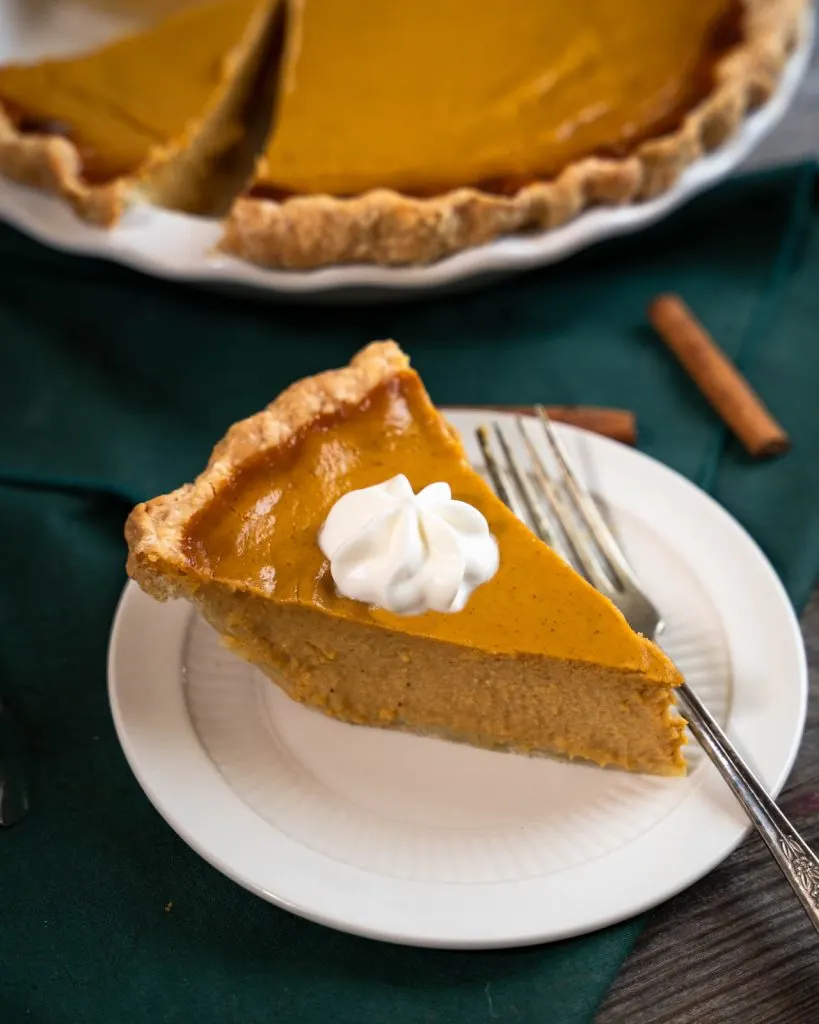 Other Pumpkin Recipes You'll Love
Don't Forget To Come Back And Let Me Know How Your Homemade Pumpkin Pie Came Out!
Oh, about my oven. Two weeks and $500 later and I'm back to baking.
I want to thank Debi for what I believe is The Best Pumpkin Pie recipe, and hope you will check out Life Currents and this mega talented, beautiful person.
See all of our 2022 Freaky Friday Fall Edition Recipes
Hosted by – An Affair from the Heart