Easy Vegetable Beef Soup is nutritious and delicious. It can be put together and on the table in a jiffy or cooked all day in a crockpot.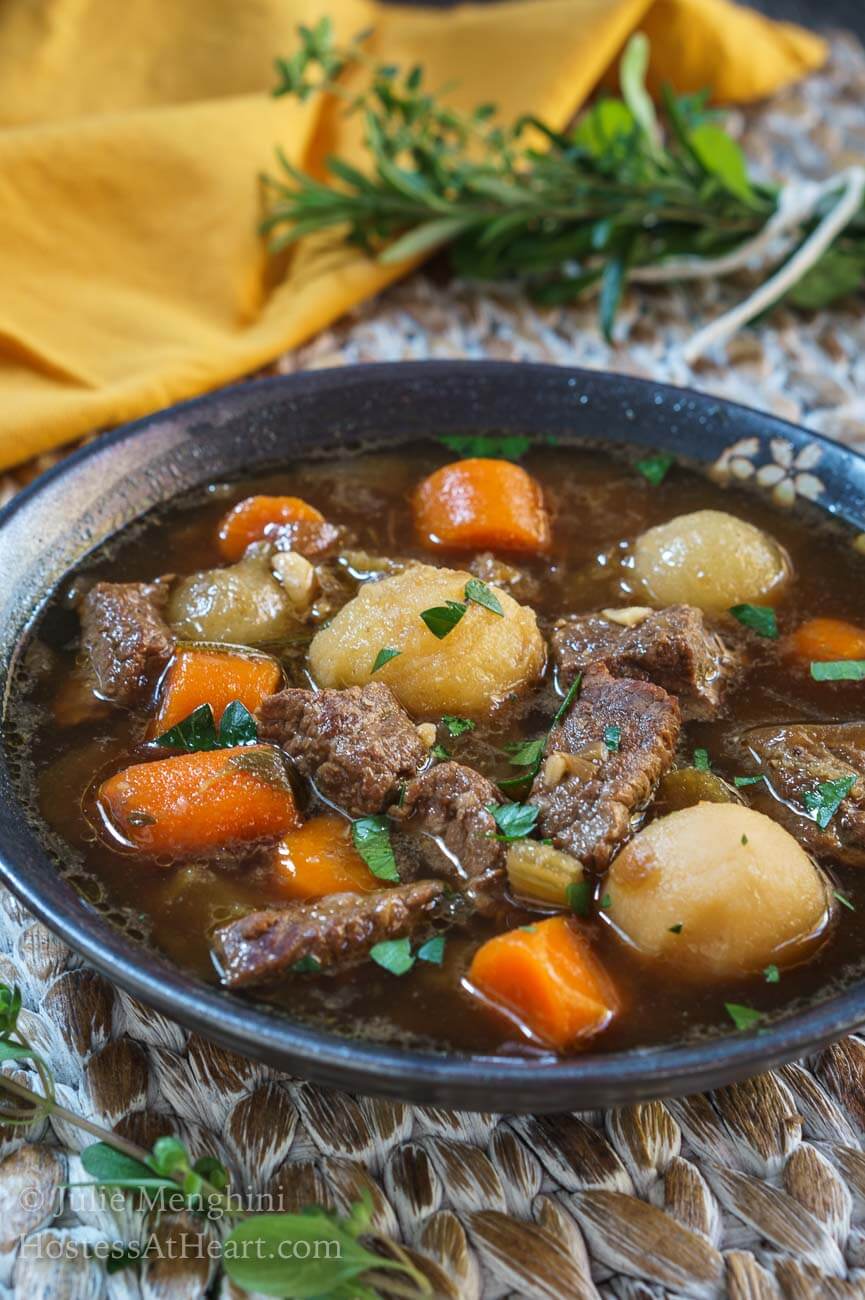 Vegetable Beef Soup is easy to put together when you're craving a homemade warm bowl of soup but don't feel like cooking it all day.
It's also one of those recipes that can cook low and slow in a slow cooker when you've got things to do.
I was at the grocery store one morning stocking up on what I needed for the week. It's getting cooler and I was craving soup and headed for the soup isle.
I tried to decide which variety I liked the most. The problem was since we make most of our own, none of them sounded that great. Time to put some Easy Vegetable Beef soup together!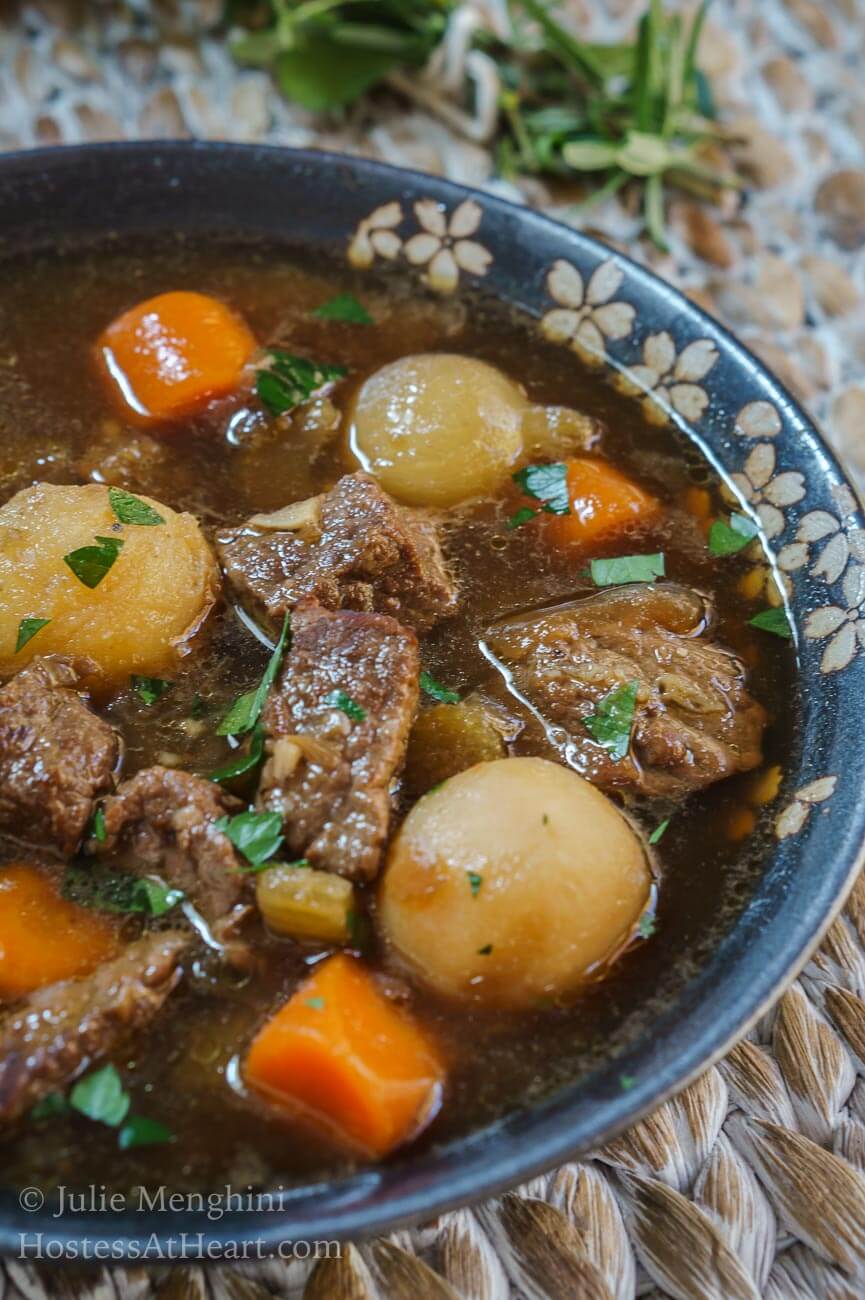 There has to be a problem when you look at the back of the can and there are 2 to 3 servings in a can! That's not going to keep me going for very long.
And then when you look at the sodium and calories on the label you realize reading labels cause heart attacks too.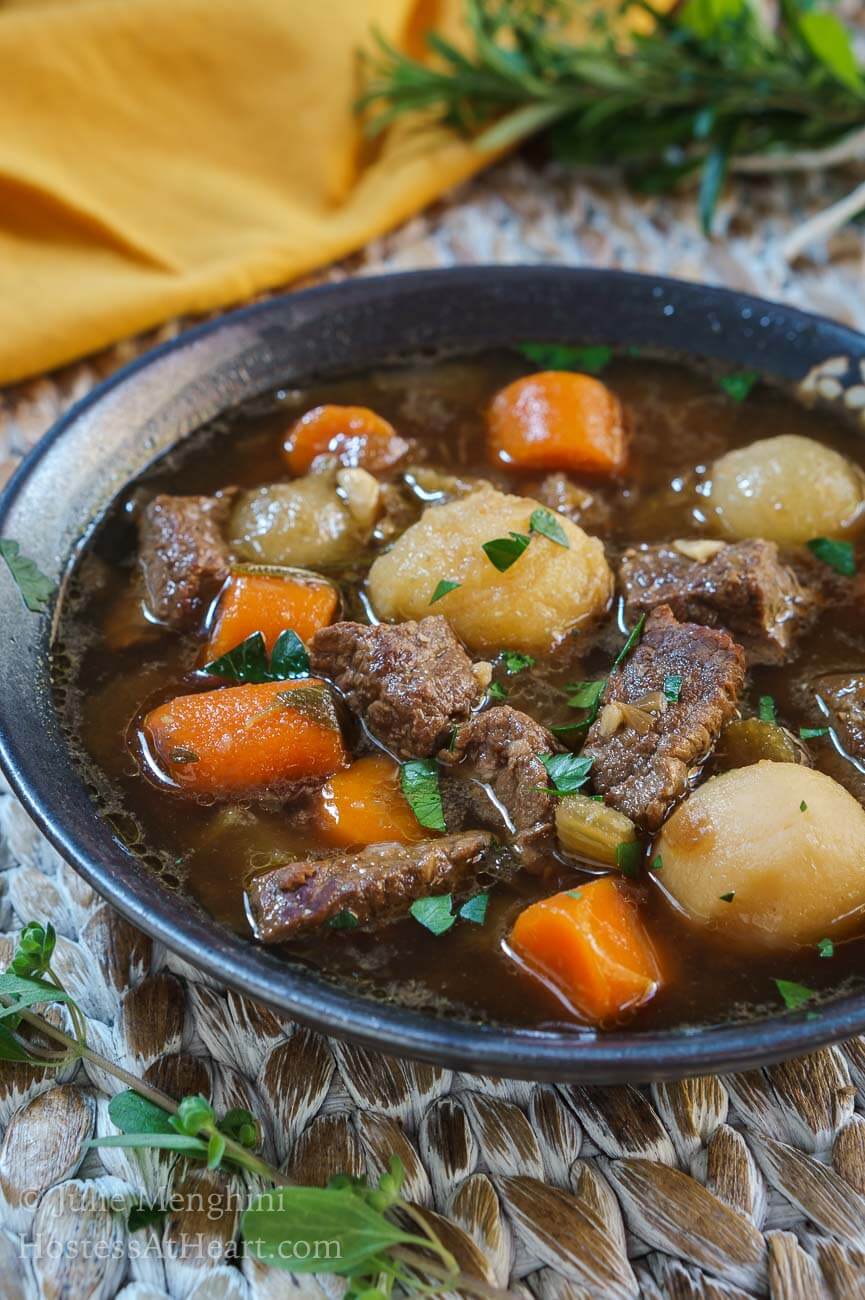 I decided we were going to have Vegetable Beef soup for lunch. It was going to be delicious and done in a jiffy. Soup doesn't have to cook all day to be delicious. This soup proves it!
Beef and Vegetable Soup Ingredients
Stew meat – you can purchase stew meat or cut up a small roast or steak.
Stew vegetables – we purchased frozen for this soup which is a time saver.
Beef stock – low sodium variety
Garlic – we always keep fresh available for mincing.
Worcestershire sauce
Salt and Pepper
Fresh or dried herbs – we used rosemary thyme, parsley, and marjoram
Olive oil – extra virgin
We could eat this soup every day. It's delicious and can be changed according to your tastes.
How to make Homemade Beef and Vegetable Soup
Add olive oil to a pot large enough to hold ingredients, 4 to 5 quart. Salt and pepper stew meat and brown it on all sides.
Add all of the remaining ingredients if you are using frozen stew vegetables.

If you're using fresh vegetables, precook them separately until they begin to soften. Then add them to the meat and broth.

Cook until ingredients are heated all the way through, or allow to simmer.
You could also just dump everything into a crockpot and cook it while you're gone or busy with something else.
Items we used
This soup doesn't take a lot of fancy equipment to put it together.
Still looking for soup recipes? Here are a few you may enjoy
What is your favorite bowl of soup? I have so many and when I put one together I make plenty so I can freeze it for the day that those cravings hit!