This Easy Vegetable Beef Soup recipe is nutritious and delicious. It can be put together and on the table in a jiffy or cooked all day in a crockpot.
This recipe has been updated to improve the readers, experience. No changes were made to the recipe.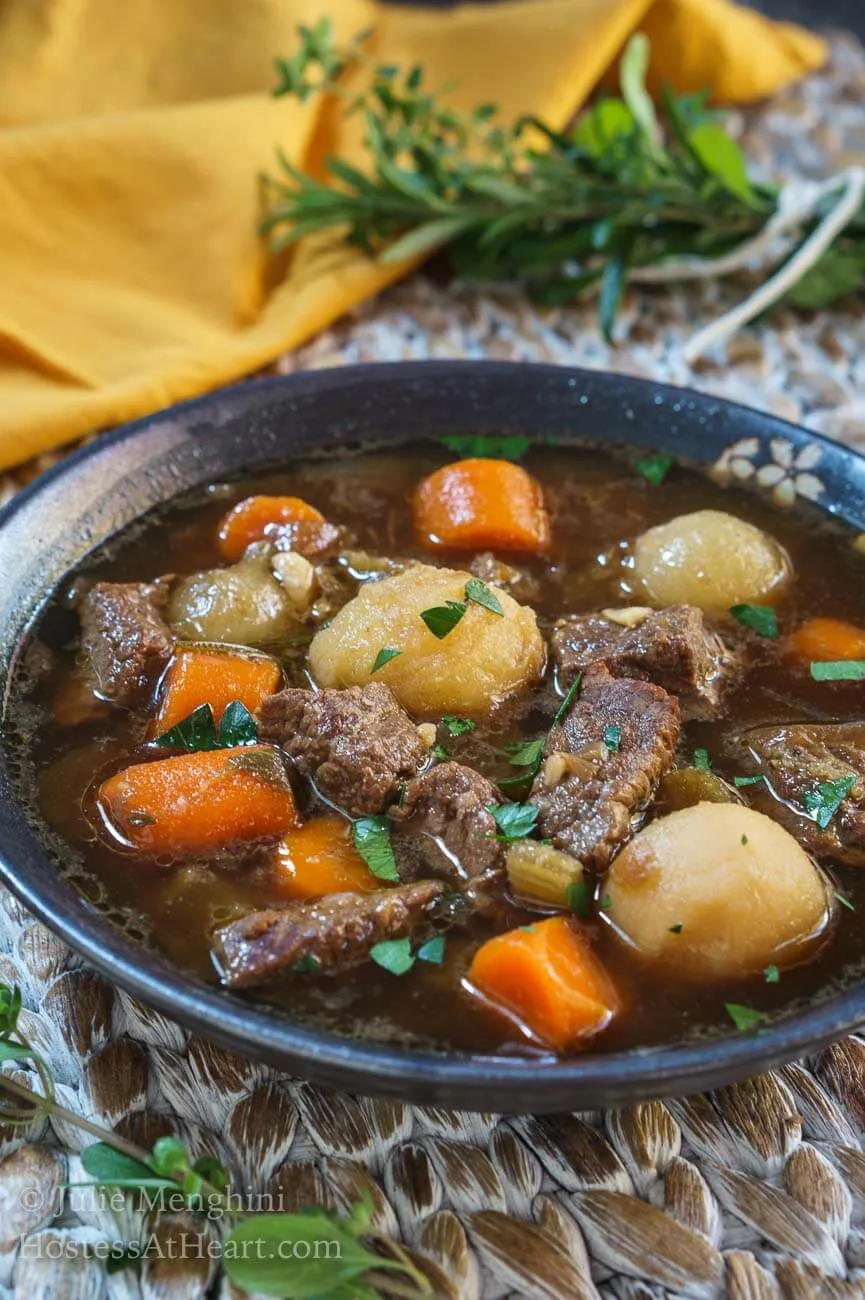 This Beef and vegetable soup recipe uses convenience ingredients like diced stew meat and frozen vegetables to take the extra work out of a good pot of soup without sacrificing flavor.
Why You'll Love This Recipe
Easy Comfort Food. Vegetable Beef Soup recipe is easy to put together when you're craving a homemade warm bowl of soup but don't feel like cooking it all day.
Convenient. Our Easy Vegetable Beef Soup Recipe is one of those recipes that can cook low and slow in a slow cooker when you've got other things to do.
Can be fast too. I decided we were going to have Vegetable Beef soup for lunch. It was going to be delicious and done in a jiffy. Soup doesn't have to cook all day to be delicious. This soup proves it!
Versatile. If you don't love one of the vegetables in this soup, swap it out! If you have fresh vegetables on hand that need to be used up, use those instead of frozen ones. You can make so many easy changes to this recipe to customize it to fit your family. It's very forgiving.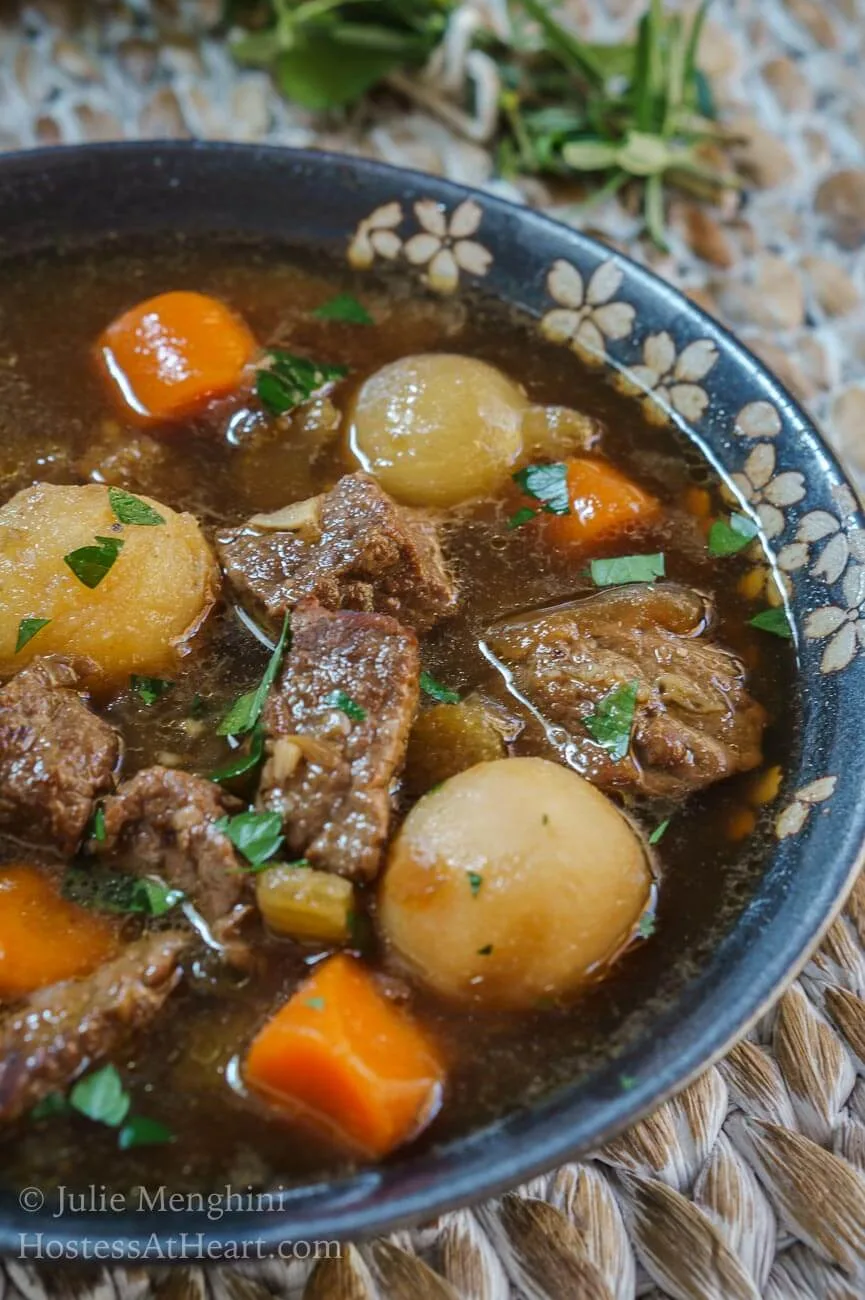 Equipment Needed
Dutch oven. You'll need a 4-5 quart pan to make this soup. It can be a dutch oven or a stock pot.
Ladle. That's it! No fancy equipment is needed for this recipe.
Ingredients for Vegetable Beef Soup Recipe
Stew meat. You can purchase stew meat already cut up and ready, or you can cut up a small roast or steak.
Stew Vegetables. We purchased frozen for this soup which is a time saver. If you want to use fresh, that's certainly going to work.
Beef Stock. Use the low-sodium version.
Garlic. We always keep fresh garlic available for mincing and it does add beautiful flavor.
Worcestershire Sauce. This classic sauce adds umami to the soup.
Salt and Pepper. To taste.
Fresh or Dried Herbs. We used rosemary thyme, parsley, and marjoram.
Extra Virgin Olive Oil. For sautéing.
We could eat this soup every day. It's delicious and can be changed according to your tastes.
Please note, that the recipe card has more complete instructions. This is intended as an overview.
How to make Vegetable Beef Soup Recipe
Step One. Sauté the meat for a quick vegetable beef soup.
Add olive oil to a pot large enough to hold ingredients, 4 to 5 quarts. Salt and pepper stew meat and brown it on all sides.
Step Two. Fill the soup pot and let it simmer.
Add all of the remaining ingredients and cook the soup until everything is heated through. If you're using fresh vegetables, precook them separately until they begin to soften. Then add them to the meat and broth. If you aren't in a hurry you can let the soup simmer for about twenty-thirty minutes with fresh or frozen veggies.
Alternative Way to Make Easy Vegetable Beef Soup
You could also just dump everything into a crockpot and cook it while you're gone or busy with something else.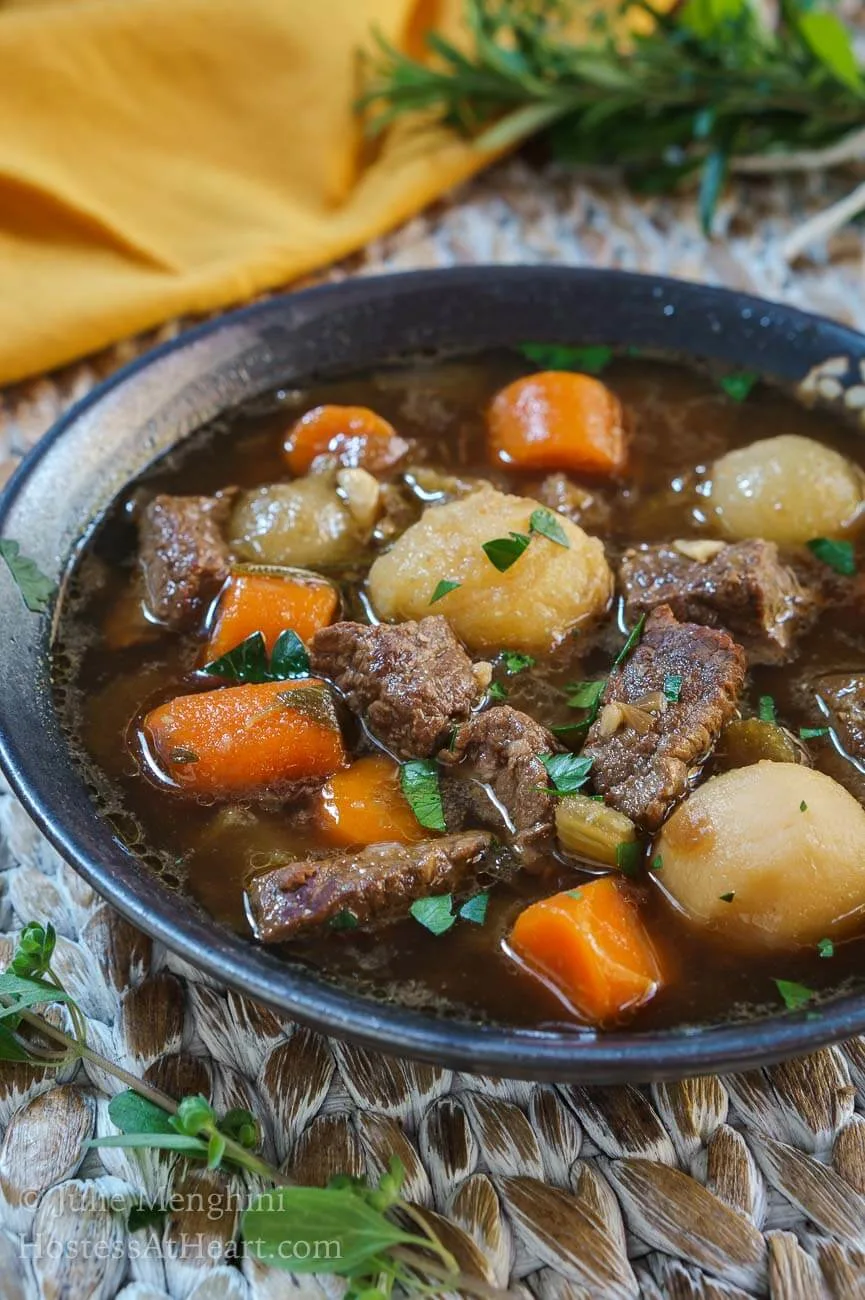 What To Serve With Your Vegetable Beef Soup
This soup is fantastic with nice crusty bread from the bakery or homemade, freshly made cornbread or homemade soft potato bread. It also works nicely with your favorite salad.
Substitutions – Additions – Variations
We used frozen stew vegetables. Here are some other things you could include:
Butternut Squash
Lentils
Broccoli
Mushrooms
Fresh Spring Peas
Dried Split Peas
Barley
Use cooked ground beef or another protein.
Leftover meat from another meal works great.
How To Reheat & Store Quick Vegetable Beef Soup
Best Way To Store Easy Beef Vegetable Soup
Keep your cooked leftover soup in an airtight container in the refrigerator for two days.
Can I Freeze/Thaw Beef and Vegetable Soup
Yes. Freeze in individual airtight containers for quick and easy thawing in the microwave at work or school. Freeze the entire soup in a large container to reheat it on the cooktop in a stock pot. It will keep for up to three months.
How To Reheat Easy Beef Vegetable Soup
The easiest way to reheat soup is in the microwave. Stir frequently to prevent pockets of intense heat from forming. Add additional broth or water if needed.
You can also reheat the soup quickly on the cooktop in a saucepan. Reheat only what you need because once it is reheated it should not be stored again.
Pin it now!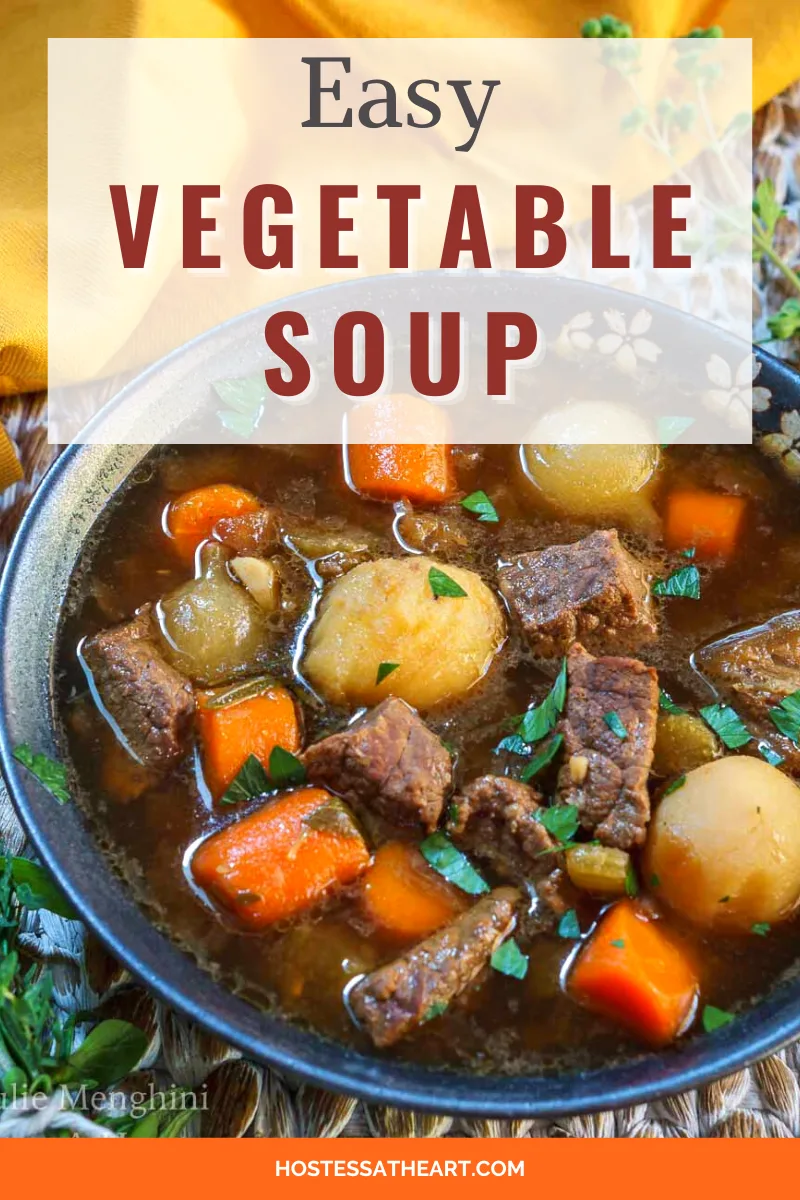 Frequently Asked Questions
How do you make soup taste better?
Spices and fresh herbs will definitely improve the flavor of your soup. Sometimes, age also improves the flavor of a soup like this.
Why you shouldn't boil this Vegetable Beef Soup Recipe?
Boiling breaks down the fat and proteins causing the stock to become cloudy. Simmering keeps the stock clearer and will keep the proteins and fats from separating.
How do you thicken beef vegetable soup?
Dissolve 2 tbsp of any flour into 1⁄2 cup of water and pour it into the soup. Note that the soup will not begin to thicken until it comes back to a simmer.
Tips to Make the Perfect Vegetable Beef Soup Recipe
Don't crowd the meat when browning.
If you've got the time, cover the meat with the stock and let it cook for 20 minutes before adding the vegetables so the meat is tender.
When buying stew meat check the price. It's often more economic to buy a chuck roast and cube it up yourself.
Trim the meat of large pieces of fat but some marbling adds flavor and assures that the meat will be tender.
If you tried this delicious recipe, don't forget to rate it and leave me a comment telling me what you think. I love hearing from you!
If you enjoyed this recipe, take a look at these!
What is your favorite bowl of soup? I have so many and when I put one together I make plenty so I can freeze it for the day that those cravings hit!