Caramelized Onion Gouda Casatiello is a soft and dreamy adaption of an Italian Brioche. This loaf is loaded with flavor from bits of caramelized onion and gouda cheese.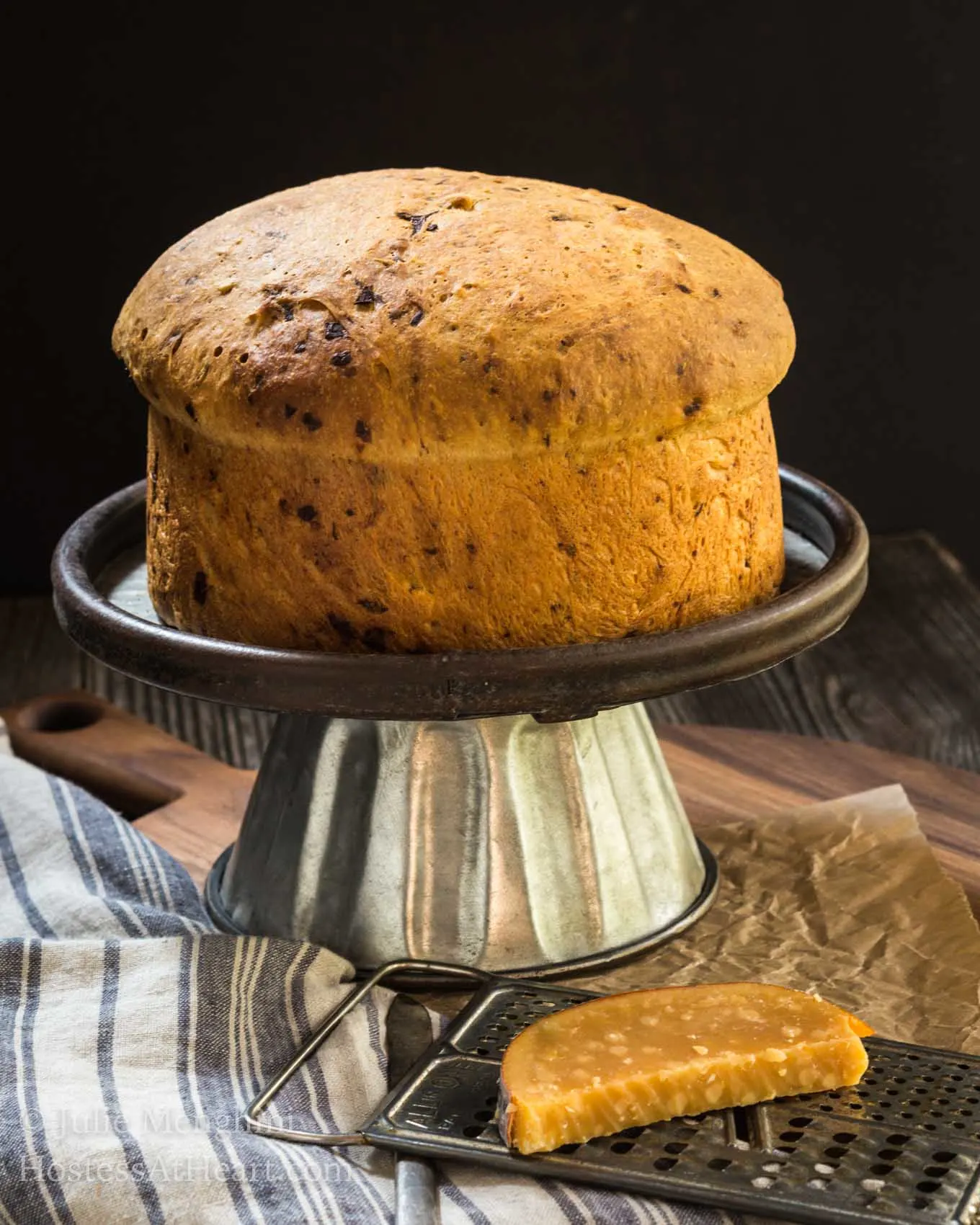 One of the great things about this time of year is with the cooler weather I just love firing up my oven. I love to bake, and I especially love to bake bread. So when this month's BreadBaker Host blog: Karen's Kitchen Stories stated the theme was root vegetables, I had a heck of a time deciding what to make. This Caramelized Onion Gouda Casatiello was a great choice!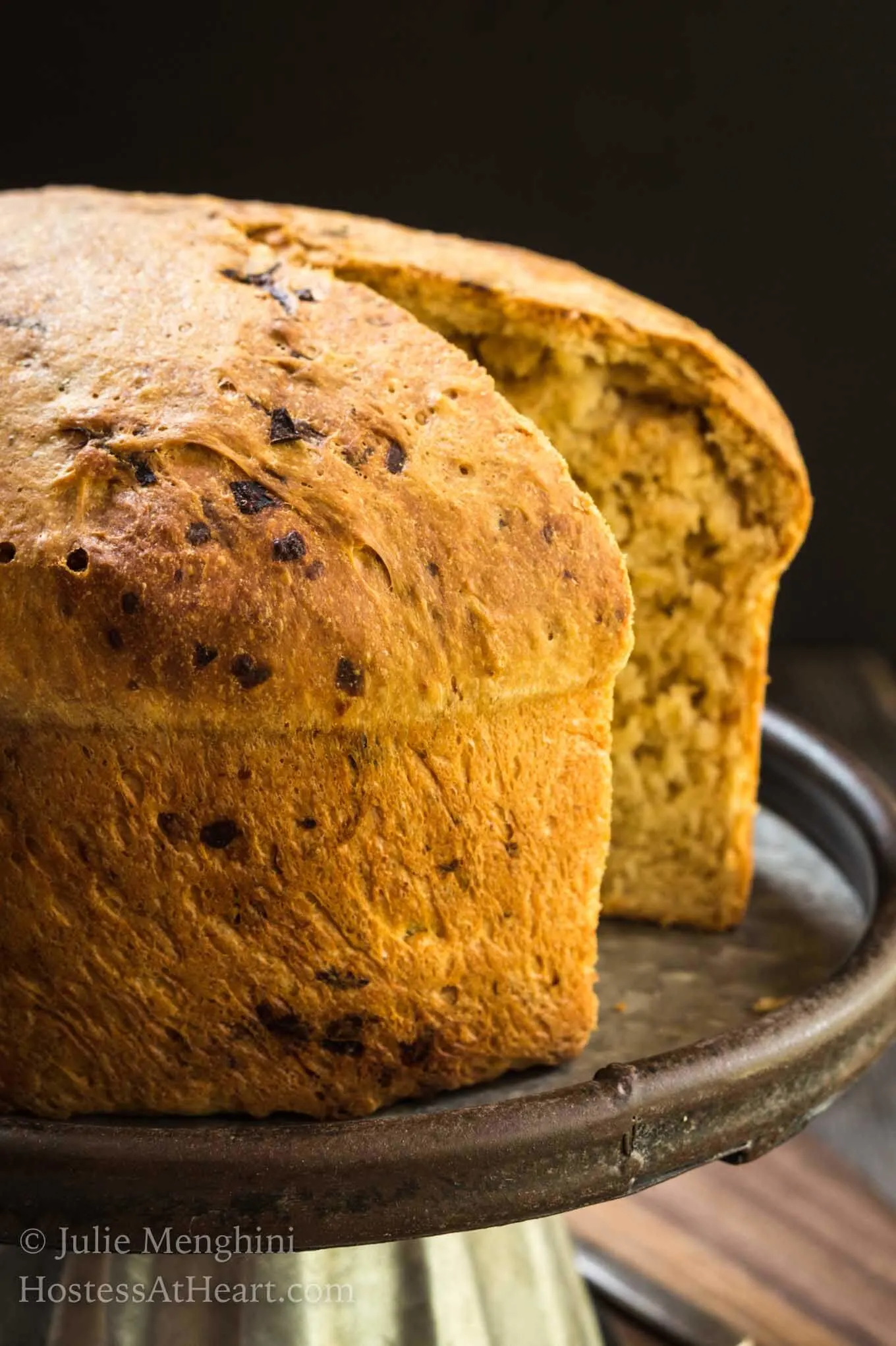 I've never heard of Casatiello. I read that it is an Italian version of a Brioche. It traditionally contains meats such as salami and flavorful cheeses and baked in paper bags or a Panettone mold.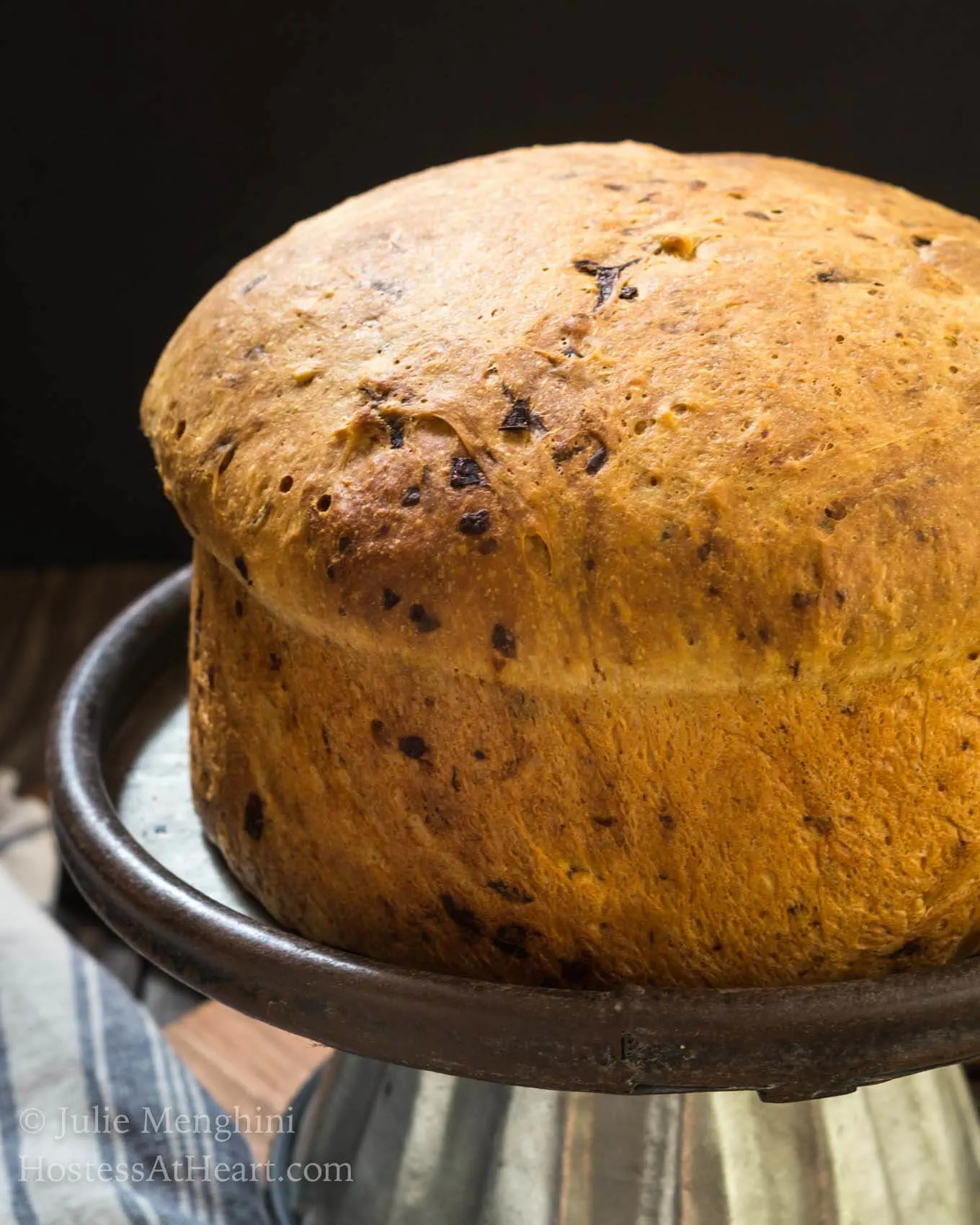 The last time I shopped at one of the large membership stores I bought a big bag of onions that I couldn't finish so decided to caramelize them…in the crockpot! I had those caramelized onions in my freezer and this bread was the perfect time to use them.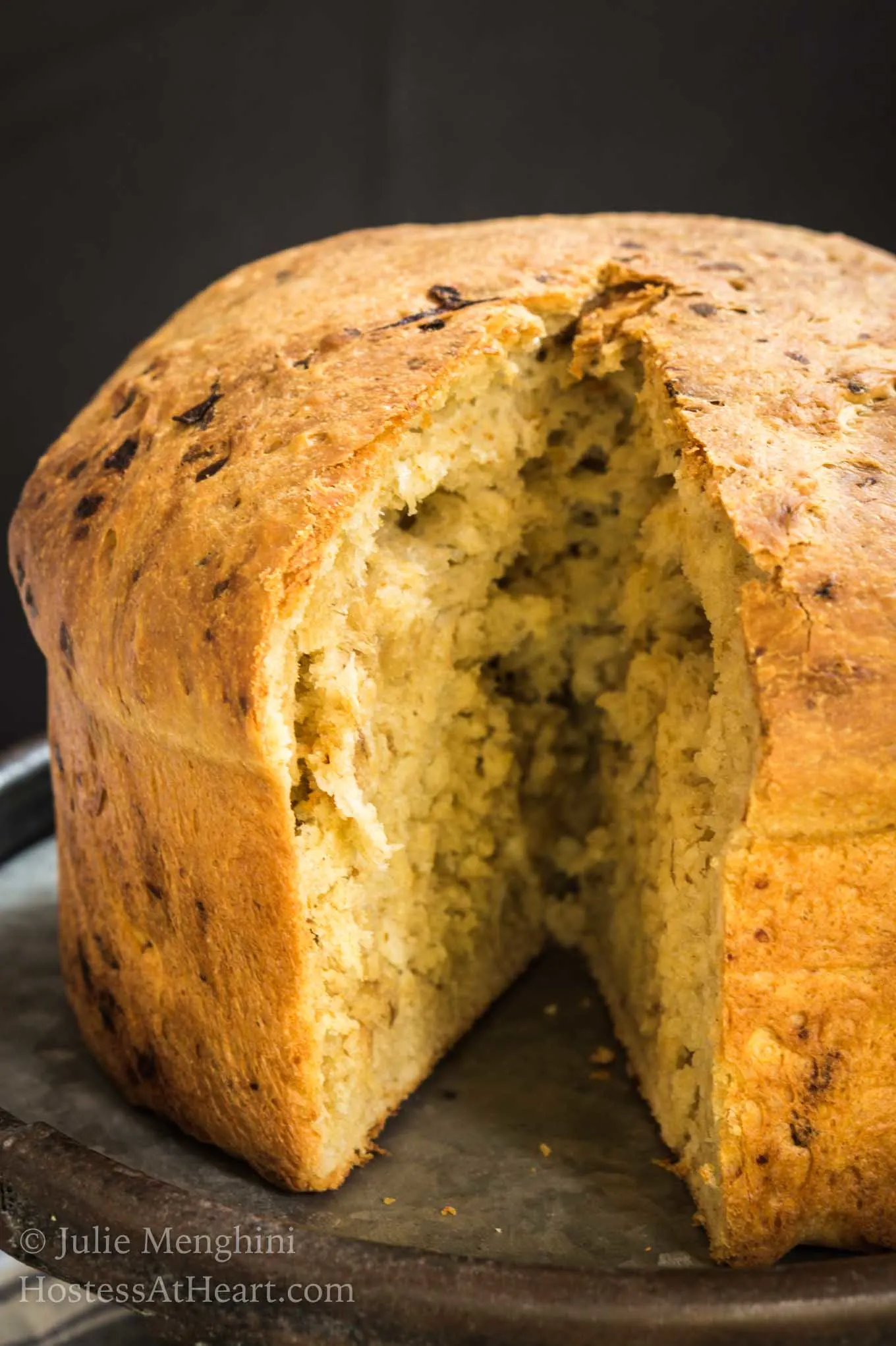 I baked this bread in a tall-sided 8-inch cake pan. The recipe said I could use a 9×5 loaf pan or brown paper bags put in large enough coffee cans to hold it.
My bread had such a beautiful rise that I could have probably put it in a 9-inch cake pan. There is no way it would have worked in a 9×5 loaf pan. This baby rose like it was on steroids.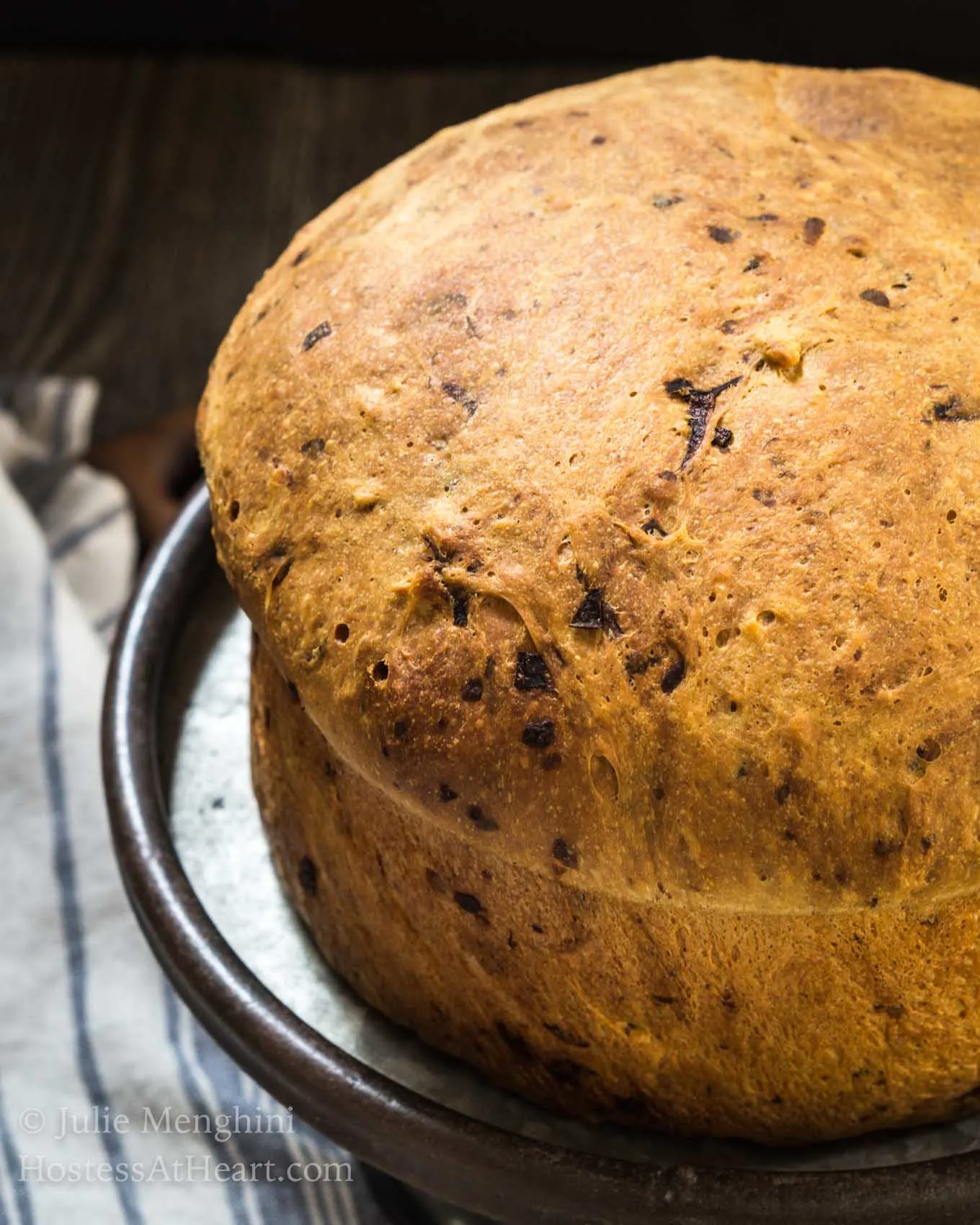 The second raise said to let it rise until it reached the top of off the pan, about 90 minutes. I think it took only 45 minutes and she was peaking over the top. Do you get as excited about dough performance as I do? Sorry folks, I'm a self-proclaimed bread nerd.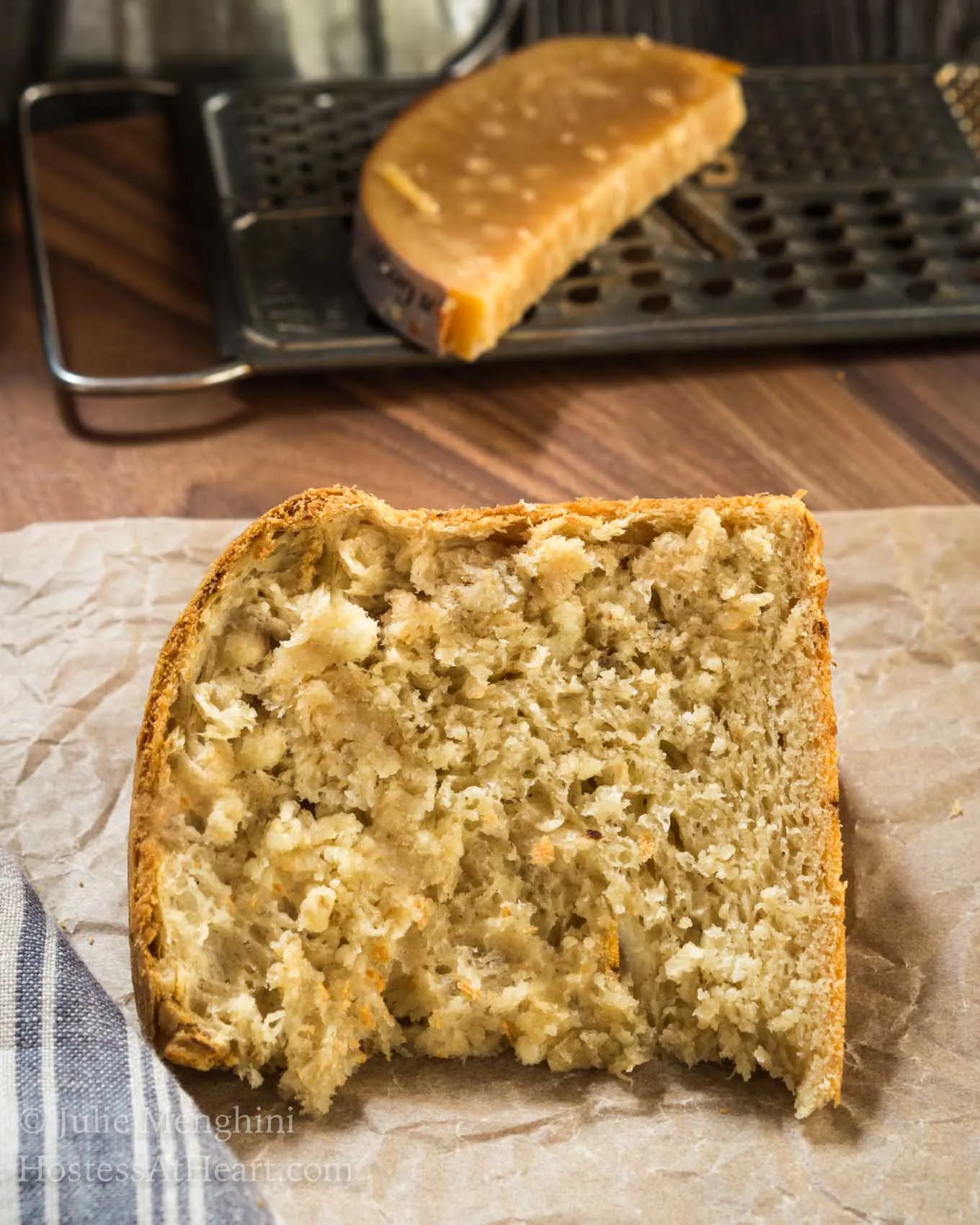 This bread tasted so warm, savory and delicious. My biggest problem was cutting this slice before my bread was cooled so I mutilated it a bit but I just couldn't wait to dive in.
Don't have time to make it now?

Pin it

for later!
The right supplies will make your bread baking success a surer thing. In this recipe. I used 8″x3″ round cake pan and my favorite instant-read thermometer.
One of the things that I love is looking at all of the wonderful recipes that all of the other #BreadBaker participants bring!
#BreadBakers is a group of bread loving bakers who get together once a month to bake bread with a common ingredient or theme. Follow our Pinterest board right here. Links are also updated each month on this home page.
We take turns hosting each month and choosing the theme/ingredient.
If you are a food blogger and would like to join us, just send Stacy an email with your blog URL to [email protected].
I love this Bread Bakers Group. Here are a few of my other Recipes!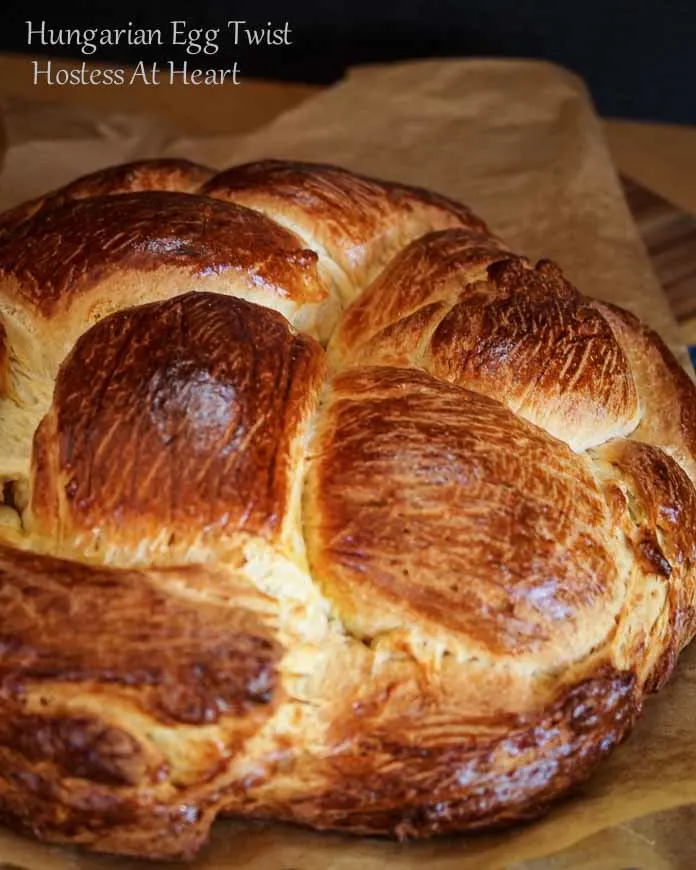 Cherry Almond Kugelhopf Bread Recipe