Hasselback Butternut Squash with Bacon and Apple is sweet, savory, and smokey. This tender and delicious butternut squash recipe is delicious oven-baked or grilled.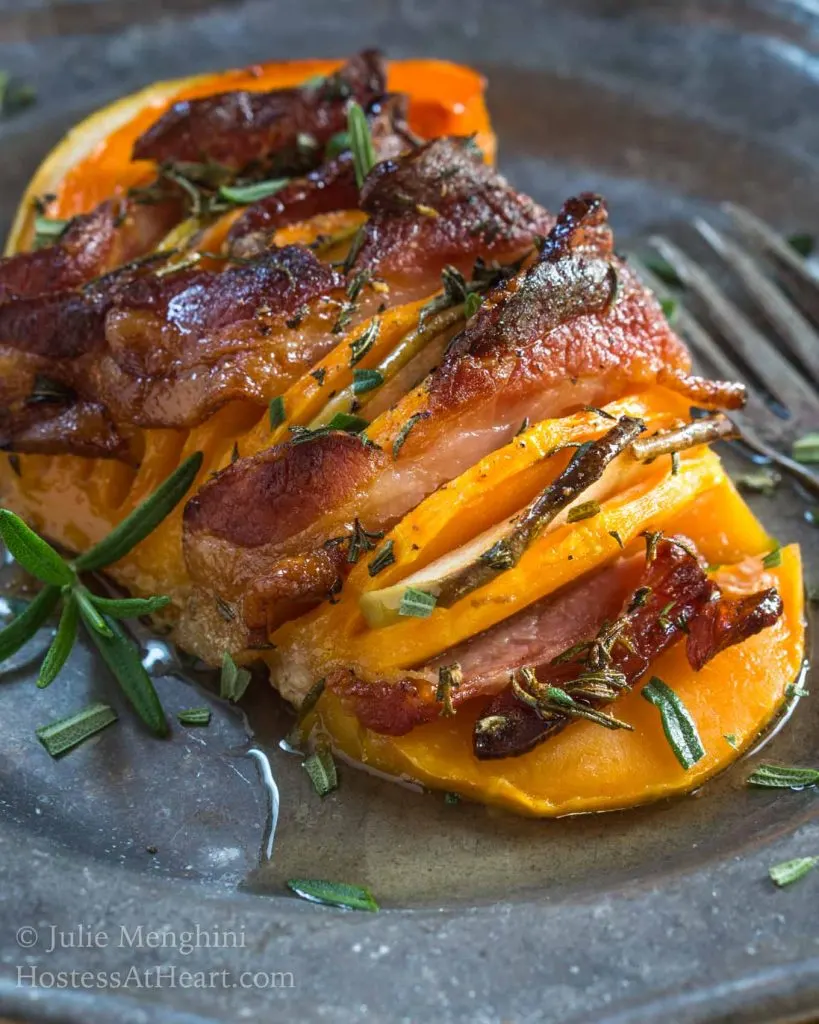 Hasselback Butternut Squash recipe is naturally sweet and buttery. Stuffing it with bacon and apple makes it a show-stopper!
This simple recipe turns out tender and delicious whether it's oven-baked or grilled. It makes a great side dish or a complete meal.
Our recipe is a no-fuss butternut squash recipe can easily be made vegetarian or vegan.
We love cooking squash. It's delicious in so many ways. It's also very versatile.
WHAT WE LOVE ABOUT SQUASH!
Any recipe that you use with sweet potatoes or other squash varieties can be exchanged with butternut squash. The density and mild flavor are very much the same.
Squash is loaded with vitamins and fiber.
Pin it now!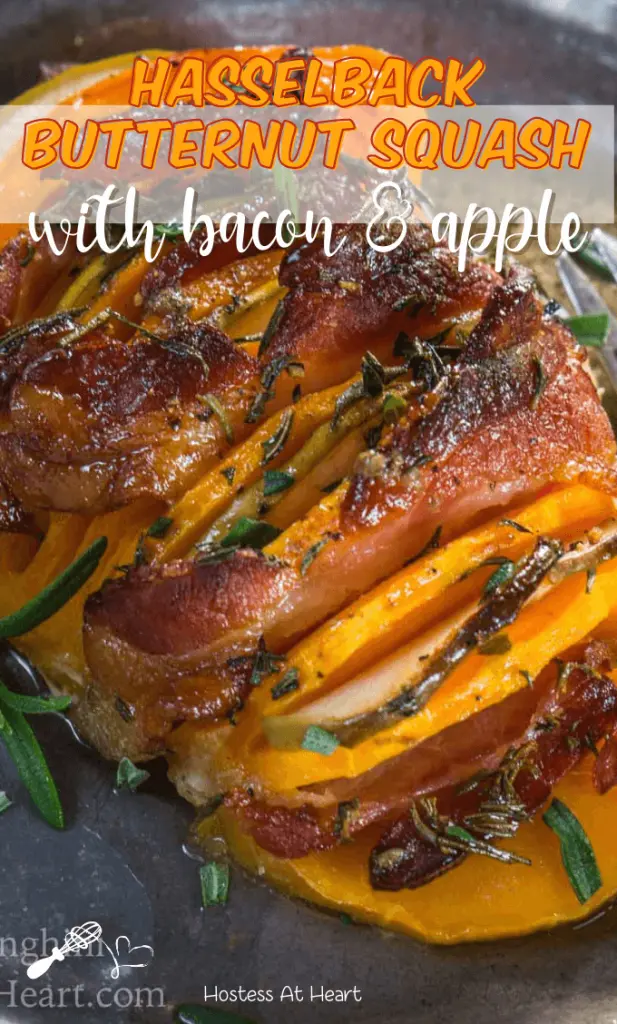 How to choose the perfect Butternut Squash
You can find butternut squash in grocery stores all year long. However, the peak time is summer through fall.
Butternut squash should be a beige color and the peeling should have a matte look.

If it's shiny, it's not ripe yet.
It's alright to have blemishes but you don't want any punctures or cuts.

Pick a squash that feels heavy for its size and you want the stem intact. That will keep the squash fresh longer.
So many squash varieties store amazingly well. By keeping squash in a cool, dark, and well-ventilated area, they will last for 3 months or more.
Check the squash regularly. Once they start to soften or show signs of rot, it's time to throw them out.
Grocery list for Hasselback Butternut Squash with Bacon
Butternut Squash – This recipe makes 4 side dish servings using only one squash.
Bacon – Use your favorite! We like the thicker hickory-smoked variety.
Granny Smith Apple – These apples are firm and can bake at the same rate as the squash.

Braeburn and Honey Crisp are also among our favorite apples to bake. Resist the softer varieties.

Vegetable Stock or Broth – We use low-sodium.
Herbs – Fresh herbs go so well with the flavor profile of a naturally sweet squash. We love rosemary, thyme, sage, or marjoram. Use one or mix them up.
Maple Syrup – This does two things.

It adds another sweet flavor to the naturally sweet butternut squash.
It also helps the other ingredients bind with the squash.

Pepper – We like the contrast with the other flavors.
Note – We don't salt the squash because of the salt the bacon adds. If you skip the bacon, you can salt it.
We love adding butter and brown sugar to our baked squash recipes but it's not needed in this recipe!
Now, there is bacon…lots of bacon, and I just can't apologize. Hasselback Bacon Apple Butternut Squash is delicious!
How to Bake Butternut Squash
We decided to cut it using the Hasselback method for a couple of reasons.
Squash is a dense vegetable. Slicing it thinly helps the whole dish cook at the same rate. It also helped to infuse more apple and bacon flavors into the squash.
Wash the entire squash. We use a vegetable brush.

Any bacteria on the outside of the squash will be transformed into the flesh when you cut it.

Remove the stem and microwave the entire squash for 3-1/2 minutes.

This short spurt will make cutting the squash easier to cut open.
Handle it with a potholder or paper towel. Even though it doesn't bake the squash, it will be hot.

Peel the squash with a vegetable peeler.
Cut the squash in half and scoop out the seeds.

We use a large spoon but you can also use an ice cream scoop.

Slice the squash into 1/4-inch slices.

Be careful not to cut through the bottom. If you do, don't worry, it will still be delicious.
We use this thicker slice because it is consistent with the size of our bacon and apple slices.

Insert the bacon and apple slices alternating in between the squash slices.
Combine the vegetable stock and maple syrup and pour it over the squash.

We don't pre-bake our squash before adding the ingredients so we use a 9×13 baking dish to catch the liquids.
If you grill this recipe, use a dish that's safe for the grill or wrap it in aluminum foil and set it in a grill-save pan. we open the foil for the last 20 minutes to let it gain color and crisp the bacon.

Sprinkle the squash with pepper and herbs
Bake until fork-tender, approximately 1 hour.

We spoon the juices over the squash a couple of times while it's cooking and will garnish it with fresh herbs after it's baked.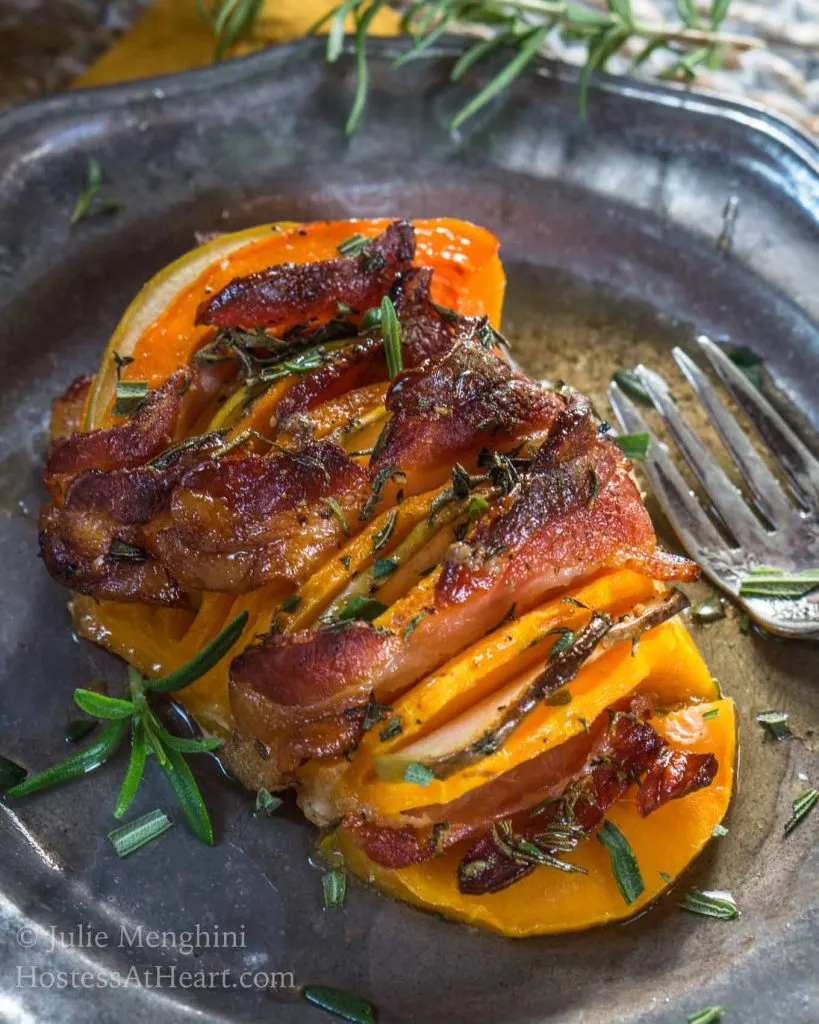 One squash is a good four servings.
The first half pictured above was cooked on a grill at about 375°F using lump charcoal. This is a 25°F warmer than the oven to compensate for losing heat when we spoon the juices over the squash.
The second half pictured below was oven-baked at 350°F.
They were both amazing and as you can see no differences.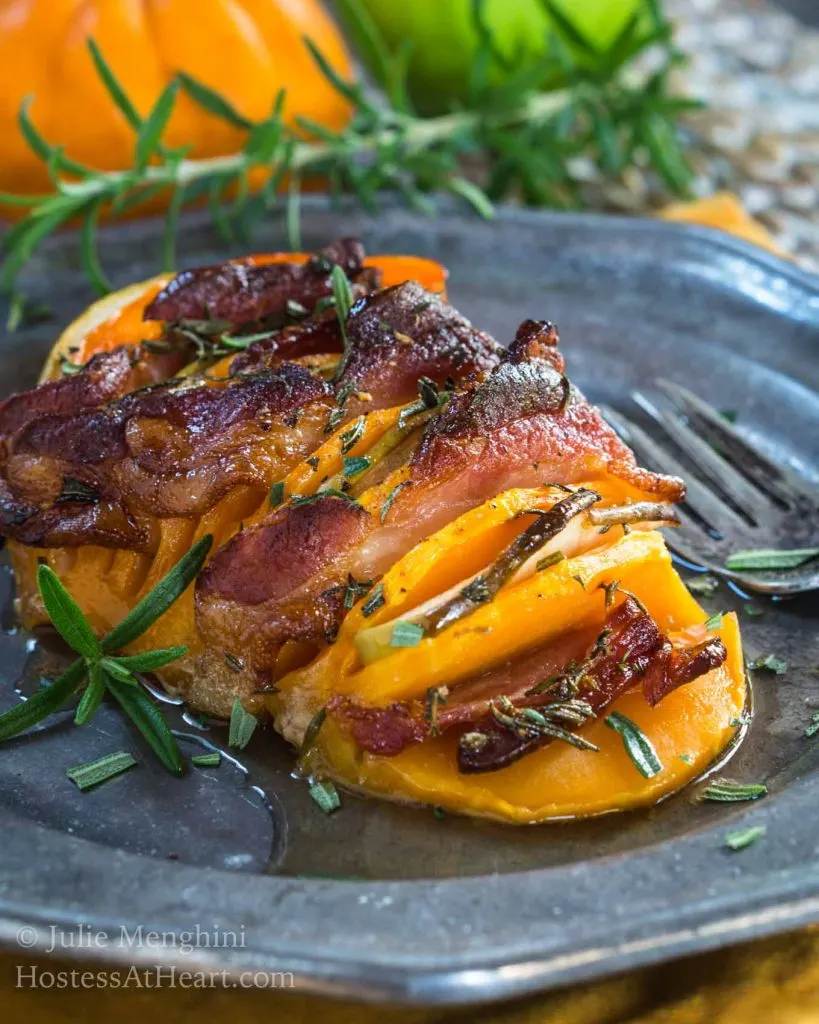 If you enjoy this recipe, here are a few more you may like
If you like this recipe, we would appreciate your comment and a 5-star ⭐️⭐️⭐️⭐️⭐️ review!
Even though we didn't add a bunch of butter and sugar to this recipe, you would never know it. It tasted sweet, tender, and buttery all by itself. The apple, herbs, and bacon gave it a great savory contrast.
We are eating so much more squash than we used to, and this is one of our favorite ways!
I'd love it if you'd leave me a comment and let me know what your favorite way to eat squash is!
If you're still looking for a few veggie dishes here are some of my favorites!