This Roasted Butternut Squash Soup will warm you from the inside out. Roasting the squash makes the natural sweetness shine and allows you to make creamy butternut squash soup that's dairy-free.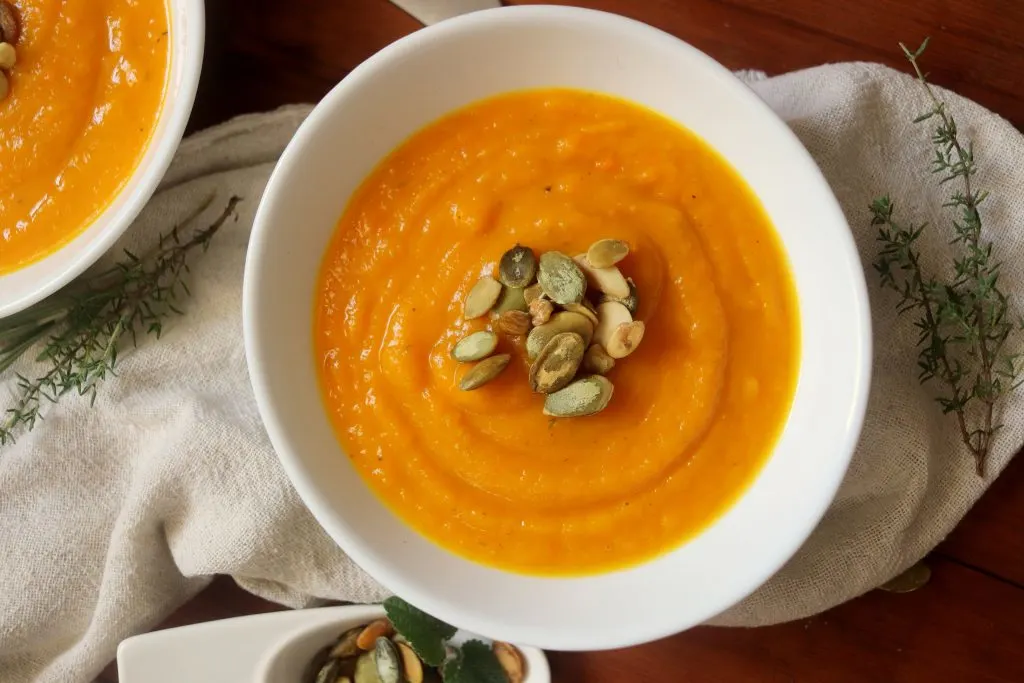 I grew up eating squash but realize that if you didn't it could be intimidating cooking and eating it. I'm giving you a few tips that will have you making all kinds of squash recipes like my easy butternut squash soup.
One thing that I love about making squash recipes is that squash is naturally vegan and gluten-free making it a great choice when entertaining.
What does Butternut Squash taste like?
Butternut squash has a mild flavor somewhat like sweet potatoes or a little like pumpkin. You would think it tastes like carrots but I don't think so.
The good thing about roasting butternut squash is that the natural sweetness of the squash is enhanced, and anything you add is like a new layer of flavor. It doesn't mask the flavor.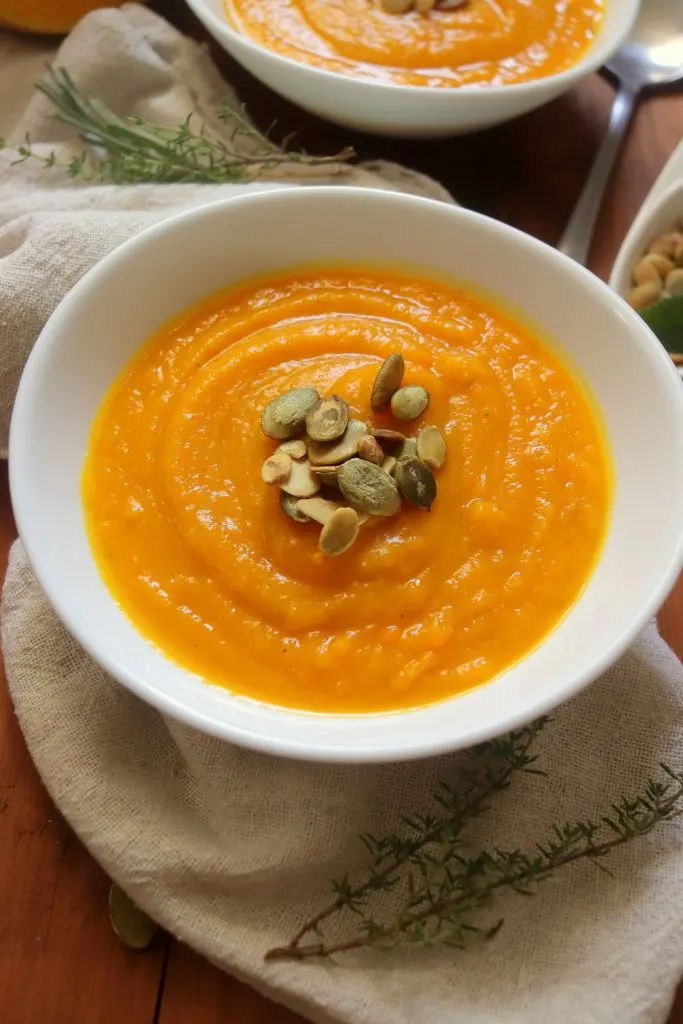 How to choose the perfect Butternut Squash
You can find butternut squash in grocery stores all year long. However, the peak time is summer through fall.
Butternut squash should be a beige color and the peeling should have a matte look.

If it's shiny, it's not ripe yet.
It's alright to have blemishes but you don't want any punctures or cuts.

Pick a squash that feels heavy for its size and you want the stem intact. That will keep the squash fresh longer.
Many squash varieties store amazingly well. By keeping squash in a cool, dark, and well-ventilated area, they will last for 3 months or more.
Check the squash regularly. Once they start to soften or show signs of rot, it's time to throw them out.
Ingredients For Roasted Squash Soup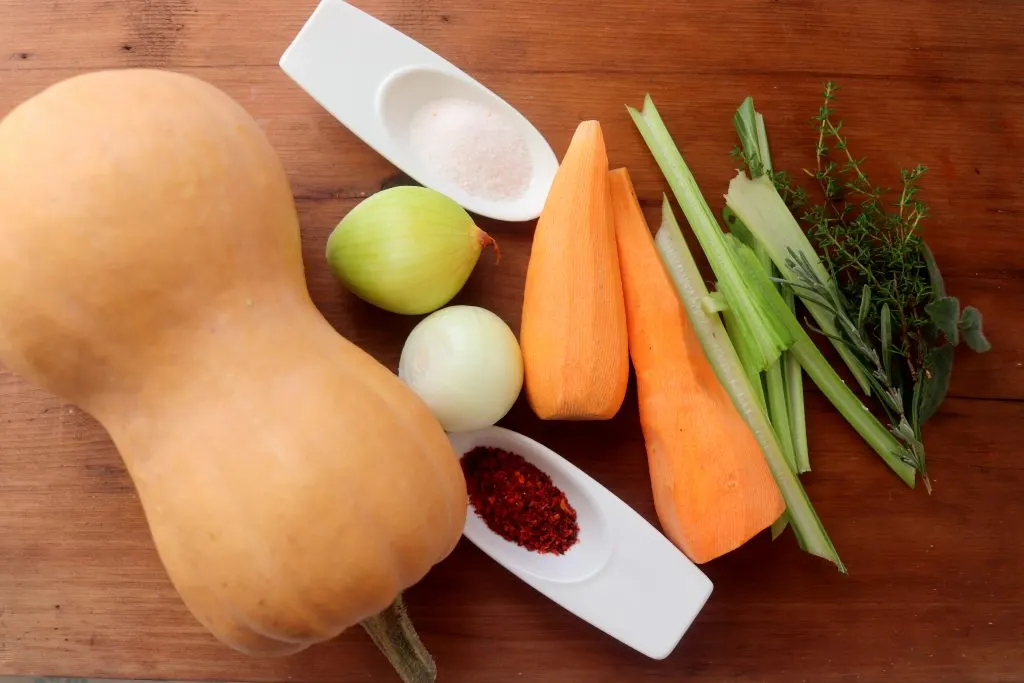 Butternut Squash
Broth – either vegetable or chicken broth. Canned or homemade is fine.
Onion – yellow or white onion
Carrots – sweet potatoes or pumpkin can be substituted.
Cayenne – We love the sweetness of the vegetables with the contrast of a little heat.
Olive oil – vegetable or canola works great too.
Garlic
Salt and pepper
How to make Easy Butternut Squash Soup
Squash is a dense vegetable. Chopping it in large chunks helps the whole dish cook at the same rate.
Cover a baking sheet or baking dish with aluminum foil or grease it. Preheat the oven.
Wash the entire squash. We use a vegetable brush.

Any bacteria on the outside of the squash will be transferred into the flesh when you cut it.

Remove the stem and microwave the entire squash for 3-1/2 minutes.

This short spurt will make cutting the squash easier to cut open.
Handle it with a potholder or paper towel. Even though it doesn't bake the squash, it will be hot to handle.

Peel the squash with a vegetable peeler.
Cut the squash in half and scoop out the seeds. I use a large spoon but you can also use an ice cream scoop.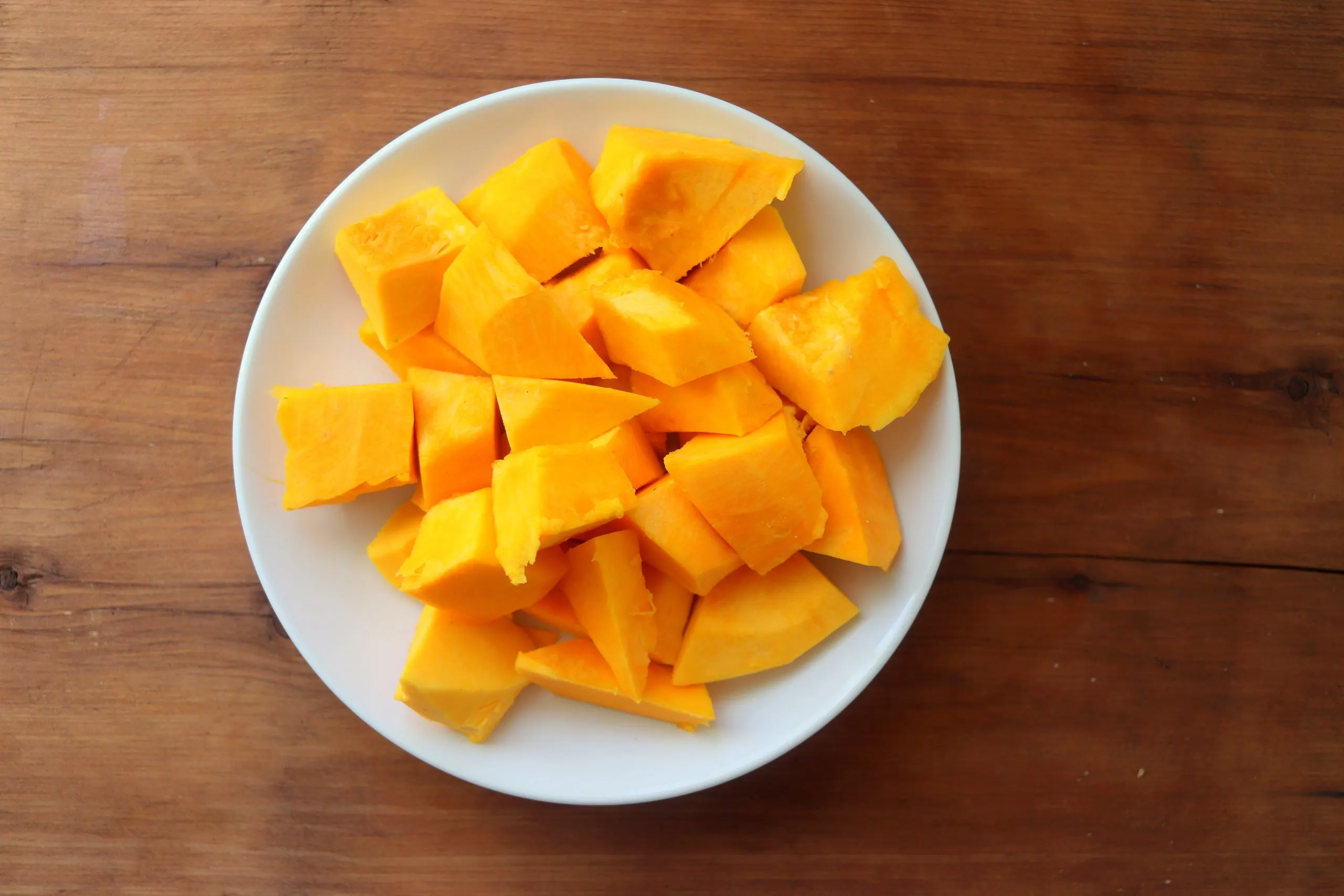 Chop the squash, onion, and carrots and spread them out on the baking sheet or place them in a baking dish. Drizzle them with olive oil. Sprinkle them with salt, pepper, cayenne pepper, and herbs if you're using them.
Bake for 30 to 40 minutes until tender, occasionally mixing the vegetables.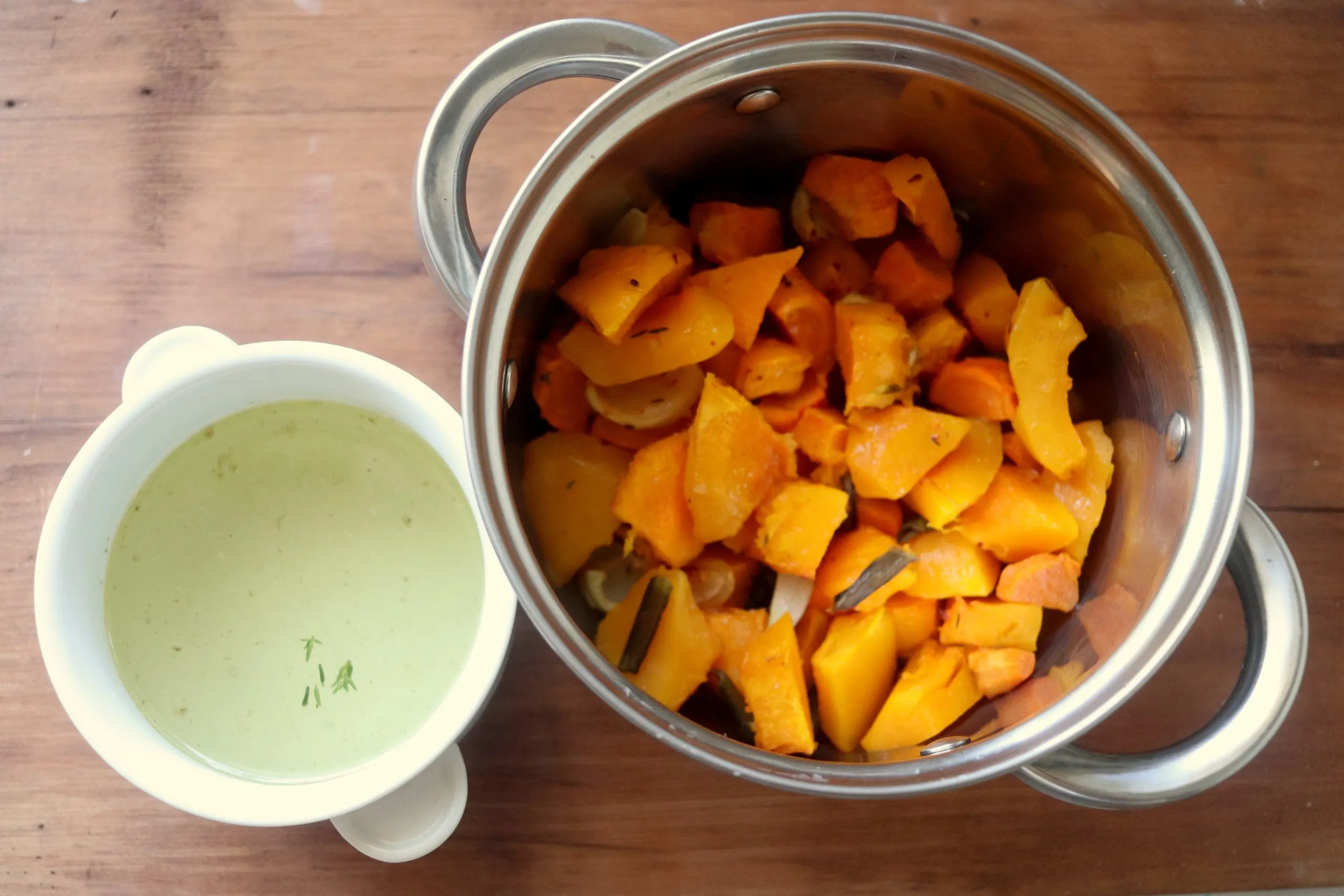 Transfer the roasted vegetables to a saucepan and puree using an immersion blender. Or you can use a food processor, or blender at medium speed. Drizzle with broth until you get the creamy consistency that you want.
Pour the creamy butternut squash mixture into a saucepan or dutch oven and heat until warmed through.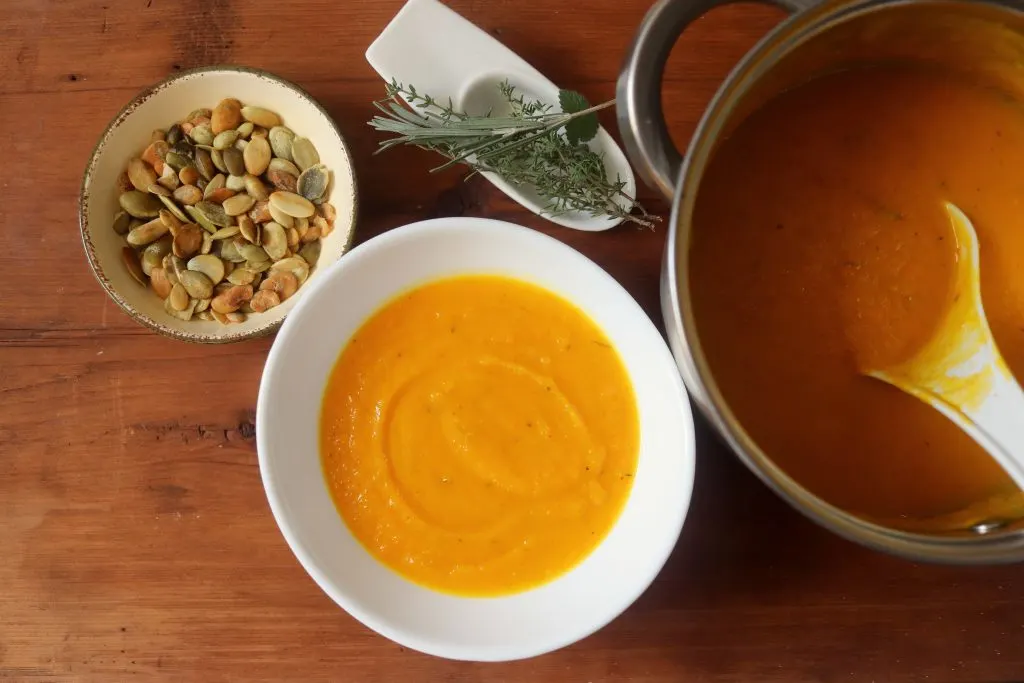 What to Serve with Roasted Squash Soup?
Roasted Squash Soup is a meal all by itself. However, I love serving it alongside a Manchego Grilled Cheese sandwich or a fresh Baby Spinach Salad.
Serving suggestions
This is a beautiful squash soup recipe on its own. Swirling a thin drizzle of cream over the top makes it gourmet. We also like adding a sprinkle of peeled pumpkin seeds (pepitas) or homemade croutons.
Popular Substitutions & Additions
Top the soup with pumpkin seeds, a little cream, fresh herbs, or even crumbled bacon.
We used garlic and a little cayenne, salt, and pepper to flavor this soup. Often I'll roast herbs with the vegetables such as sage, rosemary, and thyme.
You can use all squash and eliminate the carrots or replace them with sweet potatoes.
How To Reheat and Store Creamy Butternut Squash Soup
Best Way To Store Leftover Roasted Butternut Squash Soup
Roasted Butternut Squash Soup should be stored in an airtight container in the refrigerator for 3 to 4 days.
Can I Freeze Squash Soup?
Yes! Squash soup freezes well. Put individual servings in an airtight container or freezer-safe ziplock bag. Freeze for up to 3 months. Thaw the soup overnight in the refrigerator or at room temperature.
How To Reheat Roasted Squash Soup.
Squash soup can be added to a saucepan and heated on medium-low until hot. Butternut Squash soup also can be heated in the microwave.
You can heat frozen butter nut soup in a saucepan on low, stirring frequently, until heated through.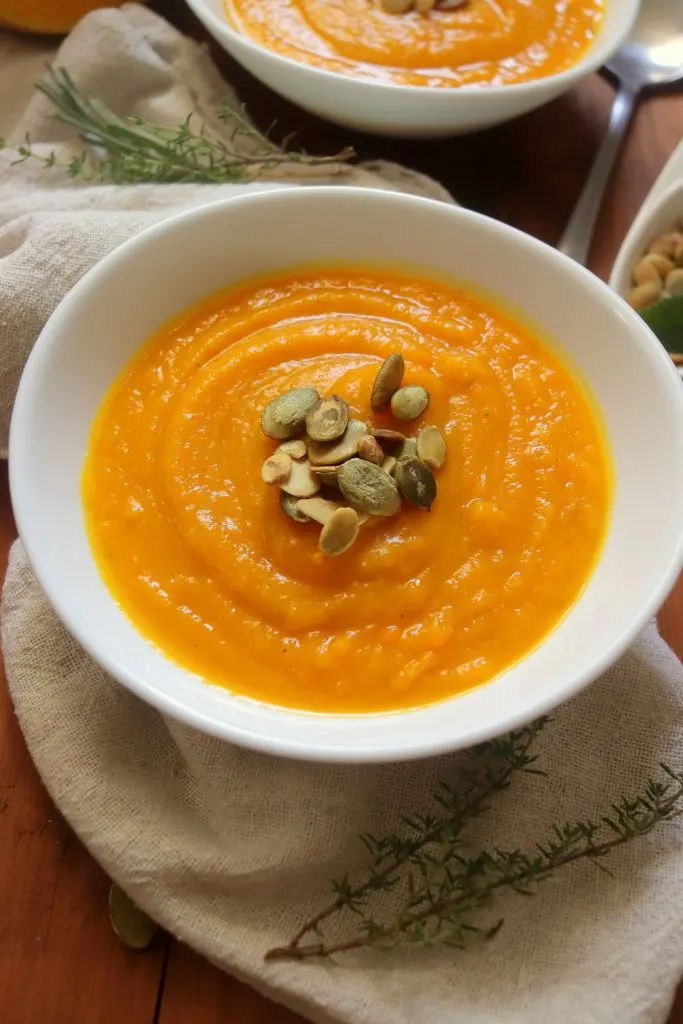 Roasted Squash Soup FAQs
Do I have to use a Buttrnut squash?
No, you don't. A great thing about squash is that the different varieties are interchangeable. They may have a slight taste difference in taste but any of them can be used to make squash soup. These varieties are delicious:
Acorn Squash
Buttercup Squash
Hubbard Swuash
Delicata Squash
Don't use yellow squash or zucchini squash. These squash varieties have a much different flavor and consistency and don't make the best soup in my opinion.
Can you leave the skin on when making butternut squash soup?
Yes, you can, but I prefer not to. Even though the skin is edible, I prefer peeling them prior to roasting so they can be easily pureed with the other vegetables.
How do I make my butternut squash soup thicker?
The way that I make my squash soup is to drizzle the roasted vegetables in the food processor with just enough broth to blend the vegetables until smooth. Then I add the smooth squash puree to a saucepan and heat it up with just enough broth to get the consistency that we want.
If you add too much liquid and the soup is thinner than you want, cook a carrot or sweet potato in the microwave. Puree it and add it to the soup.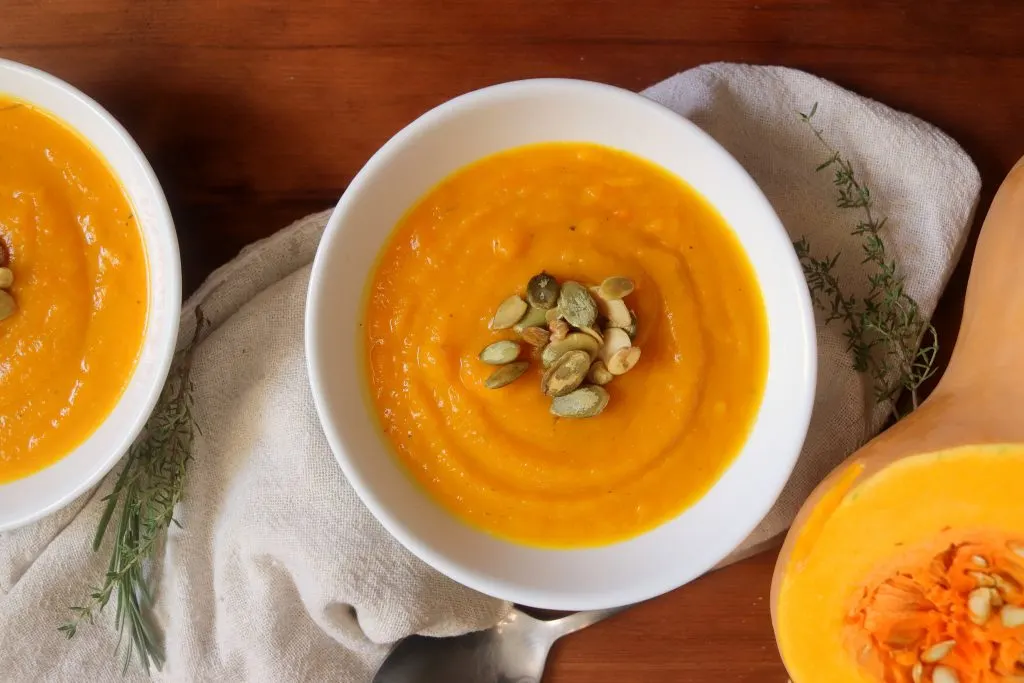 Tips for the perfect Roasted Butternut Squash Soup
Don't roast the squash for longer than what's recommended. You want the vegetables roasted just until they've started to soften "al dente". This soup is intended to be creamy, not liquid.
Feel free to add additional vegetables such as celery and mushrooms.
Replace the carrots with sweet potatoes or pumpkin.
If you like this recipe you may enjoy these recipes too!
Don't Forget To Come Back And Let Me Know How Your Roasted Butternut Squash Soup Recipe Turned Out!
Pin it now!