Celebrate the entire month of October with these fabulous Halloween Cakes. Whether you make one of these cakes, Halloween Cupcakes, or cake pops, yours will be the most popular treat at any party. And let's face it, Halloween Cake Pops are adorable, portion-controlled treats for any age. Just look at all the cuteness!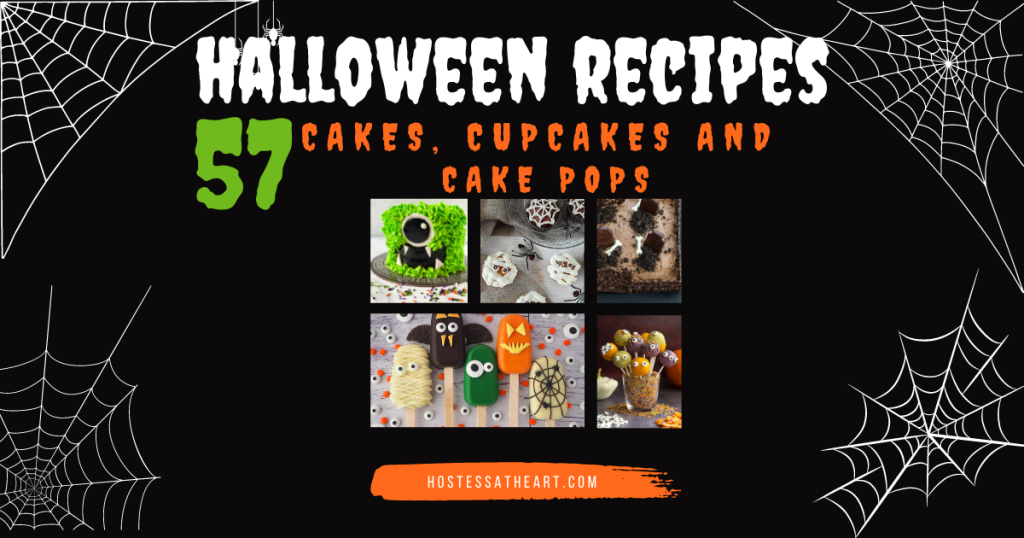 Halloween Cakes
When nothing but an impressive full-size cake will do, try one of these fancy creations with minimal effort and a big payoff! You won't believe how easy some of these creative ideas are to replicate.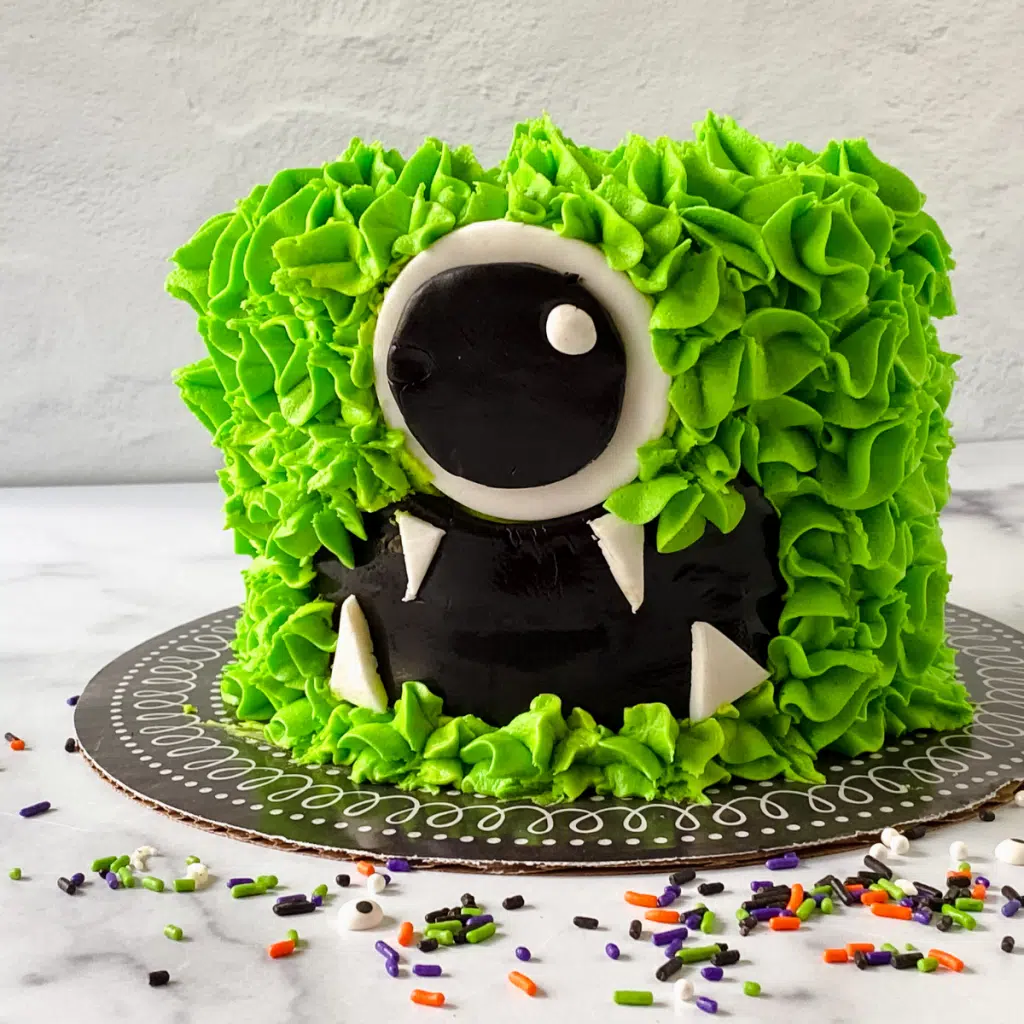 Fantastic Monster Cakes for Halloween
When you want something truly Halloween-worthy, make a monster cake from this list and wow all of your family and friends.
These Mini Frankenstein Cake Rolls couldn't be easier, and they make a fun Halloween treat that kids will love to help decorate. All you need is mini rolls, icing, chocolate sticks, and some edible eyes.
This creepy and frightfully delicious Skull Cake is easily made with store-bought boxed cake mix as the base, put together with a decadent chocolate buttercream filling, and covered with a shiny coat of vanilla glaze. It's delicious and most definitely a showstopper!
A decadent chocolate cake is slathered with cream cheese frosting, canned lychees + blueberry eyeballs, and strawberry jam "blood." This Halloween cake with eyeballs is a fun, creepy Halloween dessert that's sure to be a hit at any party. This cake is incredibly moist, rich, and chocolaty! Beware, the canned lychees really make for realistic and creepy-looking eyeballs!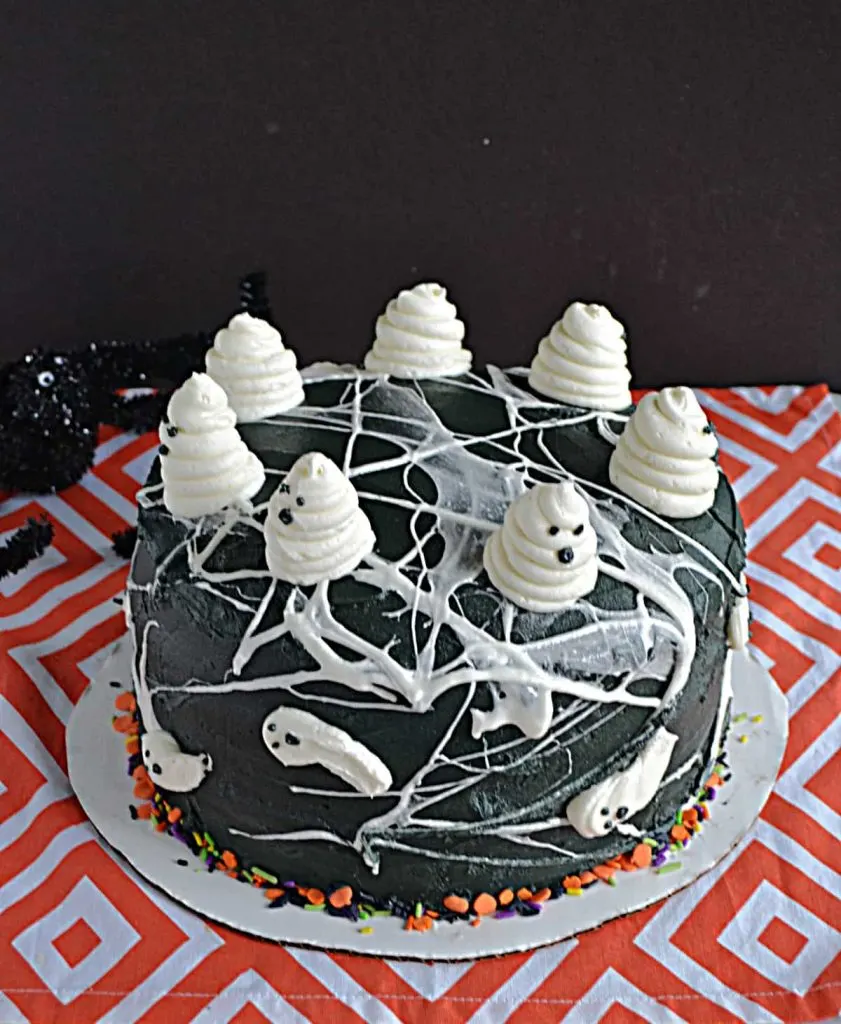 The Halloween Ghost Cake is made with three layers of cake, two vanilla, and one chocolate. Then it's topped off with buttercream and a marshmallow spiderweb.
Spooky Graveyard Cakes
For a sugar-free option, try this keto Halloween cake decorated like a spooky graveyard but without the scary sugar!
Make this simple Halloween cake from a box mix. It's a Spooky graveyard and so much fun to make with the kids. If you are looking for easy – this is the one.
Halloween Dirt Cake is a fond memory from childhood. Cake topped with chocolate pudding is made to look like a spooky dirt graveyard with crushed Oreos and gummy decorations.
Halloween Dirt Cake layers chocolate pudding over a chocolate cake before being finished off with a 3-ingredient frosting and fun toppings! This festive cake will be an absolute hit at this year's Halloween Party!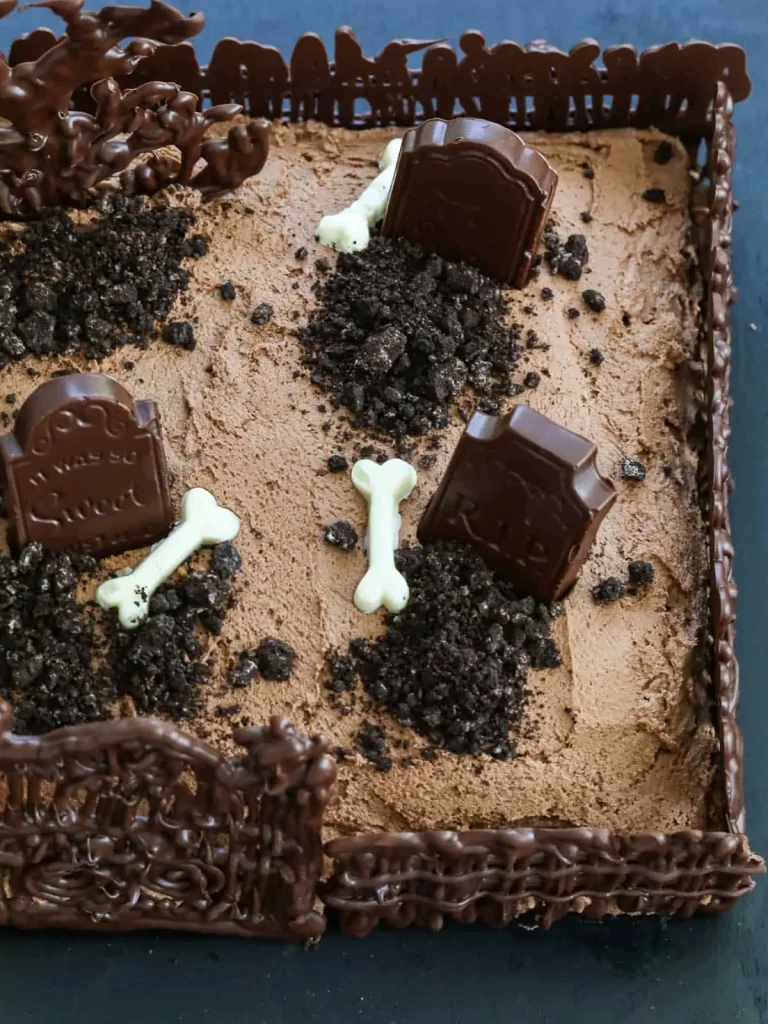 You can make this spooky and fun graveyard cake and decorate it a day before your Halloween party… That way, you can have more fun on Halloween! Use the free downloadable design template to make the chocolate decorations. Once made, the fence, gate, tree, tombstones, "dirt," and bones really make this cake enchanting.
Graveyard traybake cake with chocolate sponge and buttercream with spooky gravestones on top.
Halloween Cakes with Candy or Sprinkles
Black Magic Cake – A spooky homemade chocolate cake with witchy green buttercream frosting and Halloween-themed sprinkles.
Candy Corn Layer Cake is a fun vanilla layer cake made to look like candy corn that is frosted in white, yellow, and orange, then topped off with white, orange, and yellow swirls dotted with candy corn and sprinkled with fun Halloween sprinkles.
Spider-Themed Halloween Cakes
This giant chocolate chip cookie cake is dressed up for Halloween with a frosting spider web and festive fall-colored M&Ms!
This spooky mini cake is perfect for Halloween – vanilla, and orange flavored and wrapped in spooky marshmallow webs.
A wickedly decadent Black Velvet Cake with Marshmallow Spiderweb is made with rich black cocoa and smooth black cocoa buttercream.
Wicked Cake
Try this incredible, gravity-defying chocolate and vanilla cake, inspired by the blockbuster musical, Wicked.
Jack-O-Lantern Cakes and Pumpkin Cakes for Halloween
Whether you're looking for a Halloween cake for kids or something spooky cute for your Halloween party, this almost-all-buttercream Jack-O-Lantern cake is sure to please!
Looking for a fun, delicious Halloween Cake that is a little bit spooky? Colorful and festive Halloween Bundt Cake!
These chocolate pumpkin cakes are a perfectly sized single servicing pumpkin Bundt cake that is almost too cute to eat! They are a Halloween dessert that is sure to impress!
Halloween Cupcakes
Portability and handheld portions make Halloween cupcakes a great choice for your next big party or event. Choose one of these great options for ease and cuteness.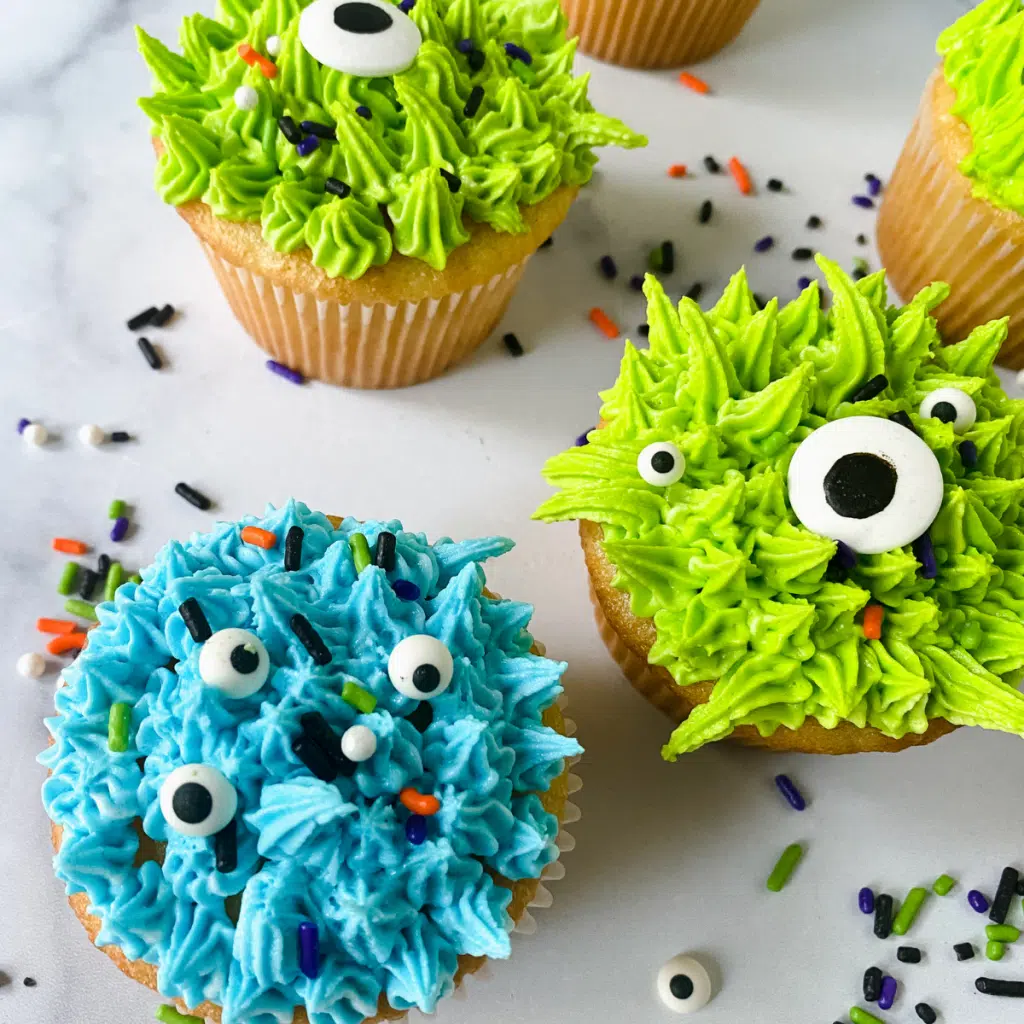 Monster Cupcakes for Halloween
Don't be intimidated by these easy and adorable Mummy Cupcakes. They are easier than they look and are sure to bring smiles all around.
Rich chocolate cupcakes filled with gooey blackberry coulis. These vegan Halloween cupcakes are topped with chocolate skulls, perfect for the spooky season!
These Halloween Bat Cake Pops are easy to make and will be a hit at any Halloween party or celebration. You only need a handful of ingredients and a little imagination to make these fun little Halloween treats!
These adorable vegan Halloween cupcakes require only one recipe, with three creative ways to decorate! Create a spooky ghost, a Frankenstein-inspired monster, or a bat!
Spooky Halloween Chocolate Cupcakes with bones made from white chocolate and topped with Funfetti.
This chocolate blackberry cake is purple and black with chocolate bats on top, making it perfect for Halloween.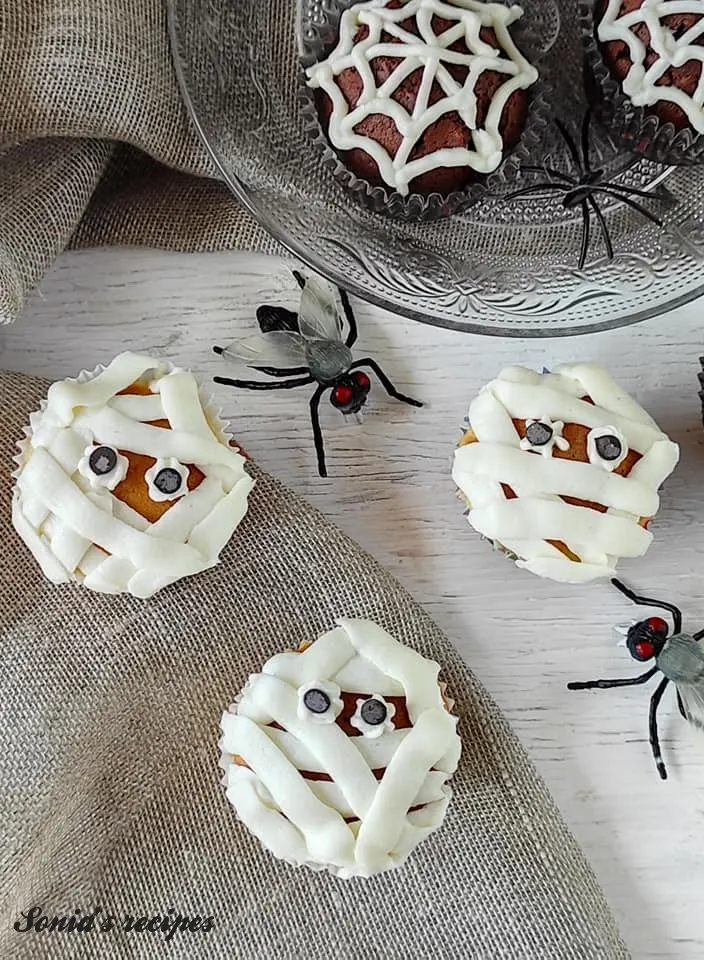 These Halloween cupcakes are so tasty and cute. The original recipe is similar to that of any cake and involves the use of ingredients such as butter, sugar, eggs, and flour, and final decoration.
These Halloween cupcakes are as much fun to make as they are to eat. Follow this quick and simple recipe to bake delicious chocolate cupcakes that are easily customizable. The kids will looooove making them with you!
Ghost Cupcakes
Easy Halloween Ghost Cupcakes are delicious, chocolate-flavored cupcakes with a hint of coffee, topped with chocolate spread and a white chocolate ghost topper. Easy enough for kids to make but fancy enough to impress your guests.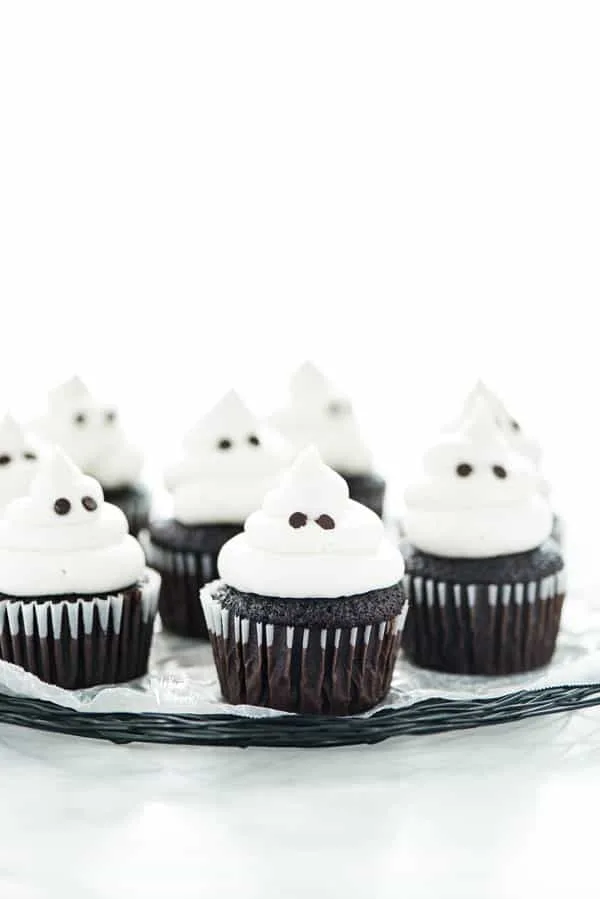 Sweet and spooky Gluten-Free Ghost Cupcakes for Halloween! These cupcakes are simple and easy to make with ingredients you already have in your pantry!
Gory Halloween Cupcakes
Zombie Brain Halloween Cupcakes will inspire the inner zombie of every party guest and impress them half to death.
A chocolate coconut flour cupcake has a sugar-free pink cream cheese frosting piped in the shape of a brain. Drip a little raspberry juice over the top of the brain cupcakes for a gory effect!
This Bloody Halloween cupcake is moist, fluffy, and tastes just amazing! Besides its fun design with the edible glass and fake blood, it has a super delicious strawberry cheesecake flavor due to the cream cheese frosting, and strawberry sauce added.
These red velvet Halloween cupcakes boast a flavourful, tender sponge, a smooth and delicious cream cheese frosting, and a gorily good blood red syrup.
Movie-Inspired Cupcakes
These Maleficent Cupcakes have chocolate horns that are easy to make with a printable template. The Mistress of Evil adds some yum to Halloween!
Witch Cupcakes
When you need a quick and easy Halloween treat that kids can make for a class party, this recipe is exactly what you're looking for. Last Minute Mini Cauldron Cakes are easy, fun, and delicious.
No need to break out the fondant because these witch hats cupcakes are pure frosting goodness!
Pumpkin and Jack-O-Lantern Cupcakes
Nothing could be more fun or easy than making it into cute little Pumpkin Faces for Halloween. Let the kiddos help for a fun family Halloween activity.
Decorate these chocolate coconut flour cupcakes with a pumpkin cream cheese frosting to make a Jack O Lantern face.
Pumpkin Cupcakes are the perfect Halloween treat! Made in one bowl and topped with creamy brown butter cream cheese frosting.
Spider and Spiderweb Cupcakes
Spiderweb Halloween cupcakes are beautiful, stunning, unexpected treats! They're perfect for Halloween parties, October movie nights, and classroom celebrations.
Let's celebrate with these chocolate spider cupcakes topped with chocolate ganache and the simplest of spider webs, and a cute little candy spider. Now that's how to celebrate Halloween!
These spider cupcakes are easy to make and very festive: perfect for a Halloween party or gathering,
Cobweb cake is a great fun recipe to work on together for Halloween. Stretchy marshmallow tops a chocolate ganache cake for a spooky dessert.
Royal Icing is easy to make. Use it to make simple, fun decorations for your Halloween goodies – like Spider Web Halloween Cupcakes!
No-Bake Rice Krispie Treat Pops
Serve these Rice Krispie Treats Pops for Halloween school parties, parties at home, or just gift your kids with a really amazing after-school snack they will be talking about for days.
Halloween Cake Pops
The new trend in party treats, these Halloween Cake Pops are portion-controlled, adorable, and fun to eat. It's cake on a stick! Make cake pops for your child's next party and be the coolest Mom on the block.
Pumpkin or Jack-O-Lantern Cake Pops
These cute pumpkin-shaped cake pops are the perfect Halloween treat for parties and sharing!
These Halloween Cake Popsicles, aka Halloween cakesicles, are a combination of the classic cake pop and a popsicle! Need cakesicle filling ideas and cakesicle flavors to make a scary mummy, pumpkin, Frankenstein, ghoul, or goblin? This post has it all!
Monster Cake Pops for Halloween
These adorable, easy no-bake Mummy Oreo Cookie Pops will be the hit of any Halloween festivities! They are such a fun cookie project!
Frankenstein Halloween Marshmallow Pops are sweet treats that are so much fun for kids of all ages (adults too)! Perfect for Halloween parties, class parties, Halloween movie night, and more!
These Halloween Bat Cake Pops are easy to make and will be a hit at any Halloween party or celebration. You only need a handful of ingredients and a little imagination to make these fun little Halloween treats!
Eyeball Halloween Cake Pops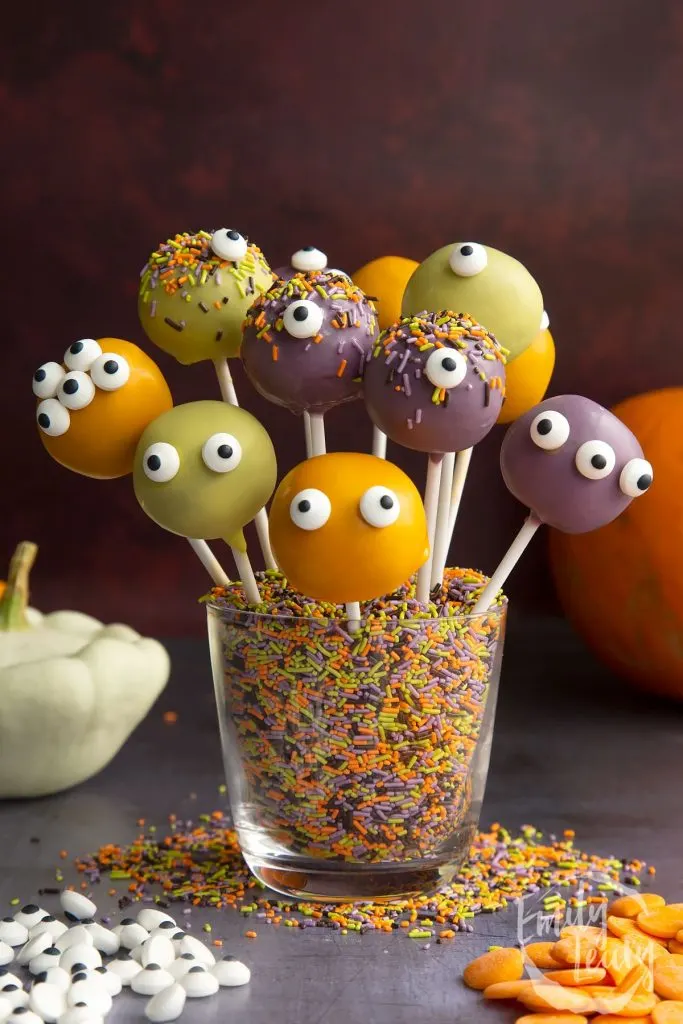 These spookily cute Halloween cake pops are so fun and so easy to make! Best of all, there's no need to bake with this recipe as it all starts with a store-bought chocolate cake.
These Halloween Cakesicles are so easy that anyone can make them! Plus, they're the cutest cake pop alternatives. Customize each one in a ton of different ways.
These Halloween Cakesicles are super fun to put together and will bring a good amount of whimsy to any Halloween celebration. Break out the Halloween sprinkles and candy googly eyes to add loads of character.
Make these easy Halloween Cake Pops — delicious bite-sized desserts! Made with a moist cake sheet base, vanilla frosting, and rich melted chocolate.
Delight ghouls big and small with these easy Halloween Monster cake pops! In this post, you'll learn how to make these cake pops from scratch and how to speed up the process with a few store-bought ingredients.
Spiderweb Cake Pops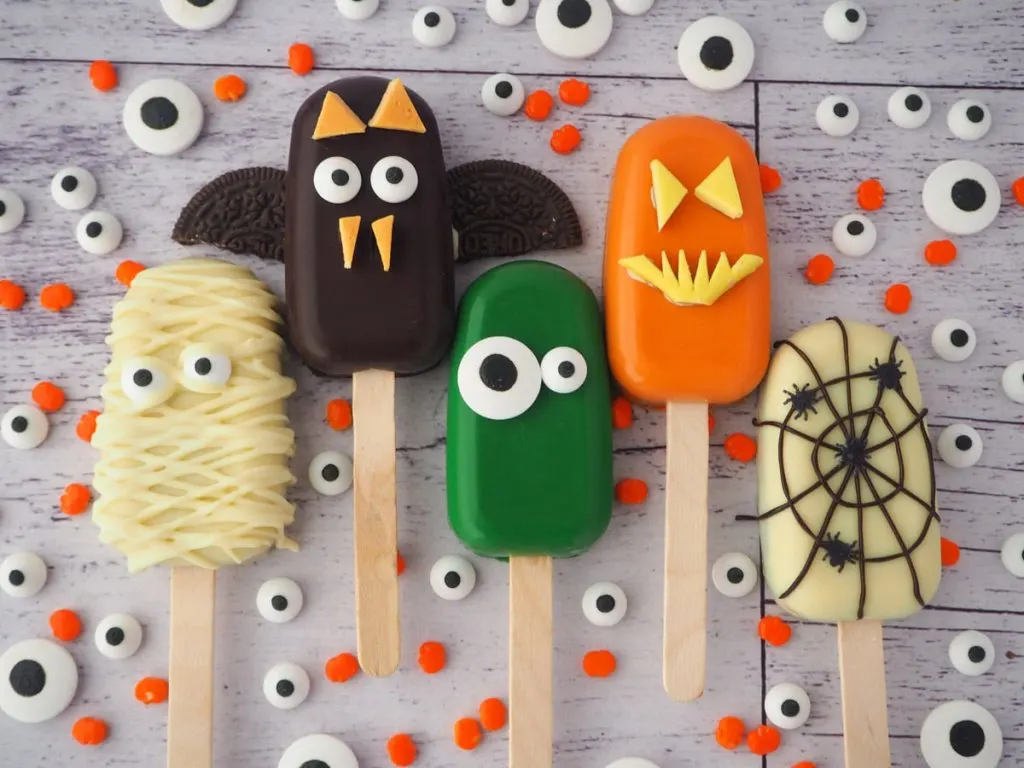 These Halloween cakesicles or cake pops are super fun and a cute Halloween treat! Perfect for a spooktacular party or as wonderful homemade trick-or-treat candy. Choose from a spiderweb, vampire, and several other ideas.
These super fun Halloween Cake Balls are super easy to make! Use a cake mix and a few other ingredients to make these ghoulish Halloween treats.
Graveyard Cake Pops
Decorate these pumpkin-flavored cake wands to look like goth coffins, making them the perfect addition to any Halloween party.