Imagine the warm, cozy aroma of freshly baked gingerbread cookies filling your kitchen. These soft gingerbread cookies are a holiday must-have, and you'll love how fast and easy they are to make!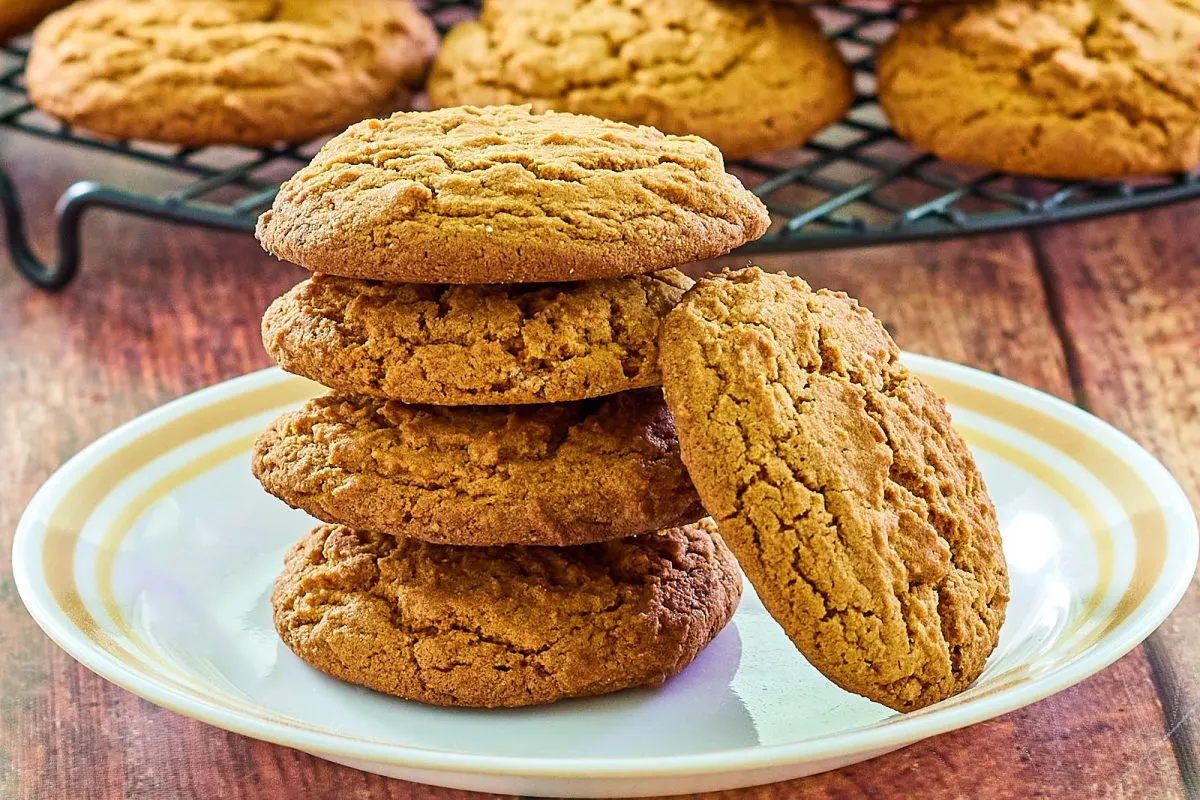 If you've ever made a gingerbread house and tried to take a bite of the walls, right now you are thinking about hard-to-chew, dry, crunchy gingerbread. That's not what we want. Instead, make these chewy gingerbread cookies recipe for the perfect soft, moist, and delicious cookie everyone craves.
Make up a bunch for your holiday cookie exchange or keep some on hand to serve friends, guests, and neighbors who come caroling. This spicy cookie brings back warm fuzzy memories and visions of the holiday.
Why You'll Love or Tell me About This Gingerbread Cookies Recipe
Soft and Chewy Gingerbread Cookies. When people think about gingerbread cookies they usually imagine hard and crunchy cookies. While those certainly have their place in tradition, we love this soft and chewy version so much. This is the cookie everyone reaches for.
Simple to make. This recipe is not for gingerbread man cookies so there is no rolling and cutting.
Perfect for holiday cookie platters. A sweet and spicy cookie that is also soft and chewy. It's what everyone wants in a gingerbread cookie!
Make ahead and freeze. If you'd like to have cookies ready to go in a snap because you never know what holiday party or houseful of guests will surprise you – this is the cookie recipe for you. Just make up two or three batches when you have time — maybe even before the holidays start! Pop them in the freezer in an airtight container and then thaw them on the day you need them.
Are gingerbread and gingersnap cookies the same thing?
The biggest difference is that gingersnaps are usually a variation of a gingerbread cookie that's baked longer so they're crispy and crunchy. Gingerbread cookies are usually softer. Some gingerbread recipes can be rolled out and shaped into gingerbread men (and ladies) and then decorated for Christmas.
Ingredients For Gingerbread Cookies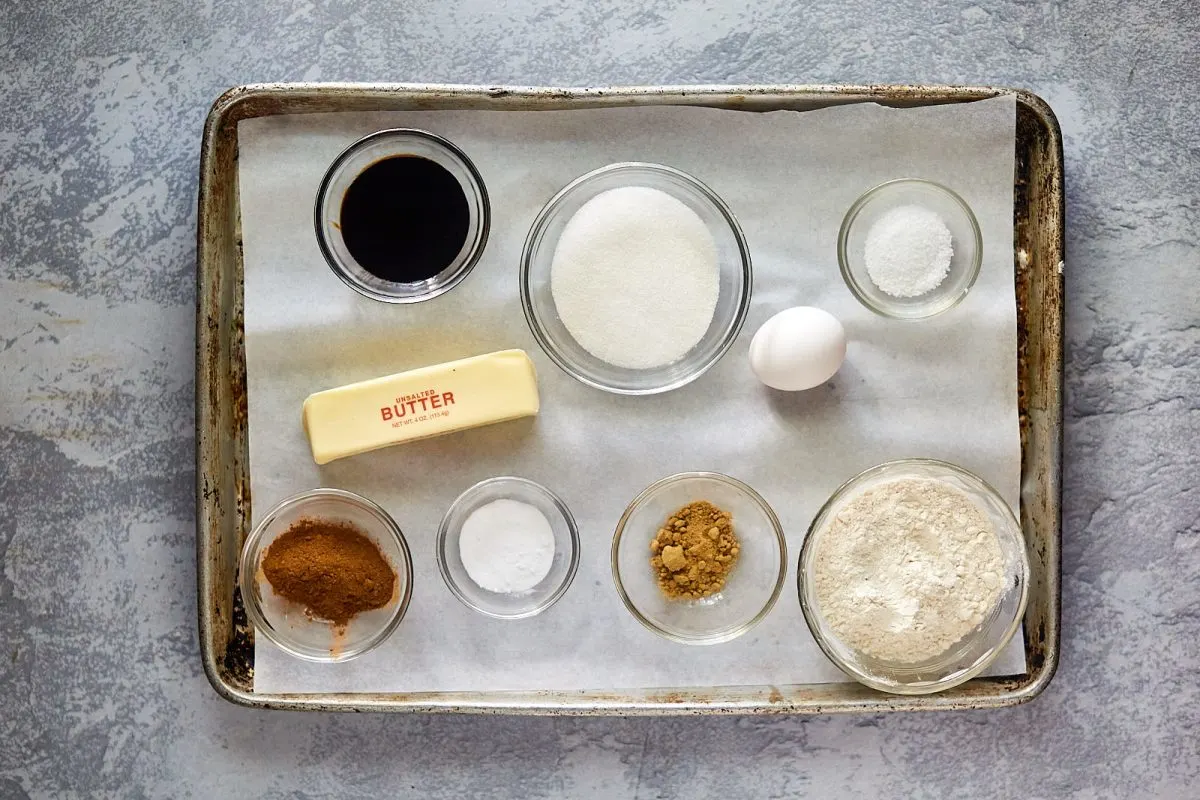 Butter. Softened to room temperature is easiest for baking chewy cookies.
Sugar. White sugar evens out the texture and sweetness.
Egg. Buy large eggs for the best results.
Molasses. A rich, intense, and moist sweetener that gives gingerbread its unique and recognizable flavor. I discuss the difference between the varieties below.
All-Purpose Flour. Substitute with your favorite GF flour! Any one-for-one flour will work.
Baking Soda. Do not mistake this for baking powder.
Salt.
Cinnamon. Saigon cinnamon is very nice. I'm a bit of a cinnamon snob and will not buy generic.
Ginger. The spice that gives these cookies their name. Just the right touch of barely-there heat and sweet.
What is gingerbread cookie made of?
The star ingredient of a gingerbread cookie is ground ginger. Cinnamon also adds to the familiar traditional flavor. Molasses ups the ante with a rich, intense sweetness and much more flavor than the typical brown sugar in cookies.
What's the best variety of molasses to use?
Molasses is a liquid and will add moisture and a darker hue to your recipe. There are basically three varieties of molasses. You can use what you prefer. Here are the differences.
Light molasses – lighter in flavor and hue. Perfect for baking and candies.
Dark molasses – stronger in flavor and darker hue. Can be used interchangeably with light molasses. Often used for gingersnap recipes.
Blackstrap molasses – very dark in hue and has a strong flavor with a bitterness to it. Often used in barbecue or baked bean recipes. (source)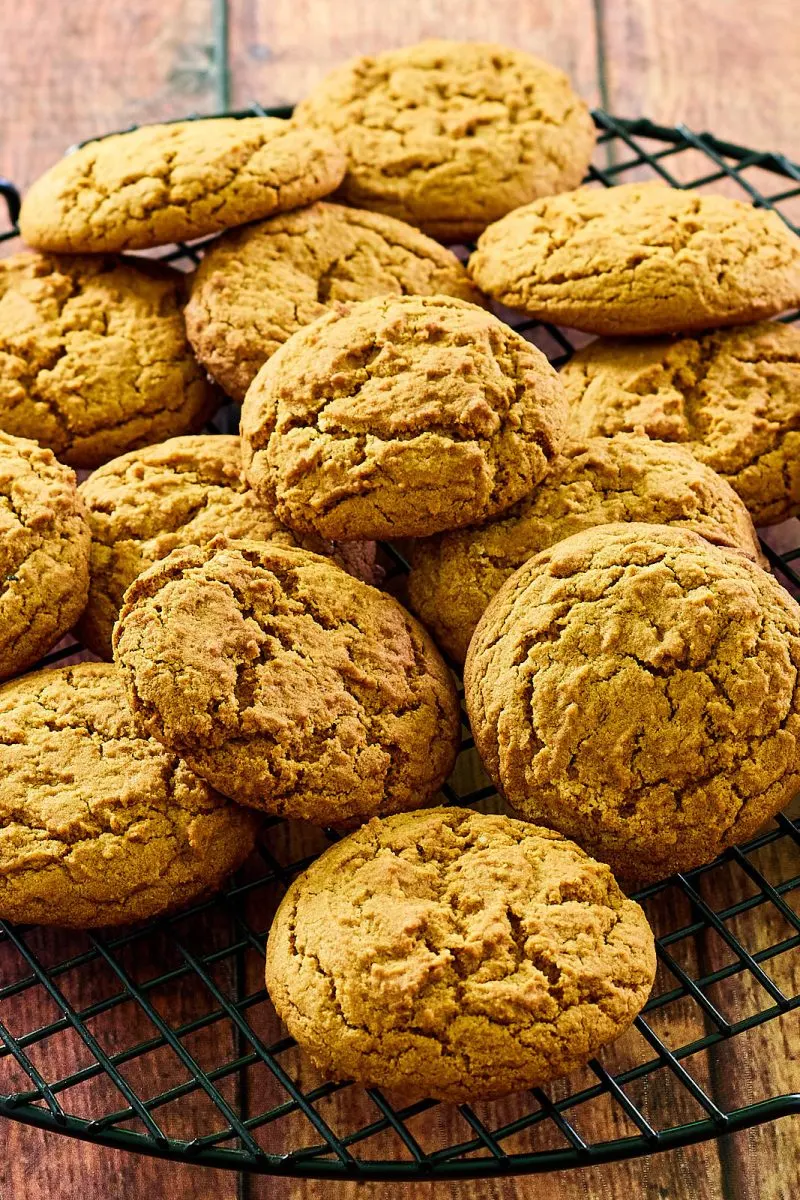 Tools You'll Need For These Soft Gingerbread Cookies
Baking Sheets. A good quality sheet pan makes a world of difference for cookie baking.
Parchment paper. I always recommend lining baking sheets with parchment paper or a silicone mat. This removes any changes to baking on a light or dark baking sheet causes. It also helps remove the cookies from the baking sheet. I just slide the whole thing right to a cooling rack. No more broken cookies!
Scoops. For cookie platters, I use a 1-1⁄2 tablespoon-sized scoop. It's a great size for most cookie recipes. When I want large cookies I use a 3 tablespoon-sized scoop. This set has both.
Please note, that the printable recipe card has ingredient quantities, complete instructions, and nutritional information. The following is a quick overview of the recipe.
How To Make Gingerbread Cookies
Step 1: Get everything ready to make your Soft Gingerbread Cookies Recipe
You'll need to preheat your oven, line your baking sheets with parchment or silicone mats, and pull out the ingredients and equipment you need. It's so much easier when you get everything ready ahead of time!
Step 2: Mix the liquid ingredients.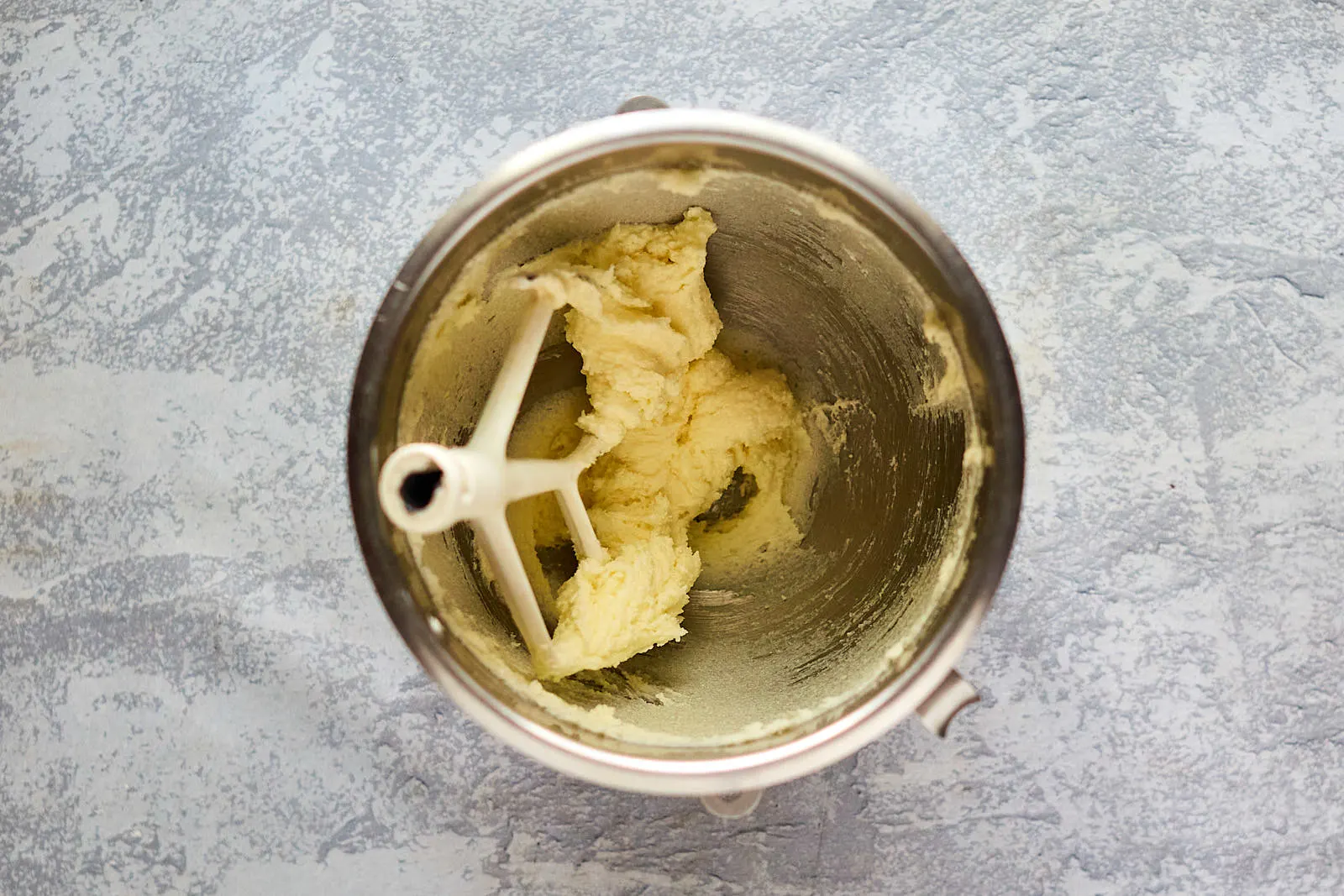 Start by creaming the butter and sugar, then add the egg and molasses.
Step 3: Combine the dry ingredients for gingerbread cookie dough.
Whisk together the flour, baking soda, salt, cinnamon, and ginger.
Step 4: Add the dry ingredients to the liquid ingredients.
Mix until just combined. Do not over-mix.
Step 5. Chill
I recommend that this cookie dough be chilled for at least 1 hour. This will keep the cookies from spreading out too much while baking. Cookie dough can be covered and refrigerated for up to 3 days prior to baking.
Do you have to chill the dough? No, you don't. However, your cookies are more apt to spread out instead of being soft and puffy.
Step 6: Scoop out gingerbread cookie dough or form it into balls.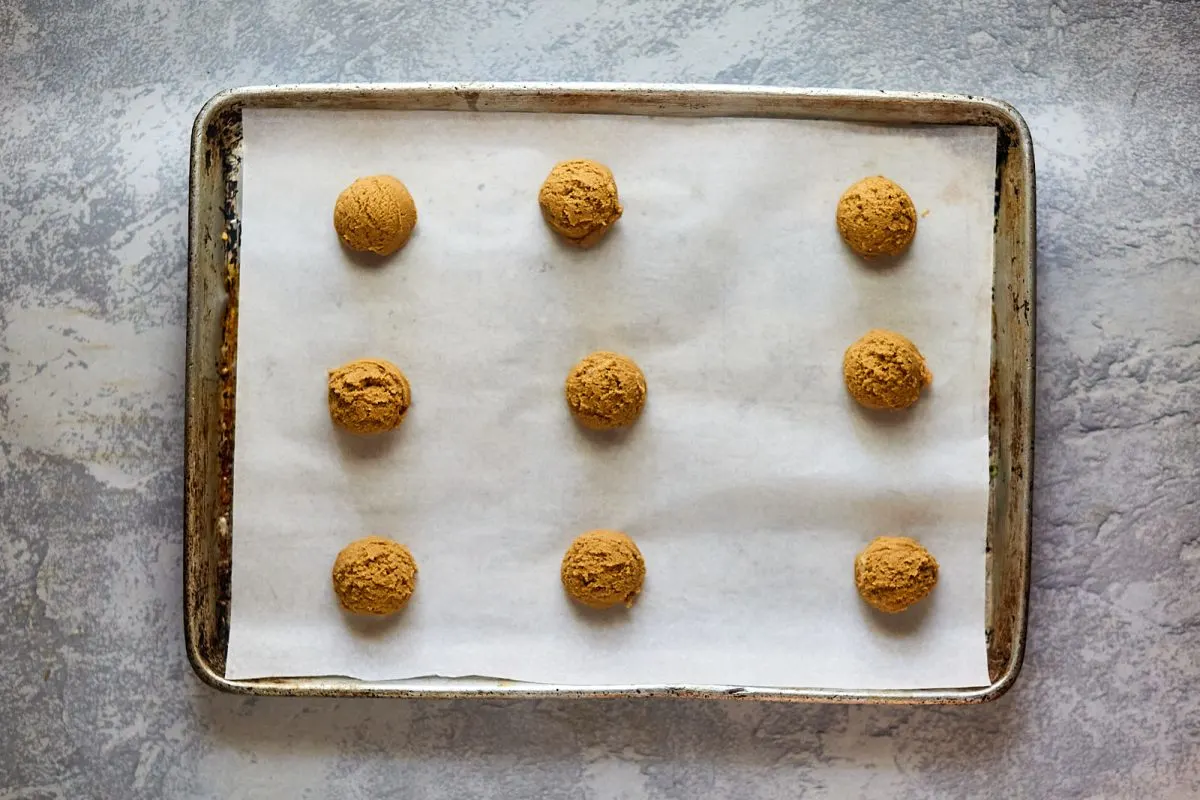 Place them on the sheet pans two-three inches apart.
Step 7. Bake the cookies.
Bake the cookies for ten minutes and then let them cool on the pan for ten minutes. Then move them to a cooling rack to finish setting up and cooling.
Popular Variations & Additions
Top with a dusting of powdered sugar, white granulated sugar, or make a simple icing and drizzle it over the top.
Add crushed nuts such as walnuts, pecans, or peanuts.
How To Store Gingerbread Cookies
Best Way To Store Leftover Chewy Gingerbread Cookies
I like to take the easy way out and just throw some press-n-seal, plastic wrap, or foil over a plateful of cookies. An airtight container or plastic baggy works just as well.
Can I store cookies in Ziploc bags?
You can definitely use a Ziploc bag to store cookies. You may need to use multiple bags so the cookies can lay in a single layer.
Can I Freeze Gingerbread Cookies?
Yes! Freeze them on a sheet pan separately and then pop them into a freezer-quality zipper bag. This will allow you to pull out exactly what you need when you need it at a later date. Cookies frozen in a stack may end up sticking together so that is why we freeze them separately.
How To Reheat Soft Gingerbread Cookies
If your cookies just need softened up a bit because they are a few days old, try ten seconds in the microwave. If your cookies are frozen, reheat them in ten-second increments until you get a soft and chewy cookie. The final time will vary depending on your microwave and how many cookies you are reheating at once.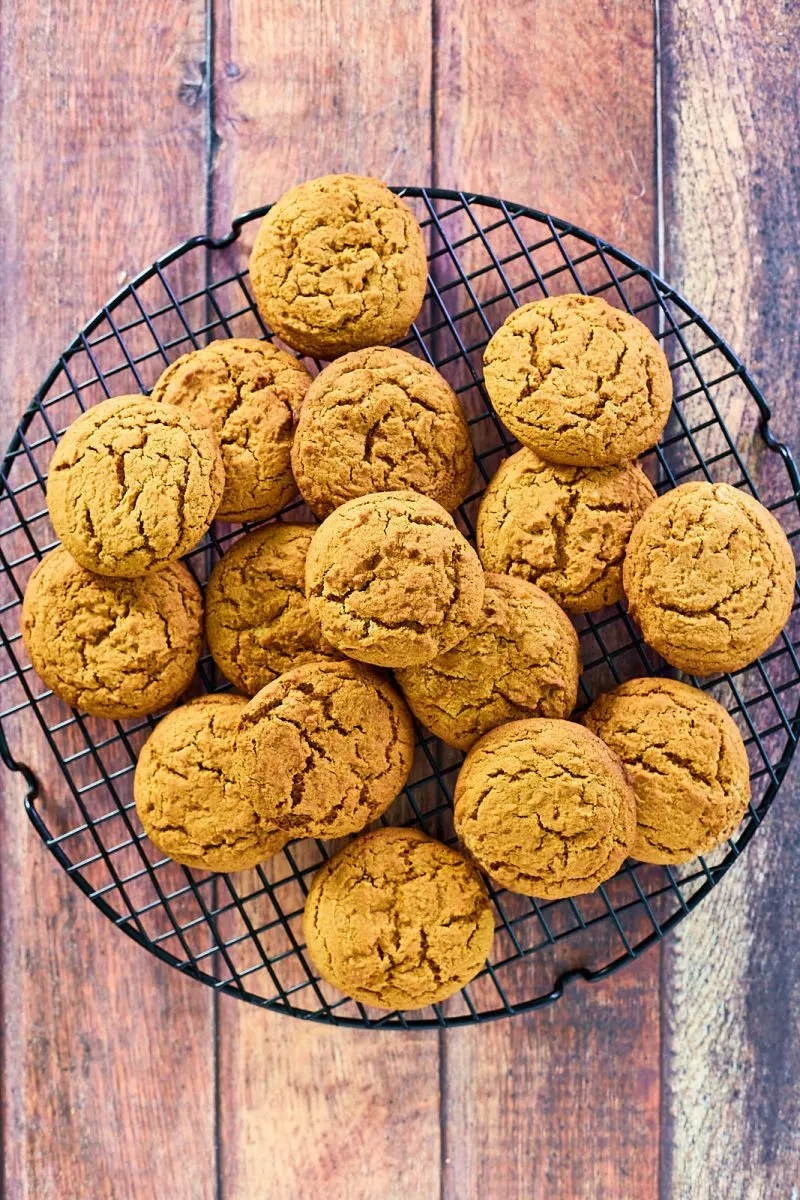 Ginger Bread Cookies FAQs
Should gingerbread cookies be hard or soft?
These gingerbread cookies are soft and chewy. To keep them soft see the tips below.
What can I use instead of molasses?
Molasses is one of the main ingredients in these chewy gingerbread cookies. If you don't think you like molasses or don't believe you'll use it, I encourage you to try it. I love the warm flavor it gives to these cookies. I love it in baked beans too. However, if you choose to substitute it, you can use dark corn syrup, maple syrup, or honey.
Can this soft gingerbread cookies recipe be cut into shapes?
Yes, it can. However, the dough must be thoroughly chilled. I recommend overnight.
Tips for the Perfect Gingerbread Cookies
Do not over-bake this simple gingerbread cookies recipe. They should be just slightly turning on the edges when they are done and they will never look done in the center. Cookies should finish baking on the sheet pan *after* you take them out of the oven if you want them to stay soft and chewy.
Do not overwork the cookie dough. You don't need to whip extra air into the cookies or mix them. The more you work the dough, the more tough your cookie will be.
Make sure you leave your cookies on the pan for 3 to 5 minutes so that they finish baking and cooling on the pan.
If you haven't replaced your flour, baking soda, or spices in the last six months, there is a good chance they have lost their freshness. Old ingredients will make your cookies hard or tough. If you bake often, chances are good you run out and replace your ingredients often. But if you only bake once a year, don't try to use that flour or baking soda.
If you enjoyed this recipe, take a look at these!
Don't Forget To Come Back And Let Me Know How This Chewy Gingerbread Cookies Recipe Turned Out!
Welcome to #ChristmasCookies Week! That time of year when we soften the butter, fire up the oven, and make cookie trays for family, friends, and neighbors. This year more than 20 top-notch bloggers are sharing their very favorite creations for all to make and enjoy. Join us for a week's worth of Christmas cookie deliciousness.
Pin It Now