Come to the party with a platter filled with these perfectly soft and chewy delicious White Chocolate Cranberry Cookies. Perfect for any occasion, these cookies shine at holiday events and are a great crowd-pleaser.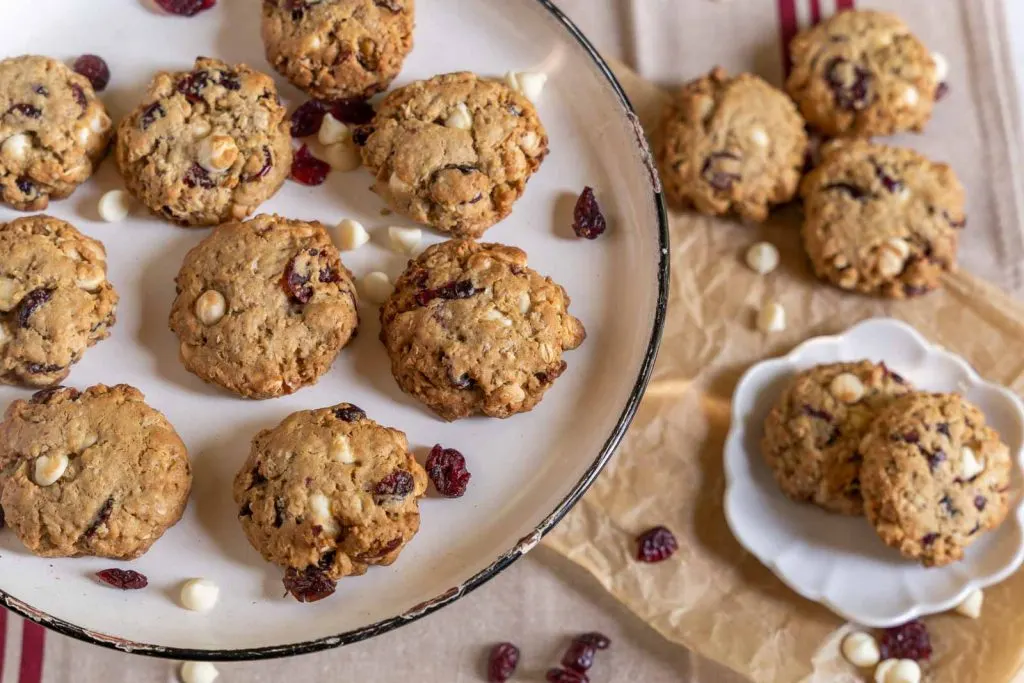 Decadent oatmeal and brown sugar cookies are over the top with white chocolate and dried cranberries throughout. A perfect combination.
Why You'll Love These Cranberry White Chocolate Cookies
Chewy Texture. You will love how the oatmeal and brown sugar works together to create the perfect chewy cookie bite.
Festive for the holidays. Cranberries are a holiday favorite, and dried cranberries don't have the extra sourness of a whole cranberry. So baking with these is perfect for your celebrations.
Easy and flexible recipe. Change it up so easily with our suggested variations!
What You'll Need To Make White Chocolate Cranberry Oatmeal Cookies
Hostess At Heart participates in affiliate programs. As an Amazon Associate, I earn a commission from qualifying purchases. Please refer to my disclosure page for more information about these affiliate programs.
Ingredients For Your White Chocolate Cranberry Cookies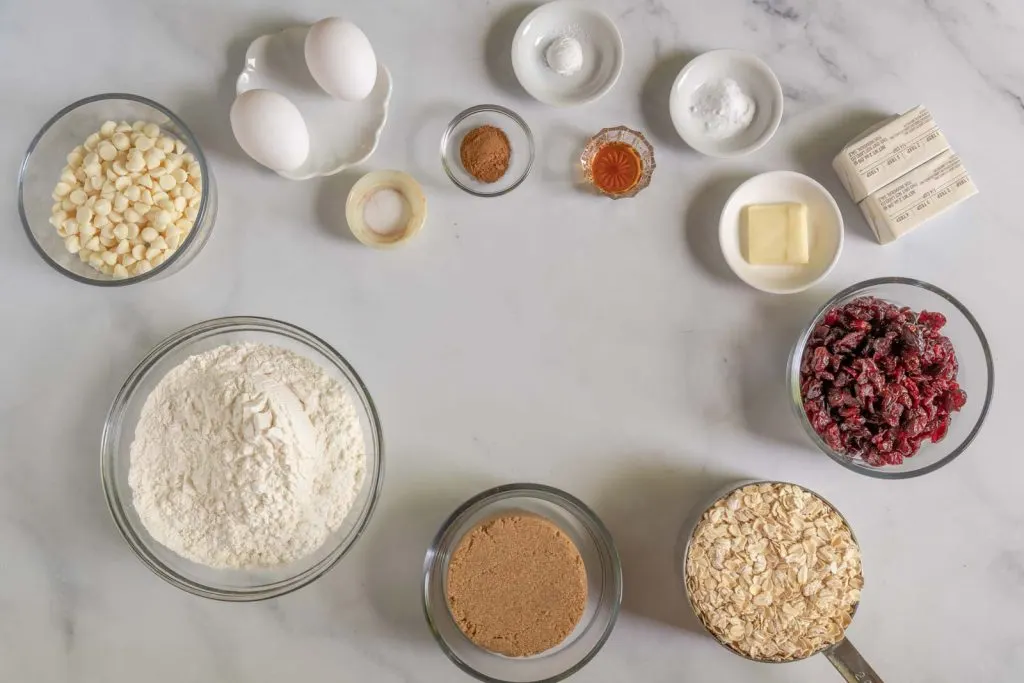 Rolled Oats. I love oatmeal cookies. They have so much texture! Make sure you get the right kind.
All-Purpose Flour. You can also use your favorite GF substitute here.
Baking Powder. I love cookies with a combination of both baking powder and baking soda. It makes a soft and fluffy cookie that browns properly and evenly.
Baking Soda. For even browning and rise.
Salt. Needed to get the right balance of chemistry and flavor in this cookie.
Cinnamon. The perfect addition to this holiday cookie.
Vanilla. Use pure vanilla extract for baking.
Butter. Softened to room temperature.
Brown Sugar. This cookie recipe only has brown sugar, and the intensity of sweetness and chewiness it adds is delightful.
Eggs. I recommend large eggs for baking.
White Chocolate Chips. One of my favorite holiday flavors!
Dried Cranberries. These are also called Craisins depending on the brand.
Please note, that the recipe card has more complete instructions. This is intended as an overview.
How To Make White Chocolate Cranberry Cookies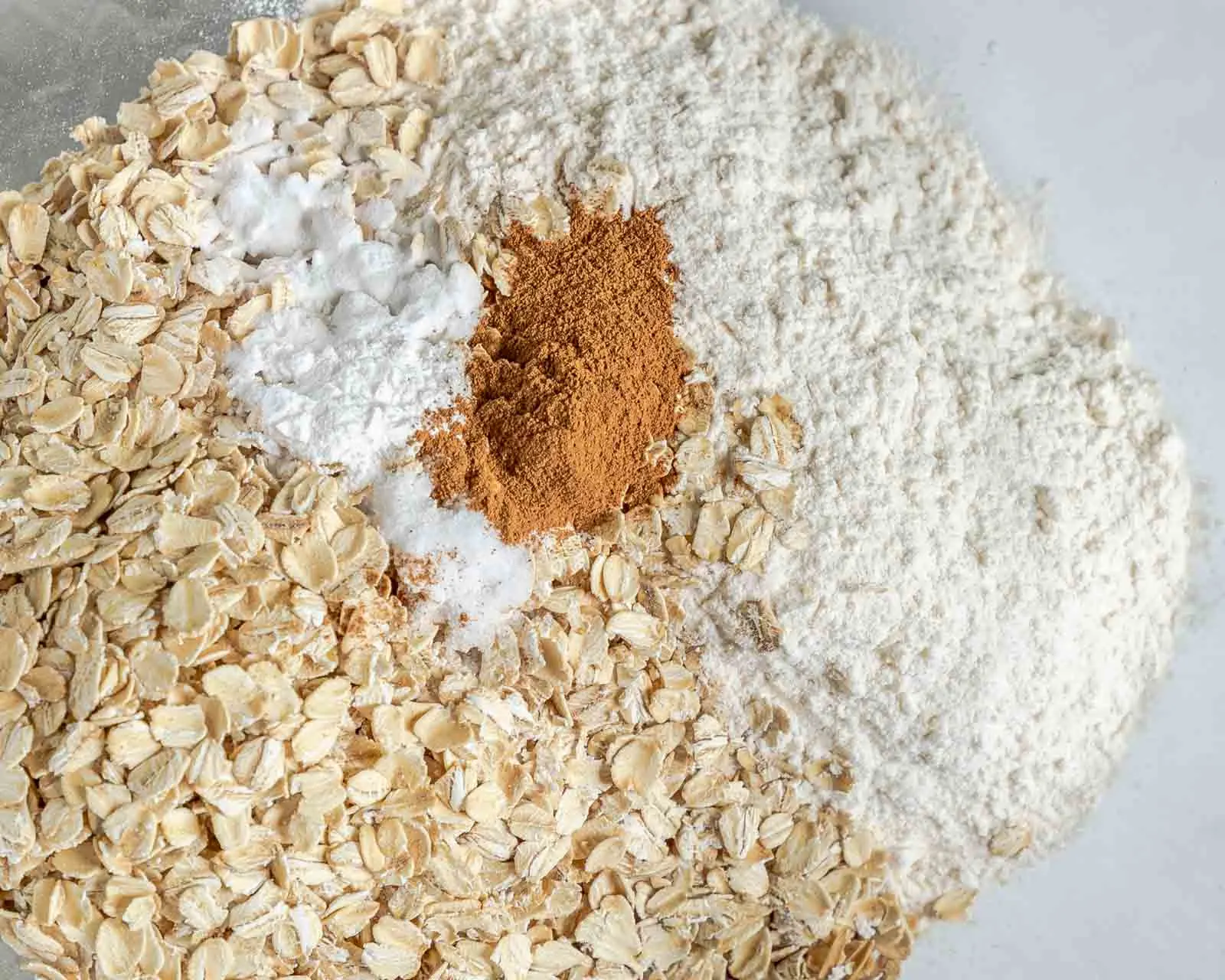 Step 1: Mix the Dry ingredients for the Cranberry Cookies
In a large bowl, stir together the oats, flour, baking powder, salt, baking soda, and cinnamon.
Step 2: Cream the Wet Ingredients for Cranberry Oatmeal Cookies
Blend the butter and sugar together until light and fluffy. Add the eggs and then the vanilla.
Step 3: Combine the Two Mixtures.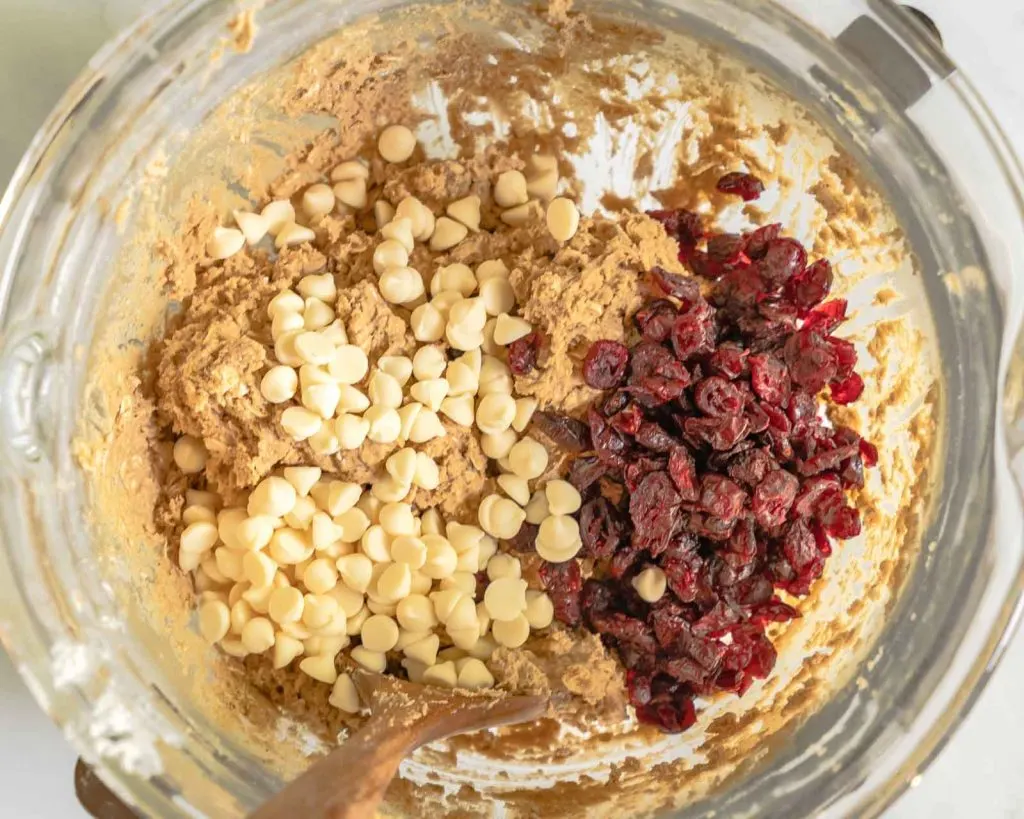 Mix until just combined and add the chocolate chips and cranberries in this step.
Step 4: Chill the Cranberry White Chocolate Cookie Dough
Refrigerate for one to two hours or even overnight, covered, so the dough is the perfect consistency for shaping. Chilling the dough also keeps them from flattening out during baking.
Step 5: Prep work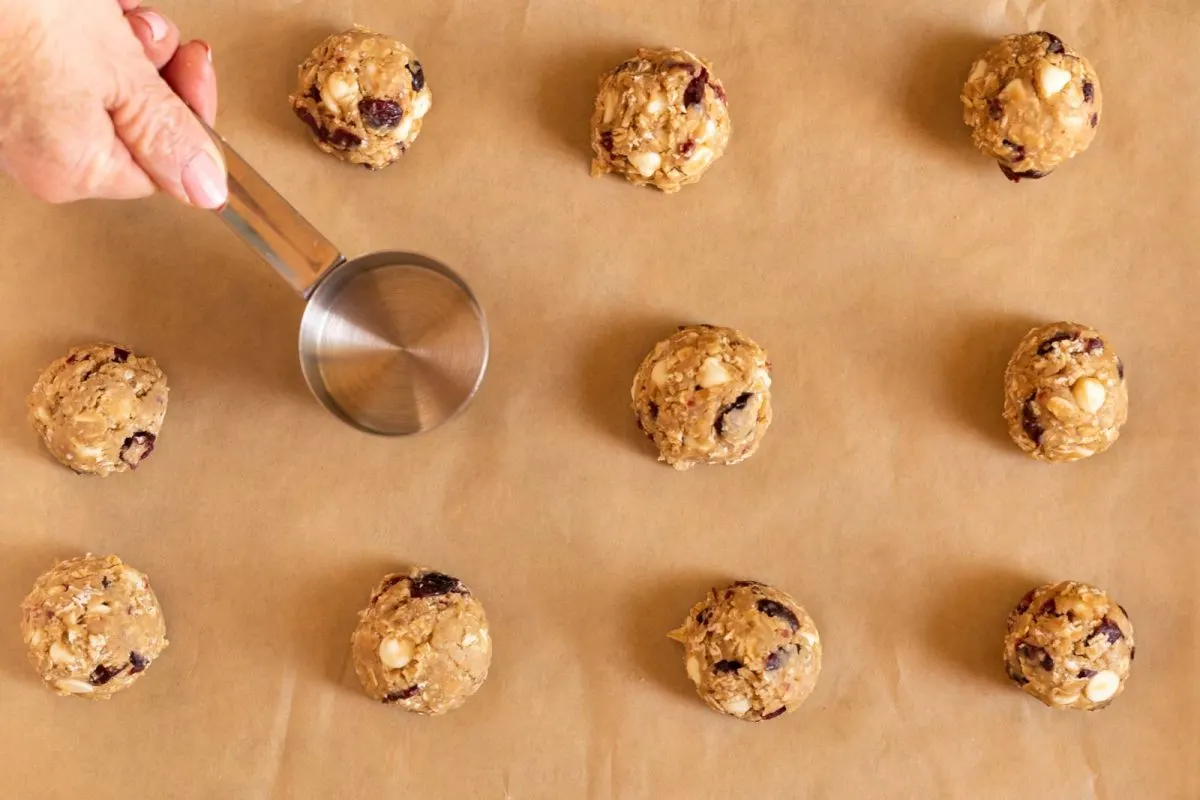 Get the oven preheating while you scoop the cookies onto a lined baking sheet. Flatten them gently with the back of a measuring cup or spoon.
Step 6: Bake the White Chocolate Cranberry Cookies
Bake for 9 to 11 minutes, turning the pan halfway through baking. Cookies are done when lightly browned on the edges.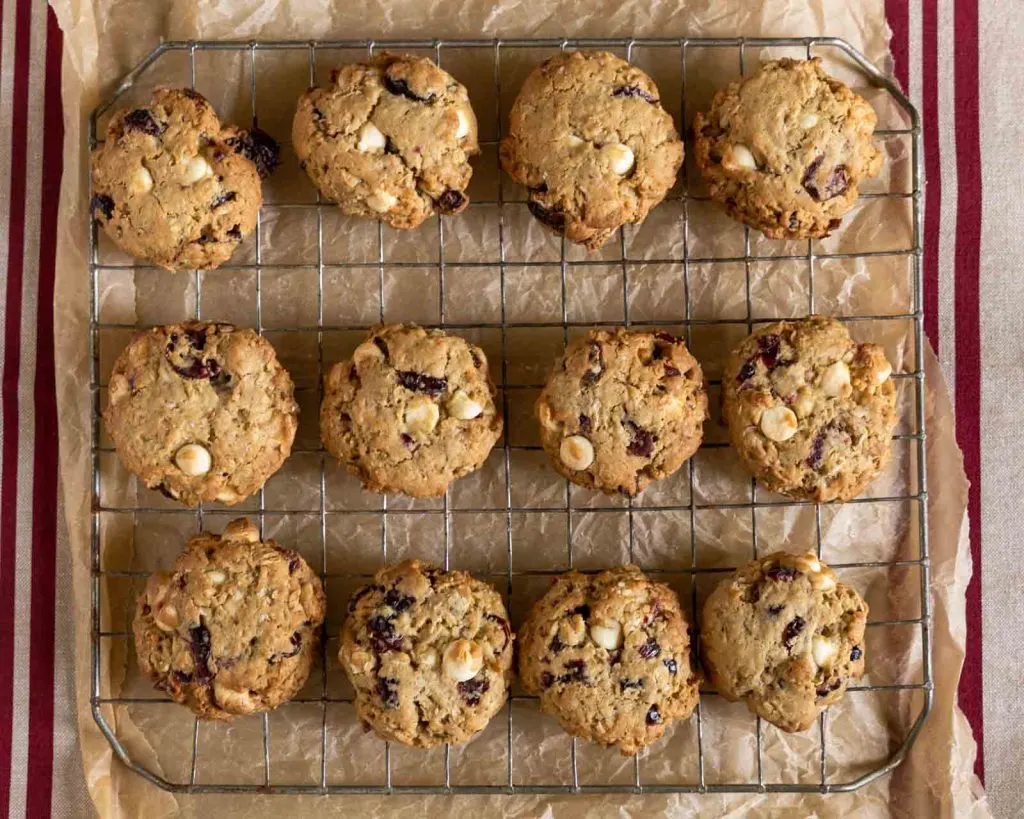 Popular Substitutions & Additions
Use raisins or any other dried fruit in place of the cranberries.
Use any chocolate chip or chocolate chunks in this cookie in place of the white chocolate chips.
Drizzle with melted dark or white chocolate for a festive look.
Press a few slivered almonds on each cookie before baking.
I used a smaller scoop for these white chocolate cranberry cookies so they would be the perfect size for holiday platters. You could easily make larger cookies without changing the cooking time.
Add nuts such as macadamia or walnuts.
Add 1 to 2 teaspoons of orange zest or a touch of orange extract.
How To Store Cranberry White Chocolate Cookies
Best Way To Store Leftover Cranberry Cookies
Keep your leftover cookies in an airtight container for five or six days at room temperature. No need to refrigerate!
Can I Freeze White Chocolate Cranberry Cookies?
Yes. You can freeze leftover baked cookies, or portioned cookie dough for up to three months in an airtight container.
How To Reheat Oatmeal White Chocolate Cranberry Cookies
If you want warm cookies, or you find that your cookies are just slightly stale, ten seconds in the microwave should be just about perfect. You may have to add a few seconds depending on your microwave.
If you are reheating cookies from frozen give it twenty to thirty seconds and then add small amounts of time as needed.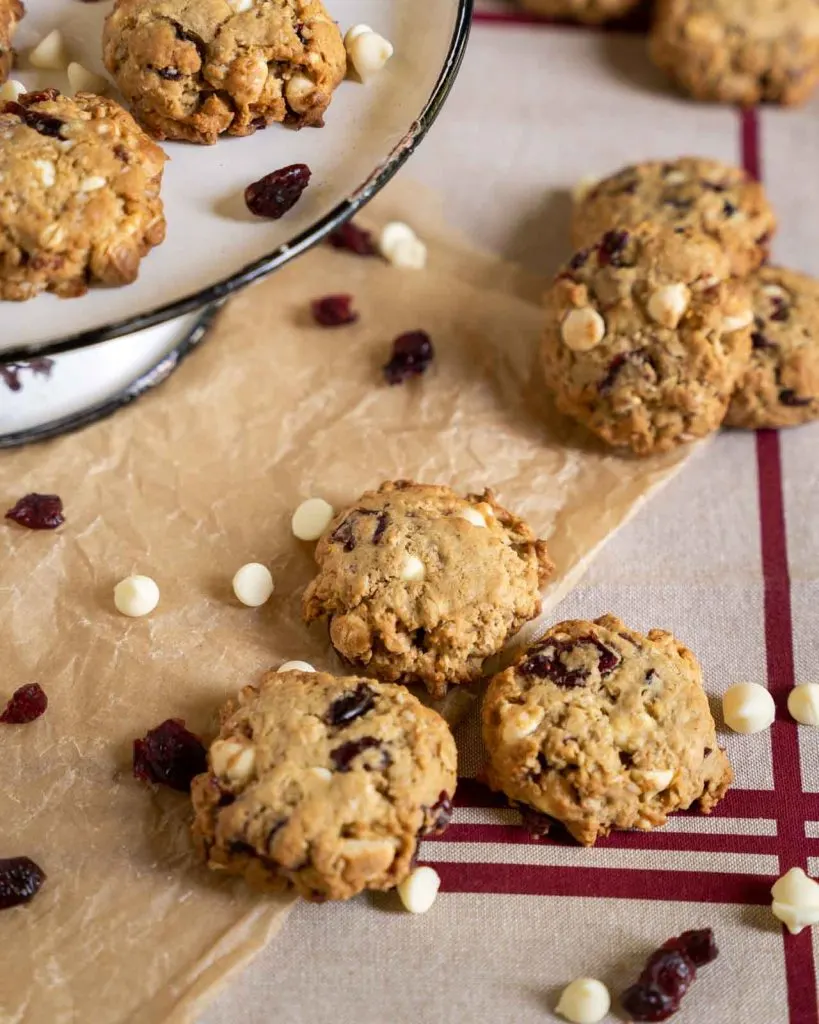 White Chocolate Cranberry Cookie FAQs
Should you flatten cookies before baking?
I baked up a batch of these cookies without flattening and with flattening. As you can see, the non-flattened cookies look more like cookie balls. I preferred the flattened cookies but you can choose either way.
Is White Chocolate Really Chocolate?
No, white chocolate isn't really chocolate because it doesn't contain any chocolate solids.
Is it better to chill cookie dough before baking?
Yes for this white chocolate cranberry cookie recipe. Chill the dough for 1 or 2 hours so the cookies keep their shape while baking. Chilling the cookie dough keeps the cold so they don't spread out while baking. Chilling also helps keep your cookies fluffy and not flat.
Can I put 2 trays of cookies in the oven?
Yes, you can. However, the trays need to be rotated for even baking. These cookies have such a short baking time that I bake one sheet at a time. For this reason, I make sure that I have 3 to 4 baking sheets.
Tips to Make the Perfect White Chocolate Cranberry Cookies
Chill the dough for 1 or 2 hours so the cookies keep their shape while baking. Chilling the cookie dough keeps the cold so they don't spread out while baking. Chilling also helps keep your cookies fluffy and not flat.
Make the cookie dough one day and bake the next. Cookie dough can be covered and refrigerated for up to 3 days.
Use a scoop – no more fighting over who gets the biggest cookie.
Fluff up the flour in your container before scooping it with the measuring cup. Compact flour will add more flour than this [focus word] calls for. I show you how in my baking techniques post.
Don't overmix the cookie dough. That can cause cookies to puff up and then go flat as they back or will result in a dense cookie.
This recipe makes 3 dozen cookies. I recommend that you keep the dough chilled between batches. Or refrigerate the baking sheet with the scooped cookies until they're ready to bake.
Remove the cookies just as soon as they start to brown on the edges so they come out soft and chewy.
Don't use a warm cookie sheet. And, if you're using parchment paper, do not reuse it once it's been in the oven. It can catch fire!
Remove the cookies from the baking sheet as soon as possible (2 to 5 minutes). Allowing the cookies to cook on the baking sheet will dry them out.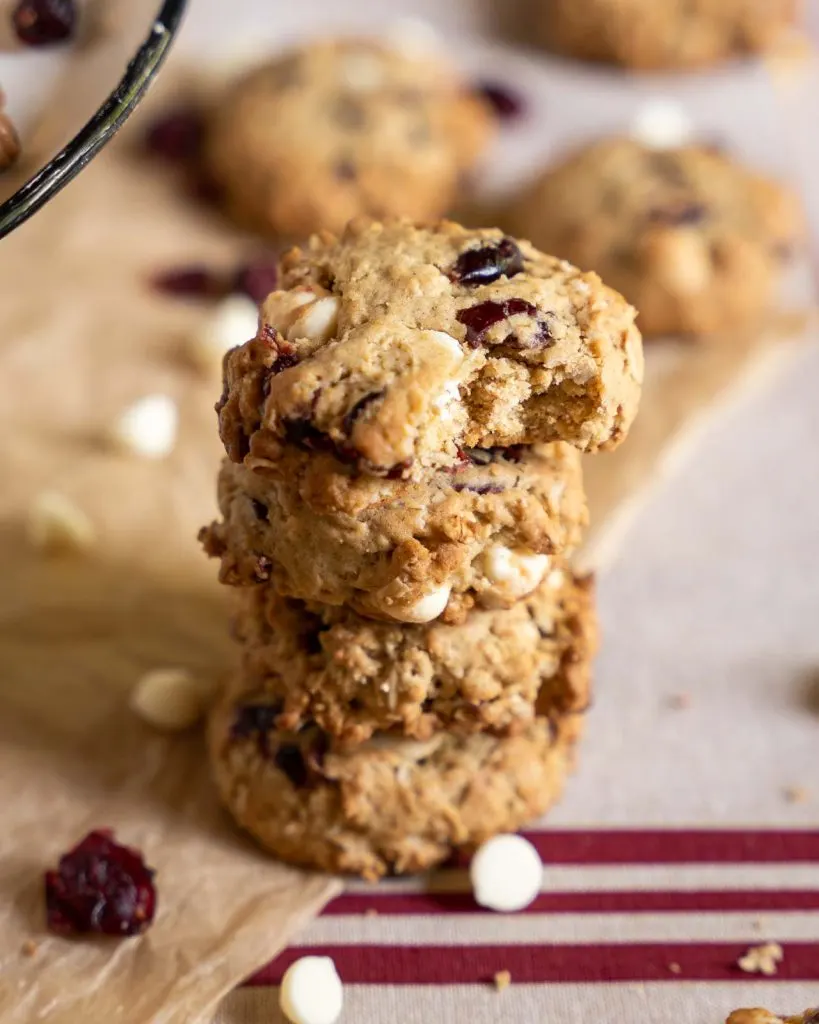 If you enjoyed this recipe check these out!
Don't Forget To Come Back And Let Me Know How the Cranberry White Chocolate Cookies Turned Out!
Welcome to #ChristmasCookies Week! That time of year when we soften the butter, fire up the oven, and make cookie trays for family, friends, and neighbors. This year more than 20 top-notch bloggers are sharing their very favorite creations for all to make and enjoy. Join us for a week's worth of Christmas cookie deliciousness.
Pin It Now