I love gingerbread! Whether it's a warm cookie right out of the oven, or I've made a new batch of our frosted gingerbread bar recipe, this flavor just breaths Christmas into our hearts.
You'll love these soft and tender chewy gingerbread bars, topped with a thick layer of luscious cream cheese frosting and festive sprinkles, just in time for the holiday season. They make the perfect holiday treat and will disappear quickly at the neighborhood cookie exchange.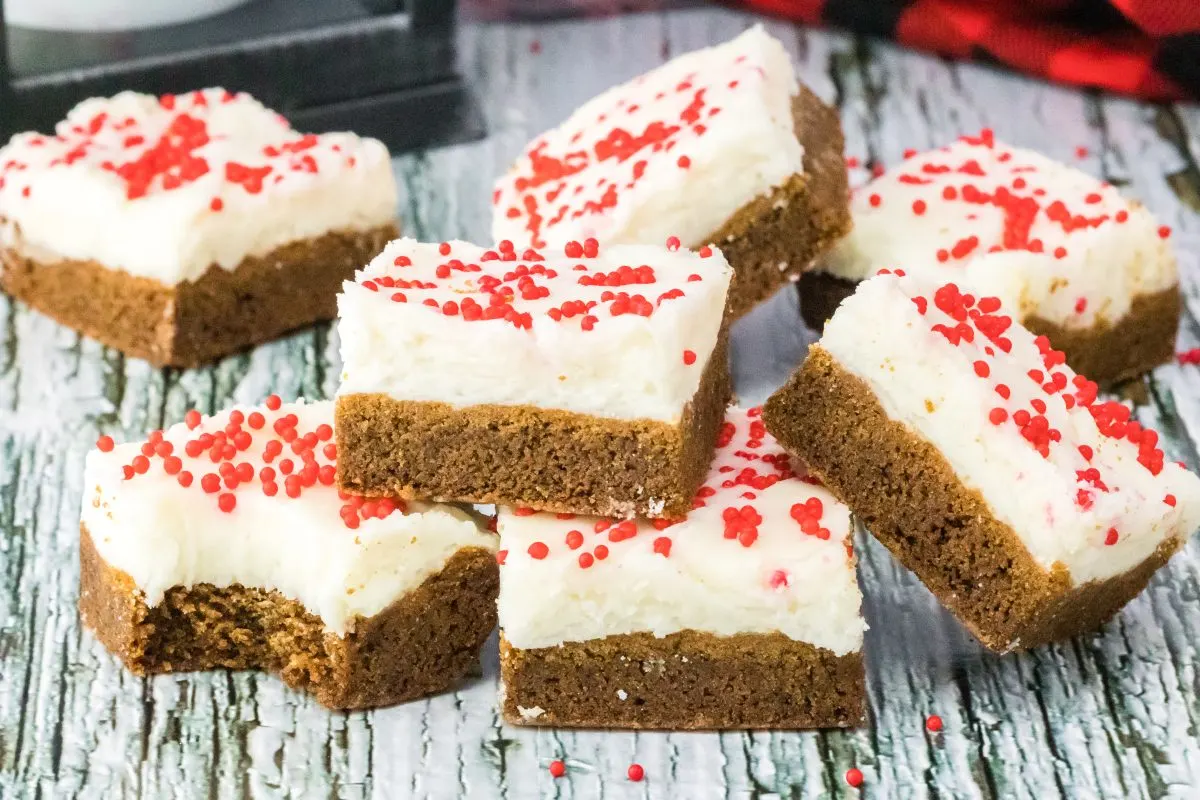 This is an easy recipe with amazing flavor and is guaranteed to become one of your favorite holiday traditions. Let us show you how they're made.
What is Gingerbread?
Gingerbread is baked goods flavored with warm spices such as ginger, plus cloves, nutmeg, and cinnamon, and sweetened with honey, sugar, or molasses. Many countries and families have their own favorite gingerbread recipes that are made during the holiday season. It can be hard crispy cookies like gingersnaps, little gingerbread men and women with royal icing, or soft gingerbread loaves warm from the oven. Just the smell of gingerbread baking can bring all the childhood memories rushing back.
Ingredients You'll Need for this Recipe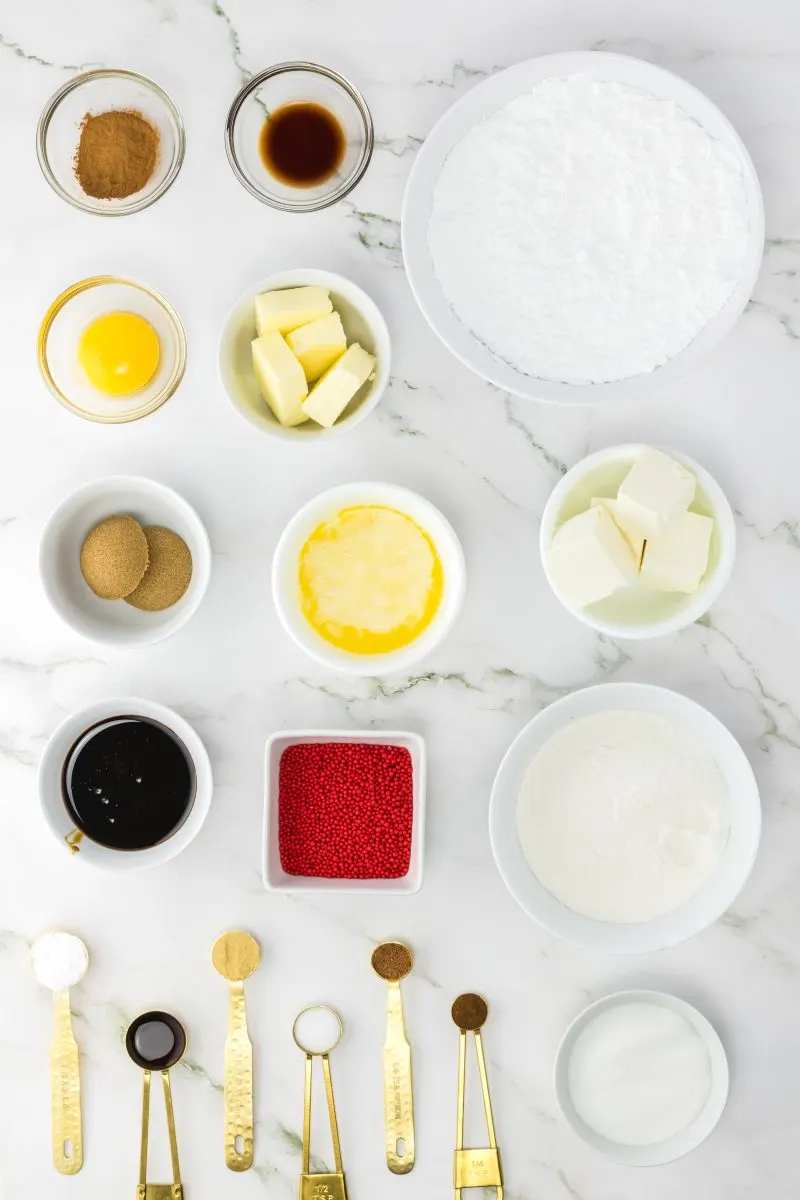 Gingerbread Cookie Base
Ingredients for the Cream Cheese Frosting
How To Make Gingerbread Bars
Please note, that the printable recipe card has ingredient quantities, complete instructions, and nutritional information. The following is a quick overview of the recipe.
Step One. Preparation is everything.
Preheat your oven and prepare the pan.
Step Two. Mix the wet ingredients.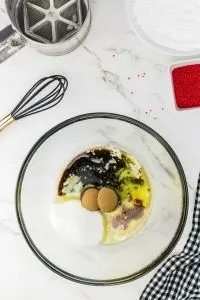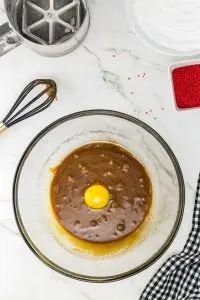 In a large bowl, whisk together the granulated sugar, melted butter and molasses, brown sugar, and vanilla until combined. Add the egg yolk and continue whisking.
Step Three. Mix the dry ingredients on your gingerbread bars recipe card.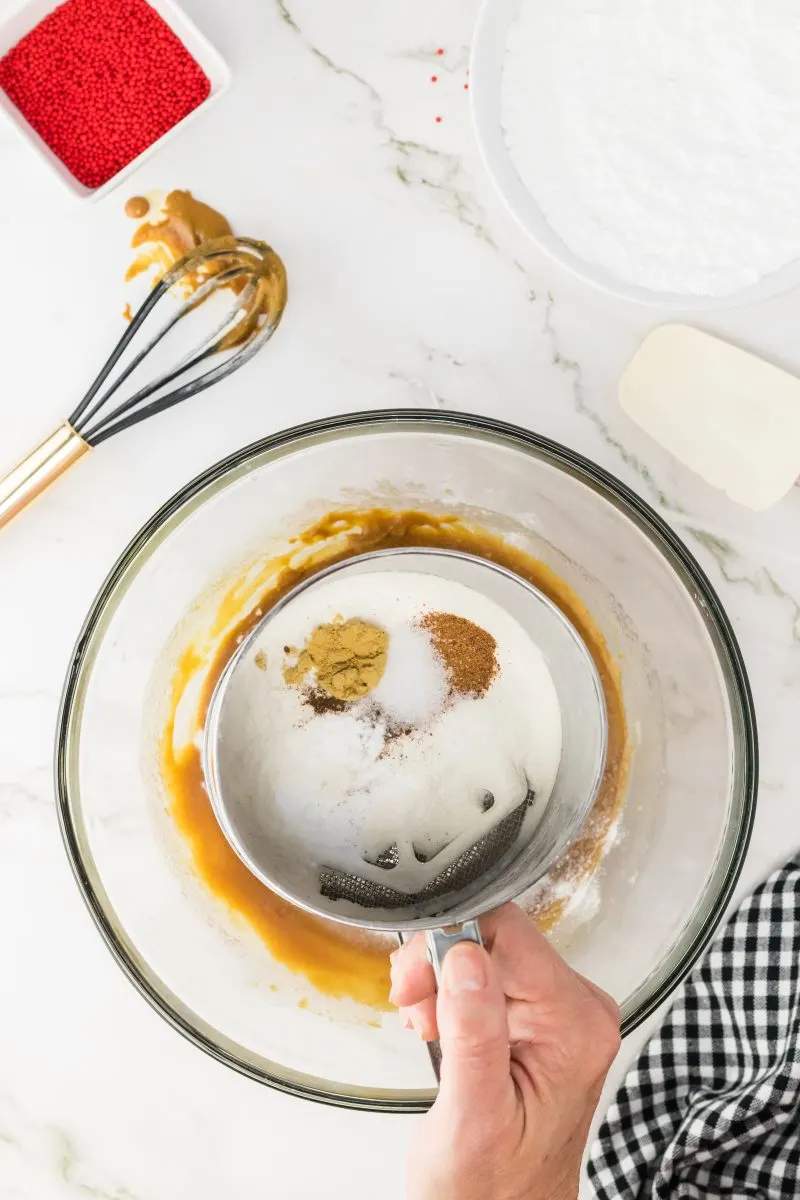 Combine the flour, cinnamon, baking soda, salt, ginger, nutmeg and cloves in the sifter and sift over the sugar molasses mixture.
Step Four. Fold to combine the wet and dry ingredients.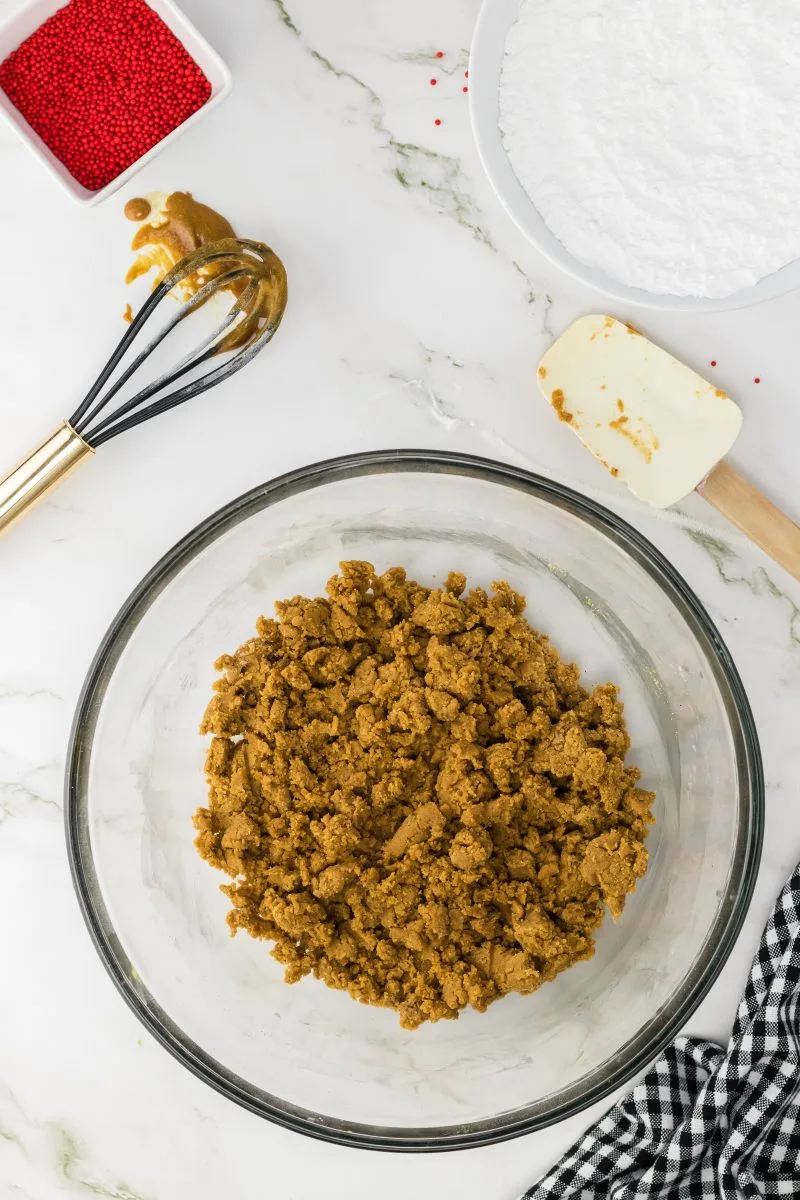 Fold ingredients together. Mixture will be crumbly.
Step Five. Bake your Gingerbread Cookie Bars.
Press the batter into the prepared pan and bake the bars.
Step Six. Cool Completely.
Cool them completely on a wire rack before applying the cream cheese icing.
Step Seven. Mix the frosting and frost the gingerbread bars with delicious cream cheese frosting.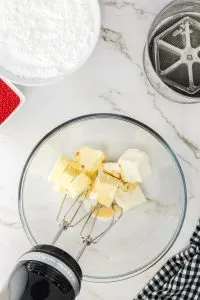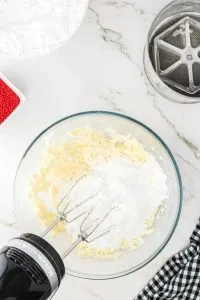 We used our electric mixer on medium speed until thoroughly mixed with a light texture.
Spread over cooled cookie bars. Add sprinkles!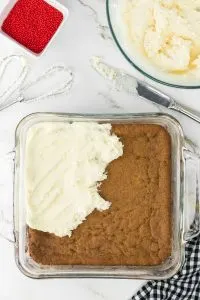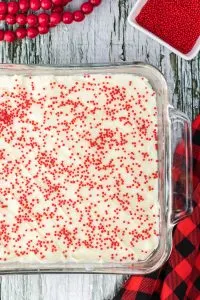 Frequently Asked Questions
What kind of molasses should I get for making gingerbread?
Unsulphured molasses or cooking molasses is the kind you should use and is what you will most likely find at your local grocery store. You may see molasses labeled as "blackstrap molasses". This is a strong and somewhat bitter molasses and is not recommended for this recipe.
How can I tell if my gingerbread bars are done?
Preheat your oven. Cook for the minimum time listed on the recipe card. Check with a toothpick. If the toothpick has moist crumbs clinging to it, the bars are ready to come out and cool in the pan.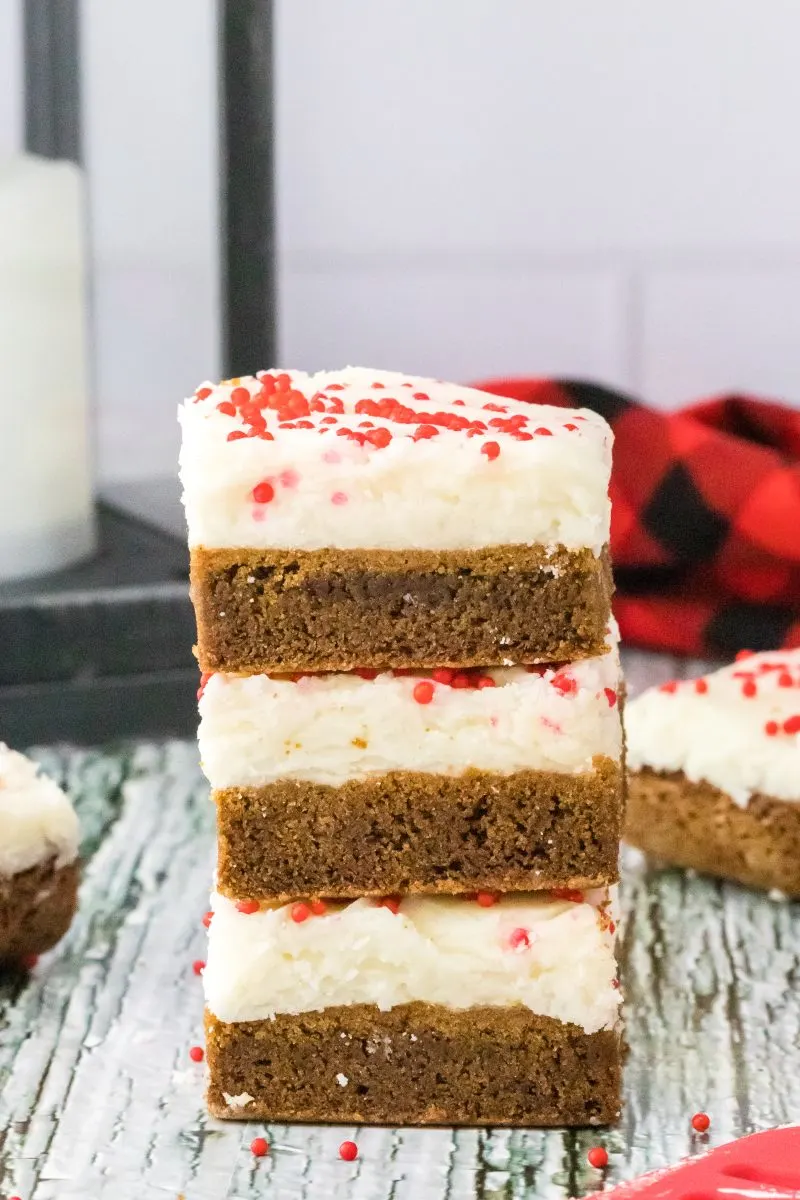 How To Store Gingerbread Bars
Best way to store Gingerbread Cookie Bars
Our frosted Gingerbread bars are best stored in the refrigerator and will keep for six days in an airtight container.
Can I freeze Gingerbread Bar Cookies?
Yes, you can freeze Gingerbread Bar Cookies in an airtight container for up to four months. Thaw at room temperature. Microwaving will melt the frosting. Freezing the bars ahead of the Christmas season saves time when you're making your holiday cookie tray recipes or need a tasty holiday dessert. I recommend freezing them without the frosting in an airtight container or freezer-safe ziplock bag. The frosting can be frozen separately and once thawed, stir it until it's smooth. Add a little milk or cream if it's too thick.
Variations and Substitutions
We love the rich cream cheese frosting but a simple glaze works perfectly for gingerbread bars and is a nice alternative to the cream cheese frosting. Buttercream or Vanilla Frosting is a good choice as well. You can even serve them plain or top them with a dusting of powdered sugar.
Adding mini dark chocolate chips (white or brown) is a fun touch.
Crushed chopped nuts, crushed gingersnap cookies, or crushed red hots can all be used in place of sprinkles.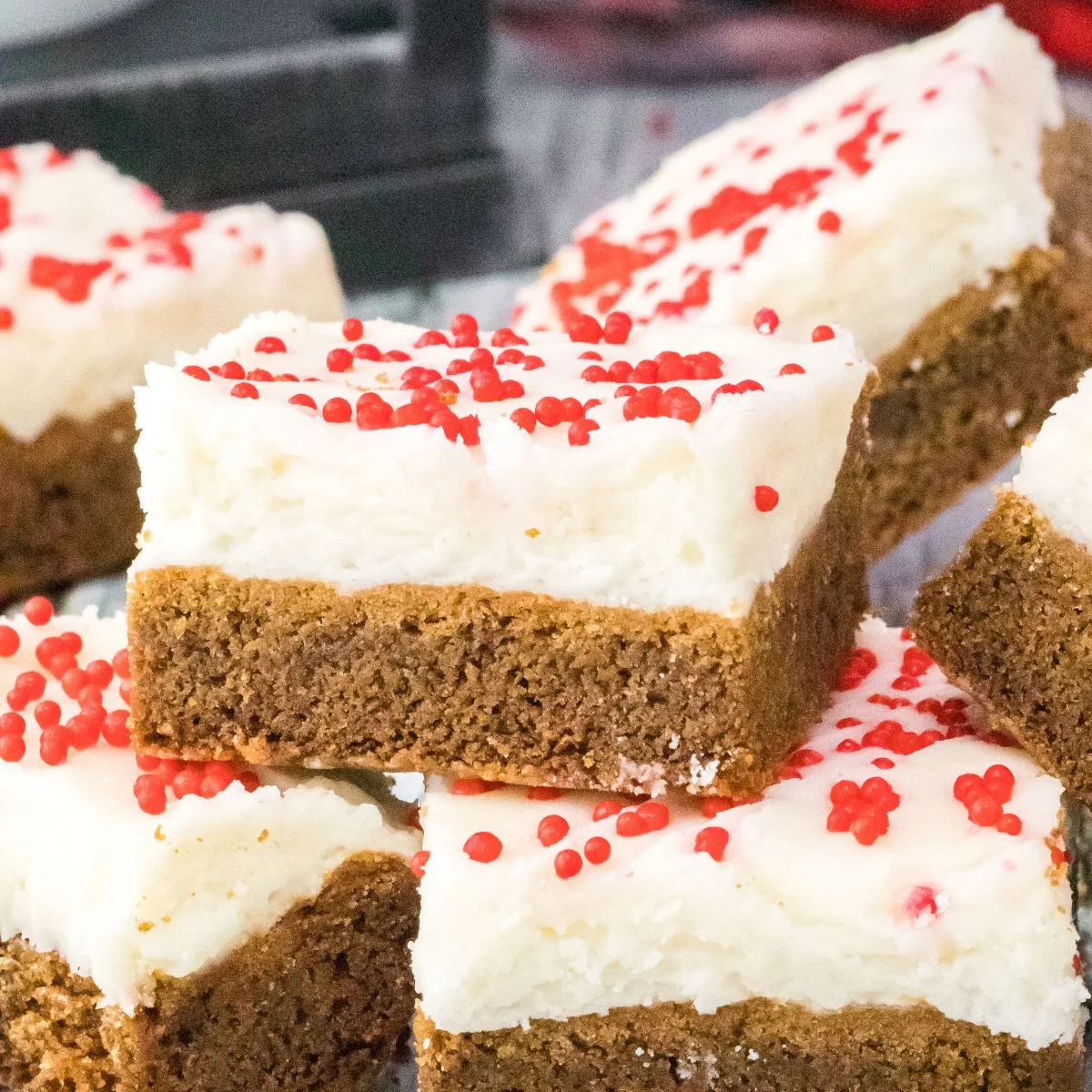 Hostess Tips and Tricks
If you enjoyed our yummy Gingerbread Bars I think you'll enjoy these too!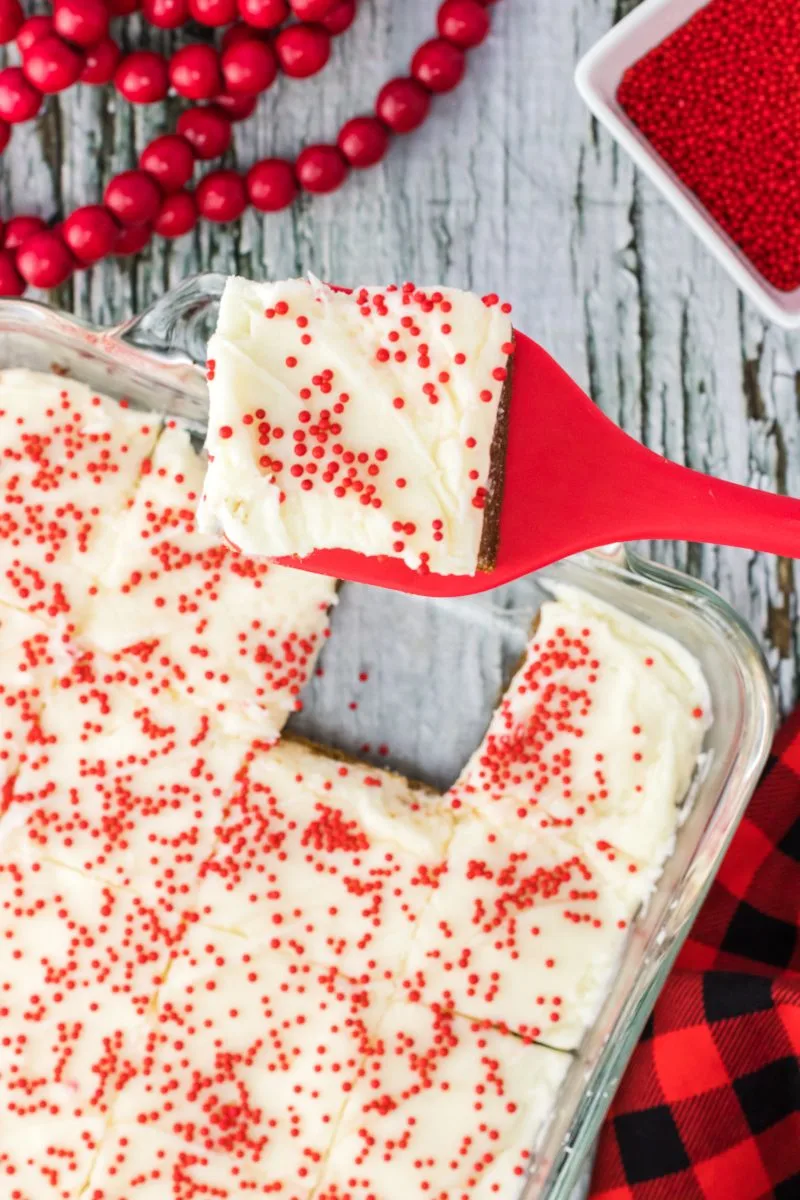 I hope you enjoyed this delicious recipe as much as we do. Drop me a comment below, and don't forget to give it a star rating. ⭐⭐⭐⭐⭐. Your comments and ratings help others decide if this recipe is for them too.