Flavored with olives and perfectly textured, this gorgeous olive bread is exactly what you want in fresh bread for the table. Make our easy green olive bread and enjoy it on a charcuterie board or with a huge variety of meals.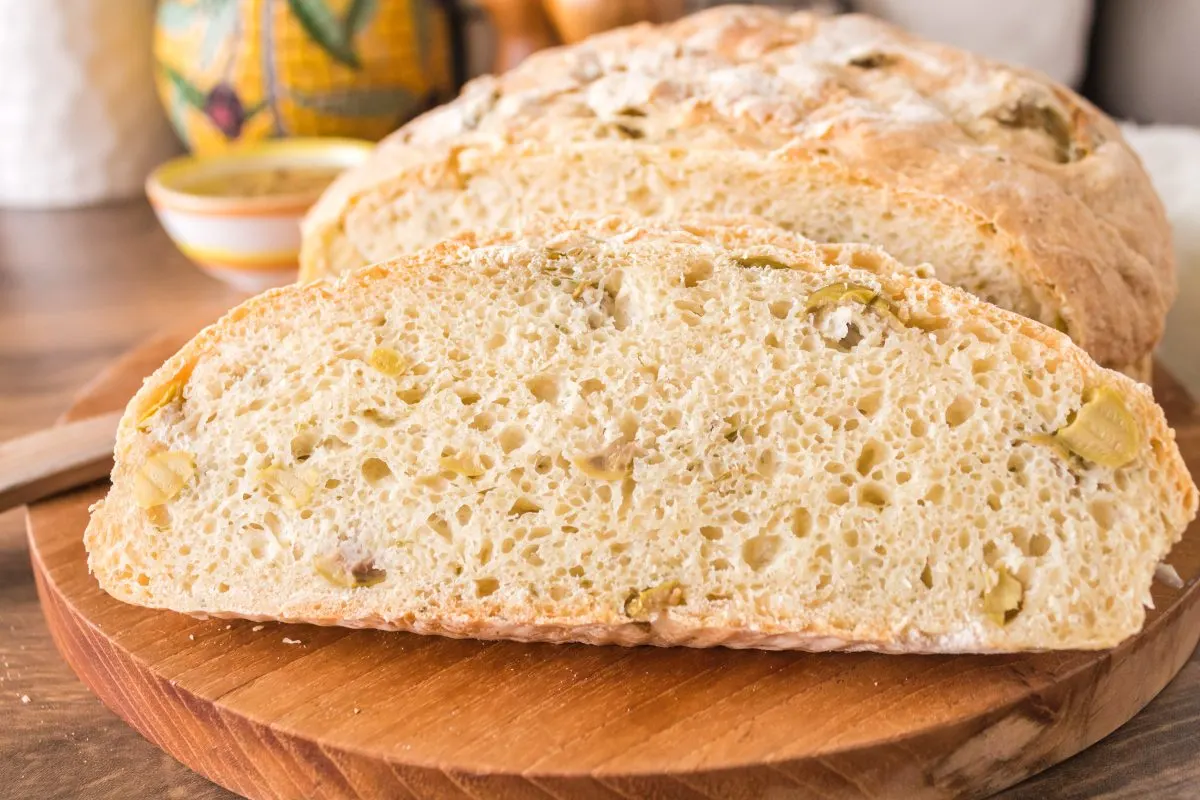 Make an unforgettable loaf of our easy green olive bread recipe. Enjoy the soft and tender crumb of homemade bread with a touch of salty olive brine. We will share step-by-step instructions and give you tips and tricks to make sure your homemade olive bread turns out perfect every single time.
Why You'll Love This Recipe for Olive Bread
Seven Simple Ingredients. The thing I love about making bread recipes at home is that it doesn't take much on hand to make a beautiful loaf you can be proud to serve.
Savory and Unique Bread. This is not a loaf of bread every home baker serves at their table. The inspired flavor of this recipe will set you apart.
No fuss recipe. It's not complicated to make olive bread from scratch and once you try it you will make it again and again. It's a no-knead recipe that you can make and serve on the same day!
Versatile. This olive loaf bread makes a great appetizer on a charcuterie board with balsamic vinegar and olive oil for dipping. Serve this rustic loaf with your favorite Greek salad or a steaming cup of soup.
What is Olive Bread?
This bread originated in Italy and is usually associated with food from the Mediterranean region. It is a savory bread laced with the olives that give it its classic flavor and texture.
Ingredients you'll need for this recipe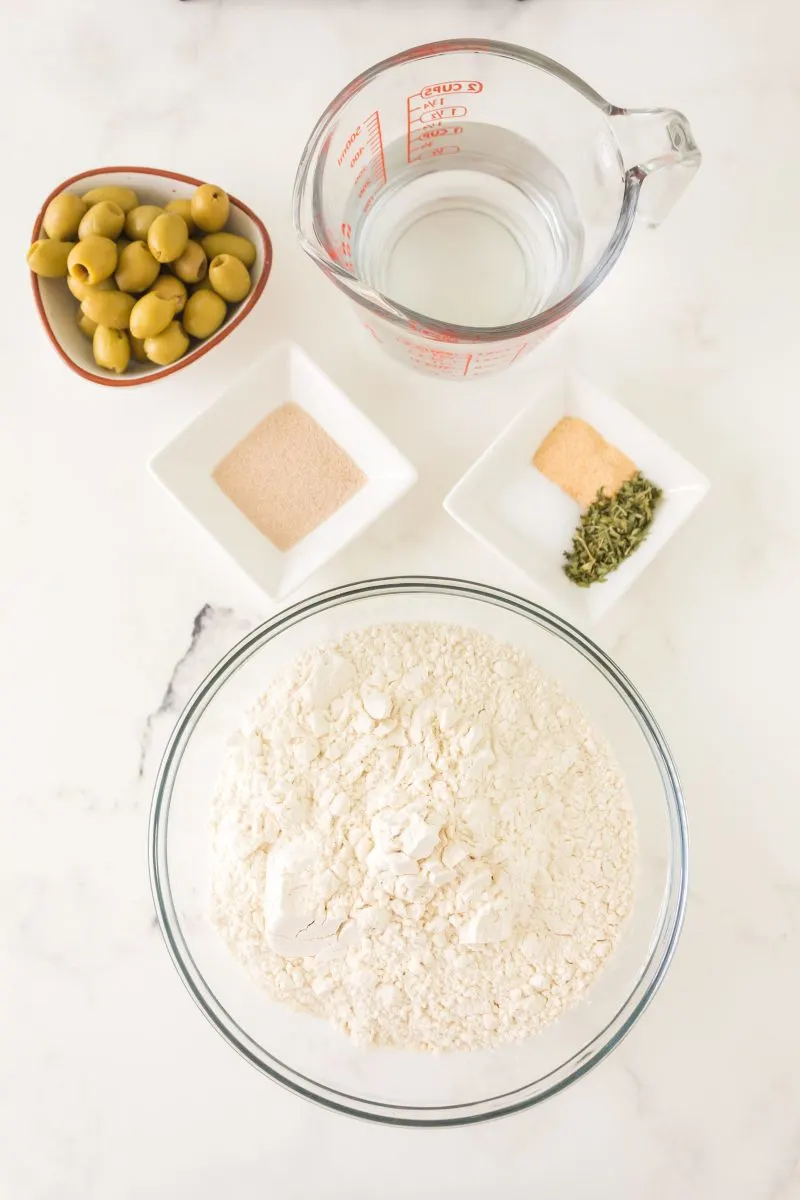 Lukewarm water. Warm water helps the yeast get started.
Active dry yeast. Yeast can be purchased in several different forms. Make sure you buy the right kind for this recipe. If yeast confuses you, check out our baking tips.
Pitted Green Olives. You can make several different variations of this bread, which includes different types of chopped olives. See our list of suggestions down below!
Unbleached All-Purpose Flour. Bleached will also work.
Salt.
Garlic Powder. Using the granulated powder makes sure the flavor is infused in every inch of the bread.
Dried Parsley. This adds both color and texture.
How To Make Olive Bread
Please note, that the printable recipe card has ingredient quantities, complete instructions, and nutritional information. The following is a quick overview of the recipe.
First Step. Proof the yeast.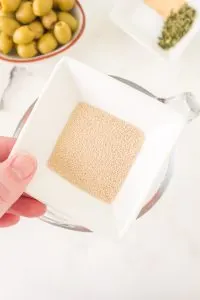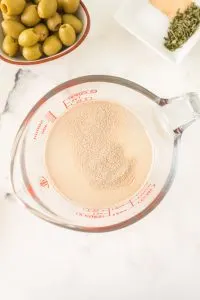 This ensures that yeast is alive and active and will work its magic to make your bread rise.
Note: If you have instant yeast you can substitute it for the active dry yeast 1:1. Continue with the instructions, ignoring the activation time.
Second Step. Prepare the Green Olives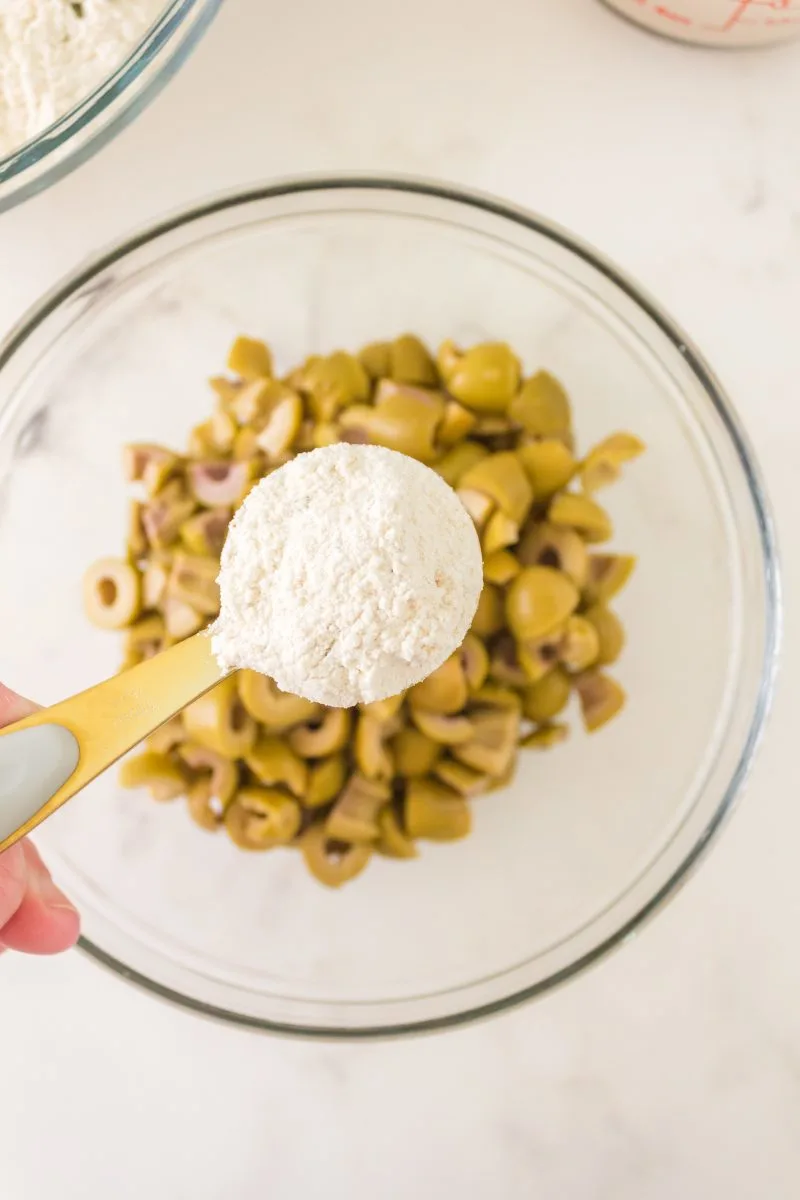 Chop the olives to the size of a chocolate chip. Drain them on a paper towel. Mix them with flour. This helps them stay suspended in the bread. Set aside.
Third Step. Mix the dry ingredients.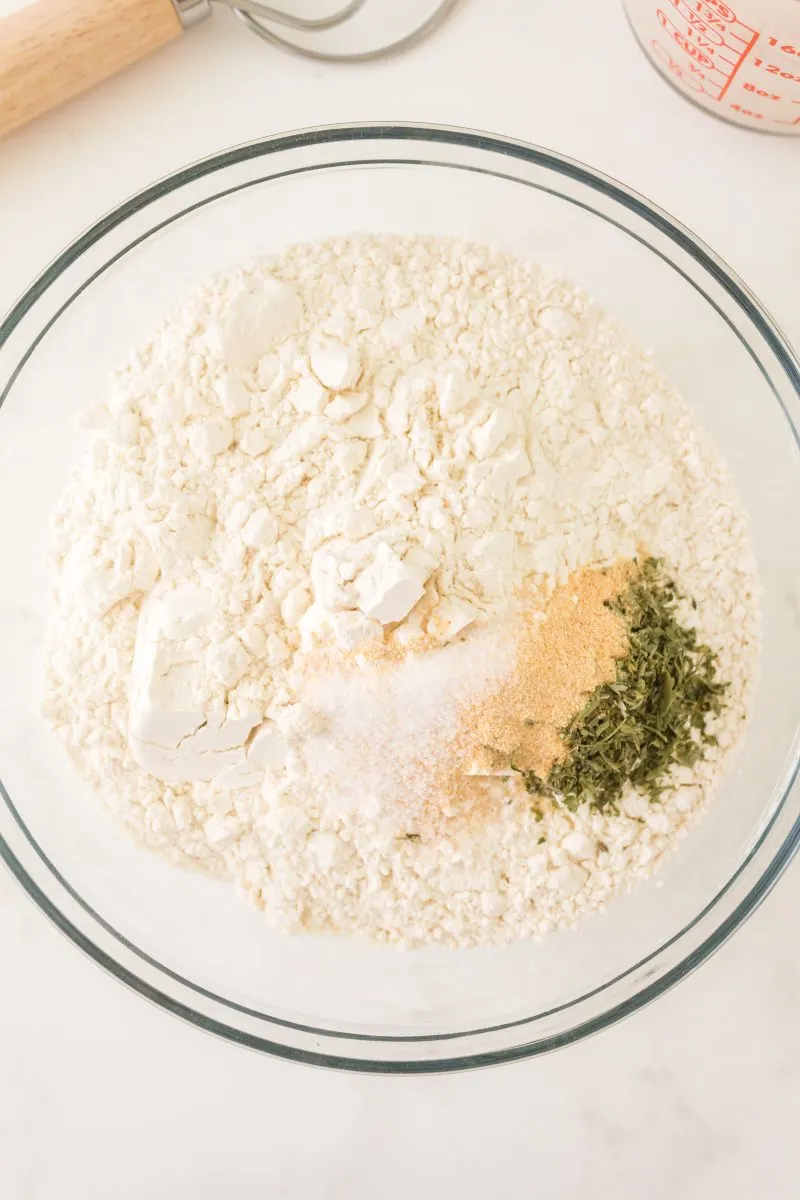 In a medium-sized bowl, measure the flour and add the salt, garlic powder, and dried Parsley.
Fourth Step. Combine the wet and dry ingredients. Add Olives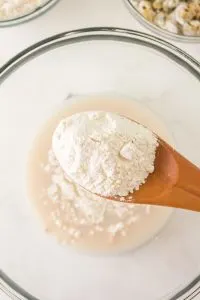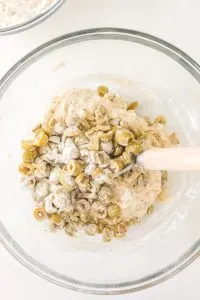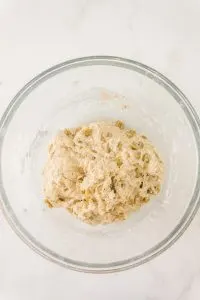 In a large mixing bowl, combine the yeast mixture and add ½ of the flour mixture. Then add the olives and the remaining flour mixture. Mix until it is all combined.
Fifth Step. Let it rise.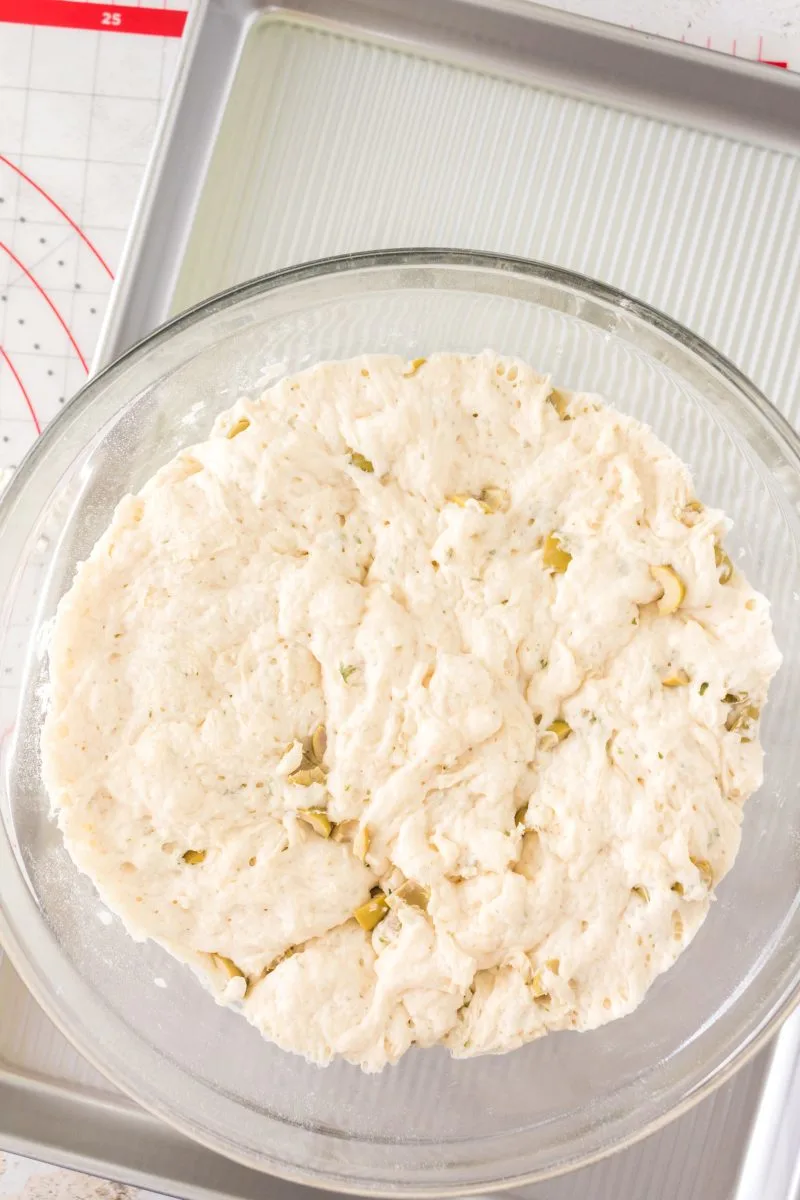 Leave the dough in the bowl. Cover with plastic wrap or a clean kitchen towel and let it rise in a warm draft-free place for 90 minutes or until the dough has doubled. This is the first rise of two.
Sixth Step. Shape the green olive bread dough into a loaf.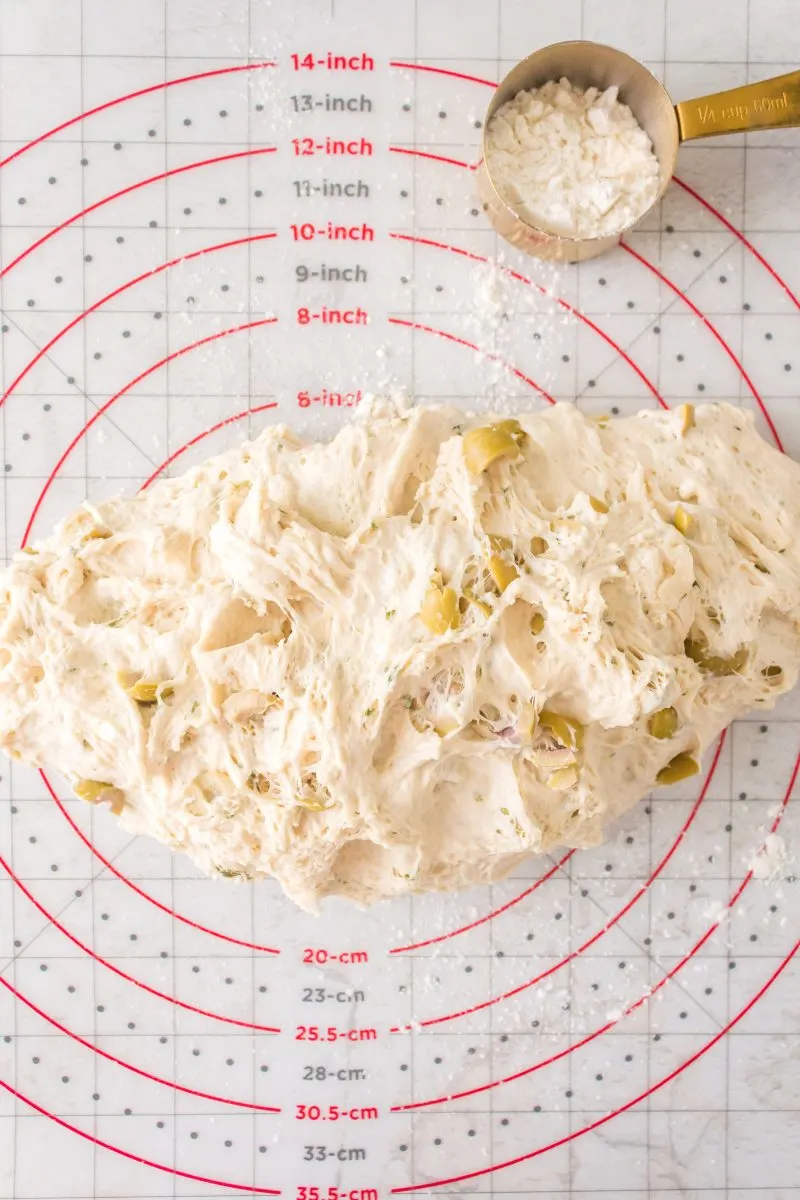 Once the dough has doubled, transfer it to a floured surface and form the dough into a rough loaf.
Seventh Step. Let it rise a second time, while you preheat the oven.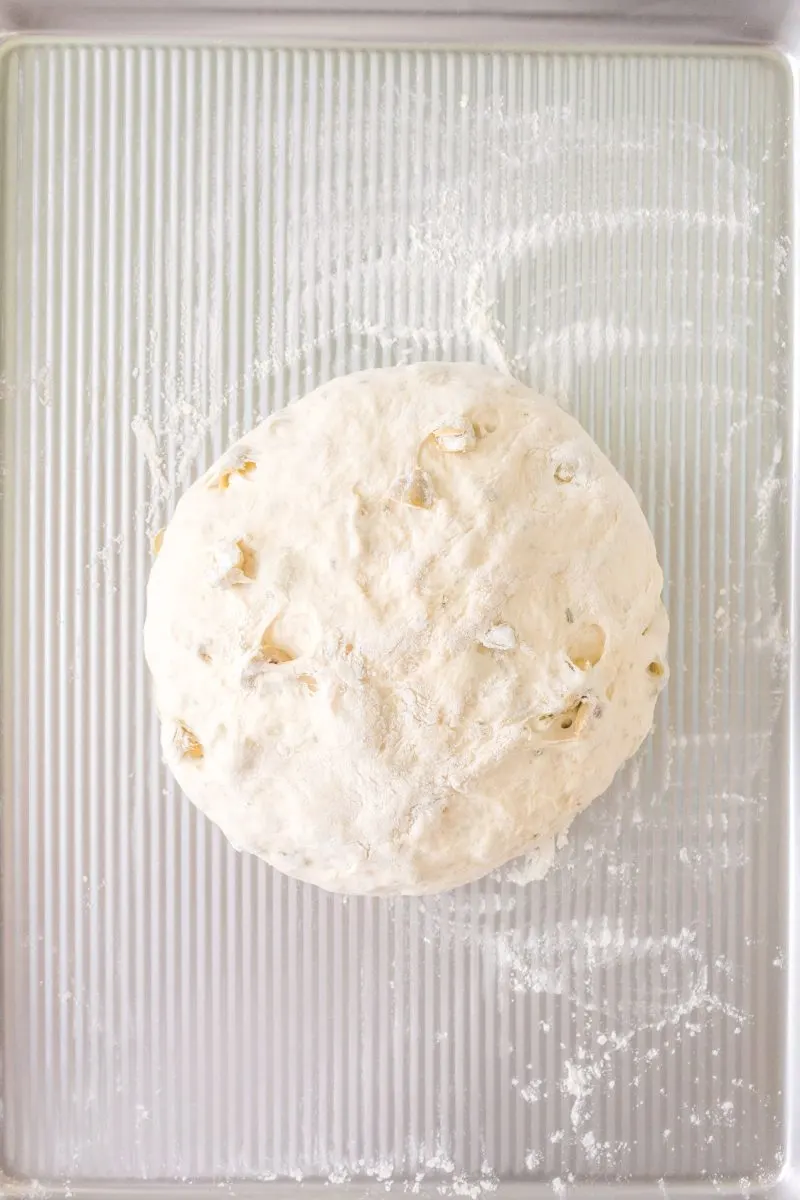 Cover with a tea towel and let it rise in a warm place for 45 minutes for the final rise. Transfer dough to a lightly floured cookie sheet and shape into a ball. Score the bread with a sharp knife or razor blade.
Eighth Step. Bake your Green Olive Loaf.
Bake in the preheated oven for 40-43 minutes. Cool on a wire rack.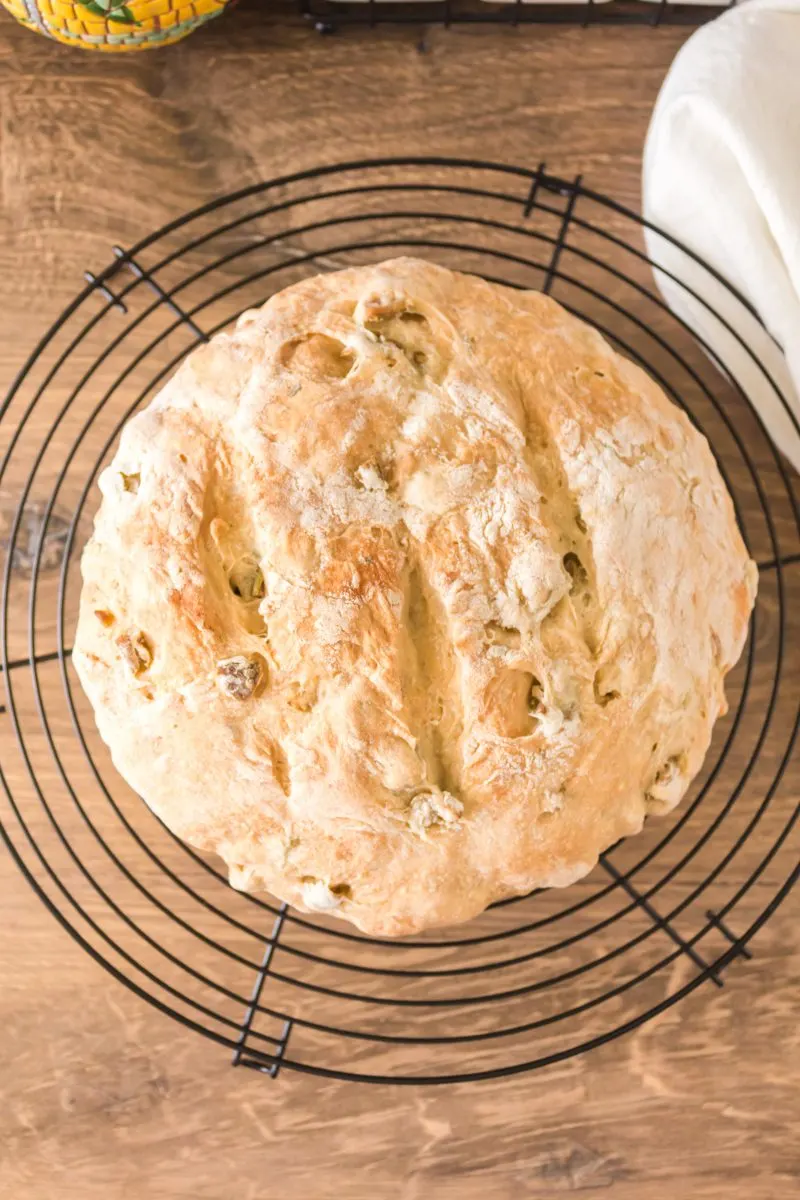 Frequently Asked Questions
Is olive bread vegan?
Yes. This recipe is a vegan recipe.
How to eat olive bread?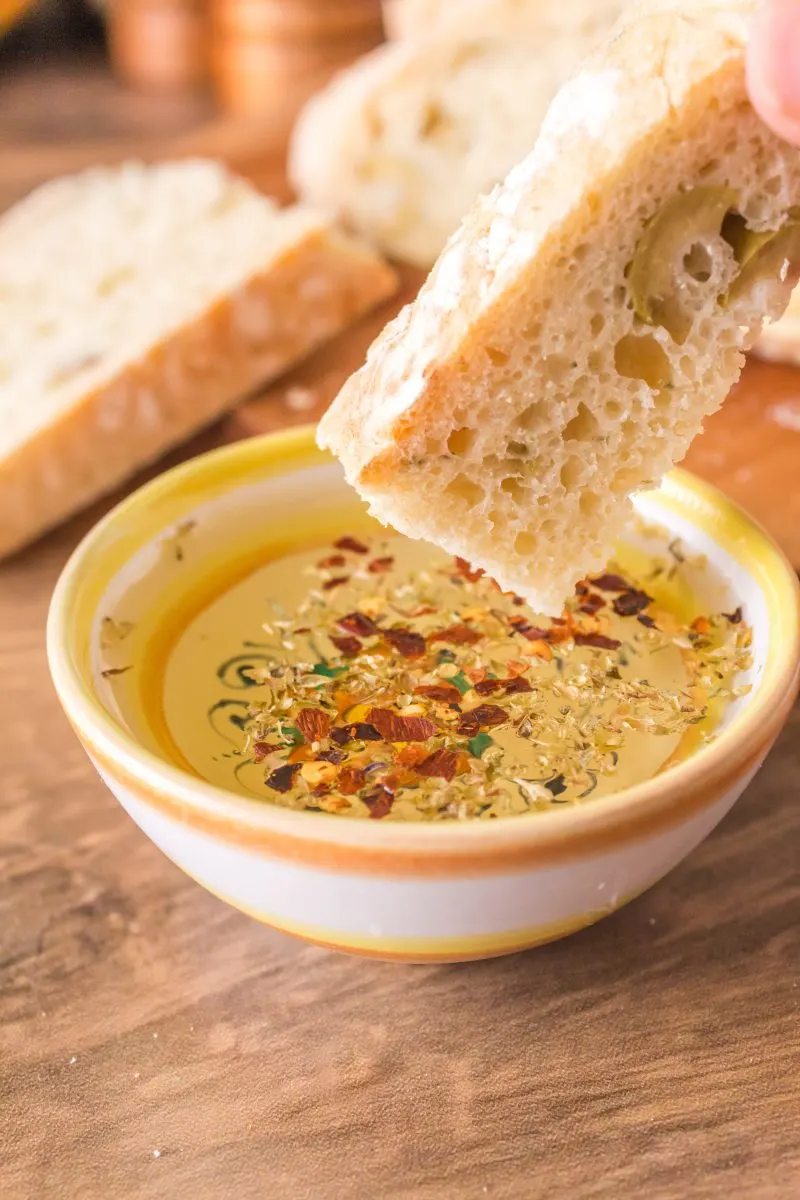 This bread is fantastic dipped with olive oil and spices. It is the perfect accompaniment to Mediterranean recipes, soup, or a nice fresh salad. Any time you think you might want to make fresh bread, this is a good choice and a change of pace from the traditional choices. And, my very favorite is a slice with a creamy bowl of pasta!
How To Reheat & Store Easy Green Olive Bread
What is the best way to store Olive Bread?
After the bread is completely cooled, store the bread at room temperature in an airtight container or a bread bag. If it's not cooled, your crunchy crust will become gummy.
Can I freeze Olive Bread?
Yes. Freeze a loaf of bread wrapped in parchment paper and then place it in an airtight container, freezer-safe plastic bag, or wrapped in aluminum foil. We find double wrapping a fresh loaf of bread protects it longer from freezer burn. Freeze for up to 6 months.
You can also freeze individual slices. Bread can be thawed at room temperature or individual slices can be toasted in the oven or toaster oven.
How do you reheat Green Olive Bread?
Toast individual slices in your toaster oven or microwave a slice for about ten seconds.
Olive Loaf Recipe Variations and Substitutions
Substitute green olives for Kalamata olives for a delicious Meditteranean Kalamata Bread. Black olives are also a good option. Hey olive lover, use the type of olives that you like.
For cheesy olive bread add 1⁄2 to 3⁄4 cup of shredded or diced cheese. Asiago, Feta, Gruyere, and cheddar are our favorites.
Fresh herbs are a great addition to this rustic olive bread. Fresh rosemary or a Meditteranean spice blend would be delicious. We recommend 1 tablespoon of all herbs combined for the whole loaf.
Use a "bread dip" blend of spices in olive oil for dipping. You can find these spice blends in small metal jars at the farmer's market, but they are also becoming popular in regular grocery stores.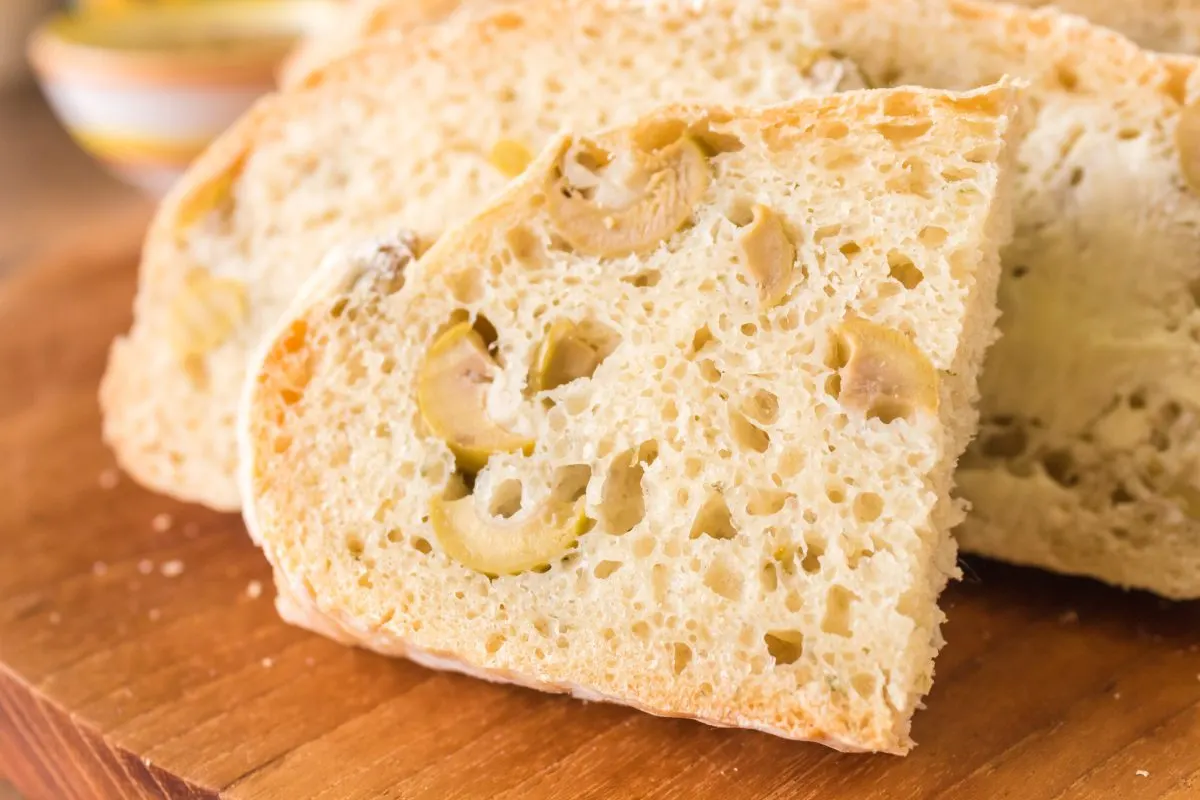 Hostess Tips and Tricks
Check the expiration date on your yeast. Get fresh yeast if it's expired or even close to expiring.
You would think that all of the olives in the grocery store are pitted. Not the case! Make sure you look for the word "pitted olives". (Personal experience).
Let the bread cool completely before slicing it. It will set up and be easier to slice without crushing it.
A Danish dough hook is an excellent investment. A second alternative is a wooden spoon. The dough is really thick, I would not recommend a hand mixer or even a stand-up mixer.
Use a microwave to heat your water so that it is the perfect temperature for the yeast. You can check the temperature using an instant-read thermometer. Do not overheat the water, or the yeast will die.
If you want a loaf of crusty bread that's golden brown, brush the top of the dough with an egg wash or melted butter before baking it.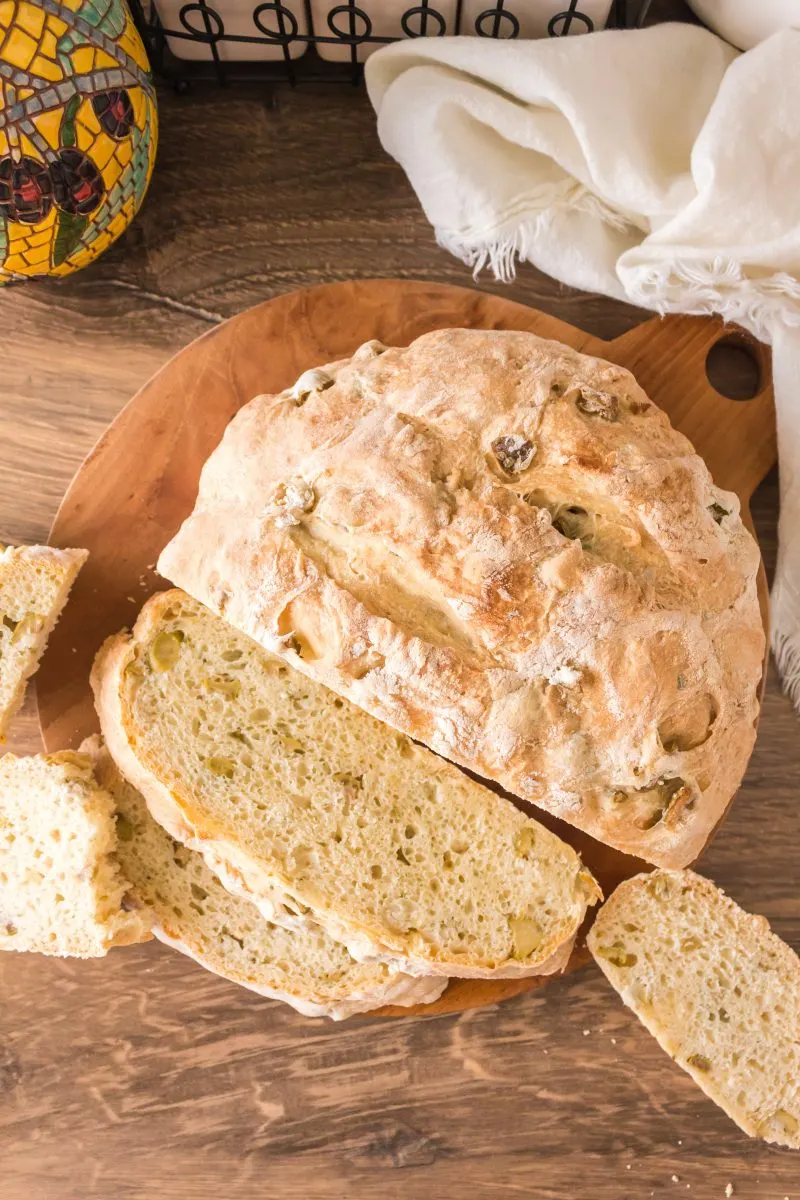 If you enjoyed this Easy Olive Bread Recipe I think you'll enjoy these too!
Homemade bread is such a great way to bring comfort to the table! Try our very popular Cuban Bread, or make a loaf of Homemade Cheese Bread. Mix up a batch of this Cinnamon Raisin Bread, or try our recipe for Homemade Italian Bread Recipe. Learning to make homemade bread is something you will never regret.
I hope you enjoyed this delicious recipe as much as we do. Drop me a comment below, and don't forget to give it a star rating. ⭐⭐⭐⭐⭐. Your comments and ratings help others decide if this recipe is for them too.
Pin this amazing recipe!