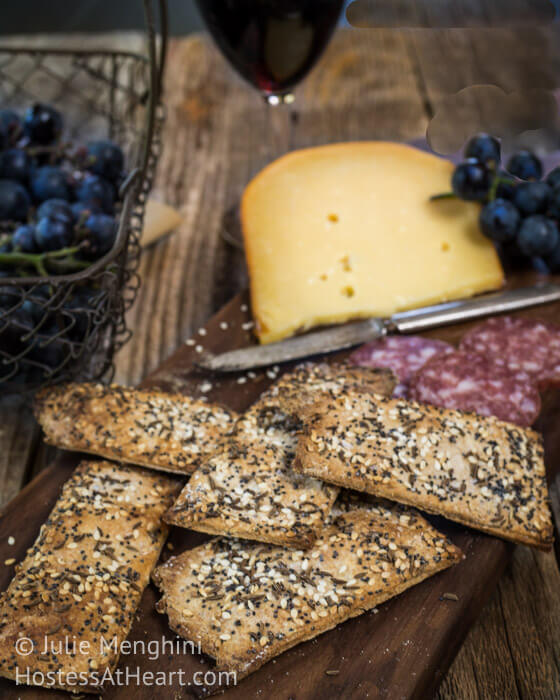 It's that time of month when I get to participate in the monthly challenge from my bread baking group, Twelve Loaves. This month the challenge is another side of breads…a less leavened side: we had the challenge to bake Crackers, Crisps and Flatbreads. Our very talented host is Camilla from Culinary Aventures with Camilla.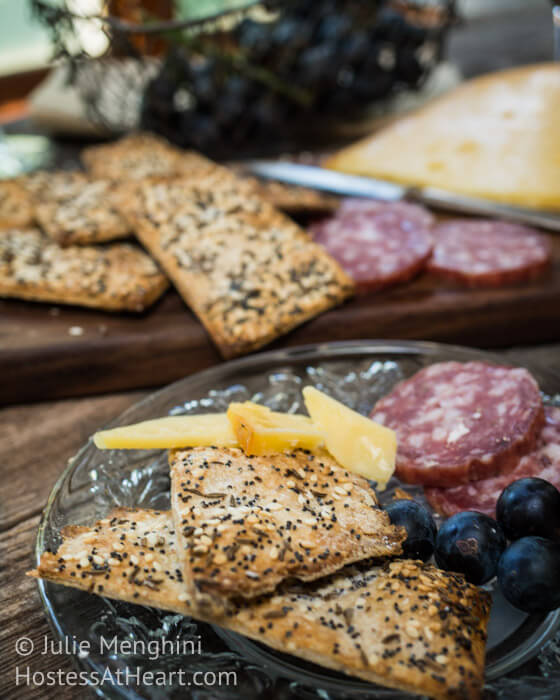 This was a very interested challenge for me. I've been wanting to try making crackers for quite some time. I had so much fun, but let's just say….Keebler doesn't have a thing to worry about. It is experience that makes us better at what we do right? These crackers tasted delicious. I got three pans (not completely full). Each one was a bit better than the last.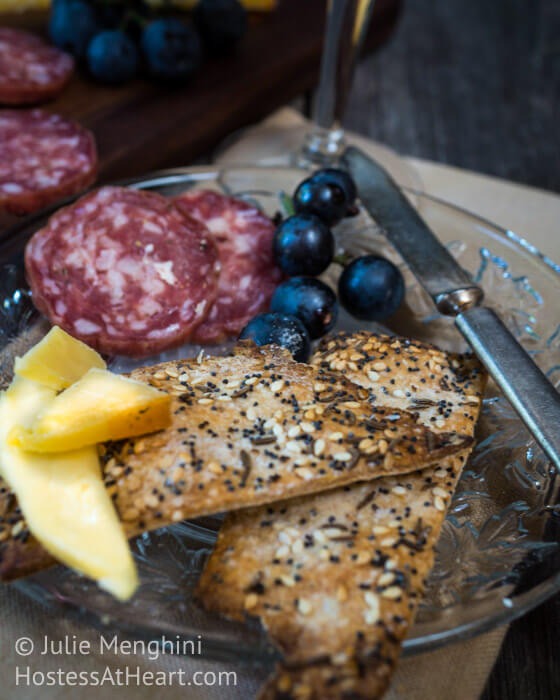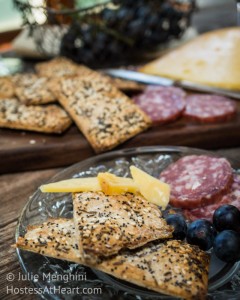 Three Seed Crackers #Twelveloaves
An easy and delicious cracker that is perfect as a snack or an appetizer on a meat or cheese tray.
Ingredients
Topping
1

tablespoon

sesame seeds

2

teaspoons

poppy seeds

2

teaspoons

caraway seeds

3/4

teaspoon

kosher salt
Dough
1-1/2

cups

unbleached all-purpose flour plus more for dusting

1/2

cup

whole wheat flour

1

teaspoon

salt

3

tablespoon

extra-virgin olive oil

1/2

cup

water
Instructions
Place oven rack on the bottom third of the oven. Preheat oven to 450 degrees F. Line 2 baking sheets with parchment paper.

Mix the topping ingredients and set aside.

In a large bowl, whisk the APF, whole wheat flour and salt together. Add olive oil and water to the flour mixture with a rubber spatula until a soft crumbly ball forms. Press against the side of the bowl with the spatula or your hand to pick up stray flour.

On a lightly floured work surface, cup three equal portions. Pat each portion into a square. Set 2 aside and cover with clean towel. Roll the remaining dough into a rectangle about 1/8 inch thick, 7-8 inches wide and 14-15 inches long. Don't let the dough stick to the working surface.

Brush the dough lightly with water and sprinkle with seed mixture and lightly press onto the dough.

Cut dough in half lengthwise, and then cut across to make rectangles roughly 2x4 inches. Don't bother trimming the edges. These are rustic right? Transfer to the baking sheet. Bake until nicely browned, about 10 minutes. Let cool on a wire rack.

Repeat for the remaining two portions.

Store cooled crackers in a zip-top bag for up to a week.
Nutrition
Serving:
36
g
Calories:
37
kcal
Carbohydrates:
4
g
Protein:
1
g
Fat:
2
g
Saturated Fat:
1
g
Sodium:
170
mg
Potassium:
17
mg
Fiber:
1
g
Sugar:
1
g
Vitamin C:
1
mg
Calcium:
9
mg
Iron:
1
mg
Nutritional Disclaimer
This recipe was calculated using the exact brands and measurements I used to make this recipe. If you are following a strict diet please note changing anything will cause the nutritional info to change. My calculations are intended as a guide only.
#TwelveLoaves is a monthly bread baking party created by Lora from Cake Duchess and runs smoothly with the help of Heather of All Roads Lead to the Kitchen, and the rest of our fabulous bakers.
Our host this month is Camilla from Culinary Aventures with Camilla, and our theme is Crackers, Crisps, and Flatbreads. For more bread recipes, visit the #TwelveLoaves Pinterest board, or check out last month's mouthwatering selection of #TwelveLoaves enter last month's #TwelveLoaves Seeded Breads!
If you'd like to bake along with us this month, share your Crackers, Crisps, and Flatbreads using hashtag #TwelveLoaves!
Linked to Throwback Thursdays, Fiesta Friday & Saucy Saturdays