Zesty Garlic Summer Sausage Egg Rolls were announced as one of the best ever in a recent poll. They make a perfect appetizer or meal.
THIS POST IS SPONSORED BY CLOVERDALE FOODS COMPANY. ALL IDEAS AND OPINIONS ARE 100% MY OWN. THANK YOU FOR SUPPORTING THE SPONSORS THAT ALLOW ME TO KEEP RECIPES COMING YOUR WAY!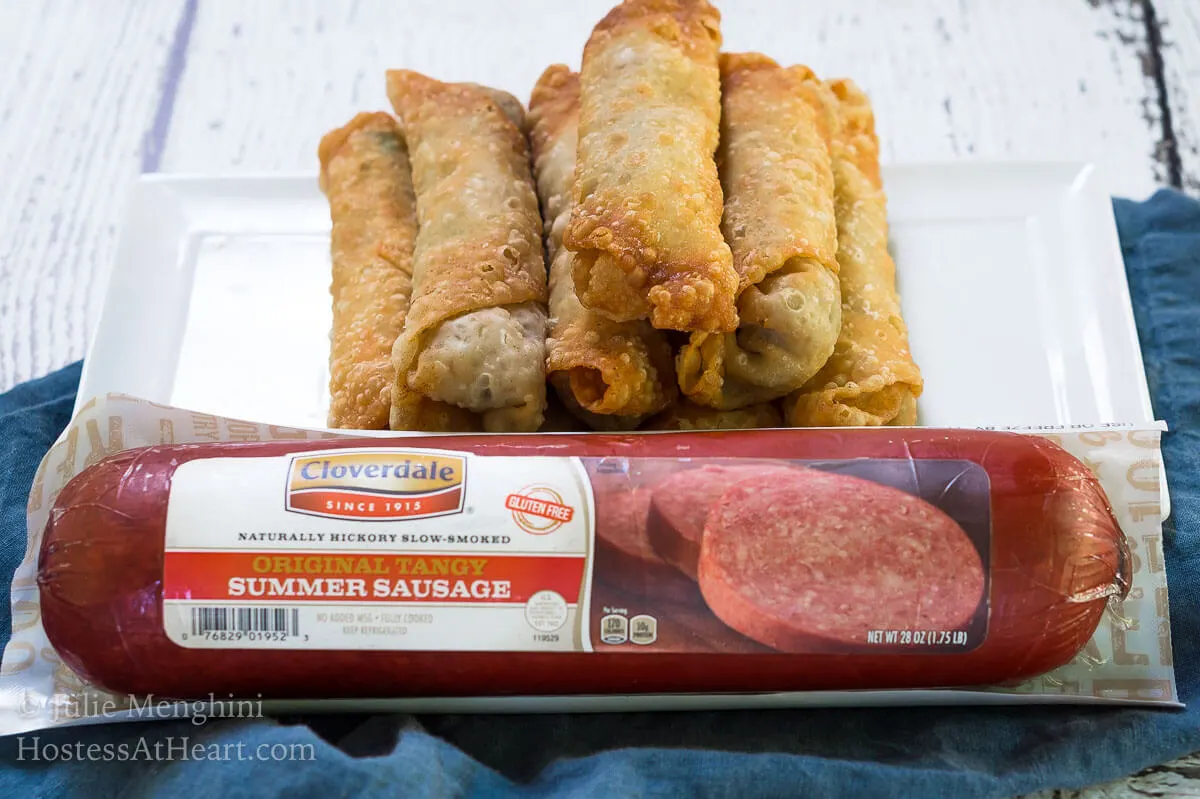 Call it weird or genius, Zesty Garlic Summer Sausage Egg Rolls are some of the best we've ever eaten in a recent poll of egg roll experts. Also known as our friends!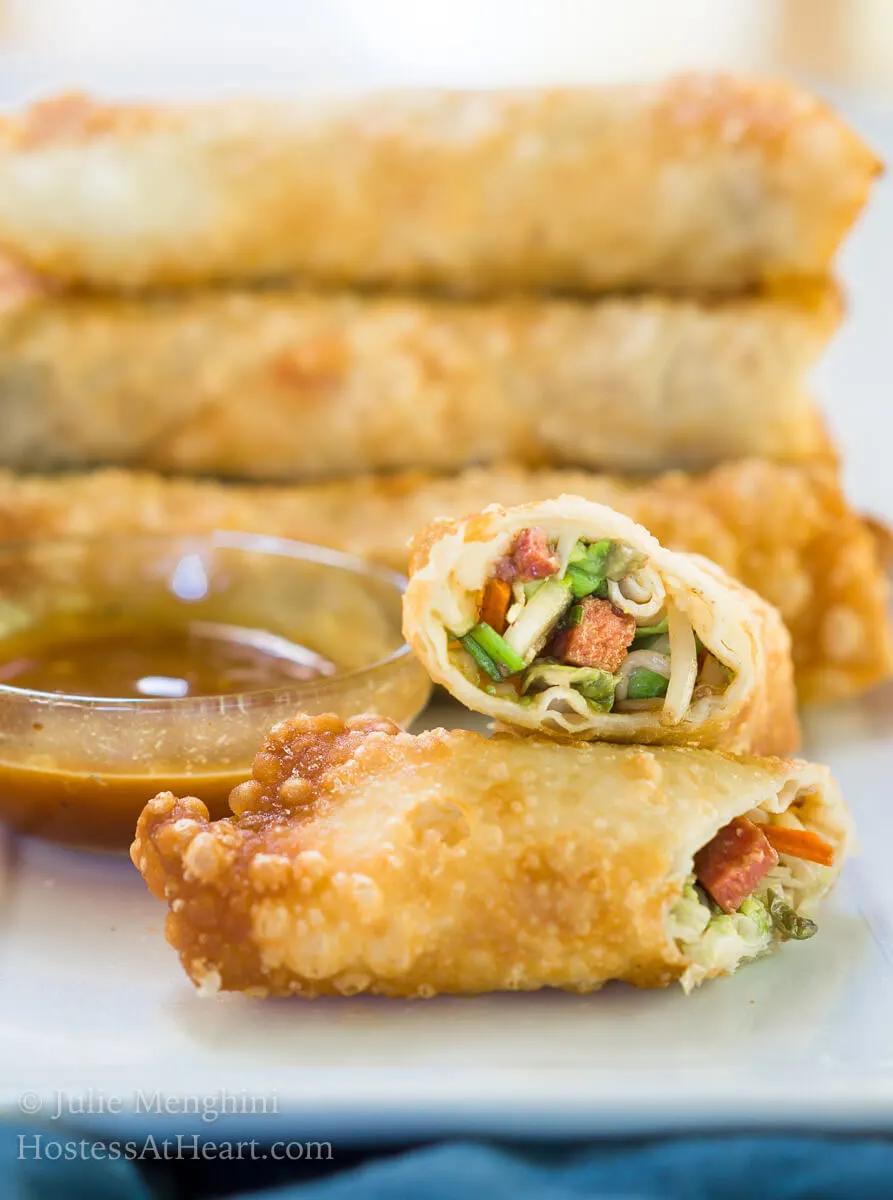 I'm one of those people that when the Nebraska Cornhuskers are playing, I actually want to watch the game. Of course, I like to feed people too. Food to me just makes people feel that you're glad they're there. So when I saw that Cloverdale Foods Company had a Zesty Garlic Summer Sausage variety I couldn't wait to give it a special spin.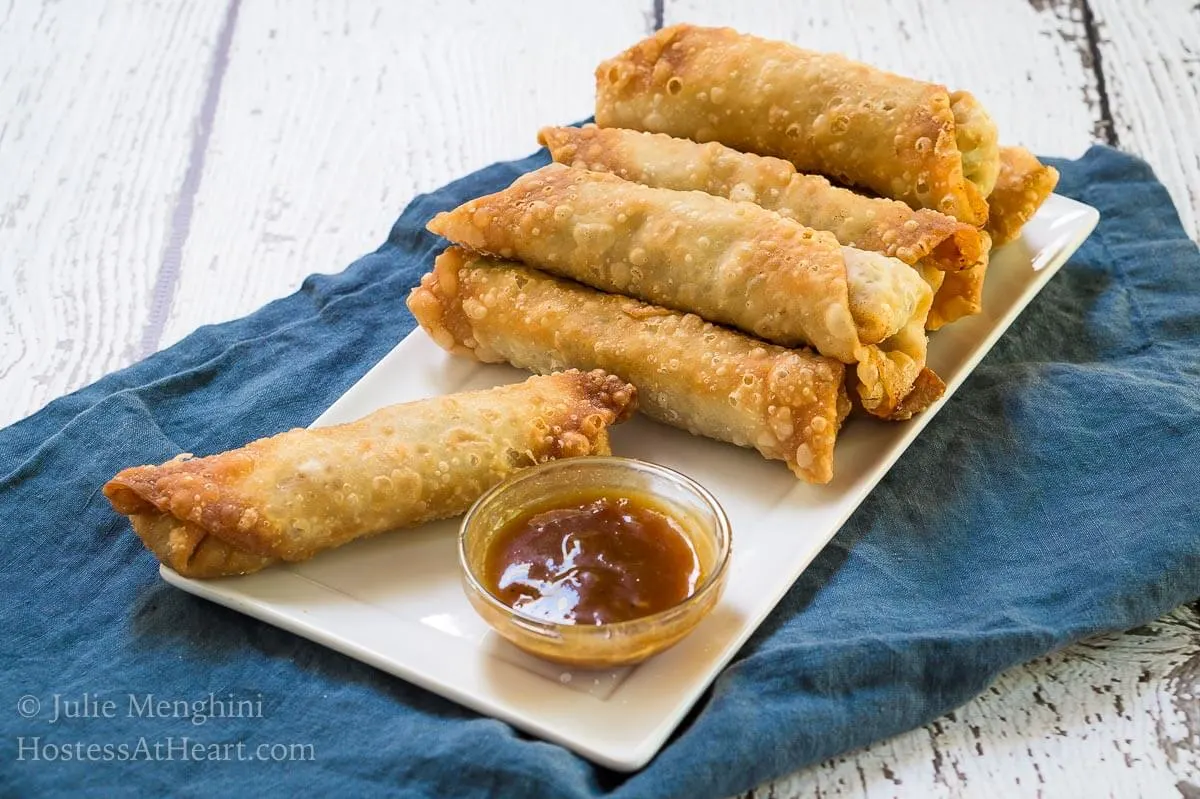 We were having the neighbors over for some snacks and I thought it would be the perfect opportunity to try out my idea for these Zesty Garlic Summer Sausage Egg Rolls. This summer sausage would be perfect sliced and combined with a nice cheese tray and crackers. Quick, no fuss, and delicious. However, making these egg rolls bumped everything up into the "you're very special" category.
Egg Rolls may look like a lot of work, but they're actually very easy to make in 3 simple steps.
Combine the filling
Roll them up
Fry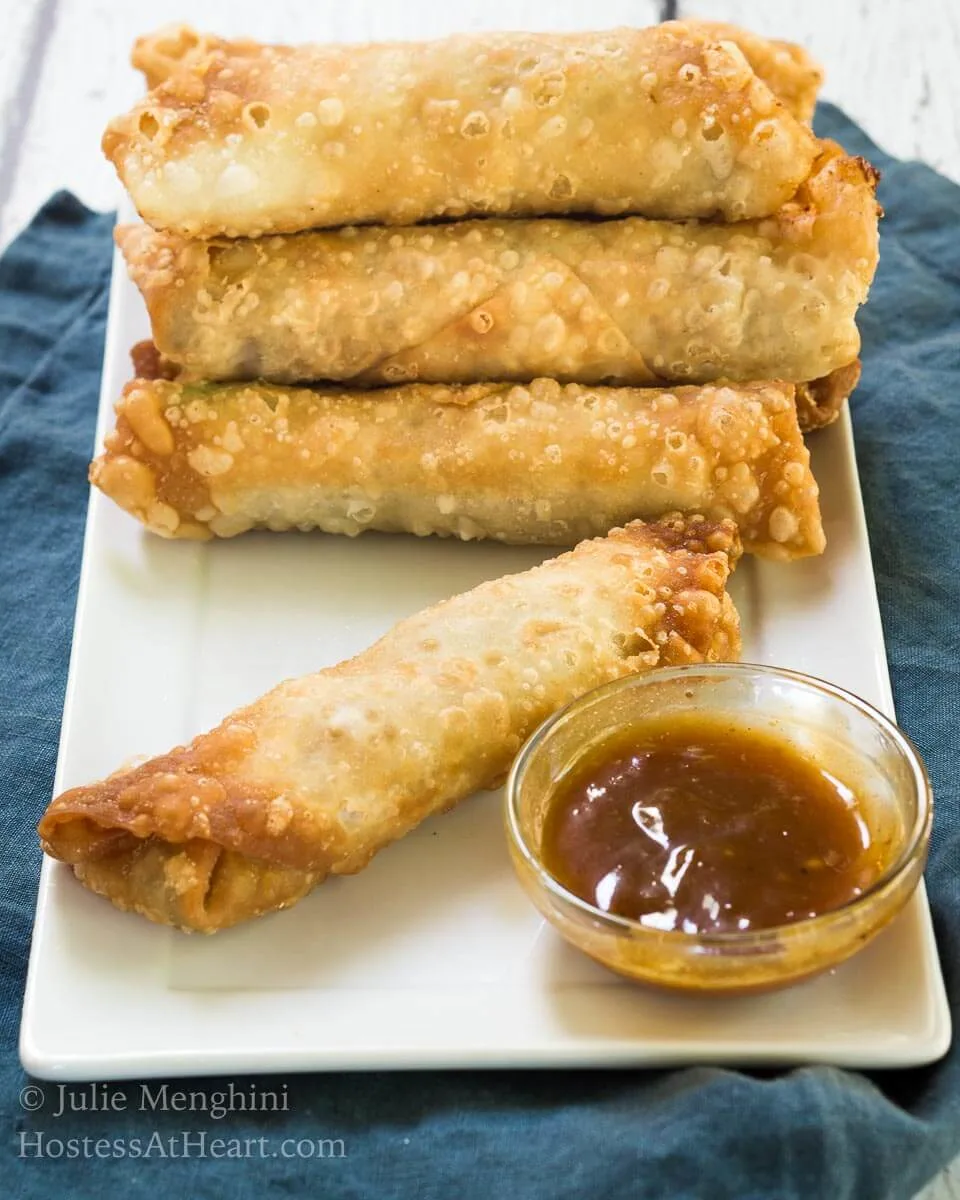 Everyone loved them. Some people said they were the best egg rolls they've ever had and another said the idea of using a flavorful summer sausage in the filling was a genius idea. So at my next tailgate gathering, I'll be confident everyone will love them. I made a simple but delicious wasabi plum sauce that was the perfect contrast. You could just as easily use soy sauce.
Don't have time to make it now? Pin it for later!
Recipes don't have to be time-consuming or difficult to be good. The one thing that is important is to use good quality ingredients. When I had the opportunity to work with Cloverdale Foods, I learned that they are a 100-year-old family owned company whose sole focus is pork products with unsurpassed quality and flavor. You can use their store finder to find their amazing products in your area!
I want to thank Cloverdale Foods Company for not only supporting Hostess At Heart but for introducing us to their high-quality products.
Here are a couple more recipes perfect for tailgating!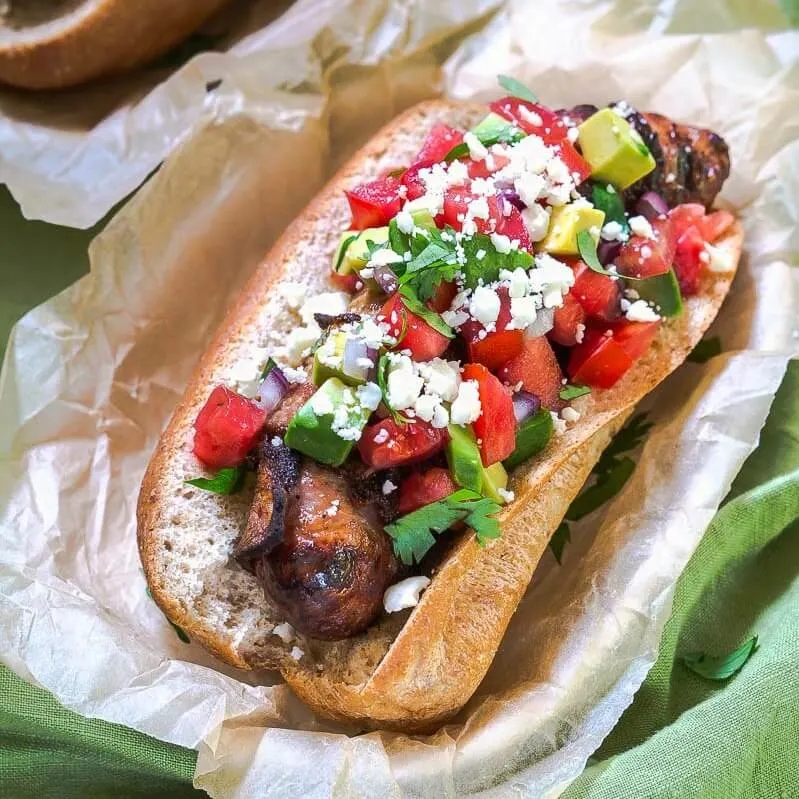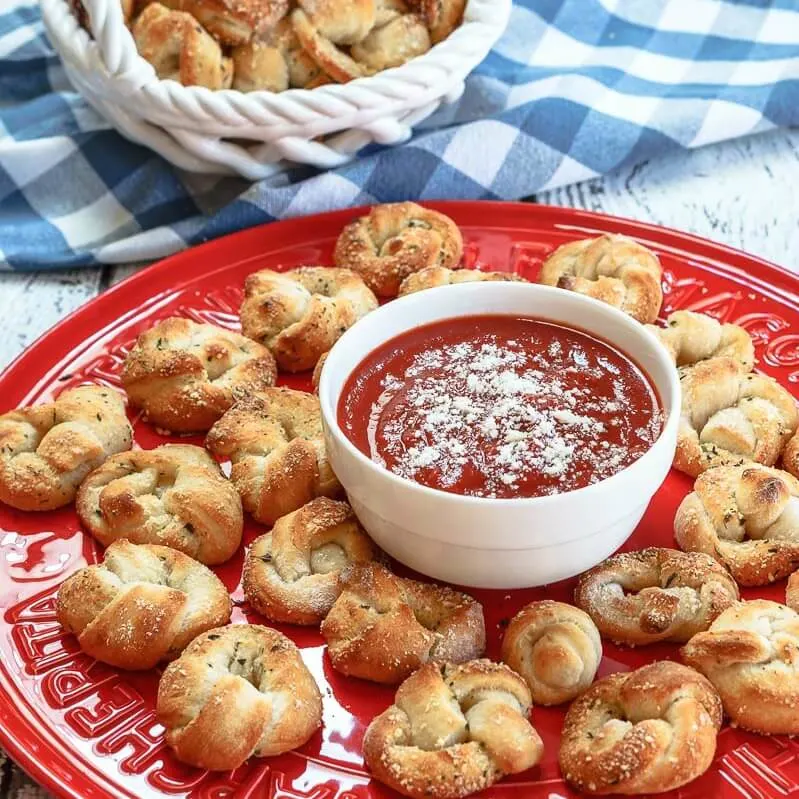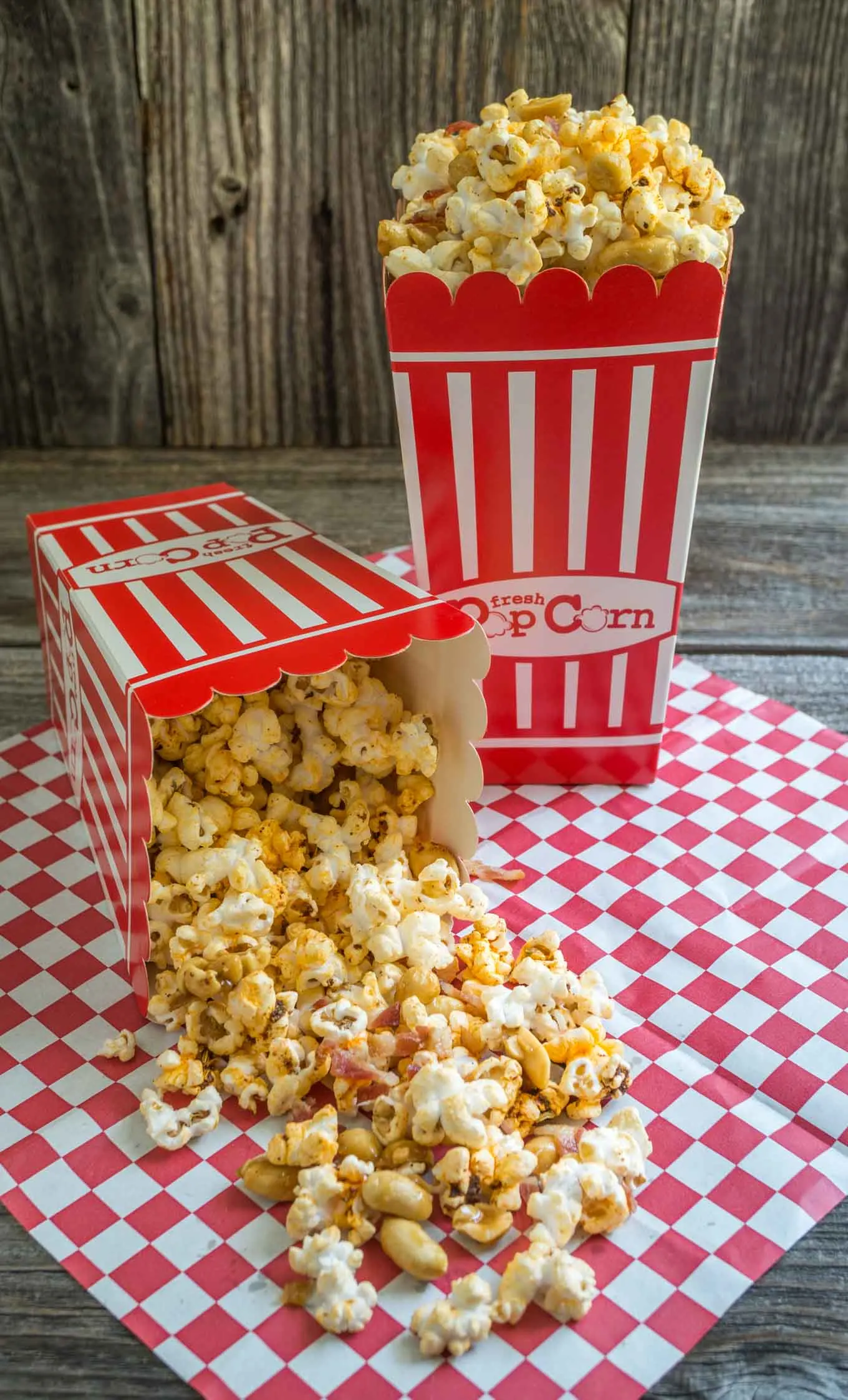 Let's keep in touch! You can find me on Pinterest, Instagram, Facebook, and Twitter! Better yet, enter your email address in the box below and never miss a recipe!