Indulge in the vibrant flavors of Asia with our Thai Basil Chicken Noodle Bowl recipe. Savor the perfect blend of tender chicken, stir-fried with aromatic Thai basil, crisp vegetables, and savory noodles, all tossed in a delicious sauce.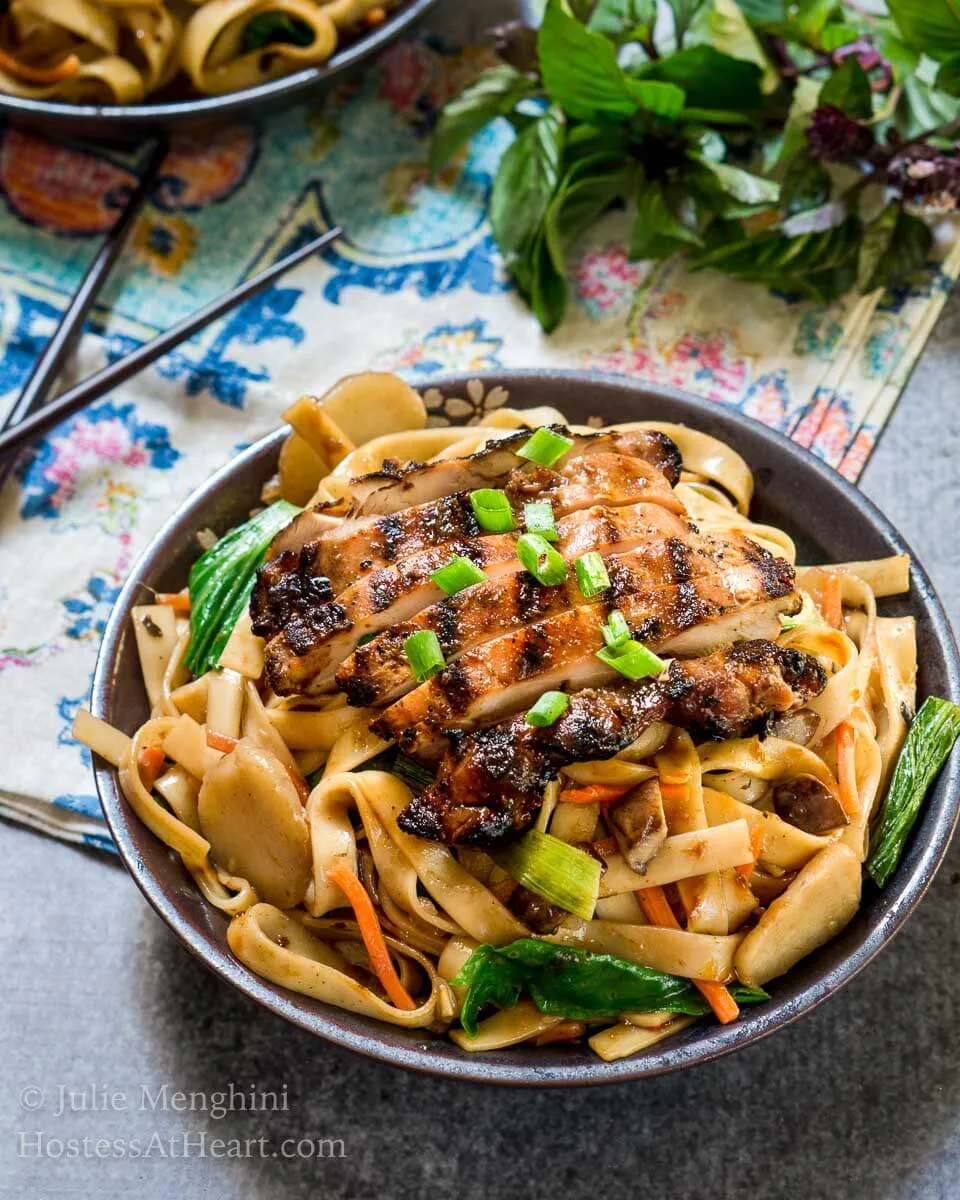 This delightful dish is a harmonious balance of freshness and spiciness, delivering a mouthwatering experience. Embark on a flavorful culinary adventure today!
Why You'll Love This Spicy Thai Basil Chicken
Sweet and Spicy. Thai Basil Chicken Noodle Bowl Recipe is everything I love in a recipe. The sauce has a tender blend of Asian spices that is both sweet and spicy.
Amazing Texture. This dish is also a festival of textures with al dente vegetables and crunchy chestnuts. Then the Lo Mein noodles wrap it all together into a great dinner bowl.
Unique. We recently picked up some Thai basil for the first time. We love Asian food, especially when I can put it together at home. I don't like wasting food and that bunch of Thai basil really encouraged me to get as much use out of it as I could.
Quick and easy. Everything comes together quickly making this recipe perfect for a busy weeknight dinner.
What is Thai Basil?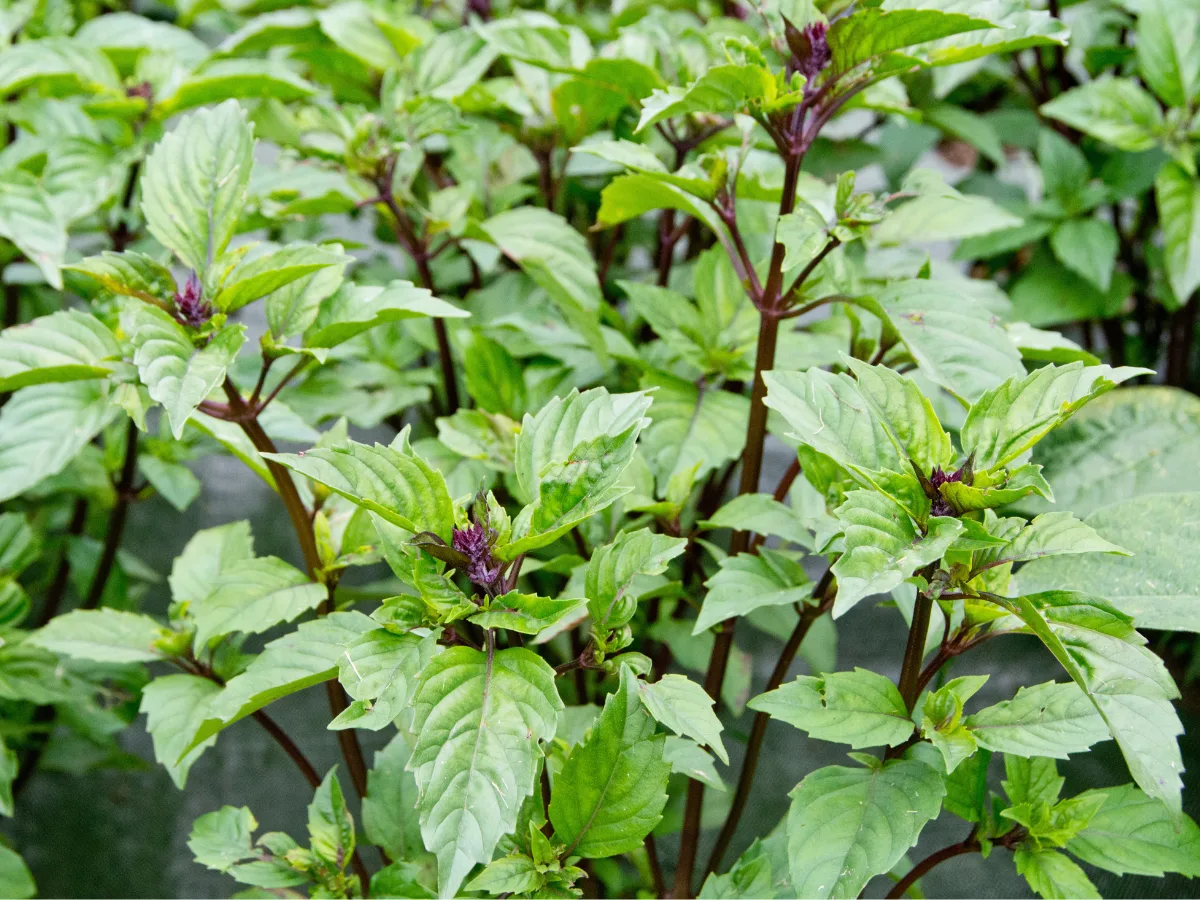 I don't know what I thought it would taste like, but I was wrong.
This herb has a soft flavor if that makes sense. It's an essence not an "in your face" herb like fresh oregano. It is easy to grow or can be found in Asian grocery stores.
That being said, it can hold its own when paired with bold flavors like ginger or chiles.
If there is anything that I've learned about cooking it's the impact that fresh herbs bring to a dish. Using flavorful herbs reduces the amount of salt needed too.
If you aren't comfortable using herbs, put them in dishes when recommended and see if you can tell the difference. Or, make a simple salad with sliced tomatoes sprinkled with a little sweet basil, parsley, or Thai basil on it.
The experience will really make a change in the way you use herbs. Thai basil is so versatile and the flavor came through whether it was kept raw or cooked.
Equipment Needed to Make the Chicken with Thai Basil Recipe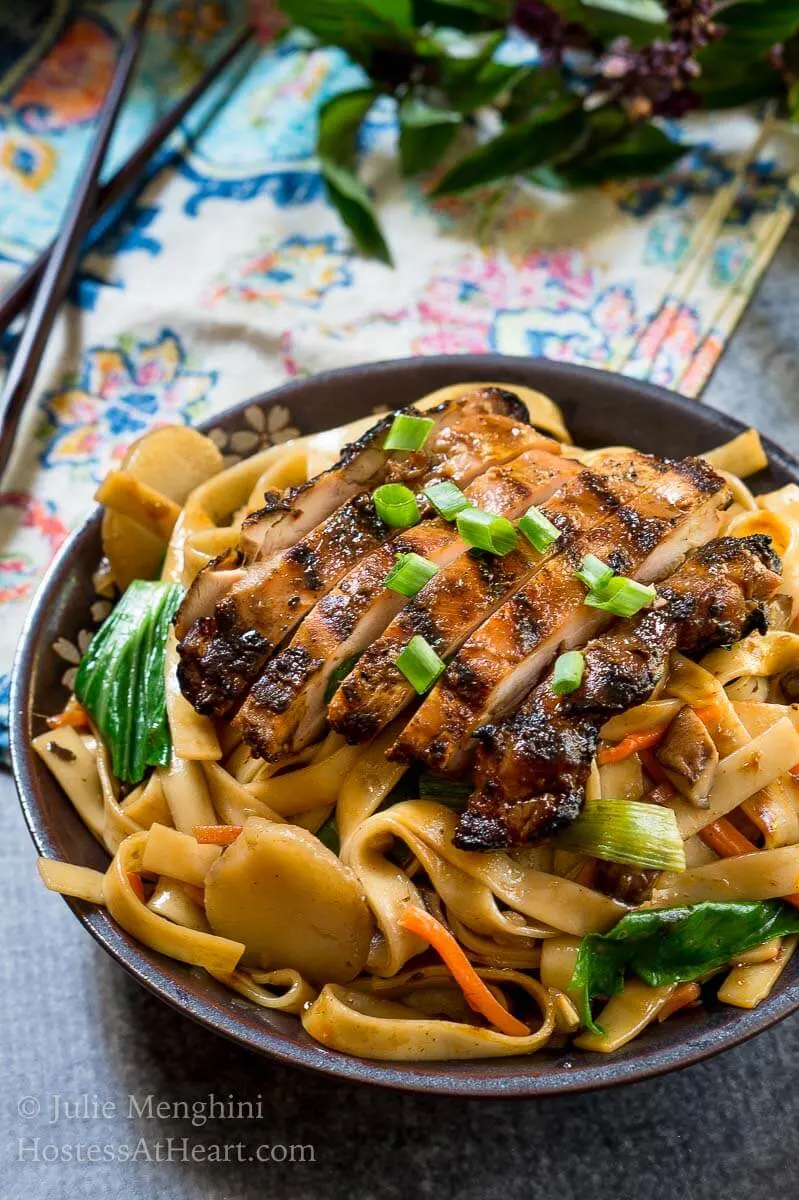 Ingredients for Thai Basil Chicken
Thai Basil Sauce. See the recipe.
Chicken Thighs. Thighs have a lot of flavor, but you can use any boneless chicken such as chicken breasts. You could even use ground chicken.
Lo Mein Noodles. Cook according to package instructions.
Bok Choy. Separated, washed, and roughly chopped into large pieces.
Carrots. Cut into matchsticks or julienned.
Yellow Onion. You can also use a sweet onion if you can't find good yellow onions.
Water Chestnuts. For crunch.
Portobello Mushrooms. Adds so much flavor and such nice textural contrast.
Ginger. Freshly grated is best.
Thai Basil Leaves. You are going to love this herb!

Vegetable Oil

. Any neutral-flavored oil will work or peanut oil which adds a nutty flavor.
Ingredients for Thai Basil Sauce
Oyster Sauce. Many cooks are tempted to leave this out. You shouldn't. It's worth using.
Soy Sauce. A good quality low-sodium soy sauce makes a huge difference. Don't skimp.
Hoisin Sauce. Has been called "Chinese ketchup" and can be found in the Asian Foods or International area of your grocery store.
Chili Garlic Sauce. Adds heat and flavor.
Please note, that the printable recipe card has ingredient quantities, complete instructions, and nutritional information. The following is a quick overview of the recipe.
How to Make Thai Basil Chicken Recipe
Step One: Mix the marinade ingredients.
Marinate for at least thirty minutes or up to 2 to 3 hours.
Step Two: Grill the chicken.
Remove the chicken from the marinade and grill it until it registers an internal temperature of 165°F.
Step Three: Sautee the vegetables.
In a large skillet, add sauce and cook until simmering. Add the vegetables to the sauce and saute until softened. Add the herbs and cook until vibrant.
Step Four: Add the noodles and basil.
Cook the noodles and then stir them into the sauce mixture.
Step Five: Serve.
Serve the noodle mixture in individual bowls and top with thin slices of chicken.
What to Serve/Pair with Your Spicy Thai Basil Chicken
This is a one-dish meal that doesn't really need anything else to make it complete. If you really want something else, you can add some potstickers or vegetable spring rolls to the meal.
Substitutions & Additions
If you want more spice, add ¼ tsp of crushed red pepper or add some bird's eye chilis or Serrano pepper to the marinade to add some heat.
Sweet chili paste would make a sweet and salty sauce and minced garlic would be a delicious addition too.
Shitake Mushrooms or cremini mushrooms will also work for this dish.
In addition to the carrots, you could use sugar snap peas, snow peas, red bell peppers, or even broccoli for vegetables. For convenience, you could even buy fresh or frozen stir-fry vegetables.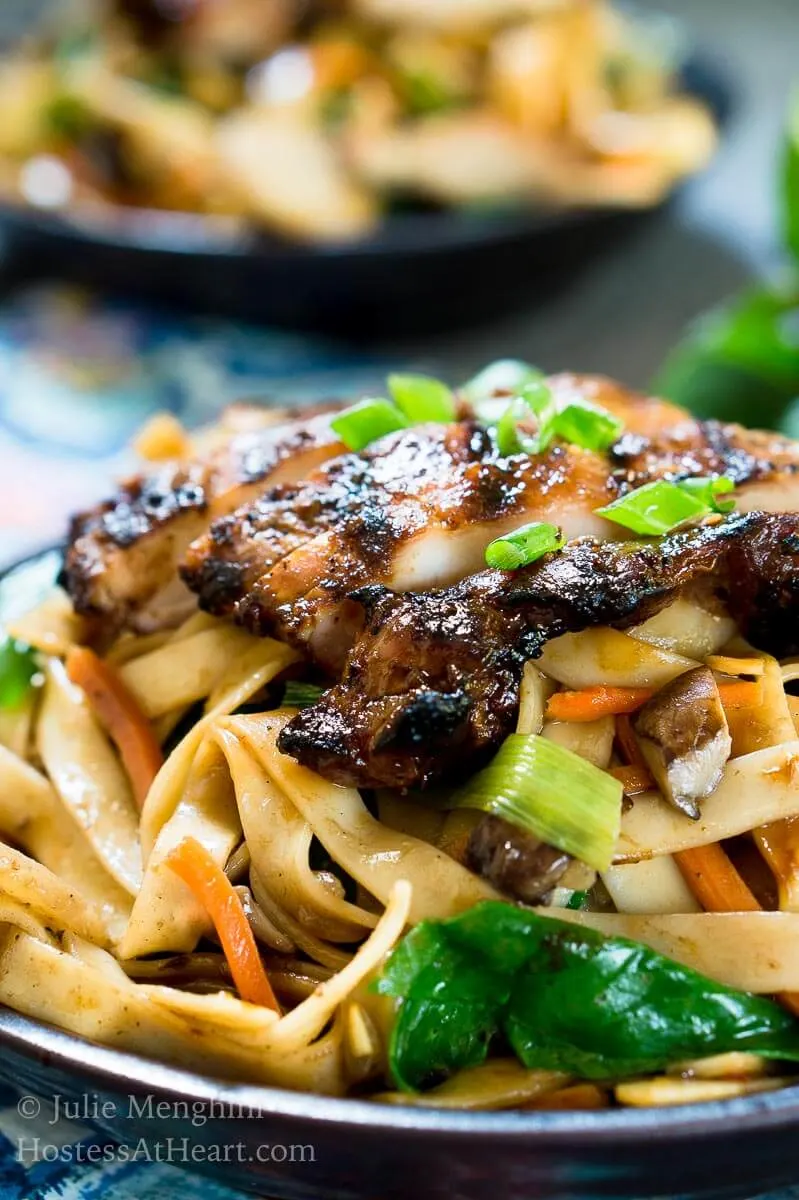 How To Reheat & Store Thai Basil Chicken
Best Way To Store Spicy Thai Basil Chicken
Keep leftovers in the refrigerator in an airtight container and use within two days.
Can I Freeze/Thaw Chicken with Thai Basil Recipe
Yes. This dish is best fresh but you can freeze the leftover noodles and chicken in an airtight container in individual serving sizes and reheat as needed using the microwave.
How To Reheat Chicken with Thai Basil
Use the microwave. Two to three minutes for cold chicken and noodles and five to seven minutes to reheat from frozen. Times may vary depending on your microwave.
FAQ
What is special about Thai basil?
The leaves of Thai basil are very sturdy and do not wilt as quickly and completely as regular basil so they can be used at any time during the cooking process. This is our key ingredient and it cooks up vibrant and delicious.
What is Thai basil flavor?
The flavor is very similar to anise or black licorice flavor compared to other sweet basil plants often used in Italian recipes.
What's the difference between Thai basil and normal basil?
Thai basil is very reminiscent of anise (black licorice) and very strong or spicy compared to the mild basil we usually think of in the United States.
Tips to Make the Perfect Thai Basil Chicken
Grill the chicken for 6-7 minutes on each side. Food safety guidelines recommend that chicken be cooked until it reaches an internal temperature of 165ºF, using an instant-read thermometer. I prefer that dark bone-in chicken be cooked a little longer but not overcooked.
The prep time for this recipe takes more time than the cooking time, so I recommend everything be ready to go before you start cooking.
Dice all the vegetables one day ahead if you are going to be pressed for time. Refrigerate the veggies and they will be ready to go when you are ready to cook. To save time, you can purchase carrots already chopped if you wish.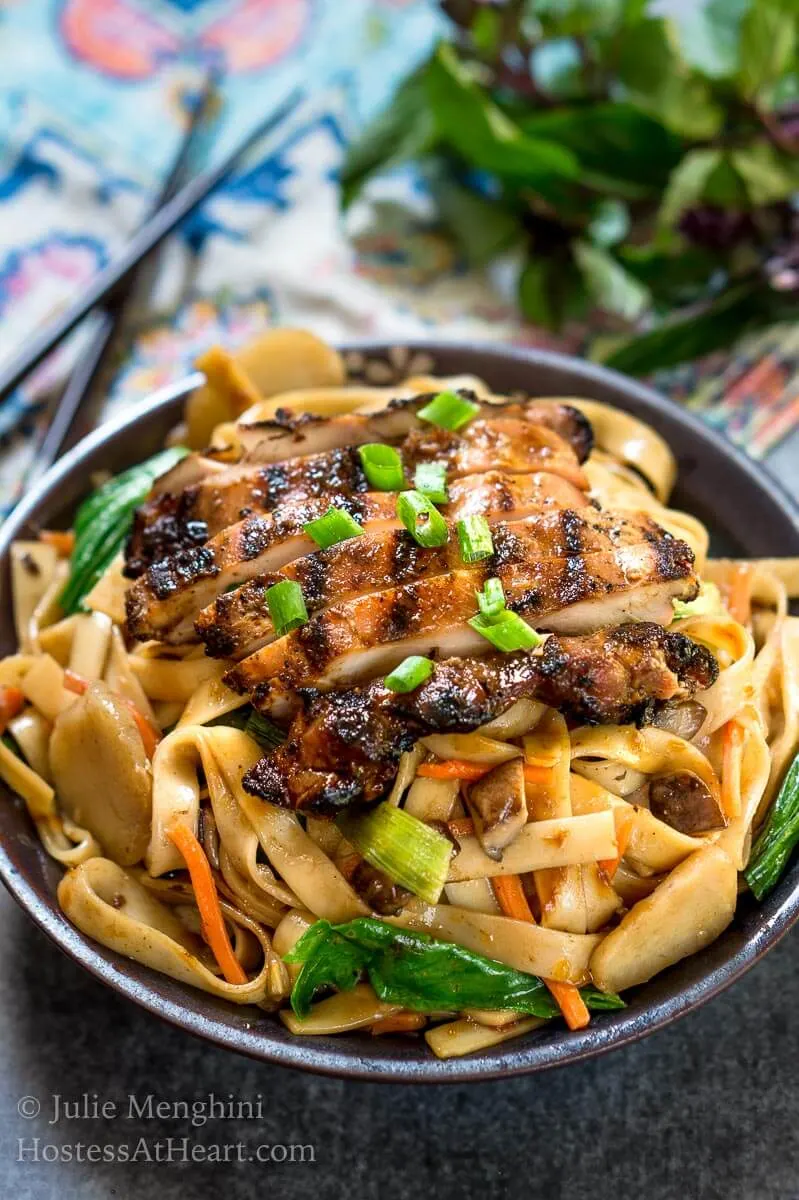 More Great Thai Recipes
I hope you enjoyed this delicious recipe as much as we do. Drop me a comment below, and don't forget to give it a star rating. ⭐⭐⭐⭐⭐. Your comments and ratings help others decide if this recipe is for them too.
This recipe was published on February 8, 2018, and has been updated to improve readers' experience. No change was made to the recipe.
STILL LOOKING FOR ASIAN RECIPES?
We love Asian food. You can find all of our Asian recipes here.