Saucy Thai Basil Chicken Noodle Bowl Recipe is a creamy blend of Asian flavors. It's a little bit sweet and spicy and a whole bunch delicious!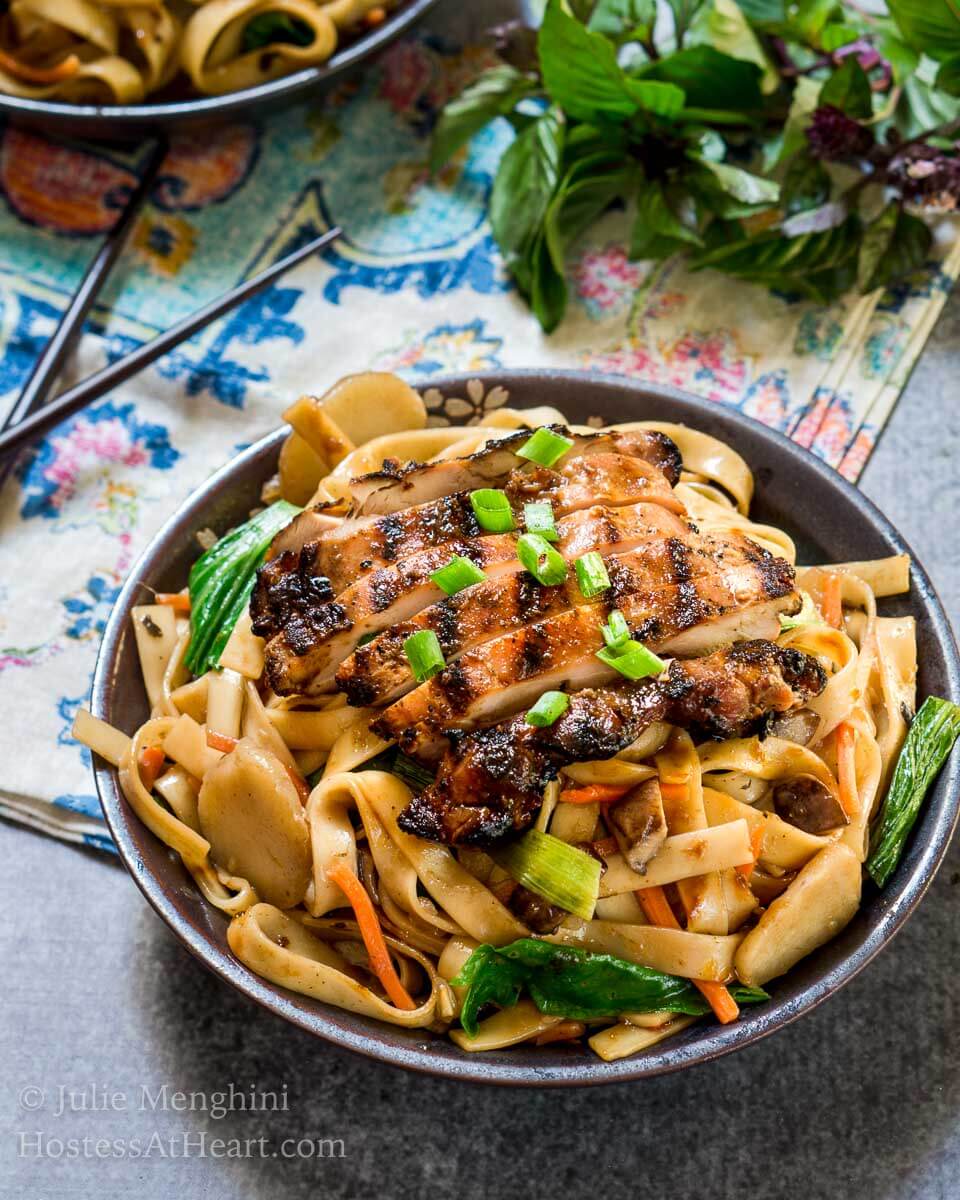 Saucy Thai Basil Chicken Noodle Bowl Recipe is everything I love in a recipe. The sauce has a tender blend of Asian spices that is both sweet and spicy.
This dish is also a festival of textures with al dente vegetables and crunchy chestnuts. Then the Lo Mein noodles wrap it all together into a great dinner bowl.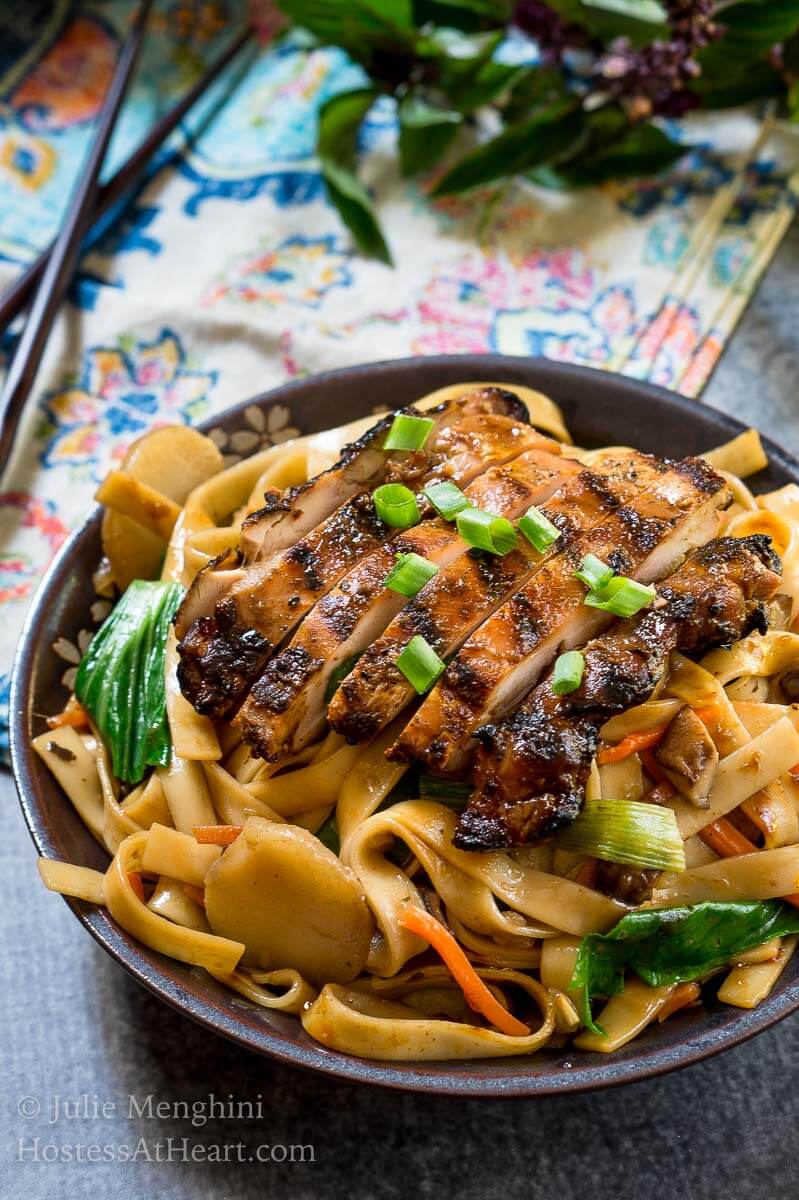 When I first moved to the metropolis, I lived with my brother. He didn't do a lot of cooking but when he got on a kick he went all in.
I remember months of chili, wings, and then spaghetti, you get the idea.
We recently picked up some Thai basil for the first time. We love Asian food, especially when I can put it together at home.
While I'm not OC like my brother, I don't like wasting food. That bunch of Thai basil really encouraged me to get as much use out of it as I could.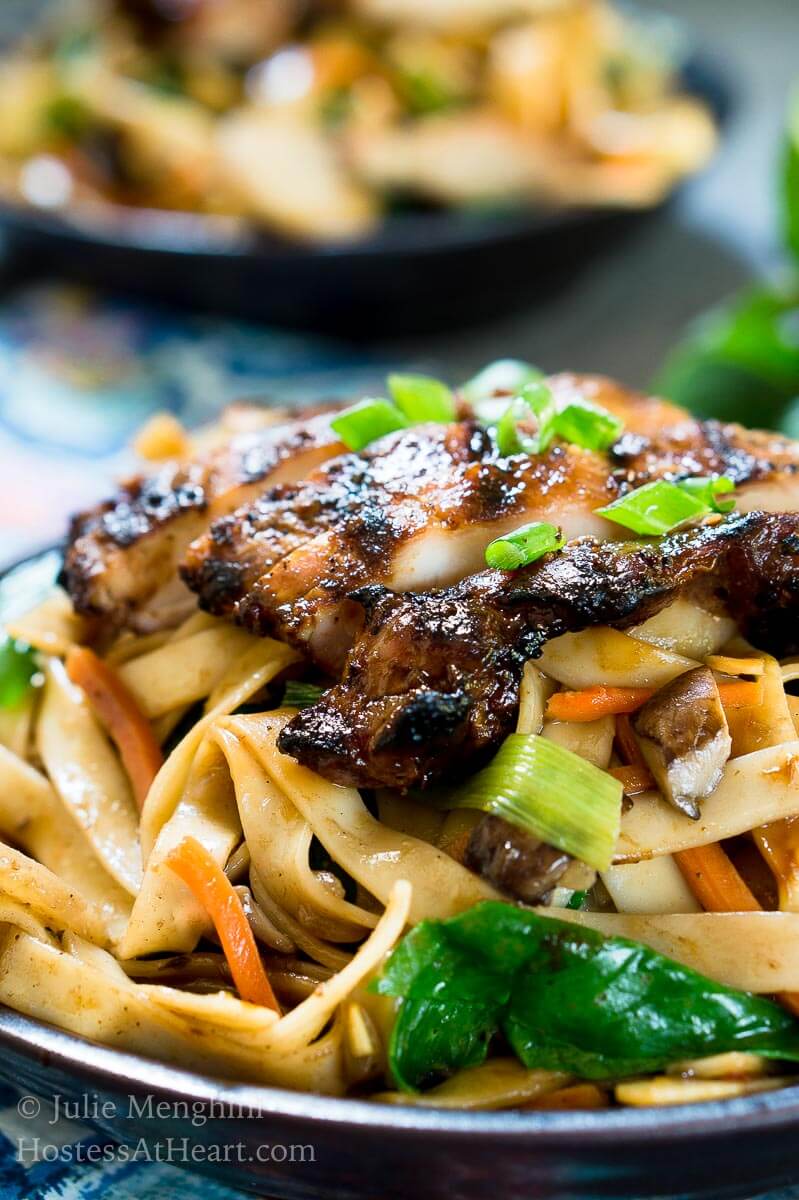 I don't know what I thought it would taste like, but I was wrong.
This herb has a soft flavor if that makes sense. It's an essence not an "in your face" herb like fresh oregano.
That being said, it can hold its own when paired with bold flavors like ginger or chiles.
If there is anything that I've learned about cooking it is the impact that fresh herbs bring to a dish. Using flavorful herbs reduces the amount of salt needed too.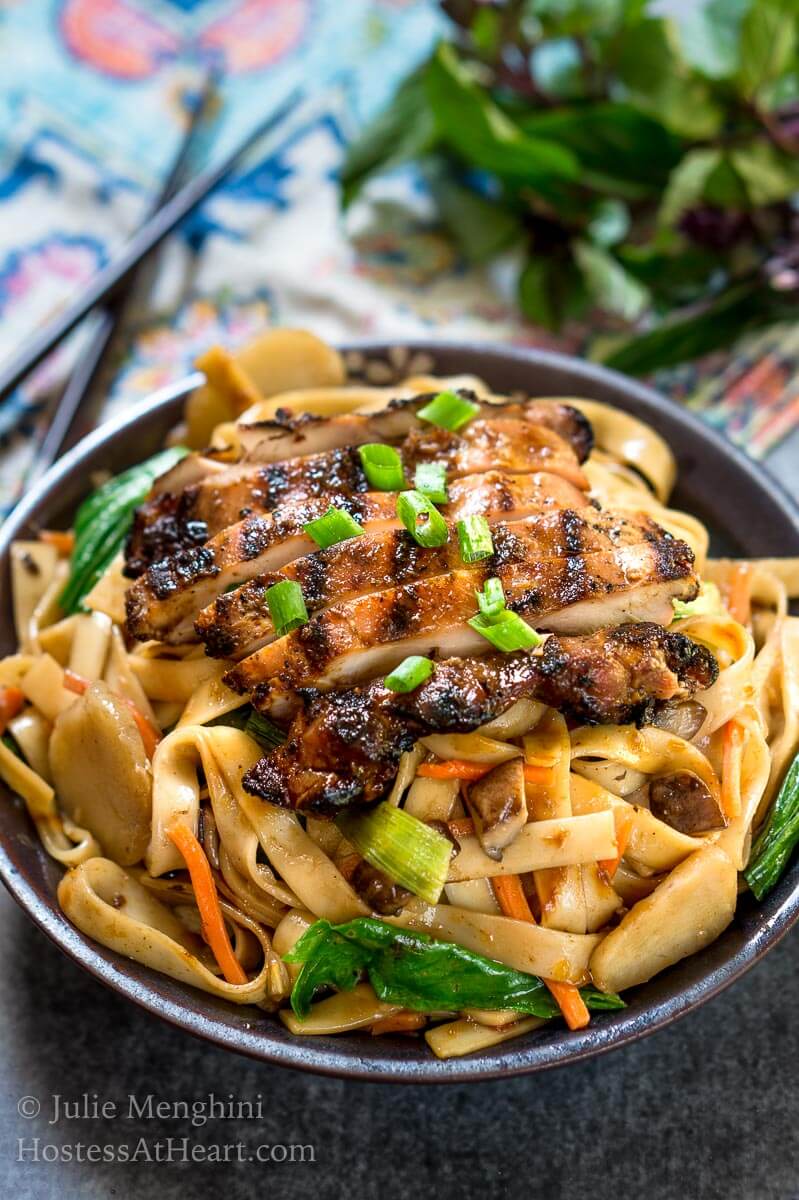 If you aren't comfortable using herbs, put them in dishes when recommended and see if you can tell the difference.
Or, make a simple salad with sliced tomatoes sprinkled with a little sweet basil, parsley or Thai basil on it.
I think the experience will really make a change to the way you use herbs.
Don't have time to make it now?

Pin it

for later!

I found Thai basil to be so versatile and the flavor came through whether it was kept raw or cooked.
We love sweet basil and it's been a staple in my herb garden for years. Now my Thai basil is a regular too.
STILL LOOKING FOR ASIAN RECIPES?
We love Asian food. You can find all of our Asian recipes here.
OUR MOST POPULAR CHICKEN RECIPES!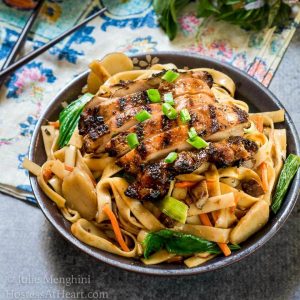 Thai Basil Chicken Noodle Bowl Recipe
Thai Basil Chicken Noodle Bowl Recipe is a creamy blend of Asian flavors. It's a little bit sweet and spicy and a whole bunch delicious!
Ingredients
Thai Basil Sauce
2

tbsp

oyster sauce

1/4

cup

soy sauce

1/2

cup

hoisin sauce

2

tsp

chili garlic sauce
Thai Chicken Recipe
2

lbs

chicken thighs

boneless, skinless

8

oz

lo mein noodles

– cooked according to package instructionss

3

clusters

bok choy

separated, washed, and roughly chopped into large pieces

1/2

cup

carrots

julienned/matchstick

1/2

cup

yellow onion

diced

8

oz

water chestnuts

drained

1

cup

portobello mushrooms

sliced

1

tbsp

ginger

grated

1/4

cup

Thai Basil

8-10 leaves chiffonade

2

tbsp

canola oil
Instructions
Combine the sauce ingredients in a plastic bag or bowl. Reserve about 1/3 cup. Add chicken to the bag or bowl and refrigerate for at least 30 minutes.

Remove chicken from the marinade and grill until internal temperature registers 160°F. Set aside and allow to rest.

In a large skillet, heat canola or vegetable sauce until hot. Add onion, mushrooms, and carrots. Cook for 4 minutes or until vegetables begin to soften. Add bok choy, ginger, and chestnuts. Saute for 2 additional minutes or until bok choy is bright green.

Add noodles to the skillet mixture and stir in reserved sauce. Add Thai basil and stir until combined.

Serve skillet mixture in individual bowls and top with sliced chicken.
Nutrition
Calories:
553
kcal
Carbohydrates:
46
g
Protein:
30
g
Fat:
26
g
Saturated Fat:
6
g
Cholesterol:
148
mg
Sodium:
1399
mg
Potassium:
508
mg
Fiber:
3
g
Sugar:
9
g
Vitamin A:
1975
IU
Vitamin C:
2.5
mg
Calcium:
32
mg
Iron:
1.9
mg
Nutritional Disclaimer
This recipe was calculated using the exact brands and measurements I used to make this recipe. If you are following a strict diet please note changing anything will cause the nutritional info to change. My calculations are intended as a guide only.
If you're looking for a couple more recipes that go perfectly with this Saucy Thai Basil Chicken Noodle Bowl recipe, here are a couple of my favorites!
Thai Basil Cabbage Slaw with Jalapeno