This Spicy Asian Beef Noodle Bowl is a healthy flavor bomb. It's chock full of good-for-you ingredients and cooks in 6 minutes!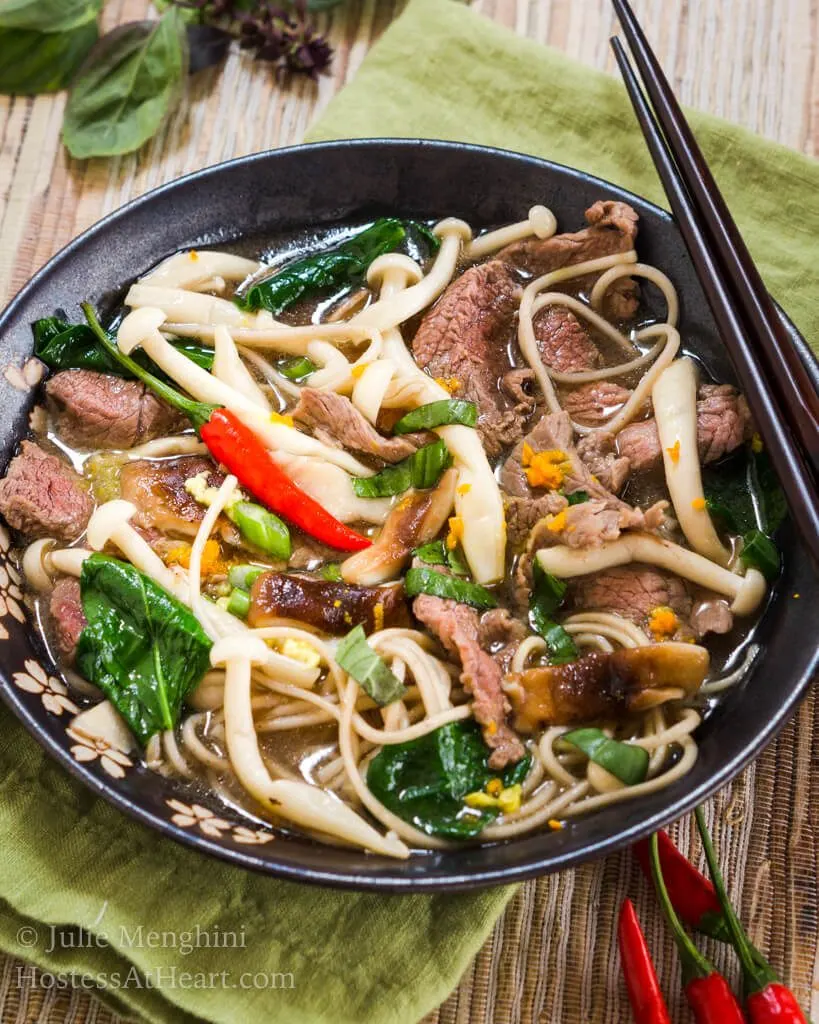 We love Asian food. It is so quick and easy to make at home not to mention so much better for you. This Spicy Asian Beef Noodle Bowl is rich with deep flavors and it finishes with a punch of heat.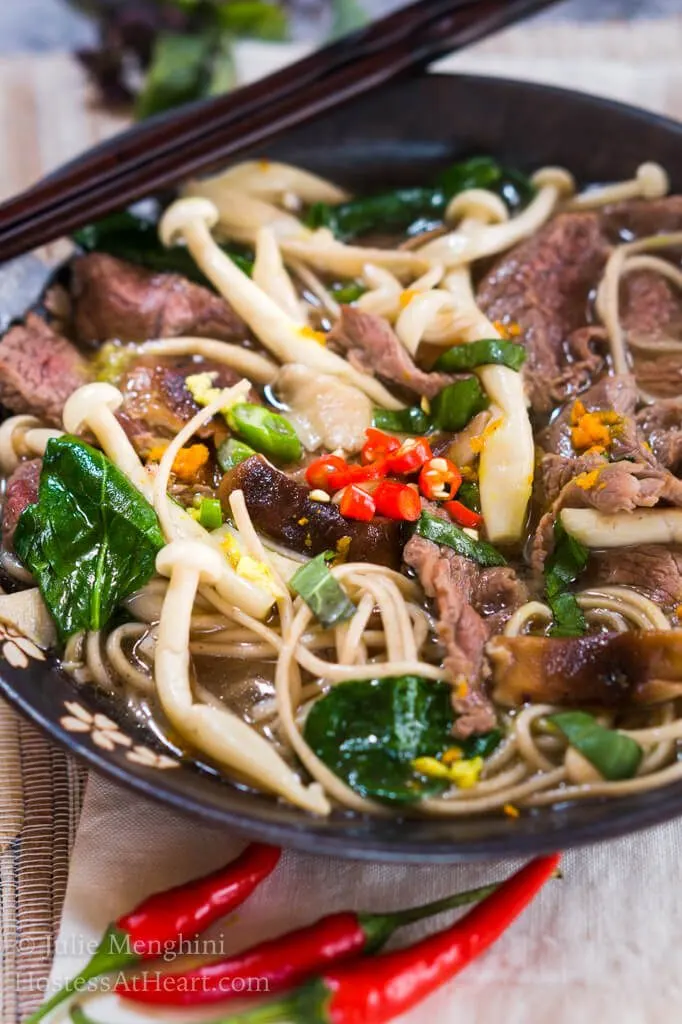 When we go out for dinner, we often go for Asian food. You would think with all of those veggies that it would all be healthy right?
Well, that's not always the case. Much of the Asian food you get is loaded with sodium and is often fried in oil.
There is a reason it's delicious but that doesn't have to be the case. This 6-minute Spicy Asian Beef Noodle Bowl recipe proves it.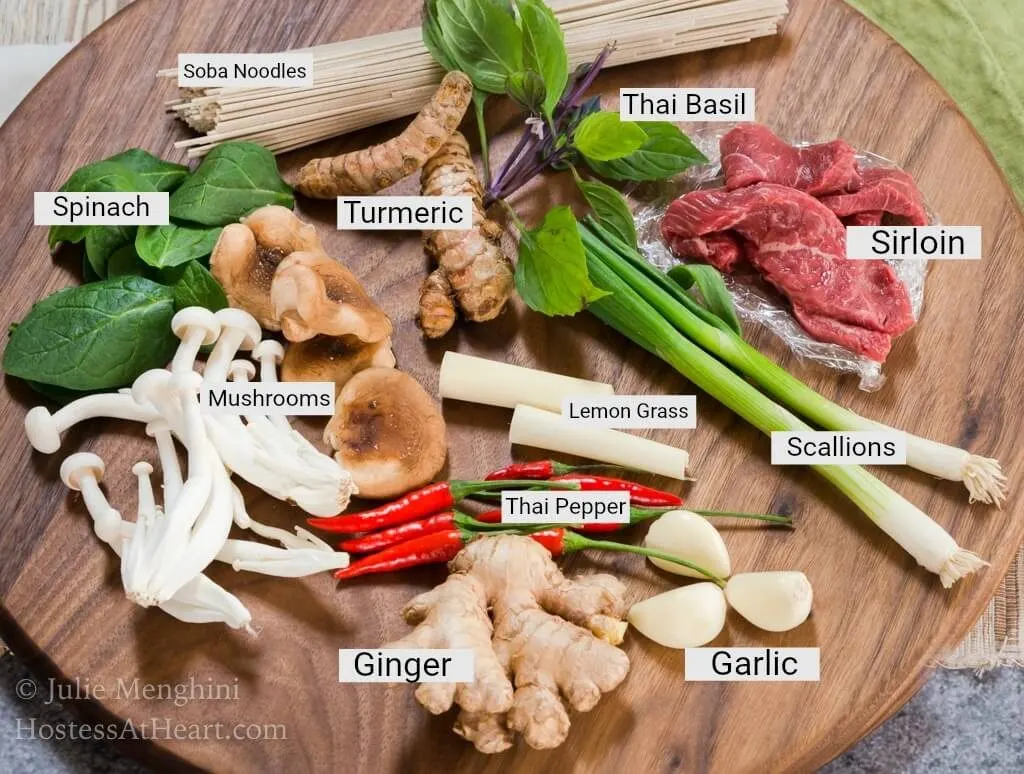 There are so many flavors and textures in this dish. I made a homemade bone broth which was delicious but I've got to be honest. It was expensive and time-consuming.
A good quality, low fat, low sodium, beef broth or stock will work just fine. You can also vary the veggies in this bowl.
We LOVE mushrooms but I know some of you don't. Feel free to exchange them with some bell peppers, broccolini, cabbage or another vegetable that tastes great when cooked al dente.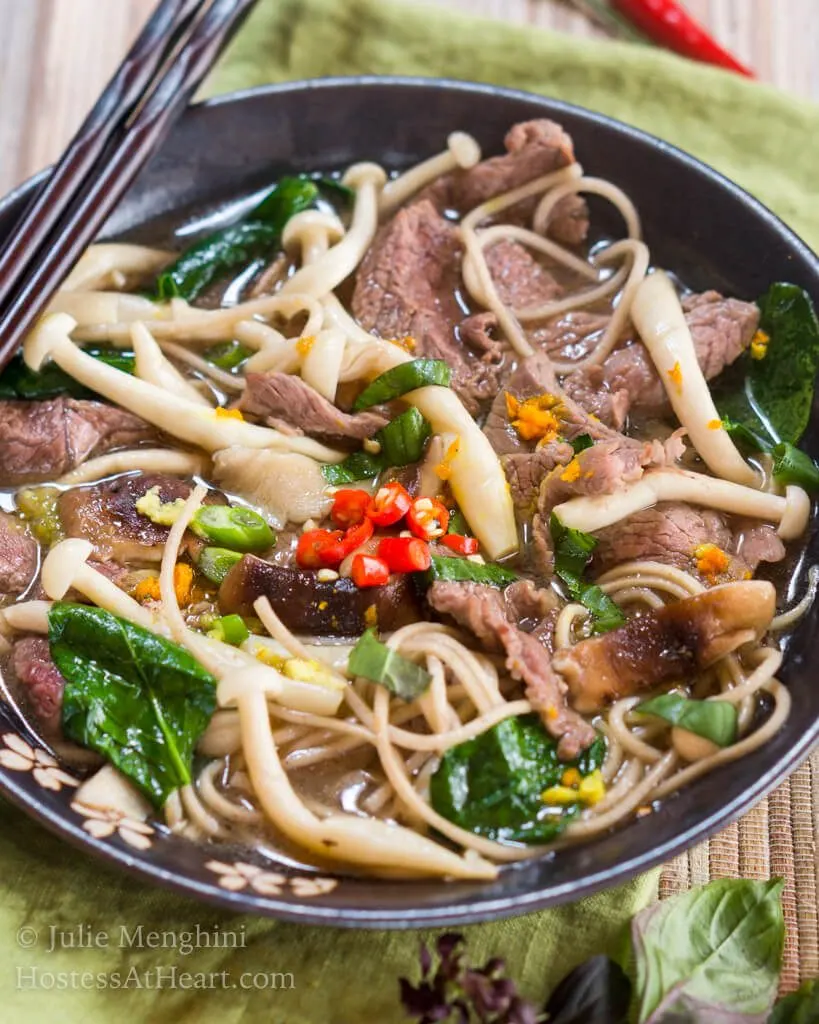 Another great thing about the Asian Beef Noodle Bowl recipe is that it can be as spicy as you want it.
As you probably know John likes enough spice to knock your socks off. I like a warm finish that doesn't make me want to drink a gallon of water after each bite.
Those Thai chilis pack a lot of heat in their little package. I cook them in the broth and John adds more to his bowl at the end. Both of us remove the seeds!
Don't have time to make it now?

Pin it

for later!
Lastly, this is a NO-GUILT complete meal. The thinly sliced lean sirloin is a great source of protein and soba noodles are made from buckwheat flour that adds fiber. You could definitely make this a vegetarian bowl too.
I can't tell you how amazing this recipe is!
Here are some more Asian inspired recipes you may enjoy.
We love Asian food. You can find all of our Asian recipes here.
What's your favorite Asian-inspired dish? Please share in the comments below. I'm always looking for inspiration!
What's popular now