Scallops with Pineapple Salsa and Plum Wasabi Drizzle make an impressive appetizer. No one needs to know how quick and easy it is to make.
Do you love seafood? I do with a couple exceptions. I don't care for oysters, and have never been a huge scallop lover. So, when I was brainstorming for new recipes, I was completely shocked when this recipe for Scallops with Pineapple Salsa and Plum Wasabi Drizzle started formulating in my little pea sized brain.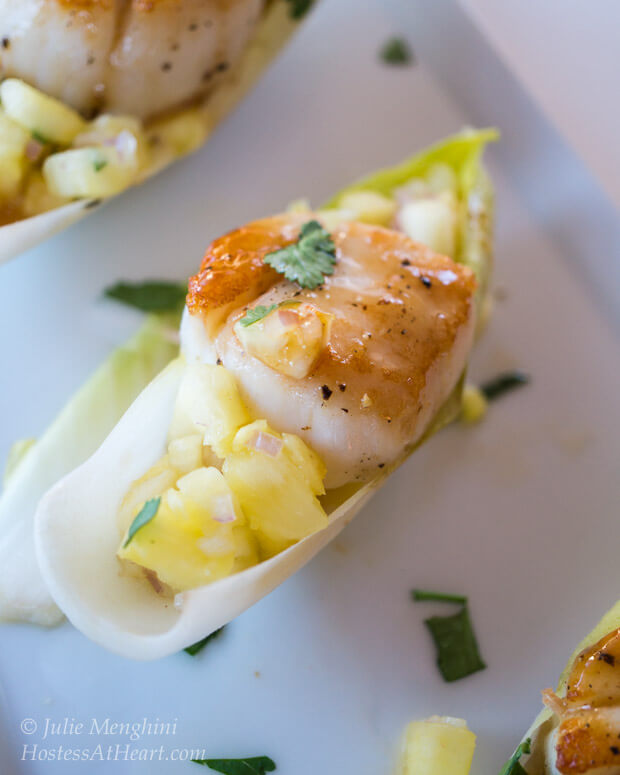 I love having friends over and always plan on an appetizer or two to kick off the evening. Sometimes they are simple and sometimes I like getting a little fancier. This recipe would come under the fake-out fancy category. They are so fast and simple to make, but I think they look fancy.
Another thing I like about the ingredients in this recipe is that they are available year round, even in the frozen tundra of Nebraska. I served this recipe in endive lettuce leaves by shaving just a bit off of the bottom of the leaf so that they would stand up. The endive also makes a great vessel to hold the yummy salsa and delicious plum wasabi sauce. I drizzled this sauce on. John poured this sauce on. Man is it good. It starts off sweet and then you get the "OH MAN" from the wasabi. I'm a wimp with the hot stuff so went middle of the road. You can adjust it to your tolerance. I also wanted the flavors balanced and not all about the wasabi.

This appetizer is delicious hot or cold, so they can be made in advance and assembled before guests arrive or when you want a nice light lunch. They are delicious with a glass of white wine too!
Scallops with Pineapple Salsa and Plum Wasabi Drizzle
Scallops with Pineapple Salsa and Plum Wasabi Drizzle make an impressive appetizer. No one needs to know how quick and simple it is to make.
Ingredients
6

fresh scallops

rinsed and dried

2

endive

washed and leaves separated

2

tbsp

canola oil

or vegetable oil
Pineapple Salsa
1

cup

pineapple

diced

1

tbsp

shallot

finely diced

1

tsp

ginger

fresh grated

1/2

tbsp

cilantro

chopped

1/8

tsp

salt
Plum Wasabi Sauce
1/4

cup

Plum Sauce

found with the Asian ingredients

1/4

tsp

prepared Wasabi

prepared

1/4

tsp

soy sauce
Instructions
Combine the salsa ingredients together and the plum wasabi sauce ingredients together. Set aside.

Wash and dry scallops. Salt and pepper both sides. In a skillet, heat oil over a medium-high heat, until an added drop of water sizzles. Add scallops, and cook on the first side for 2 minutes. Don't attempt to move them until it is time to turn them. Cook on the other side for an additional 3 minutes. Remove from the skillet.

Fill each leaf with pineapple salsa. Top with a scallop and drizzle with plum wasabi sauce.

Can be served hot or cold.
Nutrition
Sodium:
222
mg
|
Calcium:
78
mg
|
Vitamin C:
10.6
mg
|
Vitamin A:
3250
IU
|
Sugar:
1
g
|
Fiber:
4
g
|
Potassium:
546
mg
|
Cholesterol:
3
mg
|
Calories:
108
kcal
|
Fat:
5
g
|
Protein:
3
g
|
Carbohydrates:
12
g
|
Iron:
1.5
mg
This recipe was calculated using the exact brands and measurements I used to make this recipe. If you are following a strict diet please note changing anything will cause the nutritional info to change. My calculations are intended as a guide only.
IHere are a few more seafood appetizers that we love!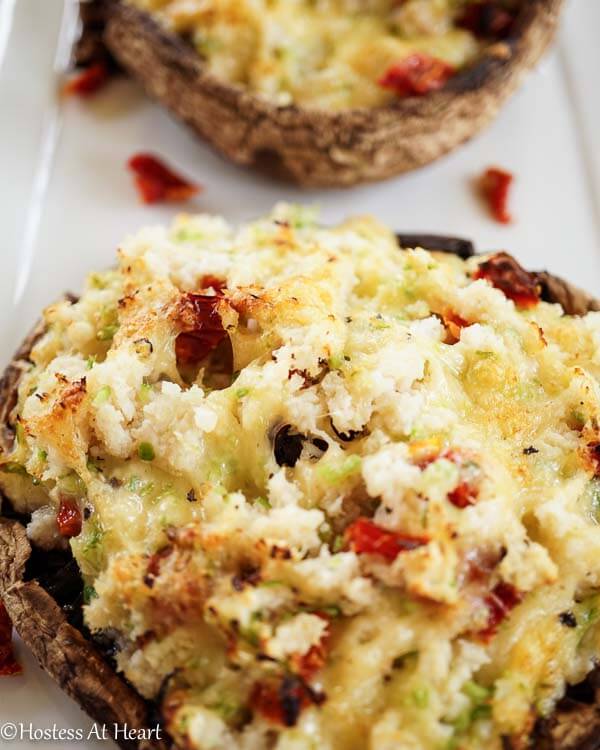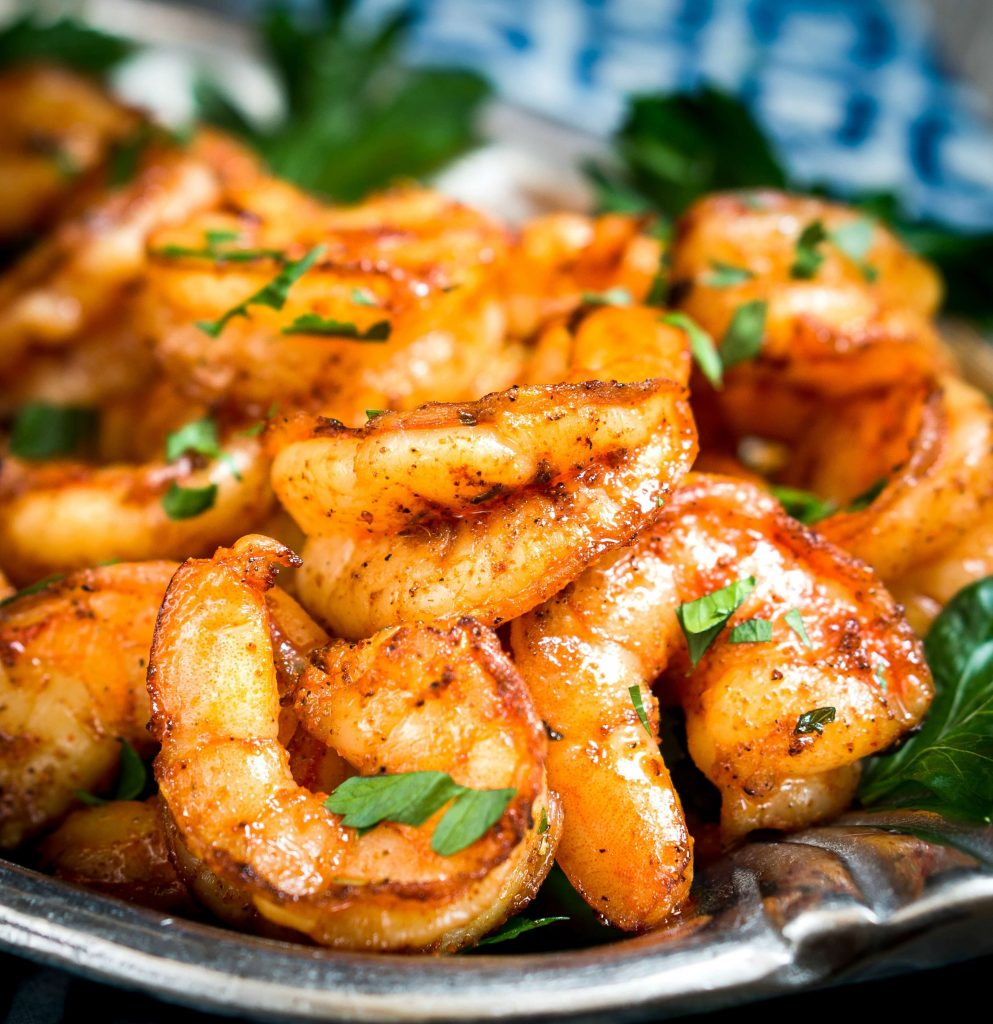 Let's keep in touch! You can find me on Pinterest, Instagram, Facebook, Twitter, and The Mix! Better yet, enter your email address in the box below and never miss a recipe!