Scallops Appetizer with Pineapple Salsa and Plum Wasabi Drizzle make a delicious Asian-inspired scallop appetizer recipe. It looks fancy but it's quick and easy to make.
This post was currently released in 2016 so it was time for an update. I've clarified the instructions and added some tips for a better reading experience. No changes were made to the recipe.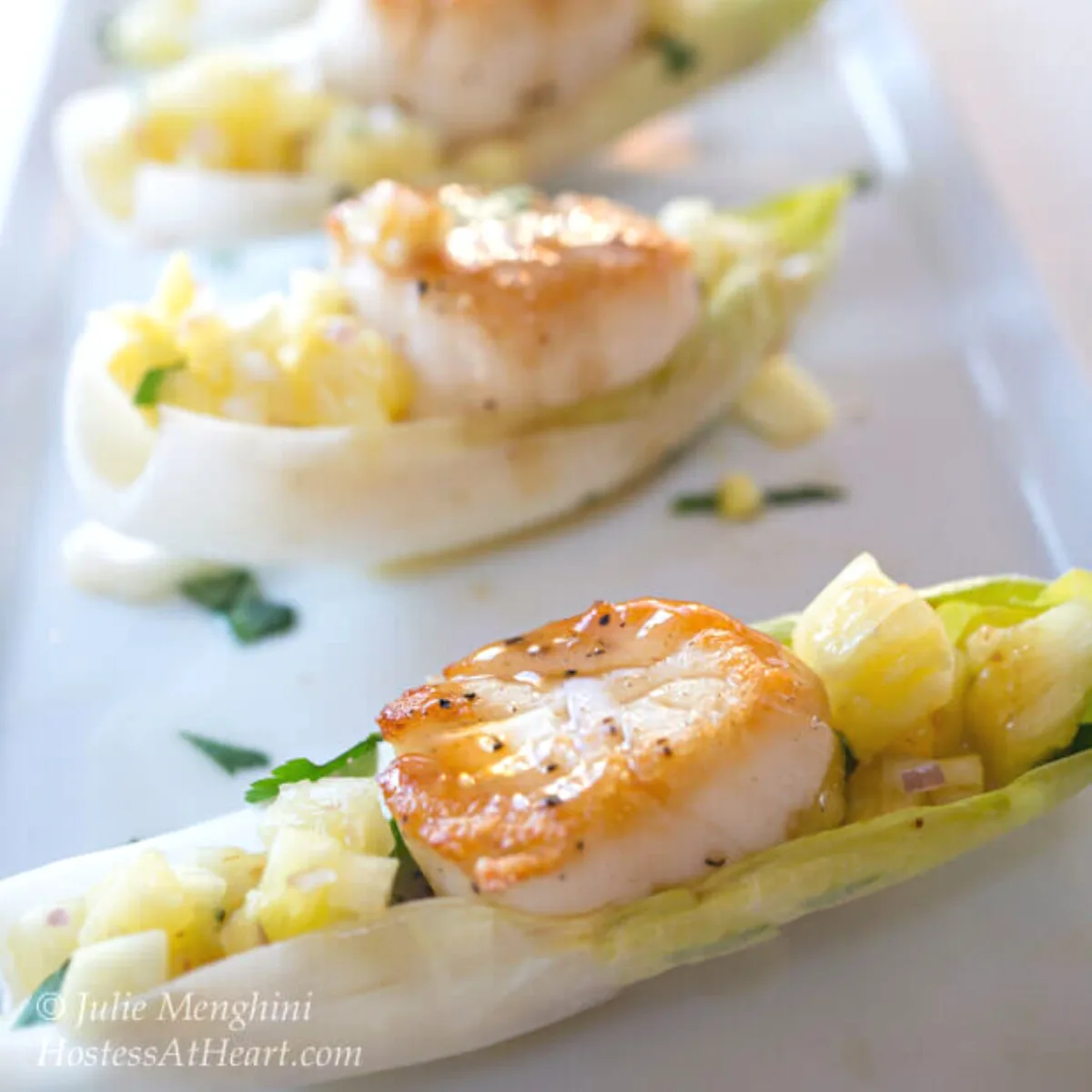 Soft and tender seared scallops combined with the crunch of sweet fresh pineapple salsa make a delicious combination but adding a drizzle of plum wasabi sauce adds a touch of Asian spice that takes this scallop appetizer recipe over the top.
What I love about scallop appetizers
Cold or hot. This recipe is delicious as a cold scallop appetizer or served warm.
Make ahead. Make the pineapple salsa and the plum wasabi sauce earlier in the day and assemble them 5 minutes before your guests arrive.
Versatile. I'll give you some scallop appetizer ideas to make this recipe your own.
Quick and Easy any time. This scallops appetizer can be made any time of year.
Scallops appetizer recipe ingredients
Scallops
I used fresh Sea Scallops which are larger than bay scallops. They are sweet and have a tender texture. This guide provides some great information on scallops if you want to read more about them.
These scallops are seared in a light coating of oil. I recommend a neutral-flavored oil such as canola or vegetable oil.
Pineapple salsa
Pineapple. I used fresh pineapple and diced it in small pieces so that it would stay on my endive lettuce leaves.
Shallot. Shallot tends to be less harsh than onion and slices in finer pieces.
Ginger. Fresh ginger.
Cilantro. In addition to adding beautiful color to this dish, the flavor goes well with this pineapple salsa recipe.
Salt. Just a sprinkle brings out the sweetness in the pineapple.
Plum wasabi sauce
Plum sauce. Found in the Asian section of your grocery store.
Wasabi. Prepared wasabi. I buy it in a tube and refrigerate it. It keeps for a long time.
Soy sauce. Adds a salty element to the sweetness of the plum sauce.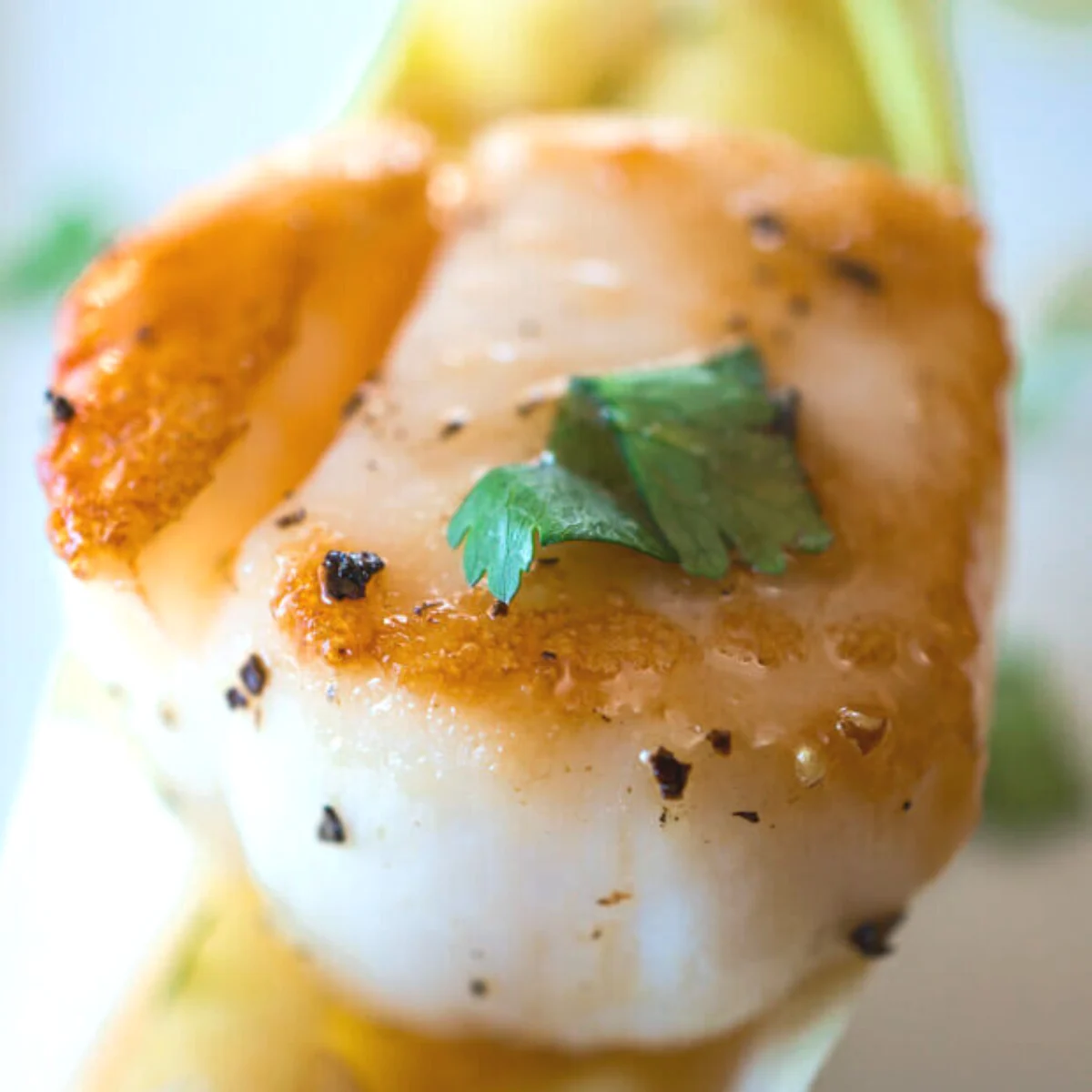 How to make this scallops appetizer recipe
Please note, that the printable recipe card has ingredient quantities, complete instructions, and nutritional information. The following is a quick overview of the recipe.
Since the scallops cook quickly, we make the other parts of this scallops appetizer first.
Dice up the pineapple in small pieces. Slice the shallot thinly and combine it with the salsa. Stir in the freshly grated ginger and sprinkle with salt. Set aside.
Combine the wasabi sauce ingredients stirring until smooth.
Cook the scallops.

Apply a small amount of oil to a skillet. When hot add scallops. Let cook for two minutes without moving. Flip and cook for three more minutes. Remove from the pan.

Assemble the scallop appetizer by trimming the bottom of an endive leave so it sits flat. Spoon in some pineapple salsa. Top with a cooked scallop. Drizzle with plum wasabi sauce.
Garnish with additional cilantro if desired.
Scallop Pineapple Salsa appetizer serving and substitution suggestions
I served my served scallops with pineapple salsa over endive leaves. It made a fancy presentation and also made this a finger appetizer. You could also use the small leaves of butter lettuce.
Other serving ideas include plating on Asian spoons or small dishes so guests can help themselves.
You can also find scallop shells for a beautiful presentation.
I like a drizzle of plum wasabi sauce. John likes his much spicier so I serve some extra sauce in a small dish with a small spoon so guests can use more if they desire.
If for some reason you choose not to use pineapple, pears would be amazing in this recipe.
This recipe would work very well with shrimp. I would bake the shrimp just like we do in this recipe.
Common scallops appetizer faqs
What is the best kind of scallop to use?
I used fresh sea scallops for this scallop appetizer recipe. Bay scallops are much smaller but could be combined with the pineapple salsa for more of a seafood salsa appetizer.
Should you rinse scallops before cooking?
Yes, rinse the scallops and then pat them dry before cooking. Don't soak them. They'll absorb the water and the moisture will keep them from browning.
How long should scallops be cooked?
The scallops that I used took 5 minutes. Heat a pan glazed with oil and when hot add the scallops. Don't move them for 2 minutes. Turn them and sear the other side for 3 minutes.
You can tell if scallops are done when they have an opaque appearance in the center and golden brown on the edges.
Can this scallops appetizer recipe be made ahead of time?
This appetizer is delicious hot or cold, so it can be made in advance and assembled before guests arrive or when you want a nice light lunch. It's delicious with a glass of white wine too!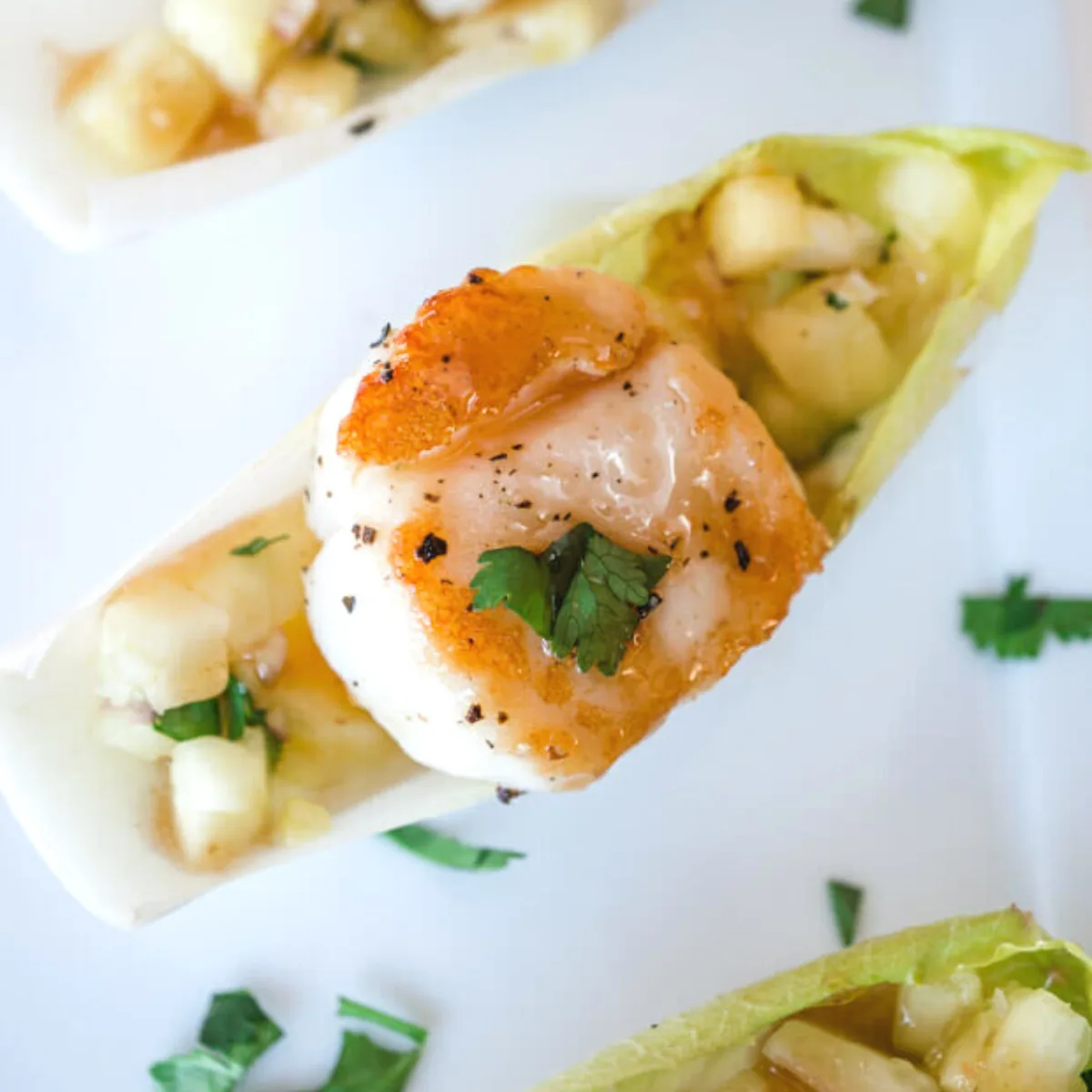 Tips for the perfect scallops appetizer with pineapple salsa
If you use the endive lettuce, shave the bottom flat so that they lay flat and don't tip over spilling those ingredients.
I used fresh pineapple but you can use canned pineapple. Drain it well before making your salsa.
Cook only a few scallops at a time and don't leave them. They sear very quickly and can overcook quickly.
If you tried this delicious recipe, don't forget to rate it and leave me a comment telling me what you think. I love hearing from you!
If you enjoyed this scallop hors d'oeuvres recipe take a look at these!
Want more delicious recipes? Follow Hostess At Heart on Pinterest!
Do you love seafood? I do with a couple of exceptions. I don't care for oysters and have never been a huge scallop lover.
So, when I was brainstorming for new recipes, I was completely shocked when this recipe for Scallops with Pineapple Salsa and Plum Wasabi Drizzle started formulating in my little pea-sized brain.
I love having friends over and always plan on an appetizer or two to kick off the evening. Sometimes they are simple and sometimes I like getting a little fancier. This recipe would come under the fake-out fancy scallop appetizer category even though they're so fast and simple to make.