This Easy Chocolate Mousse Cake recipe combines layers of moist fluffy chocolate cake spread with smooth and creamy chocolate mousse. Then the cake is covered in a perfect chocolate buttercream frosting for the ultimate intensity of chocolate in every bite.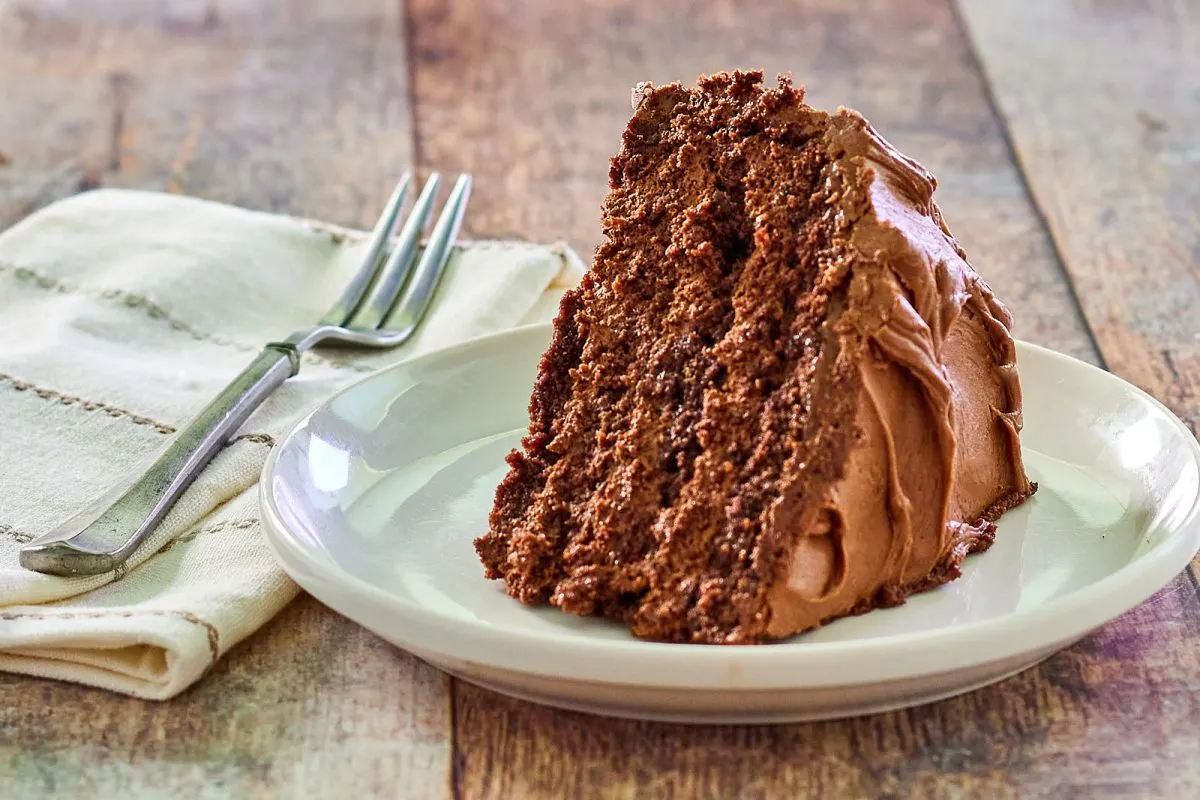 This beautiful and decadent chocolate mousse cake will slay even the most serious chocolate craving with its rich, creamy filling. If you've been looking for the perfect recipe for chocolate mousse cake, this is the one!
Why You'll Love This Chocolate Layered Mousse Cake
Simple to make. It looks quite fancy and is sure to impress your guests, but it is really quite easy to make following the step-by-step instructions.
Incredibly tasty. If you love chocolate, this cake is a must-have dessert that you will bring to the table over and over again. Make it your new family tradition.
Versatile. While I've made this chocolate cake with chocolate mousse filling, you can use this chocolate cake recipe with other fillings or just make bake it and frost it without layering it.
Ingredients For Your Chocolate Mousse Layer Cake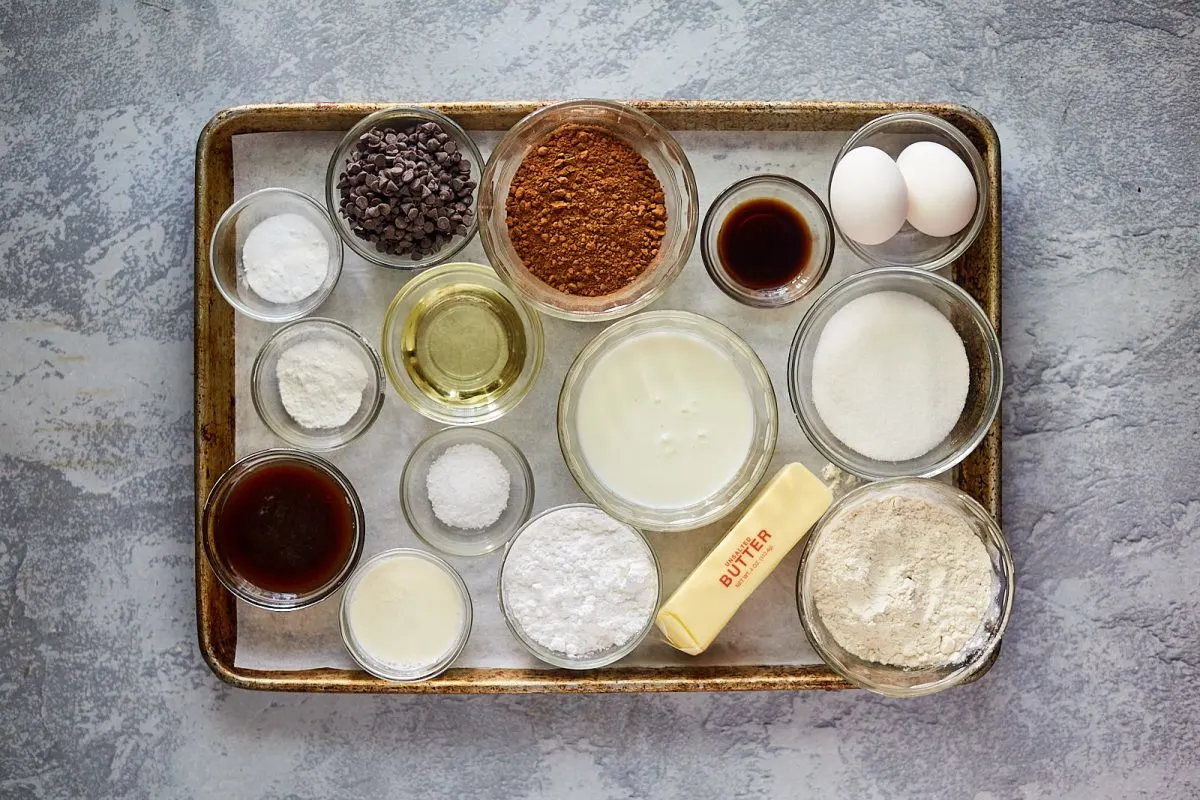 Layered Chocolate Cake from scratch
Granulated Sugar.
All-Purpose Flour.
Cocoa Powder. The darker the cocoa powder, the darker the cake, mousse or buttercream will be. The look you're going for dictates your choice.
Baking Powder. Used as leavening.
Baking Soda. Both are needed to give this cake its fluffy but moist texture.
Salt.
Eggs.
Buttermilk. If you don't have any in the refrigerator, you can make your own buttermilk.
Canola Oil. If you need to substitute, use the most flavor-neutral oil you have.
Boiling Water. If you want a coffee flavor instead, use hot coffee.
Chocolate Mousse Ingredients
Hot Water.
Cocoa Powder.
Semi-Sweet Chocolate Chips.
Heavy Cream.
Sugar.
Chocolate Buttercream Frosting Ingredients
Milk.
Cocoa Powder.
Butter.
Powdered Sugar.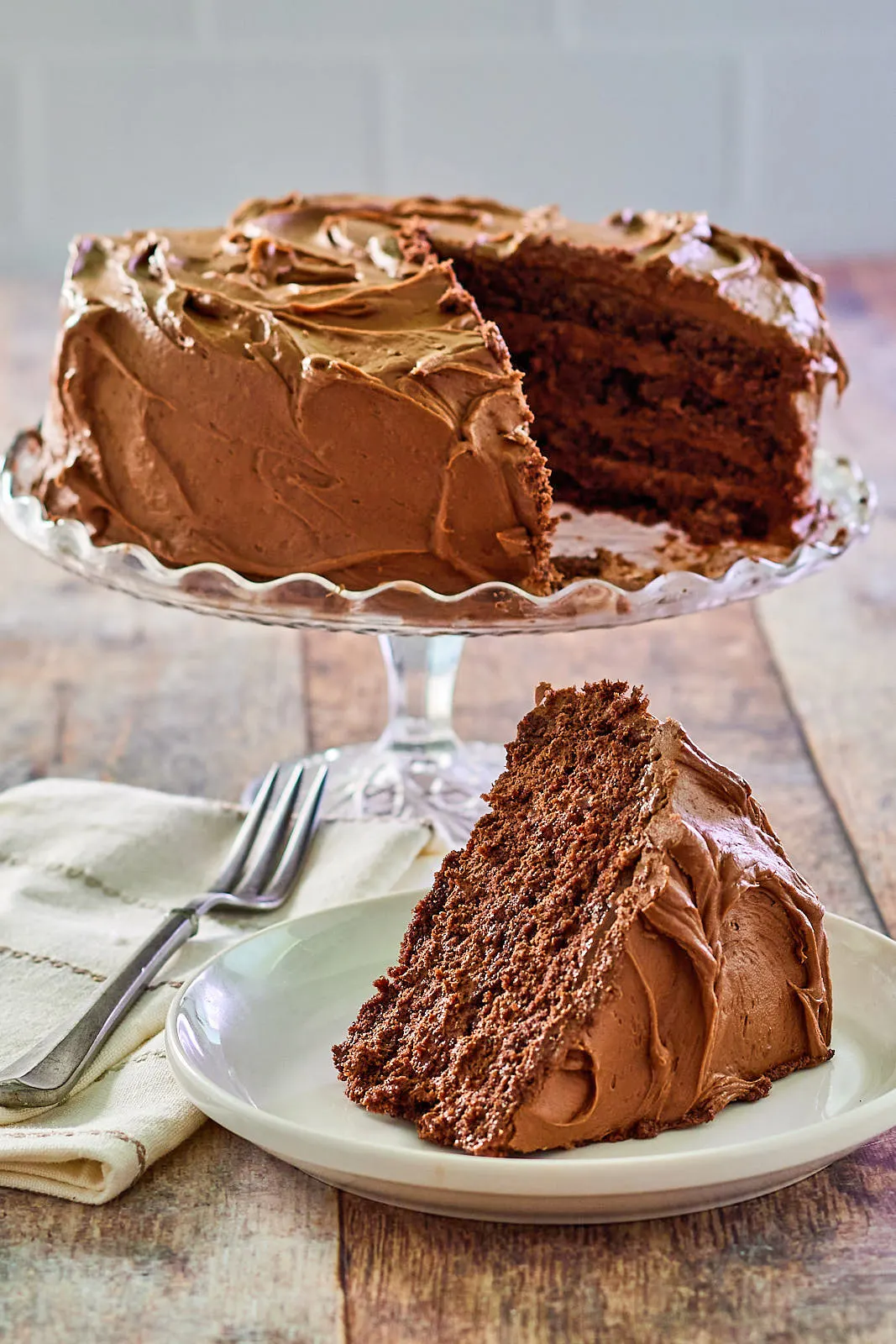 Please note, that the printable recipe card has ingredient quantities, complete instructions, and nutritional information. The following is a quick overview of the recipe.
How To Make Chocolate Mousse Cake
Step 1: Prep
Heat oven to 350 °F and grease and flour two round 8" or 9" baking pans. Pull your ingredients out and double-check that you have everything on the list.
Step 2: Mix.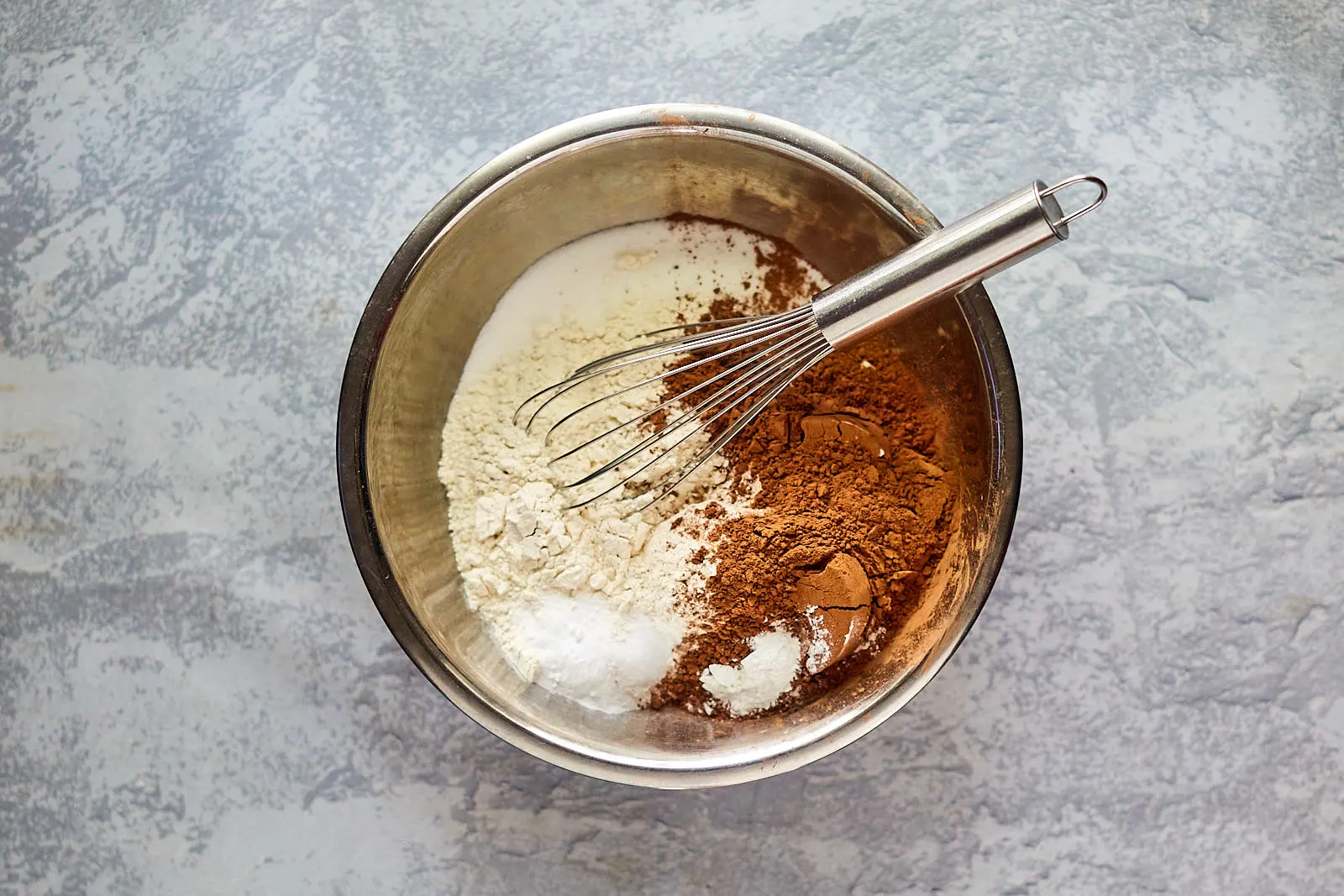 Stir together sugar, flour, cocoa powder, baking powder, baking soda, and salt in a large bowl. Add eggs, buttermilk, oil, and vanilla, then beat on medium speed. Stir in boiling water (it will be a thin batter). Pour batter into prepared pans.
Step 3: Bake the Chocolate Mousse Cake Recipe.
Bake for about 30 to 35 minutes or until a toothpick inserted in the center comes out clean. Allow cake to cool in the pan for 5 minutes and then remove to wire cooling racks. Cool completely at room temperature.
Step 4: Make the Chocolate Mousse Cake Filling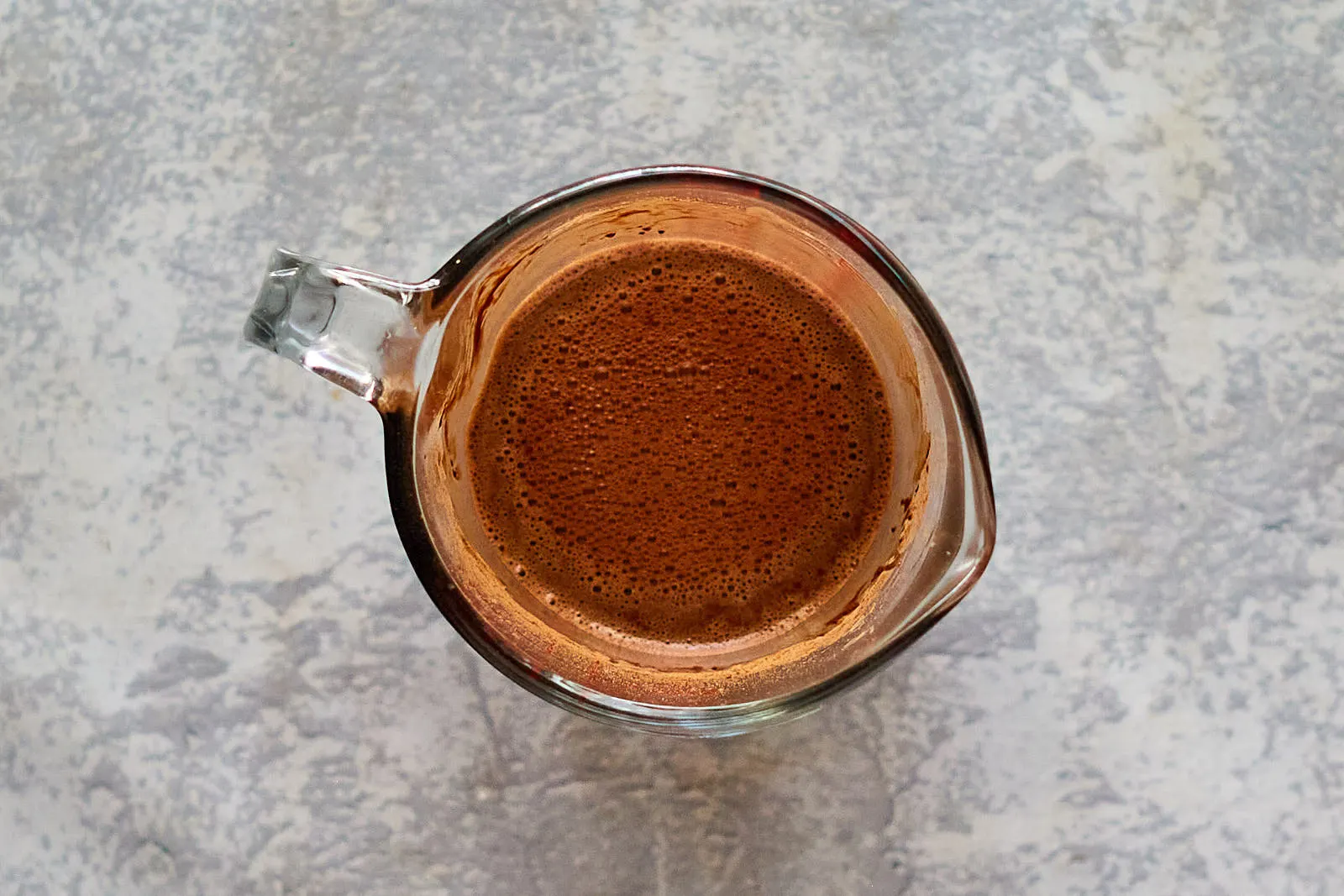 Stir the cocoa powder and hot water together. In a microwave, melt the chocolate chips and stir until they're completely melted and smooth. Add the cocoa mixture and stir. Cool.
In a separate mixing bowl beat the cream and sugar until very stiff peaks form. Add the chocolate mixture and gently fold it all together. Refrigerate.
Step 5: Make the Chocolate Buttercream Frosting.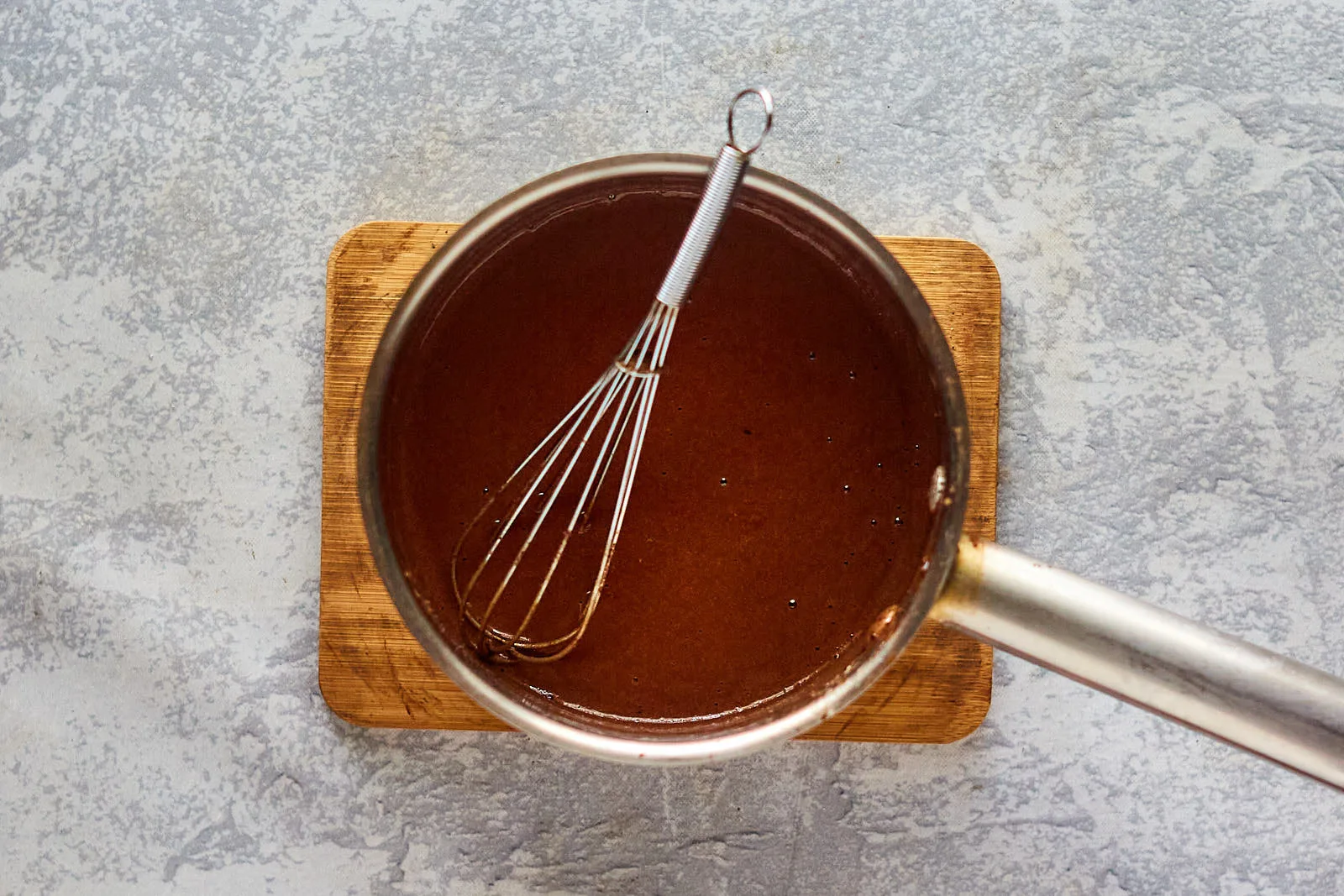 In a medium saucepan, add milk, cocoa, and butter. Bring to a boil over medium-high heat. Remove from heat. Add powdered sugar and mix using the whisk attachment of your electric mixer on medium-high speed. Cool.
Step 6: Assemble the Chocolate Mousse Layer Cake.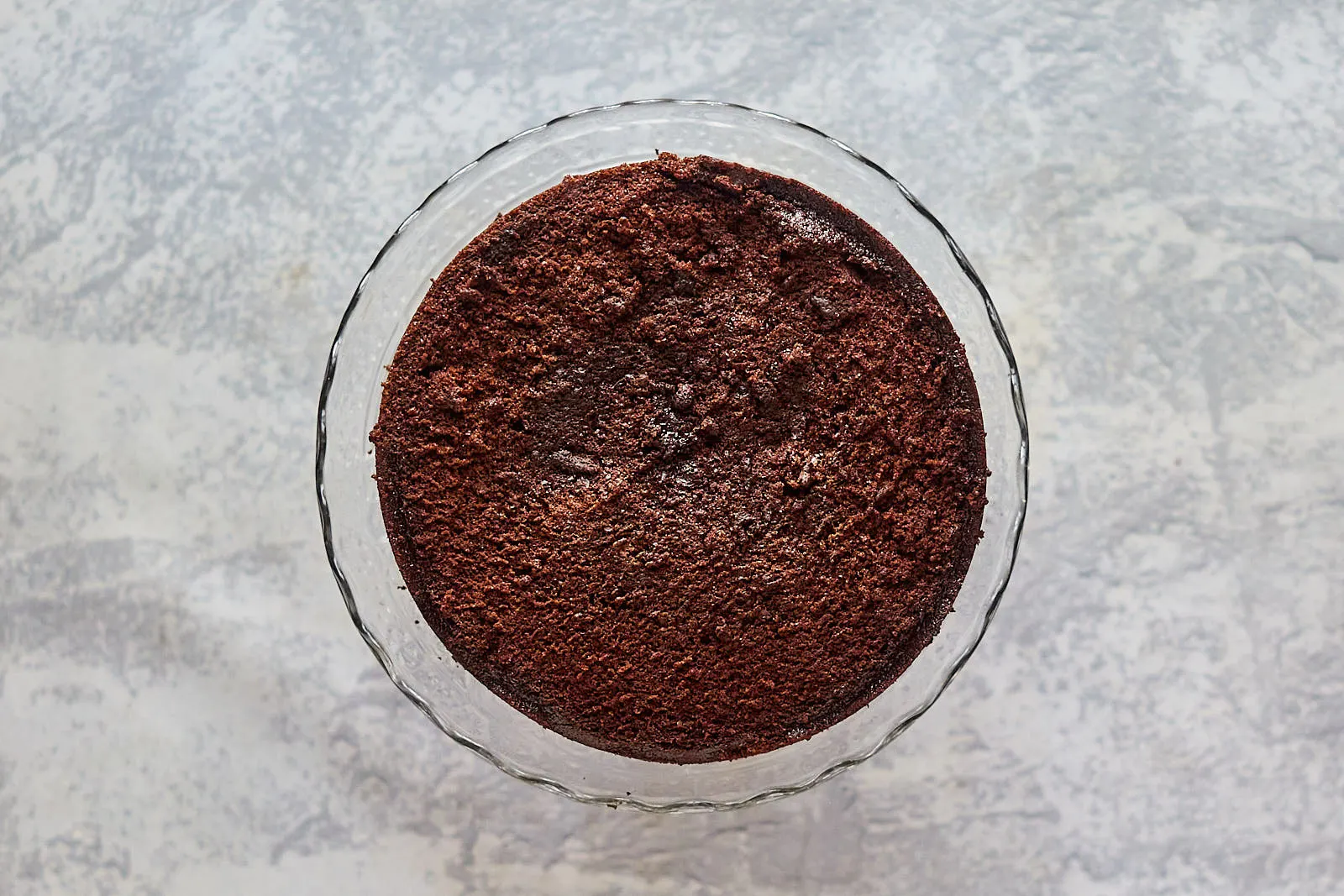 Once the cakes have cooled, cut each cake evenly in half horizontally. Stack and spread each layer with the chocolate mousse.
Once the cake and each layer are covered in mousse, refrigerate it for 30 minutes. Then, very slowly, pour the cooled chocolate frosting over the top. Spread the frosting gently so as to not disturb the chocolate mousse. Refrigerate.
Popular Variations & Additions
For this recipe, I use a "boiled" chocolate buttercream frosting. You can use a no-cook buttercream recipe as well.
You could add a dusting of toasted and crushed walnuts or pecans to the top of this cake.
Use hot coffee for a fun, fresh twist on this amazing cake.
How To Store Chocolate Mousse Layer Cake
Best Way To Store Leftover Chocolate Layered Mousse Cake
Refrigerate this cake. Don't leave it at room temperature for more than 2 hours. Refrigerate for up to 4 days, covered in an airtight container. The mousse will eventually get weepy.
Can I Freeze Chocolate Cake With Mousse Filling
No, I don't recommend freezing this chocolate mousse cake. The mousse layer is full of air, making it light and fluffy. After you freeze it, the cake will not have a light and fluffy consistency and will dry out.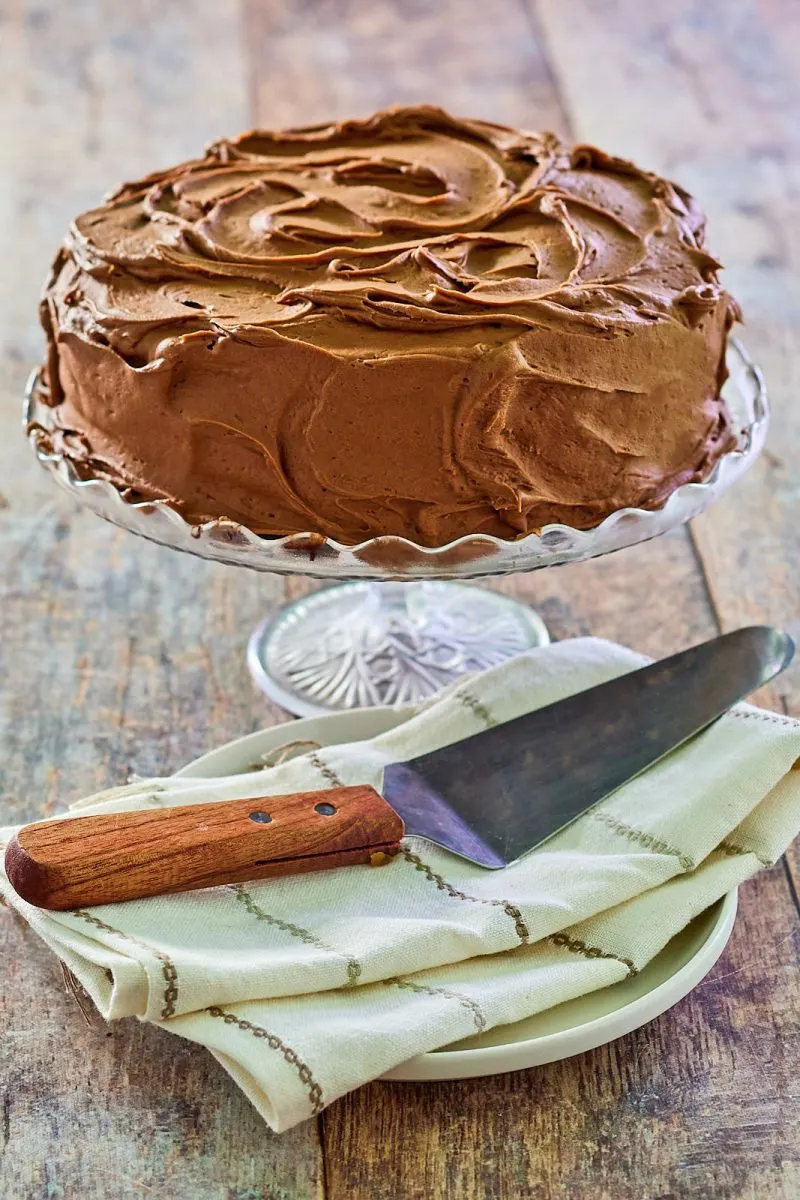 Layered Chocolate Mousse Cake FAQs
Is mousse the same as pudding?
No. Unlike pudding, mousse isn't cooked. Mousse is made by folding in whipped cream in this recipe.
Can Chocolate Cake With Mousse Filling be made ahead of time?
You can bake the cake 2 days before you assemble it with the mousse. Allow the cake to cool to room temperature and then wrap the layers in plastic wrap and refrigerate them.

You don't have to slice the layers until you're ready to assemble the cake and actually chilling the cake allows the cake to slice easier.

You can also make the buttercream frosting and the chocolate mousse up to 2 days in advance and store them separately in airtight containers. It's best if you assemble it the day you want to serve it.
Tips for the perfect Chocolate Mousse Layer Cake
Do not overwhip the mousse. Overwhipping will separate the cream into butter, causing it to become grainy.
Lightly freezing a cake can make it easier to slice.
This cake doesn't have to be a four-layer cake. Just add the filling between each cake for a two-layer cake.
This cake can be baked in 8-inch pans. The cake layers will be a little thicker. Or, in 9-inch pans. The layers will not be as thick but will be a little wider.
You can use a double boiler to melt the chocolate chips but I find that the microwave works best at 50% power and short increments. Stir between each increment.
When assembling the layers, put one rounded layer on top and gently slice the rounded top off of the second pan, and place it upside down on the pie plate. Not slicing the top flat can cause your cake to lean. I use a serrated knife for this step.
Adding a skim coat with a thin layer of buttercream and letting it set will help keep cake crumbs out of your final layer of frosting.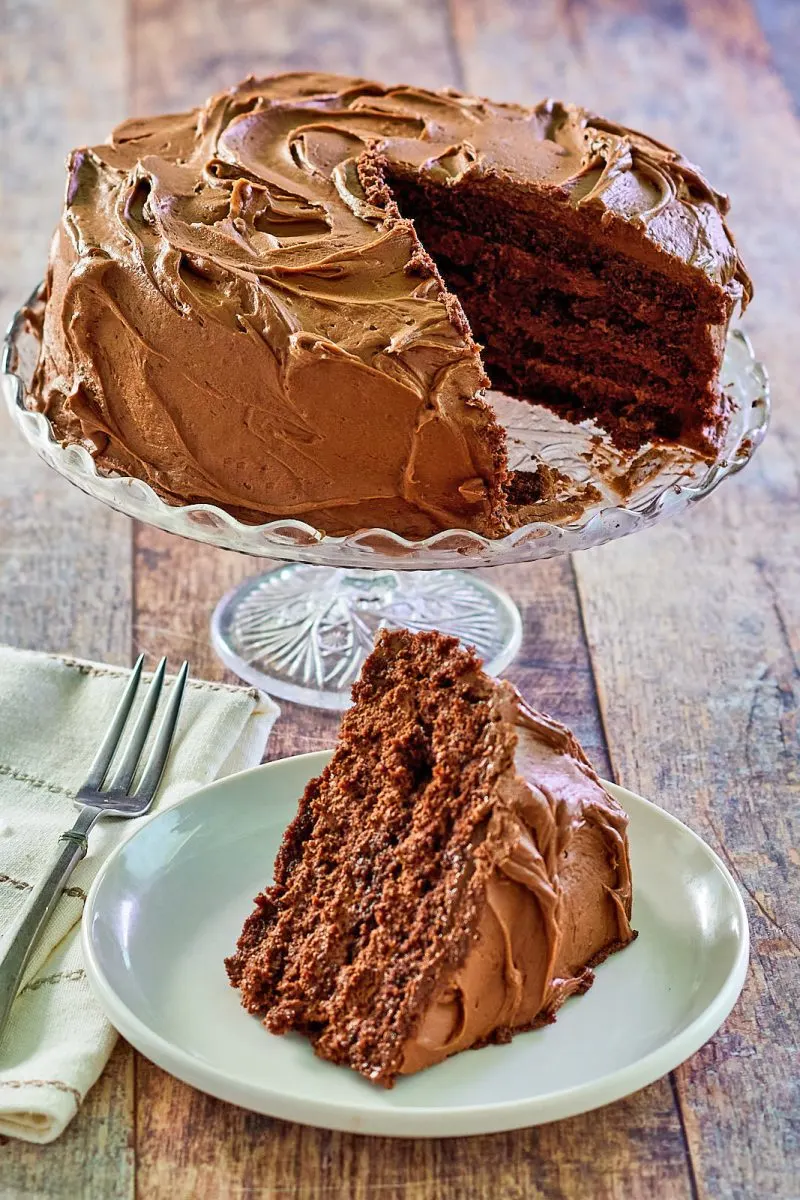 Don't forget to come back and let me know how your chocolate cake recipe with mousse filling turned out!
If you enjoyed this recipe for Chocolate Mousse Cake take a look at these!
Pin this amazing Chocolate Cake Recipe with Mousse Filling.