Pretzel Chocolate Bark Recipe with Sea Salt is an elegant addition to any holiday platter and makes the perfect gift. Smooth Chocolate mixed with crunchy pretzel pieces topped with a sprinkling of sea salt is the perfect combination whenever you want a salty-sweet treat.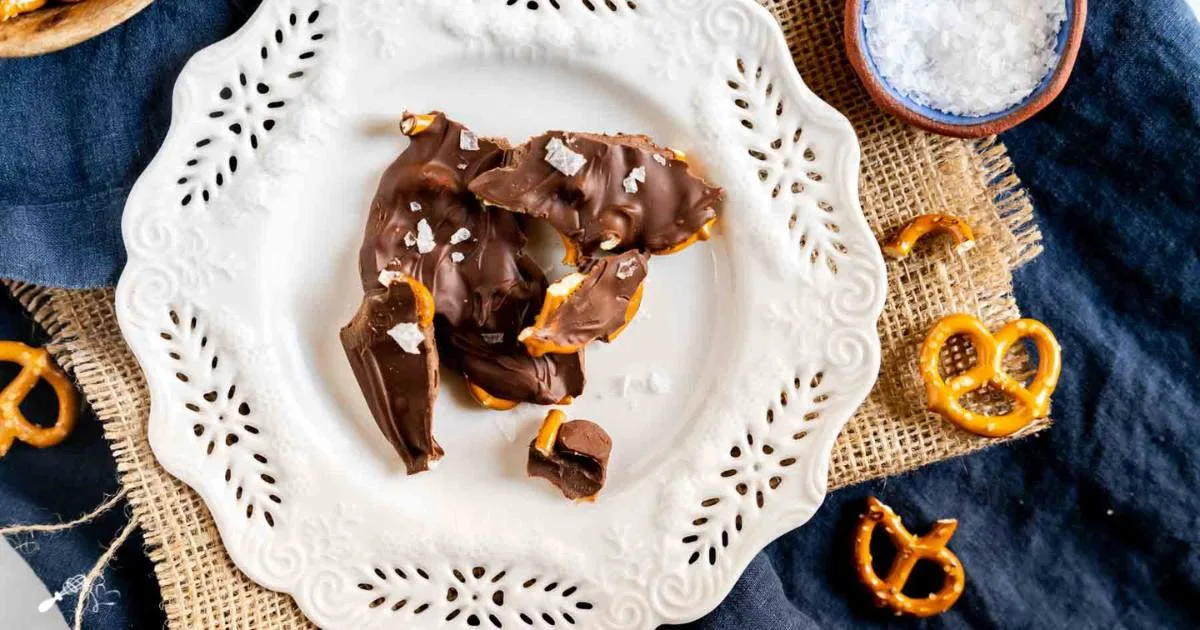 This chocolate bark is perfect when you have to come up with a special treat at a moment's notice or just want to do something special for someone.
Let me show you how easy this chocolate bark recipe is to make and how quickly it comes together. I'm also sharing chocolate bark ideas so you can put your special touch on it.
Why You'll Love Recipe
Only 4 ingredients! You've probably got these simple ingredients in your pantry.
Convenient. Make a recipe for chocolate bark with pretzels before you need it and keep it in the refrigerator for up to 3 weeks or freeze it.
Palate Perfection. This chocolate pretzel bark is the perfect creamy-crunchy texture and the perfect salty-sweet combination.
Versatile. Make this chocolate bark recipe for any occasion.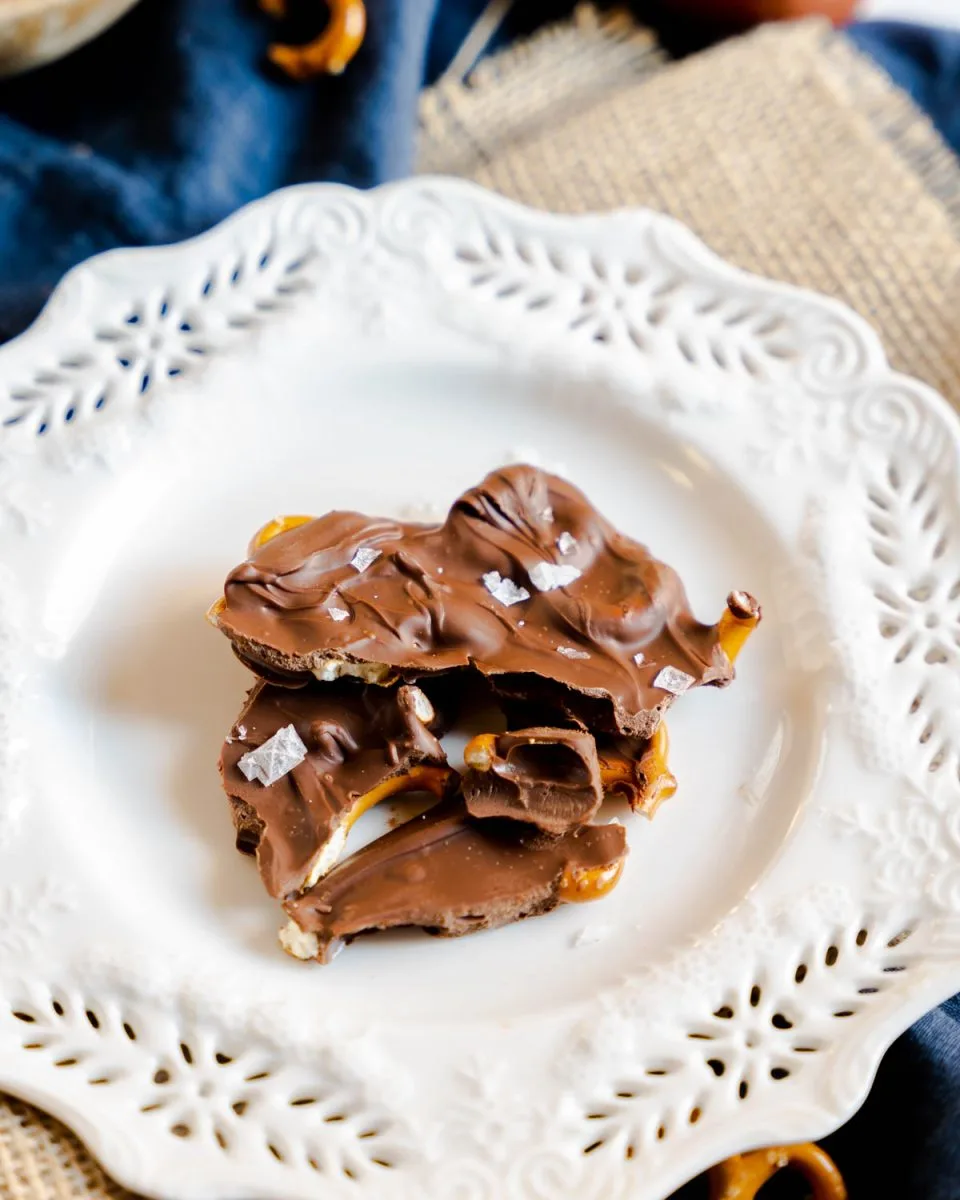 What's so special about this Pretzel Bark Recipe?
As much as I would love to take credit for creating this pretzel chocolate bark recipe, this recipe is actually inspired by our Freaky Friday Virtual Cookie Exchange Blog Hop!
What is the Freaky Friday Virtual Cookie Exchange Blog Hop? Freaky Friday is a blog hop with some of my favorite food blogger buddies!
We secretly get assigned one another's blogs to make a recipe from, and then we all reveal who we had and what we made on the same Friday! The Freaky Friday blog hop is organized by our mastermind, Michaela, who runs An Affair From the Heart.

I was excited to get Susan's blog, The Wimpy Vegetarian, for this round of Freaky Friday.
Let me tell you a little bit about Susan
I love that Susan says she's from a mixed marriage, a vegetarian to a carnivore.
She tells the story about when she announced to her husband that she was going to embrace a plant-based diet and his response. She's been able to incorporate cooking for both without hours in the kitchen and dirtying every dish in the kitchen. You've got to read it! Priceless.
Susan has culinary education and has even won some recipe contests. Looking at her blog I had a heck of a time choosing just one.
I've always wanted to try Einkorn flour so her Drop Biscuits are on my must-make list and you've got to check out her Yogurt Cake with Pears! I was drooling over that one too.
The only requirement for this edition of our blog hop is that we must choose a recipe that you would find on a cookie platter or at a cookie exchange. I wanted something that was quick, easy, and delicious. Ultimately, I couldn't resist her Chocolate and Pretzel Bark with Sea Salt.
Hostess At Heart participates in affiliate programs. As an Amazon Associate, I earn a commission from qualifying purchases. Please refer to my disclosure page for more information about these affiliate programs.
Ingredients For Chocolate Bark Recipe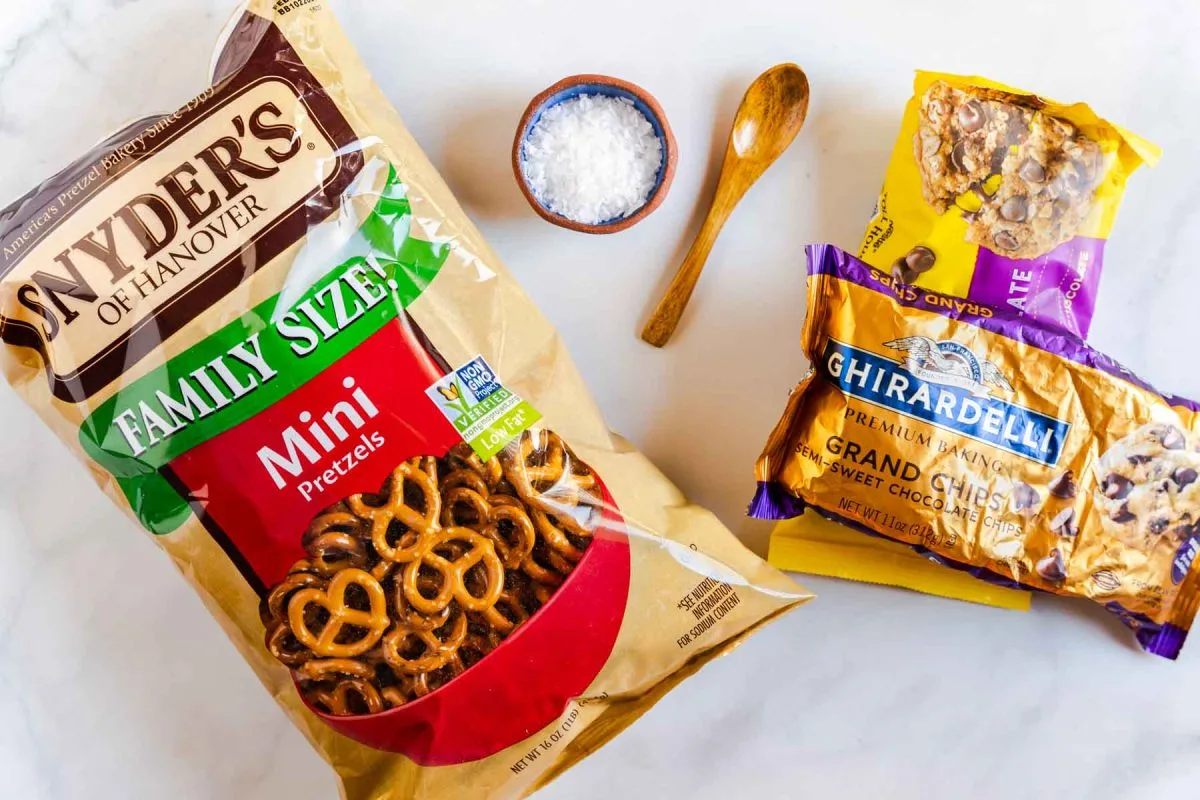 Chocolate Chips – Semi-Sweet and Milk Chocolate chips are what Susan recommended and what I used.
Pretzels – Mini Pretzels
Sea Salt – Maldon sea salt is what we used. Another option would be Fleur de Sel.
Please note, that the printable recipe card has ingredient quantities, complete instructions, and nutritional information. The following is a quick overview of the recipe.
How To Make Pretzel Chocolate Bark Recipe
Step 1: Prepare.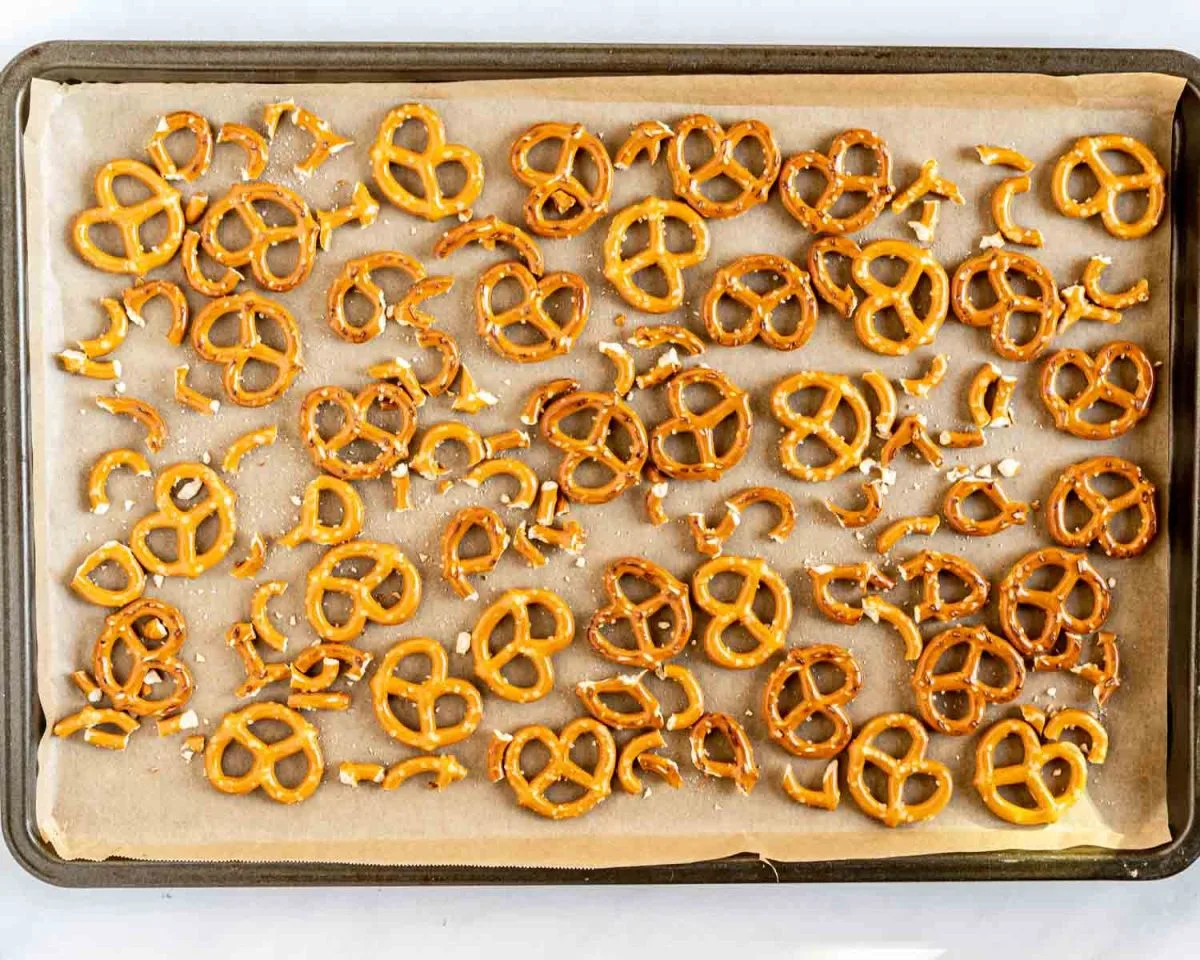 Cover a baking sheet with a piece of parchment paper. Cover with pretzels. Leave some whole and break some into pieces.
Step 2: Melt the Chocolate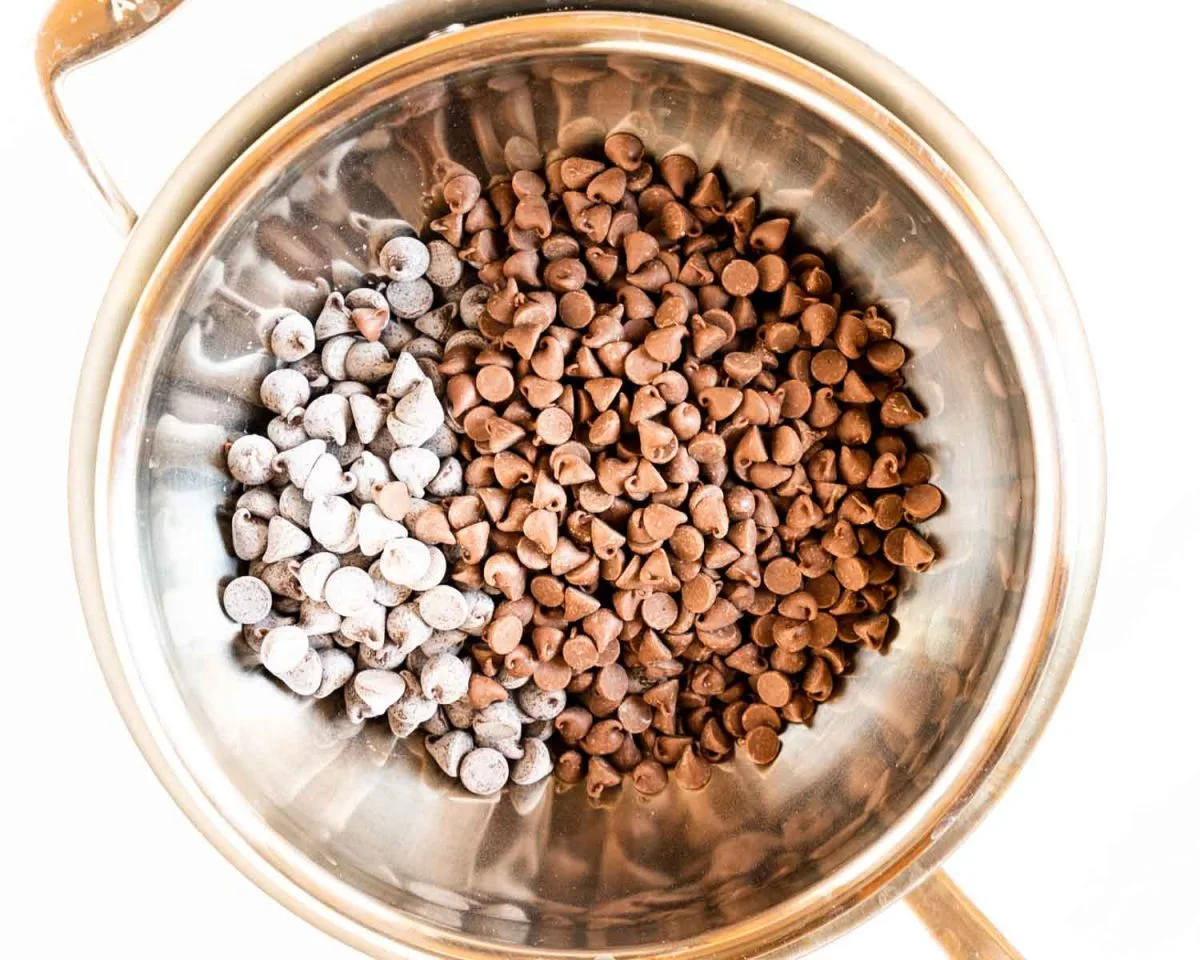 Fill a large skillet 1/2 full of water and place a metal bowl over the water. This method is called a bain marie. Add the chocolate chips. Heat the water until you get a consistent simmer (little bubbles). Stir the chocolate with a spatula until smooth.
Step 3: Assemble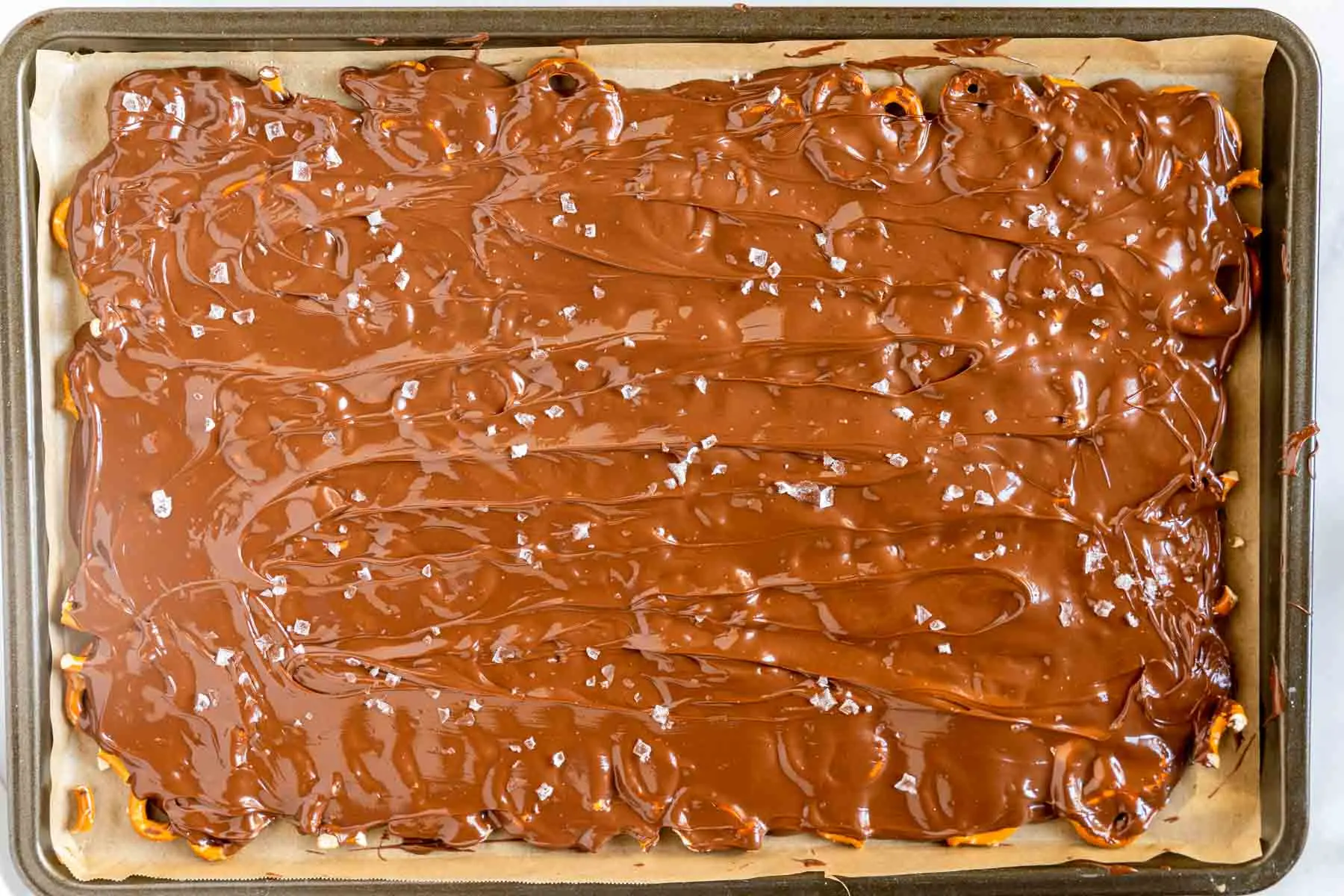 Pour the melted chocolate over the pretzels. Spread the warm chocolate with a spatula.
Sprinkle the top with Sea Salt.
Step 4: Chill
Place the pan in the refrigerator until the chocolate is set. 1 hour.
Chocolate FAQs
What is the best method for melting chocolate chips?
Susan used a "bain marie" method by placing a metal bowl in a large saucepan and slowly melting the chocolate. It worked very well for me too.
Double Boiler – This is somewhat similar to the bain marie except that the second bowl is set above the pan with the simmering water.
Microwave – This is an easy way to melt chocolate. I recommend using 50% power and stirring in between 1-minute to 30-second increments.
My chocolate is white can I use it?
Yes, you can. As you can see in the photo my semi-sweet chocolate had a white coating on it. That's called a bloom and while it doesn't look the best it's perfectly safe to use. In fact, the white appearance will disappear once the chocolate is melted or baked.
What is the best chocolate for melting?
The higher percentage of cocoa butter the faster your chocolate will melt. Dark chocolate will melt much quicker than milk chocolate because it contains more cocoa butter. The combination of chocolate in the chocolate bark recipe worked well. See my tips below.
How do I know when the chocolate is ready to use?
The chocolate will be completely melted and shiny in appearance. I remove the chocolate from the heat when just a few small chips are visible. The residual heat will finish melting them.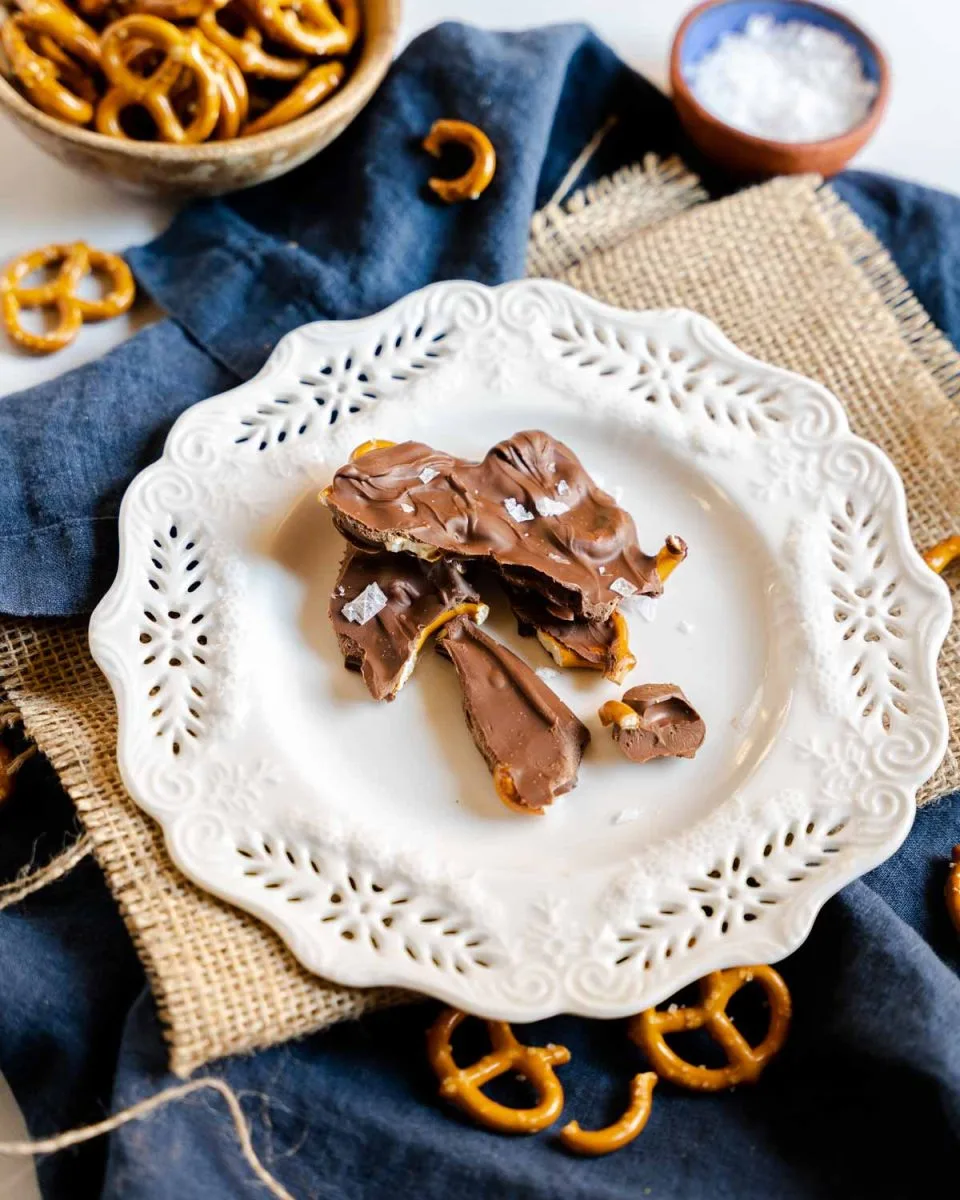 How Store Chocolate Bark
Best Way To Store
Make sure the pretzel bark is completely chilled and then place it in an airtight container in the refrigerator for up to three weeks. Condensation will ruin the texture if it's not completely chilled before putting it in an airtight container.
After it's been chilled, you can safely remove it from the refrigerator and place it on a cookie platter or in a pretty dish for guests to munch on. It will not get soft or sticky unless your environment is very warm.
Can I Freeze Pretzel Chocolate Bark?
Pretzel Chocolate Bark freezes amazingly well. Make sure it's thoroughly chilled before putting it in an air-tight container. Also, chocolate bark can be easily crushed so place it in a container that will keep it from getting broken. Freeze for up to 3 months.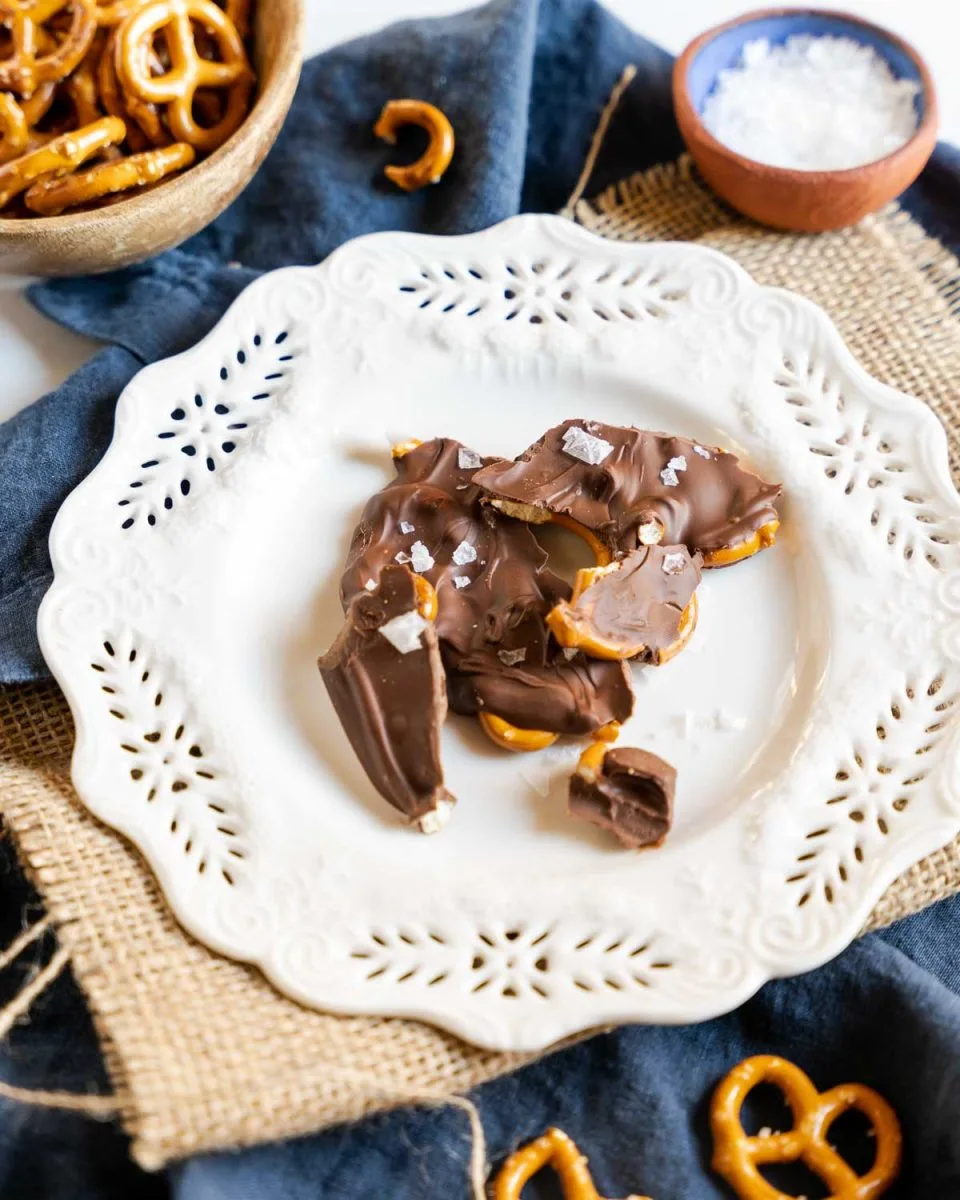 Tips for the Perfect
Make sure that you don't get any water in the melting chocolate. It will seize up and become unusable.
Chocolate can burn so it's best to melt it slowly over medium to low heat.
Be sure to stir the melted chocolate before you pour it over the pretzels so that it's smooth and shiny.
Don't break the chocolate bark into shards until it's completely set. If the chocolate is still soft, you'll smudge the shiny surface with your fingerprints.
Use plenty of pretzels. John and I both thought that I needed more pretzels. The chocolate is sweet and smooth. More pretzels would have created a better contrast.
Chocolate Bark Ideas
This pretzel chocolate bark is so versatile and you can make it for any event. Here are a few chocolate bark ideas.
Include dark chocolate with your semi-sweet or milk chocolate chips for dark chocolate bark.
Add seeds and nuts. I think sesame seeds or pistachios, cashews, macadamia, or hazelnuts would be delicious.
Dried fruit such as cranberries (craisins), cherries, and apricots would work great.
Top with candy such as crushed candy canes or toffee or chop up a candy bar and sprinkle over the top.
Sprinkles are fun for any occasion.
More Sweet Treats
Oreo Brownies – Decadent chocolate brownies stuffed with cookies!
Chocolate Mousse Cake – A combo of soft tender cake layered with a creamy mousse filling.
Cheesecake Cookie Bars – This is our readers' favorite bar recipe!
If you tried this delicious recipe, don't forget to rate it and leave me a comment telling me what you think. I love hearing from you!
You can never have too many cookie recipes! Take a look at these!
See all of our 2022 Freaky Friday Holiday Cookie Exchange Recipes
Hosted by –
An Affair from the Heart
If you enjoyed this recipe you may like these recipes too!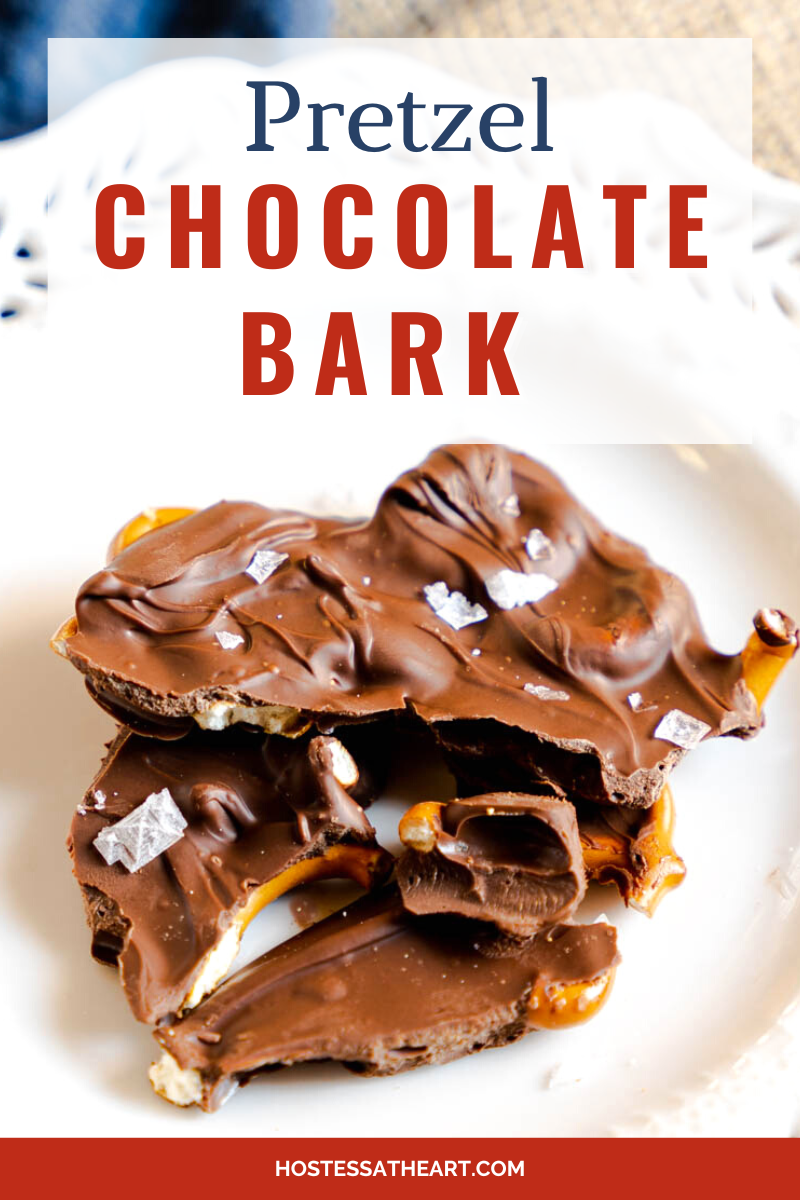 I want to thank Susan for this delicious Pretzel Chocolate Bark recipe with Sea Salt, and hope you will check out The Wimpy Vegetarian and this mega-talented, beautiful person.
See this edition of our Freaky Friday Virtual Cookie Exchange
Hosted by – An Affair from the Heart