Satisfy your sweet tooth with this easy and delicious chocolate Oreo brownies recipe. Perfect for any occasion, these brownies are sure to be a hit with both kids and adults. Get ready to indulge in decadent chocolaty goodness that will leave you wanting more!
If the definition of chocoholic is in the dictionary, you may see my picture. I've made our Fudgy Brownies so many times. This easy Oreo Brownie recipe makes it a chocolate lover's dream.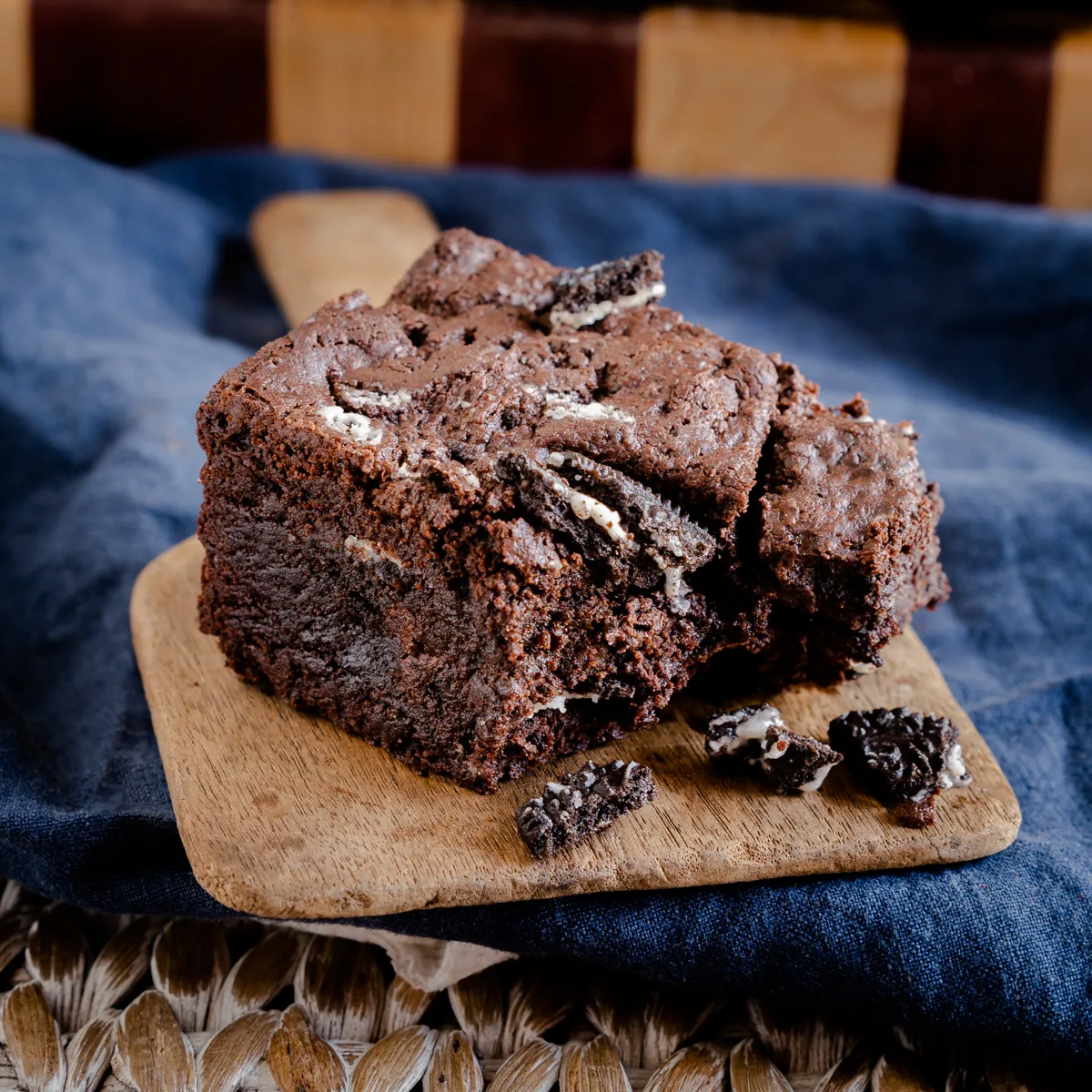 What's better than rich, chocolatey, extra-fudgy brownies? Rich, chocolatey brownies stuffed with chunks of Oreo cookies! Indulge your sweet tooth with a decadent homemade dessert that's sure to satisfy your cravings. Whether you're hosting a party, bringing dessert to a potluck, or simply want a sweet treat, these brownies are a crowd-pleaser.
In this article, we will provide step-by-step instructions, tips for success, variations to try, and even storage and serving suggestions.
Why You'll Love Our Oreo Brownies Recipe
Bake up fast! This brownie recipe will bake in less than 25 minutes.
Prepare these ahead of time. These are so simple to make and can be made ahead of time to free up your time on the day of your event.
This recipe is so easy to make that you may never buy a box mix again. They've got that crinkly top that everyone loves, so there is no need to frost them.
Ratio perfection. This is the perfect amount of Oreos-to-brownies so that everyone gets a gooey fudgy bite with the perfect amount of crunch.
Equipment Needed
Hostess At Heart participates in affiliate programs. As an Amazon Associate, I earn a commission from qualifying purchases. Please refer to my disclosure page for more information about these affiliate programs.
Oreo Brownies Ingredients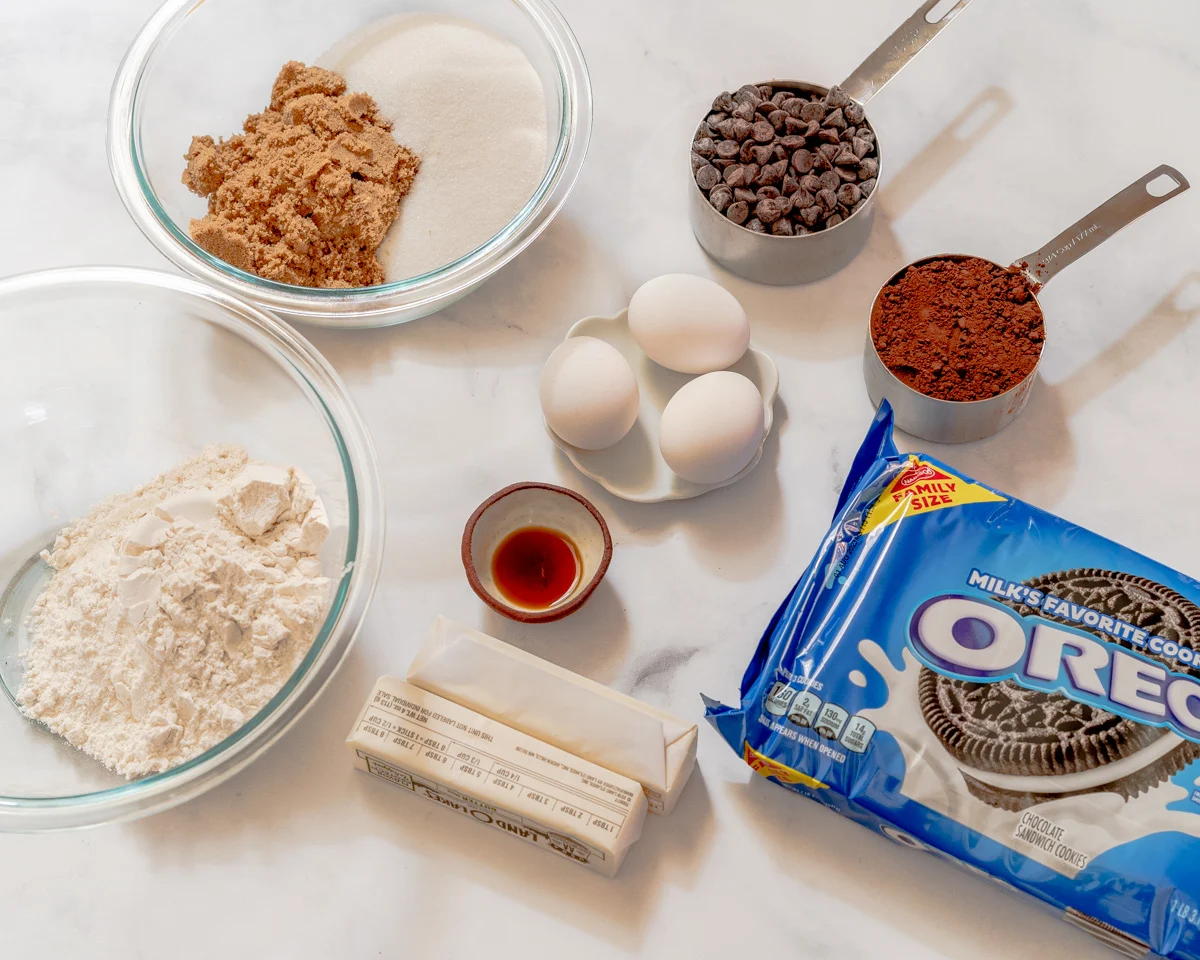 Butter. You can use unsalted butter or a dairy-free butter substitute if you prefer. Real, salted butter will lend the best flavor.
White Sugar.
Brown Sugar. Dark or light will work. Dark brown sugar has a deeper molasses flavor and is ever–so-slightly chewier. For this recipe, it is really about your preference.
All-Purpose Flour. You can use a gluten-free all-purpose one-for-one flour in this recipe.
Unsweetened Cocoa. The darker the cocoa, the darker the brownies. I like using this one.
Eggs. slightly beaten.
Semi-Sweet Chocolate Chips. You can also use chocolate chunks or chopped chocolate bars.
Oreo Sandwich Cookies. We use whole chopped cookies. You could use the mini Oreo cookies and leave them unchopped.
How To Make Oreo Cookie Brownies
Please note, that the printable recipe card has ingredient quantities, complete instructions, and nutritional information. The following is a quick overview of the recipe.
Step One. Get everything ready to make this incredible Oreo brownies recipe.
Preheat your oven. Spray your pan. Line your pan with parchment paper and spray again. Make sure to have all these ingredients on hand before you begin.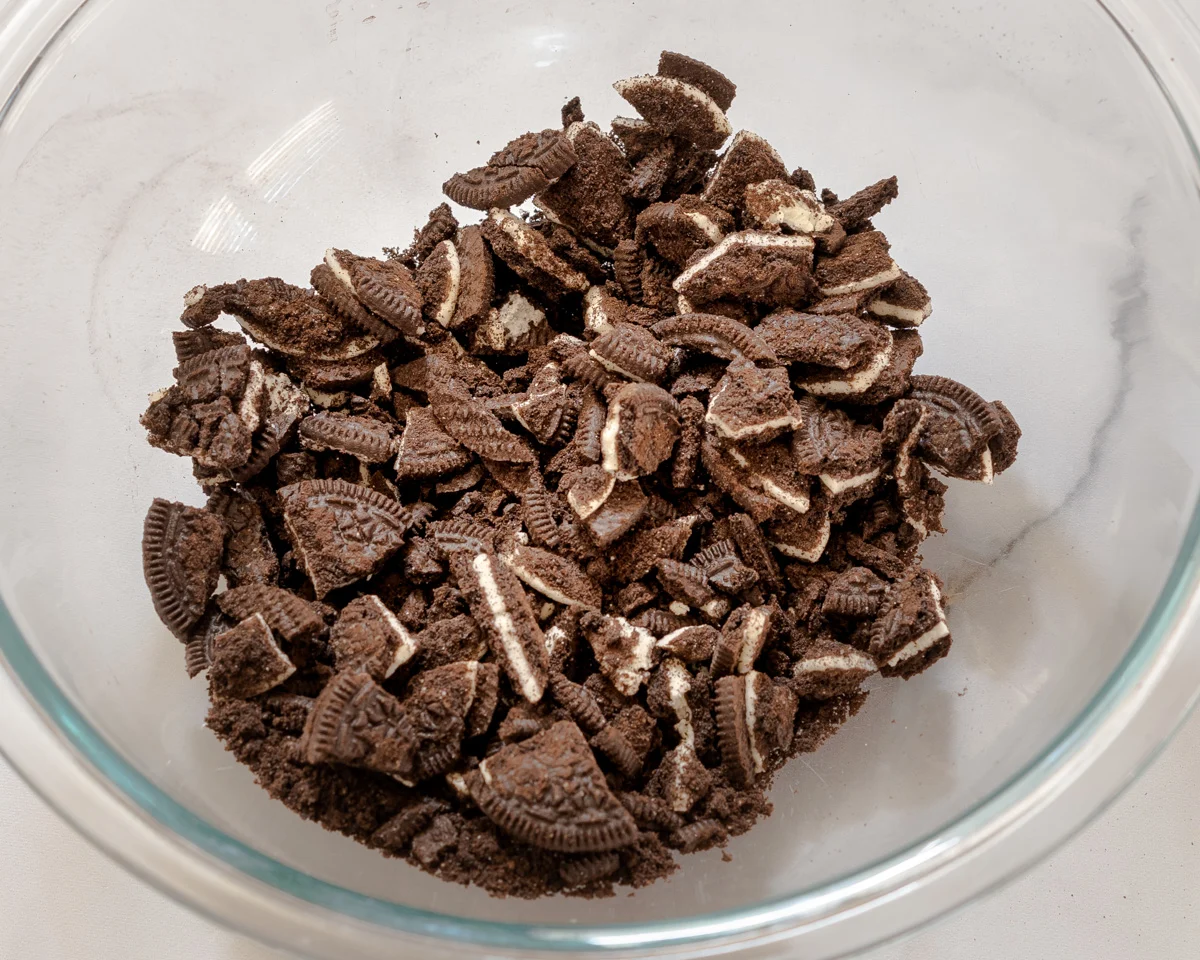 Step Two. Crush the Oreos.
Crush 15 Oreo Cookies and cut the rest into quarters.
Step Three. Cook some of the Oreo Brownies ingredients on the stovetop.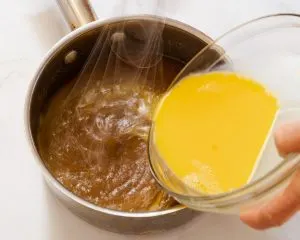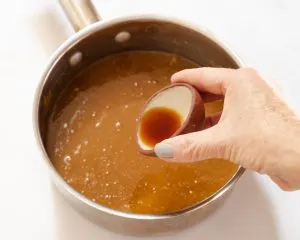 Melt the butter with the sugars in a saucepan over medium-low heat. Stir until combined. Remove from the heat and cool slightly. Vigorously whisk in the eggs and then add the vanilla.
Step Four. Mix the dry ingredients.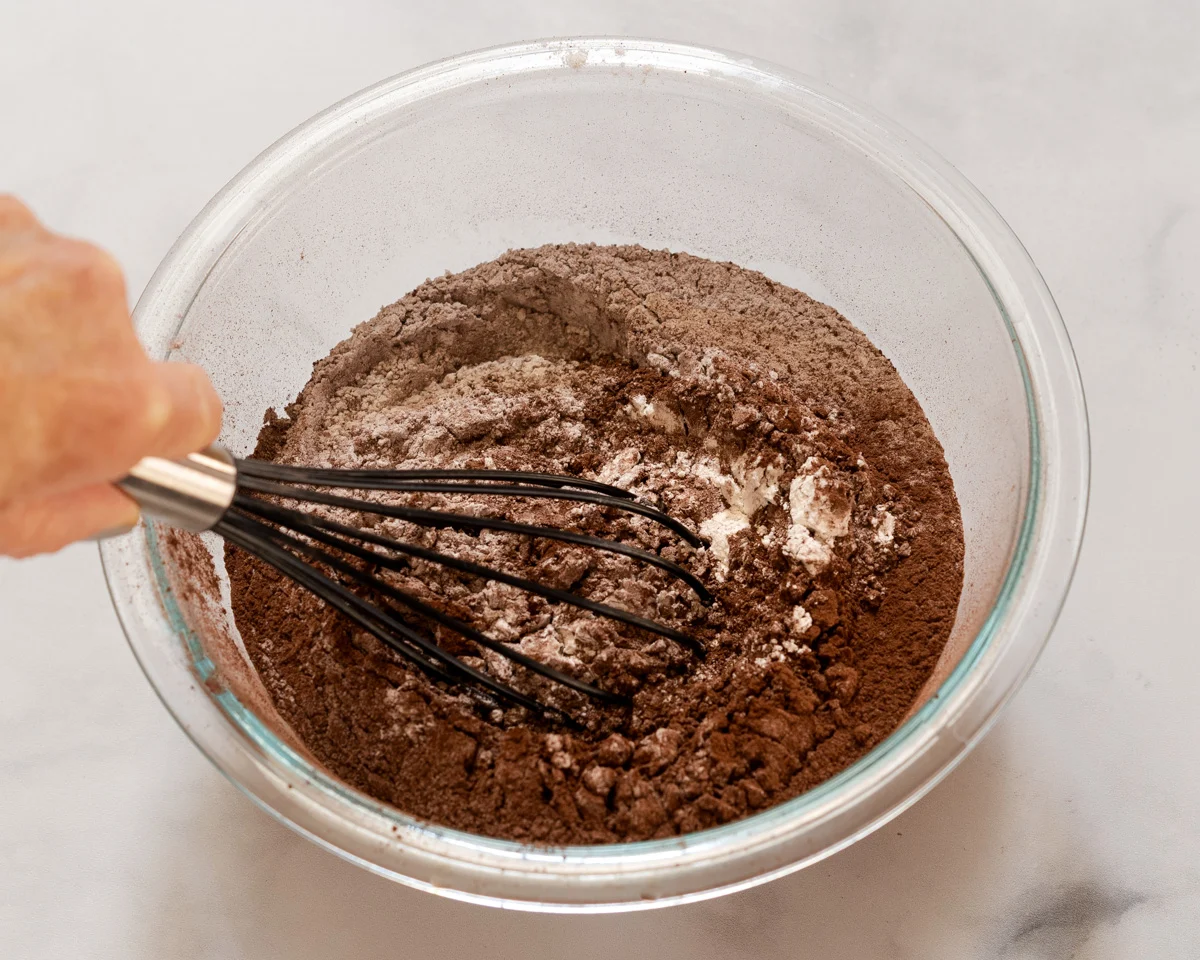 While the sugars and butter are cooking, sift the flour and the cocoa together and whisk until combined.
Step Five. Combine the wet and dry ingredients.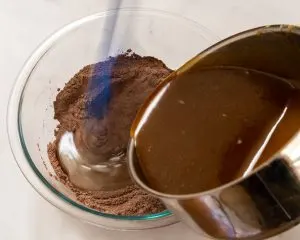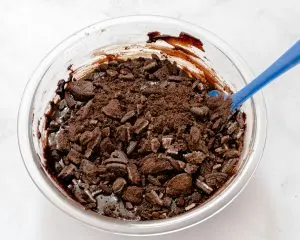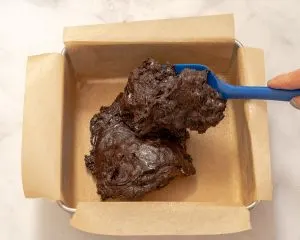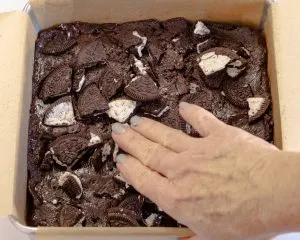 Add the sugar-butter mixture to the flour. Stir to combine and fold in the chocolate chips and the Oreo cookies. Put the brownie batter into the prepared baking pan. Garnish with quartered brownies.
Step Six. Bake your Oreo Cookie Brownies.
Bake for 25 to 30 minutes. Cool in the pan over a cooling rack.
How to Serve Oreo Brownies
These decadent brownies can be eaten as is straight out of the pan as soon as they have set. They can be enjoyed hot or cold. If you want to ramp things up, serve each brownie with a scoop of vanilla ice cream and maybe even a drizzle of chocolate ganache or caramel sauce.
These brownies are rich. I cut cooled brownies into small pieces, which makes this Easy Oreo brownie recipe the perfect addition to a dessert bar.
Frequently Asked Questions
Should toothpicks be clean for brownies?
No, your brownies will be overbaked. Go with 25 minutes and take them out. Let them cool in the pan. Once cool, they'll be set.
What makes brownies fudgy vs cakey?
This is not a cake-like brownie recipe. Some recipes call for more flour and baking soda or baking powder to make them rise. This recipe has a minimal amount of flour and uses eggs so they don't rise as much. The fat from the butter also aids in making this thick brownie moist.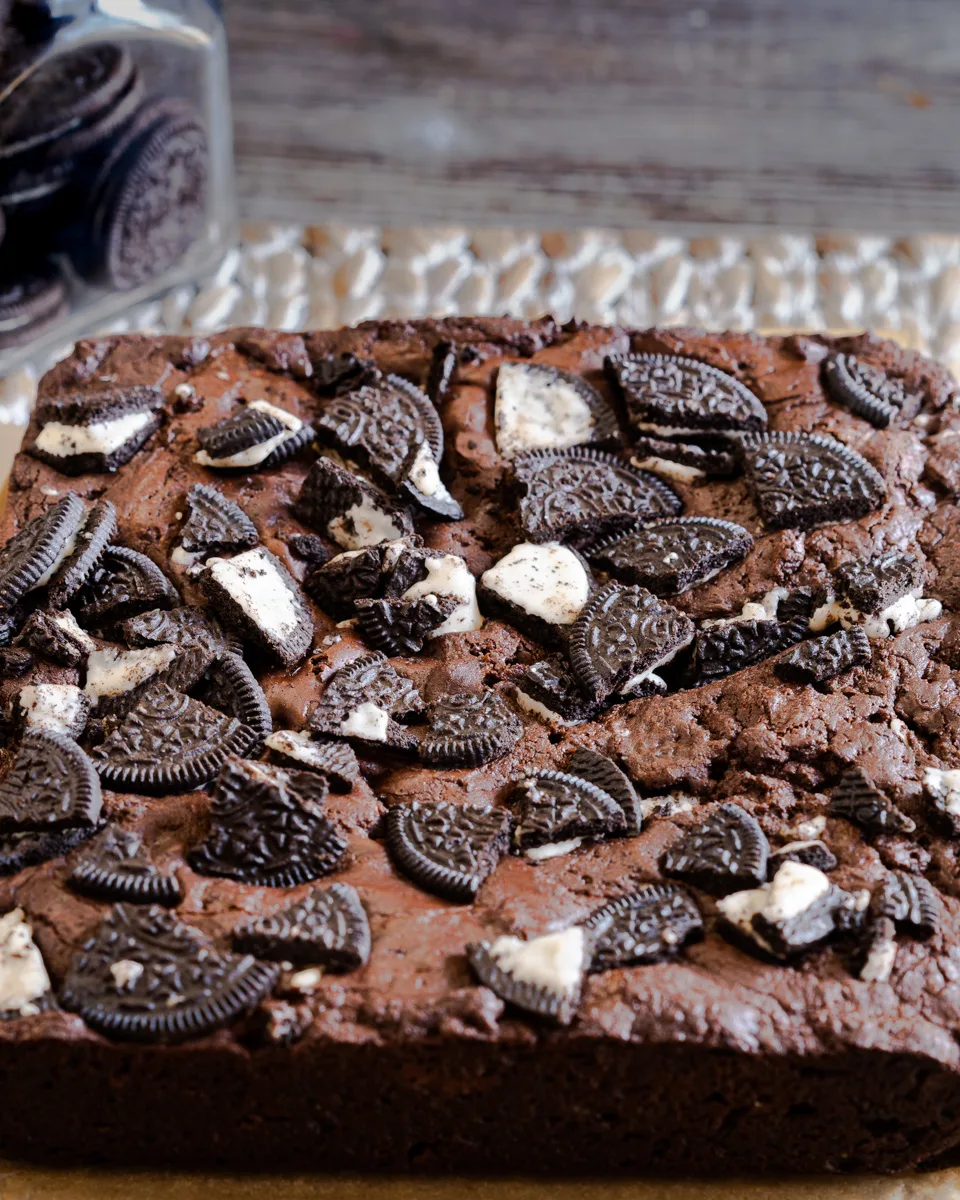 How To Reheat & Store Brownies with Oreos
Best Way to Store Oreo Brownies
Keep your leftover brownies in an airtight container at room temperature. When storing your brownies, it's important to ensure that they're completely cool before putting them into an airtight container. If they're still warm, they can create condensation inside the container, which can make them soggy. Make sure the brownies are at room temperature before sealing the container and putting them away. Storing them in a cool area will keep them from getting too soft. They can also be refrigerated.
Can I Freeze Oreo Brownies?
Yes. If you use a disposable pan, you can freeze an entire pan of brownies to thaw later. You can also freeze brownies individually on a tray and then move them to an airtight container after a couple of hours. A third option is to freeze brownies in individual sandwich-size freezer bags. In any case, brownies with Oreos should be placed in an airtight container to freeze and will last for up to three months.
How to Reheat Oreo Brownies
The best method I've found to reheat brownies is 10-30 seconds in the microwave for a single brownie. This depends on your microwave, the size of the brownie, and whether or not it was refrigerated. I recommend starting at ten seconds and adding ten seconds more as needed.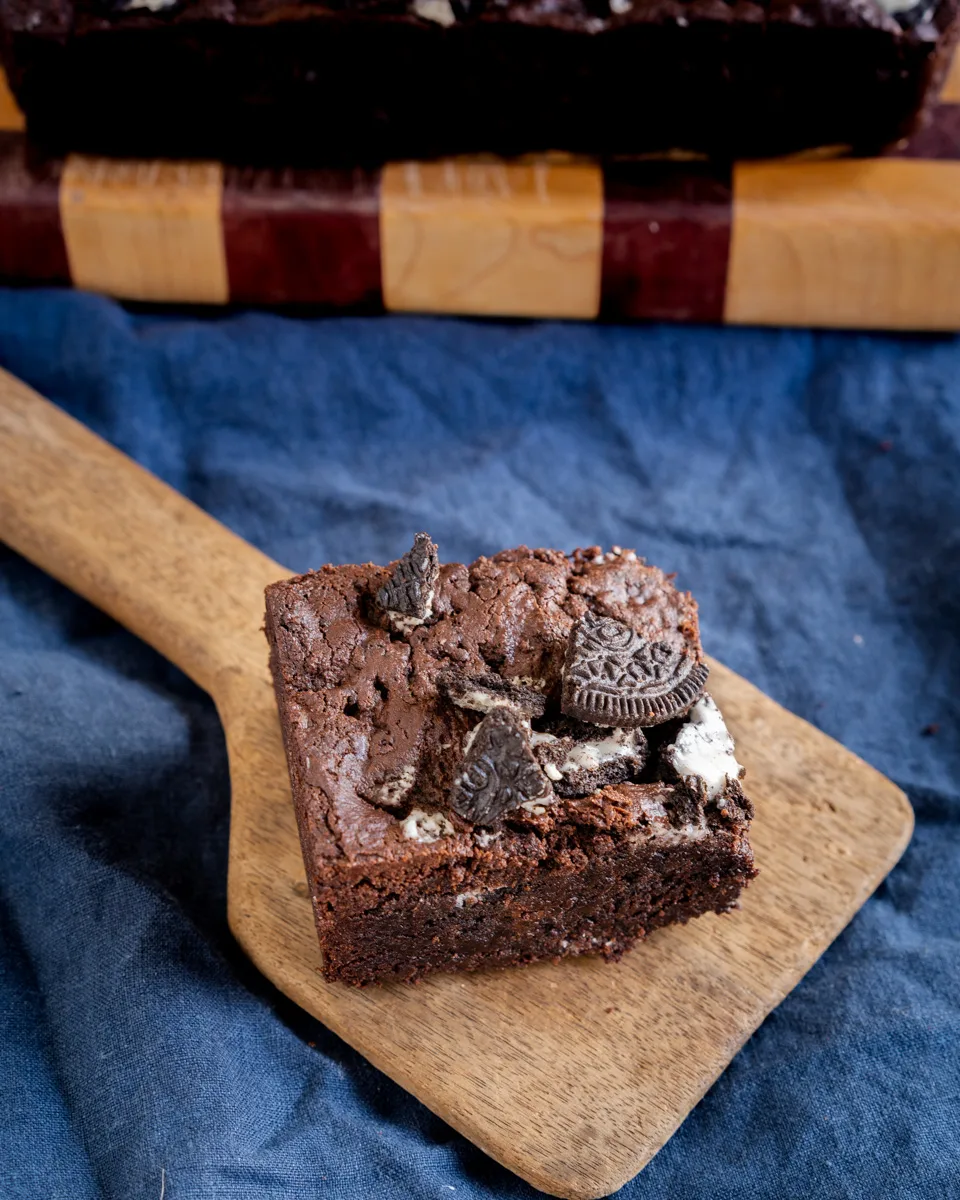 Variations and Substitutions
Once you have the basic recipe down, it's time to play around with some variations to really make these brownies your own. Here are a few ideas to get you started:
Mint Chocolate Chip: Use the Mint Oreos instead and mix in some chopped Andes mints instead of chocolate chips.
White Chocolate Raspberry: Use Vanilla Oreos and white chocolate chips. Add macerated raspberries to each brownie when it is served.
Peanut Butter Cup: Use peanut butter creme Oreos, and add chopped-up mini peanut butter cups or peanut butter chips to the batter instead of chocolate chips for a deliciously rich and nutty flavor combination.
Coffee Lover. Use the Java Chip Oreos and add a teaspoon or two of Espresso powder in place of an equal amount of cocoa powder.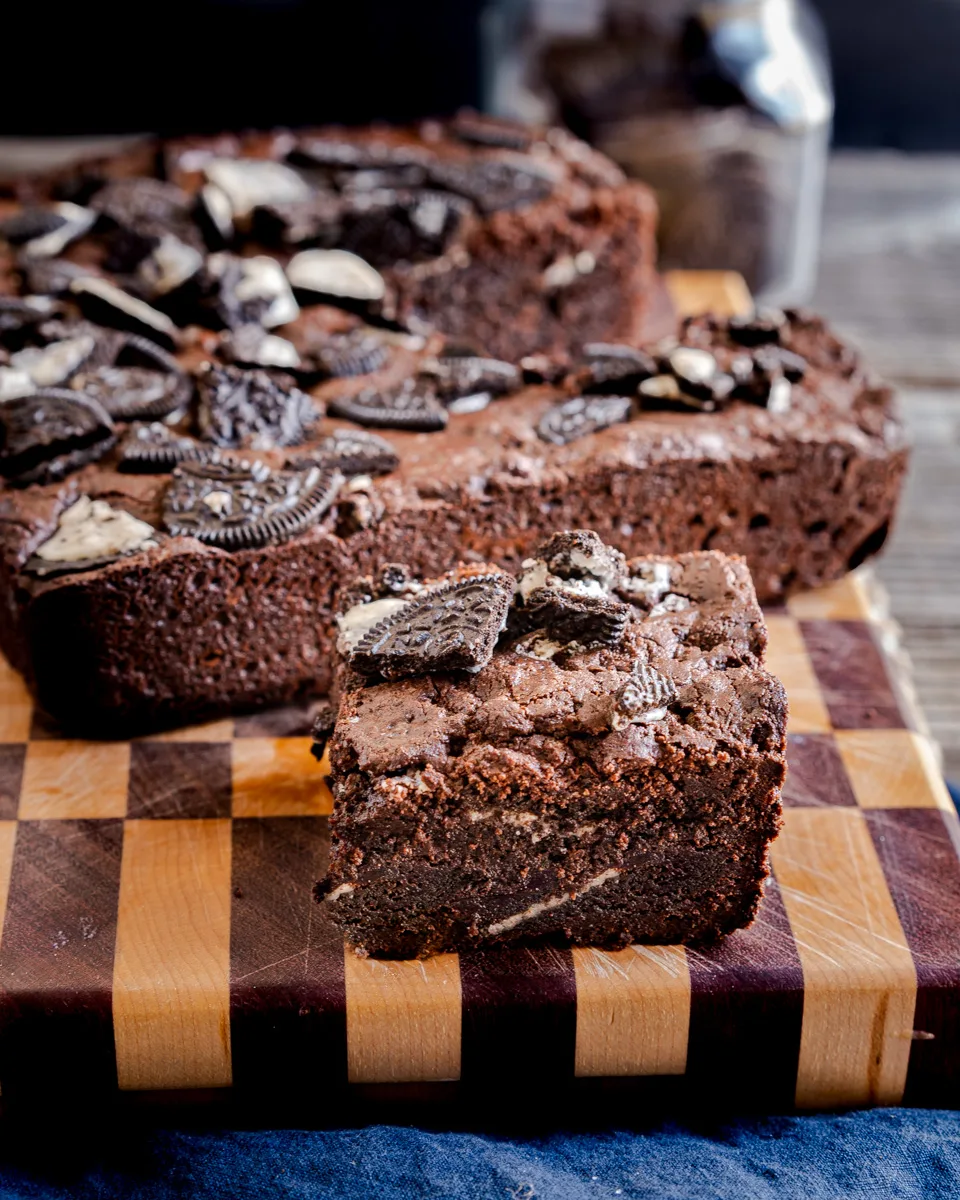 Recipe Tips for the Perfect Oreo Brownies
Don't overcook. Your toothpick will not come out clean. I've cooked these brownies in different ovens in different states. They took anywhere from 20 to 35 minutes.
I used a 7×11 pan. If you use a 9×13, the brownies will be thinner. Or, you can double it and use a 9×13 baking pan. We have a free pan conversion sheet to help use the pan you desire.
No need to use a mixer with these brownies. They're best just mixed by hand.
Heat the butter and sugars together first and allow them to cool while you sift the flour and cocoa together. That way, when you add the eggs, you will not end up with scrambled eggs.
Don't skip sifting the cocoa. Cocoa clumps up and is hard to mix if it's not sifted.
Lightly press the chopped Oreos into the top so they bake into the brownie, and don't just slide off the brownies when you serve them.
Crush the cookies in a food processor or in a gallon-sized plastic zipper bag using a rolling pin. Don't over-crush.
Lining the pan with parchment paper keeps the brownies from sticking and, it makes the brownies easy to remove from the pan for easy cutting.
If you enjoyed this recipe, check these out!
If you tried this delicious recipe, don't forget to rate it and leave me a comment telling me what you think. I love hearing from you!
Pin this amazing recipe!