Embrace the summer vibes with a Grapefruit Crush Cocktail. It's a refreshing sipper bursting with zesty citrus flavors. Get ready to tantalize your taste buds and quench your thirst with sun-kissed sips and the ultimate summer indulgence!
I love a citrusy cocktail that's refreshing and not too sweet. Especially when it has the taste of freshly squeezed juice just like my Grapefruit Martini and Campari Cocktail. They're smooth sippers and feel like a tropical vacation right in my own backyard.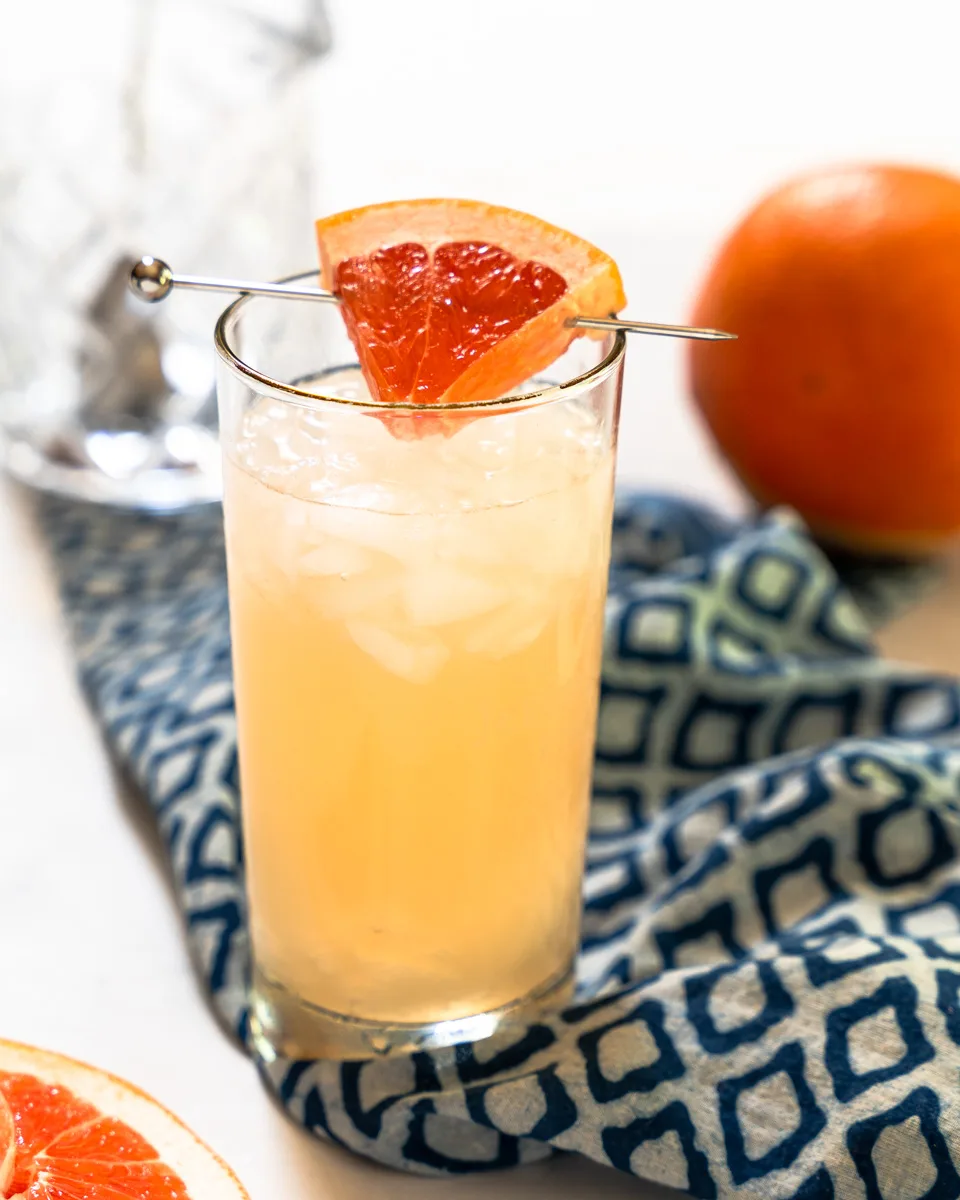 Get ready to sip your way into summer bliss with this Unbelievable Grapefruit Crush Cocktail recipe. I'll be sharing some tips for crafting the ultimate Crush Cocktail so grab a glass and prepare to beat the summer heat with this tantalizing and satisfying drink.
Why You'll Love This Recipe for Grapefruit Crush
Perfect flavor balance – Grapefruit Crush Cocktail isn't overly sweet or alcohol-forward making it the perfect sipper
Simple ingredients – With only 4 ingredients, you'll be sipping the perfect summer cocktail in no time.
Quick and easy – There isn't any need to shake this cocktail. Just pour the cocktail over ice, and sip.
What's so special about this Grapefruit Crush Recipe?

As much as I would love to take credit for creating this Grapefruit Crush recipe, this recipe is actually inspired by our Freaky Friday Blog Hop.
What is the Freaky Friday Blog Hop? Freaky Friday is a blog hop with some of my favorite food blogger buddies!
We secretly get assigned one another's blogs to make a recipe from, and then we all reveal who we had and what we made on the same Friday! The Freaky Friday blog hop is organized by our mastermind, Michaela, who runs An Affair From the Heart.
The theme of this edition is Summer Recipes so just something that you'd eat or drink in the summer. Easy peasy right?
I was very excited to get Sam's blog, the Culinary Compass, for the Summer Edition of our blog hop. I enjoyed getting to know about her and her culinary adventure.
Sam was an industrial engineer before deciding she wanted to explore food so added Food Science and Technology to her degrees.
While I can't boast this education, we both have a love of our pup and travel.
Sam had several recipes that tantalized my taste buds such as her Brioche French Toast, which will be happening soon. I'm always looking for easy side dishes, and her Air Fryer Potato Wedges are amazing. Then there's Dunkaroo Dip! I can just see the kiddos helping with those sprinkles! Ultimately, I just couldn't resist a fresh grapefruit juice cocktail.
Ingredients you'll need for this recipe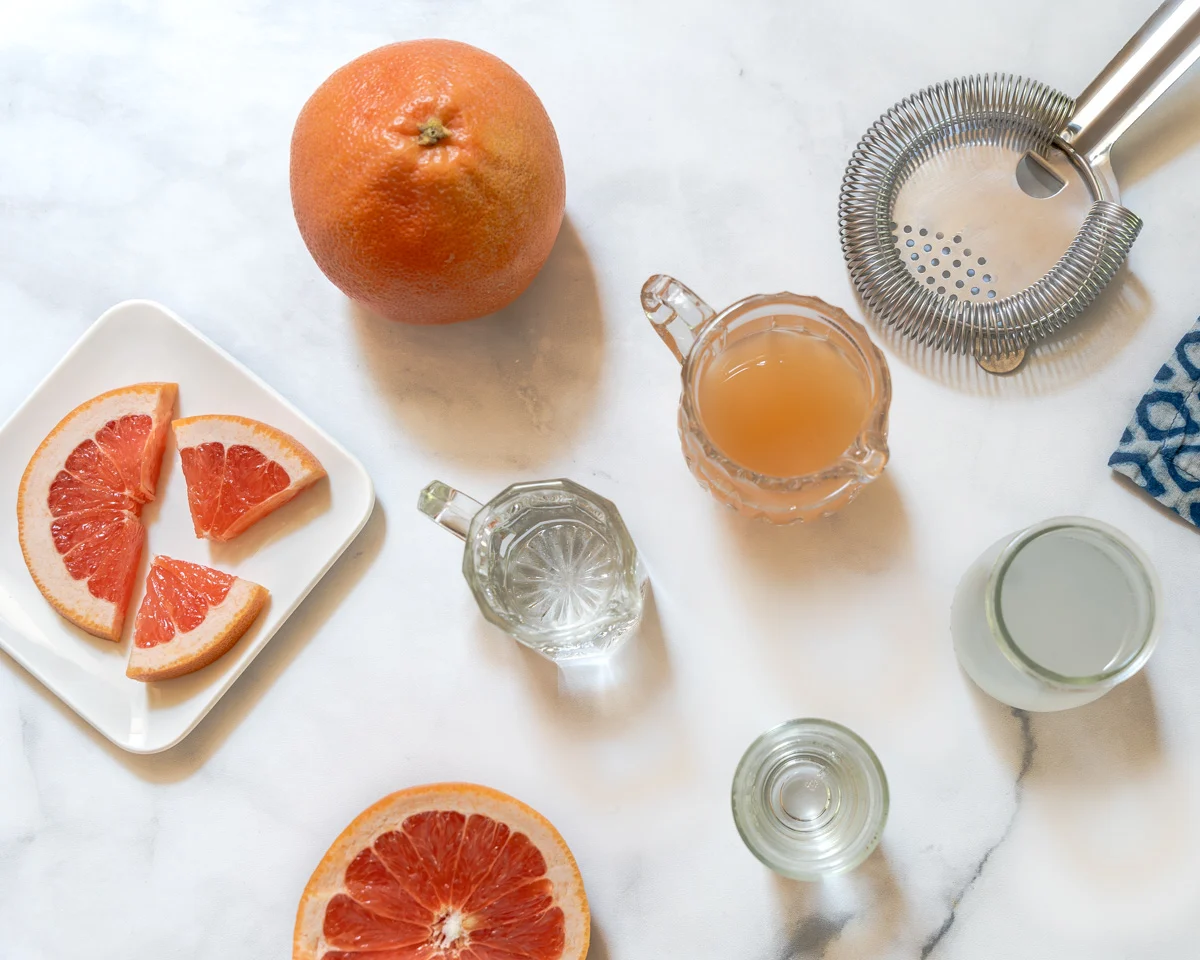 Grapefruit Juice. The natural sweetness and acidity of fresh grapefruit juice will be the foundation upon which the rest of the cocktail is built. Freshly squeezed is what we preferred.
Vodka. Vodka is a popular choice for this cocktail due to its clean and neutral profile, allowing the grapefruit to shine without overpowering it.
Triple Sec. Adds a touch of sweetness and depth to the tangy grapefruit flavors, creating a smooth balance to your Grapefruit Crush.
Lemon Lime Soda. brings a burst of effervescence and a subtle sweetness that perfectly complements the refreshing grapefruit flavors.
How To Make A Grapefruit Crust
Please note, that the printable recipe card has ingredient quantities, complete instructions, and nutritional information. The following is a quick overview of the recipe.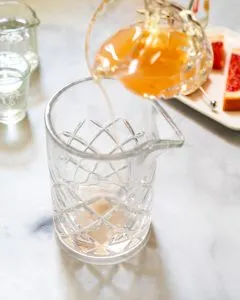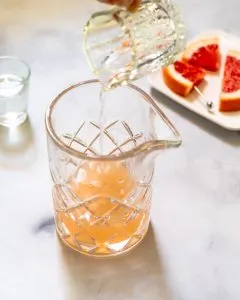 Simplicity for the win! You could easily mix the ingredients right in the cocktail glass but I chose to put it into a Cocktail Mixing Glass, giving it a quick stir, and poured it over crushed ice.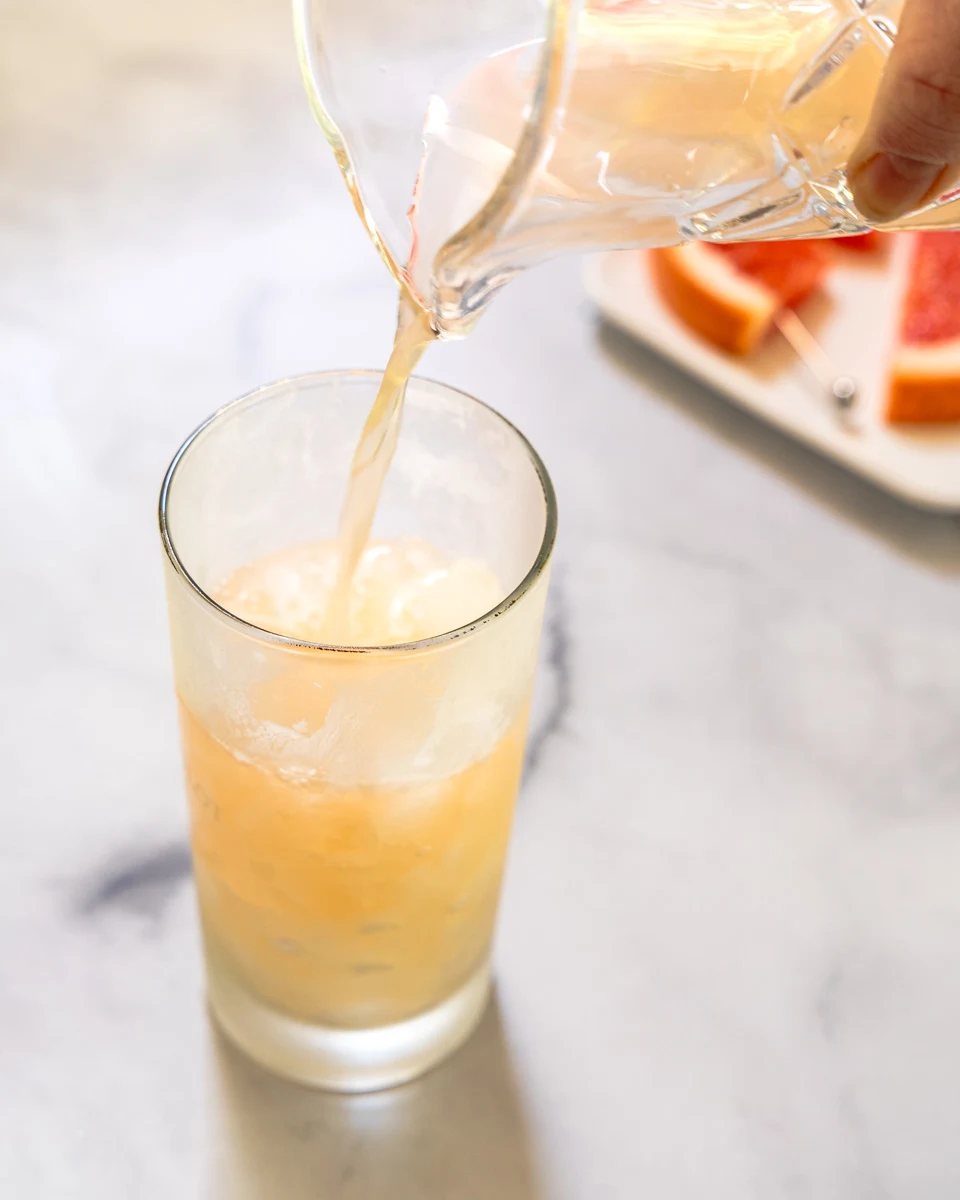 Frequently asked questions.
Can I substitute fresh grapefruit juice with store-bought grapefruit juice for the Grapefruit Crush Cocktail?
Yes! Just ensure it's 100% pure grapefruit juice without any added sugars or artificial flavors for the best results. Cold-pressed is recommended.
What type of grapefruit works best for this cocktail?
All varieties of grapefruit work for the Grapefruit Crush Cocktail! Pink grapefruits lend a slightly sweeter and milder flavor, while white grapefruits offer a more tangy and acidic taste. Ruby red grapefruits strike a delicious balance between sweetness and tartness. Choose based on your preference and availability—each variation will add its unique touch to the cocktail.
Is there a non-alcoholic version of the Grapefruit Crush Cocktail for those who don't consume alcohol?
Absolutely! To create a non-alcoholic version, simply omit the vodka and triple sec from the recipe. You can compensate for the missing spirits by increasing the grapefruit juice or adding a splash of sparkling water for an extra refreshing twist. Garnish with grapefruit slices and enjoy a delightful alcohol-free Grapefruit Crush Mocktail! Cheers to everyone's preferred way of sipping and savoring!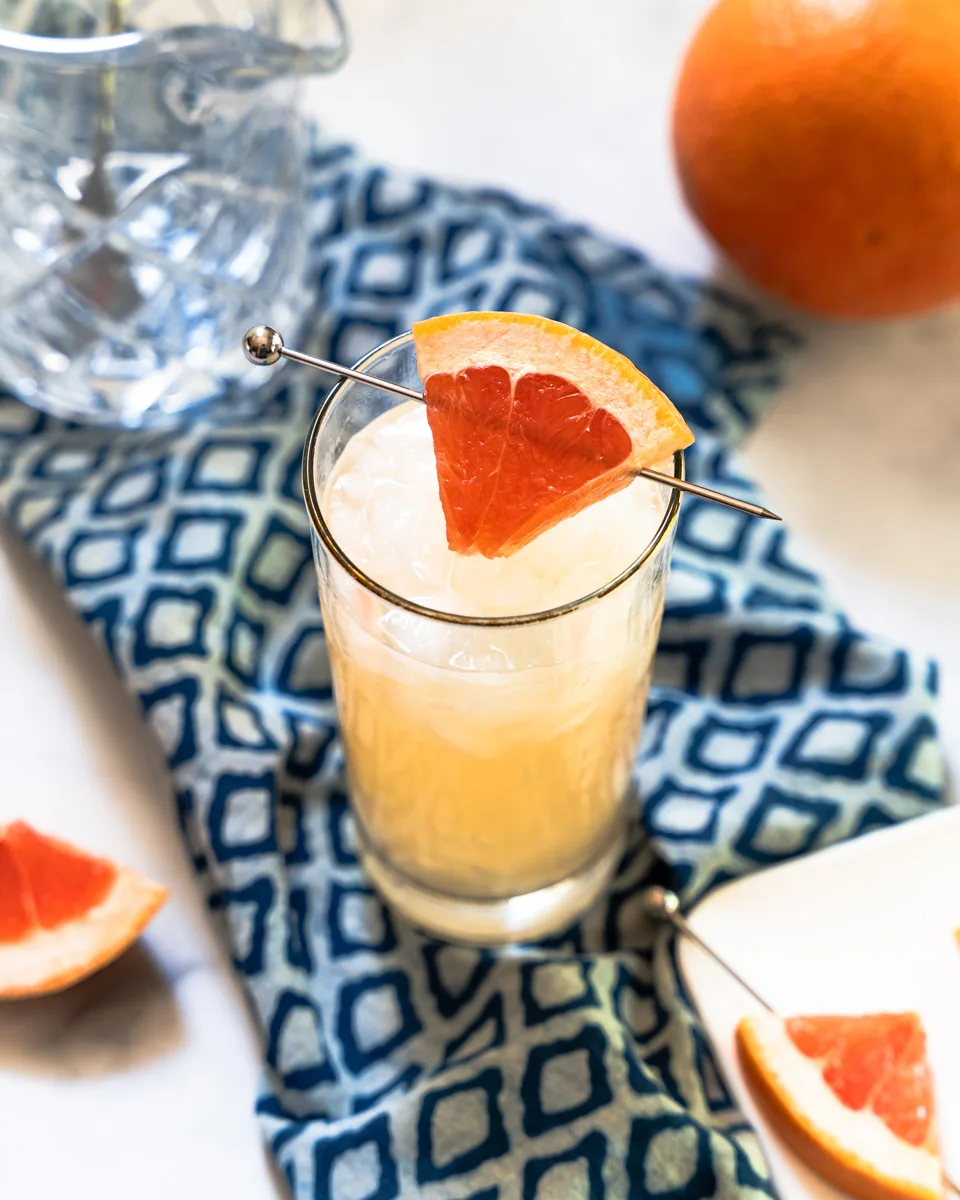 Grapefruit Crush Cocktail Garnish Ideas
Creative garnish ideas can make a world of difference in both aesthetics and flavor. Consider these ideas to take your Unbelievable Grapefruit Crush Cocktail to the next level and truly impress your guests.
Citrus Slices: For a classic touch, add a slice of fresh grapefruit or lime to the rim of your glass. Not only will this visually enhance your cocktail, but the subtle citrus oils released as you take a sip will add an extra burst of flavor to each sip.
Herb Sprigs: Adding a sprig of fresh herbs such as mint, basil, or rosemary adds a delightful aroma that complements the citrusy notes of the cocktail.
Edible Flowers: Add an elegant touch to your cocktail's appearance. Certain flowers like lavender or hibiscus can also infuse a subtle floral note into your drink
Sugar Rim: Add a touch of sweetness and a hint of texture to your Grapefruit Crush Cocktail with a sugar rim. Run a little juice over the rim of the glass and then dip the rim of your glass in a shallow dish of sugar. Try using colored sugar or a mixture of sugar and salt to add a unique twist.
Skewered Fruit: Add a pop of color and flavor by skewering bite-sized pieces of fresh fruit such as grapefruit, lime, pineapple, and grapes, and rest them on the rim of your glass.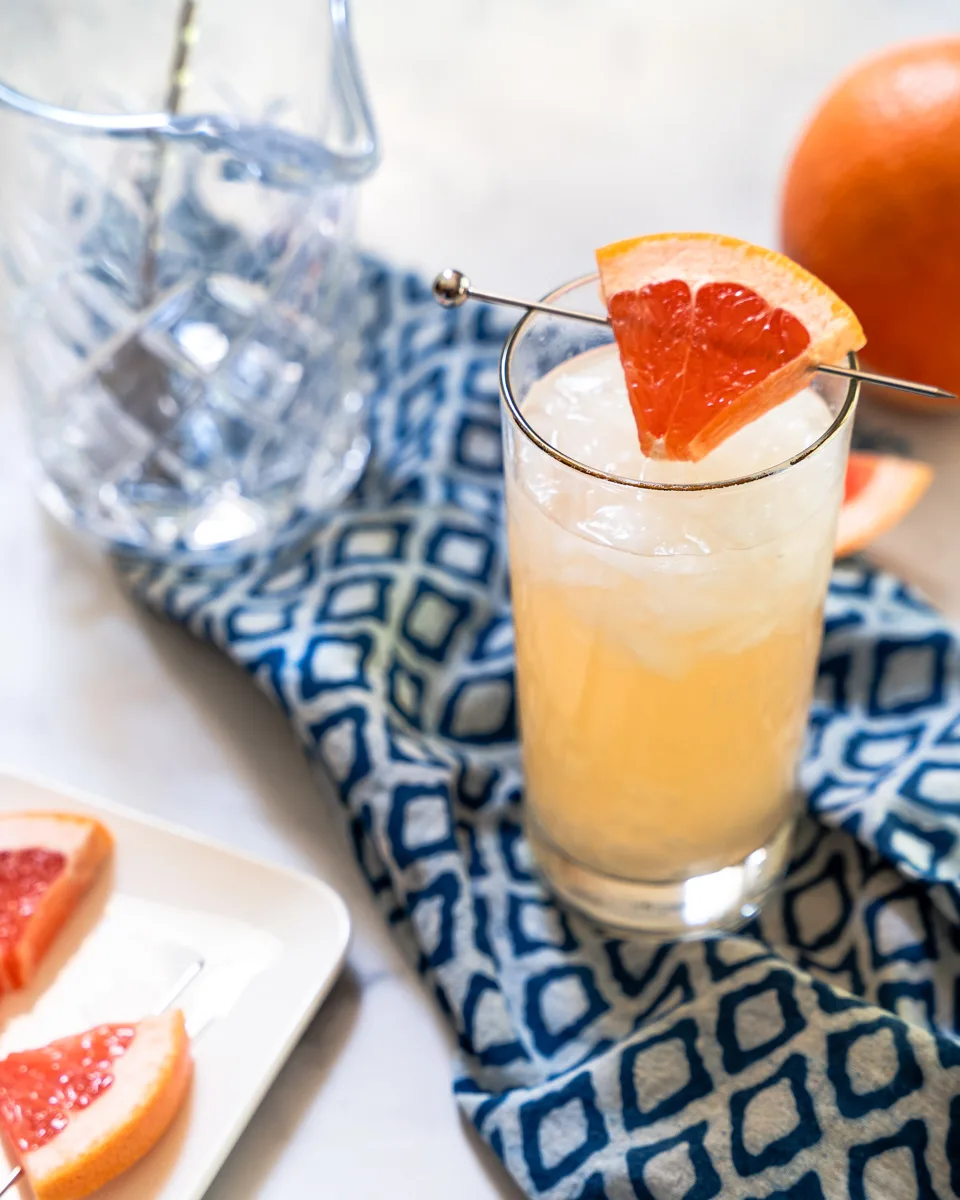 Hostess Tips for the Perfect Grapefruit Crush Cocktail
If you like your cocktail a little sweeter, consider adding a touch of simple syrup or agave syrup.
If you're a slow sipper, opt for large cubes or spheres of ice to minimize dilution and keep your drink cold for longer periods.
Chill your glass by filling it with ice while you mix the cocktail. Replace the ice and pour the cocktail into the glass. A frosty glass is so inviting and will keep your beverage cool longer.
See all of our 2023 Freaky Friday Summer Recipes
Hosted by –
An Affair from the Heart
More Freaky Friday Recipes!
I hope you enjoyed our cocktail-making adventure and I hope you visit the Culinary Compass and take a look around.
I always get the best recipes from my Freaky Friday Recipes friends. Some of my favorite recipes include cool and creamy Lemon Icebox Pie, Derby Pie Brownies that's a mix of pecan pie and chocolate brownies, and my new favorite Peanut Butter Cookie recipe.
If you tried this delicious recipe, don't forget to rate it and leave me a comment telling me what you think. I love hearing from you!
Want more delicious recipes? Follow Hostess At Heart on Pinterest!