Old-fashioned Strawberry Rhubarb Pie recipe combines sweet juicy strawberries and tart rhubarb piled high between a buttery flaky crust. This fresh fruit pie is the one you want when you're craving summer, porch swings, and sharing with friends.
This post has been updated to improve our readers' experience. No changes were made to the recipe.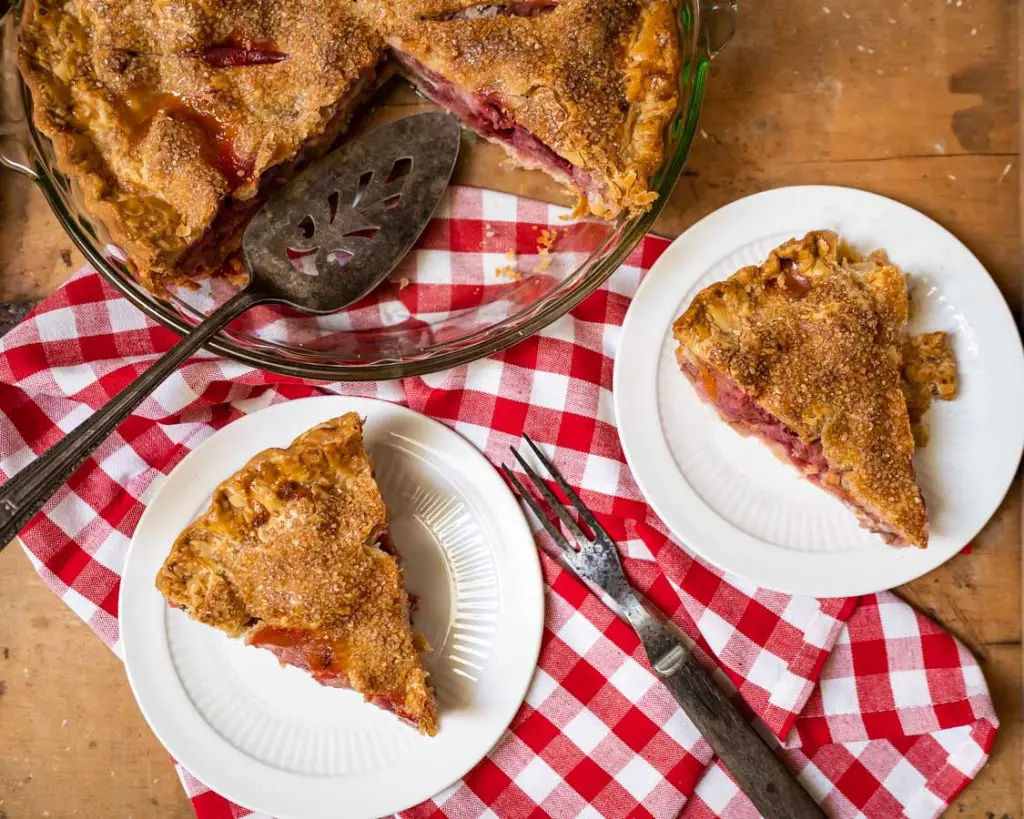 I can usually get my hands on strawberries, but when rhubarb season is here that means it's time to pull out all the stops and serve it any way that I can such as this old-fashioned strawberry rhubarb pie recipe or my Strawberry Rhubarb Bread that's piled with streusel and glaze.
I get my love for old-fashioned rhubarb strawberry pie from growing up watching my grandmother make it. Grandma's rhubarb pies were brimming with fresh rhubarb, and I couldn't wait for them to come out of the oven.
Whether you get your strawberries and rhubarb from the farmers market, pick-your-own or grab them at the grocery store make sure you get extra and make this easy strawberry rhubarb pie recipe.
What is Rhubarb?
Rhubarb is such an interesting vegetable. The raw form of edible rhubarb is a lot like celery. The stalks of the plant are the only edible part and are most often baked in pies. Rhubarb is pretty tart so strawberries or other fruit and sugar provide a nice balance.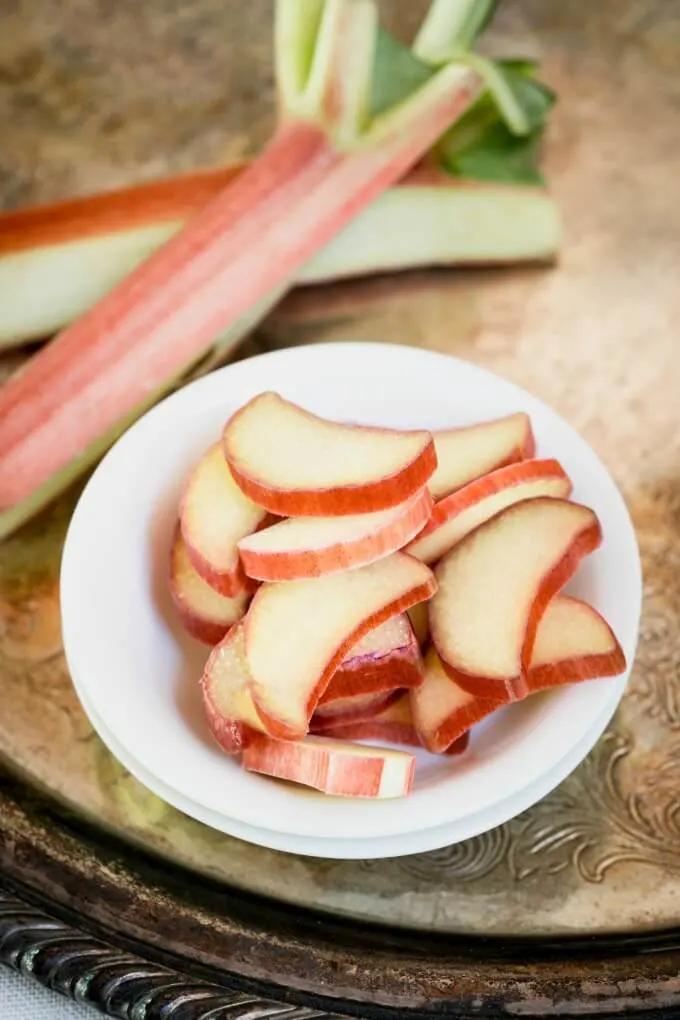 How to Choose Rhubarb
Purchase Rhubarb in the grocery store in Spring or Summer for the freshest flavor. In the U.S. the main producers have two growing seasons in April/May and June/July.
Look for rhubarb that is crisp and firm with shiny stalks between 12 and 18 inches in length.
Do not get rhubarb that is soft or limp or has visible blemishes. Check out these great tips for selecting rhubarb at the store.
Once you pick home-grown rhubarb, you will need to use it quickly as it can dry out fast. Don't dice it until you are ready to use it. If you can't use it right away, dice it up and freeze it in an airtight container to use later.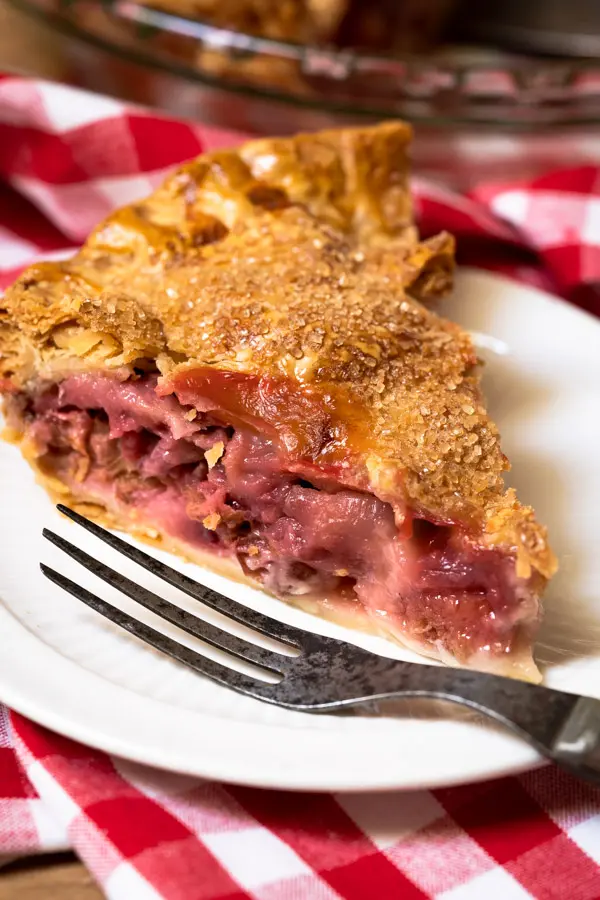 Why make this recipe for Strawberry Rhubarb Pie?
If you already love an easy strawberry pie, my Old-Fashioned Rhubarb Pie recipe is going to blow you away.
This is the best Strawberry Rhubarb pie that I've ever made and my go-to recipe. This is a very traditional pie where I grew up and if you haven't tried it, you're in for a treat.
Strawberry Rhubarb Pie Ingredients
Strawberries. Always pick the freshest, most ripe strawberries you can find. I prefer our local farmer's market when they are available.
Rhubarb. A tart vegetable that looks a lot like celery. It can be green, red, or a combination of both.
Sugar. White Granulated Sugar
Ground Cinnamon – Just a small amount. This is optional.
Butter. I typically use salted butter in this recipe.
Pie Crusts. I prefer this all-butter pie crust but you can use refrigerated pie crusts from the store. Either one will work.
Egg. Whipped with water to use as an egg wash.
Turbinado Sugar. A coarse sugar to top the pie crust with a nice crunch.
How to Make Strawberry Rhubarb Pie
It's a super easy strawberry pie to make, especially if you buy your pie crusts already made!
Preheat your oven to 350º first so it gets nice and hot.
Slice the strawberries and the stalks of rhubarb into even thicknesses. There's no need to peel rhubarb. Just remove the leaves and the white portion on the other end if it wasn't removed before you got it.
Mix the first five ingredients (strawberries, rhubarb, sugar, cinnamon, and butter) in a medium bowl.
Place the first pie crust in your baking dish.
Add the fruit filling.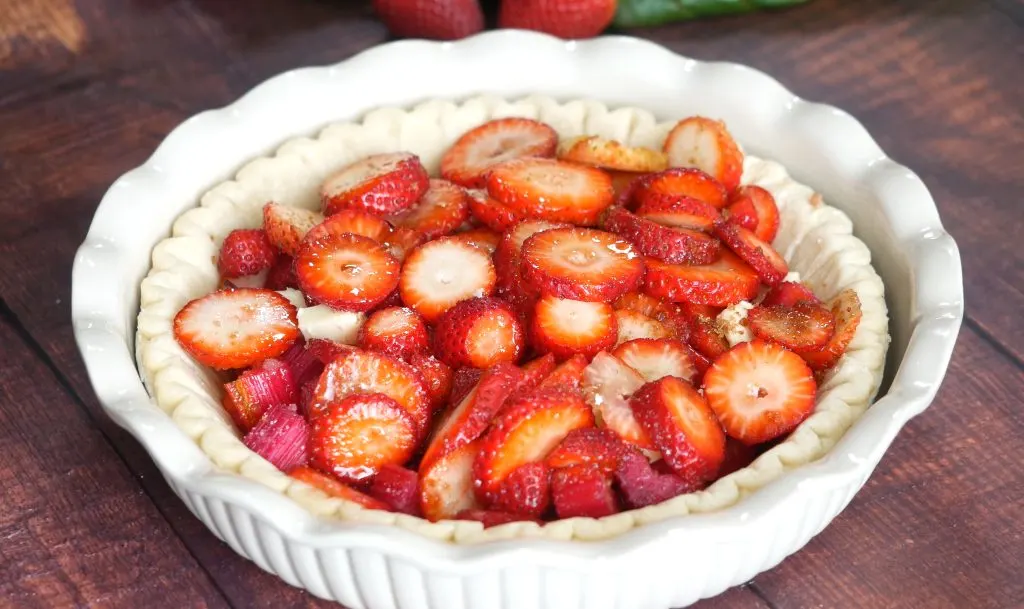 Cut the butter into small pieces and put it randomly over the filling.
Top with the second pie crust.
Whisk the egg and water together to make an egg wash.
Cover the top crust with the egg wash and quickly sprinkle with the turbinado sugar before the egg wash dries.
Make 4 to six slits with a sharp knife in the pie crust so the steam can escape.
Bake at 350°F for 1 hour to 1 hour and 10 minutes or until golden brown and bubbly.
Tips for a Great Rhubarb Strawberry Pie
Use fresh rhubarb for your old-fashioned Rhubarb Pie. This will assure that your pie will not be watery. You can use frozen rhubarb but make sure it is completely thawed and press any excess moisture out of it.

This pie doesn't require thickeners such as ground tapioca or corned starch. If you end up with a juicy pie it may be from underbaking.

We put our unbaked pie on a baking sheet to prevent it from bubbling over in the oven.
Shield the pie with aluminum foil during the last 10 minutes if the pie is becoming excessively brown.
If you bake this pie in a gluten-free pie crust it is gluten-free.
Many egg washes use only egg whites, but I've found the crust browns more golden by using both.
If the egg wash dries, the coarse sugar will not stick. Put it on right away for a delicious crunch and texture.
Cook your pie until the crust is browned. This will assure a buttery flaky crust.
I prefer fresh rhubarb but you can use frozen. Using fresh rhubarb will assure that your strawberry rhubarb pie isn't watery.
What eggwash I have left I cook up for my pup. She loves it.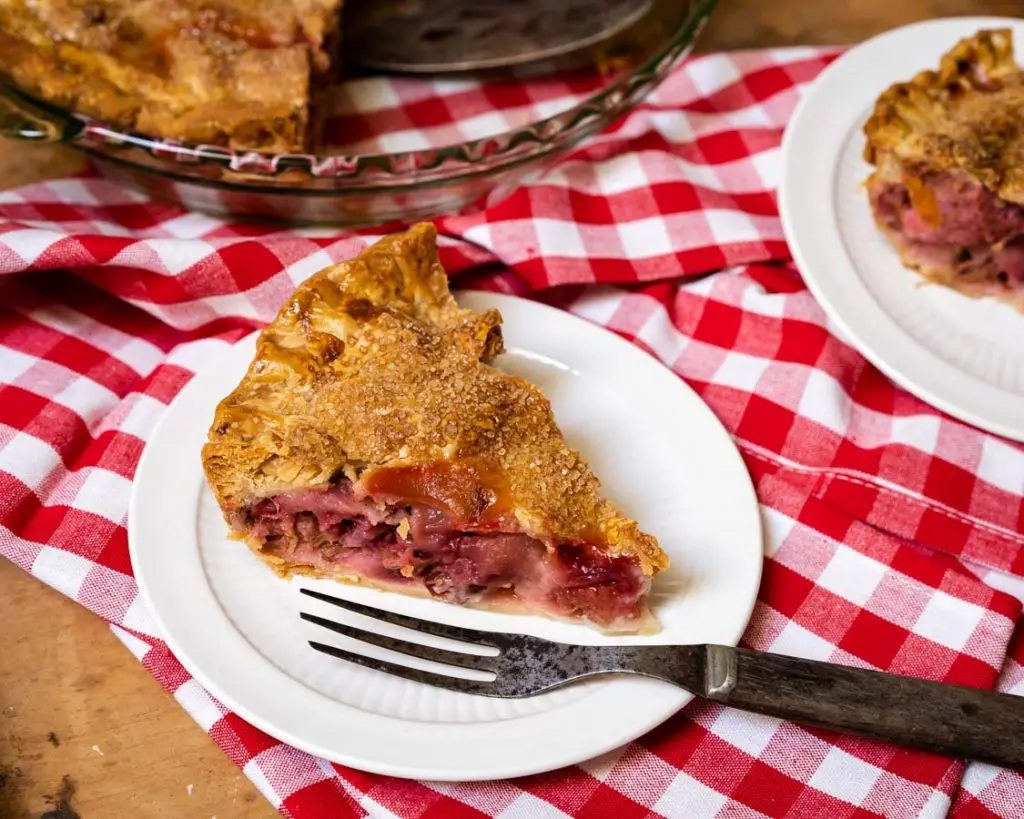 Storing and Freezing Your Pie
You can keep a rhubarb strawberry pie recipe for several days. We prefer to refrigerate it which will help to keep the juices from running out of the pie and becoming soggy.
Tightly wrap and place the pie in an air-tight container to keep for up to three months in the freezer. I like to freeze pies by the slice. That way none go to waste when you just need one or two pieces.
You May Need These Supplies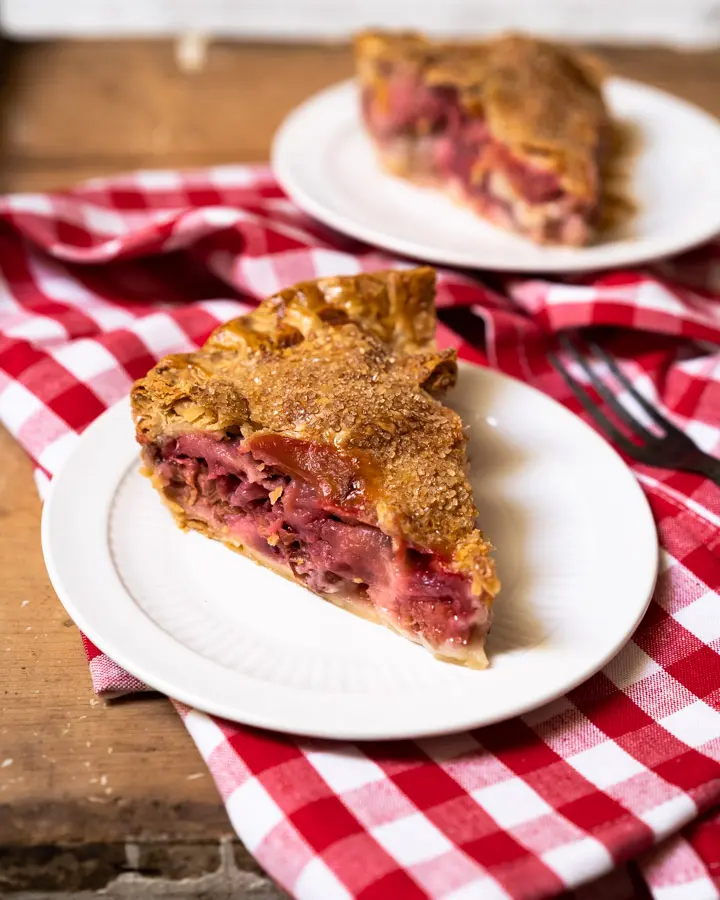 Other Rhubarb Recipes
Apple Rhubarb Pie. A tart and sweet pie that will surprise you.
Rhubarb Sauce. Make this delicious smooth sauce as an ice cream drizzle, jam, or even served over pork!
Rhubarb Dessert with Strawberry Jello. Another perfect pairing you will enjoy.
Rhubarb Muffins. A beautifully moist muffin with cinnamon crumble.
Rhubarb Custard Pie. A creamy dreamy filling under a buttery lattice crust.
If you liked this recipe, we would appreciate your comment and a 5-star ⭐️⭐️⭐️⭐️⭐️ review!
Other Strawberry Recipes
Strawberry Cheesecake Salad. A refreshing and sweet salad for summer.
Strawberry Kuchen. An easy dessert.
Strawberry Cupcakes. So pretty and perfect for Valentine's Day or a summer picnic.
Don't forget to stop back and let me know how your Old-Fashioned Strawberry Rhubarb Pie turned out!
I hope you enjoyed this recipe for rhubarb strawberry pie. And, even though I don't need an excuse to eat pie, Pie day would be a great one. Just look at these amazing pie day recipes!
More Recipes for Pi(e) Day
If you have a green thumb, you could grow your own with these tips. I keep trying, and am babying three new plants as we speak! Grown in the midwest, rhubarb will grow best between April and May.