Raspberry Linzer Torte is rustically beautiful. The combination of the warm nuttiness of a homemade torte shell with a fresh raspberry filling is absolutely delicious.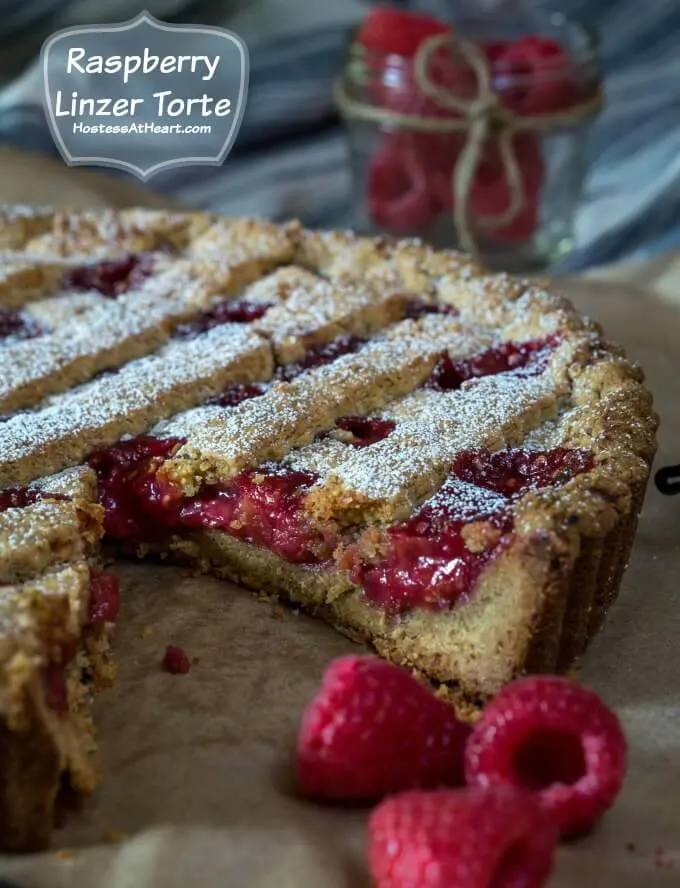 I'm really excited to bring this Raspberry Linzer Torte recipe to you. This was a recipe from my husband John's grandmother. My mother-in-law dug it out of her recipe box and said that she had tried it a couple of times and had never been able to get it to come out right.
Needless to say, I was a little nervous about giving it a try. If John's mom wasn't successful, I wasn't confident that I would be either.
John's grandmother passed away before I ever met him so I wasn't able to get any hints from her.
My mother-in-law and I don't think that this recipe came with her from Italy because it's written in ounces, unlike her original recipes.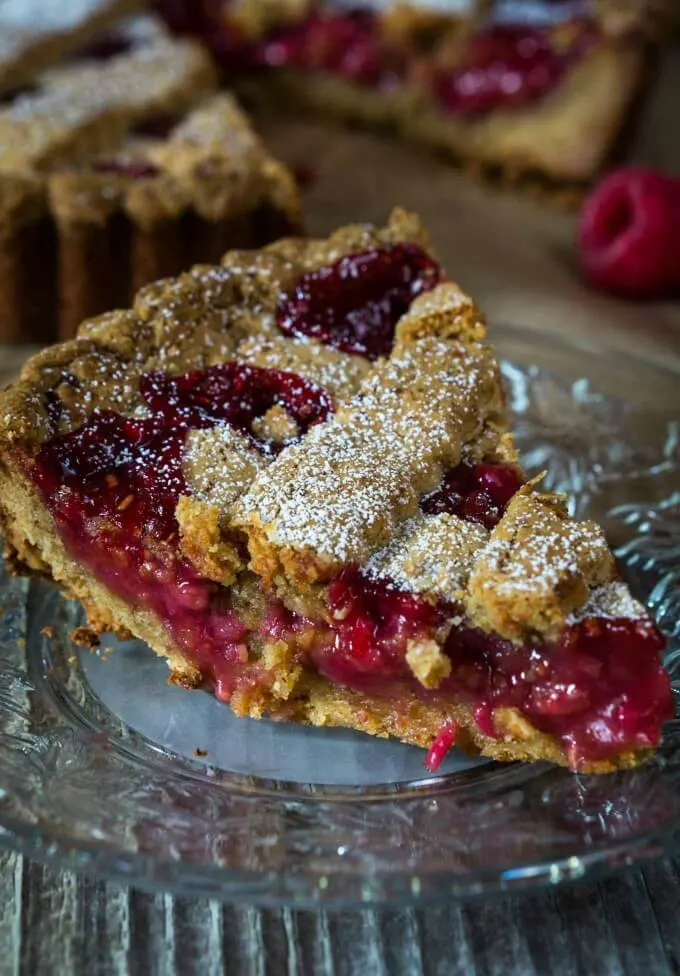 This torte came out beautifully delicious. I think that my success was the result of measuring the ingredients.
Tips for making the perfect Raspberry Torte
Measure ingredients: We decided that her error was in thinking 9 oz of the grounded almonds equaled one cup in volume. It doesn't. It is closer to 2-1/2 cups.
I made my own raspberry filling for this torte, but you can use any fruit jam or even a purchased pie filling.
Roll the Raspberry Torte dough between two pieces of waxed paper. This dough will not fold as a pie crust does. If it cracks, simply press the crack out.

I had some cracks in the latticework and some of them but I didn't mind. I think that adds to the rustic beauty.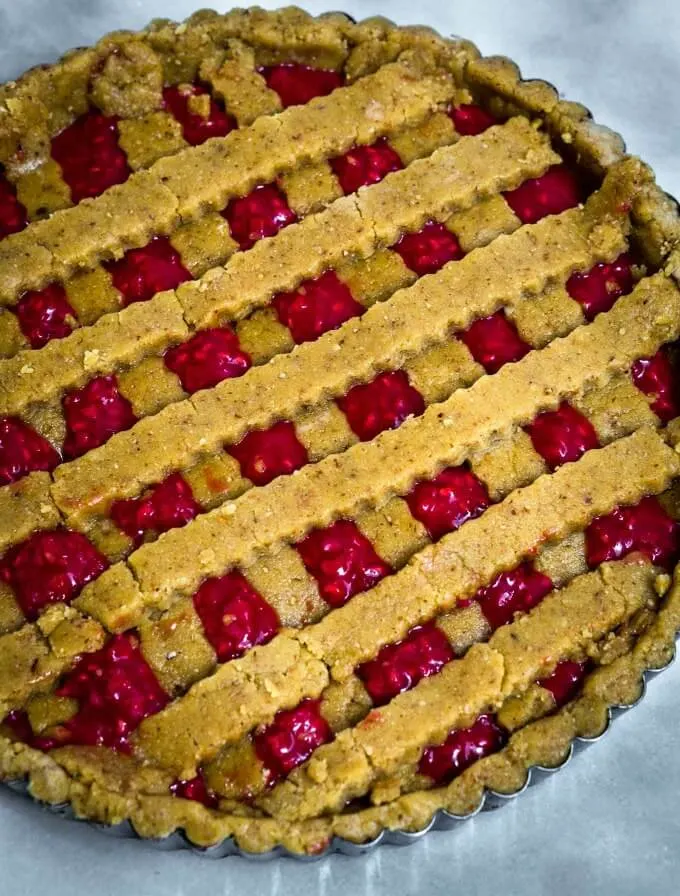 How to make the perfect torte crust
A little more than half of the dough is pressed into a lightly greased tart pan.
Roll the remaining dough and cut it into strips.
Gently lay it crosswise over the filling. Just lift the pieces lightly if you choose to do the "crosshatch" pattern as I did. You can't fold them back because they will break.

You can also just make a "checkerboard" pattern if you don't want to try and weave them.
This beautiful golden color is from the egg yolks. Try not to eat more of the dough than you put on the pie (guilty).
You May Need
Some of the items below contain affiliate links; I am a participant in a variety of affiliate programs, including the Amazon Services LLC Associates Program, an affiliate advertising program designed to provide a means for us to earn fees by linking to Amazon.com and affiliated sites. However, I only promote things that I love and think you will love, too. For more information, please see our disclosure.
Mini-Prep Plus Food Processor – This mini food processor is a little workhorse. I grind nuts up or dice up a ton of veggies in no time. I like not having to drag out my full-size food processor for smaller jobs.

Microplane Zester Grater

– I use this Microplane at least 2-3 times a week. It's perfect for zesting fruits or burying my spaghetti under a pile of parma!
Non-Stick Tart and Quiche Pan, 9-Inch– My tarts slip right out of this pan. It's perfect for tortes, tarts, or quiche.

Mini Tart Pans

– I love serving everyone their own mini tarts and one is enough for John and me to share. I can wrap up the others and freeze them.
HERE ARE A FEW MORE RECIPES THAT I THINK YOU'RE GOING TO LOVE!
Don't forget to

Pin

this delicious Raspberry Linzer Torte!
Let's keep in touch! You can find me on Pinterest, Instagram, Facebook, Twitter, and YouTube! Better yet, enter your email address in the box below and never miss a recipe!