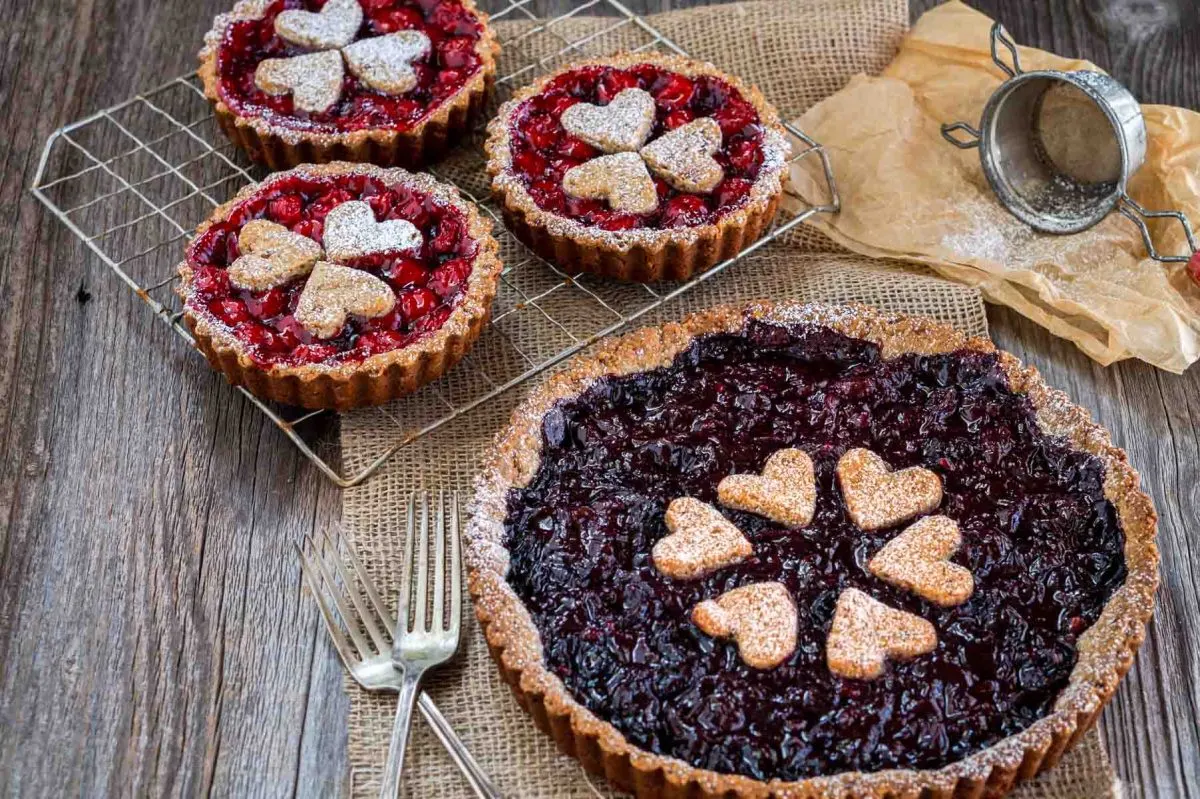 When you have sweet cherries you may crave a sweet cherry pie. Why not mix things up and make this homemade cherry torte recipe?
John's grandmother was a sweet Italian woman and I was lucky enough to get her Raspberry Linzer Torte recipe. I've made it several times.
We love that easy Italian dessert. I decided to try that recipe with cherries and a pecan shell instead of the almond torte shell.
What is the difference between a Torte and a Tart?
TORTE comes from the Italian word torta and is usually multiple layers of cake filled with cream or fruit.
It can also be made with a very small amount of flour and use ground nuts or breadcrumbs.
TART is very different from a torte. A tart usually uses a pastry base like a pie crust with an open top. They can be called tart, quiche, flan or pie without much overlap.
So by definition what I've always called a tart is actually a TORTE!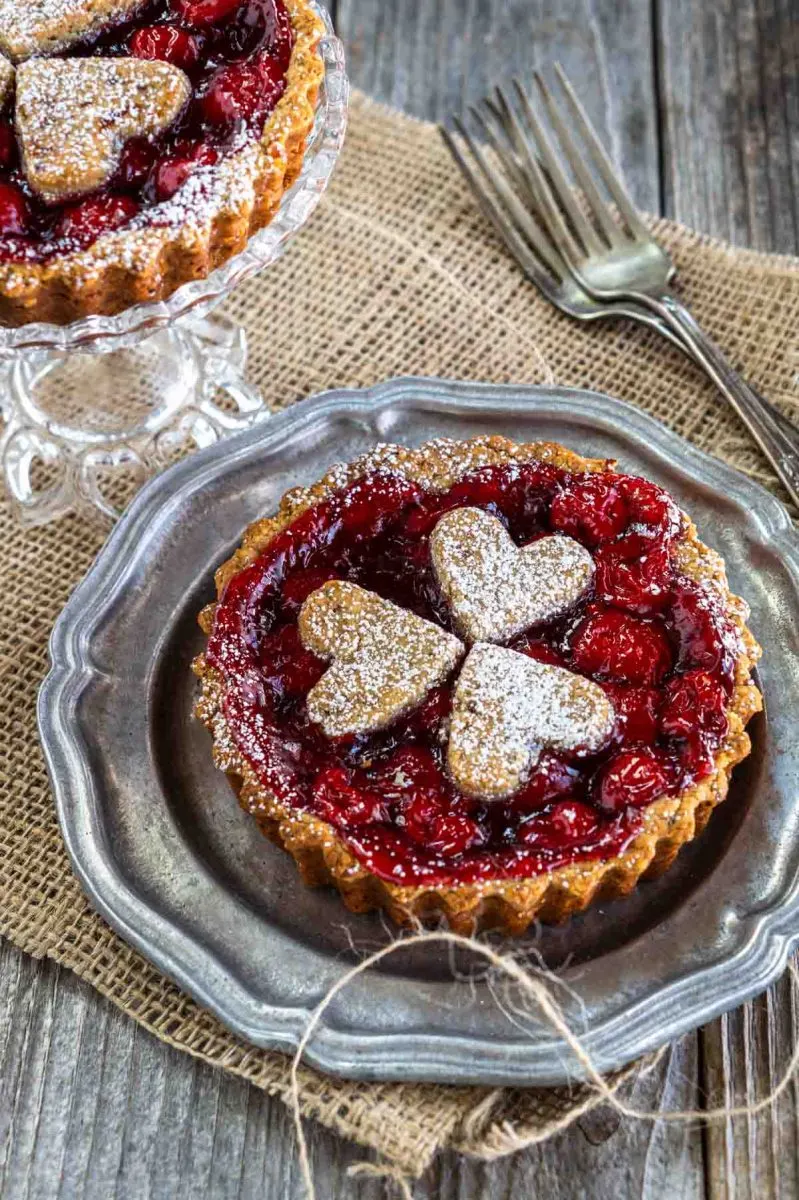 Supplies
You May Need
Hostess At Heart participates in affiliate programs. As an Amazon Associate, I earn a commission from qualifying purchases. Please refer to my disclosure page for more information about these affiliate programs.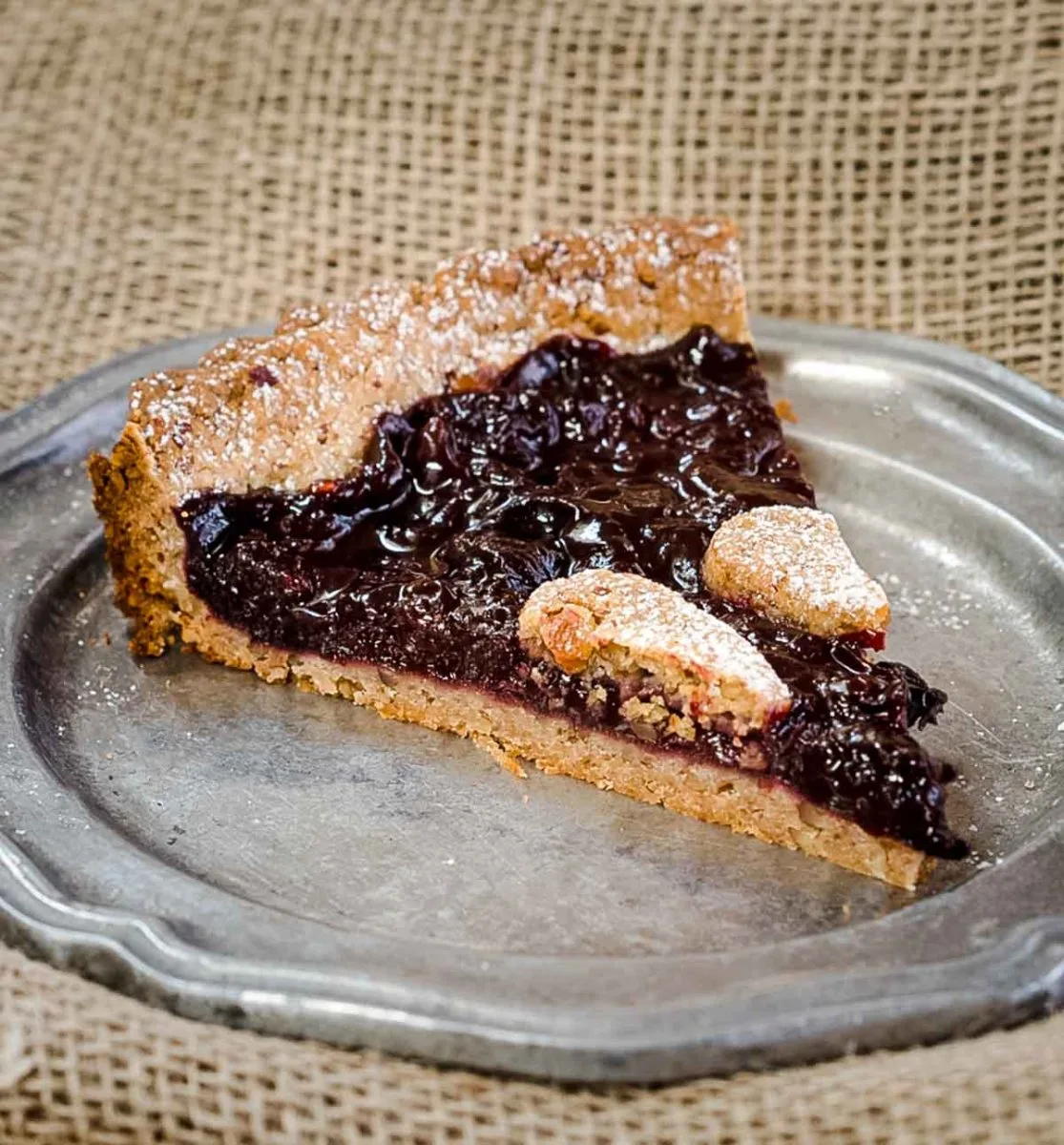 Cherry Torte Ingredients
Cherry Torte Filling
Cherries. See FAQ's for variations.
Flour. All-purpose flour either bleached or unbleached.
Sugar. White granulated sugar.
Butter. Salted or unsalted.
Lemon. Juice and zest.
Pecan Tort Shell
Flour. All-purpose flour either bleached or unbleached.
Sugar. Powdered sugar is also called confectioners sugar.
Butter. Salted or unsalted.
Pecans. You can substitute for another variety of nuts. Almonds, walnuts, or hazelnuts would be delicious.
Egg yolks. Grade A large is what I use for consistency in my baking.
How to make the best cherry torte recipe
Step 1: Cherry Filling Recipe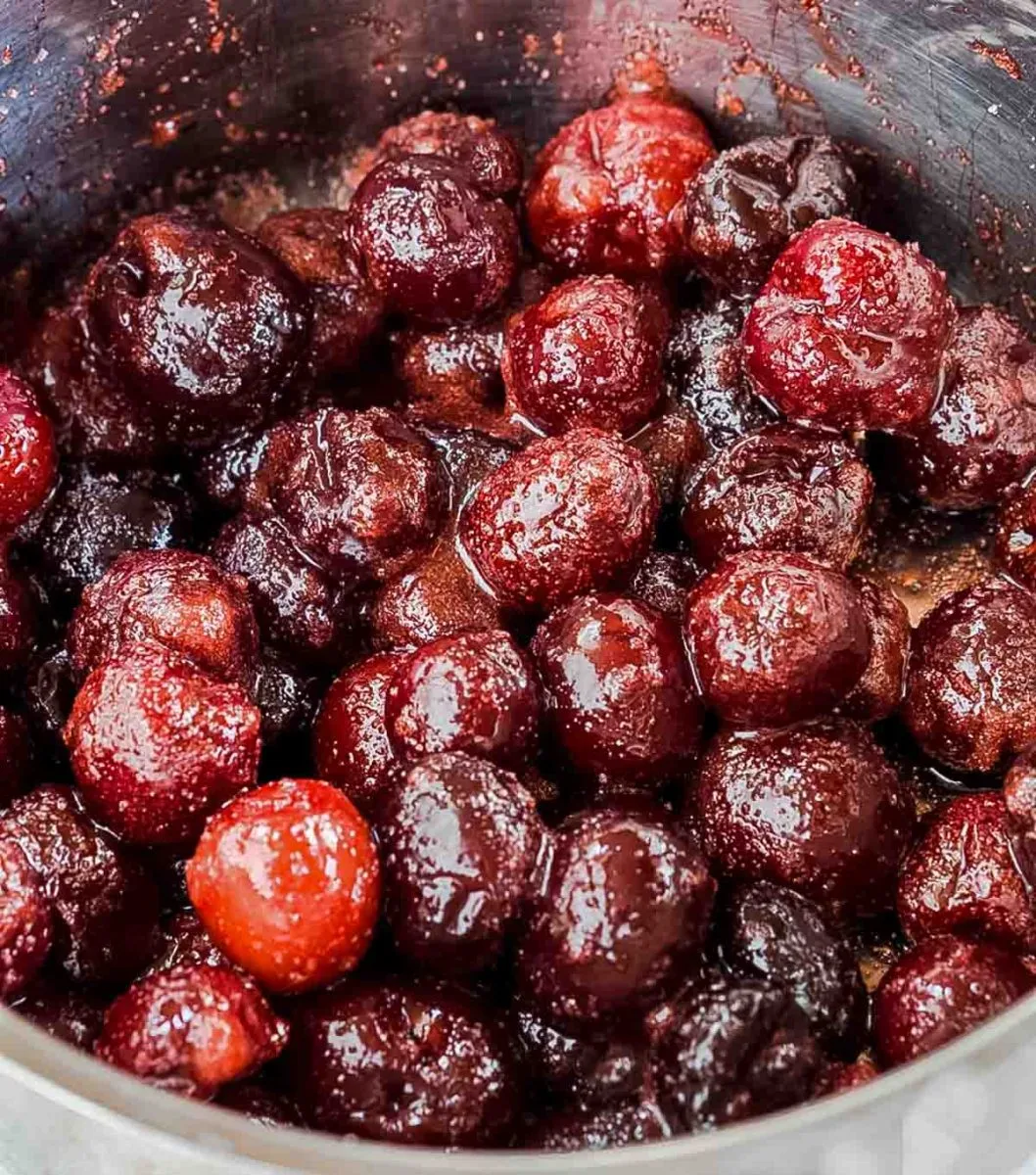 Combine the cherries, sugar, salt, lemon juice, zest, and butter in a medium-sized saucepan and cook until the berries start to break down. Stir in the flour and cook until the filling thickens. Set aside.
Step 2: Make The Tart Shell
Preheat the oven and grease the pan you're using.
Combine the butter with the flour in the bowl of an electric stand mixer and blend together. Add the powdered sugar and ground pecans and mix until combined. Lastly, add the egg yolks and vanilla. Mix until combined.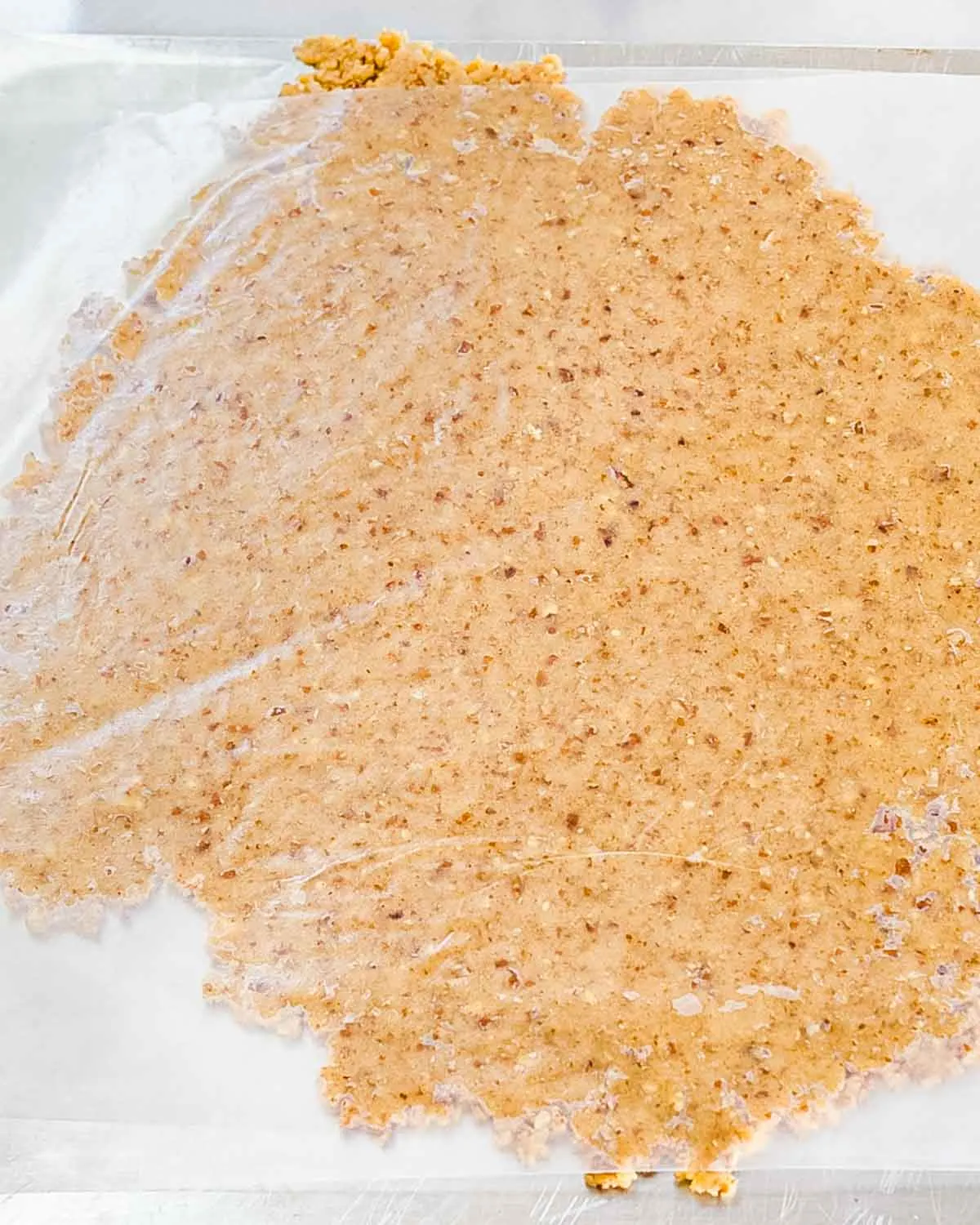 Take a little more than half of the pecan tart dough. Roll it between two pieces of waxed paper and press it into the bottom of the tart pan.
Step 3: Assemble fill and bake
Pour the filling over the tart shell. Roll and stamp or cut the remaining pecan tart dough and place them on top of the filling.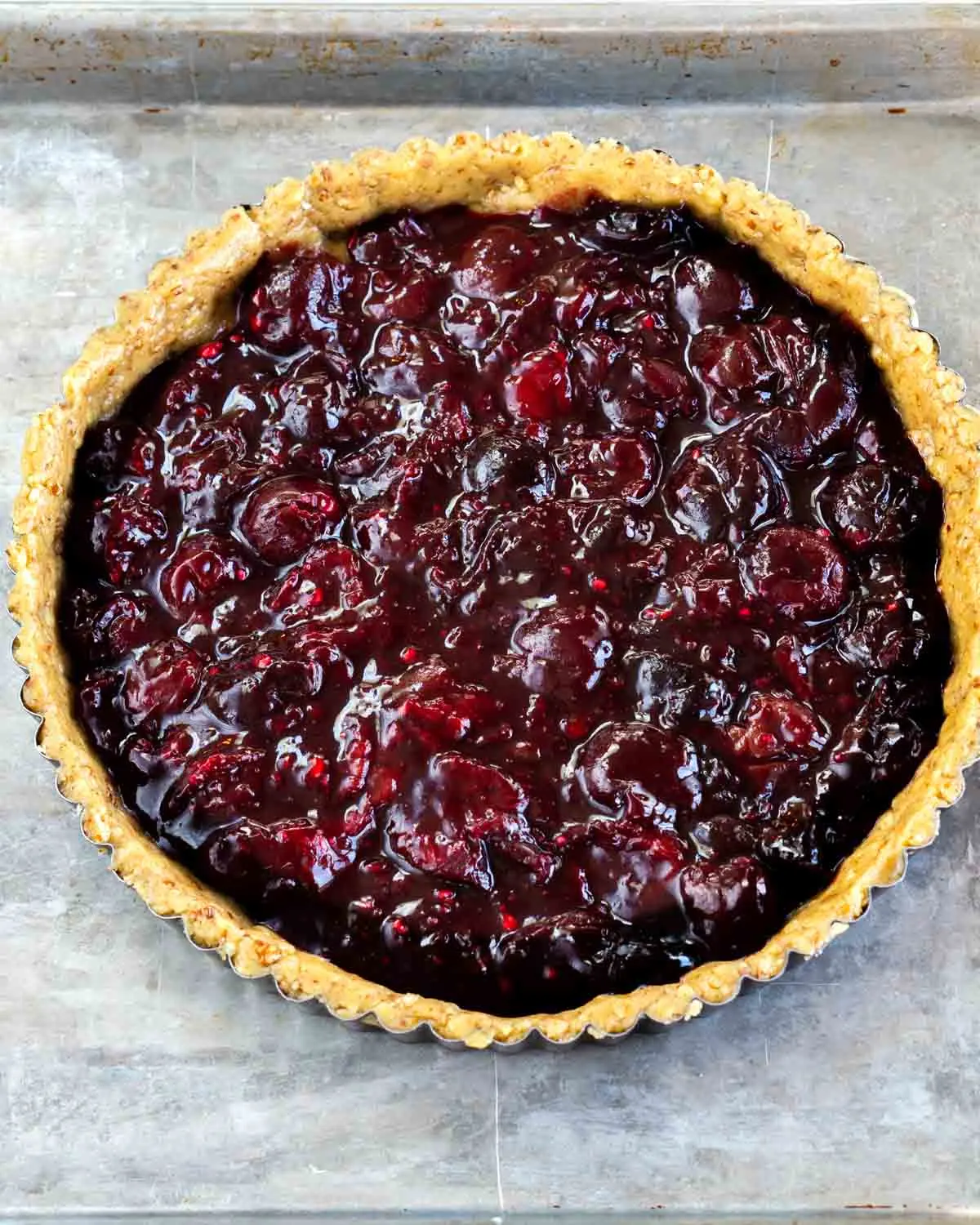 You could also cut the torte pastry into strips and then lay them over the top. As you can see, I didn't weave this lattice as I did with my Rhubarb Custard pie crust because this torte dough breaks easier than a pie crust. There's a video showing you how it's done if you're interested in doing it. Bake.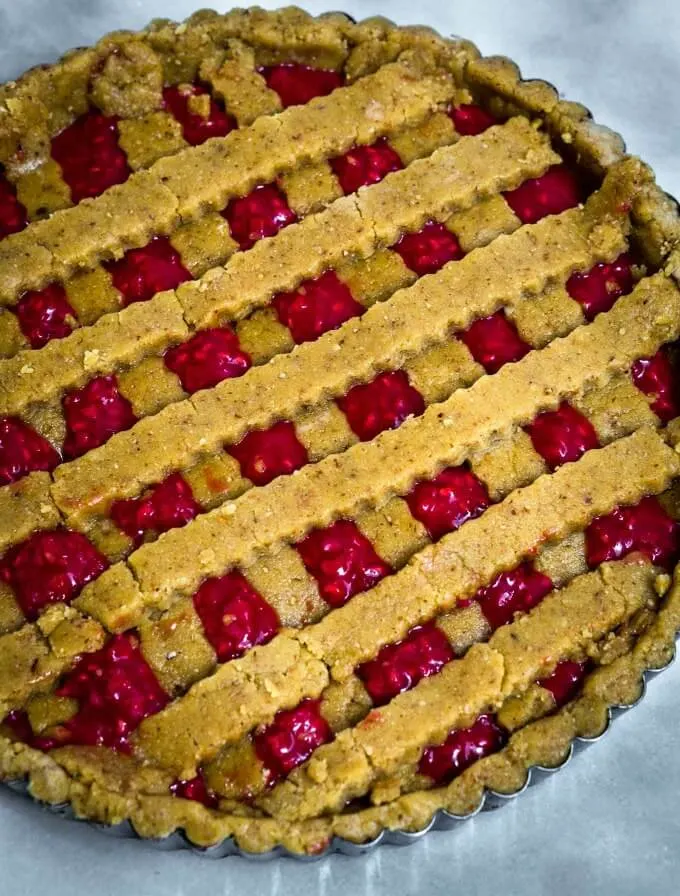 The above lattice top is unbaked. The few cracks can be pinched together but they tend to come together while it bakes as well.
Sweet Cherry
Torte FAQs
Do I have to use fresh cherries?
No, you do not. Fresh cherries aren't always available. I've used canned cherries (not cherry pie filling), cherry pie filling, and I've used frozen cherries.
The bright red tortes are from pie filling cherries. The dark cherry tortes are from frozen Black Sweet Cherries.
I think the canned pie filling cherries are prettier and you can't beat the convenience for an easy cherry torte.
However, the consensus was that the filling made from frozen cherries was the best. And, it doesn't add much time to the whole thing.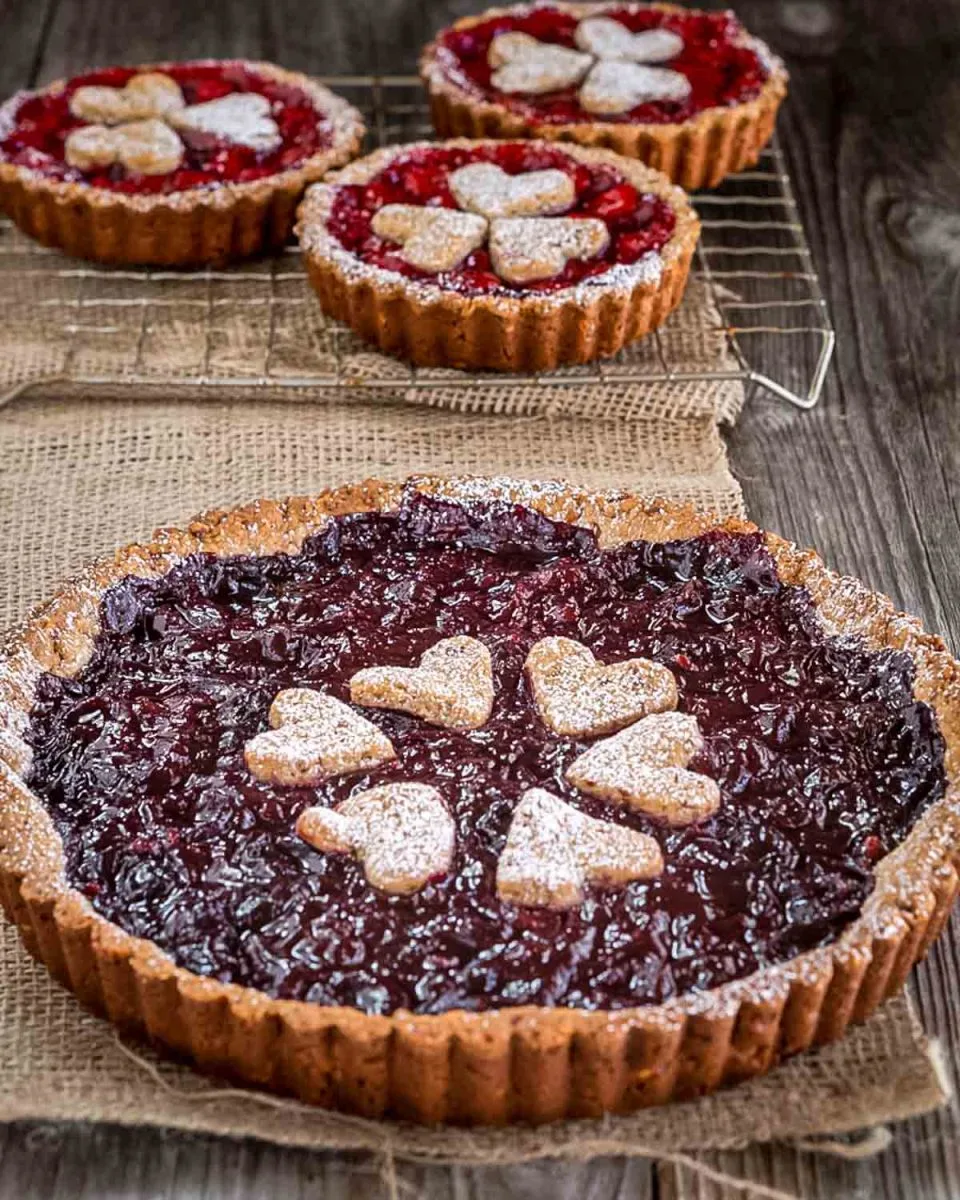 Do I have to use a tart pan?
No, you don't. You can use a pie plate, a round cake pan, or any baking dish that you'd use for pies or tarts.
What's the best way to serve a freshly baked cherry torte?
Any way you would serve a cherry pie would be how I would serve a cherry tort.
Warmed with vanilla ice cream is what I crave or just with a cup of coffee.
Tips for the Best Cherry Torte
When you line the tart shell with dough, try to keep a uniform thickness. You can press additional dough in any areas that appear thin.
Use a rolling pin and roll over the edge of the crust-filled tart pan to create clean edges.
Let the tart cool completely on a cooling rack or refrigerate it lightly covered before slicing. That will allow the filling to set.
Keep the baked cherry torte lightly covered. If you completely cover it condensation will make the pecan crust soggy.
Storing and Reheating Cherry Torte Recipes
After the fresh cherry torte has completely cooled at room temperature, store it lightly covered in the refrigerator.
This fresh cherry torte can be frozen in an airtight container for up to 3 months either as a whole torte or in individual servings.
To thaw, remove the tart from the airtight container and place the torte lightly covered in the refrigerator overnight or briefly at room temperature. Your cherry torte dessert can also be thawed in the microwave in 30-second increments at 50% power.
To reheat the sweet cherry recipe place it in the microwave in 30-second increments at 50% power or in a 325° oven for 10 to 15 minutes or until warmed through.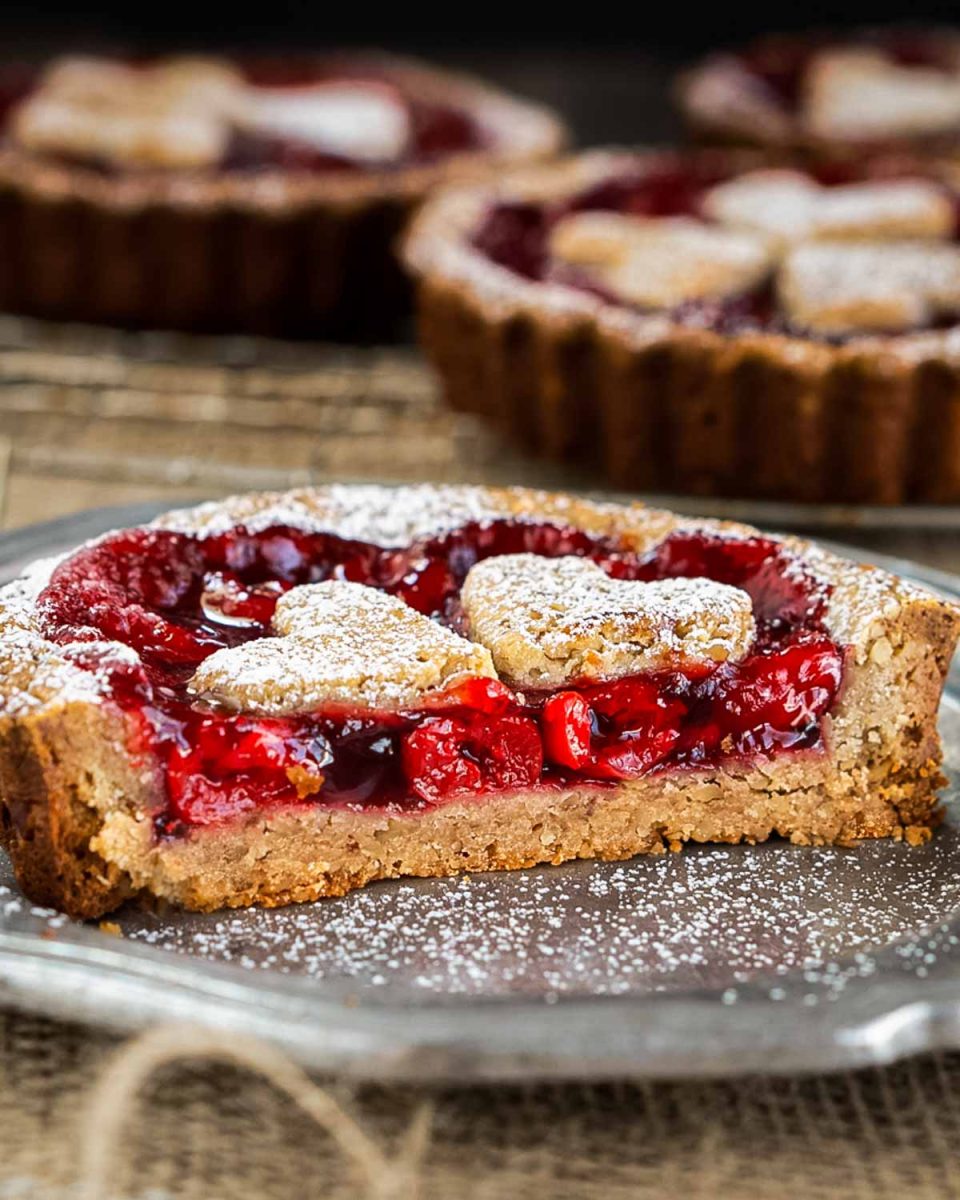 Sweet Cherry Torte crust variations
Use other types of berries instead of cherries.
This torte can be dusted with powdered sugar over the top crust or instead of adding a crust.
Stamp the crust out for seasonal themes such as trees for Christmas or stars for the 4th of July.
I hope you enjoyed this delicious recipe as much as we do. Drop me a comment below, and don't forget to give it a star rating. ⭐⭐⭐⭐⭐. Your comments and ratings help others decide if this recipe is for them too.
If you enjoyed this recipe, take a look at these!
Pin it!
This post was updated to improve our readers' experience. No changes were made to the recipe.
When I was a youngster I spent as much time with my grandmother as I could.
She was a hardworking woman that could make something out of nothing and nothing ever went to waste.
She had two cherry trees in her yard. We would hang foil pie plates in the trees to keep the birds out.
Sometimes it worked but the brave ones still got through.
As soon as those cherries were ripe we were picking them as fast as we could.
I've been craving those beloved cherries but fresh cherries aren't always an option.
My options included using frozen or canned cherries. For the sake of research, I made two! One with a homemade cherry filling using frozen cherries and a mini torte using canned cherry pie filling.
I hope you'll give this easy cherry recipe a try and let me know what you think!