Cherry Meringue Dessert combines layers of a crispy tender meringue with a smooth cream cheese mixture that's slathered with a sweet-tart cherry topping. It's an easy cherry dessert that's just as pretty to look at as it is delicious.
NOTE: The meringue layer should be made 12 hours or the day before it's needed.
This post has been updated from 2016 to improve readers' experience.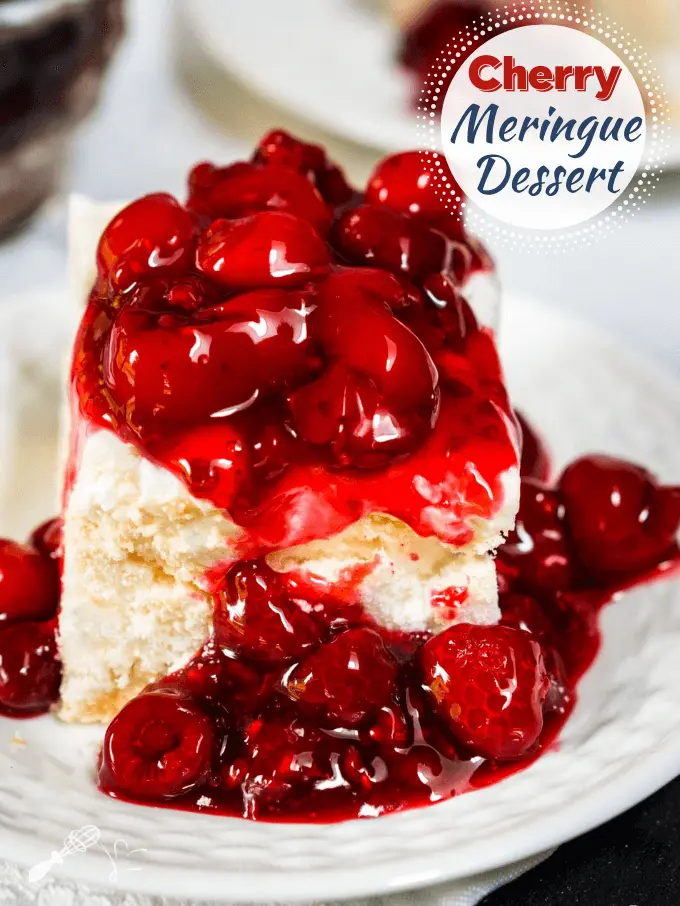 Very Cherry Meringue Dessert combines layers of flavors and textures. This beautiful cherry dessert will be a hit on any table.
One look at this Meringue dessert will have friends and family doing a double-take.
This is truly a unique layered Cherry Meringue dessert that was handed down from my Grandmother.
Meringue can be intimidating but it doesn't have to be. I'm sharing tips with you to guarantee your cherry dessert is a success.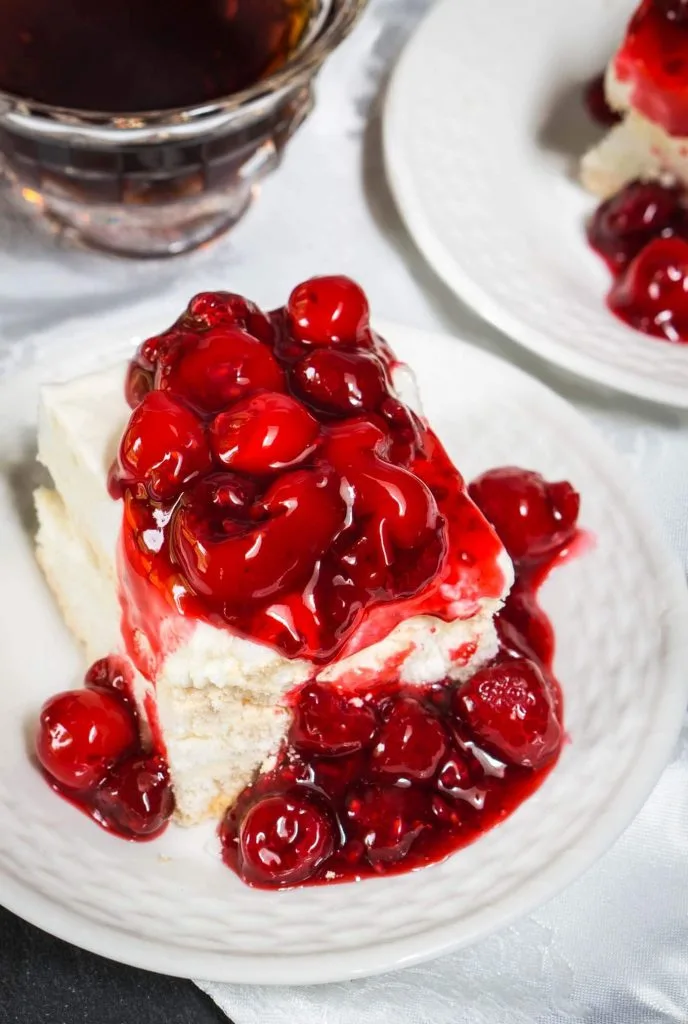 Cherry Meringue Dessert Recipe Ingredients.
Egg whites – Do not substitute with packaged egg whites.

The pasteurization process of packaged egg whites can prevent egg whites from forming a stable meringue.

Cream of tartar – acts as a stabilizer in the meringue.
Salt – brings out the sweetness of the sugar.
Sugar – white granulated sugar
Cream cheese – we used a full-fat version.

You can also use a light version. We haven't experimented with the fat-free version.

Vanilla extract – we used pure vanilla and not an imitation.
Whipped topping – We purchased the whipped topping.

You can substitute by making your own using 1-1/2 cups of heavy whipping cream.

Miniature marshmallows
Cherry Pie Filling – we like the "more fruit" version but use what you have available.
Frozen, unsweetened raspberries – The unsweetened version adds a tartness that balances out the sweetness of the cherry pie filling.
How to make Cherry Meringue Dessert in 3 steps
This Meringue Dessert is best if made about 12 hours before you want to serve it. That gives the creamy level a chance to blend with the meringue layer. You can make the cherry topping ahead of time and add it right before serving it. The flavors and textures of this cherry dessert are amazing.
Meringue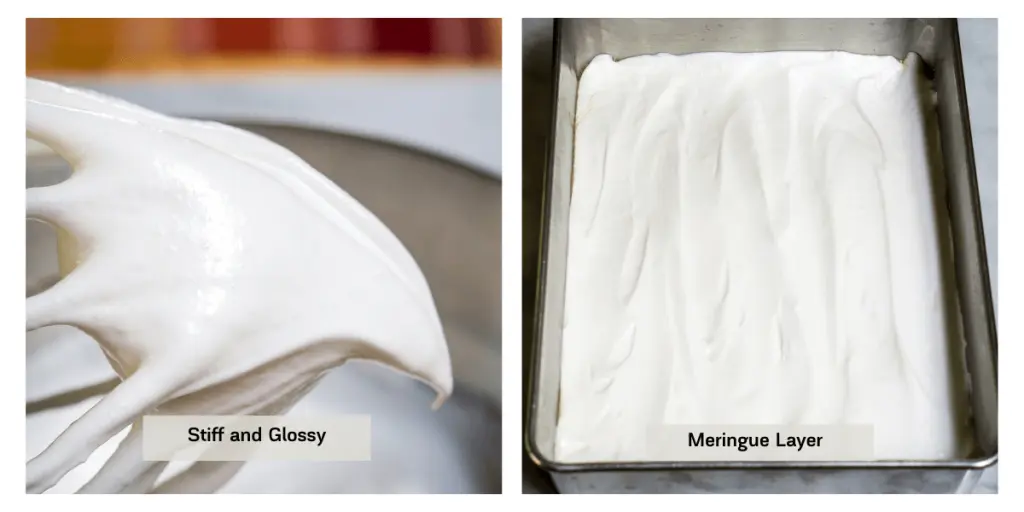 In the bowl of an electric stand mixer, beat egg whites on

medium-low

until foamy.
Add cream of tartar and beat on

medium

until peaks start to form.
Add sugar and salt and beat on

medium-high to high

until stiff and glossy.
Pour into a well-greased 9×13 pan.
Bake for 60 minutes. Turn the oven off and leave the pan in the oven to cool for 12 hours or overnight with the door closed. To be honest, my meringue was in the oven for probably closer to 15 hours.
If the eggs are beaten too quickly in the beginning the structure of the foam will not be as strong and later the egg whites will not whip up as high.
Creamy layer
Beat cream cheese, vanilla, and sugar together until smooth and creamy.
Fold in the whipped topping and marshmallows. We did this by hand with a spatula.
Spread the mixture over the Meringue layer.
Refrigerate for 3 hours or longer.
Cherry topping
Stir the cherry pie filling and the frozen raspberries together.
Refrigerate until serving.
Assembly
Cut dessert into squares.
Top with cherry mixture.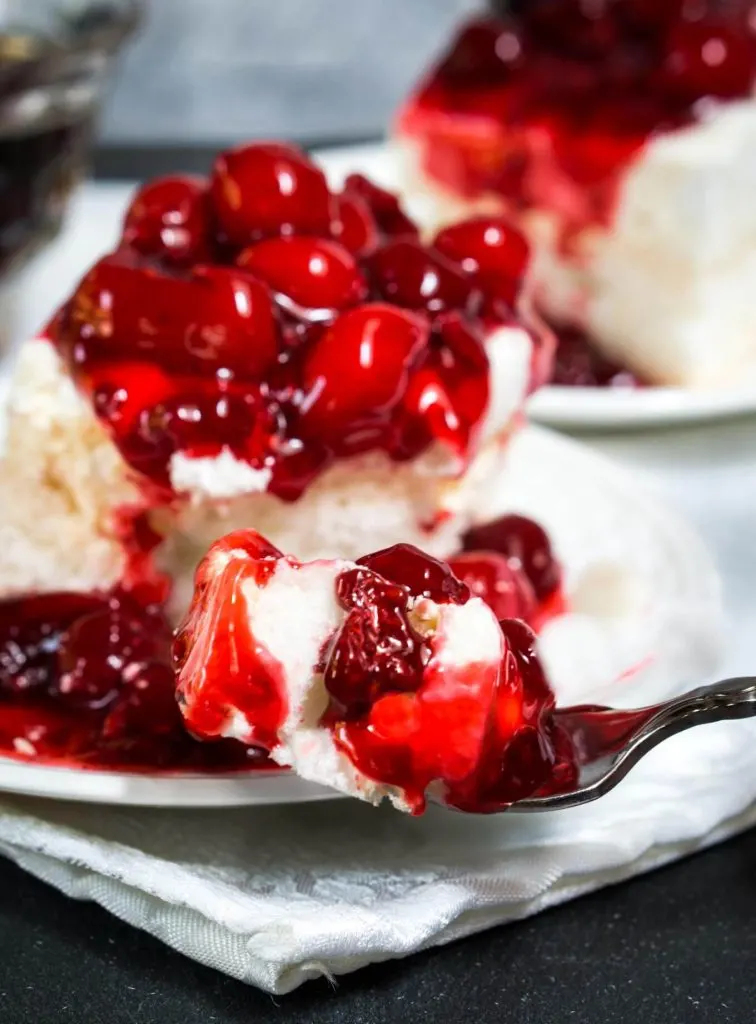 Tips for the perfect Meringue dessert with cherries
Meringue
Use fresh eggs. Old eggs can collapse when other ingredients are folded in.
Bring egg whites to room temperature. Cold egg whites can reduce the volume you get when whipping.

You can put the eggs into a bowl of room temperature water for 5 minutes to bring them to room temperature instead of leaving them out for an extended period of time. That's my prefered method.

Don't let the egg yolk get into the egg whites. If they do, spoon them out before whipping.
Don't overbeat the egg whites. Overbeaten egg whites can look lumpy or dry. It can also cause the meringue to collapse.
Meringue is baked at a low temperature because they tend to burn.
Meringue is left in the oven to cool slowly which will prevent or reduce cracking. (Source)
Creamy layer
Make sure cream cheese is at room temperature before beating. This will make blending easier and creamier when other ingredients are added.
Cherry topping
Use frozen, unsweetened raspberries that aren't packed in juice. The juice will thin the topping causing it to bleed on the plate.
Using unsweetened raspberries adds a tartness to the sweet cherry pie filling.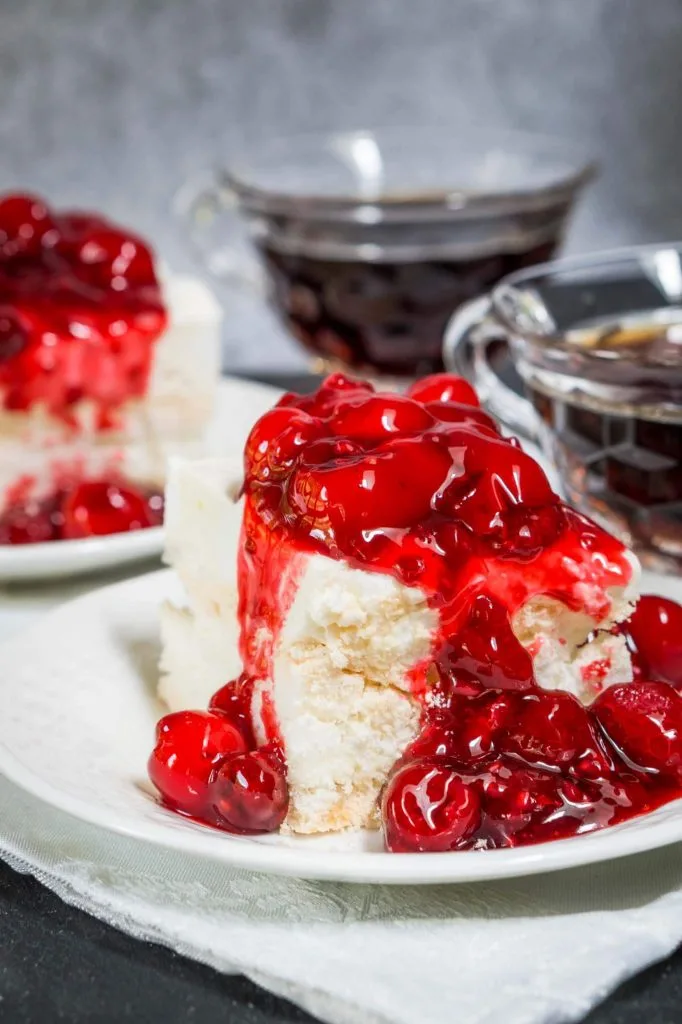 How to store Cherry Meringue Dessert
This meringue dessert should be refrigerated.
I also suggest that the topping be added right before serving and not to the top of the uncut meringue-cream layer.
What if my meringue cracks?
When the meringue comes out of the oven you may see a few cracks, but it will still tender in the center.

The creamy layer and beautiful topping will cover them up so it doesn't matter if there are a couple of cracks. They'll be covered in yumminess!
Can this Cherry Dessert be made ahead of time?
Yes! Meringue can be baked two or three days in advance and stored at room temperature in an airtight container.

Add the cream layer at least 3 hours before you need it so it has a chance to meld together and then store it in the refrigerator.

Top individual pieces with the cherry topping right before serving.
Our favorite kitchen gadgets
A great mixer makes this recipe easier to put together. The only other thing you will need is a 9×13 pan and our favorite silicone spatulas.
If you're still looking for creamy desserts, here are some you may enjoy
Pin this amazing Cherry Dessert!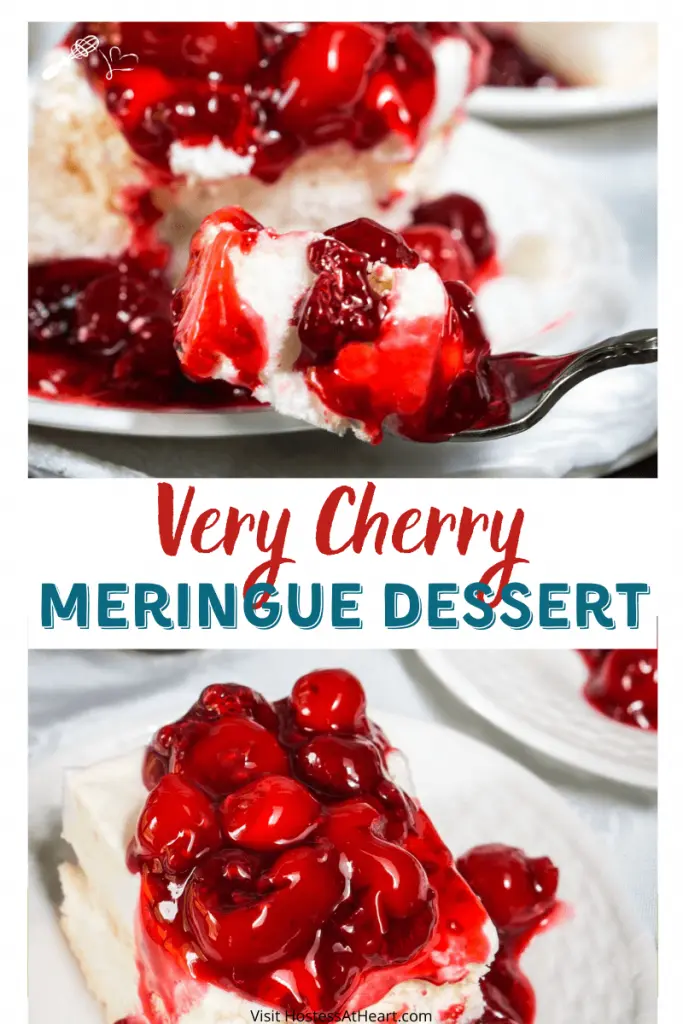 Doesn't this dessert look like it's ready for Valentine's Day, the 4th of July, or a Black Tie party?
If you enjoyed this recipe here are a few more you may like
Don't forget to stop back and let me know how your cherry meringue dessert came out!