Celebrating Independence Day with friends and family is such a precious gift. Make the memory even more special with our gorgeous and easy 4th of July Cupcakes with swirl frosting.
These patriotic cupcakes are going to wow your guests and be the hit of the party. The beautiful colors in the swirl frosting will set your cupcakes apart. What a blessing to celebrate our freedoms in this country, and what better way to do that than with red, white, and blue cupcakes that your guests will love.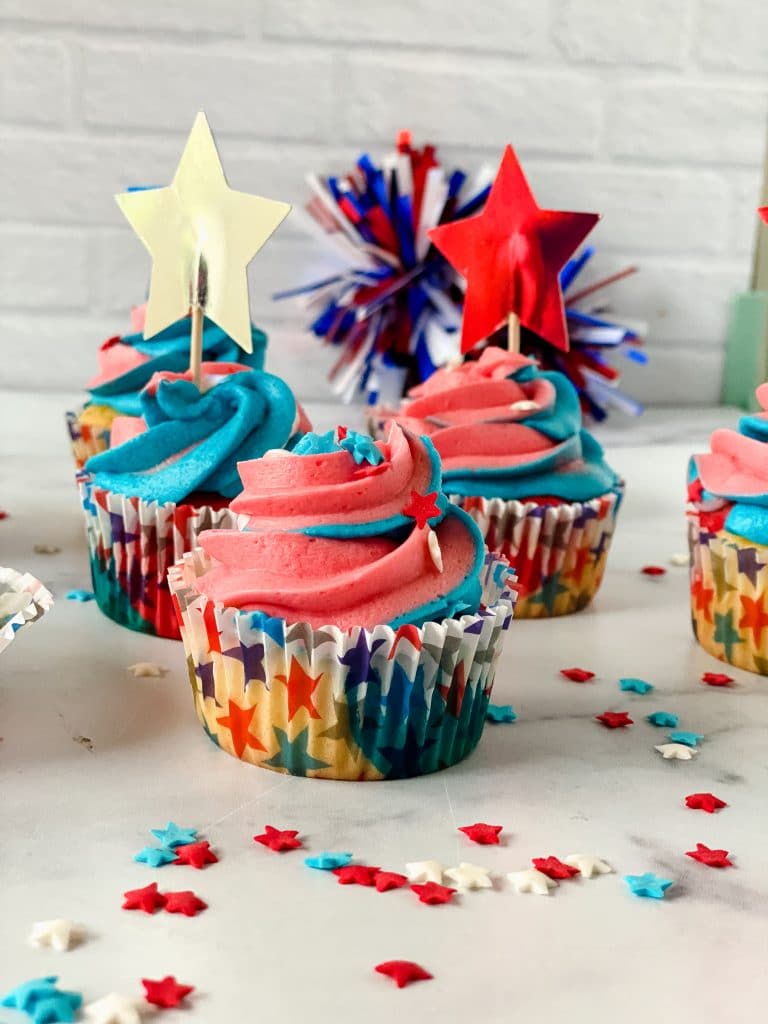 How to make 4th of July Cupcakes
These beautiful Fourth of July cupcakes are made with a box cake mix and a delicious vanilla buttercream frosting. You'll dye the cake mix into three different colors, and then bake as directed for beautiful results. Once baked, the cupcakes are decorated with a delicious swirl frosting of vanilla buttercream. Follow the step-by-step instructions for perfect cupcakes.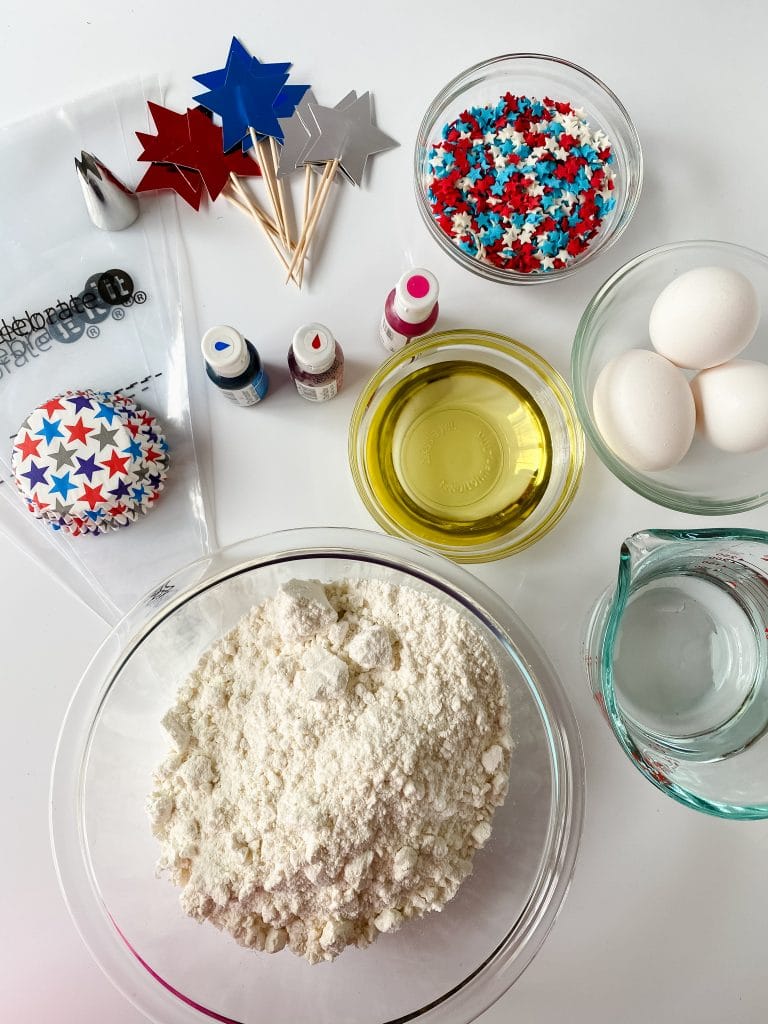 Ingredients for 4th of July Cupcakes
White Cake Mix. Any white cake mix will do for this, we aren't brand specific here.
Eggs. We almost always buy AA large eggs for consistency.
Vegetable Oil. Canola oil is a good choice.
Water.
Vanilla. We prefer real vanilla extract over imitation vanilla but either will work.
Ingredients for the Vanilla Buttercream Frosting
Butter. We used real butter to make a delicious buttercream frosting. You could use shortening for a lighter, fluffier frosting and make my Easy Vanilla Frosting.
Powdered Sugar. Generics tend to have fillers. This is one case where a brand name is best.
Vanilla. We love the flavor of vanilla but you could use almond extract instead, or make a flavored frosting with lemon
Milk or Heavy Cream. Milk will thin the frosting more so you won't want as much. Heavy cream adds flavor and keeps the frosting thick to help the swirl hold its shape.
How to Swirl Frosting Colors
It's so easy to make beautiful swirl frosting colors for your 4th of July cupcakes! You'll just need four piping bags. Three will get filled with the three different colors of frosting. The fourth will hold the three bags in one with a tip at the end. Here are the official steps to decorate these Independence Day cupcakes.
Split the buttercream into 3 colors and dye the frosting red, white, and blue. Place each color into a piping bag and snip the ends. Prep a separate piping bag with a 1M tip.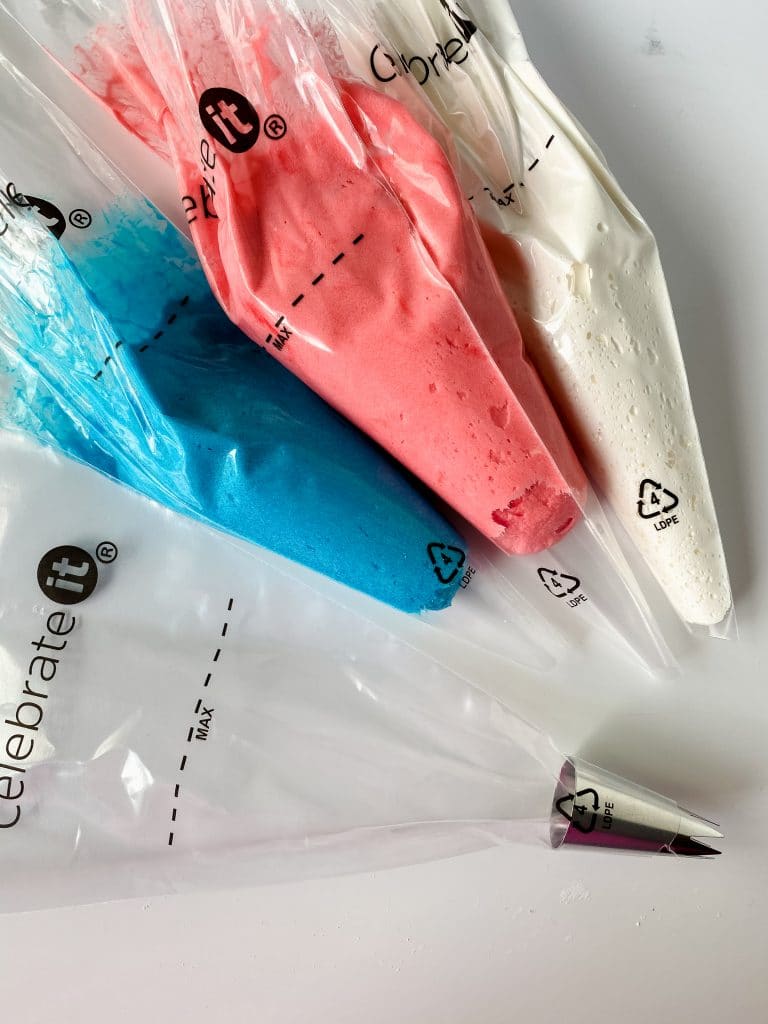 How to Decorate 4th of July Cupcakes
After you have your three colors of frosting, decorating the cupcakes will be so easy!
Add the 3 piping bags with the colored frosting into the bag with the piping tip.
Pipe a star into the center of the cupcake.
Then without releasing the pressure pipe a swirl around that tip, applying even pressure.
Release pressure and then pull away.
That's it! This is the best way to get perfectly even swirl frosting in patriotic colors or any color scheme that fits your occasion.
Tips and Tricks for the Best 4th of July Cupcakes
A yellow cake mix or vanilla cake mix will not work as well for these cupcakes. You need the fully white cake mix in order to make the beautiful red, white, and blue cupcake batter.
The yellow tint to a vanilla cake mix will throw off your color slightly, so if it's all you have and running to the store is out of the question, just go for it! They will still taste good. Just know you may end up with green and orange instead of blue and red.
To make red you must first dye the cake mix and icing pink, then red. Adding red coloring to white will simply turn it pink.
If your cupcakes have a "tail" you aren't releasing pressure before pulling off.
We love adding sprinkles or cupcake toppers for a final touch, but they are totally optional. Go with what you like.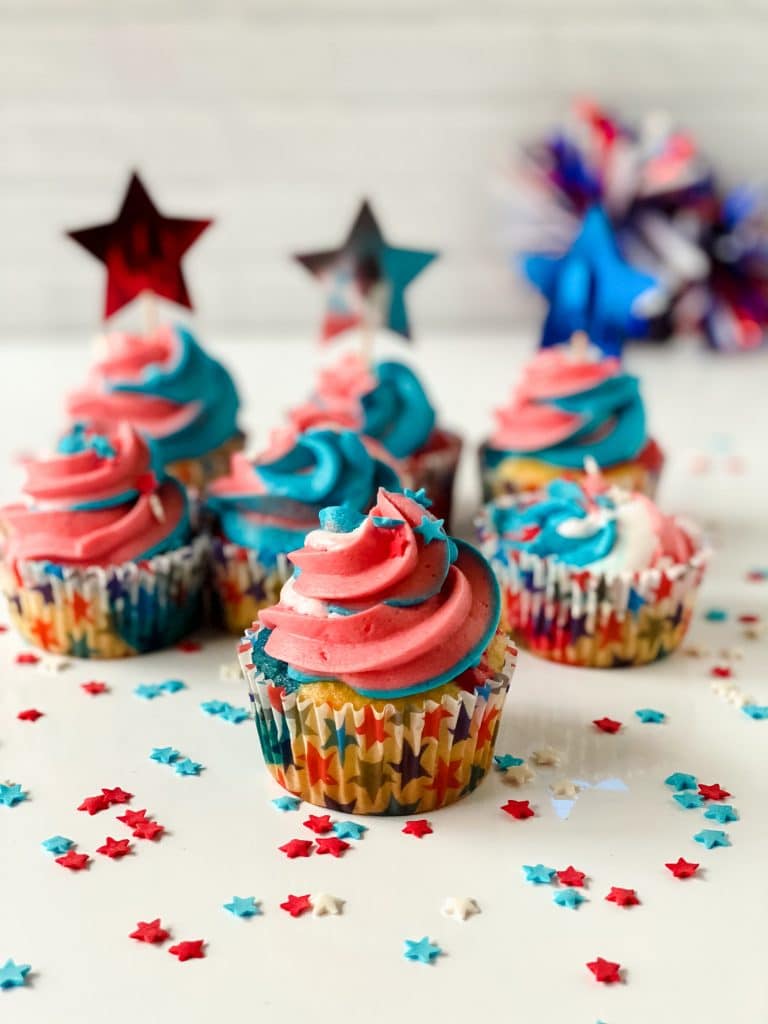 Storing Cupcakes
Buttercream likes to be in the open air and will get weepy and soft if it is covered in an airtight container. Refrigeration will help with this.
If you prefer room temperature, the frosting will also dry out again if you open the container an hour or two before serving. This can work both for making the 4th of July cupcakes ahead of time, or for keeping leftovers, should you have any.
Equipment List for the 4th of July Cupcakes
7 piping bags
1M piping tip
Hand mixer or stand mixer
Pink gel food color
Red gel food color
Blue gel food color
White gel food color, optional
Red, white & blue sprinkles, optional
Cupcake toppers, optional
Patriotic Cupcake liners
More 4th of July Recipes to Enjoy!