Celebrate Independence Day with these festive 4th of July cupcakes! Decorated with red, white, and blue frosting and patriotic sprinkles, these cupcakes are the perfect treat for your holiday gathering. You'll find the perfect 4th of July cupcake ideas here.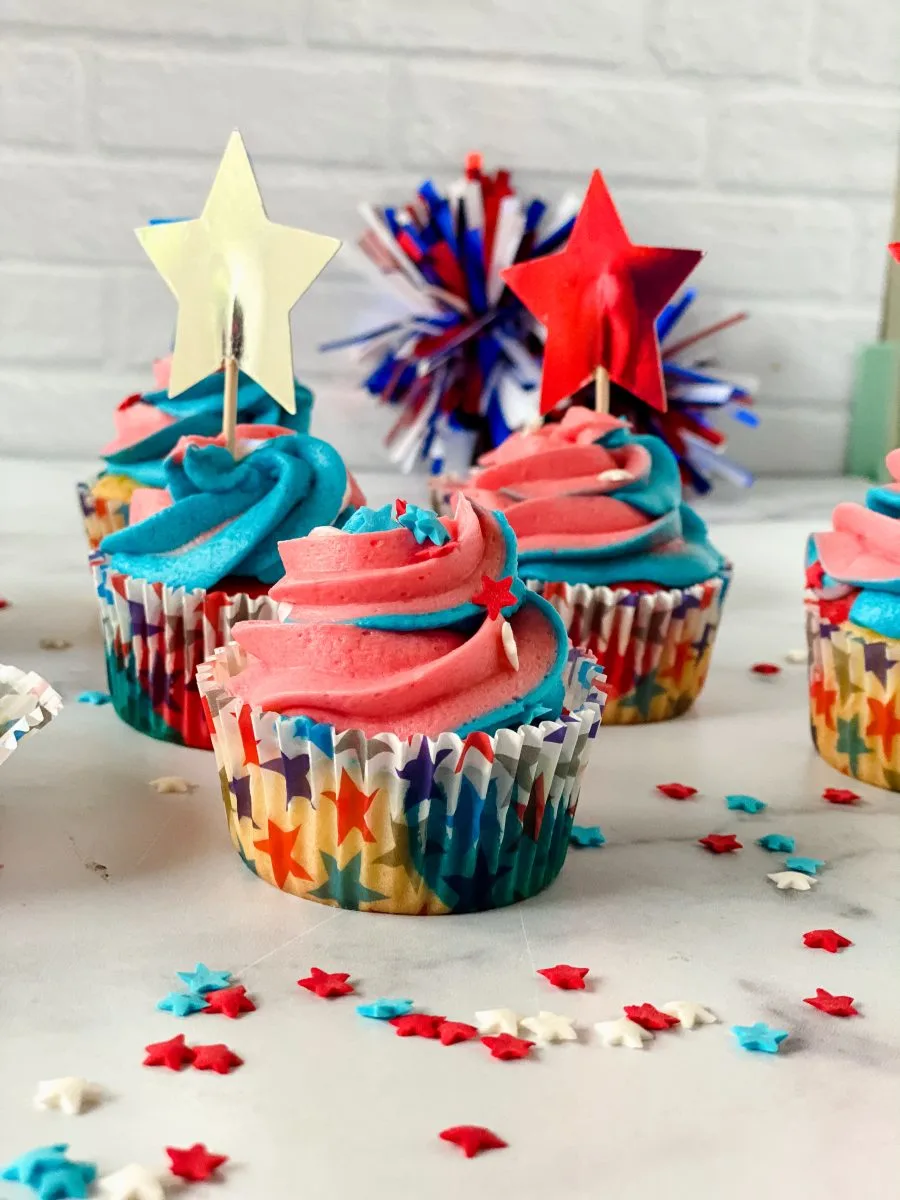 Deliciously fun 4th of July cupcakes with swirl frosting will be the hit of the party. The beautiful colors in the swirl frosting will set your patriotic cupcakes apart and wow your guests. Let me show you how easy they are to make!
What you'll love about this Red, White, and Blue Dessert
They're semi-homemade so you can enjoy making them in a jiffy.
Perfect patriotic dessert to Celebrate America or for dressing up your fun dessert table for a summer party.
Versatile instructions help you customize them for other holidays or birthdays.
Let the kids help! This is such a fun activity. Put them in charge of the patriotic sprinkles!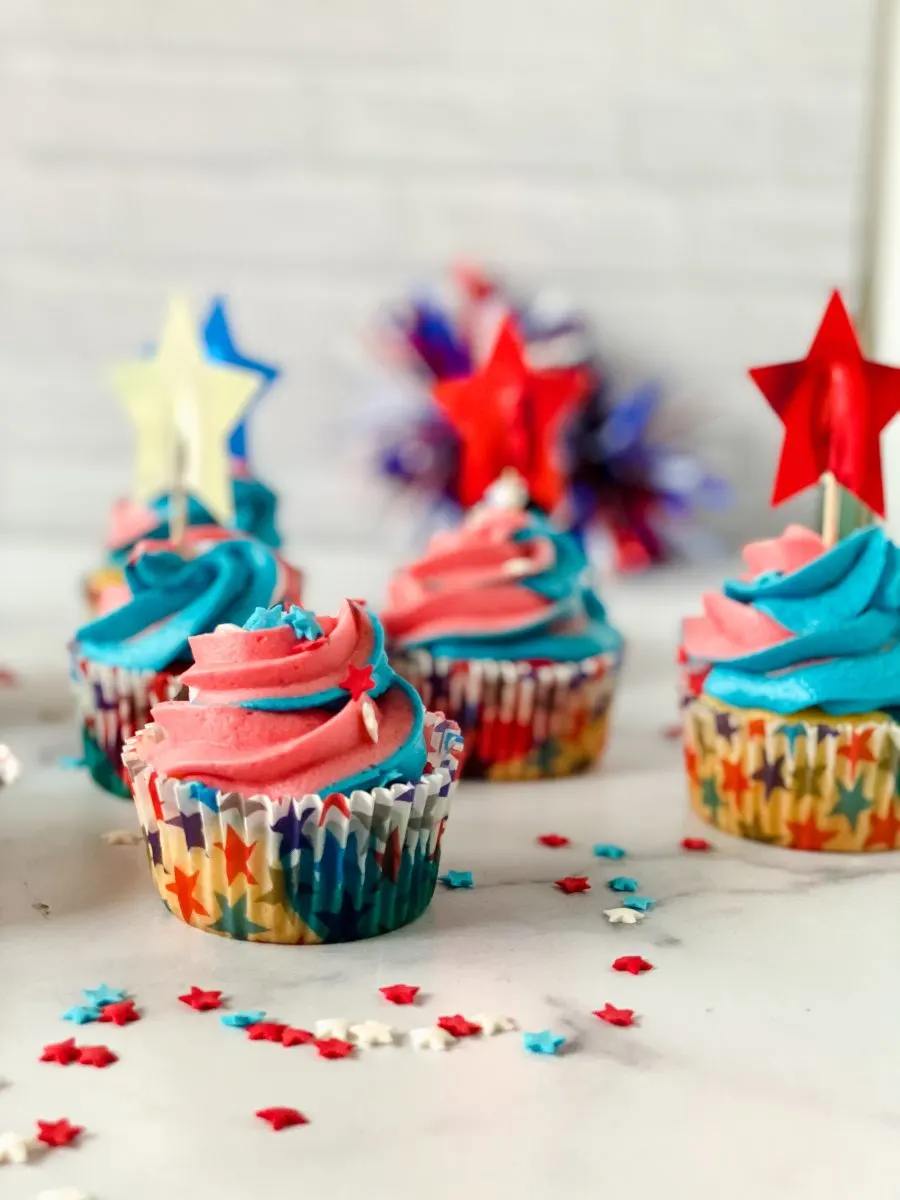 Equipment List for Patriotic Cupcakes
7 piping bags
Large piping tips with bags (best value)
Hand mixer or stand mixer
Gel Food Color
Red, white & blue sprinkles, optional
Cupcake toppers, optional
Patriotic Cupcake liners
How to make Patriotic Cupcakes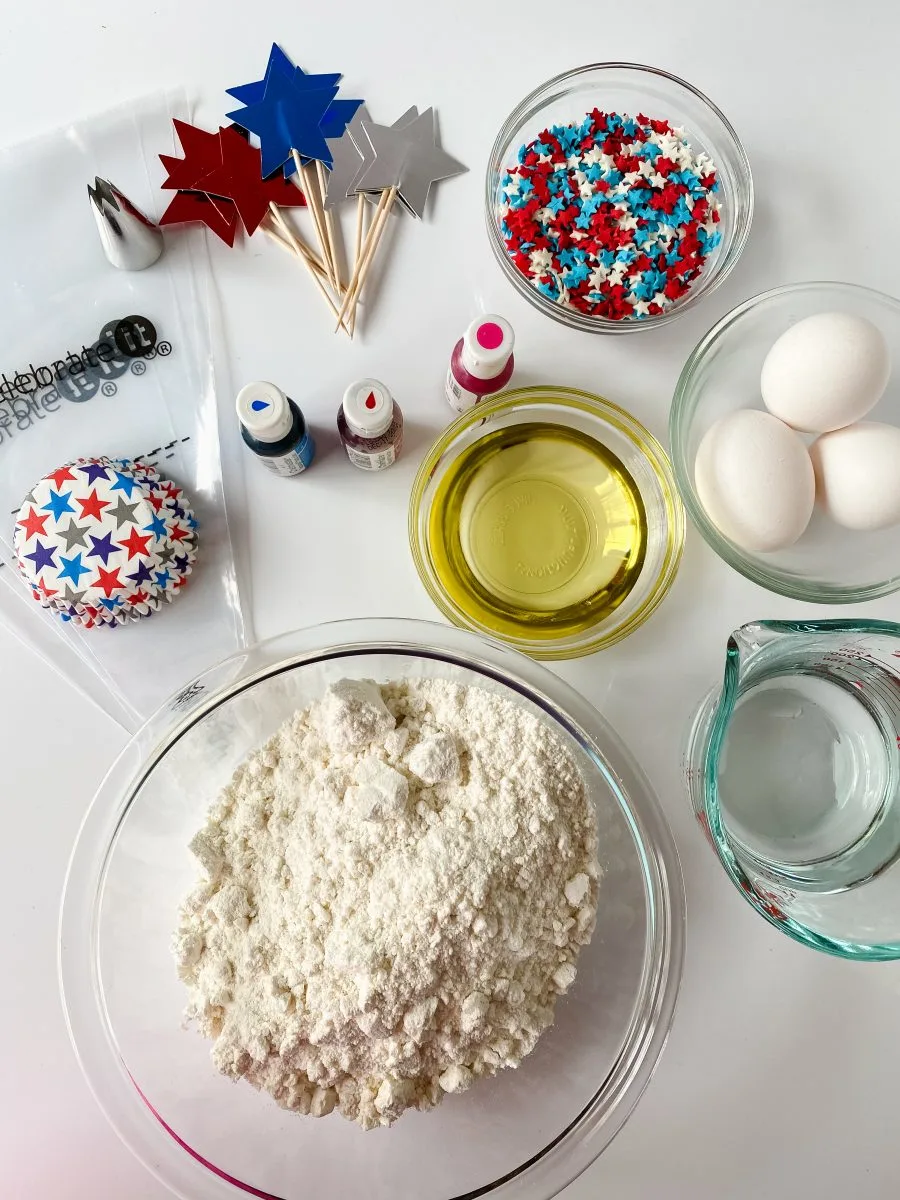 Ingredients for 4th of July Cupcakes
White Cake Mix. Any white cake mix will do for this, we aren't brand specific here.
Whole Eggs. We almost always buy AA large eggs for consistency.
Vegetable Oil. Canola oil is a good choice.
Water.
Vanilla. We prefer real vanilla extract over imitation vanilla but either will work. For truly white, use a clear vanilla extract.
Ingredients for the Vanilla Buttercream Frosting
Butter. We used real butter to make a delicious buttercream frosting. You could use shortening for a lighter, fluffier frosting and make my Easy Vanilla Frosting.
Powdered Sugar. Generics tend to have fillers. This is one case where a brand name is best. I sift the powdered sugar and then measure it.
Vanilla. We love the flavor of vanilla, but you could use almond extract instead.
Milk or Heavy Cream. Milk will thin the frosting more so you won't want as much. Heavy cream adds flavor and keeps the frosting thick to help the swirl hold its shape.
How to make 4th of July Cupcakes
Please note, that the recipe card has more complete instructions. This is intended as an overview.
How to make Red, White, and Blue Cupcakes
Mix up the cake batter according to the package instructions. Divide batter into 3 equal-sized bowls. Leave one of the bowls of batter uncolored. Add blue coloring to one of the other bowls, and red in the last bowl.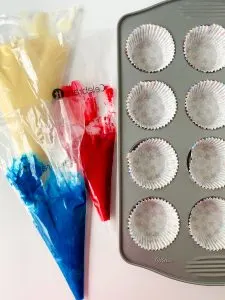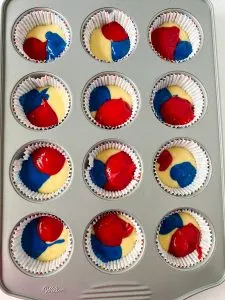 You can either pipe the batter into the cupcake pan or spoon it in, using a separate spoon for each color. Fill the pan 3/4 full and bake. Let the cupcakes cool while you prepare the frosting.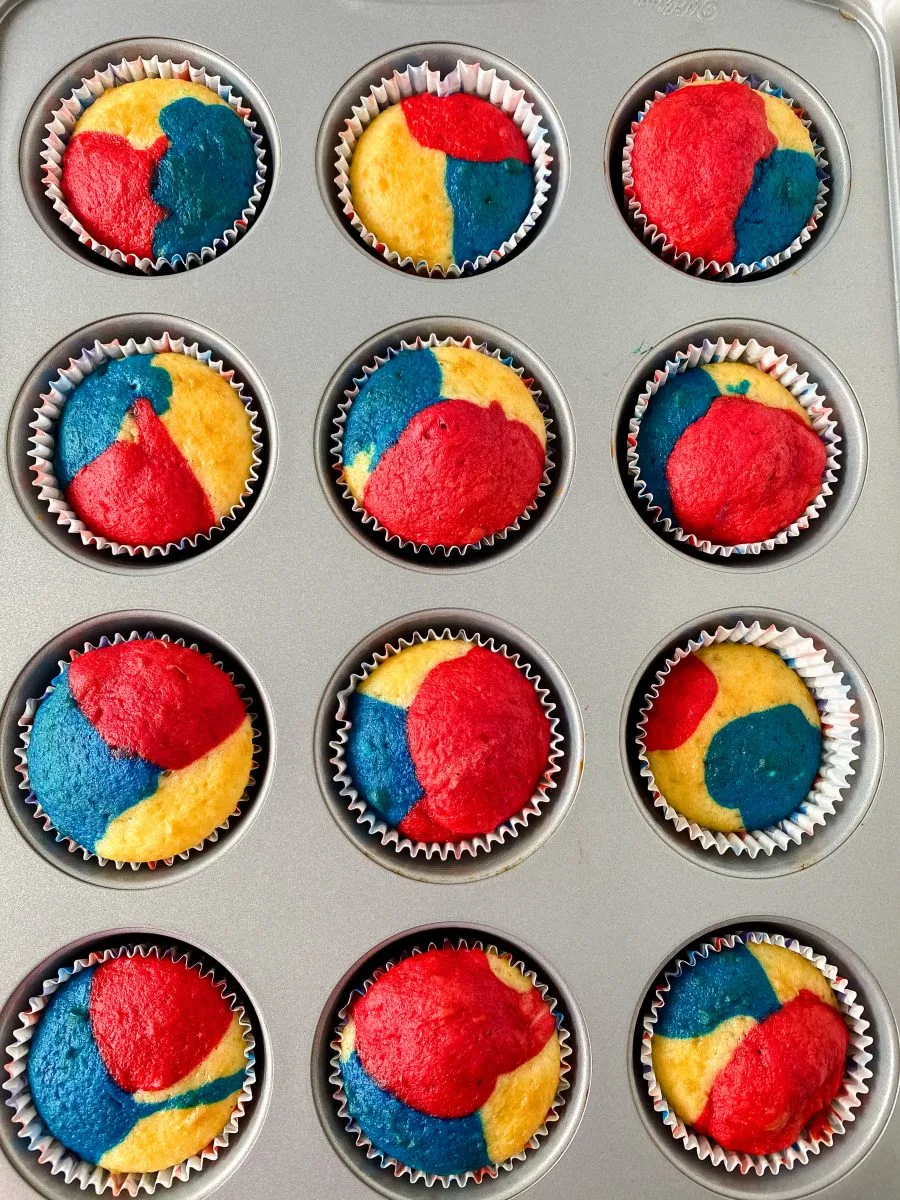 How to Make the Frosting
It's easier to make the frosting with a mixer. Beating air into the butter creates light and fluffy frosting.
Start by adding the butter to a mixing bowl fitted with the whisk attachment. Mix the butter on high until it's light in color and fluffy, approximately 3 to 5 minutes. Add the vanilla and turn the mixer on low. Spoon in the powdered sugar alternating with the cream.
In order to get the consistency needed for piping, you will only add enough cream until the frosting is thick enough that you can stand a butter knife in it. Thicker than that and it will not flow through the bags. Thinner than that and it will not hold the swirl.
How to Decorate 4th of July Cupcakes
It's so easy to make beautiful swirl frosting colors for your July 4th cupcakes! You'll just need four pastry bags. Three will be filled with the three different colors of frosting. The fourth will hold the three bags in one with a tip at the end.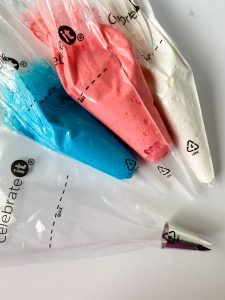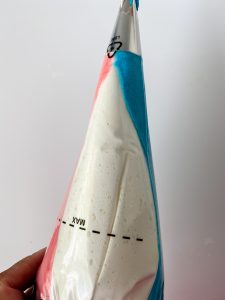 Divide the buttercream into 3 colors and dye the frosting red, white, and blue. Place each color into a piping bag and snip the ends. Prep a separate piping bag with a 1M star tip.
How to Swirl the Frosting
Add the 3 piping bags with the colored frosting inserted into the bag with the piping tip.
Pipe a star into the center of the cupcake.
Without releasing the pressure, pipe a swirl around that tip, applying even pressure.
Release pressure and then pull away.
Add the sprinkles right away while the frosting is wet so that they stick.
That's it! This is the best way to get perfectly even swirl frosting in patriotic colors or any color scheme that fits your occasion.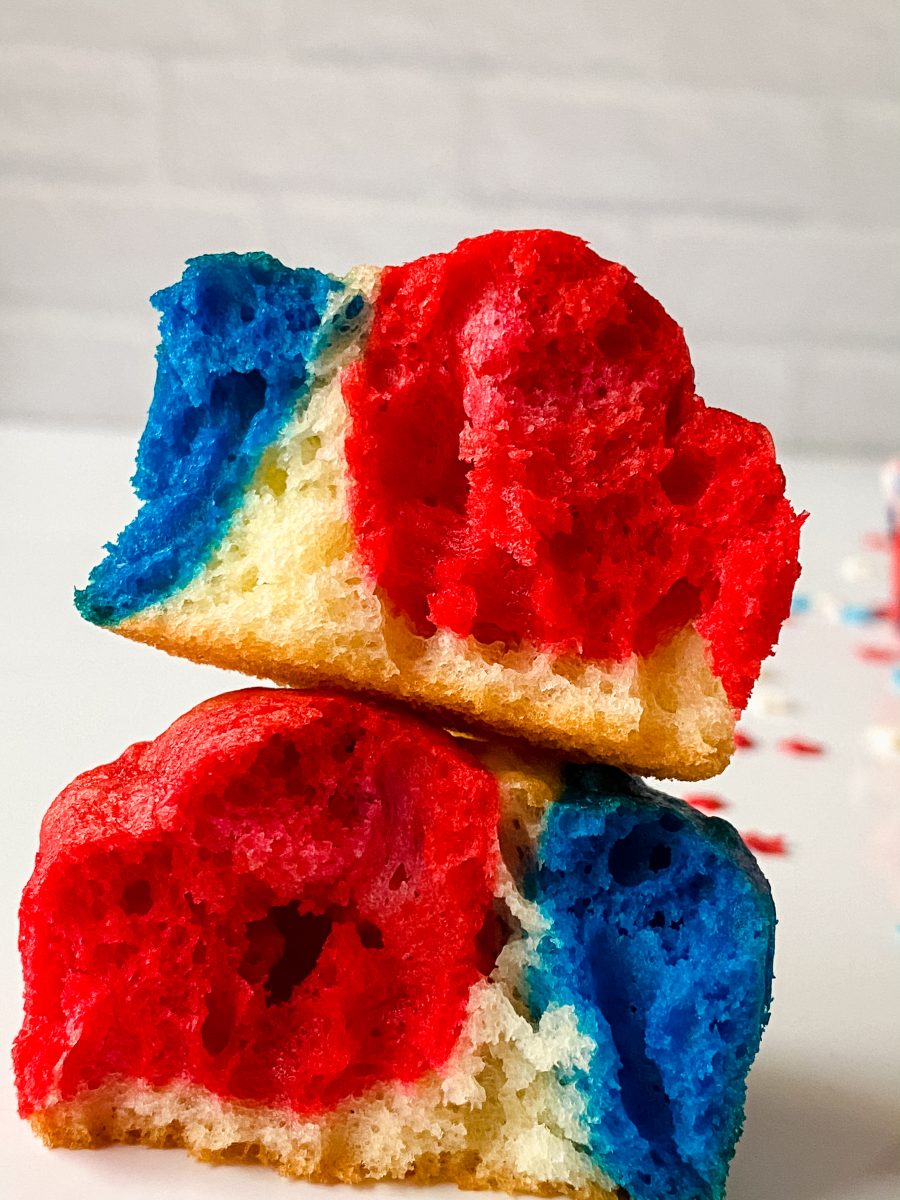 Tips and Tricks for the Best Independence Day Cupcakes
I use a measuring cup to separate the batter equally between the 3 bowls.
A yellow cake mix or vanilla cake mix would not work as well for these cupcakes. You need the fully white cake mix in order to make the beautiful red, white, and blue cupcake batter.

The yellow tint to a vanilla cake mix will throw off your color slightly, so if it's all you have and running to the store is out of the question, make a vanilla cake from scratch or just go for it! They will still taste good. Just know you may end up with green and orange instead of blue and red.

The gel food coloring that I recommend provides true pigment. Other food colors may be off. If the red isn't true, you can first dye the cake batter and frosting with pink and then red. It can be hard to get that patriotic red color if it doesn't have true pigment because it tends to stay pink.

Buttercream frosting isn't truly white either. You can either color it with white gel food coloring or make Vanilla frosting.
Any food coloring will stain your skin and nails. Use thin gloves or just be prepared to wear some fun red and blue colors for a couple of days.

Use a clean toothpick for adding gel food coloring to the batter and frosting. Start with a small amount and build your color using a clean toothpick each time. That will keep your festive colors clean for the next time you need them.
If your cupcakes have a "tail" you aren't releasing enough pressure on the bag before pulling it away. You can also tap it down with a toothpick or leave it as is.
We love adding sprinkles or cupcake decorations such as stars, American flags, and Fire Crackers cupcake toppers to celebrate America's birthday, but they are totally optional. Go with what you like and just have fun.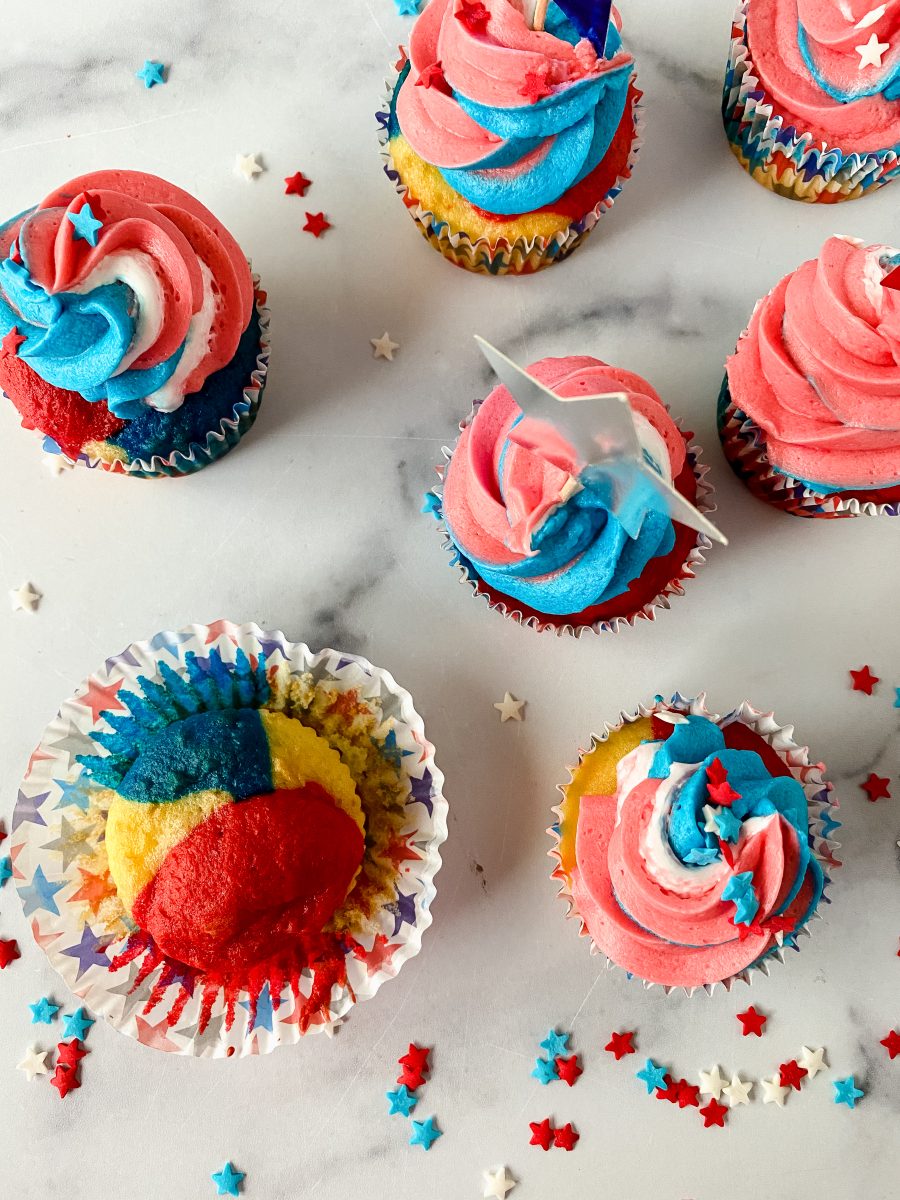 Storing Cupcakes
Buttercream likes to be in the open air and will get weepy and soft if it is covered in an airtight container. Refrigeration will help with this. You can also stir in additional powdered sugar to thicken it up.
If you prefer room temperature, the frosting will also dry out again if you open the container an hour or two before serving. This can work both for making the 4th of July cupcakes ahead of time or for keeping leftovers, should you have any.
Unfrosted cupcakes can be frozen in an airtight container for up to 3 months. The frosting can also be frozen in a separate container and used once thawed. You can place frozen cupcakes and frozen frosting in the refrigerator to thaw or leave them out at room temperature.
Note, many bakeries actually frost cakes and cupcakes while they're slightly frozen. That will reduce the crumbs that you pick up while frosting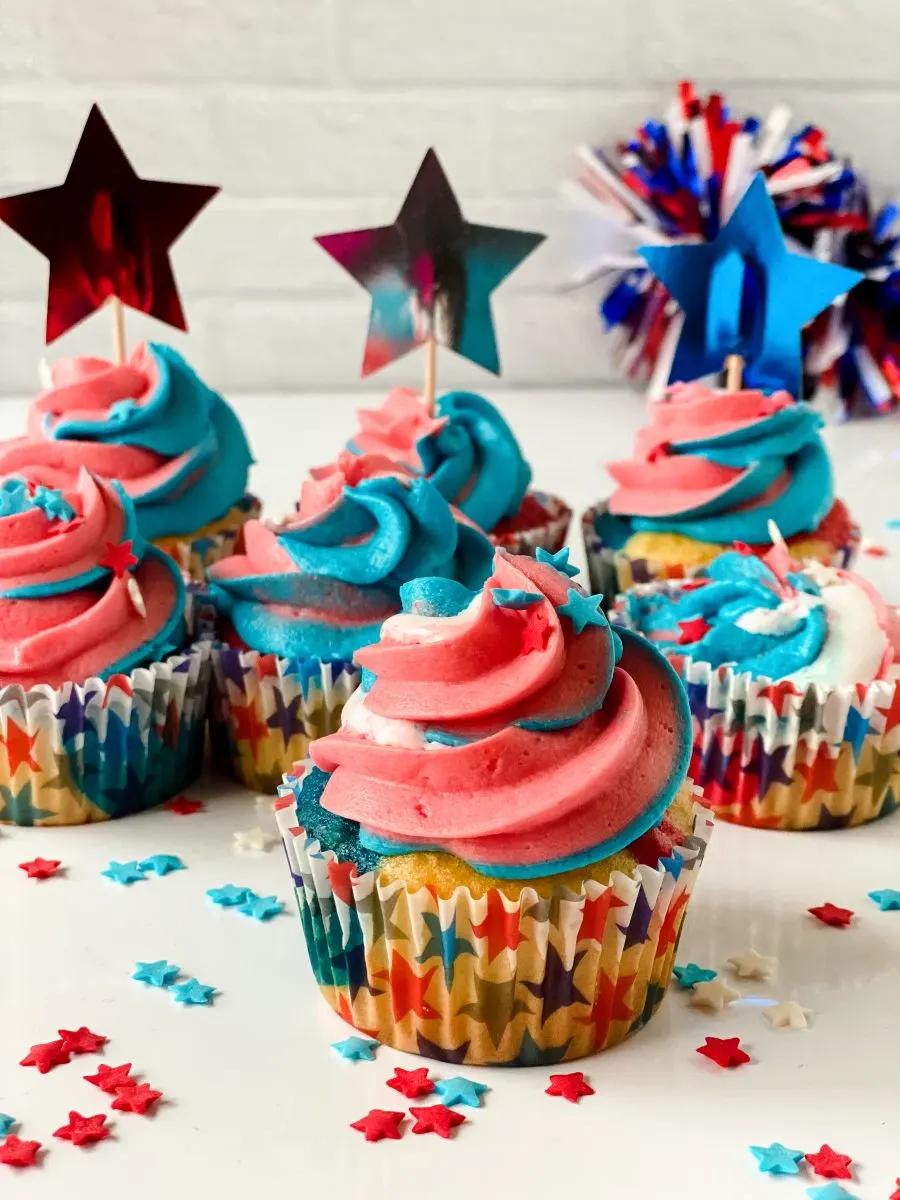 More 4th of July Recipes to Enjoy!
This post has been updated with more images and instructions for clarity. No changes were made to the recipe.
Want more delicious recipes? Follow Hostess At Heart on Pinterest!