Have you ever walked into a DoubleTree as fresh cookies were brought out to the lobby? Fresh DoubleTree Cookies on a platter. Oh my. These delicious treats have been greeting hotel guests for thirty years and now you can bake them at home. Our copycat DoubleTree Chocolate Chip Cookie Recipe will take you back instantly to the lobby of that hotel.
Make these DoubleTree Chocolate Chip Cookies for an afternoon snack, an easy dessert after any meal, or the perfect something to take along on a trip. Just like the hotel, you can greet your guests with a plateful!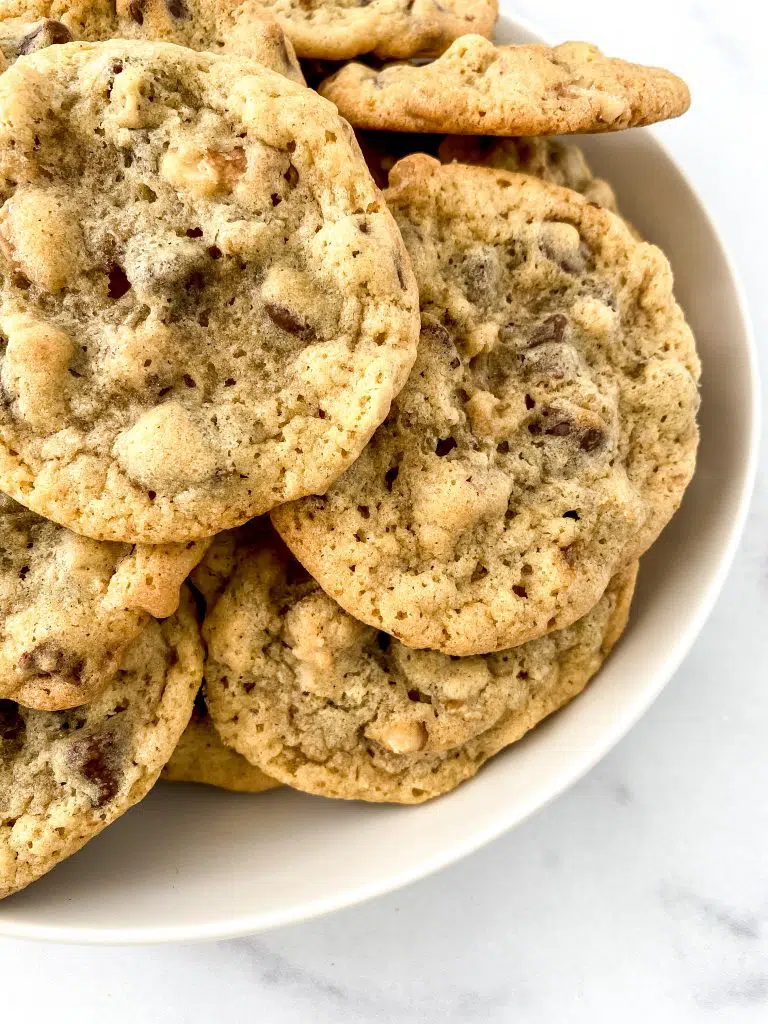 How to Make DoubleTree Cookies
Your family is going to love this cookie recipe! Here's how it comes together.
Whenever you make cookies, start by preheating the oven so that it's perfectly hot when the cookies are ready to bake.
Go ahead and line your baking sheets with parchment paper right at the start as well.
Cream the butter and sugar first to make sure they are perfectly blended.
Then add the remaining liquid ingredients and mix thoroughly.
Combine the dry ingredients separately, leaving out the oats, walnuts, and chocolate chips.
Mix dry and wet ingredients together. Add those last three ingredients (oats, walnuts, and chocolate chips) with the mixer on its lowest setting or stir in by hand.
Fill baking sheets with cookie dough and bake.
Cool on the baking sheet for 1 hour. Devour immediately!
Ingredients for the DoubleTree Chocolate Chip Cookies
Flour – Use the spoon and level method of measuring flour for this recipe.
Lemon Juice – I thought that was an odd ingredient but the acidity adds a brightness to this recipe even though the flavor of citrus isn't noticeable.
Butter – Use the real stuff, please! We use unsalted. If you use salted butter, reduce the salt in the recipe by 1/2 teaspoon,
Cinnamon – This is another ingredient that you'll not often find in a chocolate chip cookie. It adds a warm flavor to the cookie without taking over.
Vanilla – Pure vanilla extract is definitely what we recommend when making these cookies. We added a bit more than the DoubleTree Hilton bakers do.
Baking Soda – Gives texture and rise to your cookies.
Sugar – White granulated sugar.
Brown Sugar – The original cookie recipe uses Light Brown sugar. We use dark because we love that little bit of added molasses flavor. You can use what you prefer.
Salt – We use fine sea salt but any salt will work.
Oats – Use Old-fashioned not Quick oats. They can be interchanged but the old-fashioned oats make this a deliciously chewy cookie. Quick oats can act more like flour and cause this cookie to be dryer instead of soft and moist.
Eggs – We use Grade A in all of our baking for consistency.
Semi-Sweet Chocolate Chips. Again, we added a few more chips to our cookies. The original recipe uses 2 2/3 cups of Nestle Tollhouse semi-sweet chocolate chips. We don't recommend using milk chocolate chips for these
cookies but love the 60% cocoa chocolate chips as another option.
Walnuts – Optional but definitely delicious in this cookie. You can substitute with pecans too.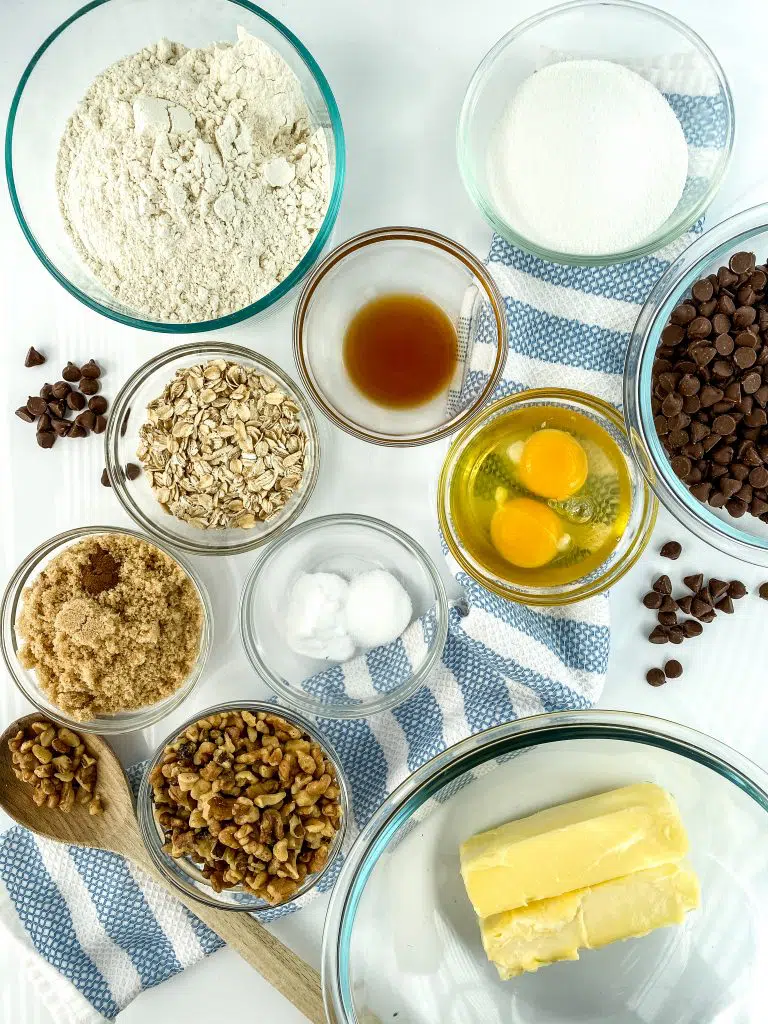 Tips for the Perfect Double Tree Chocolate Chip Cookies
You must use the spoon and level method for measuring the flour for these cookies. Using
the scoop and measure method adds more flour than you need and will create a dryer cookie.
Read about this method in our baking basics article.
Thoroughly cream the butter with the sugars until you see a lighter and fluffier batter. This can take 3 to 5 minutes.
Don't over bake the cookies. That will dry them out and harden them.
We recommend using parchment-lined cookie sheets which not only makes clean-up a breeze,
but it also eliminates the effect of using a dark or light baking sheet during baking.
We let the cookies cool on the baking sheet over a cooling rack as recommended, 1 hour.
We use a 3 Tablespoon scoop for all of our large cookies. Don't crowd them on the pan. 6 cookies per
sheet works well.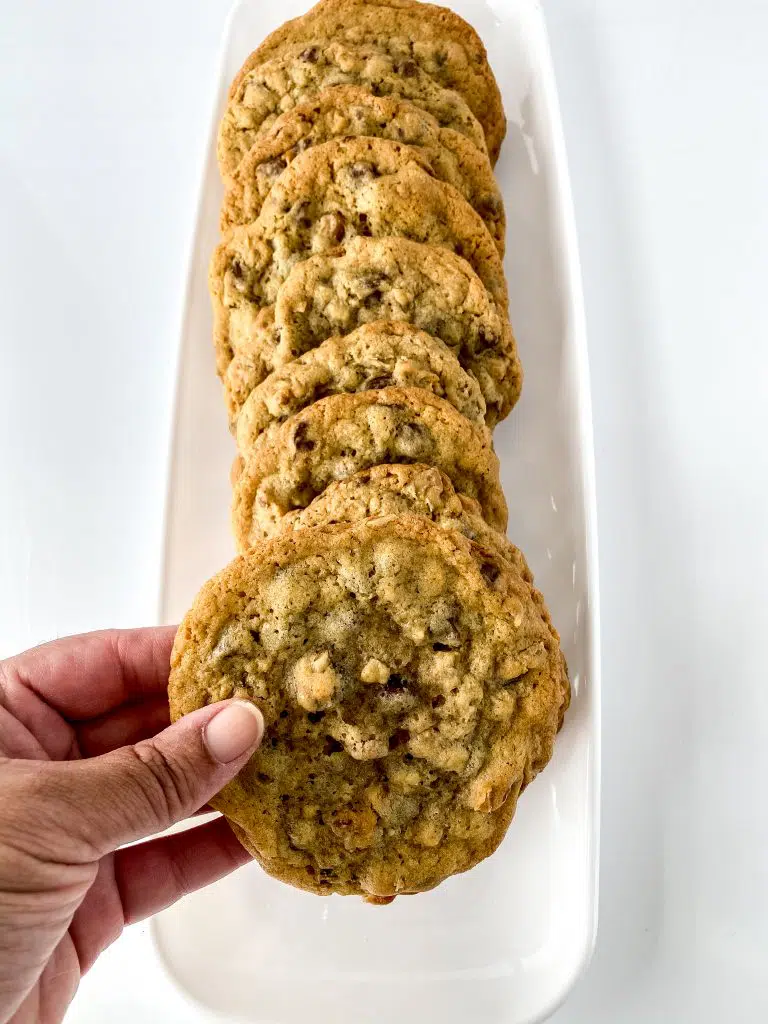 Storing Chocolate Chip Cookies
This cookie dough can be made in advance and refrigerated for up to one week. The cookie dough can also be frozen prior to baking. Note, cookie dough lovers will steal this dough leaving you with fewer cookies to bake!
We freeze shaped cookie dough on a parchment paper-lined cookie sheet and once frozen, put them in an airtight freezer container such as a resealable freezer bag.
Cookies can be baked from a frozen state. Preheat oven to 300°F and place frozen cookies on a parchment paper-lined baking sheet about 2 inches apart. Bake until edges are golden brown and the center is still soft.
Baked cookies should be stored in an airtight container at room temperature for 2 to 3 days.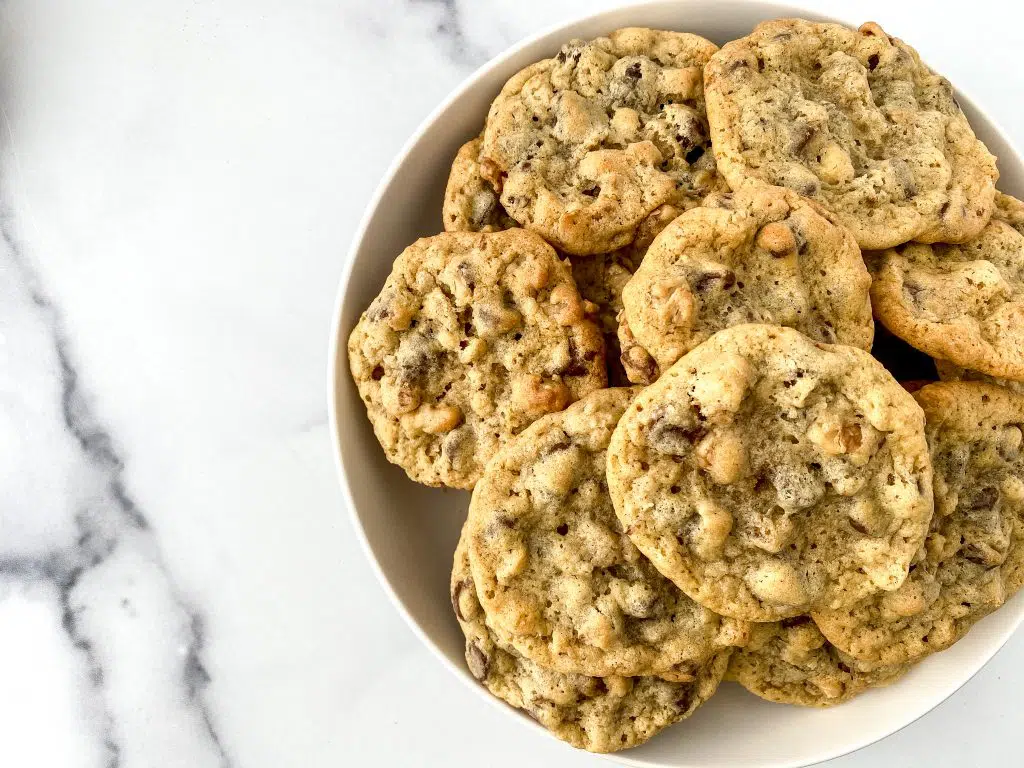 FAQ
Why are my DoubleTree Chocolate Chip Cookies hard?
If your cookies are too hard and crunchy, chances are good you've over-baked them. Decrease the baking time when you make the next tray. Pull the cookies from the oven at the slightest hint of browning on the edges to have soft and chewy cookies after they cool.
One other possibility is that you didn't use the spoon and level method to measure your flour. Extra flour will harden the cookies.
Why are my DoubleTree Cookies flat?
Melted butter is the most common culprit. Your butter should be room temperature but not too soft. If you accidentally melt your butter fully in the microwave (believe me, I know it can happen), chill your dough for a few minutes before scooping it into cookies.
How do you keep this DoubleTree Chocolate Chip Cookie Recipe soft after baking?
If your cookies are getting hard after they cool, you've baked them for too long. It's the most common mistake cookie bakers make. If you prefer soft and chewy cookies, pull them out at the earliest time mentioned on the recipe card.
Watch for the slightest hint of browning on the edges or as soon as the slightly glossy sheen on the cookies disappears but before browning occurs — that's when you pull out your cookies. They will finish baking on the cooling rack and be perfect.
Gadgets to Make Your Double Tree Chocolate Chip Cookie Recipe Perfect
Parchment Paper – This is my favorite parchment paper. It's important to know that there is an oven temperature rating on parchment paper. If you exceed it your parchment paper can catch fire in your oven.
TIP: Don't reuse your parchment paper once you've baked on it. I find that it dries out and can get brittle making it subject to catching fire.
Baking Sheets – These sheet pans are durable and I have four of them so I can get everything baked in a jiffy!
Cookie Scoops – Ever wonder how every cookie, meatball, or muffin is the same size? Scoops! I use them a lot and own this set. I've had them for years!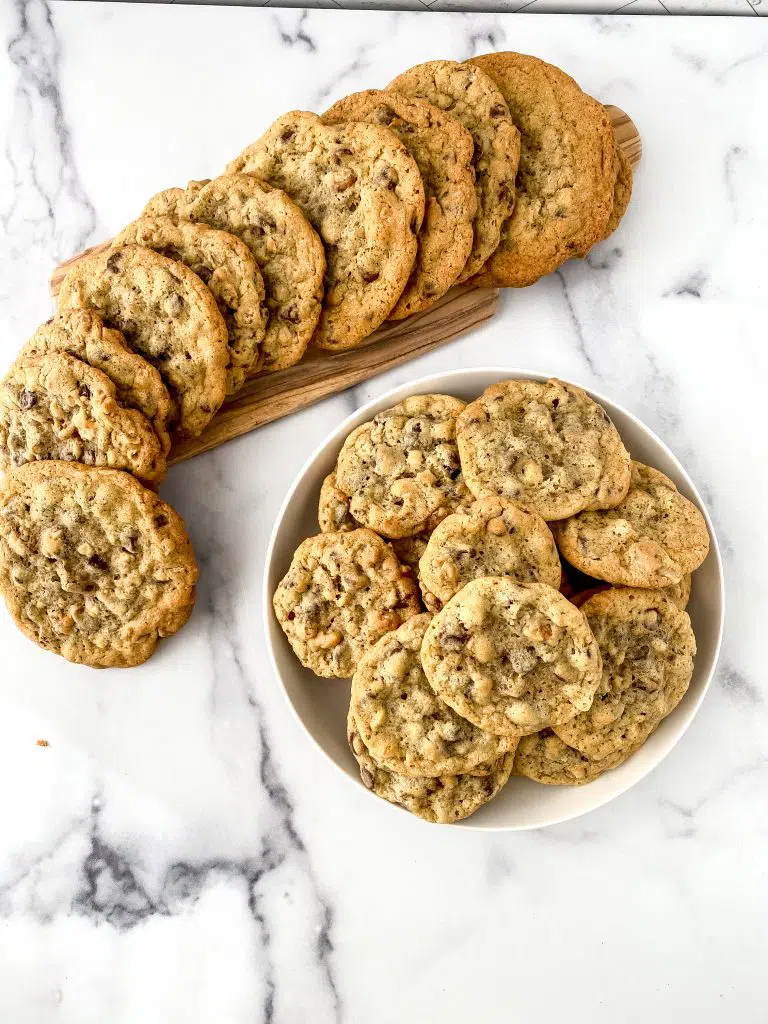 More Cookies to Enjoy
Sourdough Chocolate Chip Cookies
Chocolate Chunk Molasses Cookies with Pecans
Cheesecake Cookie Bars – Easy No-Fuss Recipe
Spiced Coffee Cookies with Caramel-Vanilla Glaze
If you like this recipe, we would appreciate your comment and a 5-star ⭐️⭐️⭐️⭐️⭐️ review!
Pin it now!