Spiced Coffee Cookies With Caramel Vanilla Glaze – A warm spiced soft cookie topped with gooey caramel and a vanilla glaze swirl. These cookies taste like a delicious coffee latte.
This delicious recipe was first published on 10/27/15 and has been updated to improve the reader experience.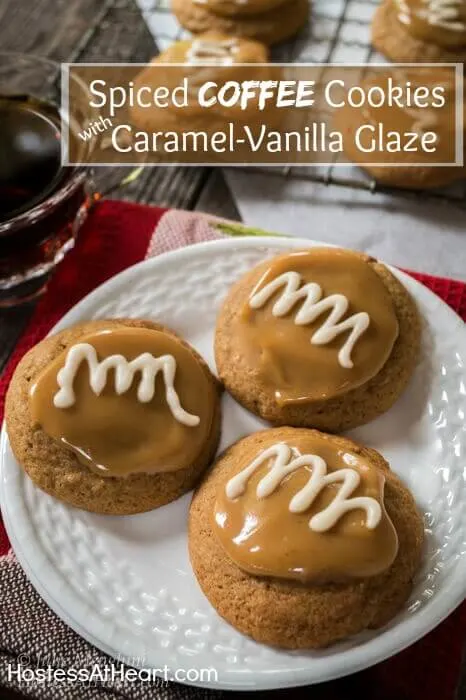 I wanted a special cookie to celebrate Johns work anniversary and these cinnamon-spiced cookies were perfect. The soft caramel topping and vanilla glaze dress them up for any celebration.
My first attempts at making these spiced cookies were good, but they were just "brown". They needed an anniversary flair so I decided to add a vanilla drizzle. I was putting my ingredients together and it came to me that caramel would compliment the cookie so, of course, I did both!
One warning, you had better have a drink to go with these cookies. They are moist, tender and delicious, but they are also a mouthful. The caramel will set, but it stays soft, gooey and so good. It is so good on top of these warm cinnamon spice cookies though.
Spiced Coffee Cookies with Caramel-Vanilla Glaze Recipe
When John and I got married, he was fresh out of college. We were living on love and certain that a job would come knocking on our door.
The job market was pitiful so John took out the phone book and started making cold calls – yep we actually used phone books! As luck would have it, he found a company that had just started thinking of expanding its agronomy division. John got the job, and this month celebrates his 35th anniversary.
The people he works with are used to me bringing them treats so I knew this soft delicious cookie couldn't be ordinary.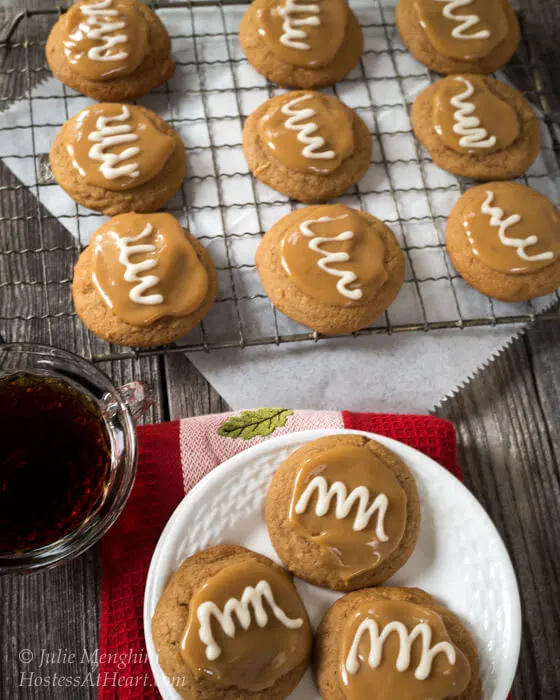 GROCERY LIST FOR SPICED COFFEE COOKIES
unsalted butter
brown sugar
eggs
coffee
vanilla extract
flour
salt
baking soda
cinnamon
nutmeg
sweetened condensed milk
powdered sugar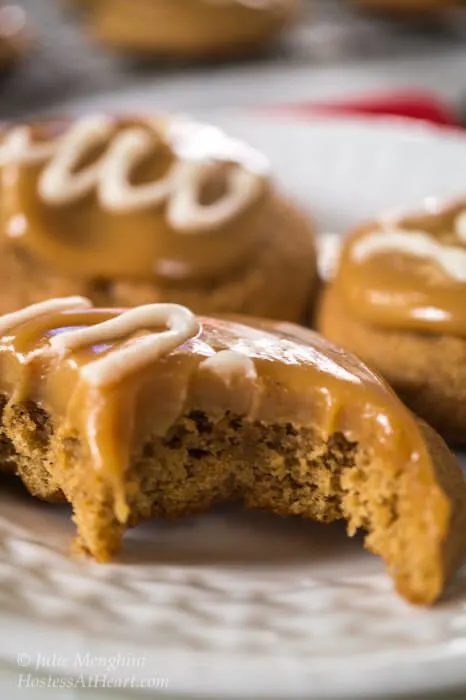 ---
PIN

THIS

TO YOUR FAVORITE COOKIE BOARD FOR EASY REFERENCE!
---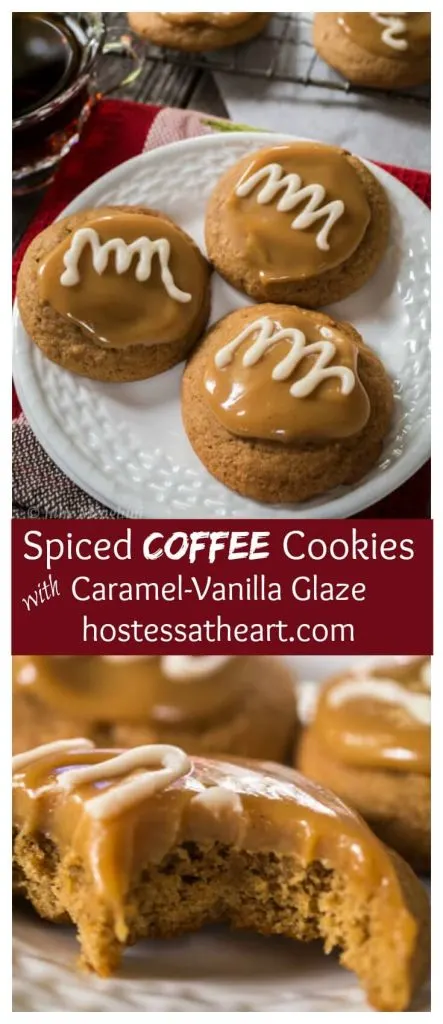 Tips For Success
You don't have to make a pot of coffee to make these cookies. You can dissolve a granulated instant coffee instead. When I bake with coffee, I use a strong dark blend. Or heck most grocery stores have coffee shops in them now. Just by a cup to go.
Caramel sets up quickly so don't make it until you're ready to spoon it over cooled cookies.
Do not stack these cookies. Store covered in an air-tight container in a cool place or refrigerator. Bring to room temperature before serving.
If Caramel isn't for you, just drizzle with the Vanilla Coffee glaze only.
YOU MAY NEED
Parchment Paper – I have to use a parchment paper that can withstand an oven temp of 450° for my bread so I use this for everything. It keeps my pans looking good and clean up is a breeze!
Baking Sheets – These sheet pans are durable and I have four of them so I can get everything baked in a jiffy!
Now you know how I love a good cookie right? Here are a couple more from the blog that I can't live without!
OUR MOST POPULAR RECIPES
I have some coffee loving friends and here are a few tried and true recipes I think you'll love!