Bucatini Cacio e Pepe is a creamy combination of two kinds of cheeses, fresh black pepper, and crispy Prosciutto. It's simple to make in less than 30 minutes.
This post was originally released in 2019 so it was time for an update. Detailed instructions, tips, and FAQs have been added to improve our readers' experience. No changes were made to the recipe.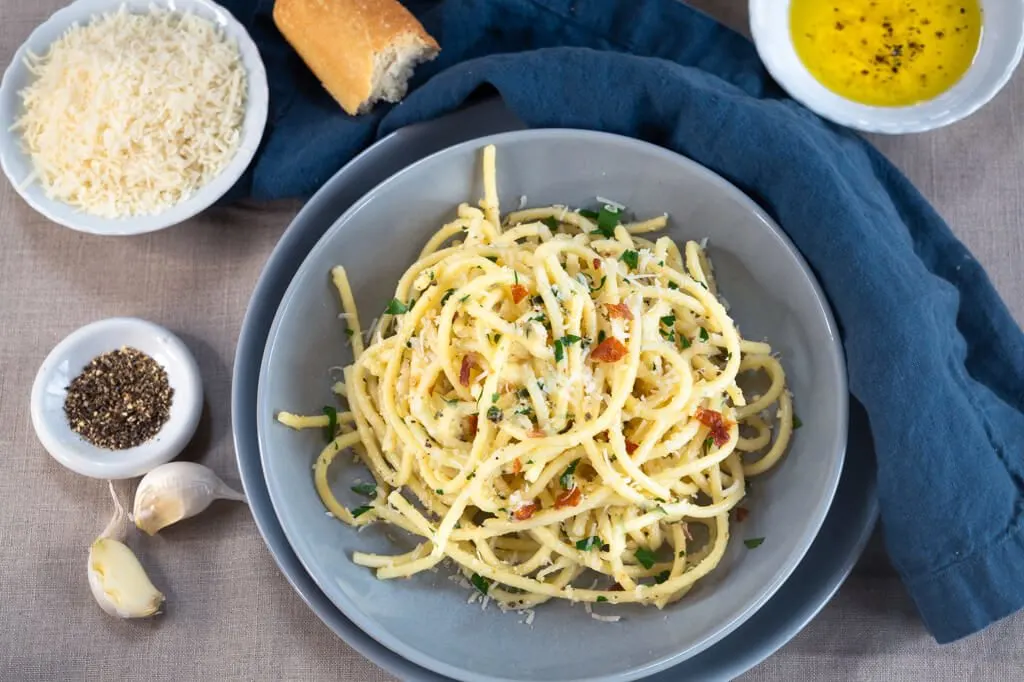 This Cacio e Pepe dish combines olive oil infused with garlic and black pepper, two kinds of cheese, and crispy Prosciutto over a bed of al dente Bucatini pasta. It's a simple meal that tastes gourmet.
John and I got together with some of our friends at one of our favorite restaurants. We know each other enough to share forks of our delicious entrees across the table.
There was one dish that we all wanted to try so we just ordered it for the table like an appetizer. That dish was Spaghetti Cacio e Pepe.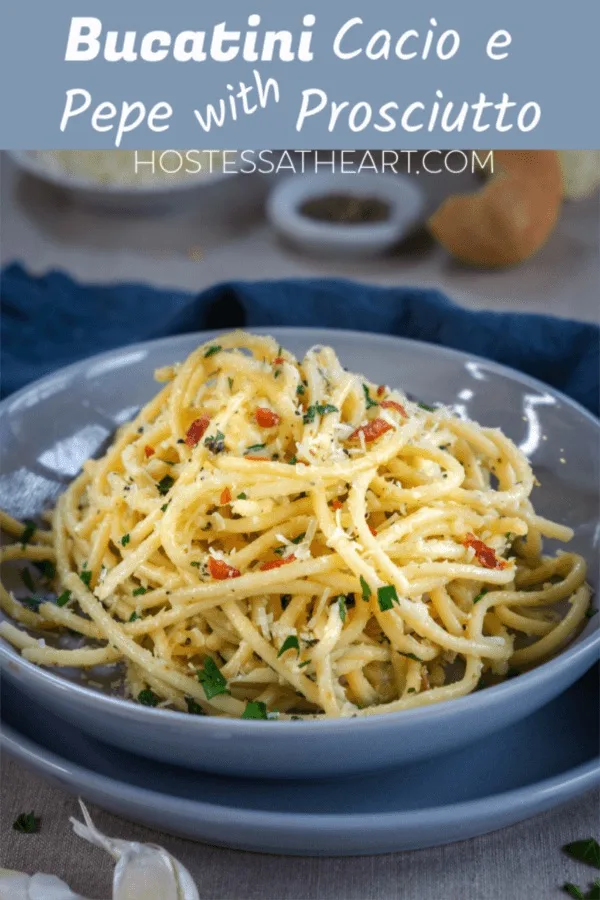 I was totally unprepared for how amazing it would taste. We all thought that and I couldn't wait to try and make it at home.
What Does Cacio e Pepe Mean In Italian?
"Cacio e Pepe" means "cheese and pepper". As the name suggests, the ingredients of the dish are very simple and include only black pepper, and Pecorino Romano cheese.
I decided to dress up the traditional Cacio e Pepe recipe by using bucatini pasta.
Bucatini pasta is like a spaghetti noodle with a hole running through it.
It's thicker than spaghetti and has an al dente texture that guarantees you will not leave the table hungry or rush through this meal.
Also, we used a blend of tangy Pecorino Romano with milder Parmesan Reggiano that dressed this Cacio e Pepe Pasta recipe to a gourmet level.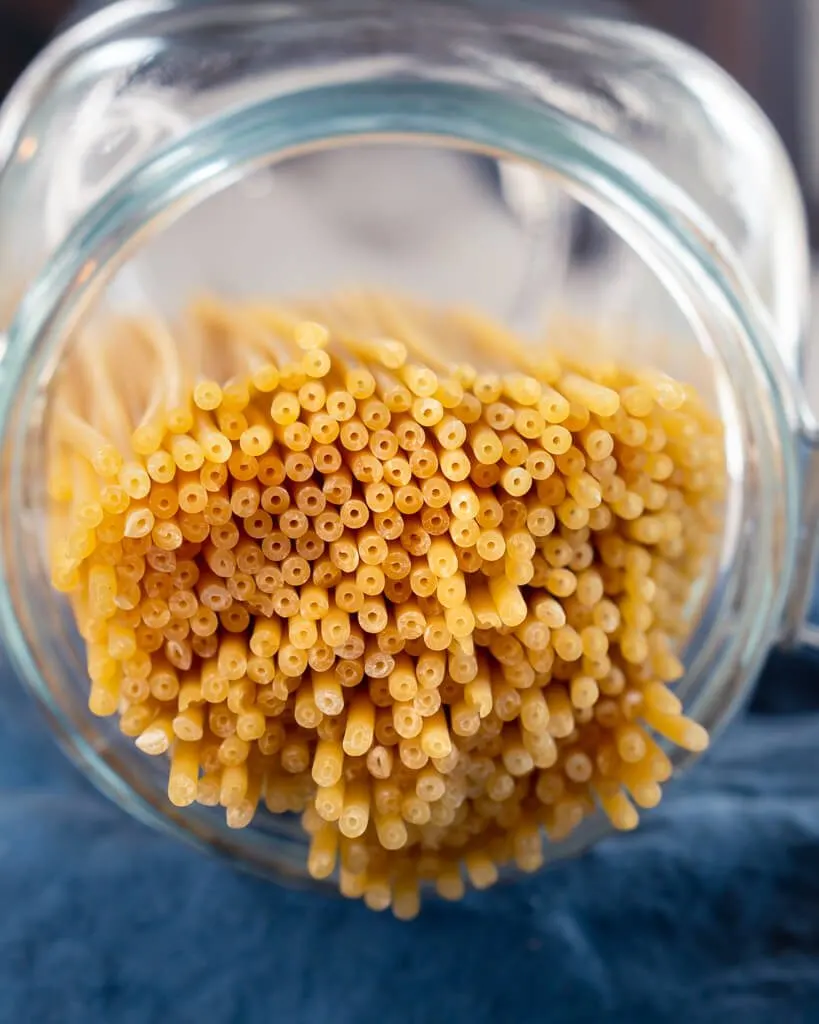 What is the difference between Pecorino Romano, Parmesan Reggiano, and Parmesan cheese?
Both Pecorino and Parmesan Reggiano are hard Italian cheeses.
Pecorino is made from sheep's milk and Parmesan Reggiano is made from cows milk. Just like Champagne has to come from Champagne France, Pecorino Romano and Parmesan Reggiano must come from Italy.
Pecorino Romano and Romano aren't the same either. Pecorino Romano is made from sheep milk and comes from the Sardinia region in central Italy. Ramono is made from cows' milk and made domestically.
Grated Parmesan that you find in U.S. grocery stores doesn't even have to be 100% cheese! Shocked? I was too.
Parmesan Reggiano is more expensive and worth every dime. I found a great article describing the differences between these cheeses and how to make sure you're buying the real deal in this Epicurious article.
I find Parmesan Reggiano has a milder flavor and it's my go-to cheese 99% of the time when I need parmesan. There isn't any substitution for the taste of fresh cheese and it really doesn't add that much time to preparing your meals.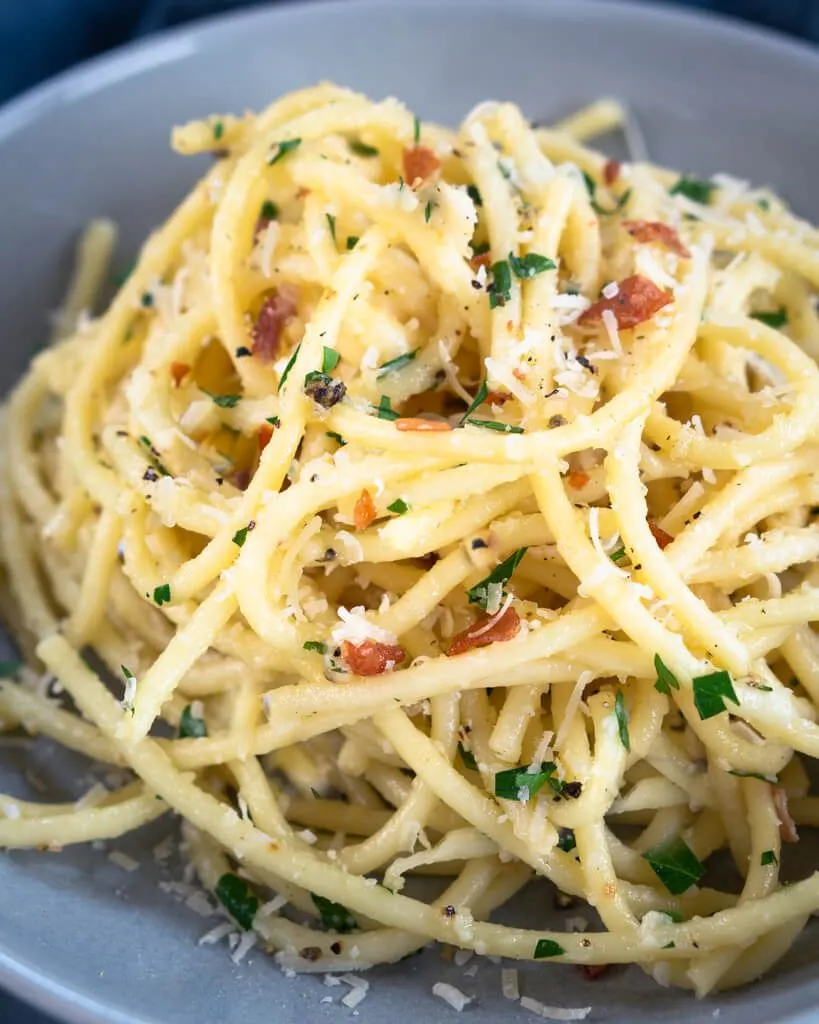 Products we used with Cacao de Pepe
Spring Chef Stainless Steel Box Grater – I prefer to grate my own cheese. It tastes fresh and moist and I know that it's not coated with anti-clumping ingredients!
Spaghetti Server – This utensil is perfect for removing your spaghetti or bucatini from the pasta water. It's good quality and nice enough to use to serve your guests.
Tongs – We have several of these tongs. They are perfect for grilling, mixing and combining about anything.
What ingredients do I need to Make Casio e Pepe with Prosciutto?
Bucatini pasta – You can substitute with spaghetti or linguini pasta
Pecorino Romano cheese
Parmesan Reggiano cheese
Black pepper – fresh cracked ground pepper
Prosciutto
Garlic
Parsley – fresh
Extra-virgin olive oil – good quality
Reserved Starchy Pasta Water
How to make Cacio e Pepe Bucatini
Prep the recipe by grating cheeses, chopping parsley, and slicing prosciutto.
Bring a large pot of water to a boil. Salt the water once boiling. Add bucatini pasta and cook as recommended.
Heat EVOO in a saucepan and when hot add strips of prosciutto. Watch carefully, the prosciutto cooks quickly! Once crisp place on a paper-lined plate.
Add the garlic and black pepper to the hot saucepan and cook until the garlic is lightly toasted over medium heat. Remove from the heat.
Add the cooked bucatini pasta to a large bowl. Pour hot EVOO, garlic, and black pepper over the pasta and combine.
Add cheeses and parsley and combine. Add reserved pasta water to create a thick sauce.
Garnish with additional cheese, black pepper, parsley, and prosciutto.
Tips for making the perfect Bucatini Casio e Pepe recipe
Cook the pasta perfectly.

Never add oil to the pasta water. Oil will coat the pasta and keep sauces and other ingredients from adhering to it.
Use an oval dutch oven or a roasting pan to cook long pasta noodles.
Never overcook pasta. If you're adding it to other hot ingredients such as spaghetti sauce cook it one minute less than recommended.
Remove it from the cooking water to discontinue cooking.
Do not rinse your pasta. It helps cheeses and sauces stick to the noodles.
Don't forget to save a cup of pasta water for thinning pasta dishes.

Cacio e Pepe Prosciutto all about the cheese!

Try and buy all of your cheeses in a wedge or block. Pre-shredded and grated cheese often have anti-clumping ingredients included and they start to dry out as soon as they're opened.

Grate the cheeses finely. It will aid in the cheese sticking to the pasta and there will be less chance of the cheese clumping.

Prep your ingredients before starting this recipe. It comes together very quickly.

Grate the cheeses
Mince the garlic
Chop the parsley

Heat your serving dishes prior to plating the food will keep your food hot longer. You can do this by wetting the dish and putting it in the microwave for 30 seconds or in a very low oven.
What goes with Cacio e Pepe?
The perfect wine to pair with this Casio e Pepe pasta dinner:

Cabernet Sauvignon – American red
Sauvignon Blanc or Pinot Gris – American whites
Chianti Classico, Sangiovese, Brunello, Vino Nobile di Montepulciano – Italian reds
Prosecco, Chardonnay, Rosé – Italian whites, Rosé
FAQs
Can I use Parmesan instead of Pecorino in this Bucatini Cacio e Pepe recipe?
Yes, you can but Cacio e Pepe was literally named after Pecorino Romano so you can't accurately call it Cacio e Pepe.

I recommend the Pecorino if you can get it because it adds a delicious punch to this recipe.
How do you pronounce Cacio e Pepe?
Cacio is pronounced like "cot-cho a pay pay".
Why is my Cacio e Pepe pasta Stringy?
If your Cacio e Pepe is stringy it's usually because the cheese was cooked too aggressively. The heat was too high causing the proteins to coagulate and become clumps or stingy, similar to a broken sauce.
If you enjoyed this Cacio e Pepe Bucatini recipe here are a few more you may like.
Here you can find all of our Pasta Recipes!
If you like this Bucatini Cacio e Pepe recipe, we would appreciate your comment and a 5-star ⭐️⭐️⭐️⭐️⭐️ review!
Pasta de Pepe is a simple and delicious dish that's easy enough to make on a work or school night. It's a quick recipe that tastes gourmet.
What is your favorite pasta dish? Please share. I love getting inspiration from your comments.