Bucatini Cacio e Pepe is a creamy dreamy combination of Parmesan Reggiano and Pecorino cheeses and accented with a punch of black pepper. This Italian pasta dish is taken to the next level with crispy crunchy prosciutto and fresh parsley. It's quick and easy to make but tastes gourmet and guaranteed to impress the pickiest of eaters.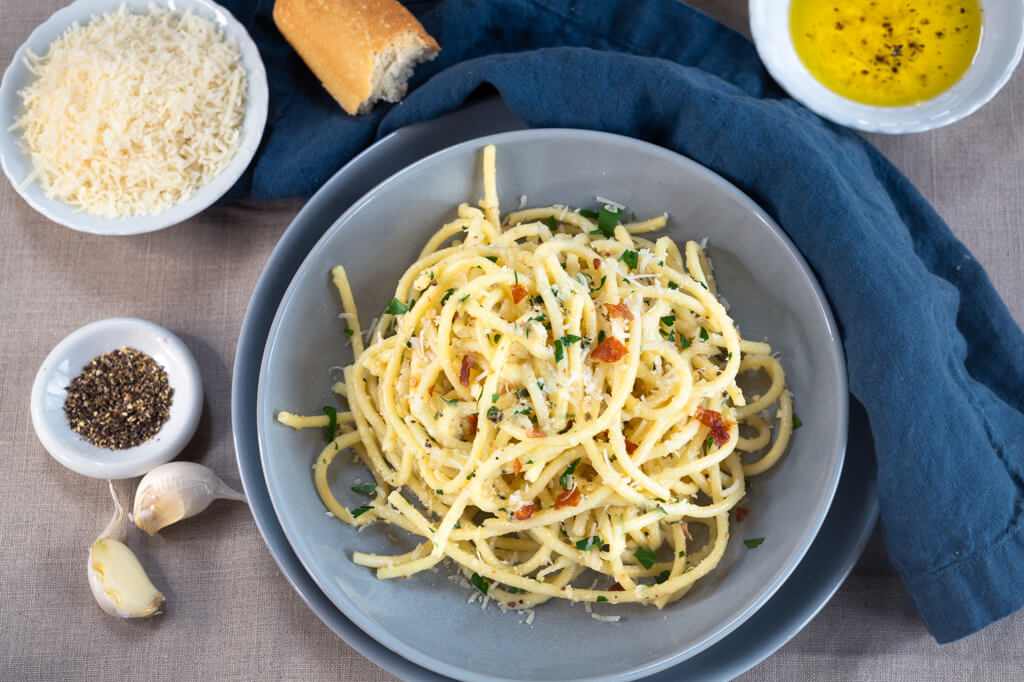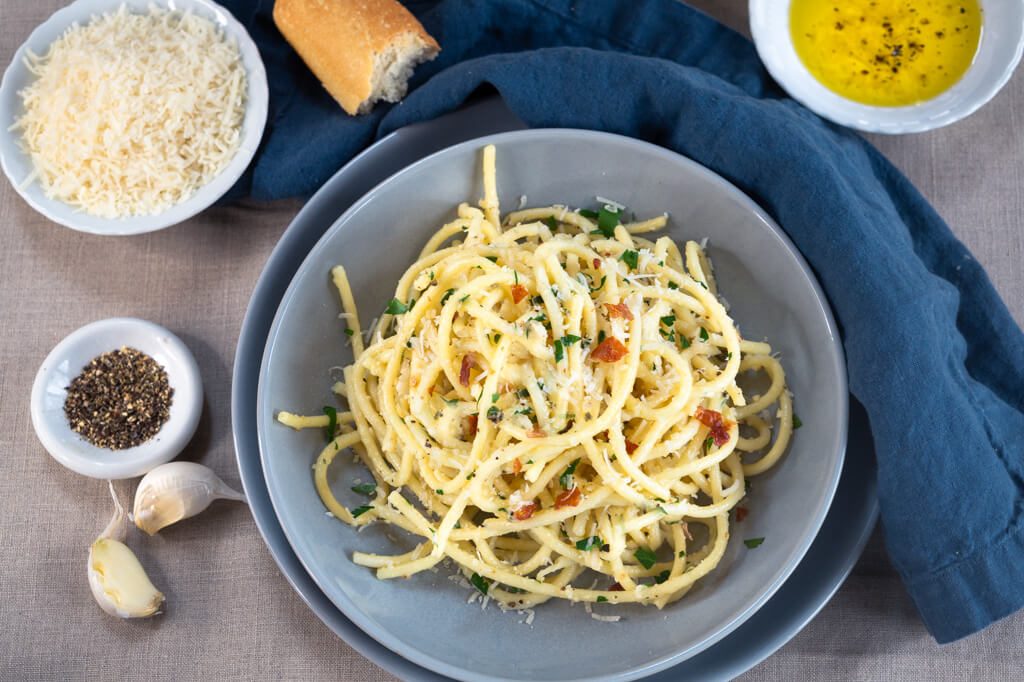 John and I got together with some of our friends at one of our favorite restaurants. We know each other enough to share forks of our delicious entrees across the table. There was one dish that all of wanted to try so we just ordered it for the table like an appetizer. That dish was Spaghetti Cacio e Pepe.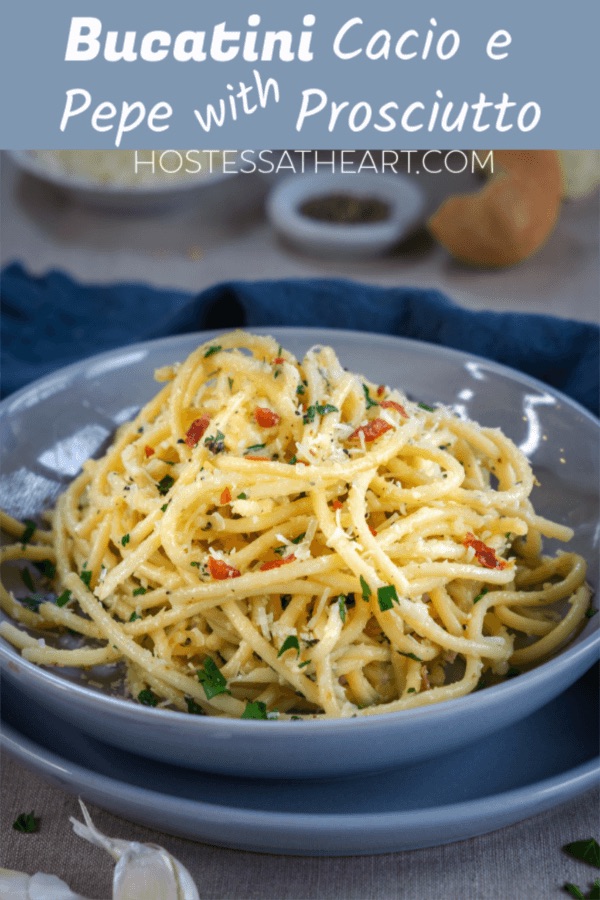 I was totally unprepared of how amazing it would taste. We all thought that and I couldn't wait to try and make it at home.
What is Cacio e Pepe?
Authentic Cacio e Pepe is a pasta dish from Roman cuisine. "Cacio e Pepe" means "cheese and pepper" in several central Italian dialects. As the name suggests, the ingredients of the dish are very simple and include only black pepper, Pecorino Romano cheese, and pasta. Wikipedia
I decided to dress up the traditional Cacio e Pepe recipe by using bucatini pasta. Bucatini pasta is like a spaghetti noodle with a hole running through it. It's thicker than spaghetti and has an al dente texture that guarantees you will not leave the table hungry or rush through this meal. I make a lot of my own pasta but this one requires a different type of machine. I'd love to watch it being made. You can find bucatini in most supermarkets.
Instead of using just Pecorino Ramano cheese which I find quite sharp and tangy. I used a blend of Parmesan Reggiano and Pecorino Romano.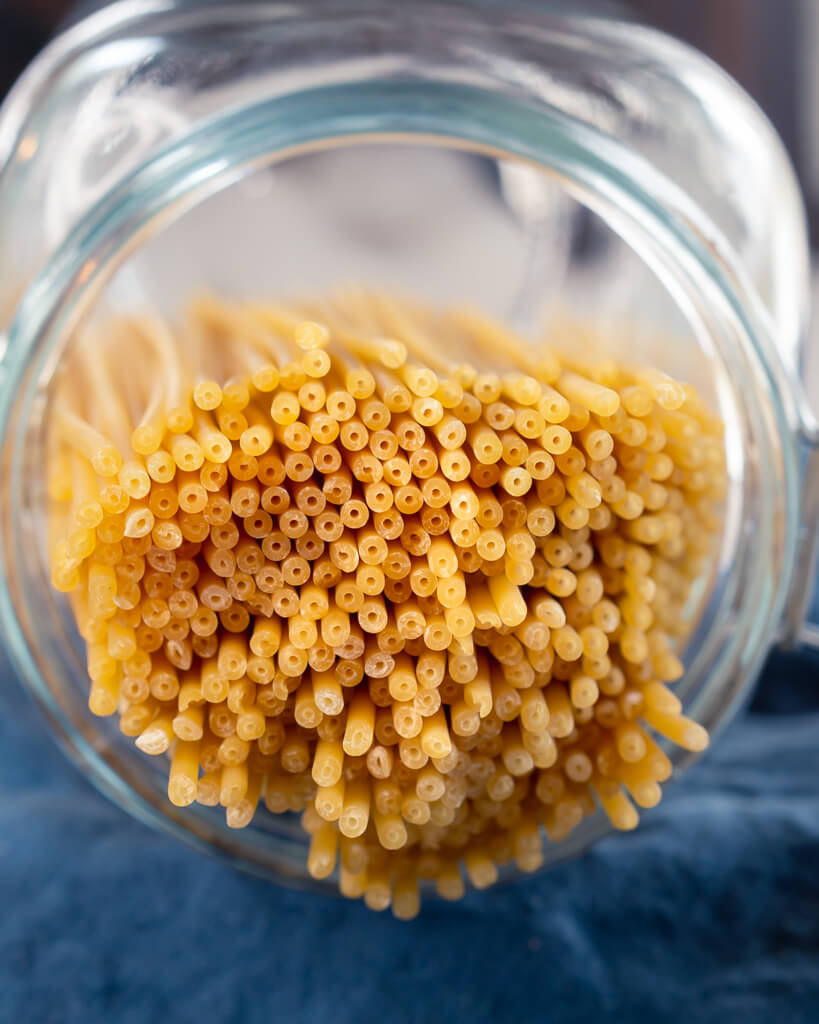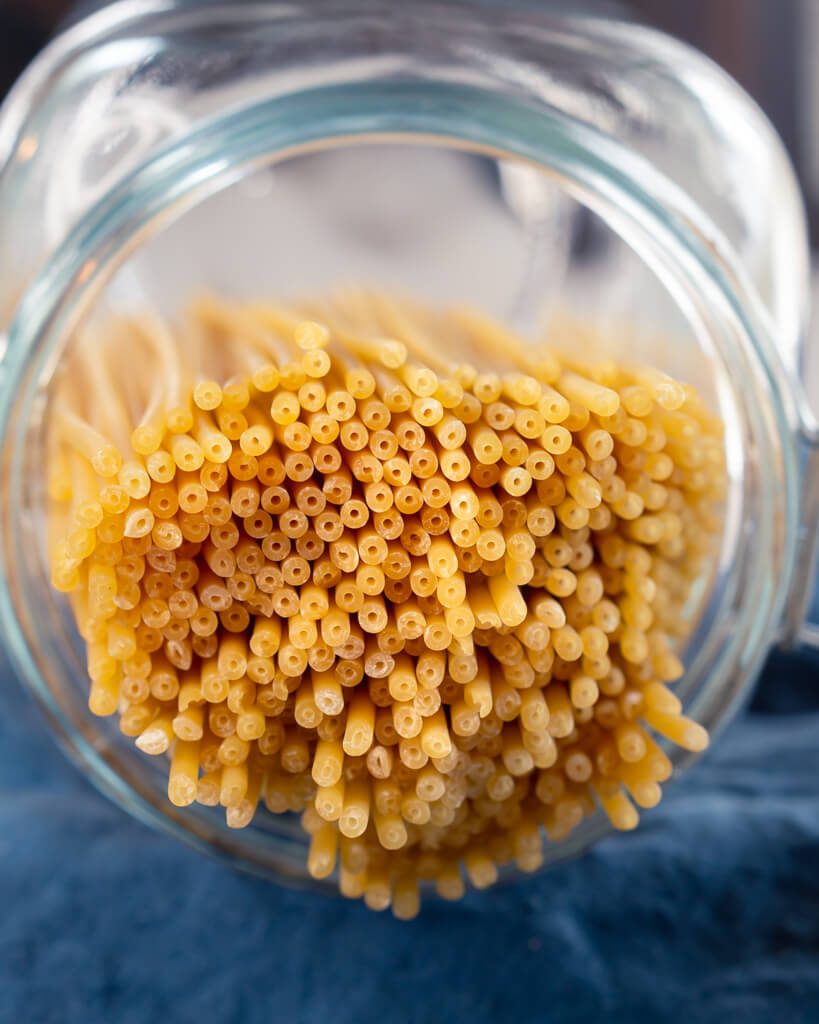 What is the difference between Pecorino Romano, Parmesan Reggiano, and Parmesan cheese?
Both Pecorino and Parmesan Reggiano are hard Italian cheeses and great grated. Pecorino is made from sheep's milk and Parmesan Reggiano is made from cows milk. Just like Champagne has to come from Champagne France, Pecorino Romano and Parmesan Reggiano must come from Italy.
Grated Parmesan that you find in U.S. grocery stores doesn't even have to be 100% cheese! Shocked? I was too. Parmesan Reggiano is more expensive and worth every dime. I found a great article describing the differences between these cheeses and how to make sure you're buying the real deal in this Epicurious article.
I find Parmesan Reggiano has a milder flavor and it's my go-to cheese 99% of the time when I need parmesan. Also, try and buy all of your cheeses in a wedge or block. Pre-shredded and grated cheese often have anti-clumping ingredients included and they start to dry out as soon as they are shredded or grated. There isn't any substitution for the taste of fresh cheese and it really doesn't add that much time to preparing your meals.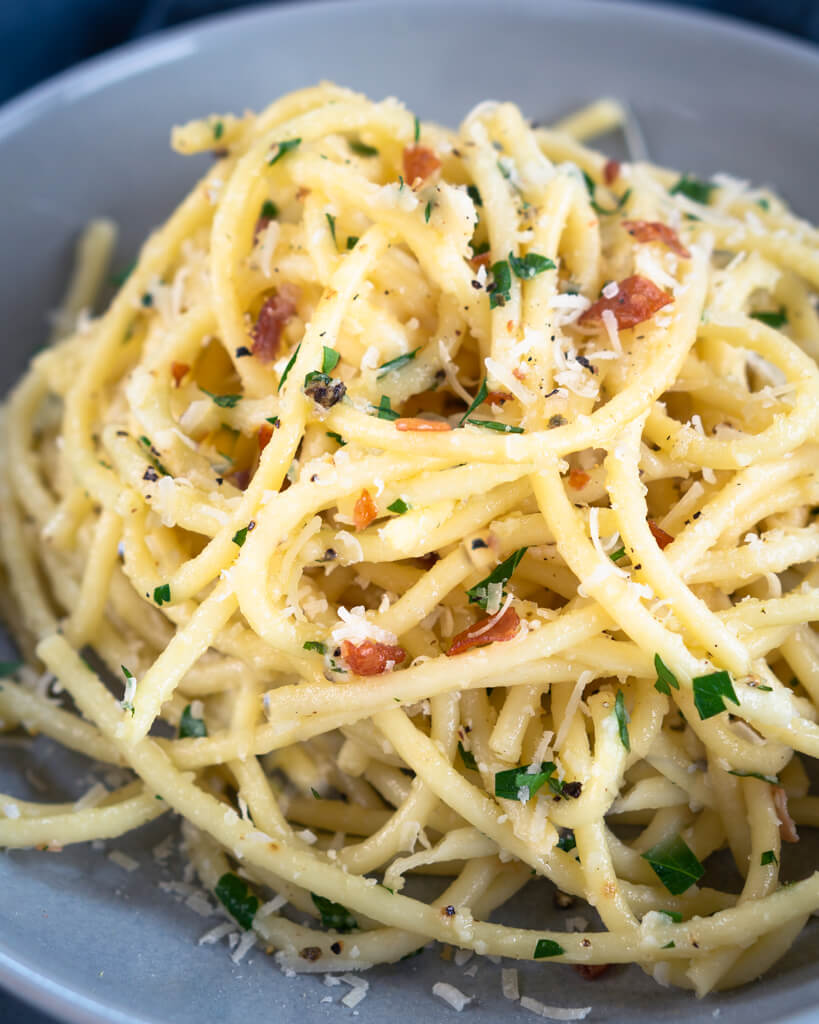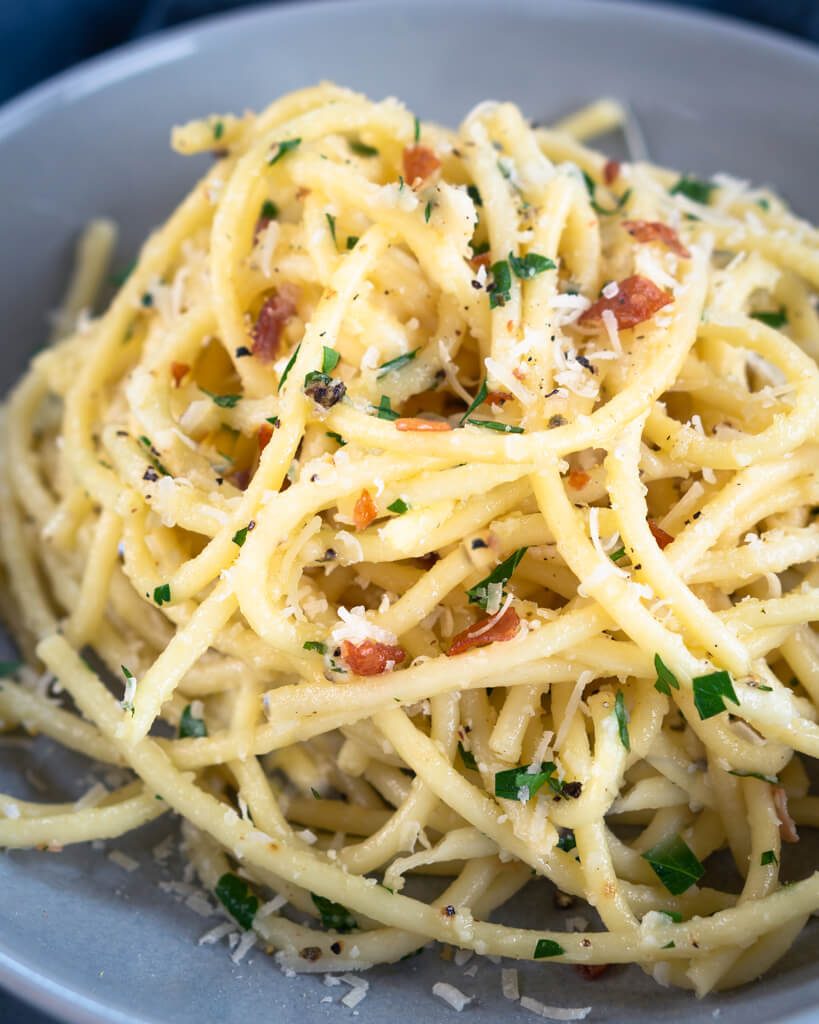 What ingredients do I need to make Casio e Pepe with Prosciutto?
bucatini pasta
Pecorino Romano cheese
Parmesan Reggiano cheese
black pepper
prosciutto
garlic
fresh parsley
EVOO
How to make Bucatini Casio e Pepe with Prosciutto
Prep the recipe by grating cheeses, chopping parsley and slicing prosciutto.
Heat pasta water and salt it once boiling. Add pasta and cook as recommended.
Heat EVOO in a saucepan and when hot add strips of prosciutto. Once crisp place on a paper-lined plate.
Add the garlic and black pepper to the hot saucepan and cook until the garlic is lightly toasted. Remove from the heat.
Put cooked pasta in a large bowl. Pour hot EVOO, garlic and black pepper over the pasta and combine.
Add cheeses and parsley and combine.
Garnish with additional cheese, black pepper, parsley, and prosciutto.
Tips for making the perfect Bucatini Casio e Pepe recipe
Never add oil to the pasta water. Never overcook pasta. If you're adding it to other hot ingredients such as spaghetti sauce cook it one minute less than recommended. Remove it from the cooking water to discontinue cooking. Do not rinse your pasta. It helps cheeses and sauces stick to the noodles. Save a cup of pasta water for thinning pasta dishes.
Grate the cheeses and chop the parsley prior to starting this dish. It comes together very quickly.
Use an oval dutch oven or a roasting pan to cook long pasta noodles.
Heat your serving dishes prior to plating the food will keep your food hot longer. You can do this by wetting the dish and putting it in the microwave for 30 seconds or in a very low oven.
What I serve with my pasta dinners
The coup de gras of my Italian dinner was slicing an Italian baguette the long way. I buttered it and then put some Pecorino and Parmesan Reggiano cheese over it. I put the bread on a sheet pan lined with foil and put it under the broiler for a few minutes until the cheese was all bubbly. It suited my Cacio e Pepe pasta dish perfectly!
For hearty eaters, a small simple side salad of mixed greens dressed with a balsamic vinaigrette can be added.
The perfect wine to pair with this Casio e Pepe pasta dinner:

Cabernet Sauvignon – American red
Sauvignon Blanc or Pinot Gris – American whites
Chianti Classico, Sangiovese, Brunello, Vino Nobile di Montepulciano – Italian reds
Prosecco, Chardonnay, Rosé – Italian whites, Rosé
If you love pasta like we love pasta you're going to love these recipes too!
---
---
YOU MAY NEED
The following are affiliate links. We are a participant in the Amazon Services LLC Associates Program, an affiliate advertising program designed to provide a means for us to earn fees by linking to Amazon.com and affiliated sites. For more information, please see our disclosure.
Spring Chef Stainless Steel Box Grater – I prefer to grate my own cheese. It tastes fresh and moist and I know that it's not coated with anti-clumping ingredients!
Spaghetti Server – This utensil is perfect for removing your spaghetti or bucatini from the pasta water. It's good quality and nice enough to use to serve your guests.
Tongs – We have several of these tongs. They are perfect for grilling, mixing and combining about anything.
PIN THIS

TO YOUR FAVORITE DINNER BOARDS FOR EASY REFERENCE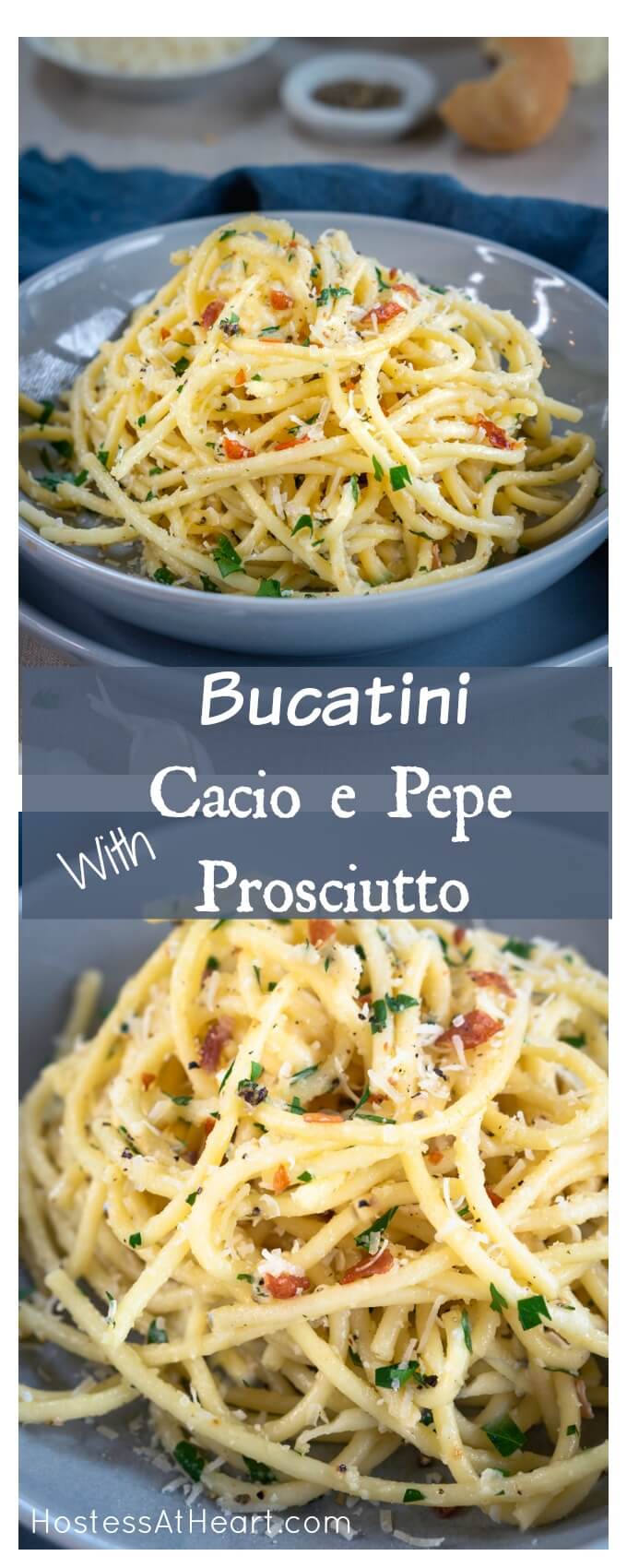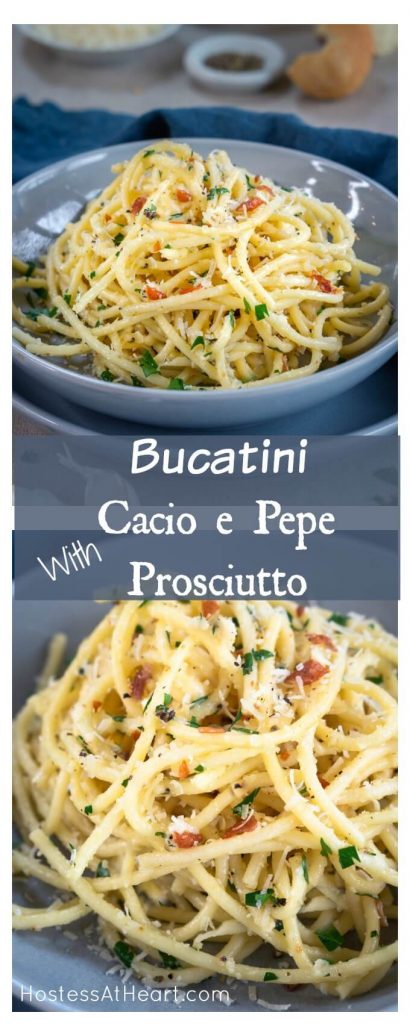 Bucatini Cacio e Pepe with Prosciutto
Cacio e Pepe is a creamy combination of cheeses with a punch of black pepper and topped with crispy prosciutto and fresh parsley. It is simple to make in under 30 minutes but looks and tastes gourmet.
Ingredients
1

lb

bucatini pasta

1

cup

Parmesan Reggiano cheese

grated

1/2

cup

Pecorino Romano cheese

grated

4

tbsp

extra-virgin olive oil

2

slices

prosciutto

sliced along the short edge

2

cloves

garlic

minced

1-1/2

tsp

black pepper

coarsely ground

2

tbsp

fresh parsley

chopped
Garnish with additional cheese, parsley, and black pepper
Instructions
While pasta water is heating up grate cheeses, chop parsley, and mince garlic.

In a small saucepan add olive oil over medium-high heat. Once hot add sliced prosciutto. Cook until crisp (just a couple minutes). Watch it closely. When cooked remove from the pan using a slotted spoon to a paper towel-lined plate.

Add garlic and black pepper to the oil in the hot saucepan and cook an additional 2-3 minutes or until garlic is lightly browned. Remove the pan from the heat and set aside.

When pasta is cooked, put it in a large bowl. Do not rinse the pasta. Reserve 1 cup of pasta water.
Assembly
Pour oil with the garlic and black pepper over the cooked pasta. Combine using tongs or a pasta spoon until covered. Add grated cheeses and fresh parsley. Pour pasta water a little at a time until the cheeses are smooth and create a thick sauce. (You may only need a small amount of water)

Garnish with crispy prosciutto, additional grated cheese, parsley, and black pepper.
Video
Nutrition
Calories:
316
kcal
|
Carbohydrates:
38
g
|
Protein:
12
g
|
Fat:
12
g
|
Saturated Fat:
4
g
|
Cholesterol:
14
mg
|
Sodium:
260
mg
|
Potassium:
132
mg
|
Fiber:
1
g
|
Sugar:
1
g
|
Vitamin A:
180
IU
|
Vitamin C:
1.3
mg
|
Calcium:
204
mg
|
Iron:
0.9
mg
This recipe was calculated using the exact brands and measurements I used to make this recipe. If you are following a strict diet please note changing anything will cause the nutritional info to change. My calculations are intended as a guide only.
Thank you so much for being a part of Hostess At Heart. Your support means the world to me!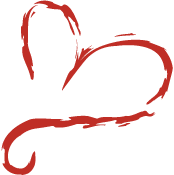 Thank you from the bottom of my heart for spending some time with me today!