If you like sweet bread, especially sweet chocolate bread, this Sweet Russian Chocolate Braid is for you! It is soft and tender and filled with pastry cream.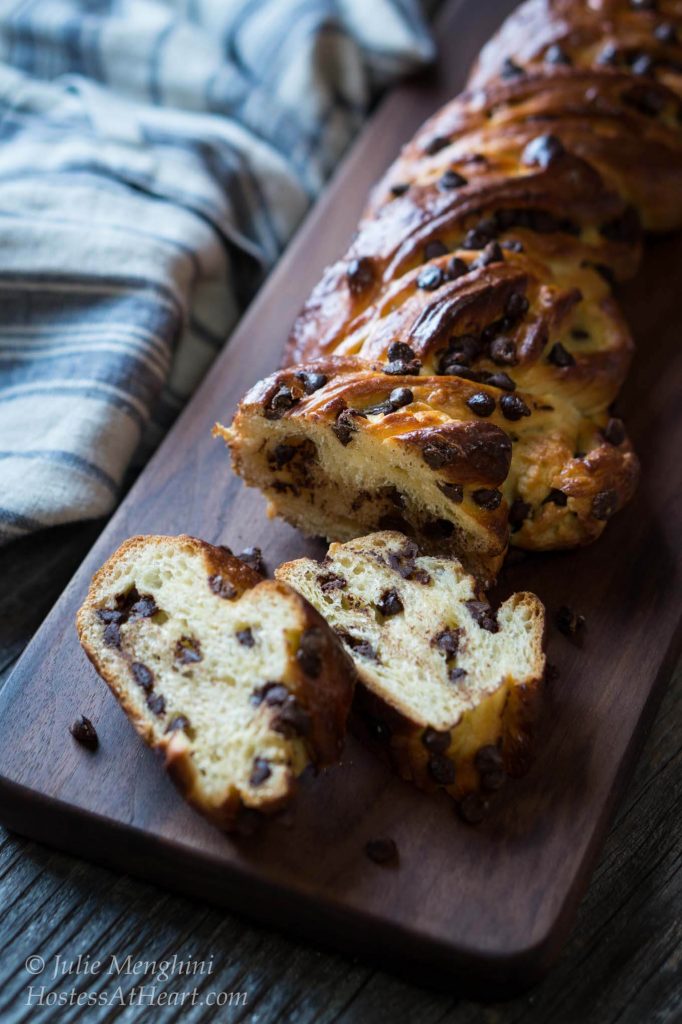 I was given some beautiful books over Christmas on baking bread, and I just couldn't wait to dive into them. Months later they were still waiting patiently on my coffee table. That is until I laid eyes of the Sweet Russian Chocolate Braid.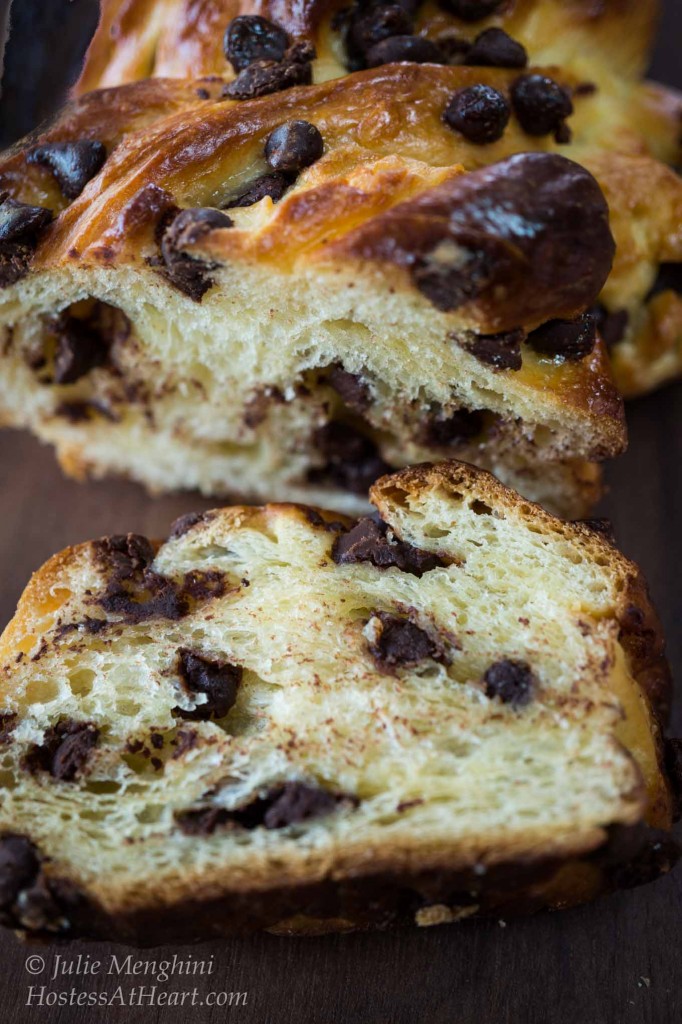 This month's Bread Bakers is hosted by Shireen at Ruchik Randhap (Delicious Cooking). The theme is Cacao, cocoa or carob in any form. Well, I love chocolate as much as I do bread so this was one month I didn't want to miss.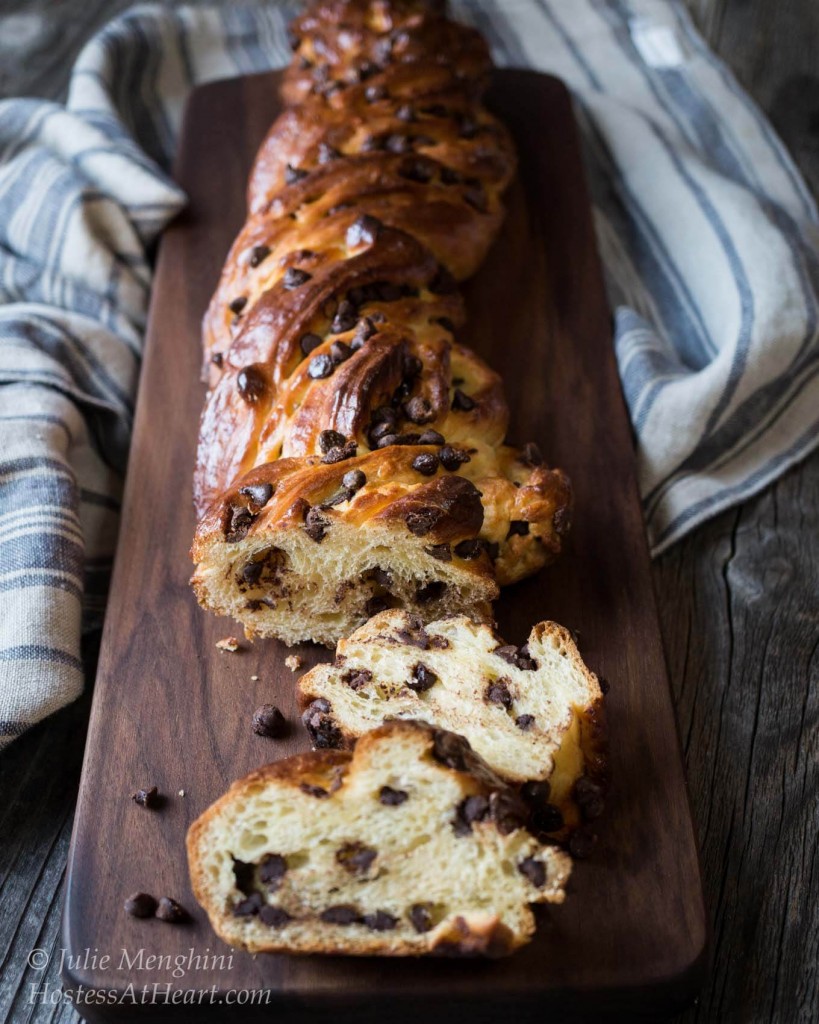 I always choose something that I haven't made before. When I read the recipe and technique of the Sweet Russian Chocolate Braid in "The Best of Fine Cooking, Breads addition", I wanted to give it a try.
It looked gorgeous and made my chocolate-loving heart beat a little faster. The dough was difficult to work with. It was very wet and sticky.
The recipe said this was normal. So while delicious, mine doesn't exactly resemble the braid in the book, I'm o.k. with that though because I think it still turned out gorgeous!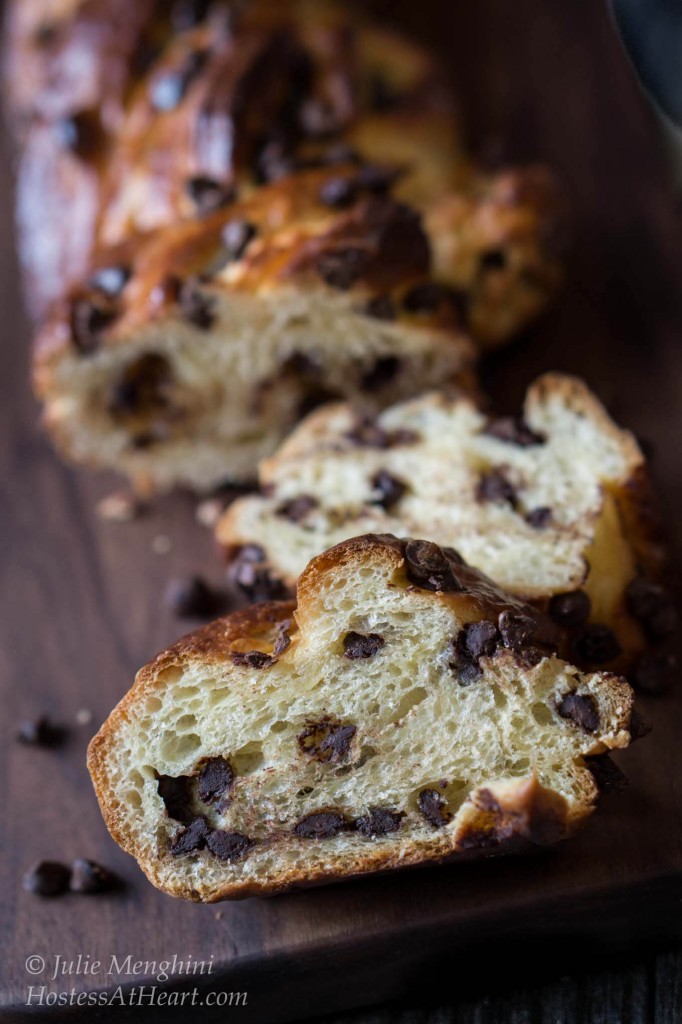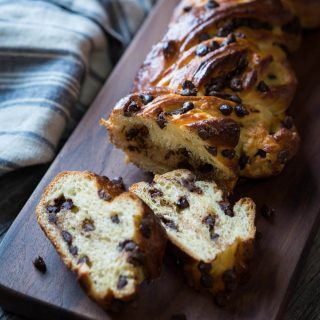 Sweet Russian Chocolate Braid – #Breadbakers
If you like sweet bread, especially sweet bread with chocolate, this Sweet Russian Chocolate Braid is for you.
Ingredients
Sweet Dough
7.6

oz

unbleached all-purpose flour

1 1/2 cups plus 3 Tbs. plus more for rolling

1

tsp

instant yeast

3

tbsp

water

1

small potato

peeled, cooked and put through a ricer or sieve (yield 1/4 cup)

2

egg yolks

large

2

tsp

vanilla extract

1/4

cup

sour cream

3

tbsp

granulated sugar

1/2

tsp

salt

3

tbsp

cold unsalted butter

1/2

cup

mini semi-sweet chocolate chips
Filling
1

cup

whole milk

2

inch

piece vanilla bean

1/4

cup

granulated sugar

3

tbsp

all-purpose flour

unbleached is o.k.

1/4

tsp

salt

2

egg yolks

large
Finish
1

egg beaten to brush dough prior to baking
Instructions
Pastry Cream
In a medium saucepan, warm the milk over medium heat. Using a sharp knife, slice the vanilla bean vertically. Scrape out the seeds and add the pod and seeds to the milk. Cook until a skin forms. Remove the pan from the heat.

In a medium bowl, combine the sugar, flour, and salt, then whisk in the egg yolks.

Remove the pod from the milk mixture. In a thin stream, slowly whisk in the warm milk. Return this mixture back to the saucepan. Cook over medium heat until the mixture is extremely thick and gluey, about 5 minutes.

Press a piece of plastic wrap down over the surface of the cream to keep a skin from forming. Let cool and then refrigerate until ready to use.
Sweet Dough
In a small bowl, mix 3 tablespoons of flour with the yeast and then whisk in the water. Set it aside for 10 to 15 minutes or until it begins to get puffy.

Fit a large capacity food processor with the metal blade. Put in the remaining flour, yeast mixture, potato, egg yolks, vanilla and sour cream.

Process the ingredients for about 1 minute. Remove the dough from the working bowl and knead it by hand on a clean countertop for 1 minute. Return it to the food processor, running it for another minute and then kneading it on the counter for 30 seconds. Repeat this step until the dough is very smooth about 2 to 3 times.

Return the dough to the processor. Add the sugar and salt, kneading again in the processor and then on the counter until the sugar is dissolved. The dough will soften considerably and become very sticky.

Return the dough to the processor and add the butter process until well incorporated and then kneading it for another minute on the counter. The dough will cling to the sides of the processor and feel warm to touch at this point. Kneading on the counter should cool it and help firm it up.

Transfer the dough to a large bowl that has been lightly oiled. Cover and allow the dough to rise until approximately 3 to 4 times its volume, approximately 3 hours.

Line a baking sheet with parchment paper or butter it. Roll the dough on a floured surface into a rectangle measuring 13×16 inches and about 1/8 inch thick.

Stir the chilled pastry cream and then spread it over the dough in a thin layer. Sprinkle the chocolate chips evenly over the dough. Roll long edge into a cylinder and pinch to seal.

Put the cylinder on the baking sheet. Using a sharp knife cut the cylinder down the middle lengthwise. Arrange the strips so the filling is facing up and they are lined up side by side. Working from the center, wrap them around each other to form a twist.

Cover the dough and let rise until it's large and puffy, and remains indented when lightly pressed with your fingertip, about 45 minutes.

Preheat oven to 350 degrees F. Brush the dough with a beaten egg. Bake in the center of the oven until golden brown, approximately 35 minutes, turning the pan halfway through baking.

Cool on a rack for 1 hour before slicing.
Notes
Recipe originated in Fine Cooking Breads Winter 2015 edition.
Nutrition
Calories:
248
kcal
Carbohydrates:
33
g
Protein:
5
g
Fat:
10
g
Saturated Fat:
5
g
Cholesterol:
78
mg
Sodium:
164
mg
Potassium:
195
mg
Fiber:
1
g
Sugar:
12
g
Vitamin A:
245
IU
Vitamin C:
2.1
mg
Calcium:
51
mg
Iron:
2.4
mg
Nutritional Disclaimer
This recipe was calculated using the exact brands and measurements I used to make this recipe. If you are following a strict diet please note changing anything will cause the nutritional info to change. My calculations are intended as a guide only.
For more delicious bread, check out the recipes for other Bread Baker participants.
Breads with Cocoa, Cacao or Carob in any form
#BreadBakers is a group of bread loving bakers who get together once a month to bake bread with a common ingredient or theme. Follow our Pinterest board right here. Links are also updated each month on this home page.
We take turns hosting each month and choosing the theme/ingredient.
If you are a food blogger and would like to join us, just send Stacy an email with your blog URL to [email protected].
Here are a couple more of my favorite Bread Bakers posts!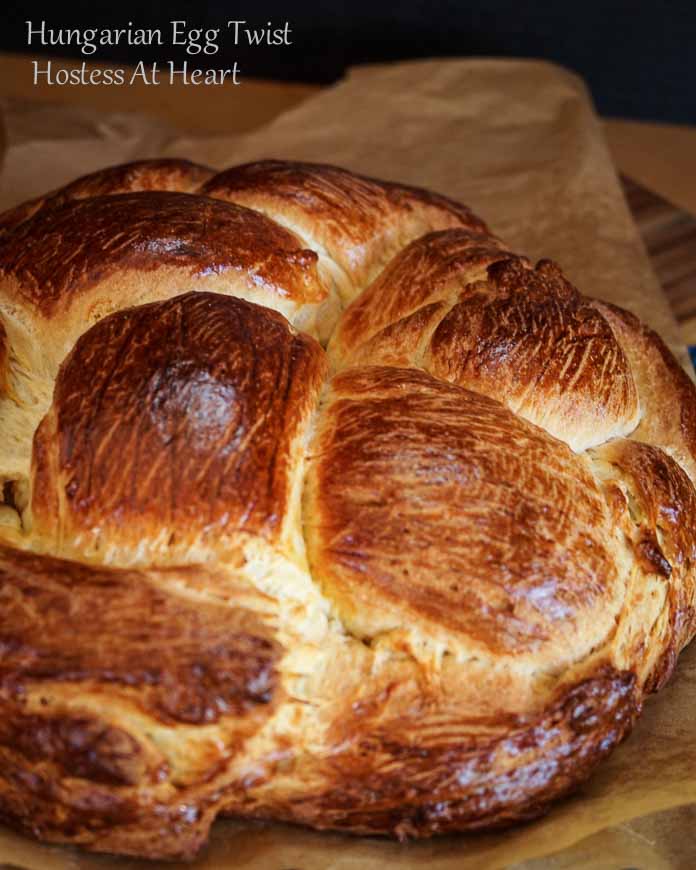 <
p style="text-align: center;">Cherry Almond Kugelhopf Bread Recipe