Toasted Coconut Pear Muffins taste like a fresh spiced pear with a delicate coconut crunch. These muffins are loaded with warm spices. They're slightly sweet and totally delicious.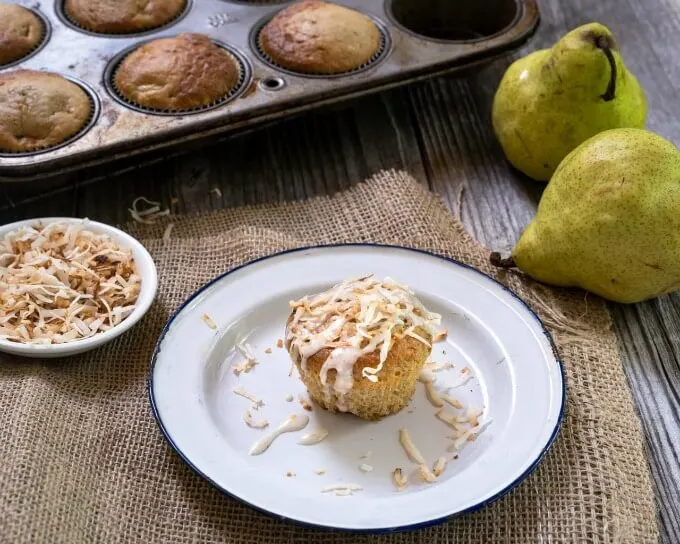 I love the combination of nutty toasted coconut and fresh pears. The texture is soft and tender and the sweet vanilla glaze with a dusting of more toasted coconut gives this Pear Muffin recipe a delectable crunch.
Coconut is one of those ingredients that you either love or hate with a passion. Toasted Pear Coconut Muffins may make us all coconut lovers!
I grew up in a small rural community. We didn't have one fast food restaurant unless you called the local bar a fast food joint. My dad didn't believe children belonged in a bar so that was off limits too.
So, as a child, I had to strategically get my sweet tooth fix in other ways. Every once in a while I would spy a bag of coconut in the refrigerator. When my mom wasn't looking, I'd pull out a few fingers full and oh my gosh I was in heaven.
When I was making this pear muffin recipe I really thought pear and coconut would be a great combination.
By toasting unsweetened coconut it takes on a sweet nutty flavor. Not the artificial sweetness that sweetened coconut can have.
How to toast coconut:
My favorite method is to add it to a skillet and cook it over medium heat. Don't leave it and stir it continuously. It can burn very easily. Once it starts browning it goes very quickly. Remove it from the hot pan right away to keep it from continuing to cook.
For other cooking methods, An Affair From the Heart has some great information.
You can store toasted coconut in an airtight container in the freezer for up to 2 months or at room temperature for 5 days. Make sure nothing sits on top of it. Toasted coconut crushes easily.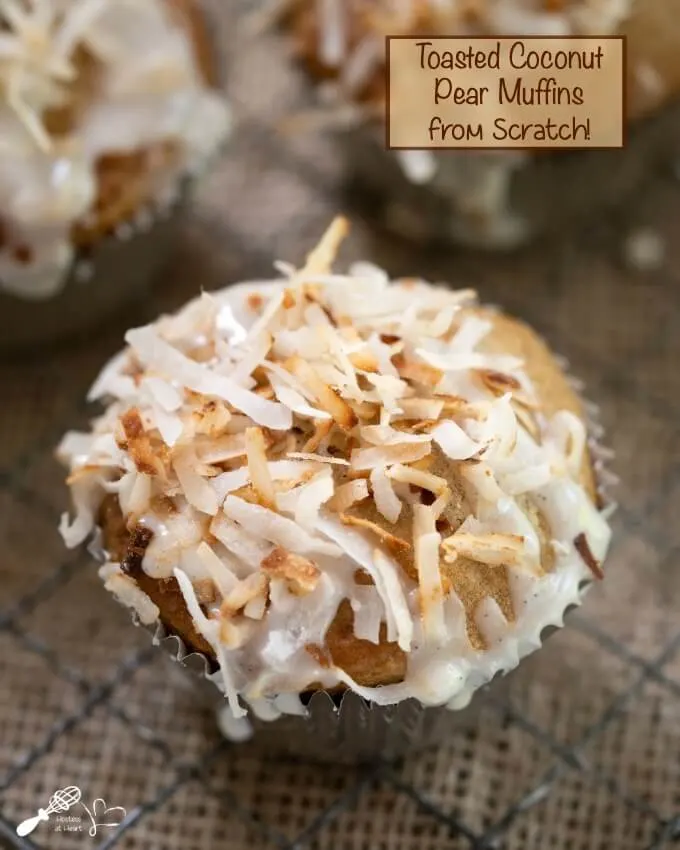 What are the best pears for baking?
Generally, it's recommended that you use a firmer pear such as Bosc and Anjou varieties. I like Bartlett pears which aren't firm pears but they're juicy and delicious.
Gently fold the pears into the batter by hand instead of using an electric mixer which will break them up.
How do I know when the pears are ripe?
Pears are ripe when you can gently press on the pear near the stem and it's started to soften. If it doesn't give at all, it's not a ripe pear.
Pear and coconut muffins ingredients
Flour. All-purpose flour either bleached or unbleached
Baking Powder
Baking Soda
Cardamon. This spice goes amazingly well with coconut and pears.
Eggs. Grade A, large is what I use for consistency in my baking.
Yogurt. Adds an acidic element to activate the baking soda. Also adds moisture.
Milk. Any variety including fat-free and milk substitutes.
Pears. Bartlett is what we like. Bosc and Anjou would work very well in this recipe too.
Brown Sugar. Dark or light.
White Sugar.
Vanilla. Imitation or pure vanilla. I prefer pure vanilla but either work.
Salt. A little bit brings out the sweetness of the other ingredients.
Coconut. Unsweetened shredded coconut.
What spices and flavors go with pears?
Of course, this is subjective, but I like the warmer spices and flavorings that compliment apples too such as:
Cinnamon
Vanilla
Cardamon
Ginger
Nutmeg
Want more delicious recipes? Follow Hostess At Heart on Pinterest!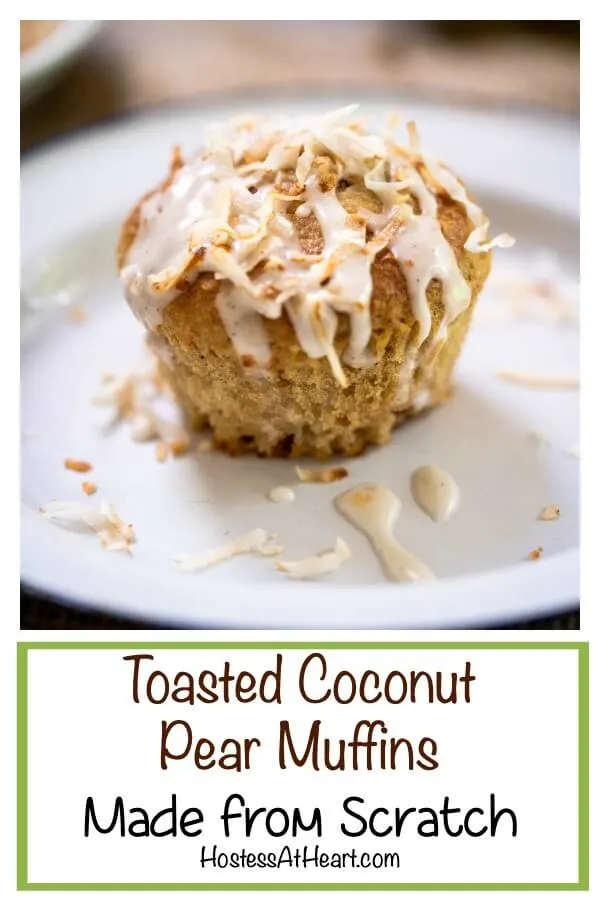 Tips/variations for the best Pear Muffins recipe
As with any muffin recipe, don't over-mix the batter. Once the wet ingredients are combined with the flour mixture, you are done.
Gently fold in additions such as fresh fruit, nuts, coconut, or other ingredients the recipe calls for.
Mix the salt if the recipe calls for it in with the wet ingredients not dry. Salt will pool at the bottom of your dry ingredients and can be harder to distribute throughout the batter.

We've all tasted pockets of salt in baked goods. This is why. Salt will distribute and dissolve better with the wet ingredients.

Feel free to completely leave the coconut out of this muffin recipe. It will not change the outcome.
Add chopped nuts or even chocolate chips. Chocolate and pears go great together.
Items you may need for Toasted Coconut Muffins
Hostess At Heart participates in affiliate programs. As an Amazon Associate, I earn a commission from qualifying purchases. Please refer to my disclosure page for more information about these affiliate programs.
12-cup non-stick muffin pan – I love this muffin pan and have three of them so I can get them all filled and baked at once. They're great for egg cups too!
Scoops – Wonder why those cupcakes are all the same size? Scoops! I use them for my cookies too!
Cupcake liners – I use these foil liners in the muffin cups. The pretty paper ones aren't that pretty after baking so I use foil liners with non-removable paper. They come in many colors.
If you liked this pear muffin recipe check these out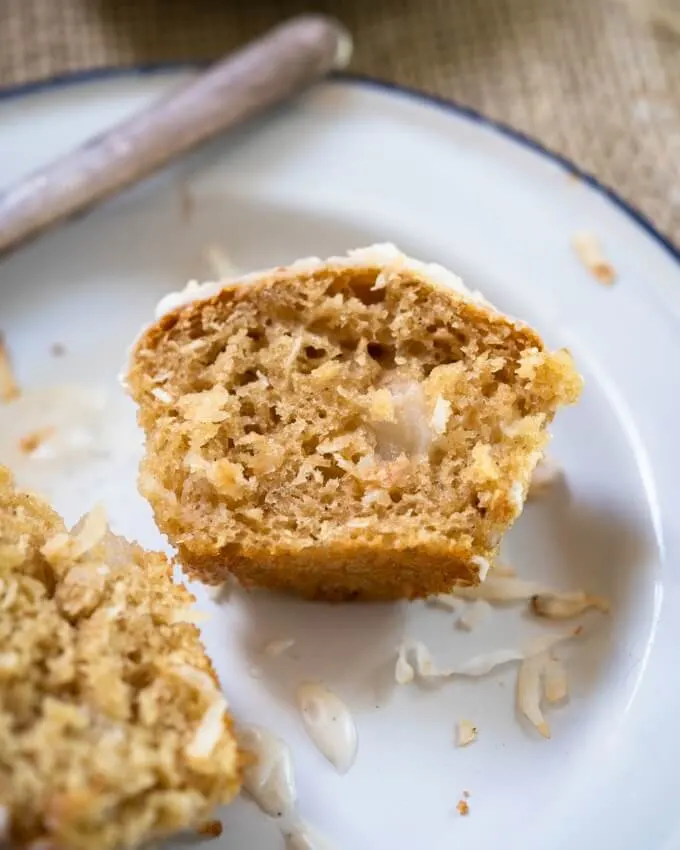 If you tried this delicious recipe, don't forget to rate it and leave me a comment telling me what you think. I love hearing from you!
What is your favorite way to use fresh pears? Leave me a comment below. I'm always so inspired by hearing from you! If you give this Fresh Pear muffin a try, drop me a note and let me know what you think.
This pear muffin recipe post has been updated to improve the reader experience. No changes were made to the recipe.