These Kolaches have a soft and tender dough that is perfect for holding your favorite filling. They are delicious warmed and perfect for breakfast, brunch or even dessert.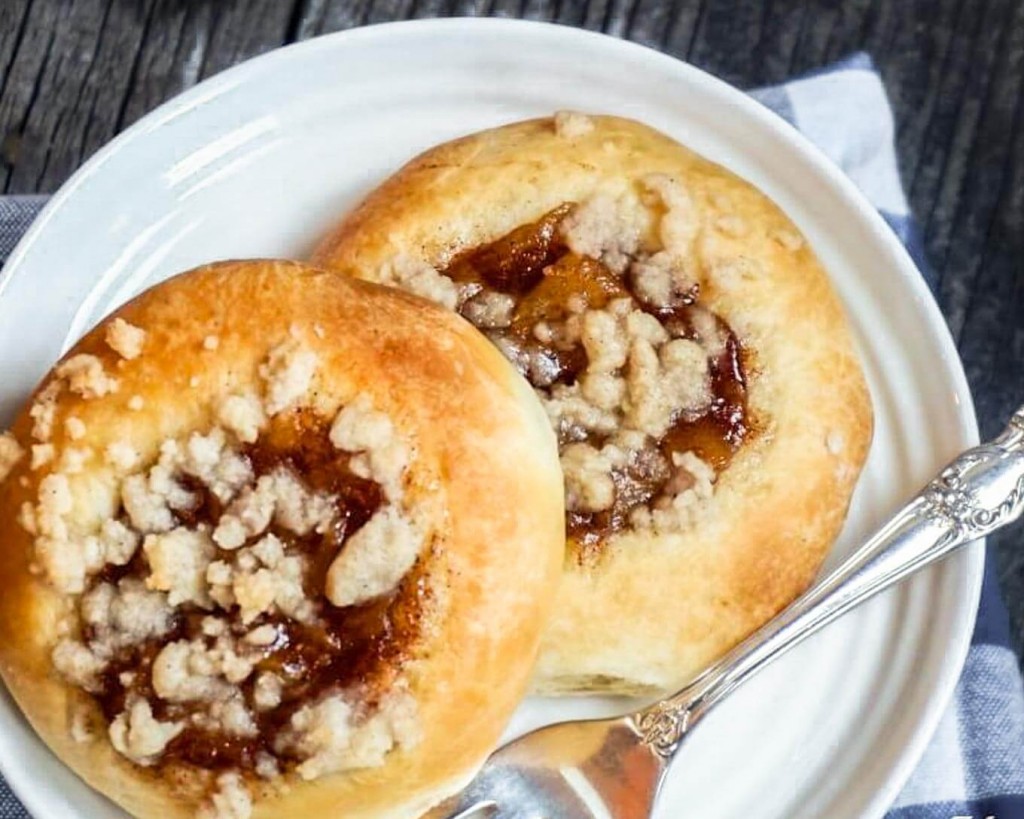 I didn't really know too much about Kolaches, except for the fact that they were delicious. I believed that they were a Bohemian or Czech creation. I went looking for a little more information. Wikipedia defined them as "a type of pastry that holds a dollop of fruit rimmed by a puffy pillow of supple dough". They also stated that they originated in "Central Europe". I think they said that so they didn't start any Kolache wars. There are several articles from different heritages claiming that they were the originators of this pastry. I am a mix breed with no claim to Kolaches' origination. I'm just the baker folks. I even combined heritages to come up with my version (gasp). So, I guess this Kolache does come from my heritage (pompous opinion only).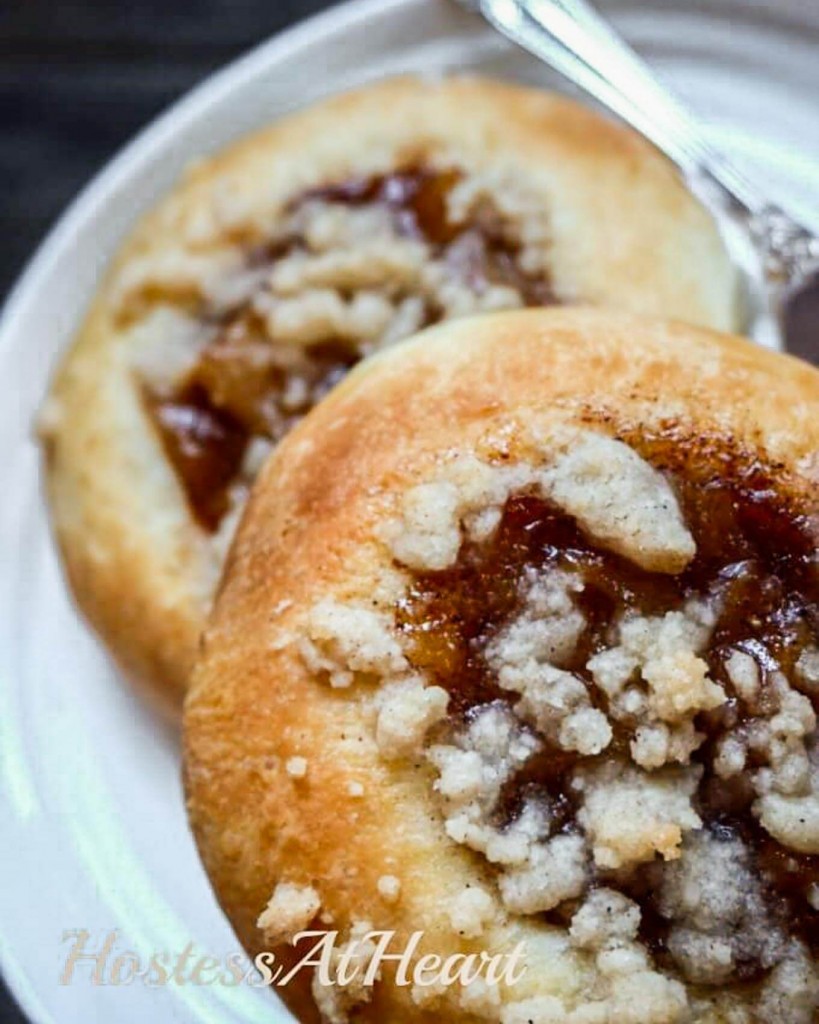 Like I said, I knew they were yummy and not overly sweet. They are often filled with pie filling or jam, whether purchased or homemade. Traditionally the fillings were apricot, cherry, prune, or poppyseed, but could also be meat or a soft farmers cheese.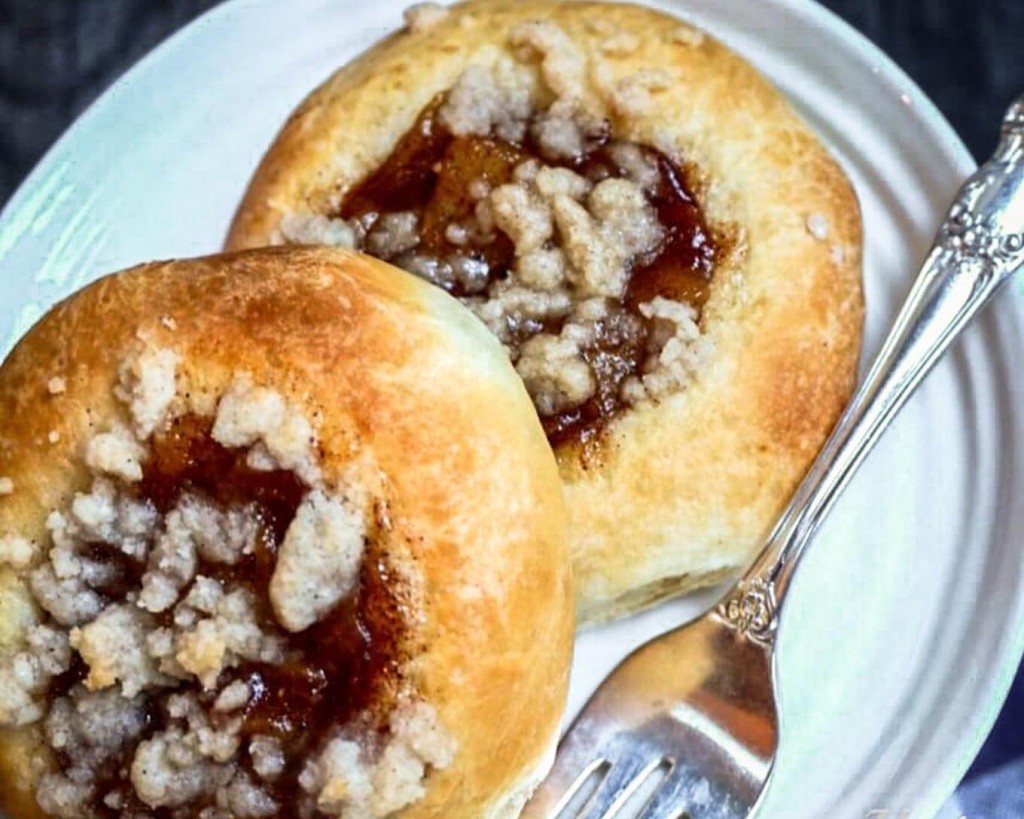 Back to the Kolache itself. The reason for my quest was the pears sitting on my counter that would soon be self-destructing if I didn't do something soon. I found a wonderful caramelized pear recipe that I wanted to try. Since it was going to be sweet, I thought the slightly sweet Kolache would be the perfect match. You can use my amazing "Caramelized Pear filling", or, like I said, you can use a pre-made filling or jam.
Kolaches
These Kolaches have a soft and tender dough that is perfect for holding your favorite filling. They are perfect for breakfast, brunch or even a dessert.
Ingredients
Dough
2

packages

1/4 ounce each active dry yeast

1/2

cup

sugar

divided

2

cups

warm whole milk

110 – 115 degrees F

5 to 6

cups

all-purpose flour

4

egg yolks

room temperature

1

teaspoon

salt

1/4

cup

unsalted butter

softened, plus more for greasing pans and bowl

2

cups

of filling
Streusel
1/3

cup

all-purpose flour

1/4

sugar

Dash of cinnamon

3

tablespoons

melted butter
Instructions
In a small bowl, dissolve yeast, 1 tablespoon sugar and warm milk. Let rest for 10 minutes

In a large bowl, combine 2 cups flour, remaining sugar and salt. Whisk to combine. To dry ingredients, add butter, egg yolks and yeast/milk mixture. Add enough remaining flour until no longer too sticky to handle.

Turn dough out onto a floured surface and knead until smooth and elastic, 7 to 8 minutes. Place dough into a greased bowl, turning once to coat both sides. Cover and let rise in a warm place until doubled in size, 60 to 90 minutes

Butter (or grease) 3 baking sheets. Cover a kitchen scale with plastic wrap. Punch dough down and tear off 1 1/2 ounce pieces of dough. Shape into smooth round balls with seams on the bottom. Place 12 on each greased baking sheet. Brush with melted butter and allow to double, approximately 60 minutes.

Using your thumbs, make a depression in each roll large enough to hold 1 to 2 tablespoons of filling. Brush with melted butter again and fill with desired filling. Sprinkle with streusel if desired.

Bake at 375 degrees F or 350 degrees F for convection for approximately 20 minutes or until lightly browned. Turn and rotate pans halfway through baking.
Notes
Prep time includes inactive raising time.
Recipe adapted from Taste of Home
I would love it if you would follow me on Pinterest, Instagram, Facebook, and Twitter!