Our easy kolache recipe makes a perfectly soft and tender dough, just right for holding your favorite filling. Apple Kolaches have a warm sweet apple filling nestled in a soft kolache dough. They are easy enough to make at home and taste like they came from a bakery. Our Apple Kolaches recipe makes 28 rolls so it is perfect for your next brunch or company breakfast.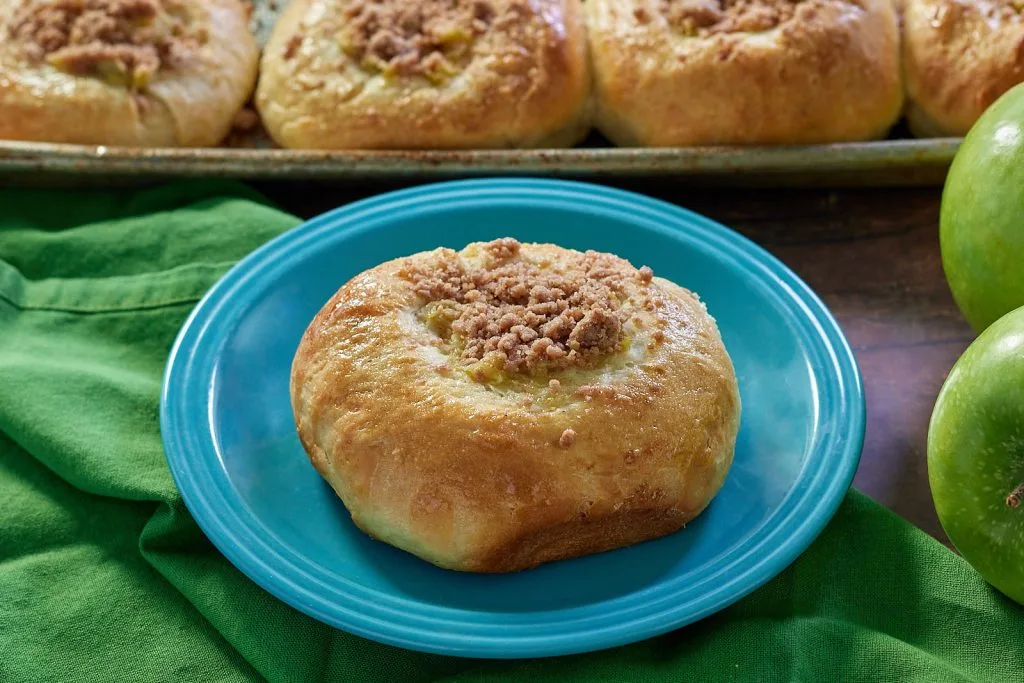 What is a Kolache?
They're defined as "a type of pastry that holds a dollop of fruit rimmed by a puffy pillow of supple dough". They also stated that they originated in "Central Europe" but this is highly debated with Nebraska, Minnesota, and Texas all claiming to be the "Kolache Capital of the World".
Equipment Needed to Make Apple Kolaches
Baking Sheets – These sheet pans are durable and I have four of them so I can get all of my cookies baked in a jiffy!
2-Quart Saucepan – I prefer the stainless steel pans. I love how this pan has a flat bottom so more food can sit on it directly. I also like the glass lids so I can see how it's cooking.
Glass Mixing Bowls – This set allows me to prep all of my ingredients and they're dishwasher safe.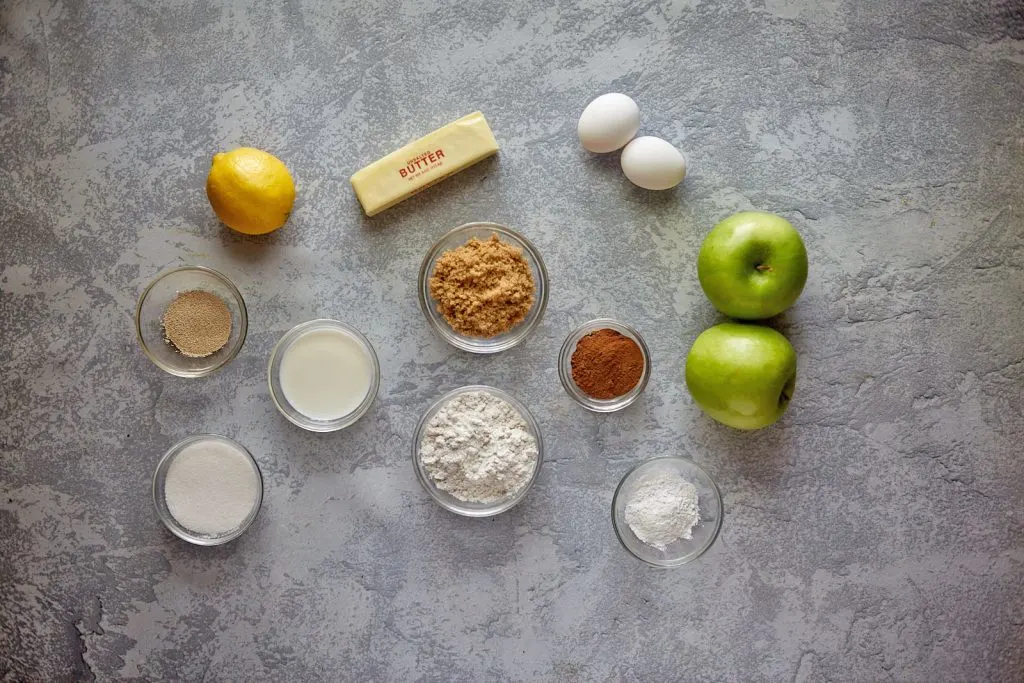 Ingredients to Make the Easy Kolache Recipe
Instant or Quick Rise Yeast. Found in packets near the baking soda at your grocery store. It's not the same thing as "Active". If you want to know the difference I cover it in my "Techniques Post".
Sugar. White granulated sugar.
Whole Milk. The extra fat is essential for a fluffy dough.
All Purpose Flour. Bleached or unbleached.
Egg Yolks. You will need the yolks from four eggs. Use the whites to make an egg wash if desired.
Salt. For seasoning.
Unsalted Butter. If you only have salted butter, do not add salt to the recipe.
Homemade Apple Filling Ingredients
Granny Smith or Braeburn Apples. These are the perfect apples for apple pie filling. I'd choose Granny Smith apples if you only want to use one variety.
Lemon. Should be juiced.
Brown Sugar. Light or Dark Brown sugar will both work.
Water. To keep the pie filling from burning as it cooks and add liquid for the syrup that forms as it cooks down.
Cinnamon. For spice.
Corn Starch. Provides a thickening agent for the sauce.
Streusel Ingredients
All-Purpose Flour. No need for fancy flours in this recipe.
Cinnamon. Saigon cinnamon is very nice.
Sugar. White granulated sugar.
Melted Butter. Salted or unsalted is fine for this part of the recipe.
Please note, that the printable recipe card has ingredient quantities, complete instructions, and nutritional information. The following is a quick overview of the recipe.
How to Make Kolaches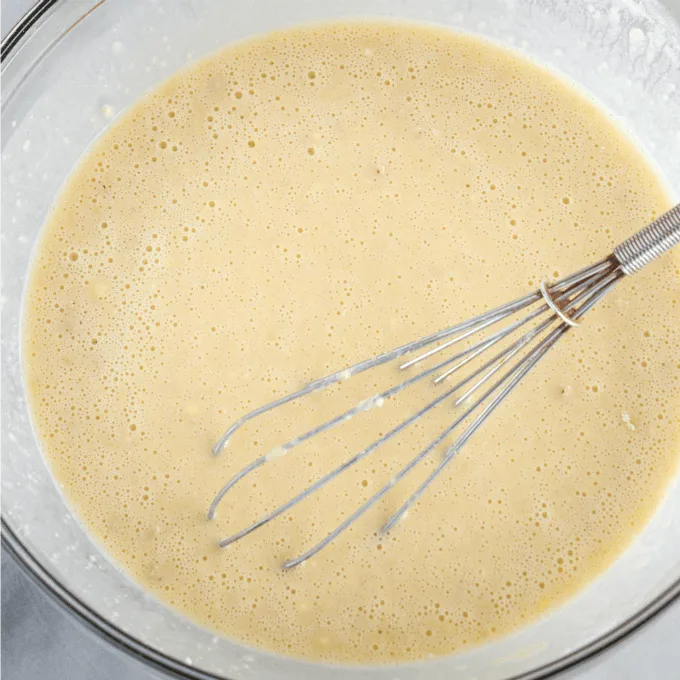 Step One: Activate yeast with liquid and sugar.
Activating your yeast isn't necessary if using Instant, Quick or Instant yeast. You can mix all ingredients together if that's the case.
Step Two: Mix the ingredients.
Add all dough ingredients together and knead the dough until it is smooth approximately 7 to 8 minutes.
Step Three: Let the dough rise.
The dough should rise until doubled, approximately 60 to 90 minutes.
Step Four: Divide Dough into Rolls.
Place the balls of dough on baking sheets. Brush with Butter.
Step Five: Let the dough rise again.
The rolls should double in size in approximately 60 minutes. If you have a proof setting on your oven use it. Make indentations in the dough using your thumb. Brush with an egg wash and then fill.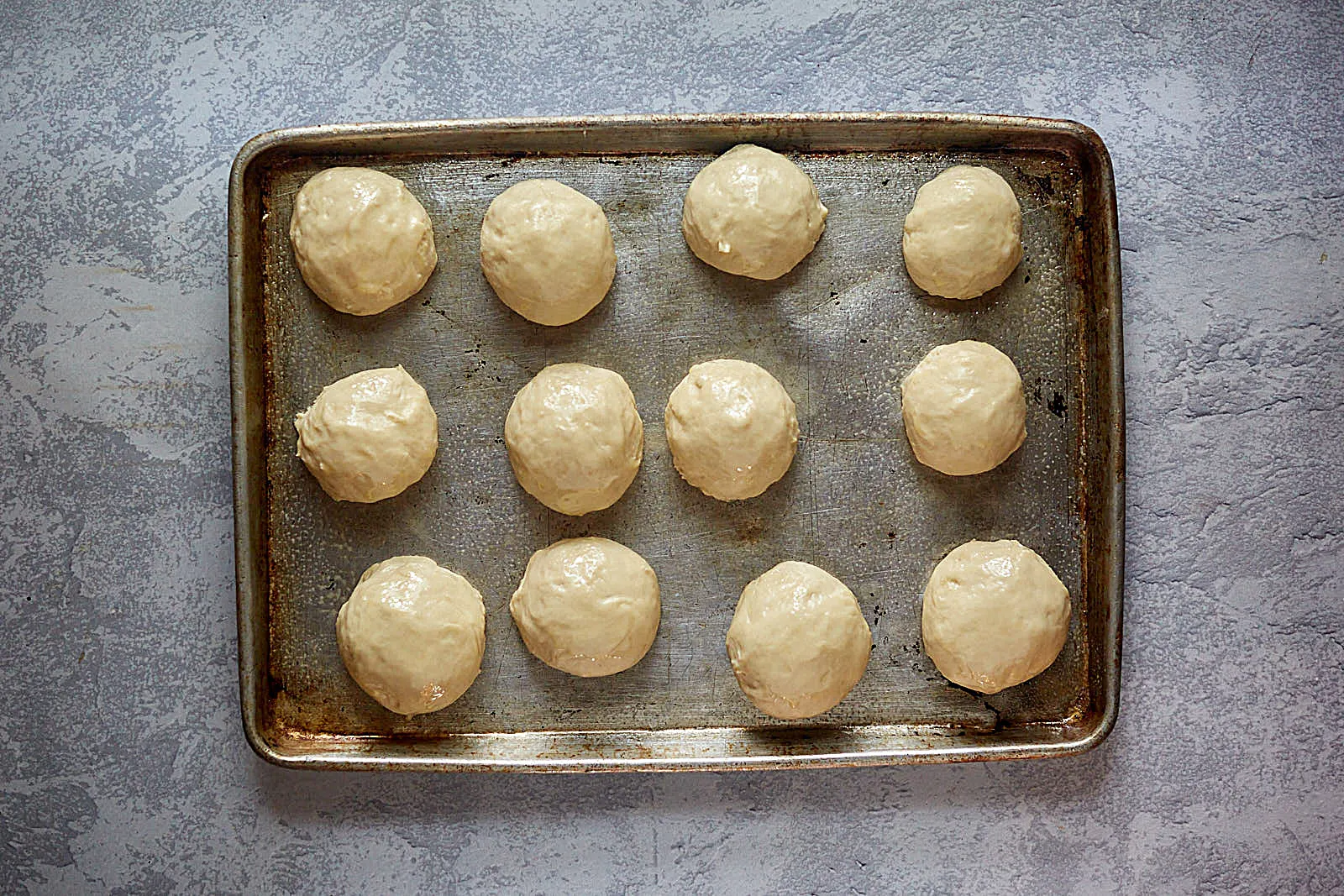 Step Six: Make the Apple Filling
In a 2-quart saucepan combine diced apples, water, and lemon juice. Cook until it starts to thicken. Fill the shaped kolaches.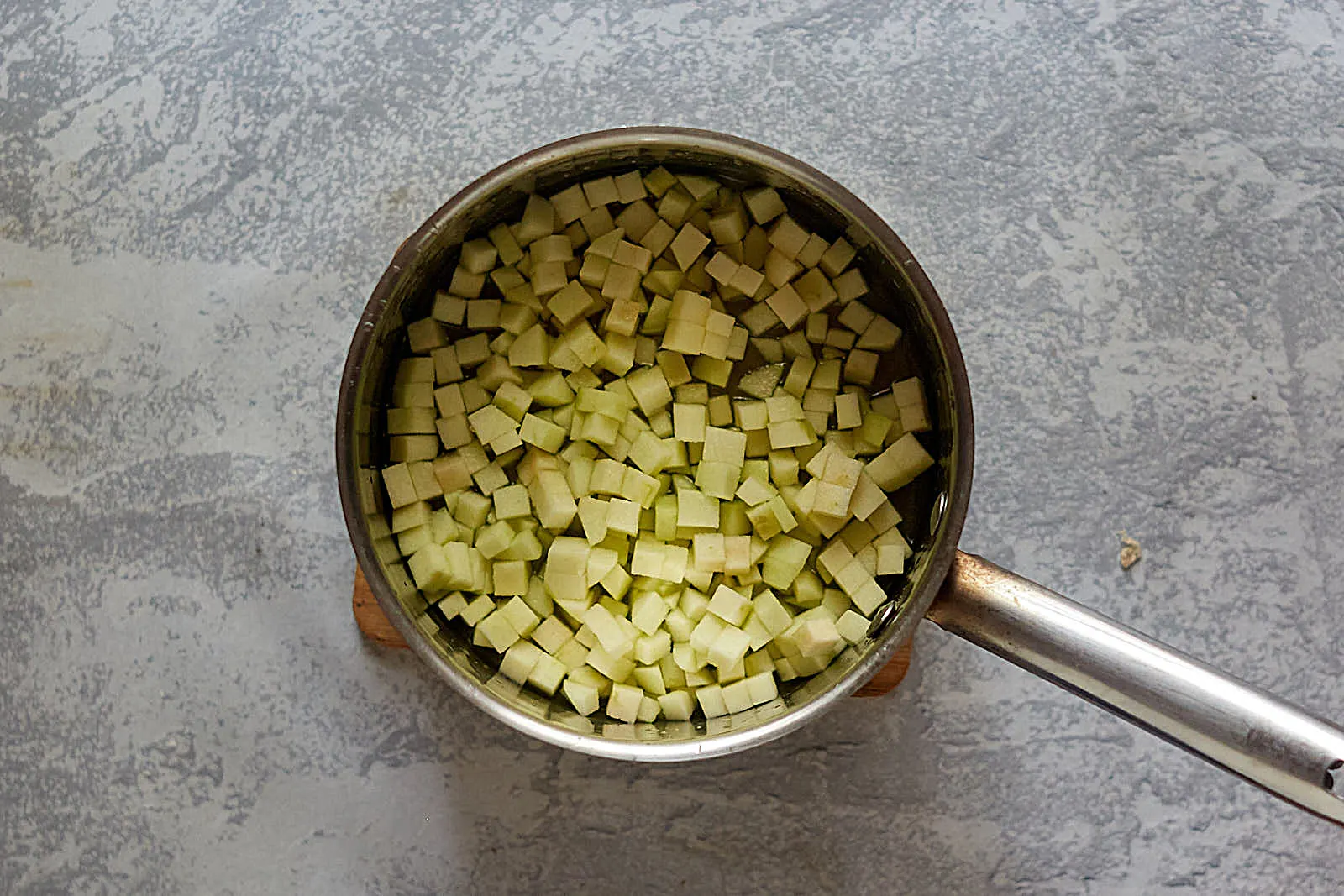 Step 7: Make the Streusel
Streusel is optional but not in my house! Cut the flour, sugar, and cinnamon together using a pastry cutter, two forks, or your fingers. Drizzle with the melted butter.
Step 8: Top and Bake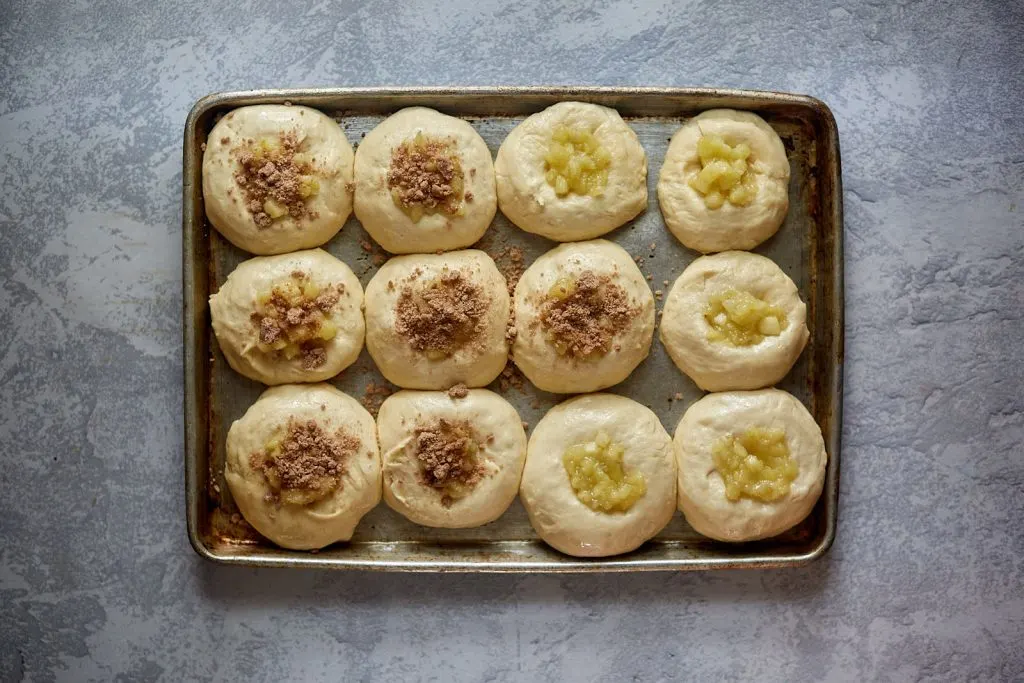 Additions and Substitutions for the Easy Kolache Recipe
As I said, I knew they were yummy and that the dough isn't overly sweet so this same kolache dough recipe can be used with a sweet or savory filling.
This easy Kolache recipe is often filled with pie filling or jam, purchased or homemade is fine. Traditionally the fillings are apricot, cherry, prune, or poppyseed, but could also be meat such as sausage, or a soft farmers cheese. In the bakeries here, I see a lot of kolaches with a combination of fruit and cheese.
I made this warm cinnamon and brown sugar apple filling. It's delicious on its own and amazing in this Kolache recipe!
Back to the Kolache itself. The first time I made this recipe was to use up some pears sitting on my counter and came up with an amazing Caramelized Pear filling that tasted amazing nestled in this soft kolache dough too.
I love apples and especially baked apples in a warm cinnamon-brown sugar mix. This Apple Kolache recipe certainly ranks up there with my all-time favorite bakery recipes.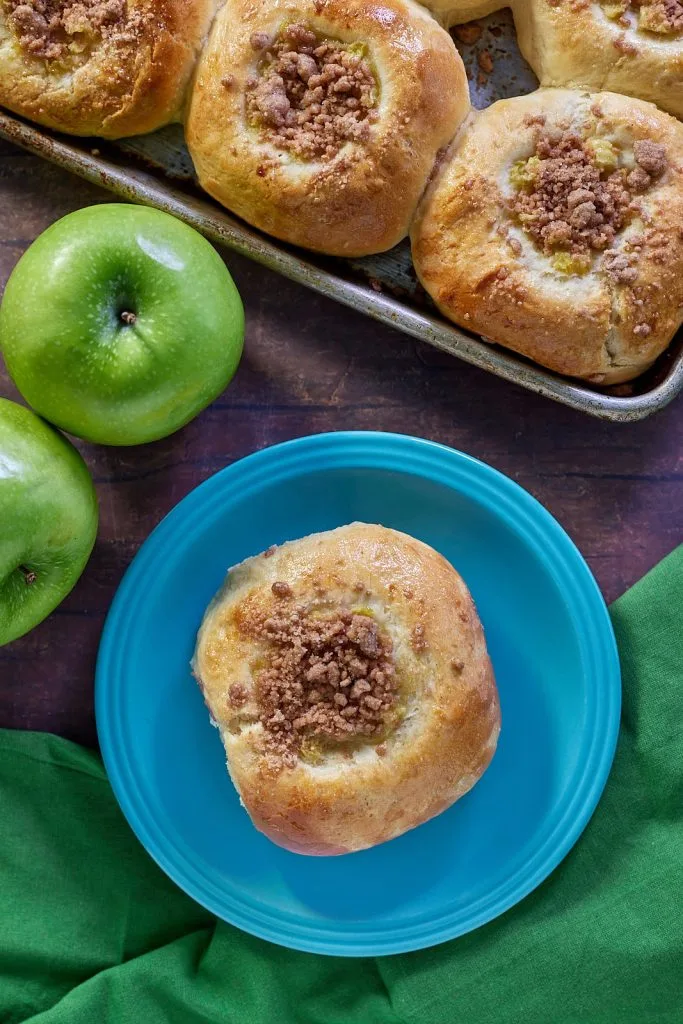 How to Store and Reheat our Easy Kolache Recipe
How to Best Store Kolaches
Keep your leftover rolls in an airtight container on the counter or in the refrigerator for three to five days.
How to Freeze and Thaw our Easy Kolache Recipe
Our soft kolache dough recipe can be frozen two different ways. Raw, you can freeze the buns after the rolls themselves have doubled in size and you've made an imprint for the filling. Freeze the rolls individually on trays and then combine them into one container. Fill and bake as needed.
Baked, you can freeze individual rolls in airtight containers for up to three months. This is my preferred way of freezing them.
How to Reheat Leftover Apple Kolaches
Reheat in the microwave for ten to fifteen seconds or more depending on your microwave wattage.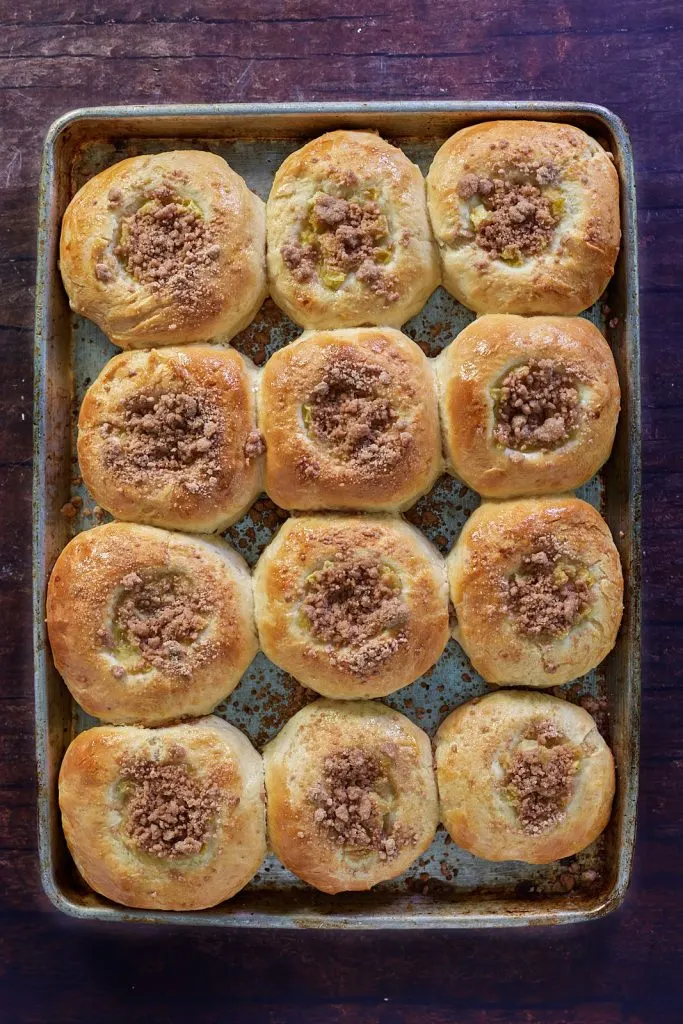 Fruit Kolache FAQs
How do you pronounce Kolache?
kuh·laa·chee
What are Apple Kolaches made of?
This dessert is made with a soft dough and apple pie filling. It requires flour, sugar, yeast, salt, milk, egg yolks and butter for the dough. The pie filling is made from apples, sugar, cornstarch, water, cinnamon, brown sugar and lemon juice. For the streusel topping you will need flour, brown sugar, cinnamon, and butter.
What is a kolache?
A soft, pillowy dough filled with apple pie filling and baked.
Where are Kolaches from?
The origin of Kolaches is highly contested and the truth is unknown. Possibilities include Central Europe and several Western states in the U.S.
How to make kolache dough?
Follow our step-by-step instructions to make the perfect kolache dough.
Can you freeze Kolaches?
Yes. Freeze individual rolls in airtight containers for up to three months. Thaw in the microwave for 15-45 seconds.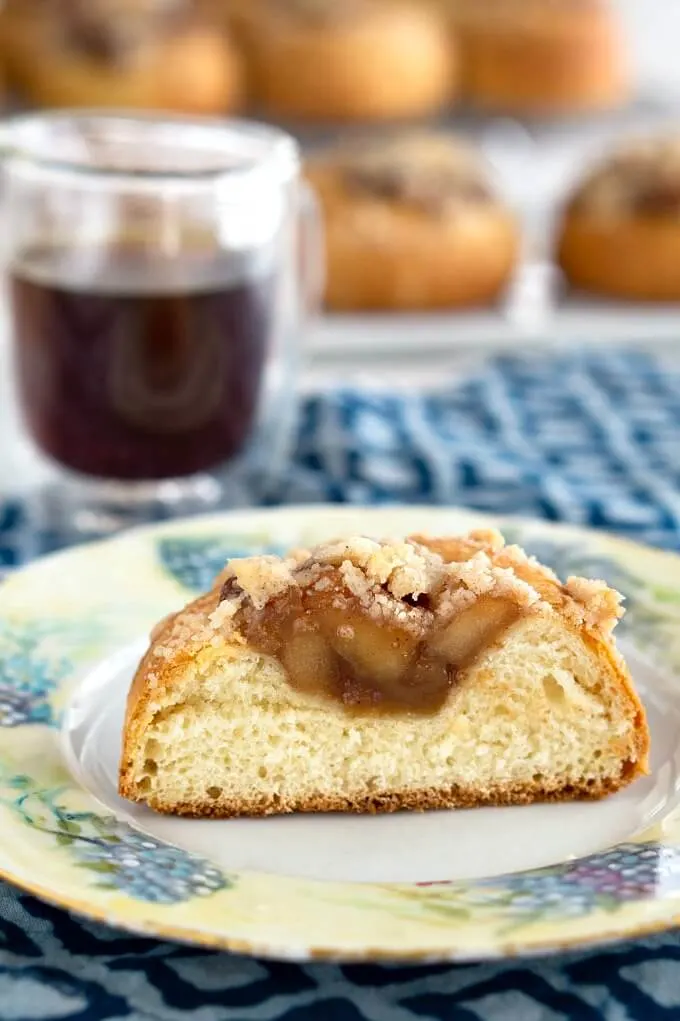 Tips to Make the Best Apple Kolaches Recipe
You don't need to weigh the dough. You can just estimate their size. The most important thing is that they're all approximately the same size so they bake at the same rate.
When forming your dough don't press through the bottom of the roll. Your filling will leak out.
Dice your fruit small enough so you can get a lot of it in each Kolache. It may bake down and that's perfectly fine. Don't overfill the kolaches. The extra filling will just bubble off while baking.
Instant or Quick Rise yeasts don't have to bloom and can be added directly to the recipe.
Make sure that you allow the kolaches to cool slightly before serving. The hot filling will burn your mouth.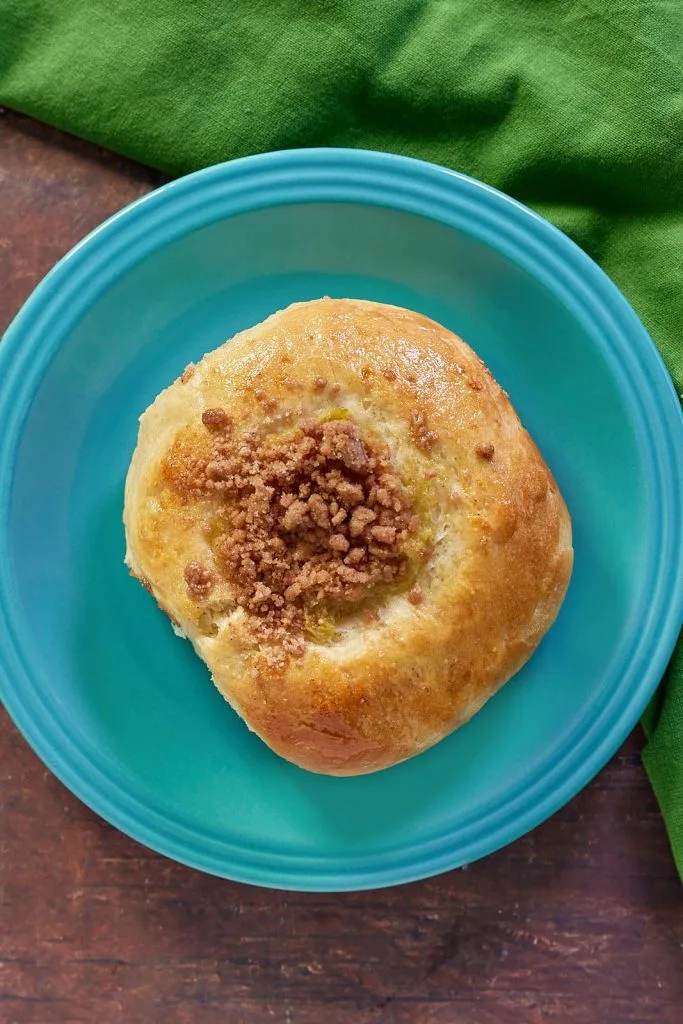 If you like this recipe, we would appreciate your comment and a 5-star ⭐️⭐️⭐️⭐️⭐️ review!
More Great Apple Recipes
Don't forget to stop back and let me know how your Kolaches turned out!
This recipe was originally published on July 10, 2019. I've updated this post to include detailed photos and instructions. No changes have been made to the recipe.