Dutch Apple Kolaches have a soft and tender dough that is perfect for holding your favorite filling. They taste like you bought them at a bakery but are easy enough to make at home.
THIS POST HAS BEEN UPGRADED FROM 10/27/14 TO IMPROVE READER EXPERIENCE.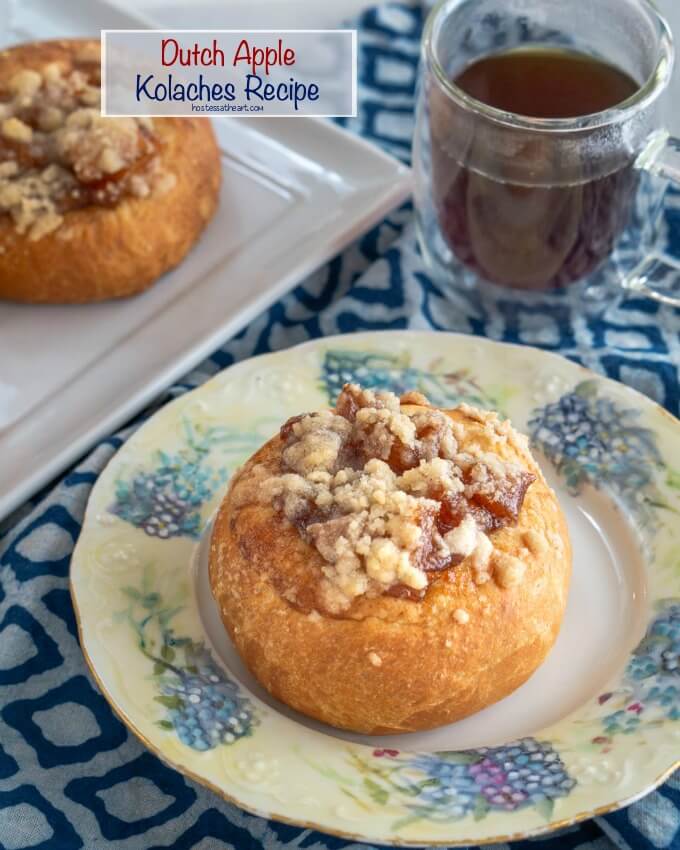 Apple Kolaches have a warm sweet apple filling nestled in a soft kolache dough. They're delicious for breakfast with a cup of coffee. This easy Kolache recipe makes 28 rolls so they're perfect for company.
I LOVE baked goods. You name it, sweet rolls, donuts, pastries or in this case, a Dutch Apple Kolache made in my own kitchen.
What are Kolaches?
I didn't really know too much about Kolaches when I first started making them, except for the fact that they were delicious and I thought that they were a Bohemian or Czech creation.
They're defined as "a type of pastry that holds a dollop of fruit rimmed by a puffy pillow of supple dough". They also stated that they originated in "Central Europe".
Ya right, they said that so they didn't start any Kolache wars. There are several articles from different heritages claiming that they were the originators of this pastry. Nebraska, Minnesota and Texas also claim to be the "Kolache Capital of the World".
I am a mixed breed with no claim to Kolaches' origination. I'm just the baker and even combined heritages to come up with this Kolache recipe version (gasp). So, I guess this Kolache does come from my heritage (pompous opinion only).
How to Make Kolache dough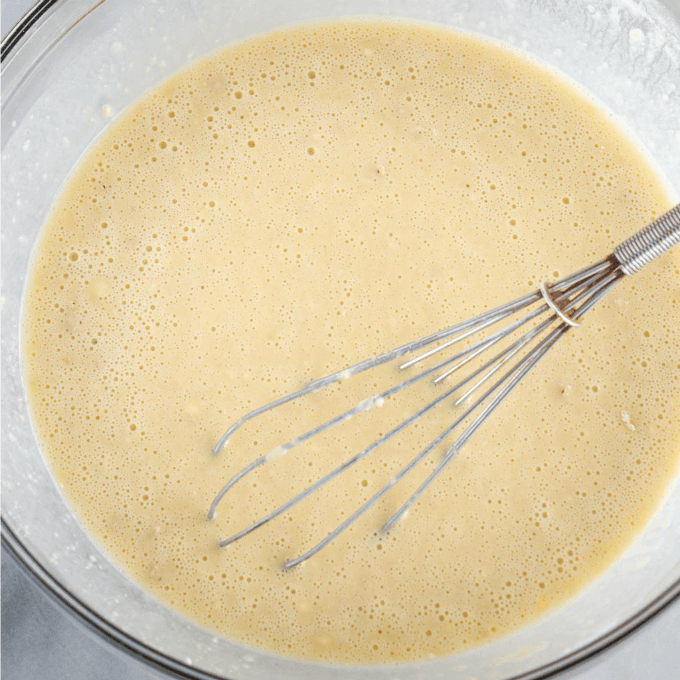 Activate yeast with liquid and sugar. Activating your yeast isn't necessary if using Instant, Quick or Rapid rise yeast. You can mix all ingredients together if that's the case.
Add all dough ingredients together and knead the dough until it is smooth, approximate 7 to 8 minutes.
Let dough rise until doubled, approximately 60 to 90 minutes.
What are Kolache Recipes filled with?
As I said, I knew they were yummy and that the dough isn't overly sweet so this same kolache dough recipe can be used with a sweet or savory filling.
This easy Kolache recipe is often filled with pie filling or jam, purchased or homemade is fine. Traditionally the fillings are apricot, cherry, prune, or poppyseed, but could also be meat such as sausage, or a soft farmers cheese. In the bakeries here, I see a lot of kolaches with a combination of fruit and cheese.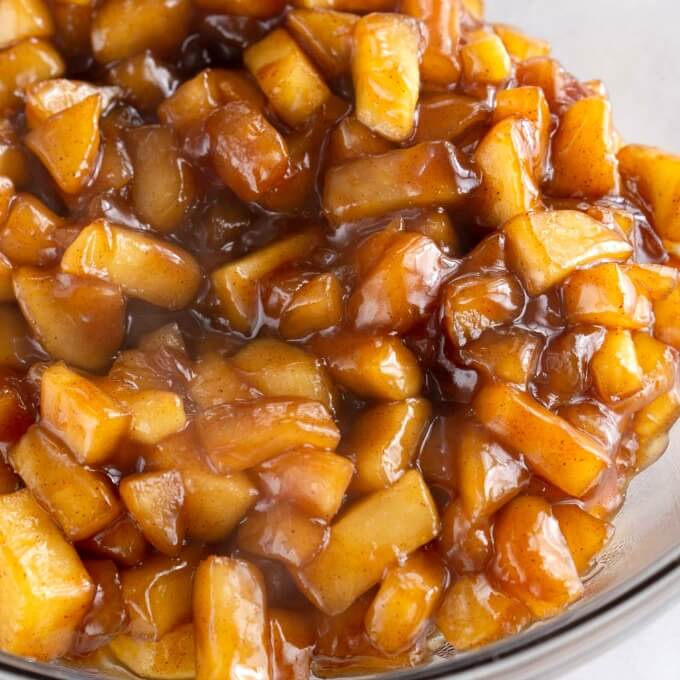 I made this warm cinnamon and brown sugar apple filling. It's delicious on it's own and amazing in this Kolache recipe!
Back to the Kolache itself. The first time I made this recipe was to use up some pears sitting on my counter and came up with an amazing Caramelized Pear filling that tasted amazing nestled in this soft kolache dough too.
I love apples and especially baked apples in a warm cinnamon-brown sugar mix. This Apple Kolache recipe certainly ranks up there with my all-time favorite bakery recipes.
I love baked goods! Here are a few more of my favorites!
Kitchen Gadgets You may need:
Baking Sheets – These sheet pans are durable and I have four of them so I can get all of my cookies baked in a jiffy!
Food Scale – This scale is what I use to get rolls and buns the same size. I also use it for measuring ingredients in many of my bread recipes.
Glass Mixing Bowls – This set allows me to prep all of my ingredients and they're dishwasher safe.
Tips:
Kolaches can be frozen after baking and cooled in an air-tight container for up to 3 months.
The dough doesn't need to be weighed. You can just estimate their size. The most important thing is that they're all approximately the same size so they bake at the same rate.
When forming your dough don't press through the bottom of the roll. Your filling will leak out.
Dice your fruit small enough so you can get a lot of it in each Kolache. It may bake down and that's perfectly fine.
If you like this recipe, we would appreciate your comment and a 5-star ⭐️⭐️⭐️⭐️⭐️ review!
Dutch Apple Kolaches Recipe – Made At Home
Dutch Apple Kolaches recipe has a warm cinnamon and brown sugar apple filling nestled in a soft kolache dough. They taste bakery delicious but are easy enough to make at home.
Ingredients
Dough
½

oz

Yeast

or 2-packages

1/4

cup

sugar

2

cups

whole milk

warmed to 110 – 115 degrees F

5

cups

all-purpose flour

may need an up to an additional cup

4

egg yolks

room temperature

1

tsp

salt

1/4

cup

unsalted butter

softened
*Apple Filling (optional)
4

apples

Granny Smith or Braeburn (about 4 cups diced)

1

lemon

juiced

1

cup

brown sugar

1/4

tsp

water

2

tsp

cinnamon

2

tbsp

corn starch
Streusel (optional)
1/3

cup

all-purpose flour

1/8

tsp

cinnamon

1/4

cup

sugar

3

tablespoons

melted butter
Additional Ingredients: melted butter or egg wash
Instructions
Dough
In a small bowl, dissolve yeast, 1 tablespoon sugar and warm milk. *Let rest for 10 minutes.

In a large bowl, combine 2 cups flour, sugar, and salt. Whisk to combine. Add butter, egg yolks and yeast/milk mixture. Add enough remaining flour until no longer too sticky to handle.

Turn dough out onto a floured surface and knead until smooth and elastic, 7 to 8 minutes. Place dough into a greased bowl, turning once to coat both sides. Cover and let rise in a warm place until doubled in size, 60 to 90 minutes.

Butter (or grease) 3 baking sheets. Cover a kitchen scale with plastic wrap. Punch dough down and tear off 1 1/2 ounce pieces of dough. Shape into smooth round balls with seams on the bottom. Place 12 on each greased baking sheet. Brush with melted butter and allow to double, approximately 60 minutes.

Using your thumbs, make a depression in each roll large enough to hold 1 to 2 tablespoons of filling. Don't press through the bottom of the roll. Brush with melted butter again or use an egg wash with the left over egg whites. Fill with desired filling. Sprinkle with streusel if desired.

Bake at 350° F for approximately 20 minutes or until lightly browned. Turn and rotate pans halfway through baking.
Dutch Apple Filling
In a 2 quart saucepan combine diced apples, water and the juice of one lemon. Cook over medium-high heat, stirring occasionally for 8 minutes or until it starts to thicken. Remove from heat and allow to cool while dough rises. NOTE: Add an additional tbsp of corn starch if filling doesn't thicken. Water content can be very different according to variety.
Streusel (optional)
Whisk the flour, sugar and cinnamon together. Drizzle with the melted butter and fluff together with a fork.
Notes
Instant or Quick Rise yeasts don't have to bloom and can be added directly to the recipe.
Recipe adapted from Taste of Home
Nutrition
Sodium:
106
mg
|
Calcium:
38
mg
|
Vitamin C:
3.2
mg
|
Vitamin A:
165
IU
|
Sugar:
15
g
|
Fiber:
2
g
|
Potassium:
100
mg
|
Cholesterol:
37
mg
|
Calories:
193
kcal
|
Saturated Fat:
2
g
|
Fat:
4
g
|
Protein:
4
g
|
Carbohydrates:
35
g
|
Iron:
1.3
mg
This recipe was calculated using the exact brands and measurements I used to make this recipe. If you are following a strict diet please note changing anything will cause the nutritional info to change. My calculations are intended as a guide only.
Leave me a comment below and tell me what your favorite bakery item is. It may show up right here! If you liked this recipe leave me a 5-star review while you're at it.